39 Best Things to Do in Candidasa and East Bali
What is Candidasa and East Bali Most Famous For?
Candidasa and other areas around Bali's eastern region are home to well-preserved ancient villages and mysterious temples that help make up Bali's list of must-see landmarks. Due to its far-flung location away from the popular beach resorts on the island's south, Candidasa and most of East Bali offer landscapes of rugged beauty and laidback seascapes with treasures hidden under their waves.
The main Jalan Raya Candidasa road winds through the region and it helps you navigate the exotic and less-explored highlights of Bali's remote east. Candidasa alone serves as a great stopover on tours to the north-eastern parts of the island, where some of Bali's major dive sites like Amed and Tulamben reside.
What are the best things to do in Candidasa and East Bali?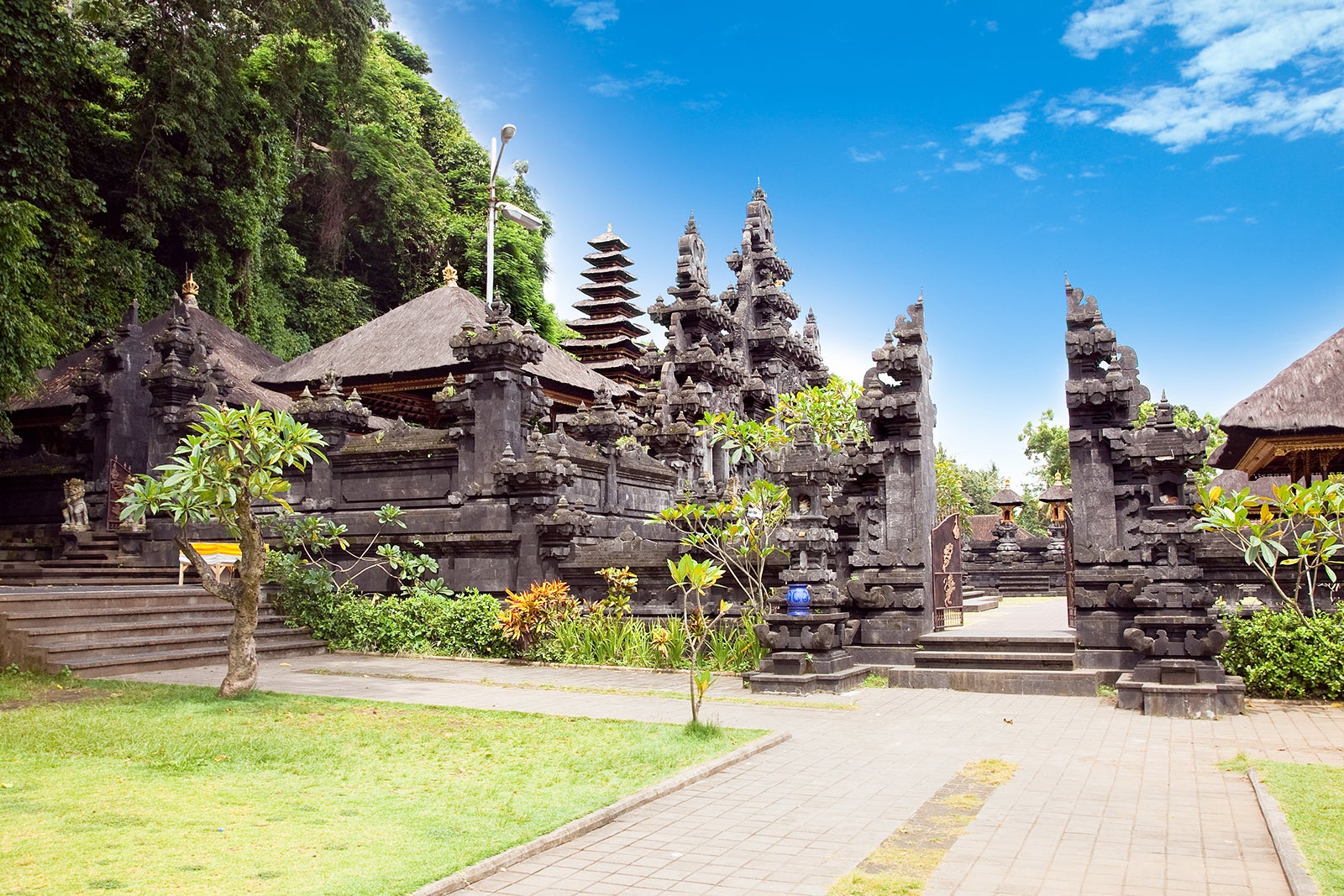 Goa Lawah is Bali's so-called 'bat cave' temple which is unique and mysterious – it features a complex of shrines built around a cave opening that's home to hordes of bats. The 11th-century temple is one of the first landmarks that you'll come across on your way to the eastern region before entering Candidasa.
Locals on pilgrimages to Besakih Temple in the Karangasem regency generally make their mid-journey stop here for brief prayers. The temple's outer perimeter features majestic temple gates and tall shrines, while the main cave opening is loud with chirping bats – even in broad daylight. The height of the frenzy is at dusk when the bats feed on flying insects.
Location: Jalan Raya Goa Lawah, Pesinggahan, Dawan, Klungkung, Bali 80761, Indonesia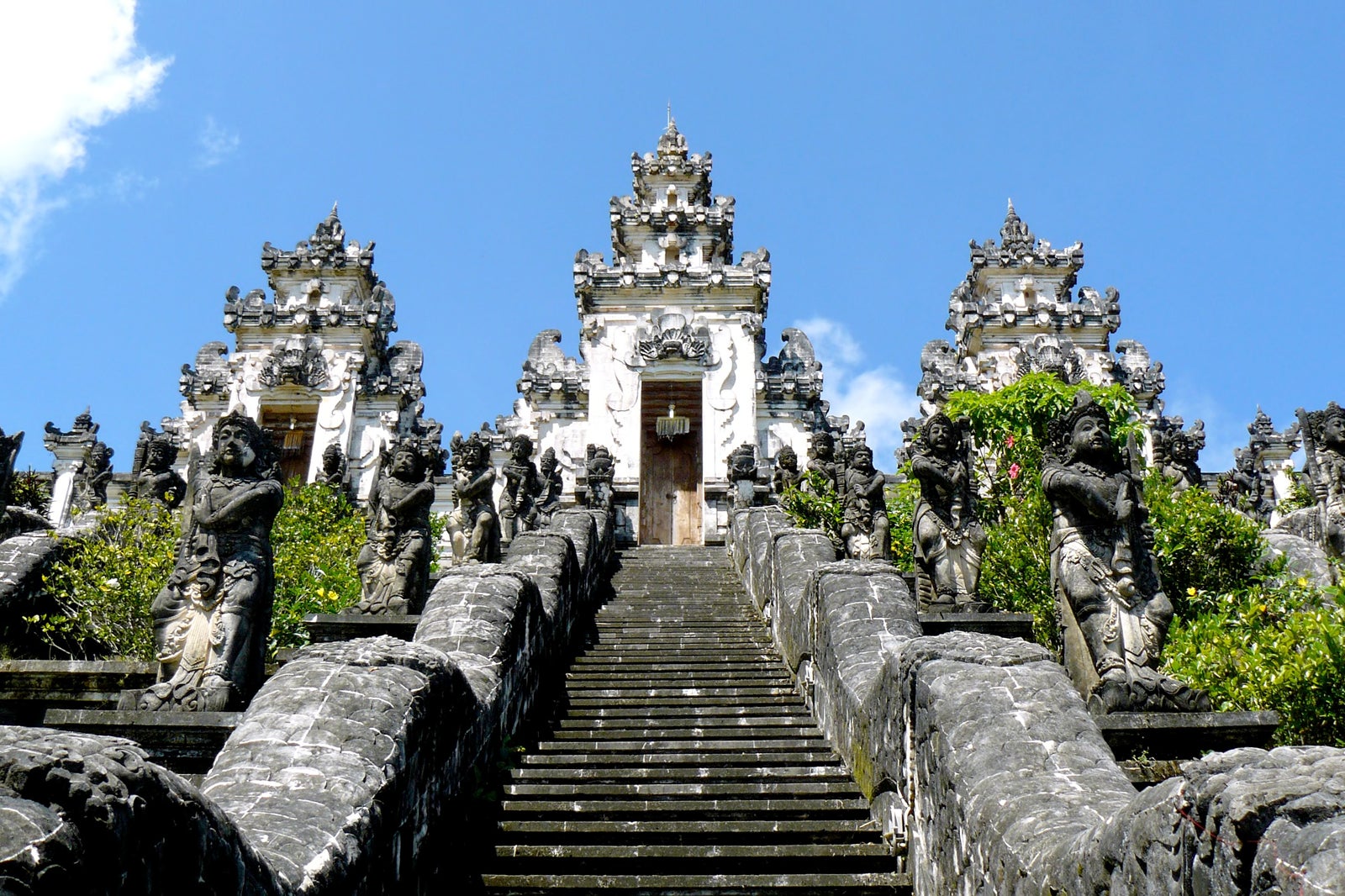 Lempuyang Temple is one of Bali's oldest and most remote temples, set on the peak of the mountain of the same name. If you manage to reach here, be prepared for one of the most breathtaking temple and mountain sceneries on the island. The journey up has steep ascents and comprises 2 parts.
The main temple at the peak is at 1,175 metres above sea level. A steep staircase with over 1,700 steps leads you up through a forest inhabited by grey long-tailed macaques. The midway temple is sufficient for most visitors, with towering shrines and temple gates with dragon staircases. The high panoramas over the hilly region make great Instagram shots.
Location: Jalan Pura Telaga Mas Lempuyang, Tri Buana, Abang, Karangasem, Bali 80852, Indonesia
Couples
Families
History
Photo
Budget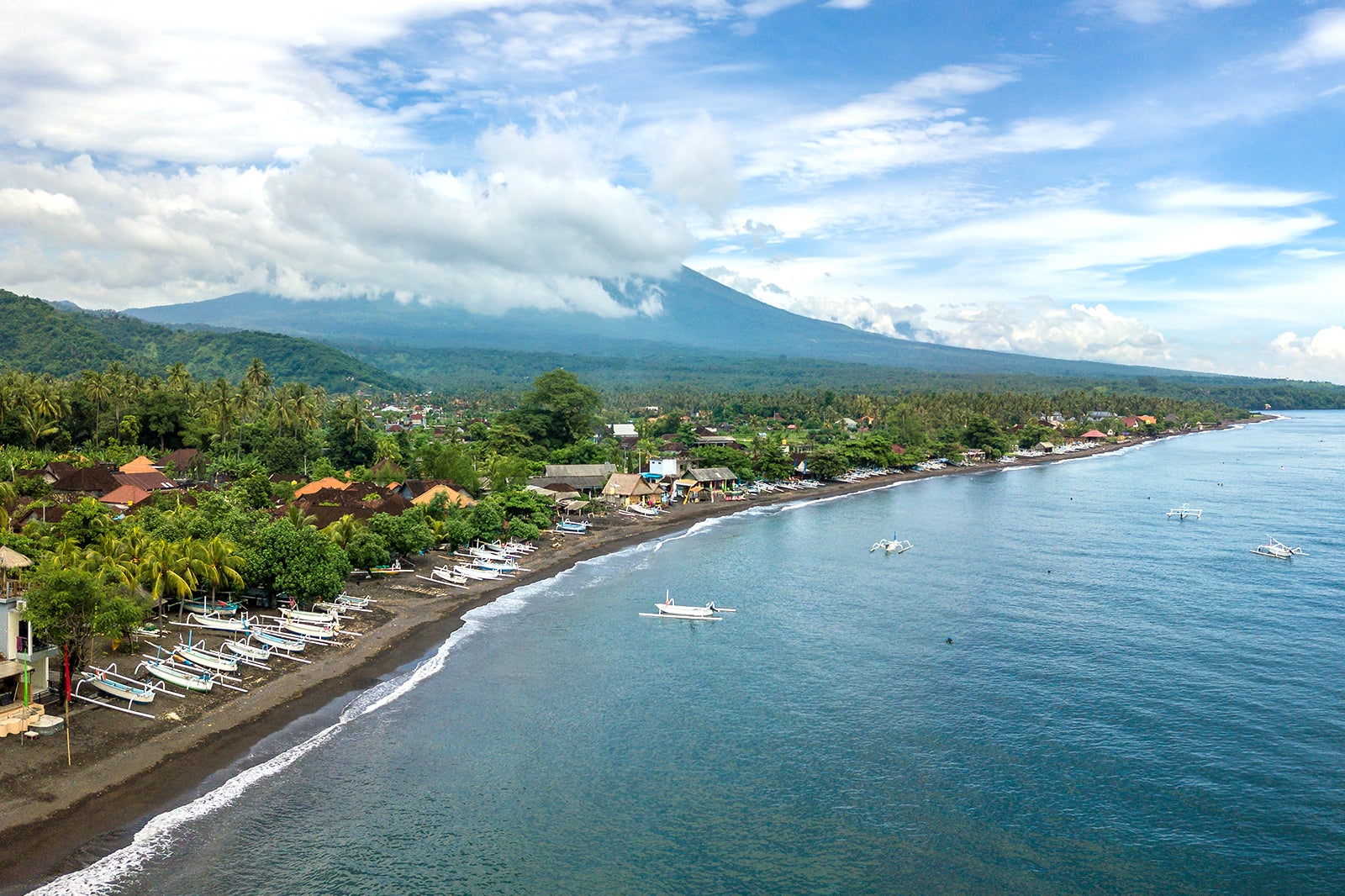 Amed Beach is one of Bali's main diving destinations offering underwater beauty that's in total contrast to its dry and arid overland terrain. The coast features a combination of black volcanic sand and pebble beach that add to its exotic appeal.
The coastal villages of Amed are inhabited by traditional Balinese fishermen who set their sails and wooden jukung boats out to sea in the early mornings. The sight often creates a spectacle on the horizon at sunrise. Amed is also known for its traditional salt farming still practised until today. Amed is an hour's drive up from Candidasa. Another of Bali's major dive sites, Tulamben, is another 25 km north from Amed.
Location: Jalan Raya Amed, Bunutan, Karangasem, Bali 80852, Indonesia
Couples
Families
Photo
Budget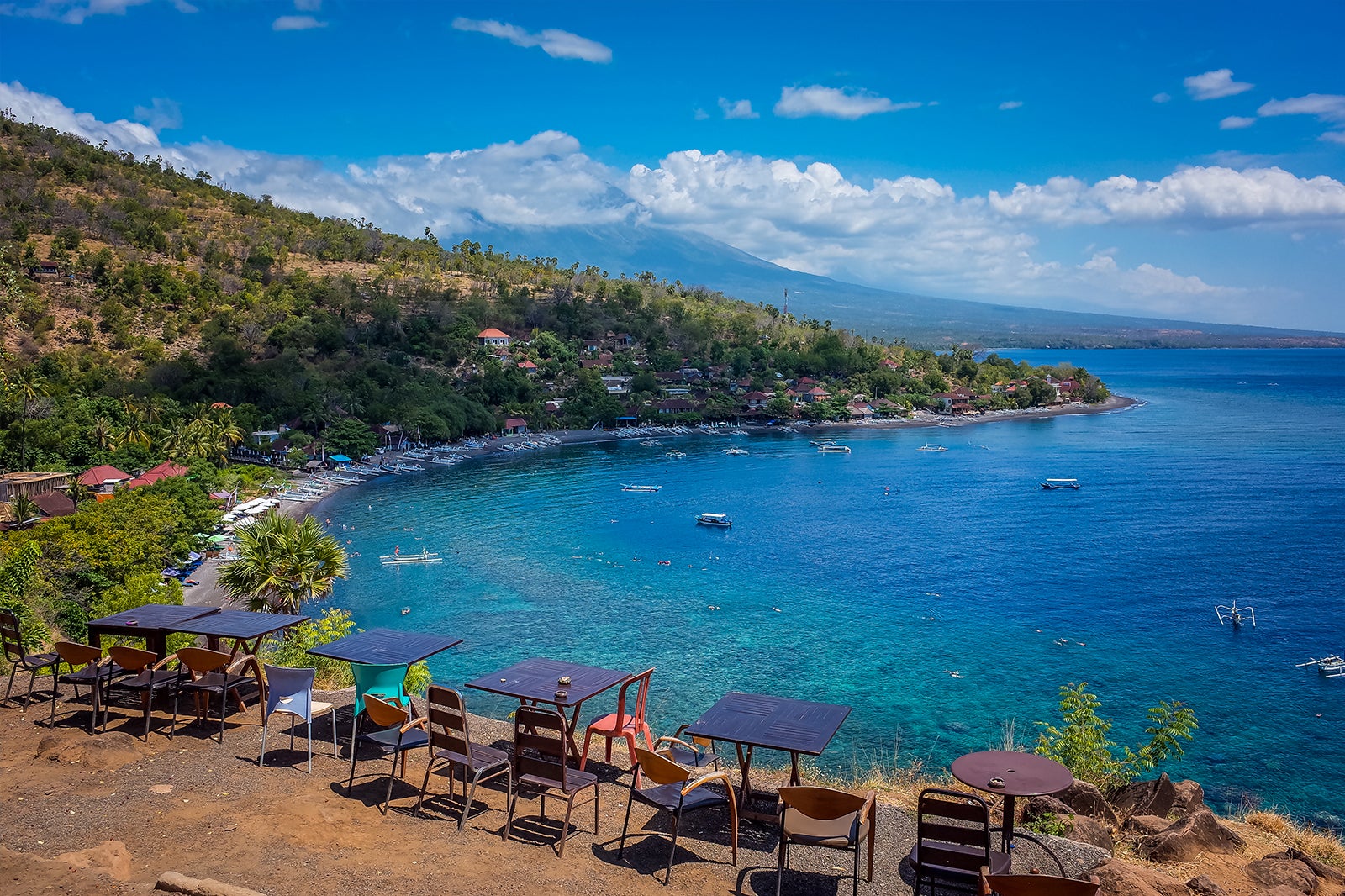 Jemeluk Bay, part of the coastal area of Amed, features a high viewpoint from where you can enjoy one of East Bali's best seascapes. The view comprises the beach dotted with traditional jukung fishing boats, together with the majestic outline of Mount Agung in the distant background.
The viewpoint also features small sheltered areas and some gazebos where you can have a lazy siesta or enjoy a brief lunch before hitting the road again. While Amed appeals to underwater photographers, the viewpoint is a hit for landscape photography, especially for capturing East Bali's dramatic sunrises.
Location: Bunutan, Abang, Karangasem, Bali 80852, Indonesia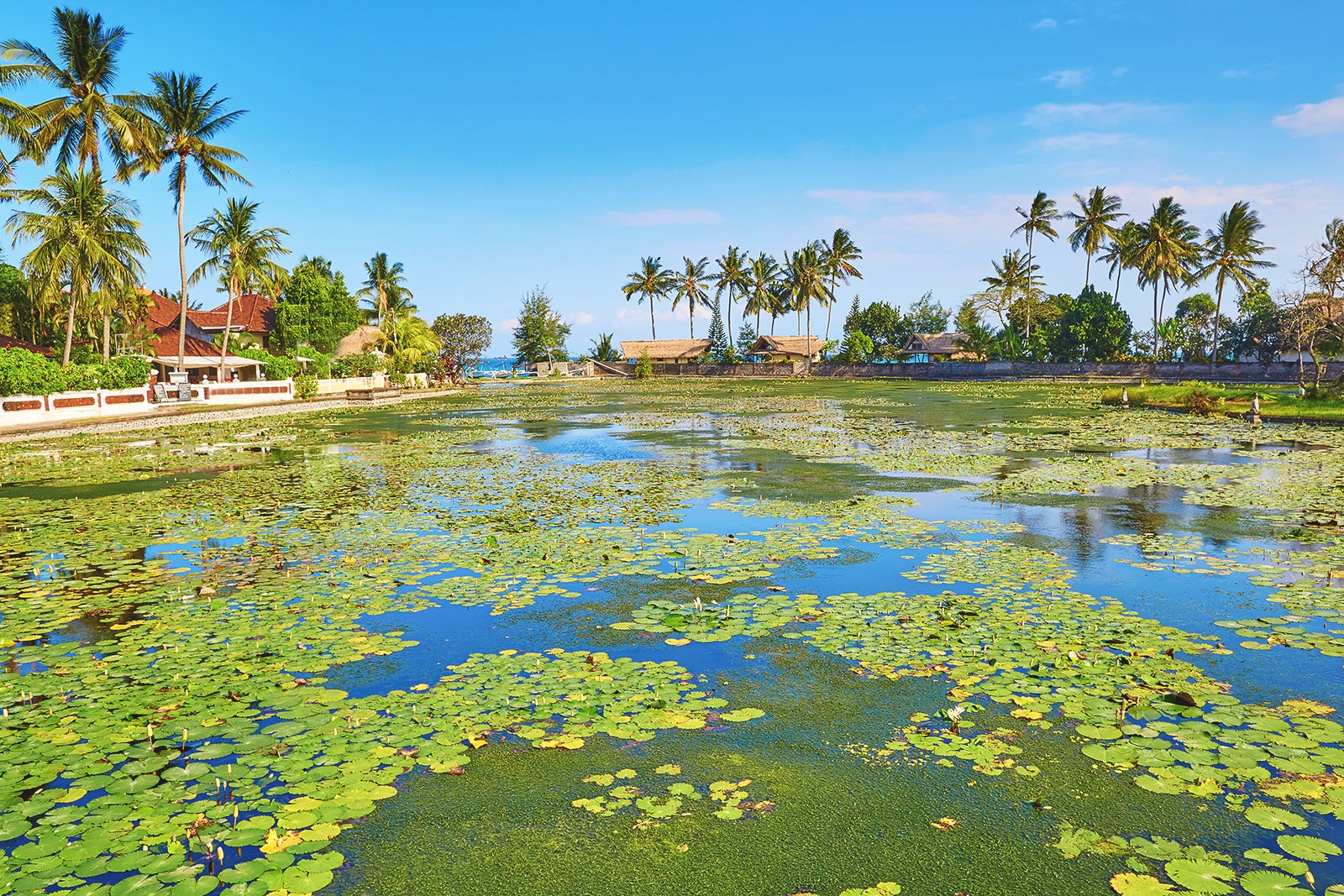 The landmark lotus lagoon of Candidasa is one of the area's unique attractions. The lotus lagoon provides a spectacular sight with its large body of water filled with pink and fuchsia lotuses. There's also a small garden island with statues at its centre.
The lagoon is open to the public and easily accessible from the side of the Jalan Raya Candidasa main road. Across the road on a higher elevation is the namesake temple that gave the area its name. The temple features twin shrines under a densely forested hillside. From here, you get a better perspective of the whole lagoon, including a glimpse of the sea and the small offshore rock formations iconic to the Candidasa seascape.
Location: Jalan Raya Candidasa, Bugbug, Sengkidu, Karangasem, Bali 80811, Indonesia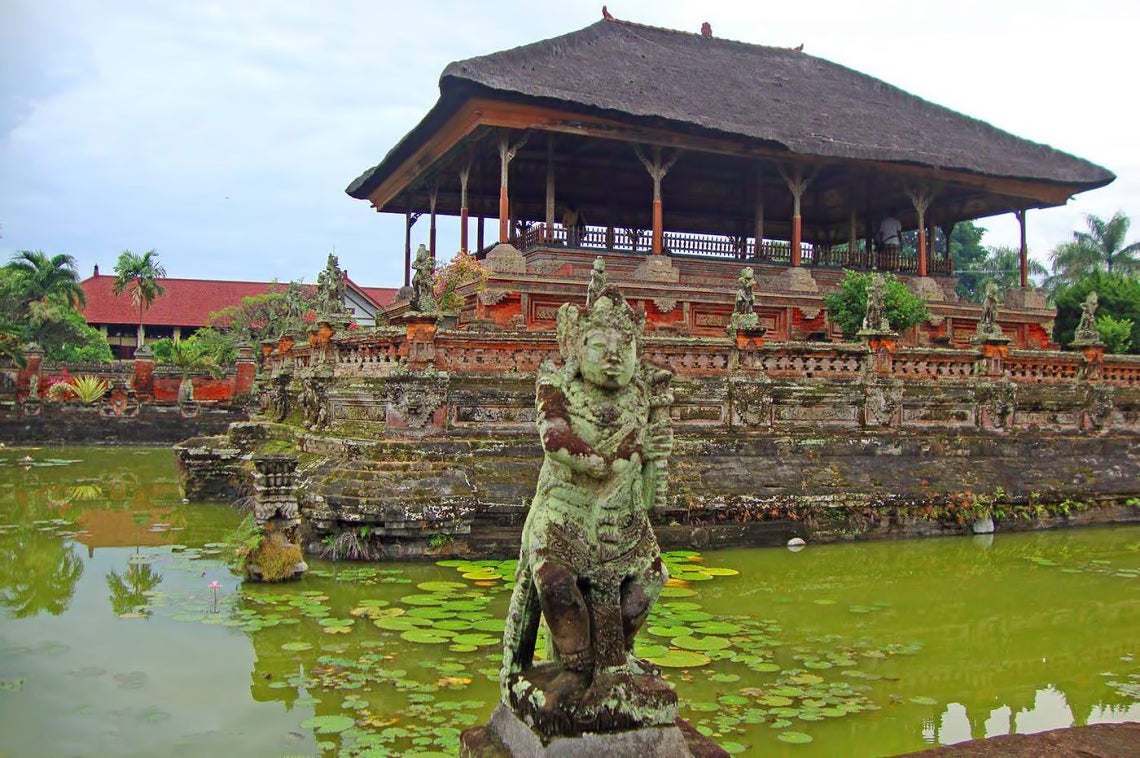 Kerta Gosa - the 'hall of justice'
Kerta Gosa or Taman Gili Kerta Gosa is one of Bali's most important historical landmarks that's right in the centre of Semarapura, the capital of Klungkung regency. This former courthouse is part of the royal complex of the Puri Semarapura palace and is fully open to the public.
Inside the complex, you'll find the grand hall or the namesake Bale Kerta Gosa with its ceilings covered in Kamasan or wayang-style paintings, and the Bale Kambang 'floating hall' in the centre of the complex. Ceiling paintings depict spiritual teachings and guidance, each telling a different story of karma, reincarnation, and various Balinese rites of passage.
Location: Jalan Kenanga No.11, Semarapura, Klungkung, Bali 80761, Indonesia
Couples
Families
History
Photo
Budget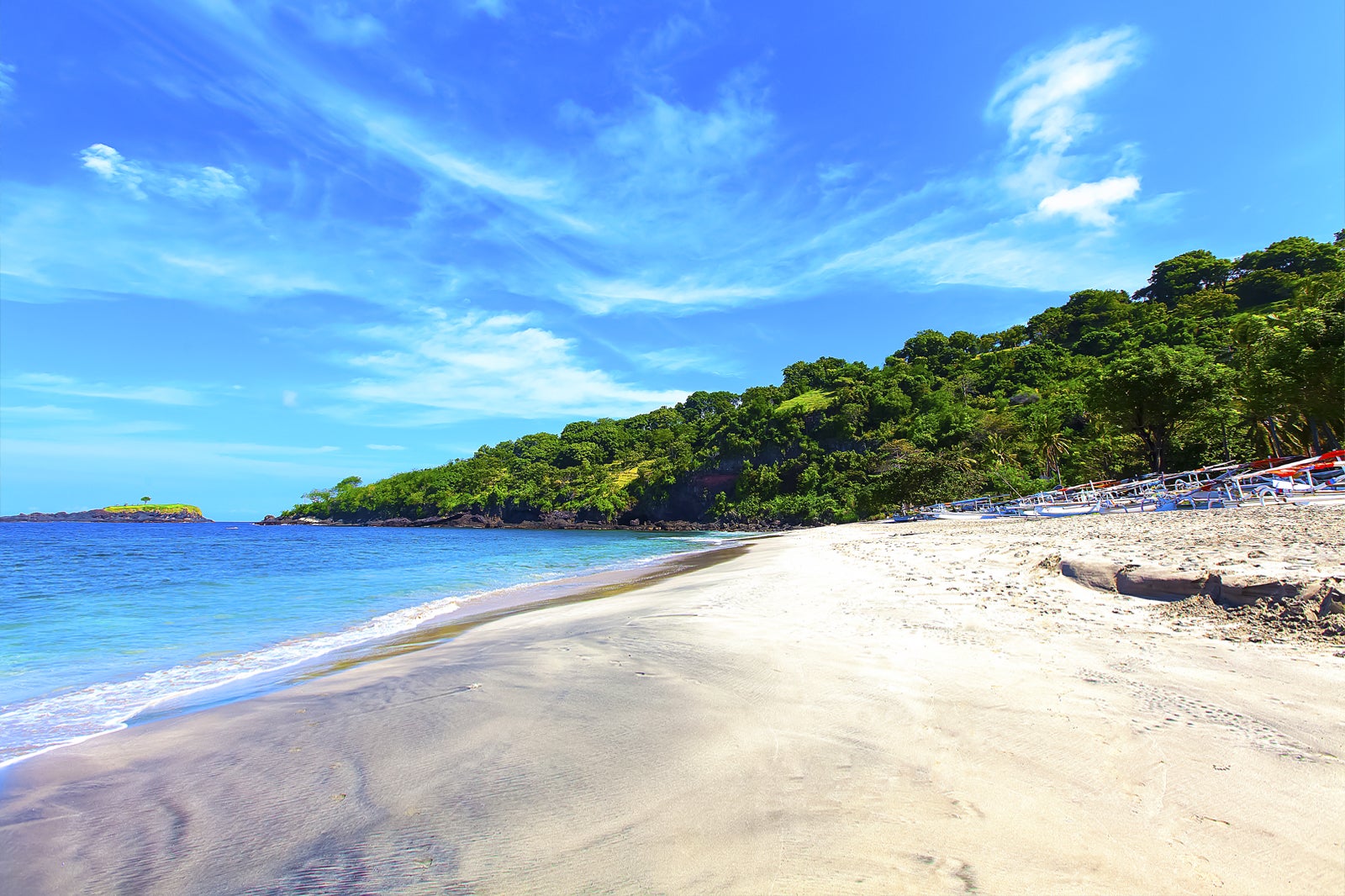 Pasir Putih, literally 'white sand', is one of the so-called 'secret beaches' of East Bali. It's a great place to escape to if you're looking for a remote setting with unique coastal features. The beach features a pristine stretch of white sand that's mixed with faint streaks of black volcanic sediments near the cliffs.
The seascape includes the small rocky islet of Gili Biaha on the horizon. Several locally-run restaurants and cafes line the coast, serving light meals and refreshments. You can also book a fishing, snorkelling or sailing tour from the local kiosks here. You can enjoy sunbathing on the beach and the waters are also good for swimming although currents can be strong at times.
Location: Sengkidu, Manggis, Karangasem, Bali 80813, Indonesia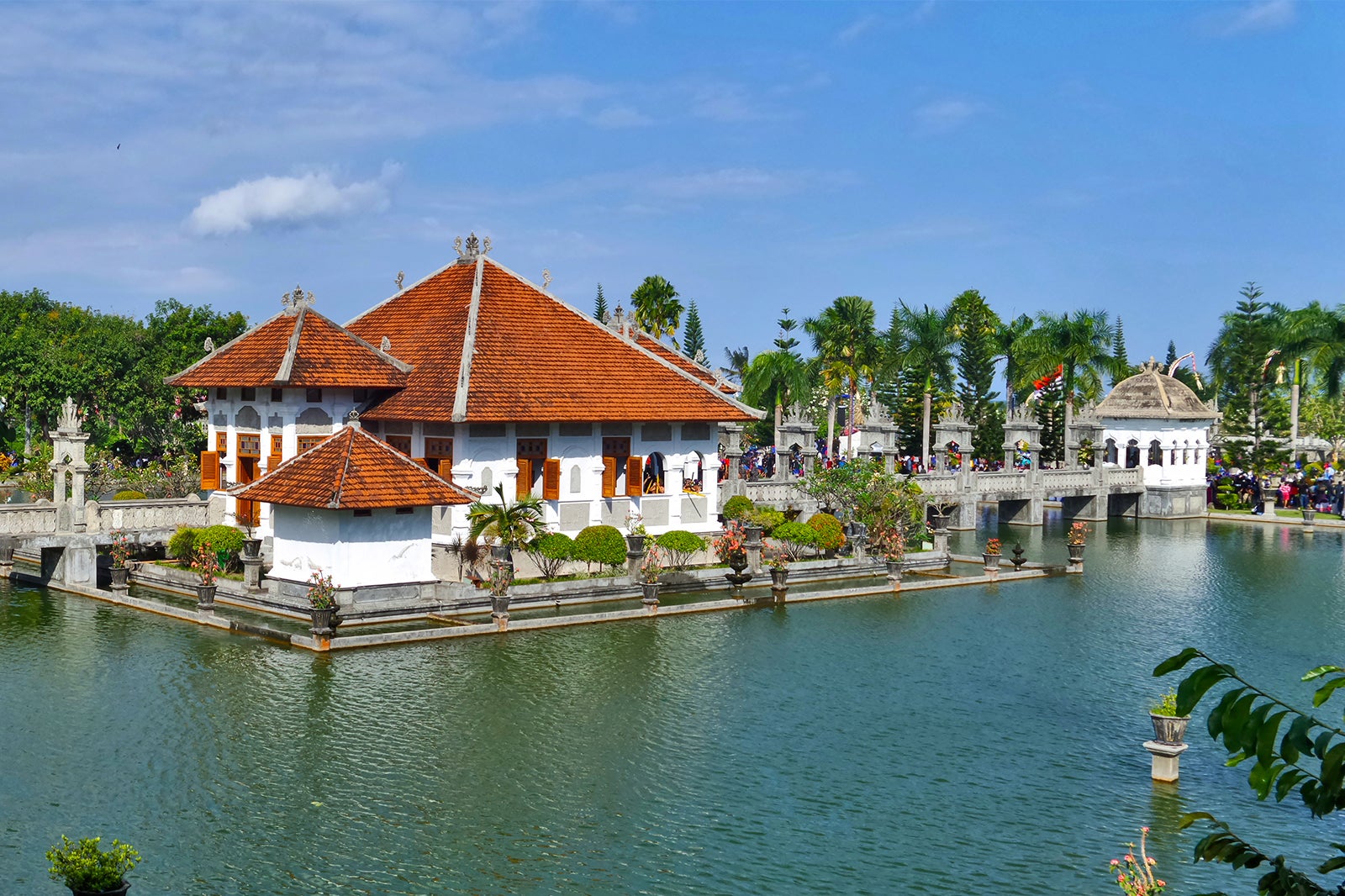 Taman Ujung Water Palace, known locally as Taman Sukasada Ujung, is a royal water garden complex in East Bali. It comprises various large pools and historic structures that are set against a backdrop of Mount Agung and the eastern shoreline.
The complex showcases a combination of Balinese and European architecture through its 3 large ponds that are connected by elegant dragon bridges and stone pathways. The physical features and superb setting with the forested hills to its north and the open sea to its south make it a favourite location for pre-wedding photos. The park usually sees more local crowds during the weekends.
Location: Tumbu, Karangasem, Bali 80811, Indonesia
photo by Ya, saya inBaliTimur (CC BY-SA 2.0) modified
Tirta Gangga Water Gardens
Tirta Gangga is a royal water garden complex in East Bali that was built in 1946 during the reign of the late king of Karangasem. The lavish water garden complex spans 1.2 hectares, featuring a collection of freshwater pools, ponds and functioning fountains surrounded by well-manicured gardens.
The garden is within an hour's drive up north from the main Candidasa area and offers a cool highland retreat. Besides many small warung stalls selling snacks and refreshments outside the main entrance gate, there's also a restaurant that's part of the hotel run by the royal family just behind the main fountains, where you can enjoy local and western cuisine and ice-cold beers with open views to the beautiful scenery.
Location: Jalan Raya Abang, Ababi, Abang, Karangasem, Bali 80852, Indonesia
Open: Daily from 8am to 11pm
Phone: +62 (0)363 22503
Couples
Families
History
Photo
Budget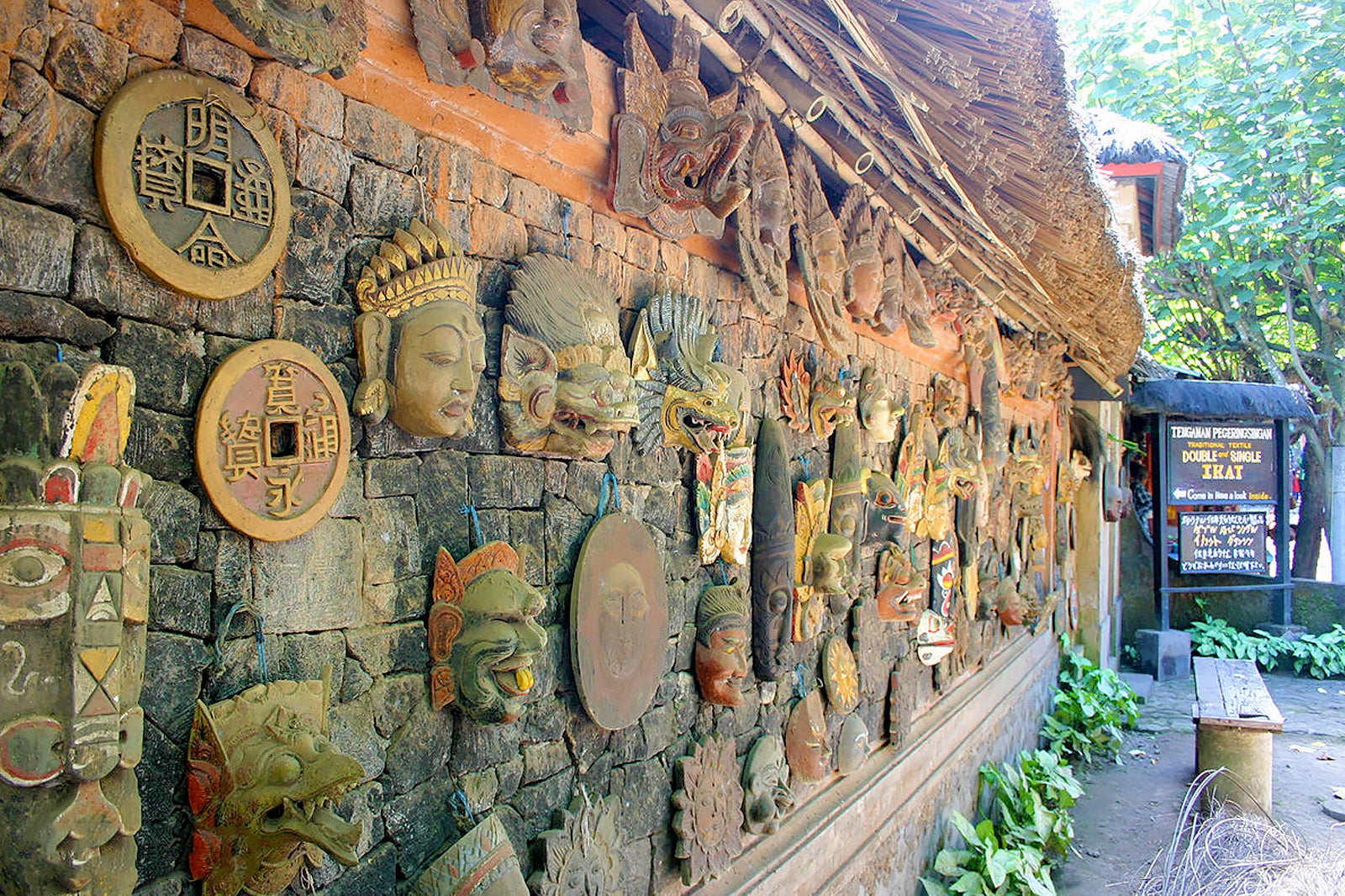 Tenganan Pegringsingan is one of the oldest villages in Bali where you can visit and take a closer look into the old Balinese way of life. As one of the Bali Aga (original Balinese) villages on the island, Tenganan is well-preserved and predates the arrival of the Majapahit Kingdom to Bali. One of the village's most unique attractions is the ancient the double-weave ikat cloth produced here called geringsing.
Another highlight is the Perang Pandan battles, which involves village boys coming of age engaging in friendly but bloody matches. They arm themselves with bundles of thorny pandan leaves as 'swords'. The battles take place around a village temple anniversary, usually around June and July.
Location: Tenganan, Manggis, Karangasem, Bali 80871, Indonesia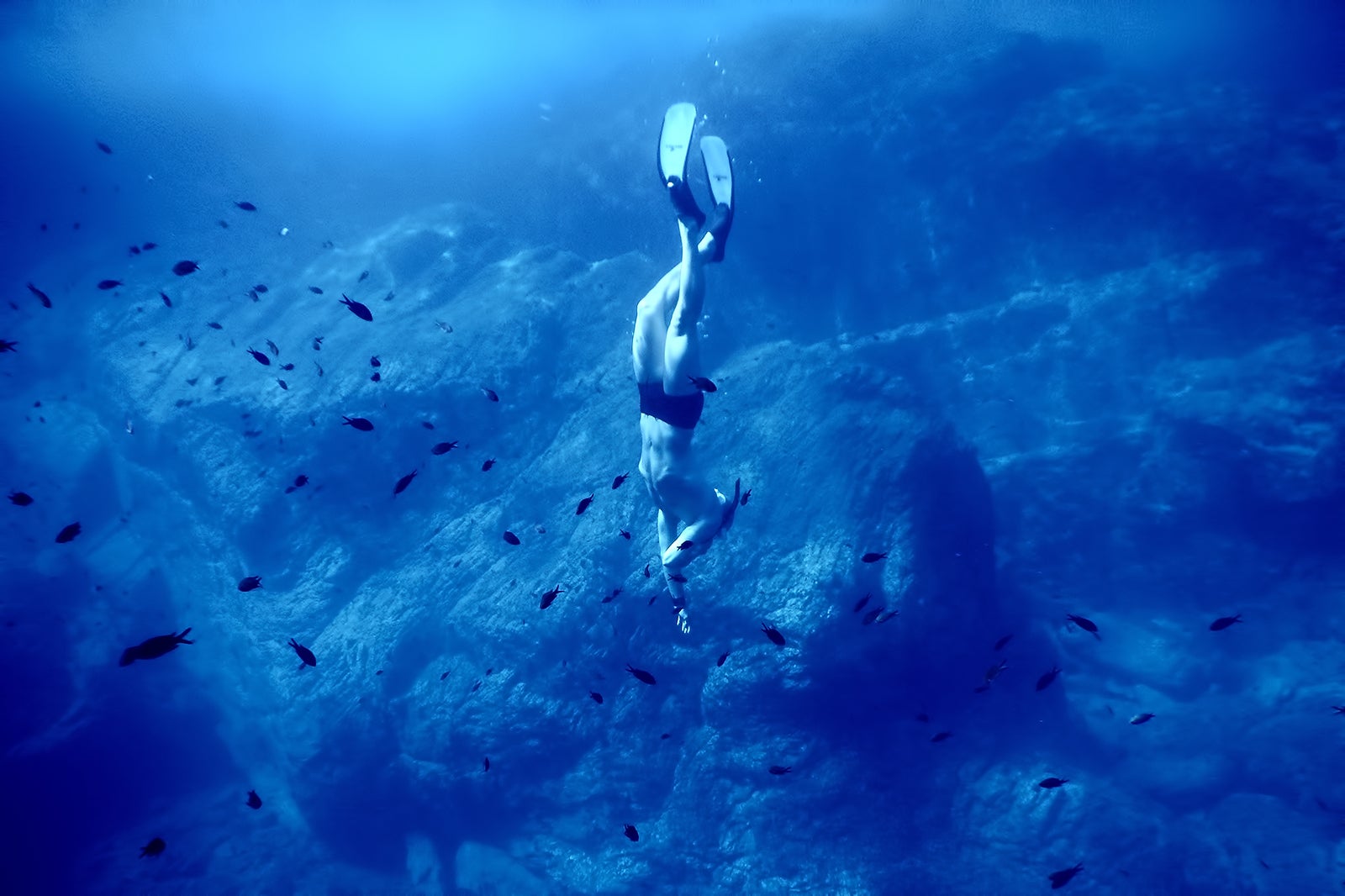 Apneista Bali Freediving and Yoga School hosts their freediving lessons in the calm waters off the coast of Amed in East Bali. Apneista was one of the first schools in Bali to specialize in freediving and introduce the sport to the island's diving community. It also combines elements of yoga and associated breathing exercises into its freediving.
Courses are provided through an international standard curriculum. The freediving school is based in the small village of Jemeluk, which is an approximate 12 km up north from the popular neighbouring dive site of Tulamben.
Location: Jalan I Ketut Natih, Purwakerti, Jemeluk, Amed, Karangasem, Bali 80852, Indonesia
Open: Daily from 9am to 5pm
Phone: +62 812 3826 7356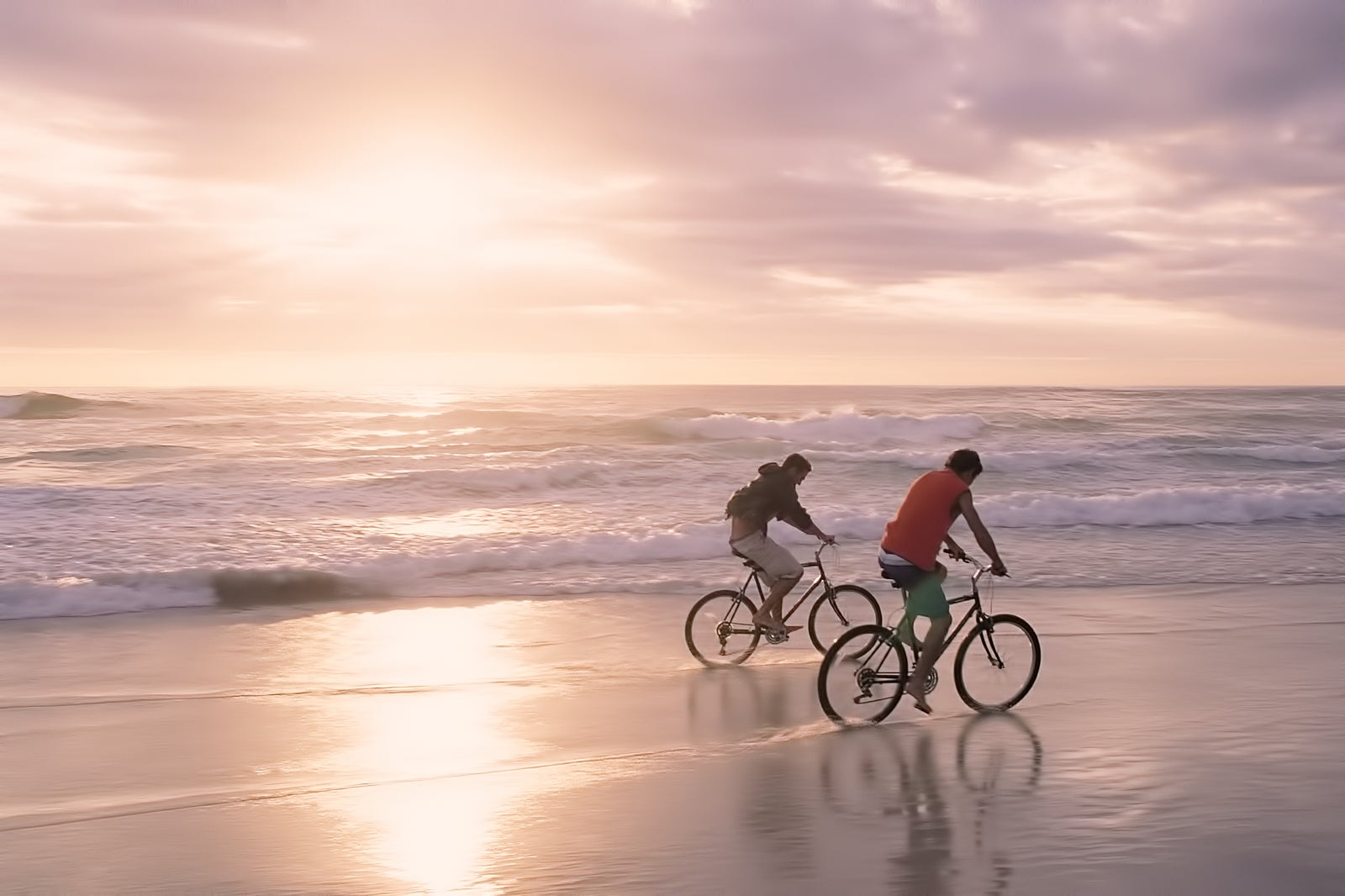 Cycling around Candidasa is among the best ways to explore the back roads of the island's east coast. Many hotels in and around Candidasa provide mountain bicycles as part of their guest activity services, and you can also find various shops along the Jalan Raya Candidasa main road that offer bikes for rent at reasonable rates.
Destinations to discover on your cycling adventure from Candidasa include the Taman Ujung water palace and the Tirta Gangga royal water gardens. Most routes provide a combination of challenging uphills and rewarding downhills. Various cycling tours to the region are great for families, with bikes mounted onto vehicles for the most challenging parts of the journey and with lunch served at scenic spots.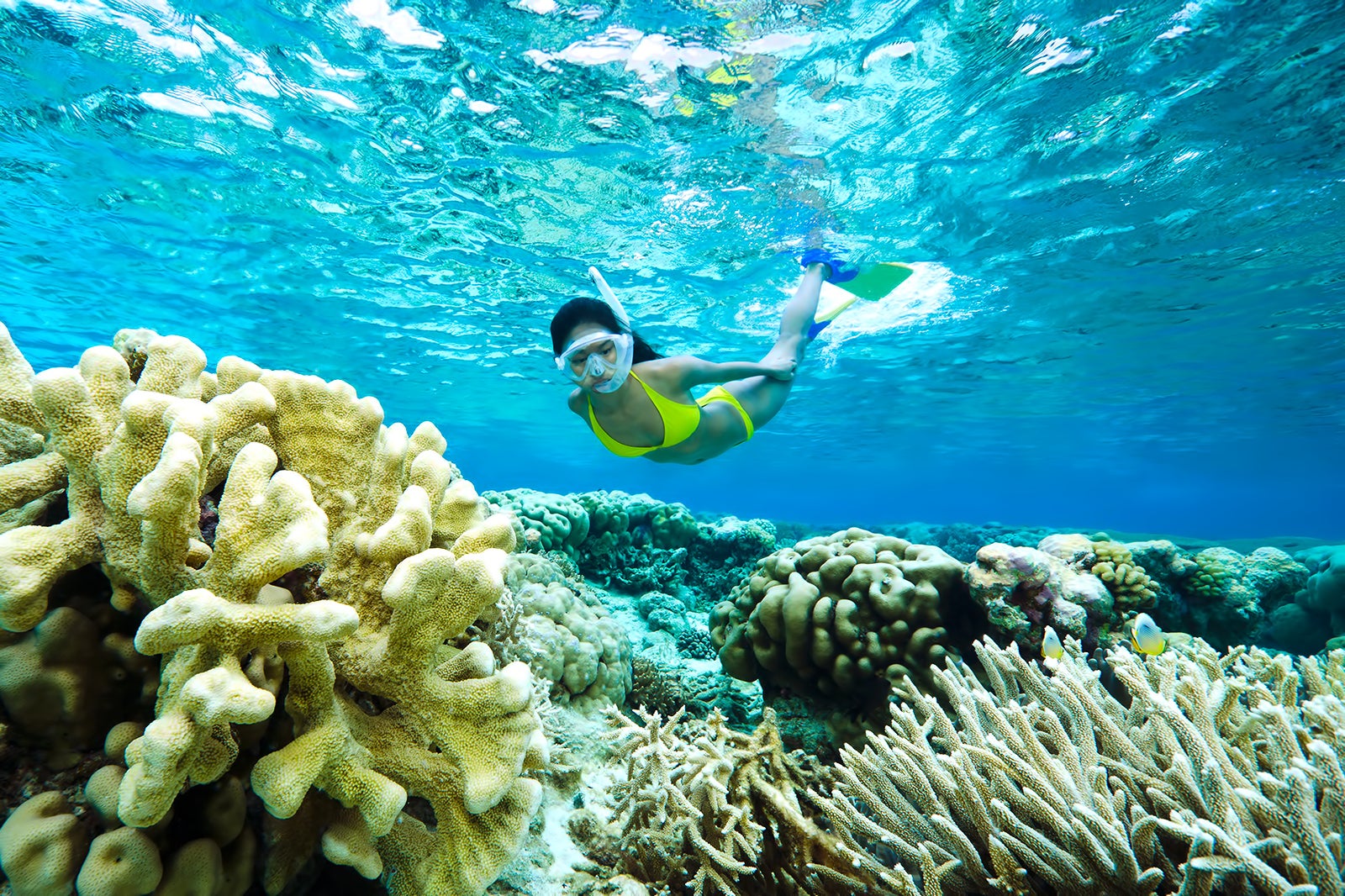 Snorkelling around Candidasa
Snorkelling off the shores in East Bali offers great rewards with rich biodiversity among vibrant coral reefs. Even so, Candidasa's own coral reefs have diminished significantly due to over-harvesting of coral for building materials in the distant past. For better scenes, head further east of Candidasa to Blue Lagoon, nearby Padangbai harbour.
Also a great site for snorkelling is Gili Tepekong, a small island of a group of 3 that form the main scenery of the Candidasa horizon. It has a coral ecosystem teeming with marine life. You can easily reach it on a half-hour traditional jukung fishing boat ride.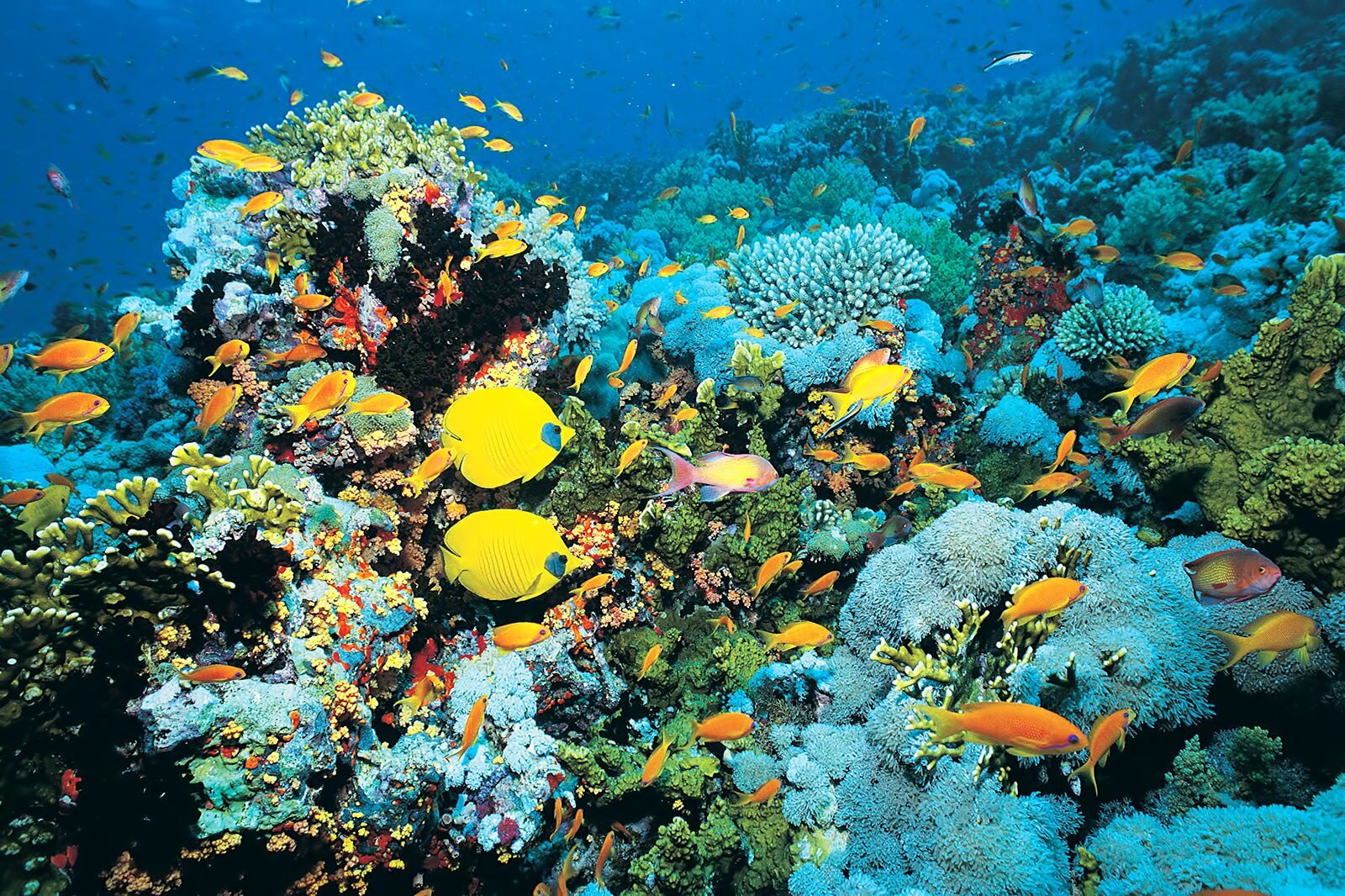 Odyssey submarine safaris
Odyssey is a touring submarine that can take you underwater to admire the marine life of Amuk Bay, near Candidasa. The battery-powered submarine carries up to 36 passengers in its single air-conditioned compartment. All ages can experience the ride, especially those looking to enjoy the beauty of the underwater world but do not have the expertise or diving experience – or who simply don't want to get wet.
From the shore, a boat transports guests to the sub. Photos are taken on the deck before climbing down through the top hatch. Inside, wide chairs are lined up through the centre of the vessel. Side portholes allow you to view the marine life at depths of around 40 metres and more.
Location: Antiga, Manggis, Karangasem, Bali 80871, Indonesia
Open: Daily from 7am to 10pm
Phone: +62 (0)361 759777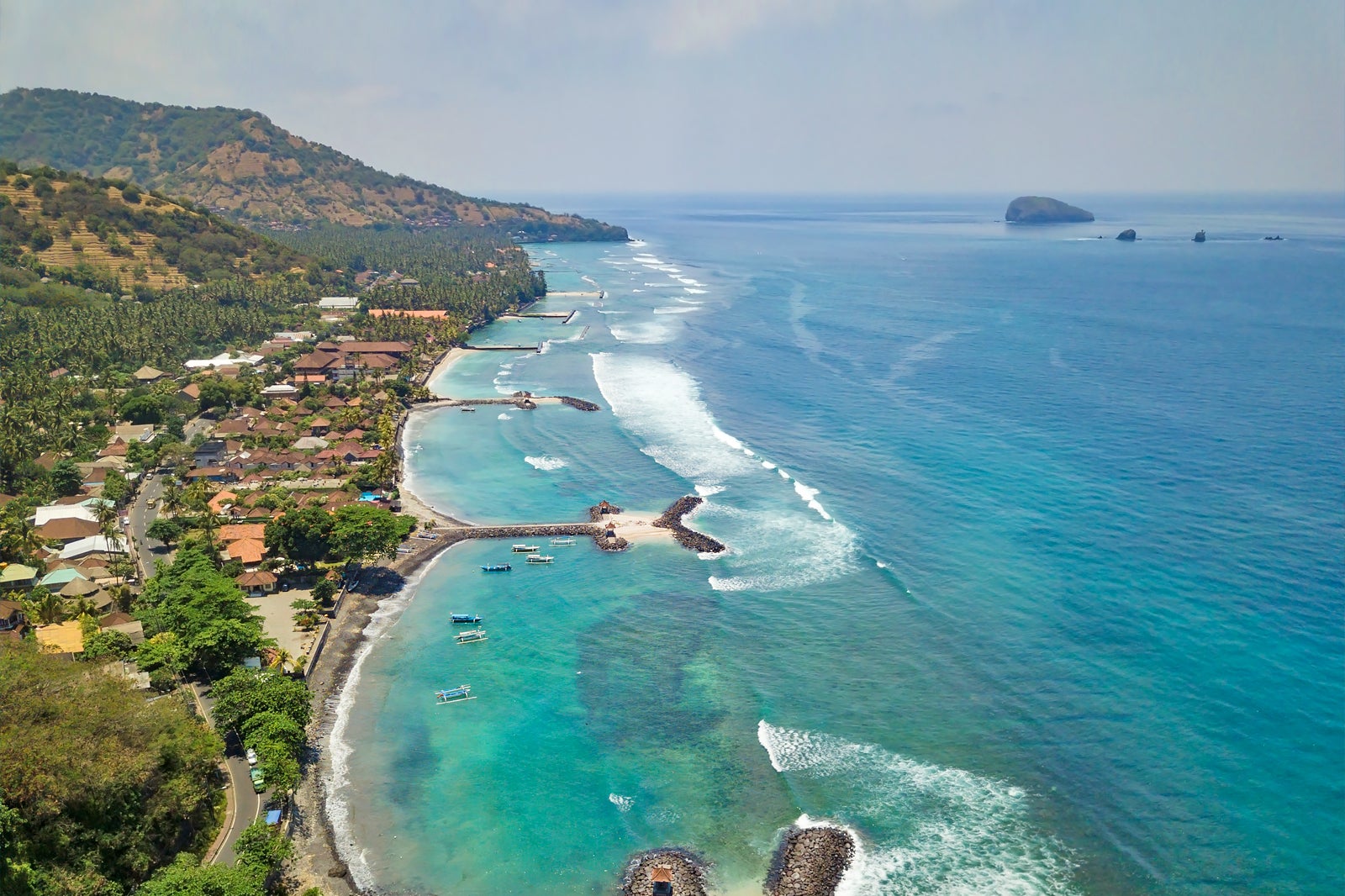 Trekking and sightseeing around Candidasa
Candidasa is a strategic place from where to start on adventurous treks through Bali's eastern region. Among the popular treks around the resort area are the hillside and coastal temples such as the ones near Padangbai. These sites are of historical and cultural significance, while they also offer serene coastal views.
Among the largest sites is the 11th-century Pura Silayukti temple. Nearby is the Pura Telaga Mas and Pura Tunjung Sari. Another hill with a namesake temple, Pura Gumang, offers a rewarding outlook over Candidasa's coast. Other trekking options may include routes to the Tirta Gangga royal water gardens or to the original Bali Aga Balinese villages of Tenganan Pegringisingan just uphill from Candidasa proper.
History
Photo
Budget
Adventure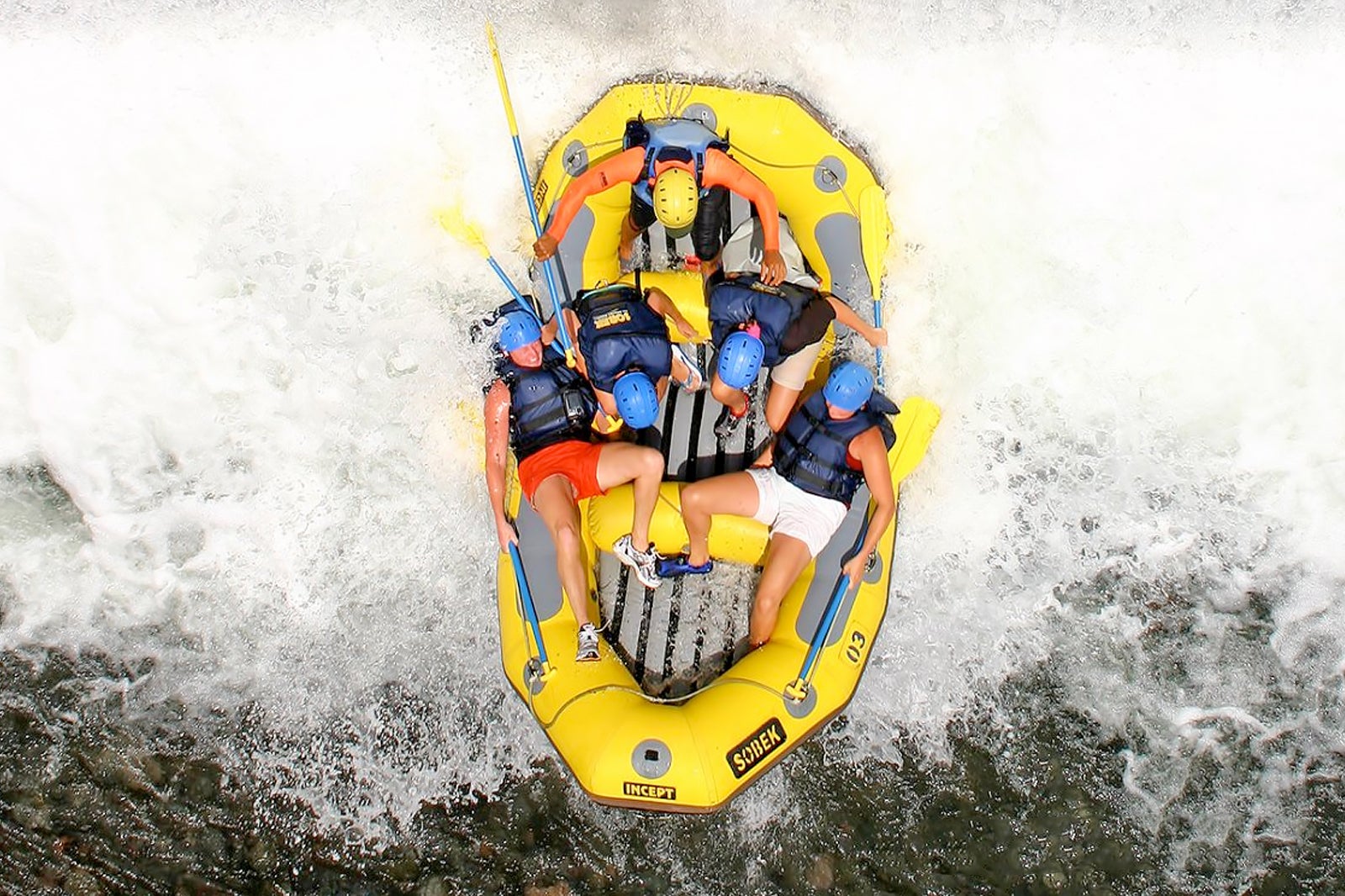 The Telaga Waja river runs through the scenic hilly region in Karangasem, East Bali, and provides a thrilling scene for whitewater rafting adventures. Adventure tour operators in Bali take thrill-seekers on an adventure of a lifetime down the river. It offers a more challenging and exhilarating ride compared to Bali's popular Ayung River in Ubud, central Bali.
The grade 3 to 4 Telaga Waja whitewater course starts off at the foothill of Mount Agung, then navigates through tropical forests, hillsides and sharp curves, and a deep ravine with waterfalls along the 12-km journey. Twists and turns continue throughout the journey until a steep plunge at a water dam serves as the fun conclusion.
Location: Desa Batusesa, Rendang, Menanga, Karangasem, Bali 80863, Indonesia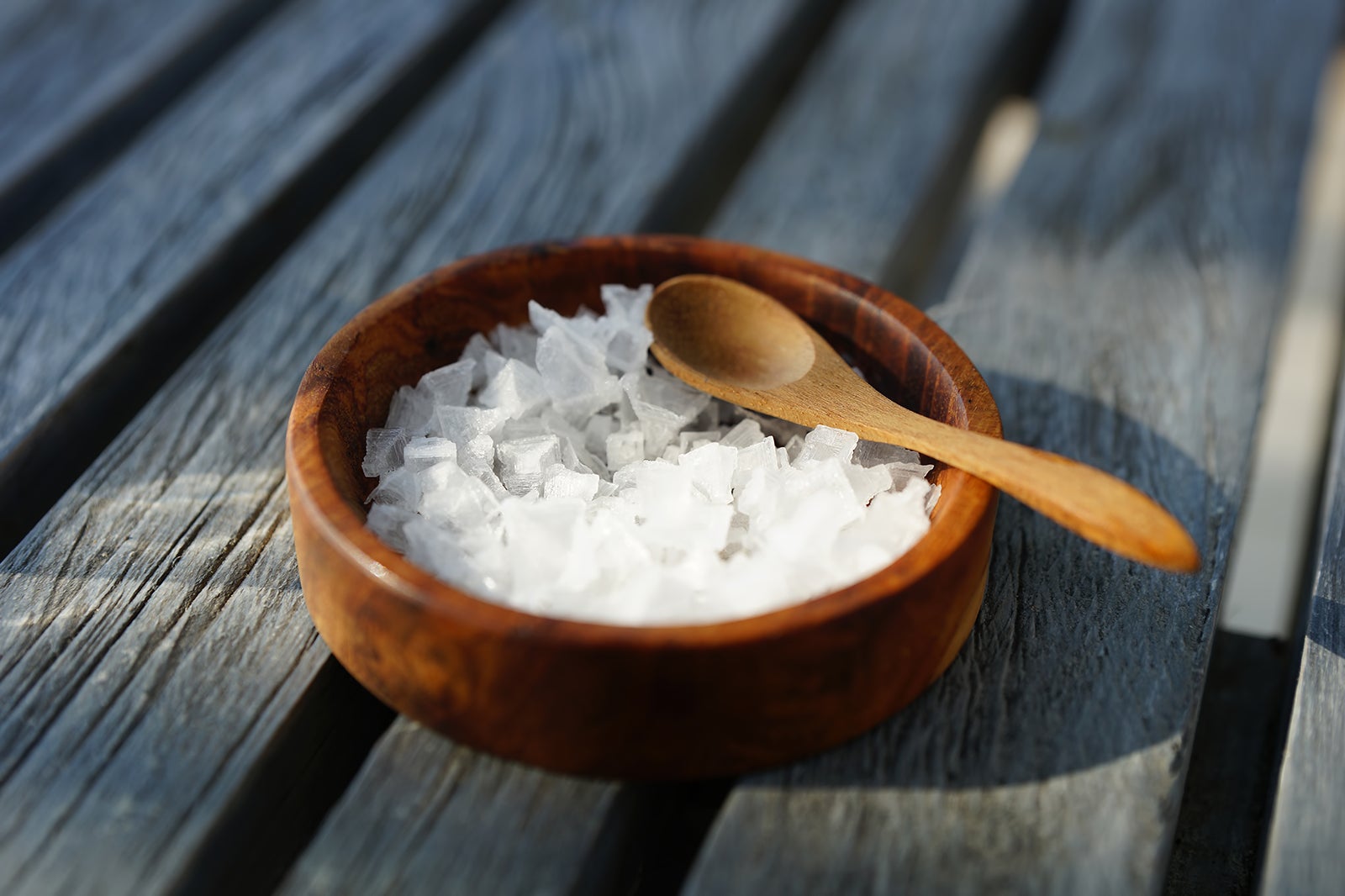 Salt farming in Amed is one of the livelihoods of the traditional villagers here besides fishing. One of the most prominent salt farming communities is located in the Purwakerti coastal village. They oversee the production of salt using natural methods. The processing of seawater into salt is all done by hand, with the help of sun.
Seawater, shoulder-carried on wooden beams, is sieved and spread out on the sand. The remaining salt is then scraped, sorted, cleaned and collected over time. As the seawater dries, the remaining salt is harvested from halves of dugout coconut tree trunks. The farmers also provide samples as souvenirs.
Location: Jalan Raya Amed, Banjar Lebah, Purwakerti, Abang, Karangasem, Bali 80852, Indonesia
photo by Dion Hinchcliffe (CC BY-SA 2.0) modified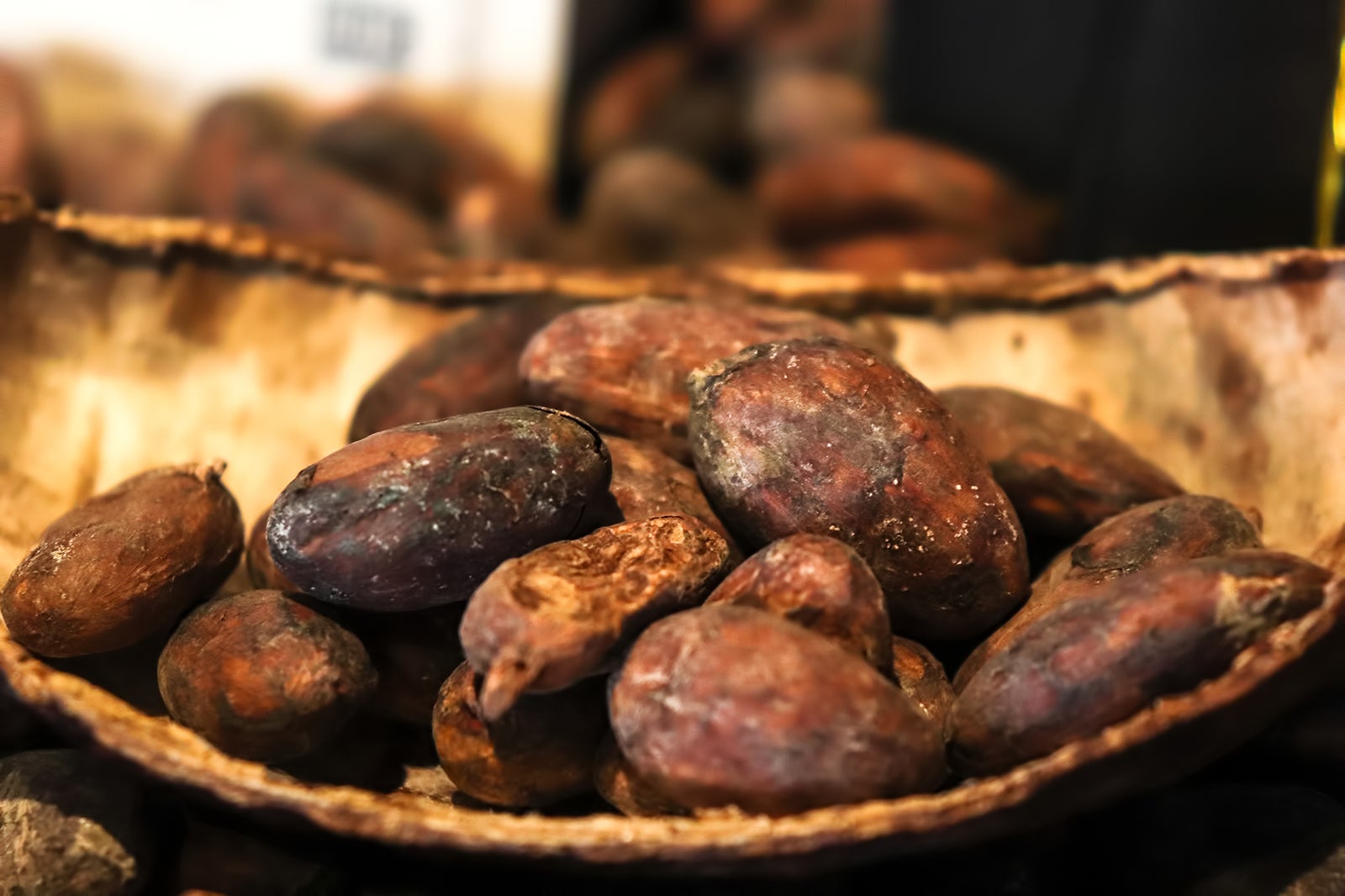 Charly's Chocolate Factory
Charly's Chocolate Factory is a unique sightseeing spot on Jasri Beach near Candidasa in East Bali. The chocolate factory is a privately-owned homemade chocolate production facility where, for a small fee per person, you can visit and tour its coconut groves and hobbit-home-like houses where most of the products are made and displayed.
The houses are built of layered bamboo and shaped like huts with pointy roofs, and with round windows that swivel in the centre to let in the fresh sea breezes. You can purchase a bar of organic soap, which it also produces here, as a keepsake of your visit.
Location: Jalan Pantai Jasri, Pertima, Subagan, Karangasem, Bali 80813, Indonesia
Open: Daily from 9am to 5pm
Phone: +62 (0)813 3701 2121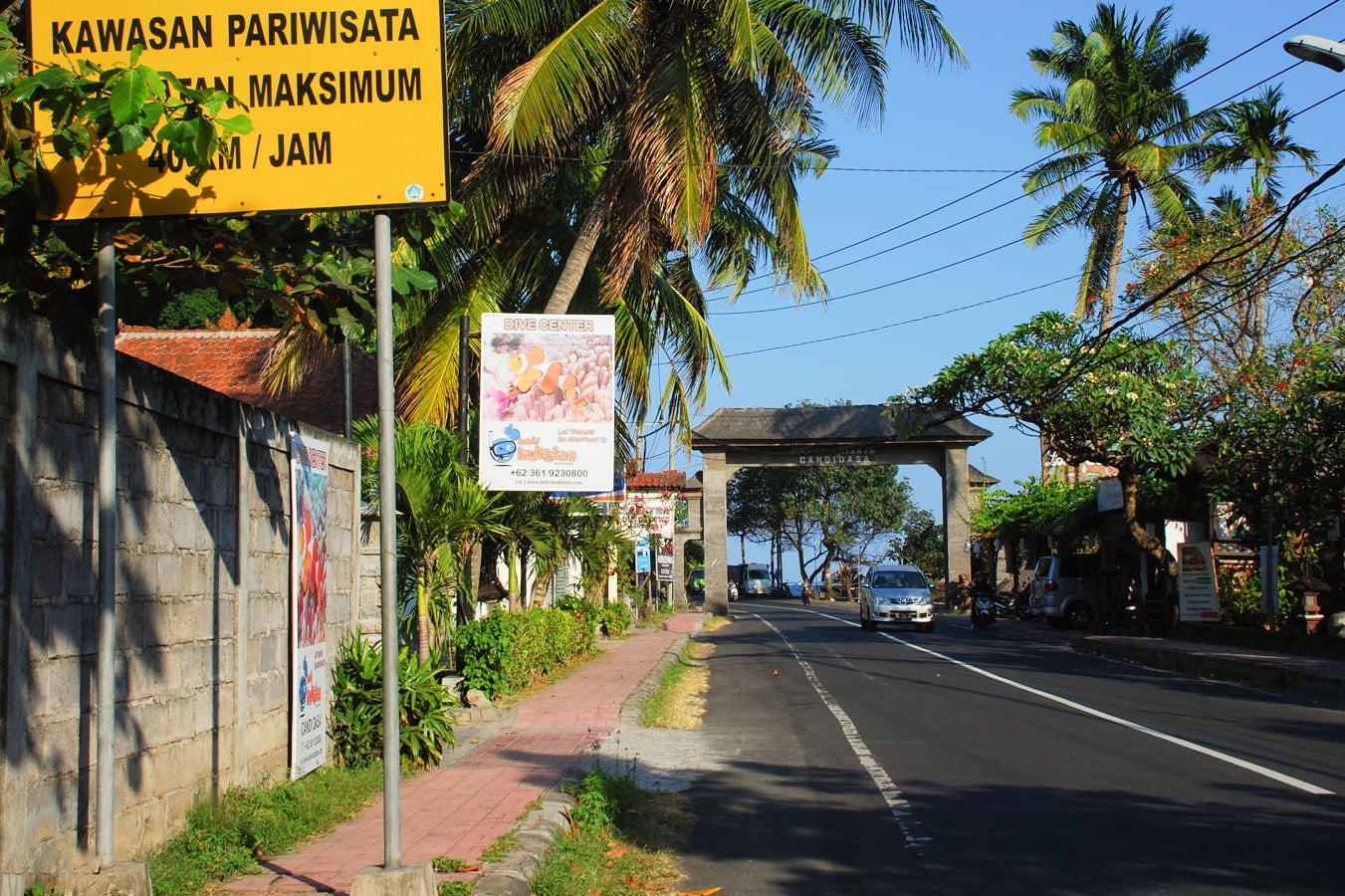 Jalan Raya Candidasa is the main street that runs parallel to Candidasa's coastline. The road also runs through most of Bali's eastern region. It's also where you can find most of Candidasa's points of interest. These include beachfront hotels, resorts, restaurants and bars.
It's also a shopping street, and you'll most likely begin your shopping adventures as well as sightseeing here. Most of the mini markets and art shops are around the street's midway point, while the Candidasa Lotus Lagoon landmark and its hillside temple are at the eastern end.
Location: Jalan Raya Candidasa, Candidasa, Karangasem, East Bali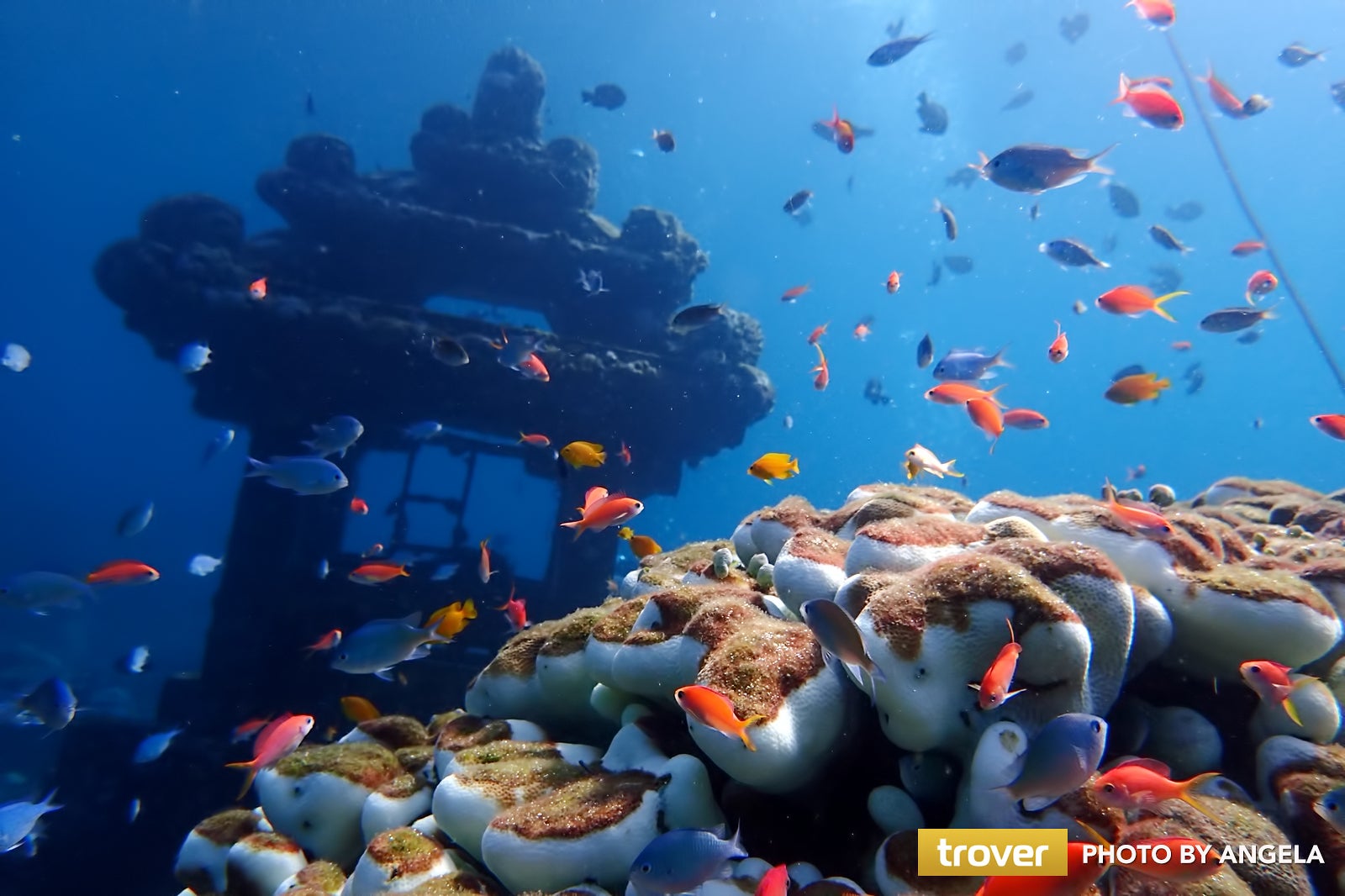 Jemeluk Bay Underwater Gallery
Jemeluk Bay Underwater Gallery is an underwater garden that's filled with sunken sculptures, right off the coast of Amed Beach in East Bali. The sculptures feature an overgrowth of corals that have bloomed into a magnificent underwater attraction – a highlight for divers in the area. Some of the sculptures here are the works of Indonesian artists.
The underwater gallery is overseen by UK-based eco-art group The Marine Foundation together with several environmental NGOs. A longstanding underwater feature here includes a working underwater mailbox – yes, you can actually post a card or letter back home on your dive here!
Location: Jemeluk Bay, Amed Beach, Karangasem, East Bali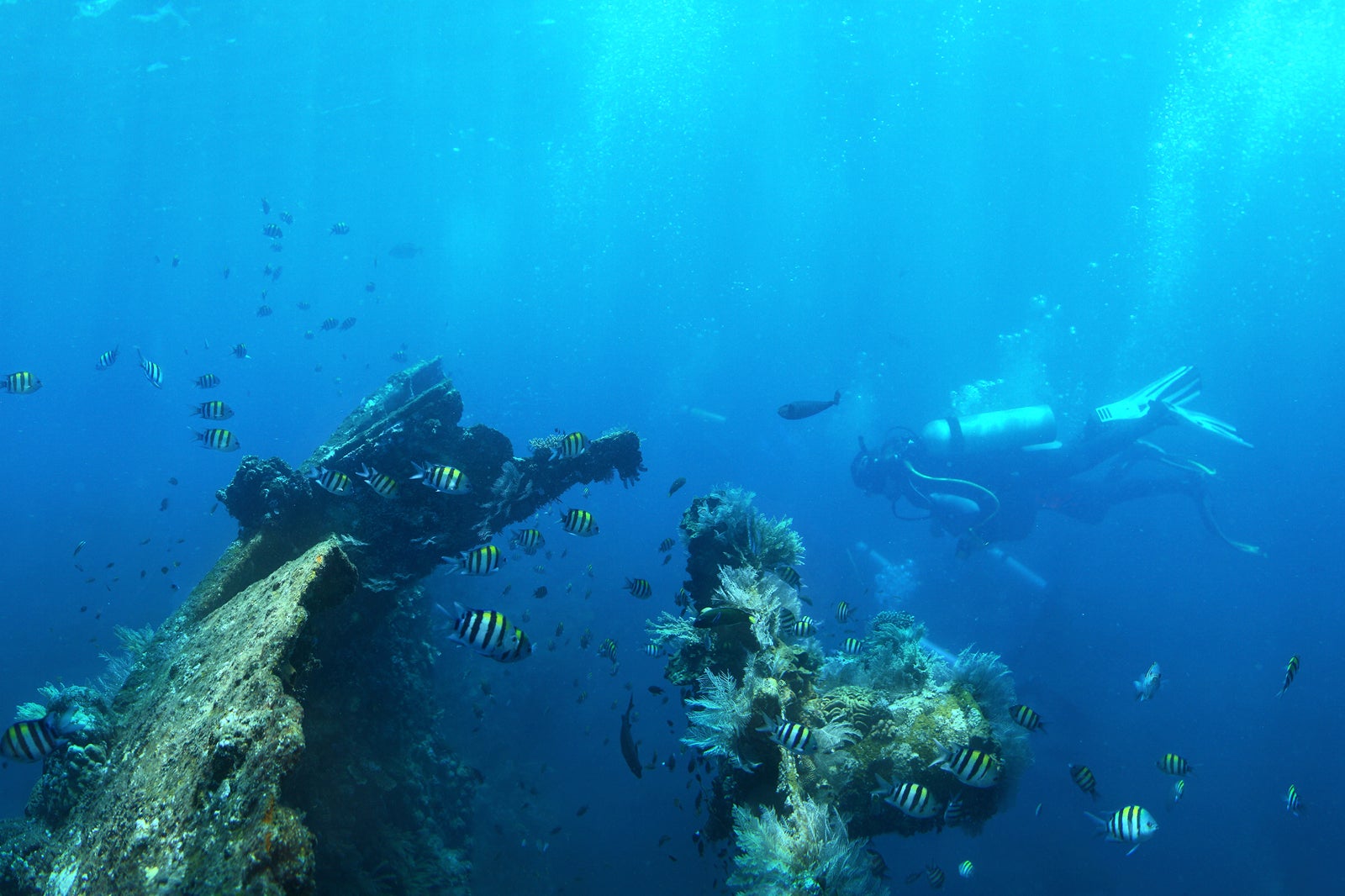 To the average visitor, Tulamben might easily come across as a small traditional fishing village, but there's a treasure that lies under the surface of its calm waters. The village is about 30 km north of Amed (which also happens to be a prominent fishing village best known for its traditional salt farms). For divers, though, Tulamben is an underwater playground and the USS Liberty shipwreck is its well-known underwater landmark.
The cargo ship which sank following a torpedo hit from a Japanese submarine in 1942, now lies at around 30 meters from the coastline. The wreck has become an accidental structure blooming with soft corals and residence to schools of tropical reef fish.
Location: Tulamben, Kubu, Karangasem, East Bali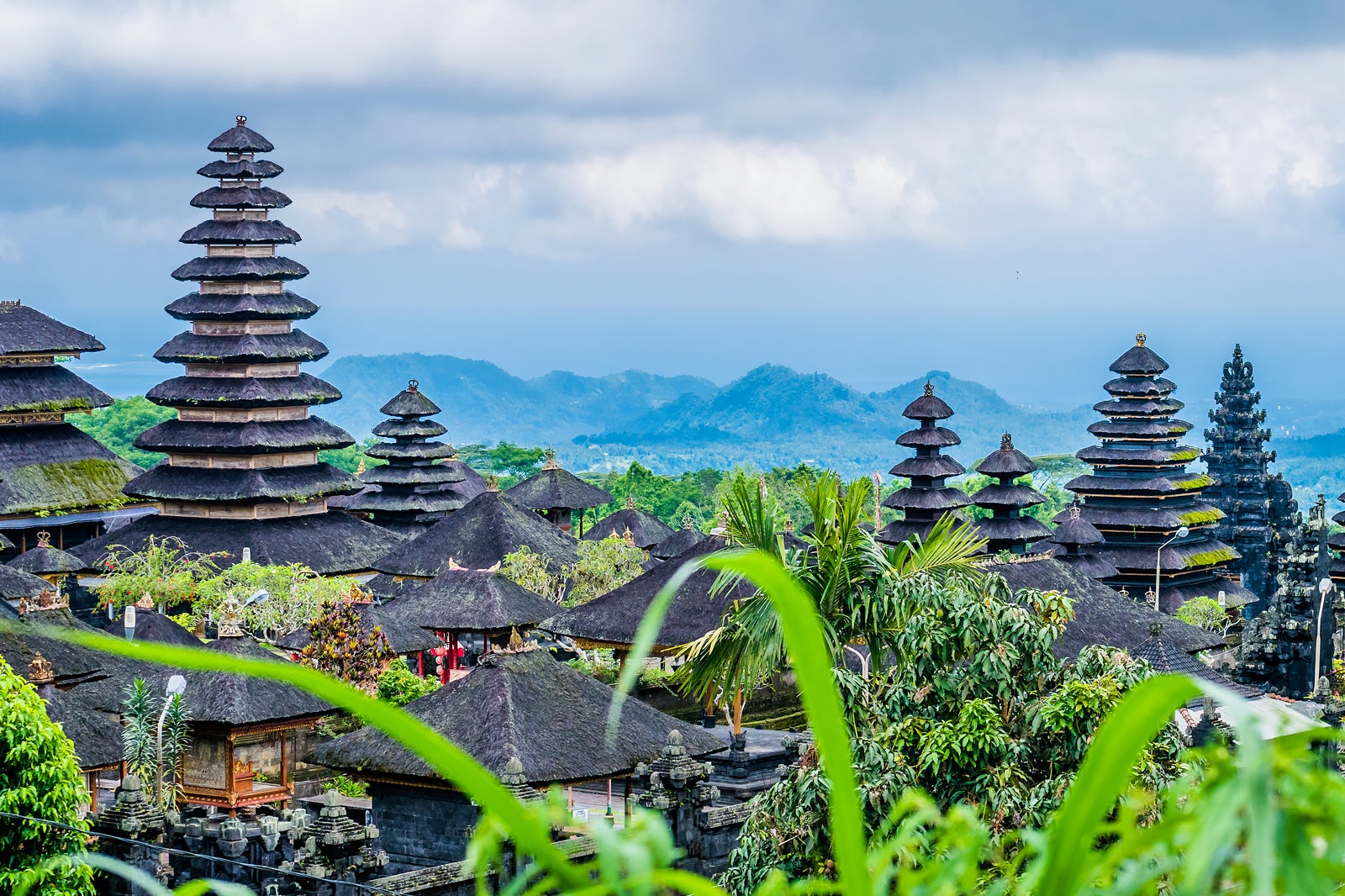 Besakih Temple is nicknamed the 'mother temple' of Bali. It's called as such due to the sheer size of the whole complex, which comprises at least 86 different temples within. These include the main Pura Penataran Agung (the Great Temple of State) occupying the central courtyard. The temple sits high on the southwestern slopes of Mount Agung, Bali's tallest peak.
Climb to the top of Besakih's towering staircases and you can often take in the surrounding landscapes with scenic local rice paddies and distant hills and mountains afar. Allow up to half a day to explore the whole site and the separate mini complex at the top where you can get even more impressive views.
Location: Besakih, Rendang, Karangasem, Bali 80863, Indonesia
Open: Daily from 8am to 5pm
Couples
Families
History
Photo
Budget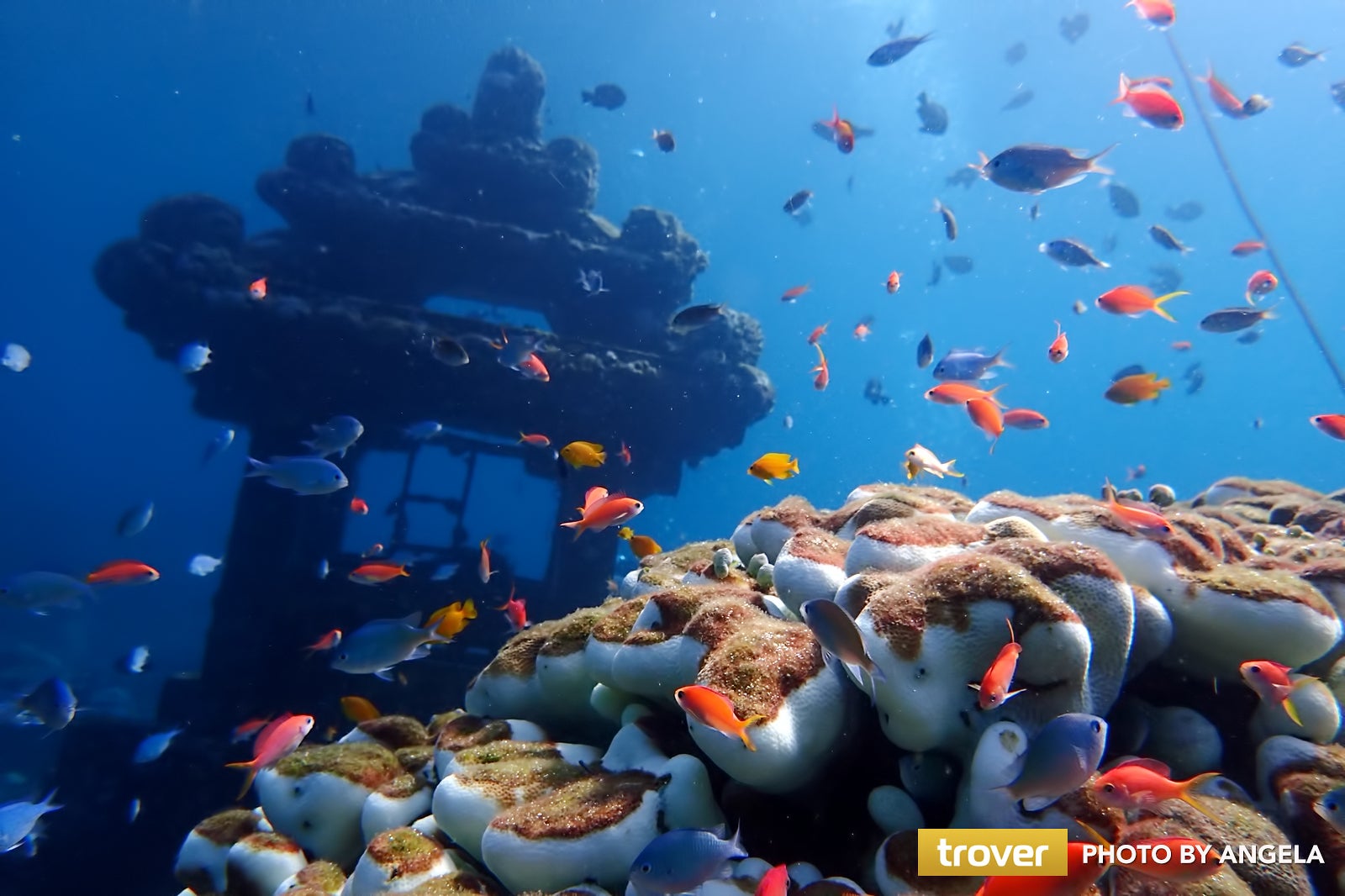 Underwater gardens in East Bali
East Bali's overland terrain is known to be quite arid, and the further you head east, the more desolate it seems especially around 'lava land' where Mount Agung's eruption once flowed to the sea. But what lies beneath the waves are truly colourful and magnificent, with Tulamben and Amed being among Bali's top dive sites.
These sites offer great underwater 'treasures' for you to discover on your dives, ranging from bio-rock reefs to underwater statues that have become new homes for tropical marine life. These mesmerising 'sunken gardens' and ecosystems are great for out-of-this-world holiday photos. There's the Jemeluk Underwater Bay Gallery in Amed, and the Suci Place and Boga Shipwreck in Tulamben, to name a few.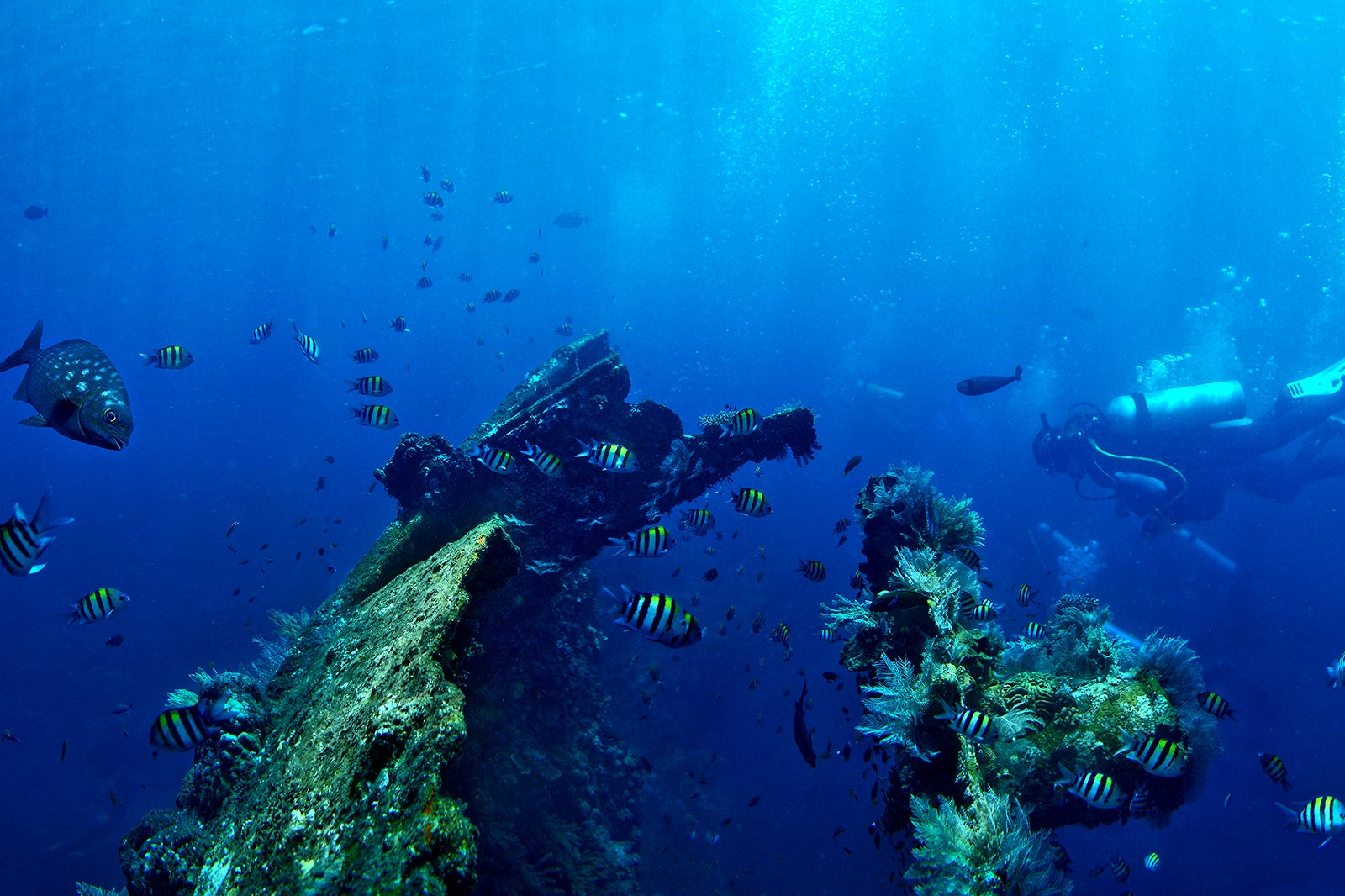 The USAT Liberty shipwreck is one of the main diving attractions in Tulamben, East Bali. This shipwreck has attracted divers from the world over to the spectacular remains of a WWII-era cargo ship, which sunk in 1942 after being hit by a Japanese torpedo some 19 km southwest of the Lombok Strait.
US and Dutch destroyers attempted to tow it to the old Singaraja seaport in North Bali but failed. The ship then beached on the shores here in Tulamben for salvaging. Then, following the eruption of Mount Agung 2 decades later, the wreck got pushed back some 25 metres out, resting at a depth of 30 metres and eventually becoming home to colourful coral colonies teeming with tropical fish.
Location: Tulamben, Kubu, Karangasem, Bali 80852, Indonesia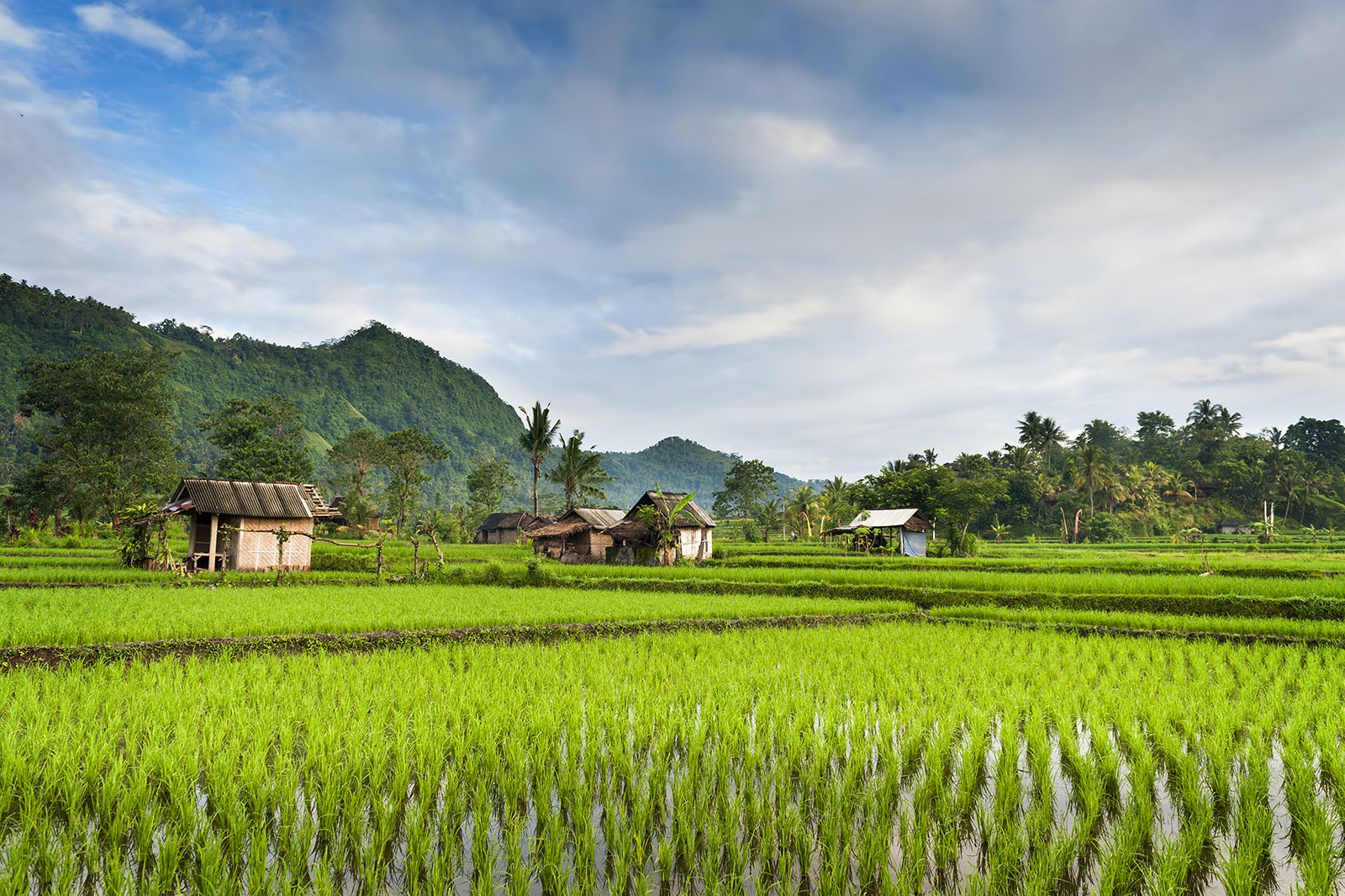 Sidemen is a scenic traditional village between the Klungkung and Besakih Temple route in Karangasem, East Bali. It's a highlight of sightseeing journeys to the region. The village is also known among Balinese locals as the top producer of traditional palm toddy called tuak, which is also often further refined into arak palm wine. Cottage industries producing the beverage are widespread throughout the village.
A great souvenir to take home from Sidemen is the villagers' traditional dye weavings, in variations called songket and endek. The fabrics are praised for their intricate motifs and use of colourful hand-loomed cotton or silk threads. Your drive through the lush green paddies of the village alone provides a truly memorable sight.
Location: Jalan Soka No.67, Sidemen, Karangasem, Bali 80864, Indonesia
Couples
Families
Photo
Budget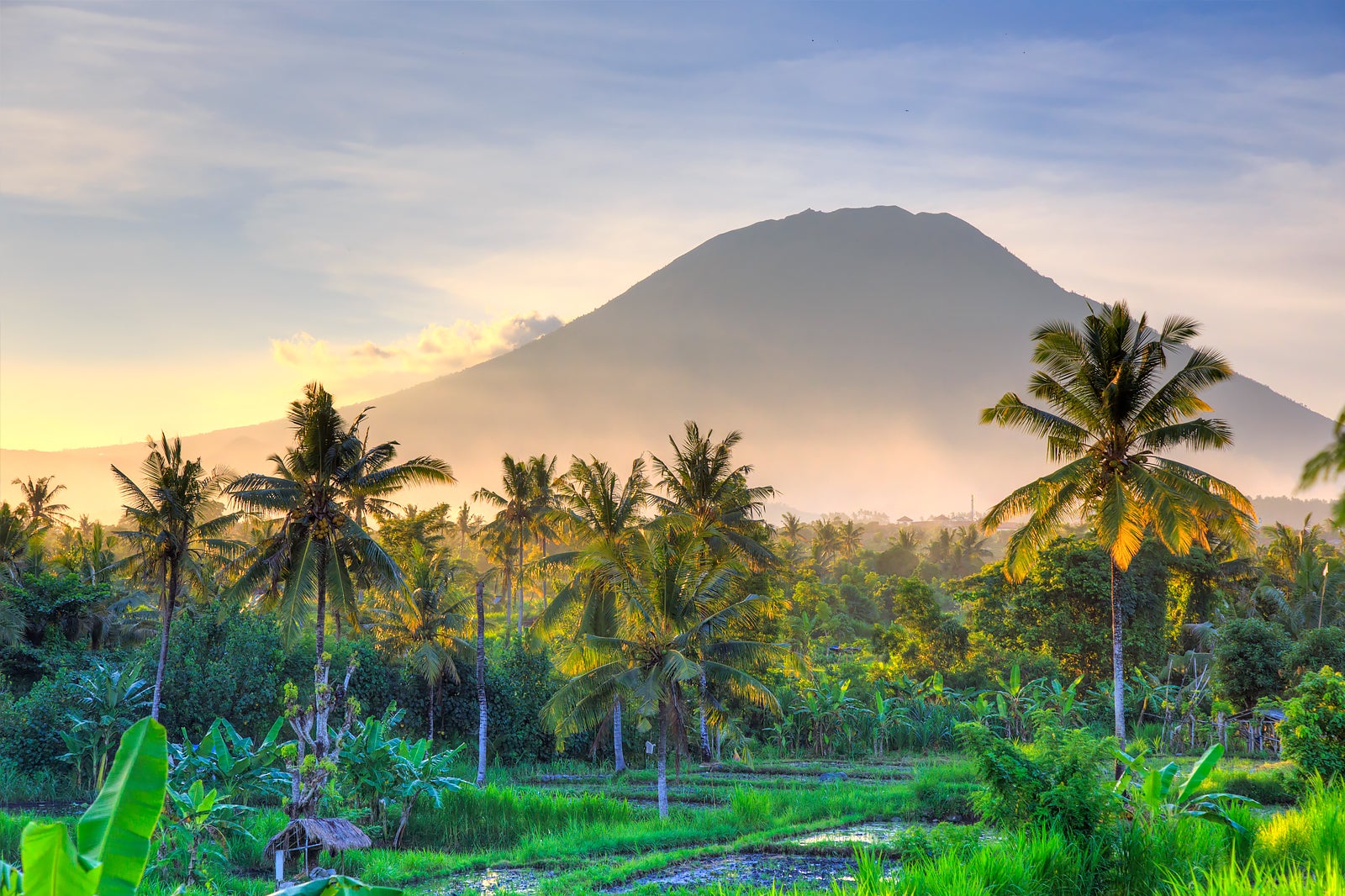 Mount Agung is Bali's highest peak that dominates the landscape of the East Bali region. The active stratovolcano largely influences the arid and dry climate of this region, and Bali's 'mother temple' of Besakih calls its southwestern slopes home. Mount Agung last erupted between years 1963 and 1964, and its large and deep crater showed activity again in late 2017.
During Mount Agung's periods of low activity, guided climbing tours usually start out very early, with the longest treks usually setting out before midnight. Shorter treks set out at the Pasar Agung Temple after midnight, ensuring you reach the peak just before daybreak to capture the first light of day – the major highlight of the trek.
Location: Jungutan, Bebandem, Karangasem, Bali 80853, Indonesia
Watu Klotok temple and beach
Watu Klotok Temple is a 10th-century Balinese Hindu temple in the coastal village of Tojan, Klungkung regency, East Bali. This beachfront temple dates to the time of the historic high priest Mpu Kuturan, but is set within a site that itself is believed to date back to the megalithic ages.
The temple overlooks Watu Klotok Beach, a stretch of black and pebbly sand that's bordered by the verdant rice fields of a neighbouring farming village. You can reach the temple and beach after a scenic kilometre-long drive past these paddies from the Jalan Bypass Ida Bagus Mantra highway.
Location: Jalan Pantai Klotok, Tojan, Gelgel, Klungkung, Bali, Indonesia
Padangbai is better known for its main seaport in East Bali where ferries and boats take travellers south-east-bound to Lembar Harbour on the neighbouring island of Lombok. Even so, this coastal village has much more to offer for day-trippers to Bali's lesser-visited east. It offers some cultural sites as well as great diving and snorkelling from its small but great collection of white sand beaches.
Divers won't find a shortage of operators here, as they line the beachfront. Also, boats operated by locals can take you to the best spots around the waters to discover the vivid reefs teeming with marine life. The visibility is good year-round.
Location: Manggis, Karangasem, Bali, Indonesia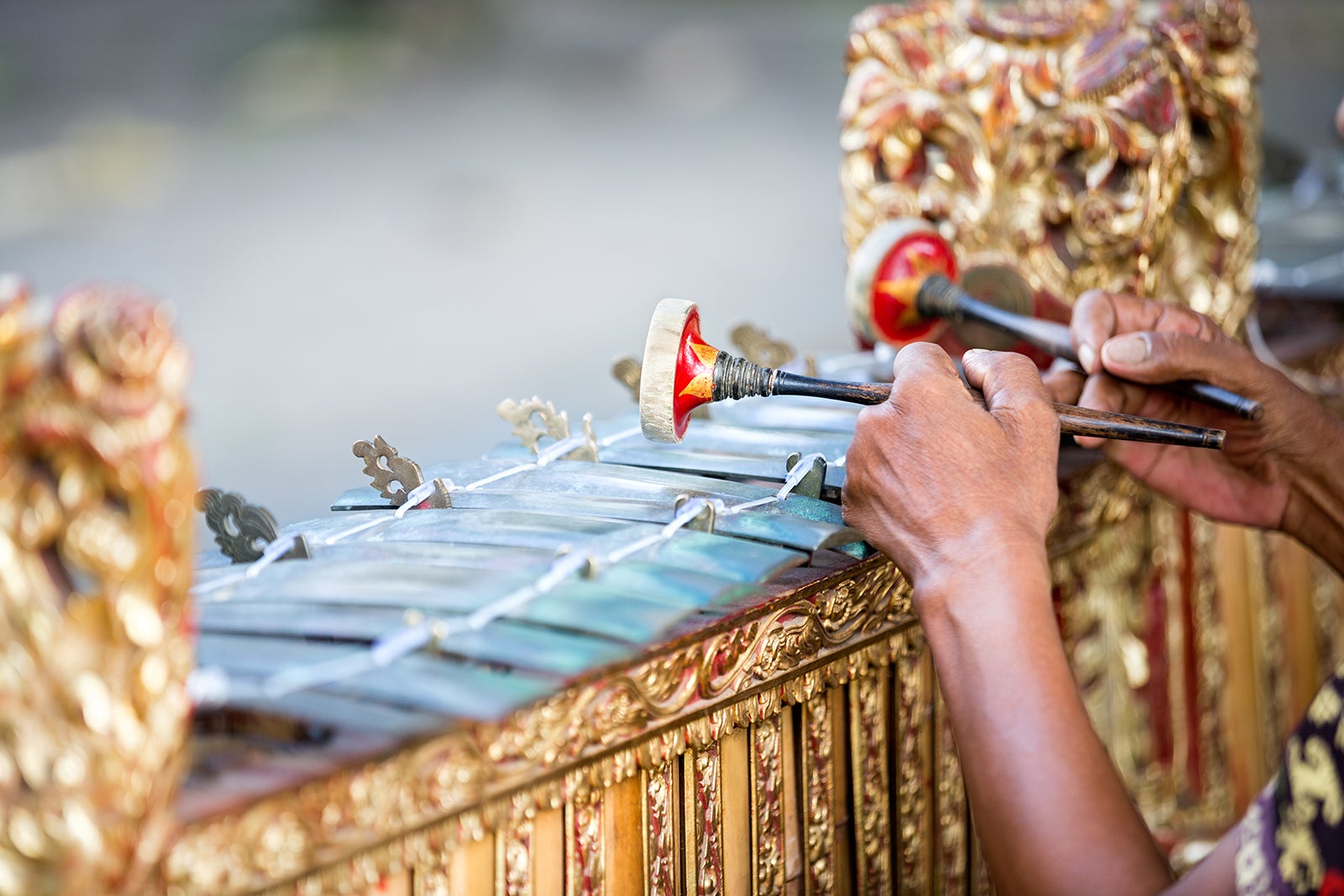 Tihingan is a traditional village in Klungkung, East Bali, that's well-known for its community of Balinese craftsmen who specialize in producing gongs and gamelan instruments. Most of the island's known instruments are manufactured here. These range from gongs, the different metallophones that make up most of the gamelan ensemble, as well as the 2-sided drums.
The Tihingan master craftsmen even produce the ritual objects and brass and copper items that are widely used by Balinese priests in general prayers and holy blessings. Throughout the village, there are different gamelan smith households with workshops and galleries. Items crafted here carry the distinctive heritage mark that identifies the family that produced it.
Location: Tihingan Village, Banjarangkan, Klungkung, Bali 80713, Indonesia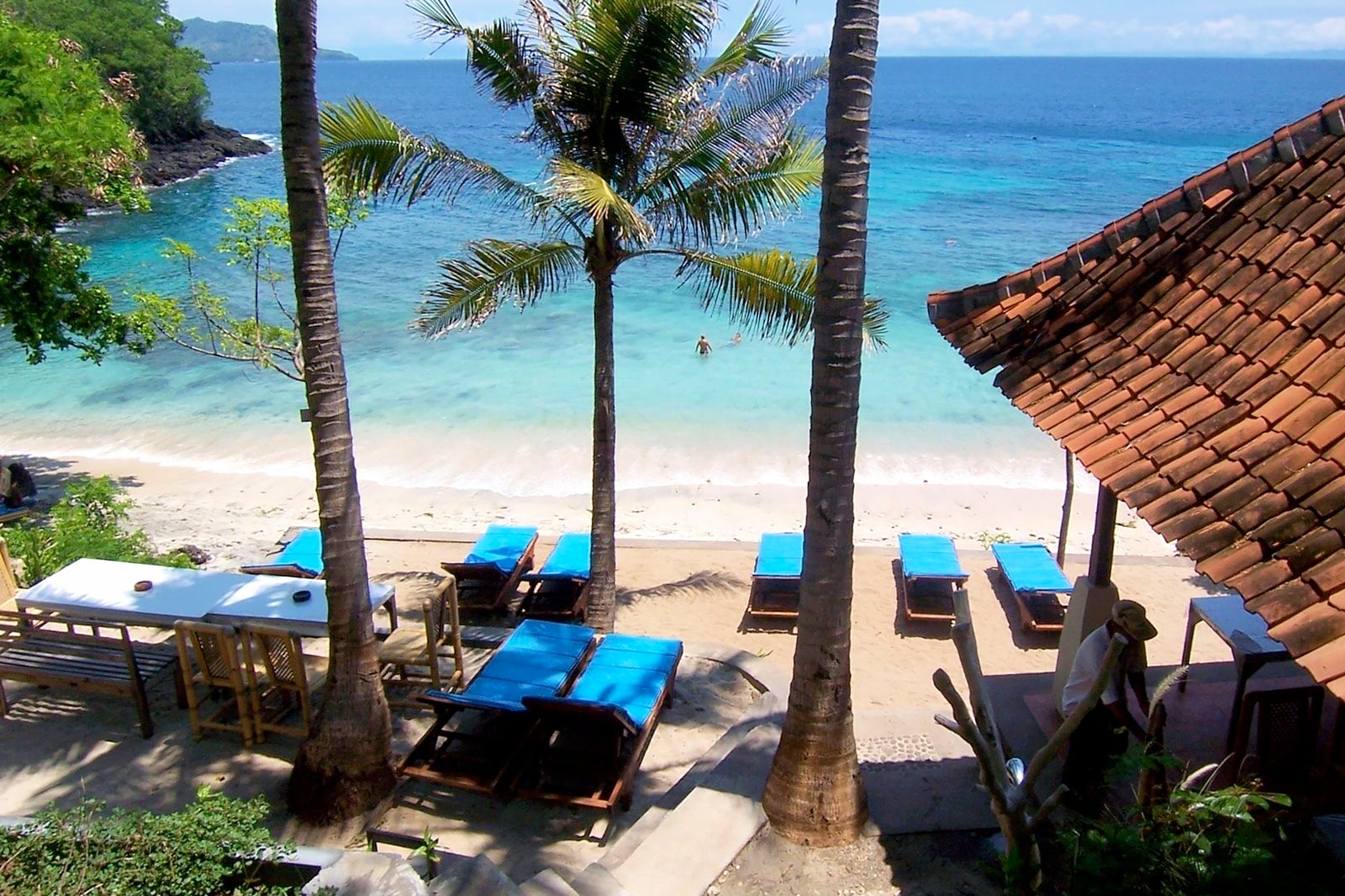 Blue Lagoon Beach is one of East Bali's most scenic and secluded beaches. The beach lies just northeast of the main beach of Padangbai and is framed by green and rocky hills on both sides. You can pick a sunbathing spot right on the sand or, if you prefer, opt for a space in the shade as the entire edge of the beach is lined with palm trees.
You'll also come across locally run warung or food stalls selling cold drinks and snacks, while some others also double as rental places where you can get your snorkels and fins. You'll find coral just a few meters from the shore, making it easy to snorkel out right away.
Location: Padangbai, Manggis, Karangasem, Bali 80871, Indonesia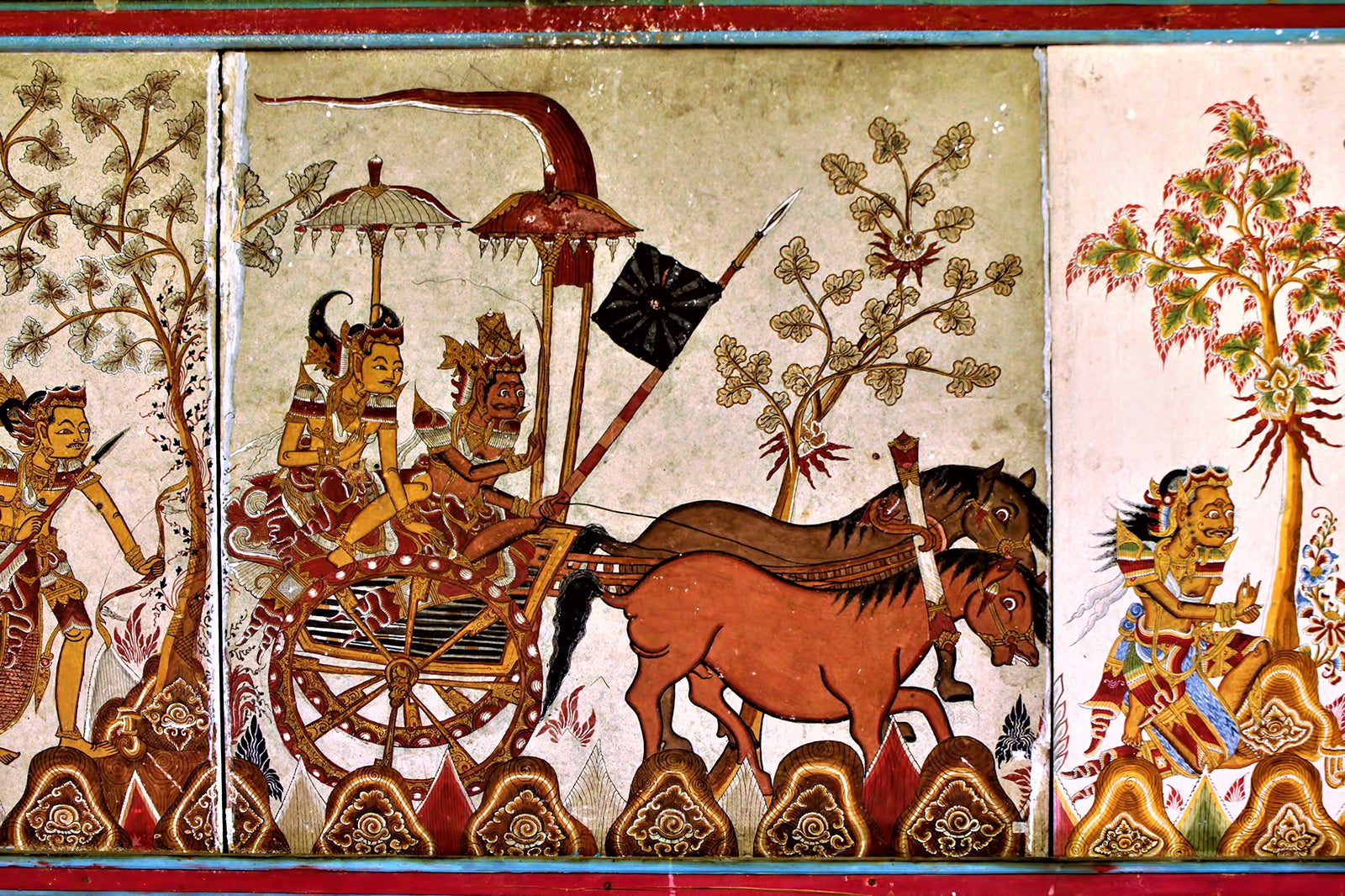 Kamasan Village is home to a traditional painting community in the regency of Klungkung in East Bali. The village is also where one of Bali's famous painting styles was born. Throughout the village, you can visit many different painting galleries and workshops that are run by families. Their skills in the arts have been passed down through generations.
Although their works vary in subtleties, the Kamasan style is prevalent throughout. The paintings mostly feature visual narratives in the form of wayang (shadow puppet) characters that are inspired by episodes taken from well-known Hindu epics such as the Ramayana and the Mahabharata.
Location: Kamasan, Klungkung, Bali 80761, Indonesia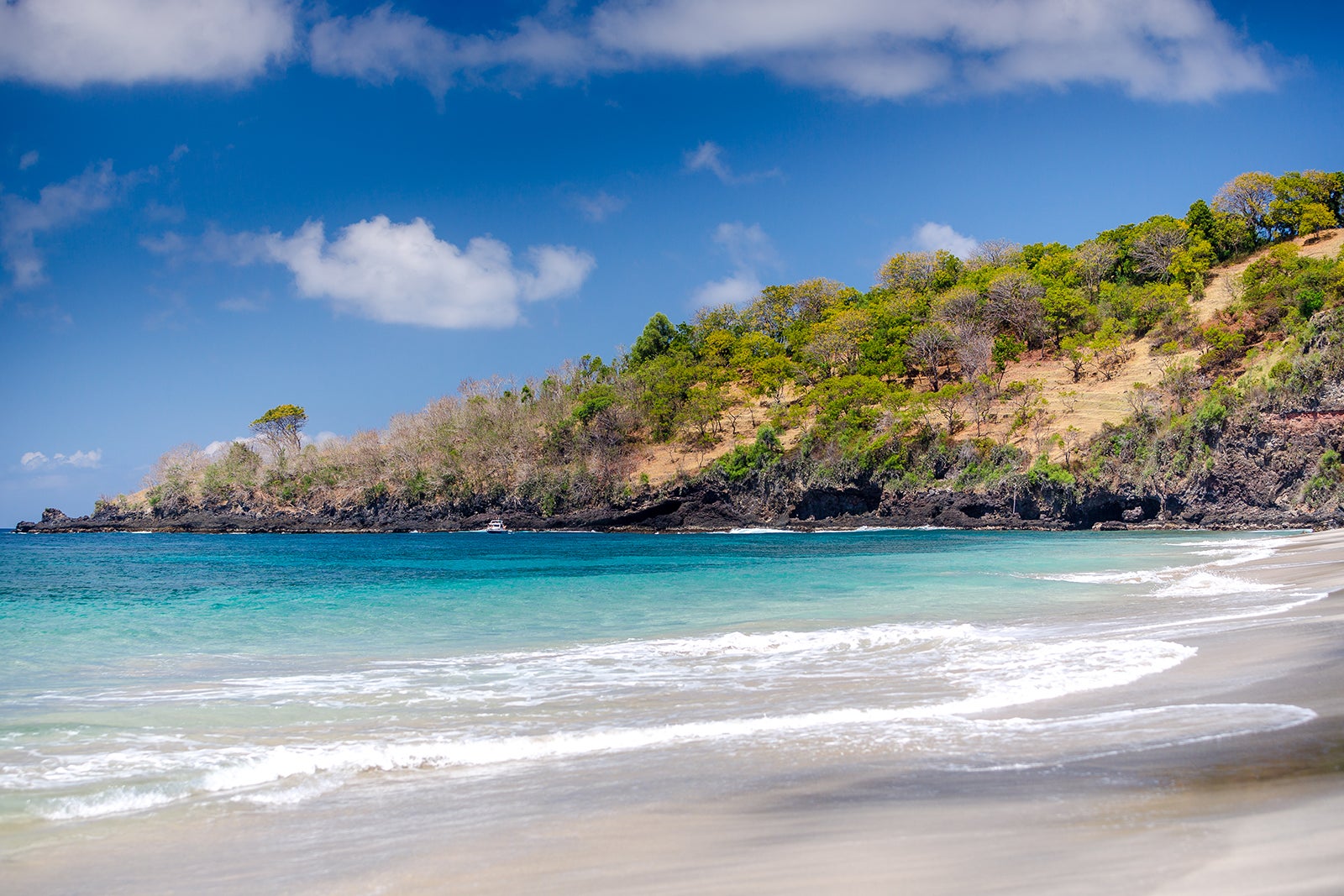 Bias Tugel Beach is a small bay with a 130-metre-long stretch of white sand that's just south of the busy Padangbai Harbour. The bay offers a tranquil scene thanks to a long and narrow headland that obscures it from the passing boats and cargo ships of the nearby port. You can easily reach the beach via a short trek past the cape from the main road to Padangbai.
The beach offers a beautiful seascape – calm blue waves, rock pools and golden sand with streaks of volcanic black sand makes up the view. You'll also find local vendors selling snacks, cold beers and parasols along this stretch of the coast.
Location: Padangbai, Manggis, Karangasem, Bali 80871, Indonesia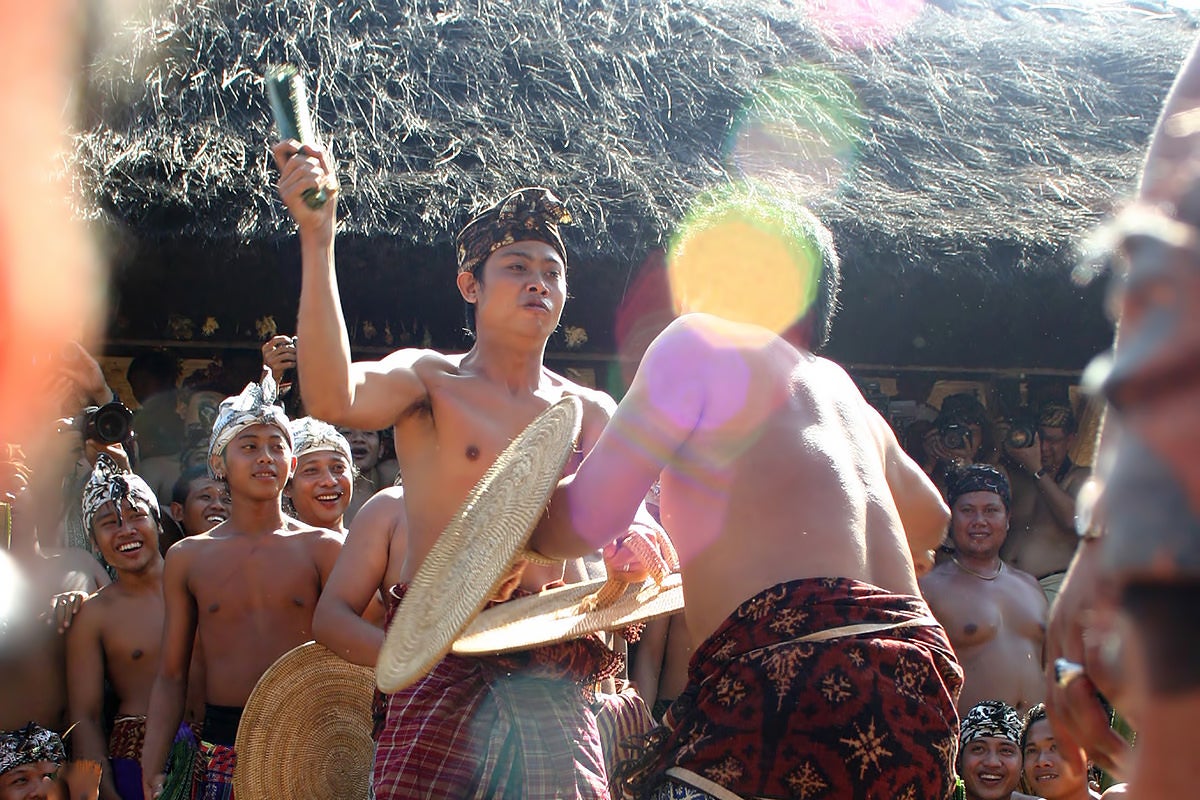 Perang Pandan at the village of Tenganan in Karangasem, East Bali, is an age-old tradition unique only to this well-preserved Balinese village in East Bali. Also referred to locally as mekare-kare and megeret pandan, Perang Pandan is a mass coming-of-age ritual, dedicated to the Hindu god of war and the sky, Indra.
The event sees friendly duels between all male villagers, who bout each other armed with a small rattan shield in one hand and a tied packet of thorny 'pandan' leaves in the other. The event is held annually, adhering to its own local calendar, but which usually coincides in June or July in the villages of Tenganan Pegringsingan and Tenganan Dauh Tukad.
Location: Tenganan, Manggis, Karangasem, Bali 80871, Indonesia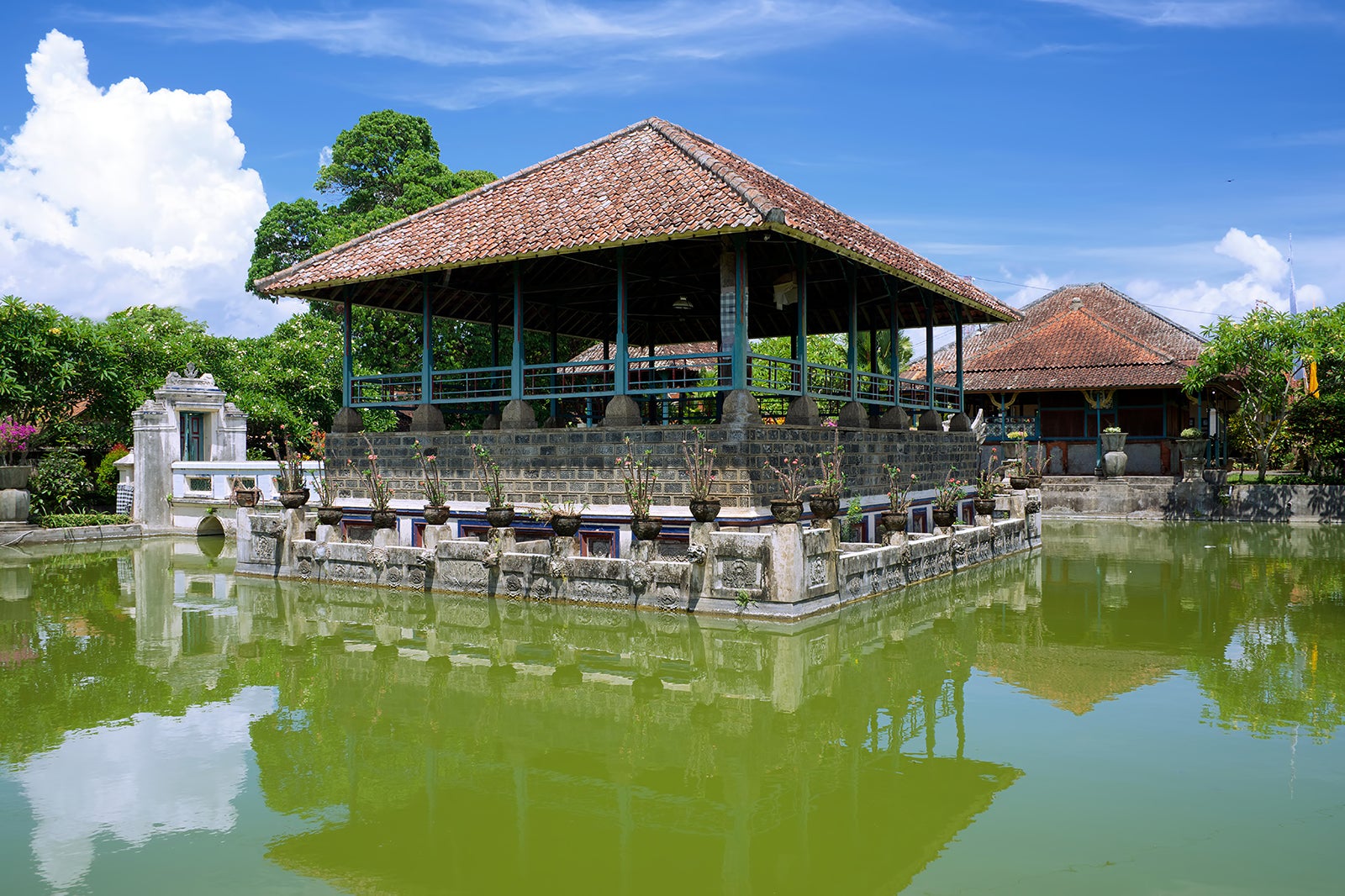 Puri Agung Karangasem Royal Palace
Puri Agung Karangasem is collectively several royal palaces of the Karangasem kingdom, which are all positioned within a 100-metre radius of the capital town of Amlapura. You can find these separate palaces in 3 main locations within the town hub: Puri Kaleran to the north, Puri Gede on the west, and the main Puri Agung complex.
Puri Agung is the main residential palace of the late Raja of Karangasem, featuring grand structures such as the Bale Pemandesan pavilion and the Maskerdam palatial main building. Many of the historical buildings are well-preserved, retaining much of their past glory with hints of Balinese, Chinese, and European architectural details.
Location: Jalan Sultan Agung, Karangasem, Bali 80811, Indonesia
Open: Daily from 6am to 9pm
Phone: +62 (0)363 21364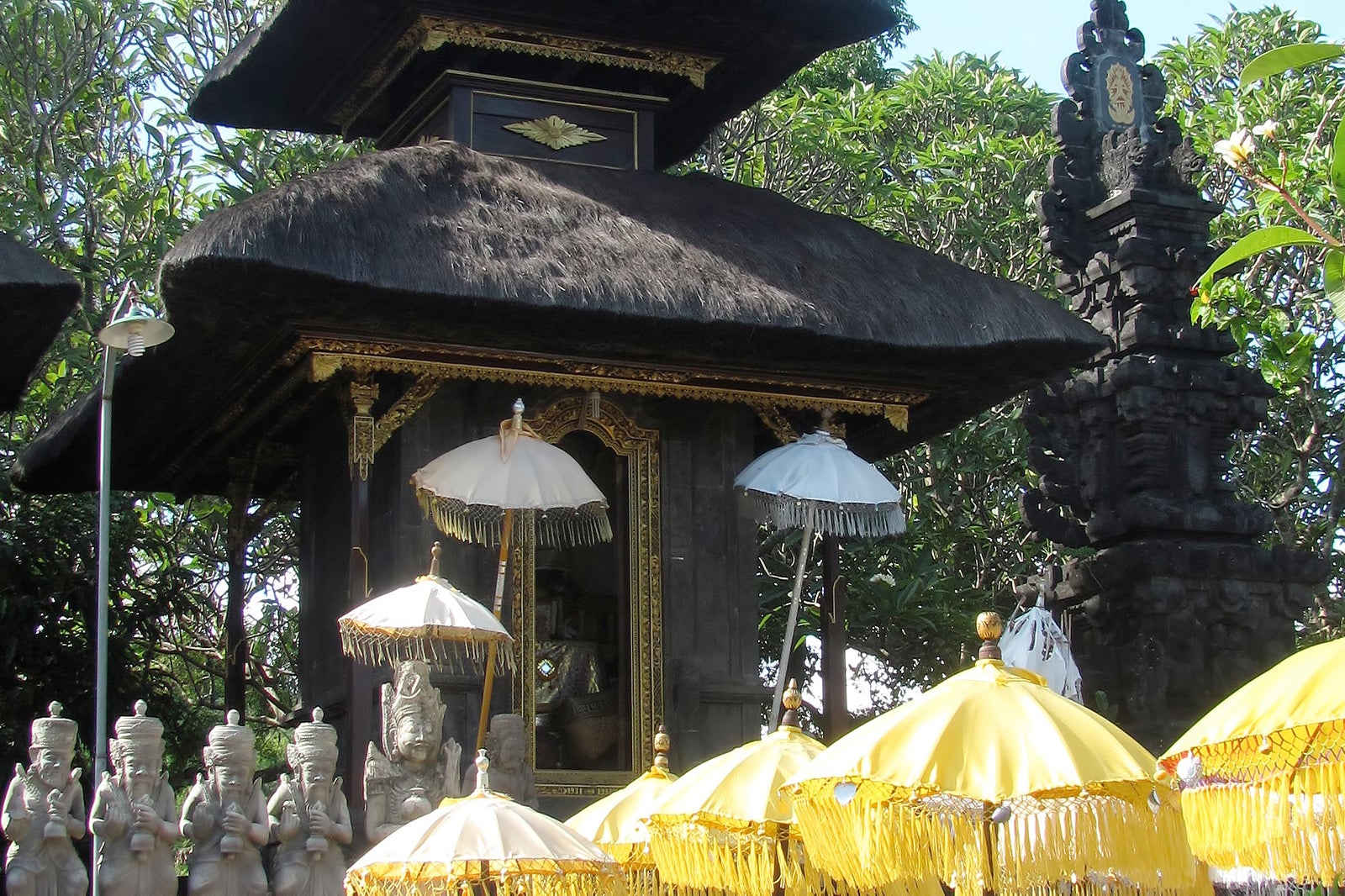 Silayukti Temple is one of the most important historical sites at Padangbai in East Bali. This 11th-century Hindu temple sits on a headland that juts out to sea just northeast of the main bay of Padangbai. Padangbai itself is well-known as one of Bali's main seaports where most ferry out to the neighbouring island of Lombok.
A path leads you up a grassy hill where you will also find 2 other temples: Pura Tanjungsari and Pura Telaga Mas. A visit to Silayukti can be a good break from snorkelling and diving around the area, granting you a great sightseeing opportunity with several temples in one scenic spot.
Location: Jalan Silayukti, Padangbai, Manggis, Karangasem, Bali 80871, Indonesia
photo by Torbenbrinker (CC BY-SA 3.0) modified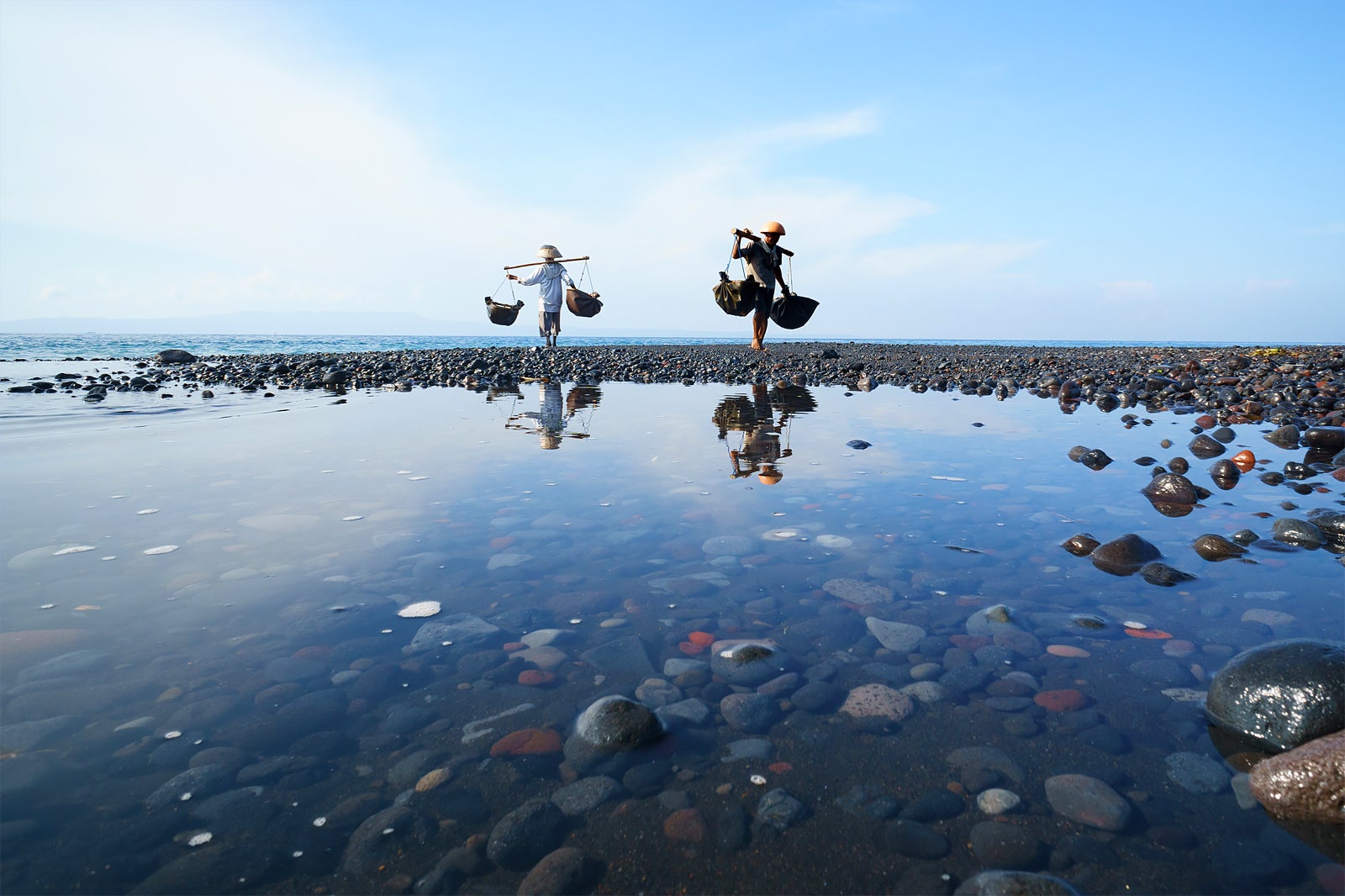 Kusamba Beach and traditional salt farms
Kusamba Beach is one of East Bali's many tranquil and exotic black sand beaches. Kusamba is particularly notable for its traditional salt farming practices that date back to almost a thousand years. The salt farms are run by the local villagers who also make their living from fishing.
On clear mornings, you will usually be able to catch a glimpse of the local fishermen going about their daily routines, preparing their nets and working together to haul their wooden jukung outriggers out to sea. Meanwhile, other locals will usually be busy harvesting salt at plots nearby.
Location: Jalan Kusanegara, Dawan, Klungkung, Bali 80761, Indonesia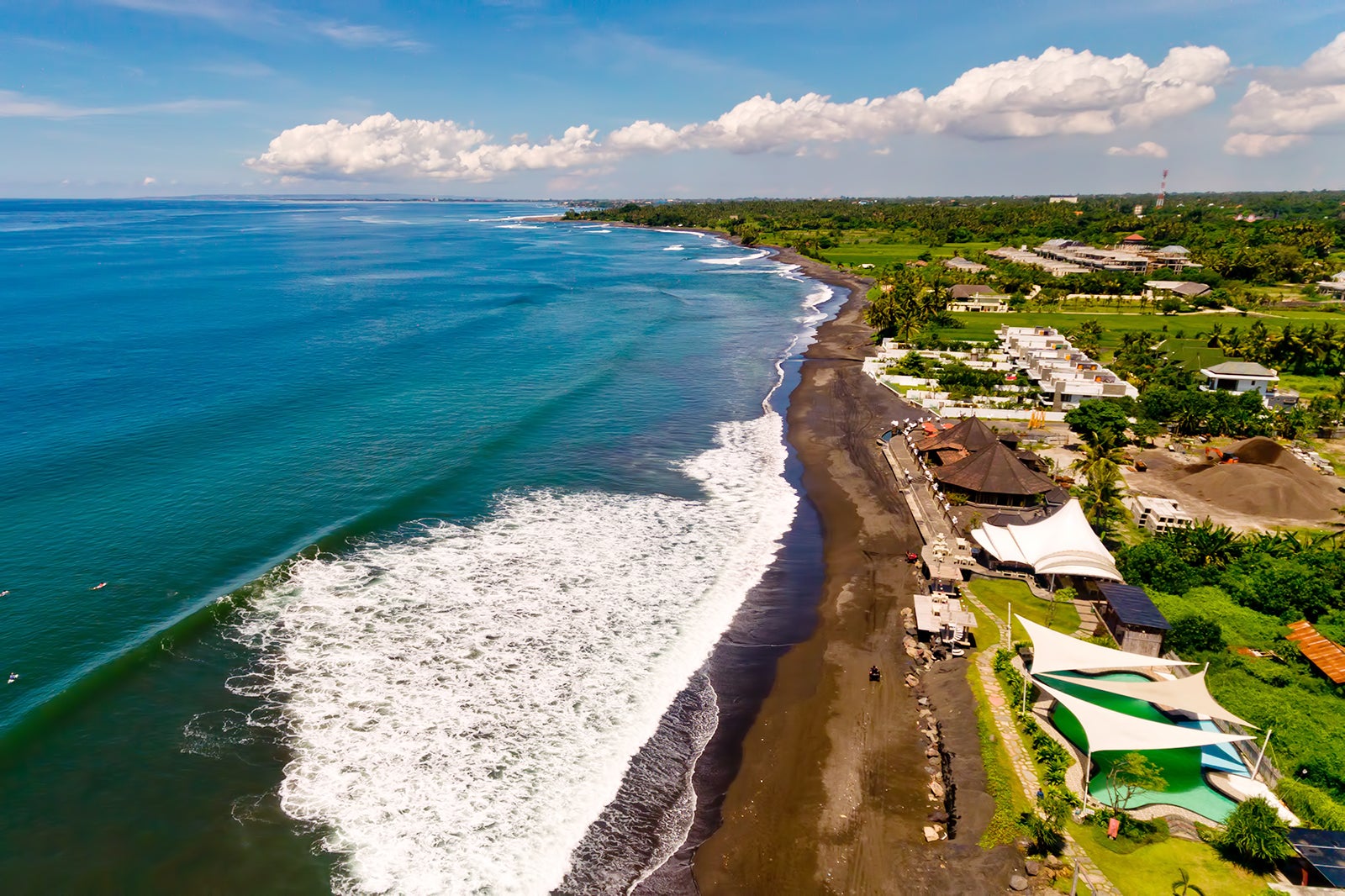 Keramas Beach is a beautiful black sand beach that stretches for about 1.8 km along the south-eastern coastline of Gianyar regency in Bali. The beach is one among several beaches that line this relatively remote stretch of coastline. The other beaches are Saba, Masceti, Cucukan, Lebih, Lepang and Watu Klotok.
All beaches are easily accessible from the main highway of Jalan Ida Bagus Mantra that runs parallel to the coast from northern Sanur and eastward through the regencies of Gianyar and Klungkung in East Bali. If you're into surfing, you can ride the powerful right-hander waves at Keramas, which at times offer some deep tube rides over an uneven lava reef and rock bottom.
Location: Jalan Pantai Keramas, Keramas, Blahbatuh, Gianyar, Bali, Indonesia
Nyoman Gunarsa Museum, locally referred to as Museum Seni Lukis Klasik, is the namesake private gallery of the late Balinese maestro, Nyoman Gunarsa. The art museum was established in 1990 and houses a collection of his classical and contemporary Balinese artworks, ranging from paintings, sculptures and antique items. Gunarsa was known mostly for his expressionistic oil paintings on canvas.
The museum features 3 floors, 2 of which are the main galleries displaying in-house artworks and another that's reserved for local and international guest artists' exhibits. You can reach the museum after a 3-km drive west from Semarapura, the capital of the Klungkung regency in East Bali.
Location: Jalan Pertigaan Banda No.1, Banjarangkan, Takmung, Klungkung, Bali 80716, Indonesia
Open: Monday–Saturday from 9am to 4pm (closed on Sundays)
Phone: +62 (0)366 22255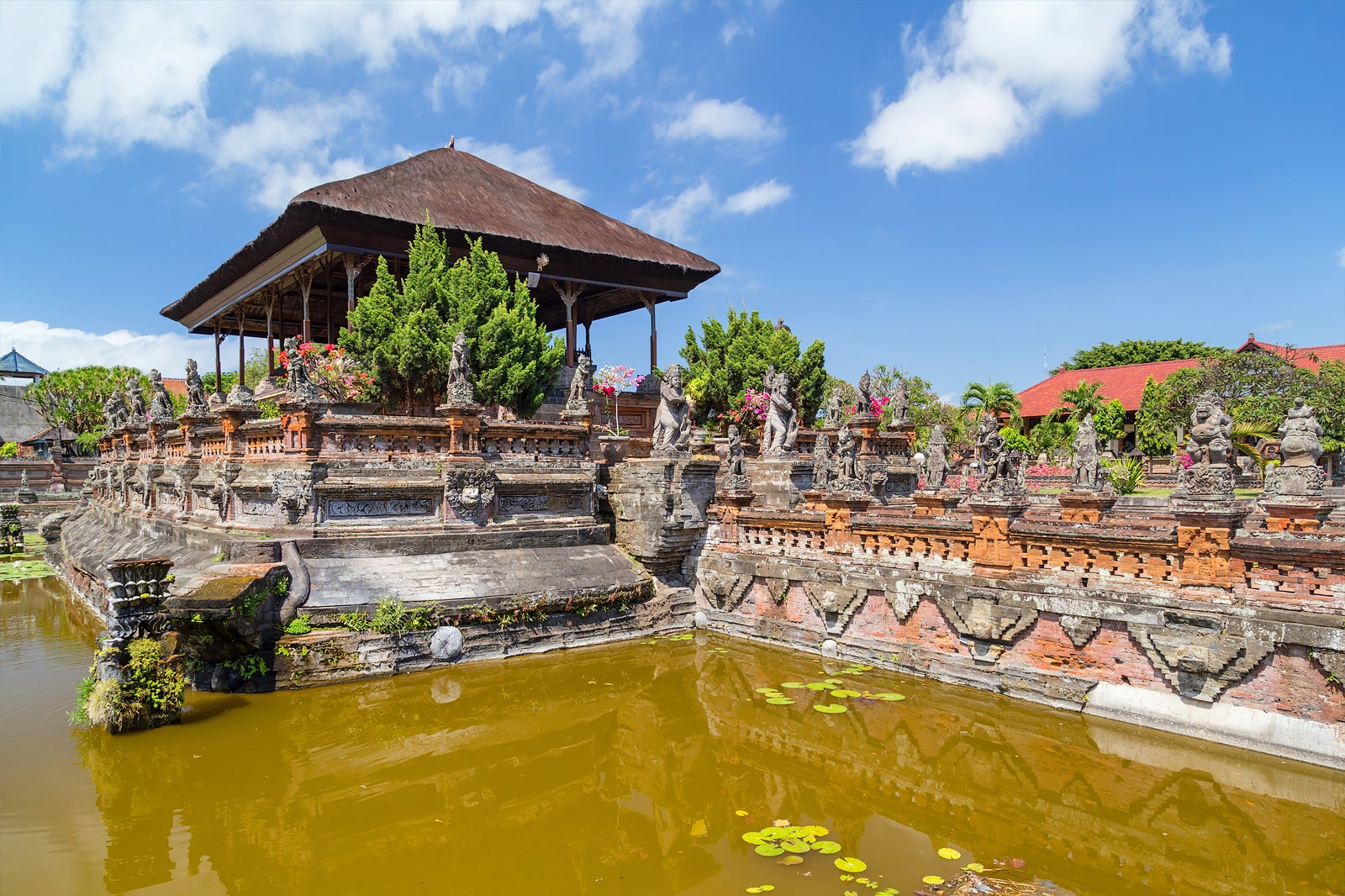 Klungkung Palace is a historical landmark in the capital centre of the Klungkung regency in East Bali. Locally referred to as Puri Agung Semarapura or the Royal Palace of Semarapura after the name of the capital, the palace shares the same location as the unmissable and more popular Kerta Gosa 'hall of justice' complex, which lies just northeast of the palatial compound.
Also, around the complex is the Klungkung regency cultural hall, as well as the Kerta Gosa Museum, all of which make it a one-stop sightseeing spot for visits to Klungkung. You can learn about the past and struggles of the court at the museum, which also features an art and antiques gallery.
Open: Semarapura, Klungkung, Bali 80761, Indonesia