Kerta Gosa, also 'Kertha Gosa' and referred to locally as Taman Gili Kerta Gosa, is a historical landmark in Semarapura, the main town of the Klungkung regency in East Bali. Kerta Gosa forms part of the Puri Semarapura royal palace complex and features 2 main structures – a grand hall or the namesake Bale Kerta Gosa, which has ceilings filled with Kamasan-style paintings, and the Bale Kambang 'floating hall' or pavilion that's surrounded by a moat.
The site dates back to 1686 when it was commissioned by Dewa Agung Jambe, then ruler of the Klungkung kingdom. It has undergone a series of restorations in the past (the latest in 2014) and is one of Bali's most important historical sites.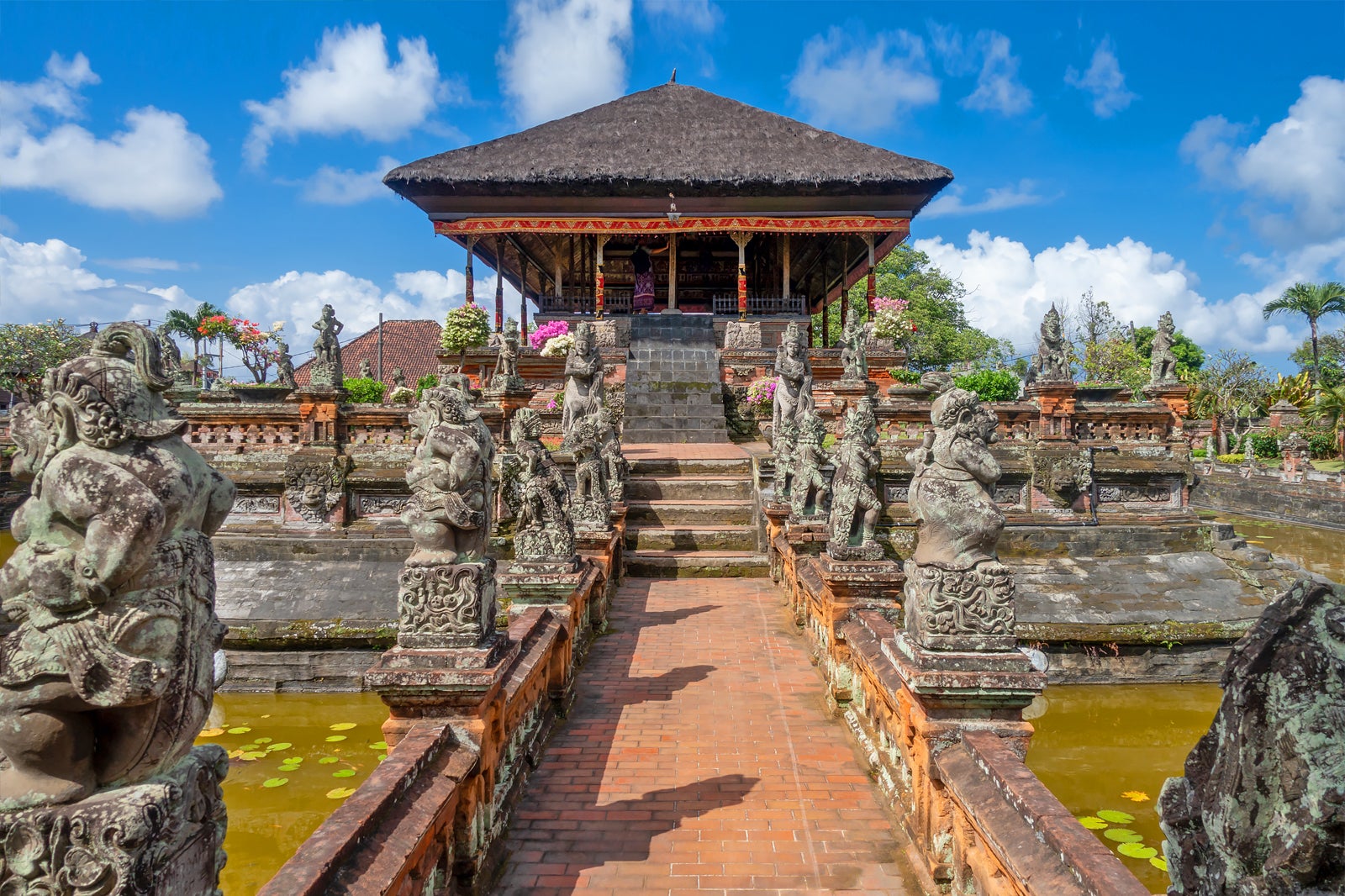 Highlights of Kerta Gosa
Kerta Gosa's spacious and open halls are laid out inside a walled compound. You can admire the unique and traditional Balinese architecture in the gates, walls and main structures. The main distinctive highlights, though, are the painted ceilings of the halls. These paintings are a fine showcase of the technique known as Kamasan style.
Kamasan itself is a village in Klungkung, renowned for the typical painting style that depicts wayang or traditional Balinese shadow puppet figures. Scenes are generally inspired by episodes from notable Hindu epics such as Ramayana and Mahabharata.
The paintings were originally applied to textile, yet a series of past restoration projects had pieces repainted onto plasterboards. Most of the paintings tell of spiritual teachings and guidance – each piece telling a different tale, ranging from karma and reincarnation to phases of human life, from birth to death and towards nirvana.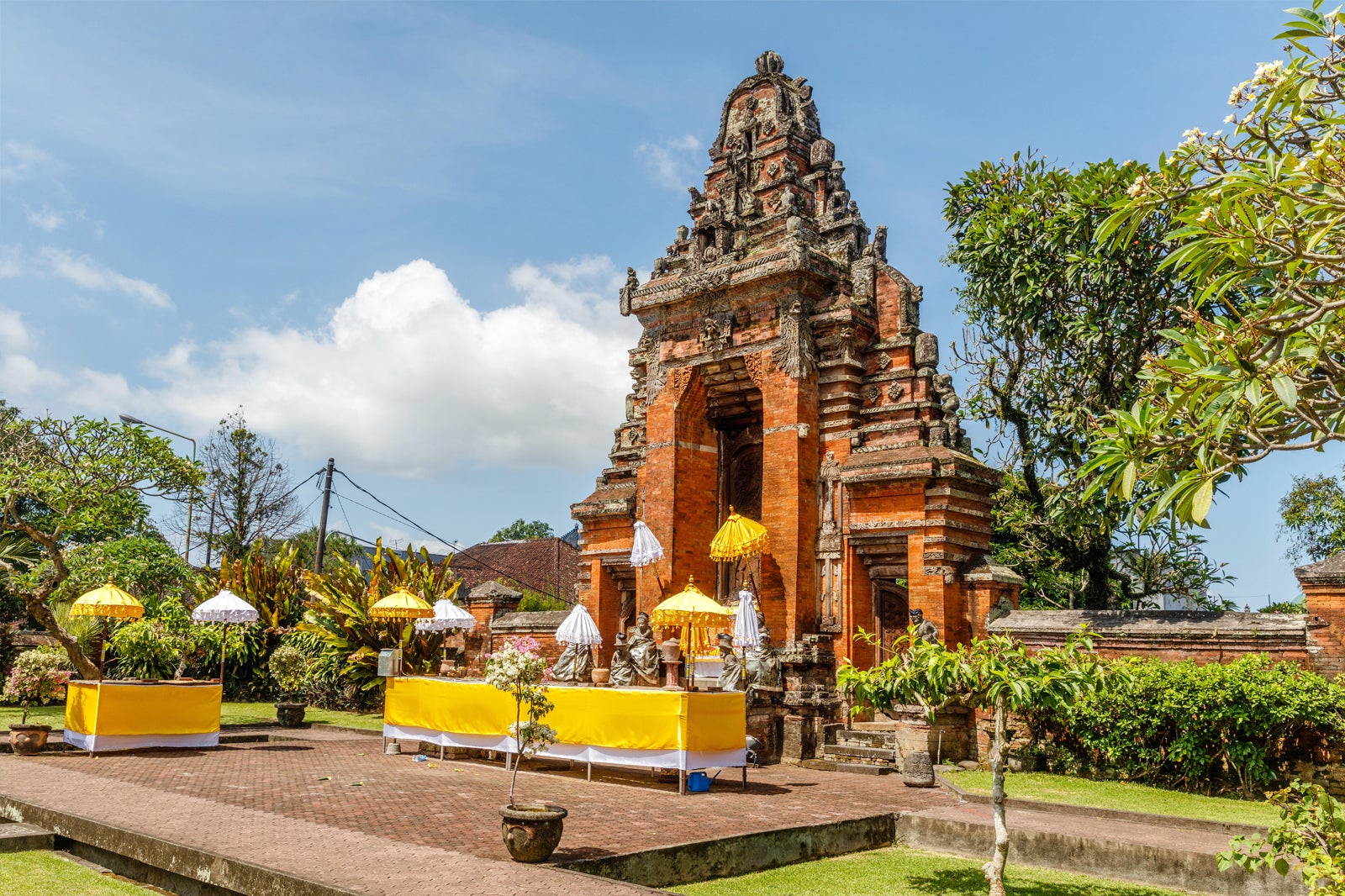 The Bale Kambang pavilion is uniquely surrounded by a moat. The paintings on its ceilings depict the tales from the old Javanese Sutasoma epic, with Prince Sutasoma as its protagonist. Both sides of the bridges towards this 'floating hall' are adorned by guardian statues and the moat is filled with lotuses.
The halls served as a venue for the royal family's rituals and rites of passage. It also served as a court during the Dutch occupancy in Klungkung from 1908 to 1942 – that's what gave it the nickname, 'hall of justice'.
Good to know about Kerta Gosa
During the battle against the Dutch military expedition, known as Puputan Klungkung, on 28 April 1908, the last ruler, Dewa Agung Jambe, and his followers succumbed. The accounts of the battle are inscribed at the Puputan Klungkung monument – you can see it at the intersection just north of the north-eastern hall (the hall's raised position gives you a vantage point over the monument).
After the defeat, the inner courtyards of the Semarapura palace were destroyed. The remaining structures were these Kerta Gosa halls with the Bale Kambang floating hall and the Taman Gili gardens. After exploring the complex, you can check out the museum displaying Klungkung's history, which is within mere walking distance to the west of the Kerta Gosa complex.
Kerta Gosa Hall of Justice in Bali
Location: Jalan Kenanga No.11, Semarapura, Klungkung, Bali 80761, Indonesia
Open: Daily from 8am to 5pm