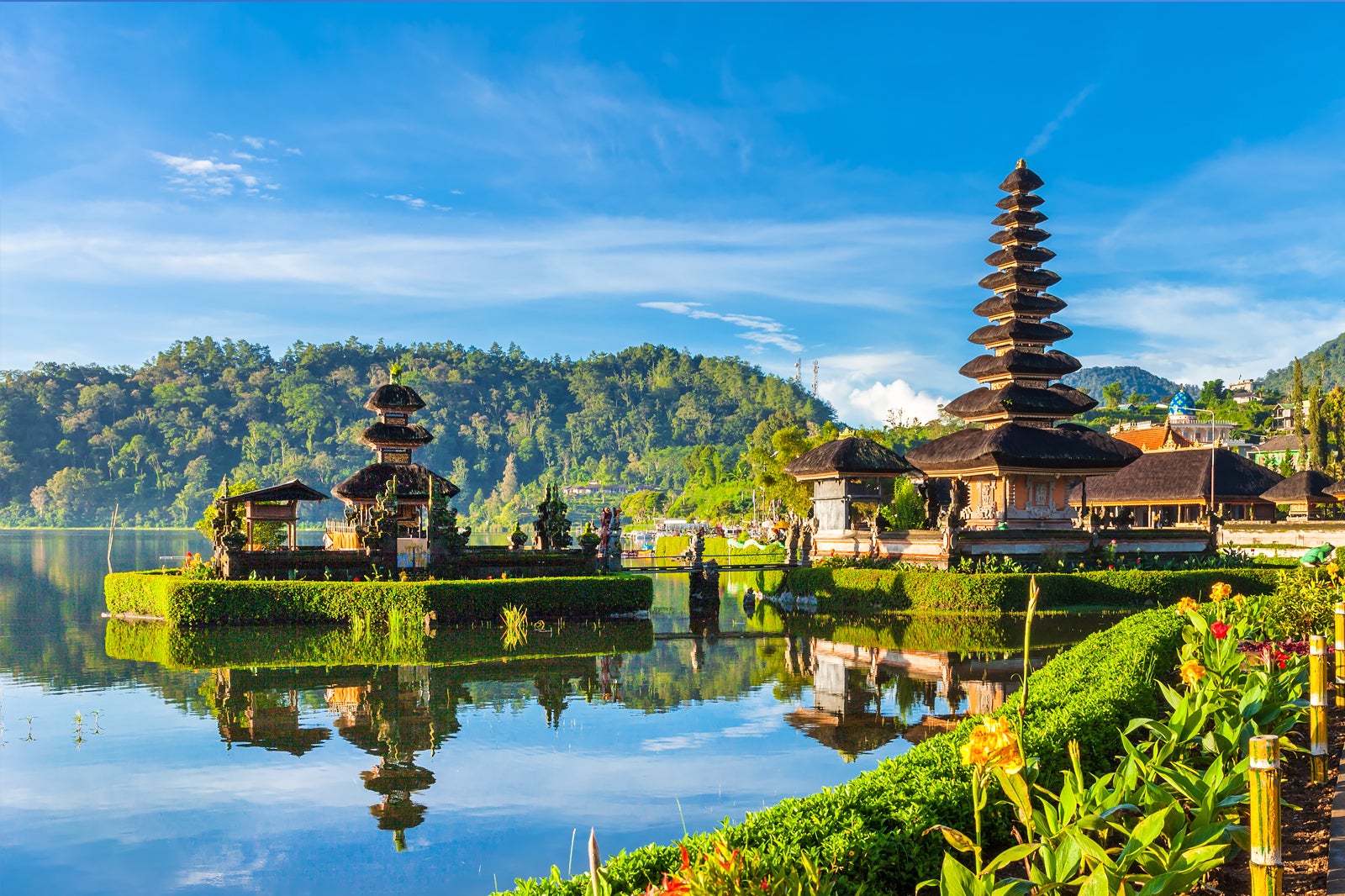 Bali
What you need to know before you go
Bali is the most popular island holiday destination in the Indonesian archipelago. It's home to an ancient culture that's known for its warm hospitality as well as exotic temples and palaces set against stunning natural backdrops. Dining in Bali presents endless choices of exotic, local cuisine. After sunset, famous nightspots come to life offering exciting clubbing and packed dance floors.
Inland, towering volcanoes and pristine jungles offer plenty to see and do, but you won't want to stay away from the coastline for long. Popular beach resorts include Kuta, Seminyak and Jimbaran where many of the finest hotels and villas look over world-class surf spots. For tranquil seascapes and sunrises, Sanur, Nusa Dua and remote Candidasa are your best bets. Bali's lesser travelled eastern and northern regions also offer wonderful diving spots in calm bays, with coral gardens teeming with colourful marine biodiversity.
What to see & do in Bali
Featured stories & fun stuff
When it comes to things to do in Bali, your holiday can be filled with culture, nature, art, and the spiritual. The spectacular beaches of Kuta, Nusa Dua and Seminyak offer hours of swimming, surfing and sunbathing, while the cultural area of Ubud is known for its picturesque rice terraces. Get away from the crowds by visiting the northern and eastern coasts, where hidden waterfalls wait to be discovered. Bali's... Read more
Where & what to eat in Bali
Dining in Bali comes in various forms, from food stalls (known locally as warung) that serve traditional and local fare to fine-dining restaurants specialising in fusion and international dishes. The island is an international gathering place, so it's no surprise to see a wide range of options to suit every palate and budget level. Bali has an exciting culinary scene – one that's consistently changing. Head to Jimbaran for beachfront... Read more
Where to shop & what to buy in Bali
A day of shopping in Bali often results in a treasure trove of fine arts and handicrafts. Bargaining in local markets, shops and art galleries is common practice – getting a good price largely depends on your bargaining prowess and good humour. Remember to bring along some cash as not all places accept credit cards. Some of the best places to shop in Bali open late and usually until 11pm. Many... Read more
Where to go & what to do at night in Bali
Nightlife in Bali emerges as the sun sets over the western coastline. The beaches of Kuta, Seminyak and Legian have some of the best nightlife spots on the island. Live bars host occasional gigs from international artists, while resort-owned bars transform into more dynamic places where you can enjoy live DJs and bands until late. In other parts of the island, some top nightspots are known for being set... Read more
Our Bali information guides can help you get to know about the island before your trip. As one of the most popular holiday destinations in Southeast Asia, Bali has thousands of temples and shrines, traditional markets, natural splendour, and colourful cultures for you to discover. It's important to observe the local lifestyle, as this predominantly Hindu island has plenty of unique traditions and celebrations you won't likely find elsewhere. From... Read more
More information about Bali
What to do in Bali
When it comes to things to do in Bali, your trip to the island can be filled with culture, nature, art, the spiritual, or even better, all of these. Enjoy the spectacular beaches of Kuta, Nusa Dua and Seminyak. Head up to the cultural area of Ubud for picturesque rice terraces. Escape the crowds by exploring the north-eastern coast and neighbouring Lombok, where hidden gems are waiting to be discovered. Bali's west coast is still off the beaten path, but those who take the time to visit discover tapering mountain ranges covered in lush forests, wet rice fields and bountiful vegetation.
Bali's attractions include historical sites and buildings that have stood the tests of time. These range from royal palaces to museums and art galleries, each offering a different glimpse of Bali's long and fascinating history.
Where to shop in Bali
Even if shopping wasn't top of your list of things to do in Bali, you can still come across irresistible products here. Beachwear, batik, and brand name items from across Asia and the world are all available in Bali. The best place to start is by browsing the shopping streets of Kuta and Seminyak. Your unique keepsake might be hiding among the great array of fine arts, jewellery, homewares and rare textiles.
Where to go at night in Bali
Bali still has much to offer after the sun goes down. There are swanky beach clubs, great rooftop bars, and hotspots where you can find Bali's most creative cocktails. Start the evening by watching the sunset into the Indian Ocean, before planning your night of fun and adventure. If you intend to burn the candle at both ends, then the nightclubs of Seminyak and Legian will probably be on the agenda. Otherwise, you might enjoy a family-friendly live show or simply a few cold Bintang with your feet in the sand and not a care in the world.
What to eat in Bali
Mealtimes in Bali should be approached with an adventurous spirit, as it's possible to find food from the furthest corners of the world here. From local warungs (local restaurants) serving local fare to fine-dining establishments presenting fusion and international menus, the only limit to what you find on your plate is your own imagination.
The island is an international gathering place with a wide range of dining options to suit every palate, and price range to suit every budget. Dishes prepared hot from the smoking grill or wok and served with a selection of heavenly sauces – including hot n' spicy sambal – can be some of the most cherished memories of your time in Bali.
Back to top