Ulun Danu Beratan Temple is both a famous picturesque landmark and a significant temple complex on the western side of Beratan Lake in Bedugul, central Bali. The whole Bedugul area is a popular upland weekend and holiday retreat for locals from the more urban areas in the island's south.
Ulun Danu Beratan, literally 'the source temple of Lake Beratan', shares the scenic qualities with Bali's sea temples of Uluwatu and Tanah Lot. The smooth reflective surface of the lake surrounding most of the temple's base creates a unique floating impression. The misty Bedugul mountain range surrounding the lake complements the temple's scenic backdrop.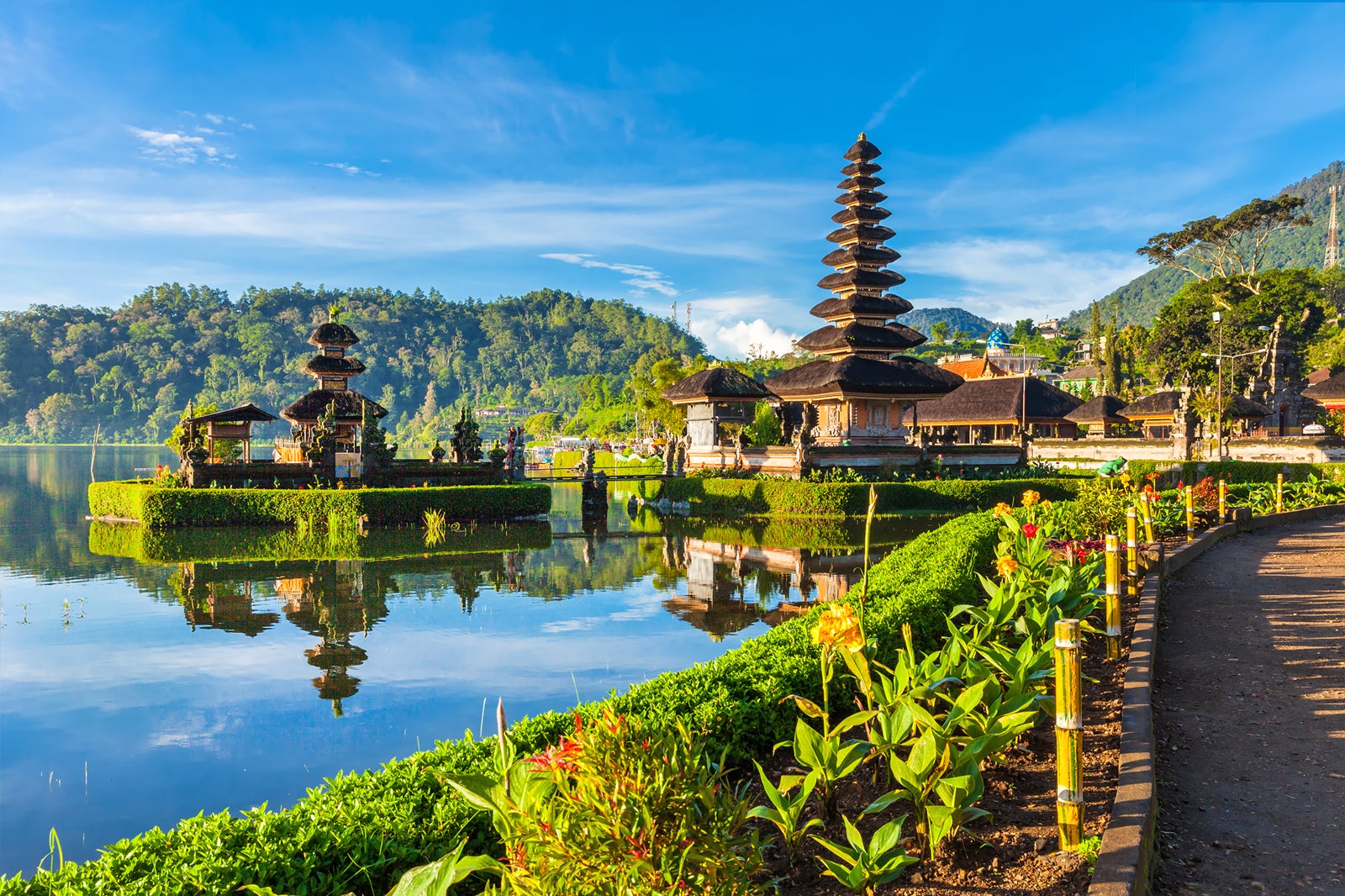 Highlights and features of Ulun Danu Beratan
Ulun Danu Beratan was built in the 17th century to worship the Hindu trinity (Brahma-Vishnu-Shiva) and the lake goddess, Dewi Danu. The sight and cool atmosphere of the Bali uplands have made the lake and this temple a favourite sightseeing and recreational spot. Naturally, it is a frequently photographed site.
The 'floating' temple complex comprises 4 groups of shrines, including the prominent Lingga Petak shrine to its east. There are 4 gates facing each of the cardinal points. The second group is in the west and pays homage to another temple in the hill of Puncak Mangu, which symbolises fertility. The 'puncak' or hilltop of Mangu Hill lies northeast of Lake Beratan.
Through the temple gates, you'll come across the typical Balinese architectural features with the tiered shrines. Inside the complex, the 3 main shrines are dedicated to the worship of god Vishnu with its 11 tiers, god Brahma with 7 tiers and Shiva with its 3 tiers.
As the temple complex occupies a rather low-lying side of the lake, the floating effect is best witnessed when the lake's water levels rise. This is when you'll have the most perfect photo opportunities.
The temple complex is also home to a few megalithic artefacts: a sarcophagus and stone tablet. This has led to the assumption that it was a consecrated site even before the Hindu temple was built.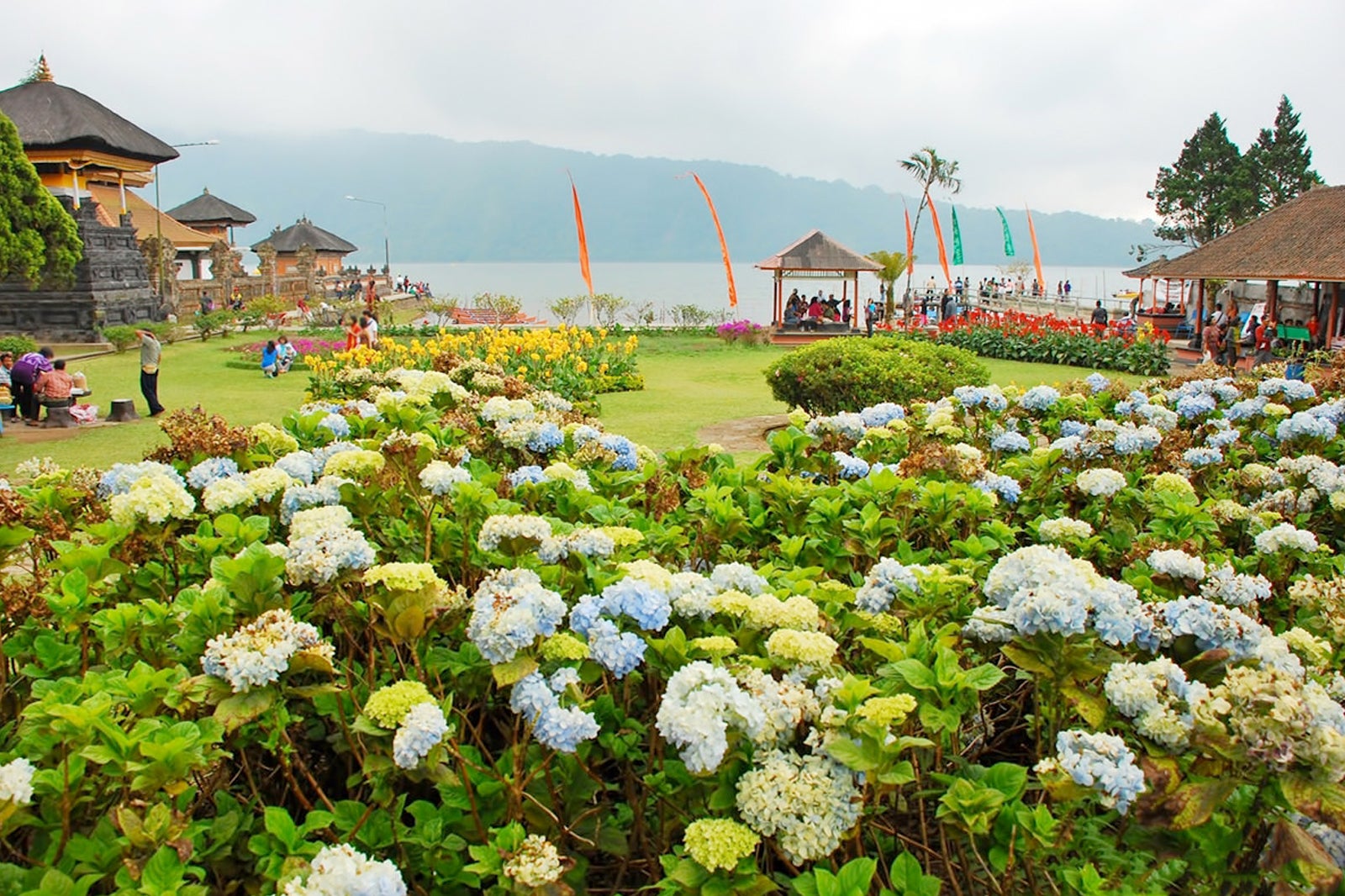 Good to know about Ulun Danu Beratan Temple
Ulun Danu Beratan temple's piodalan or temple anniversary takes place every Kliwon Julungwangi Tuesday on the Pawukon Balinese calendar cycle (occurs every 210 days). Also, a grander Piodalan Agung takes place every 420 days. On any other regular day, though, the serene lake views and cool upland atmosphere are worth the experiencing.
Those who want more than scenery may hire traditional jukung outriggers to tour the lake as well as motorized boats for a quicker ride. The other side of Beratan Lake also offers various water sports such as parasailing and jet-ski rides.
Close to the temple complex, you can hire fishing gear and bait to pass the time away on the lakeside. The Eka Karya Botanical Gardens is also a highlight of the Bedugul region, which you can reach not far from the temple site.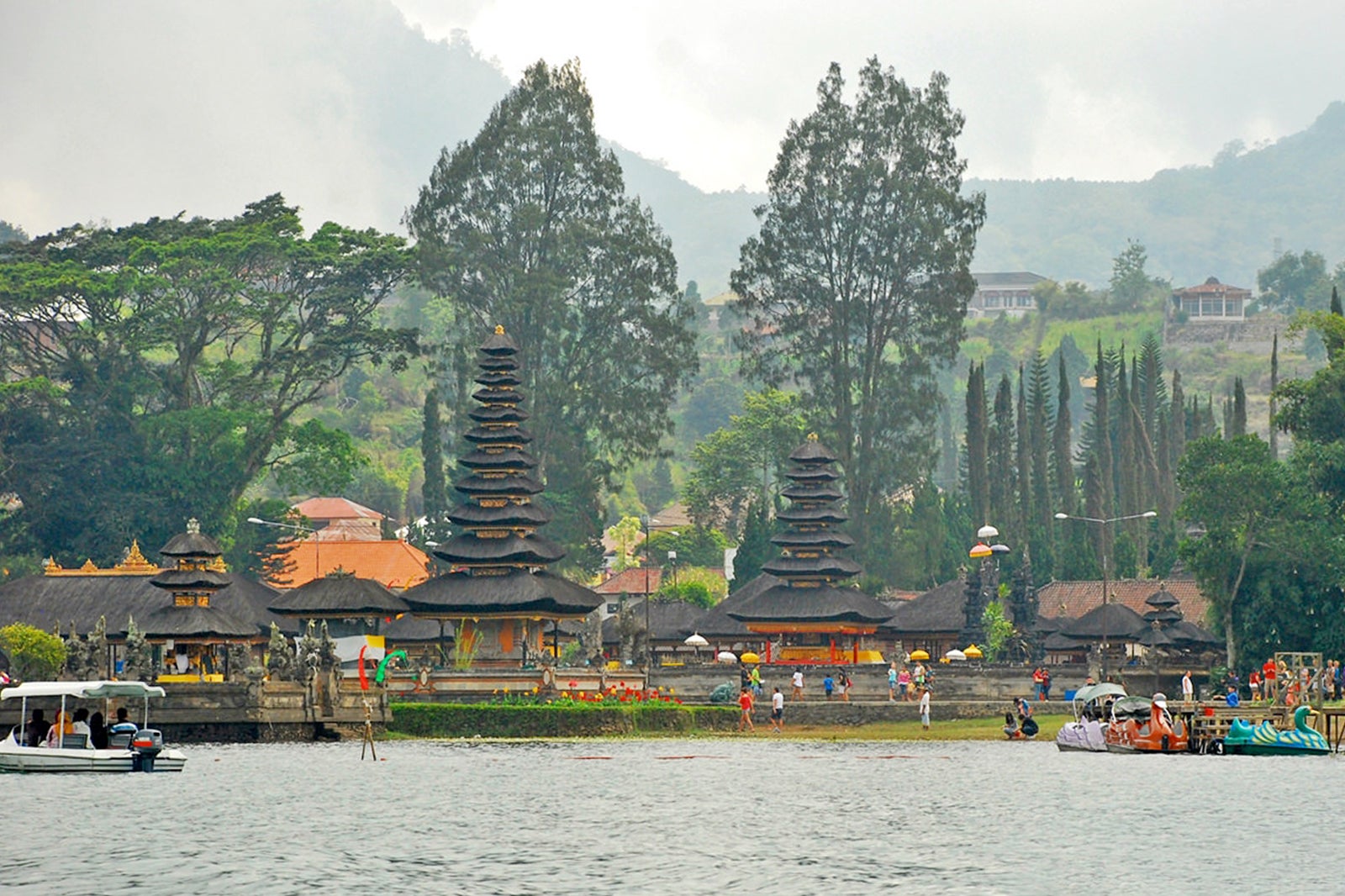 Ulun Danu Beratan Temple in Bali
Location: Candikuning, Baturiti, Tabanan, Bali 82191, Indonesia
Open: Daily from 8am to 6pm