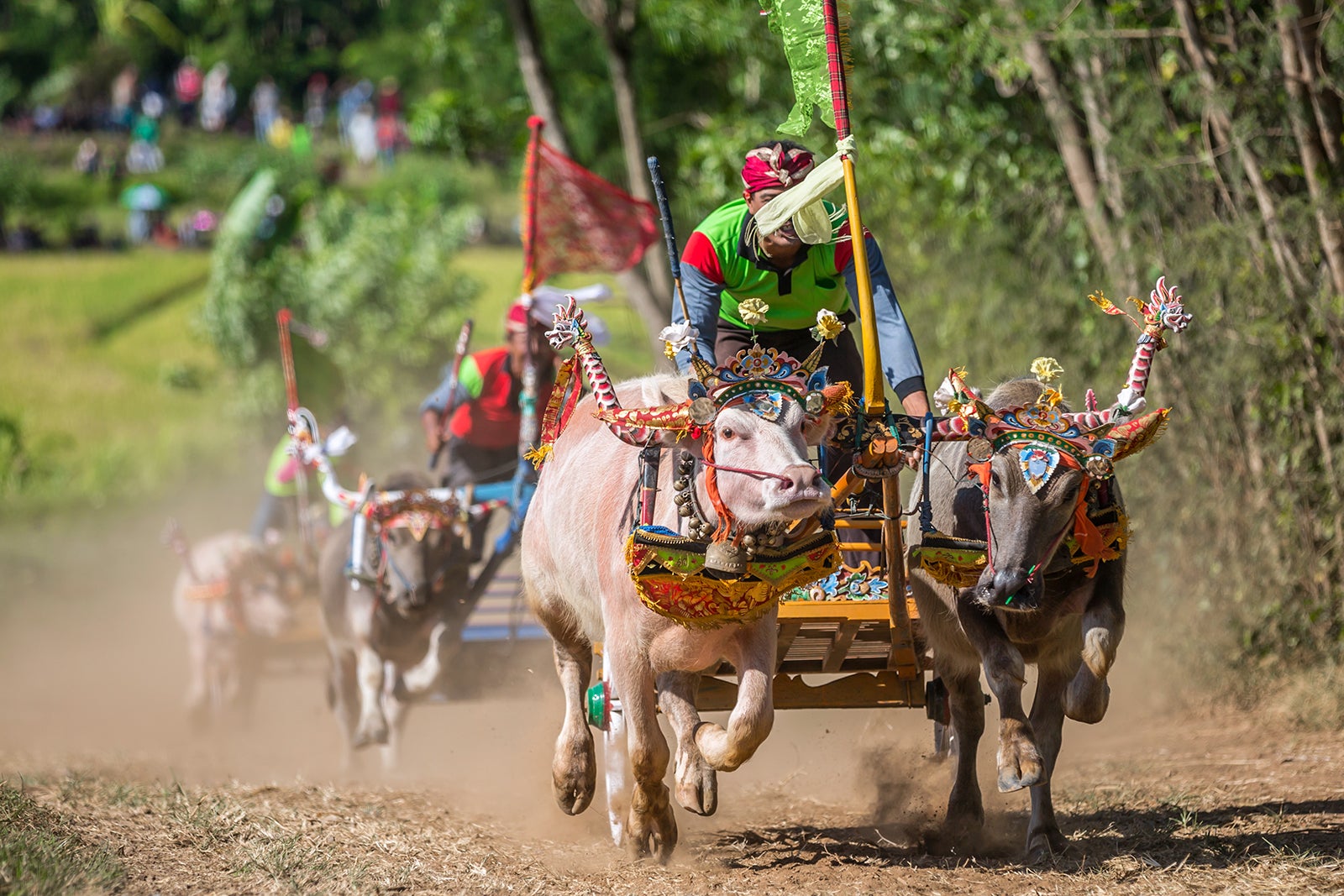 Makepung is the name of a major annual racing event that takes place around Jembrana in West Bali, featuring racing buffaloes. Hundreds of pairs of buffaloes are teamed up together with their farmer-turned-jockeys who ride like charioteers on the traditional wooden ploughs, which are slightly modified for the competition.
The racer buffaloes are locally referred to as kerbau pepadu and they compete in various open race circuits in assorted heats. These series of competitions are held around the district of Melaya. They lead up to the regency-level and provincial finals, known as the Jembrana Regent's Cup and the Governor's Cup, respectively.
Makepung Buffalo Races in Bali - one of the highlights of Bali Festivals and Events Calendar (Read all about Bali here)
Humble origins of the Makepung races
Makepung is one of Bali's unique traditions that stemmed from the agrarian life of the island's local farming communities. It was a traditional pastime when farmers simply decided to have fun after the rice fields were harvested. The name Makepung is derived from the base word of kepung, which means 'to chase'.
Eventually, it promoted tourism to this far-flung western location, with the competitions also providing a positive impact on other local sectors. The tradition partly prevented the shift of land use from farming, and also encouraged the people to improve the quality of animal husbandry.
The Makepung buffalo race days
There are approximately 7 different circuits spread out in various locations throughout the district. The Sangyang Cerik circuit in the village of Tuwed, Melaya district is one of the main circuits. The other dedicated fields-turned-circuits include Delod Berawah, Kaliakah, Pangkung Dalem, Merta Sari, Tuwed and Awen.
On the eve of the finals, there would be a gathering among the racing teams called sekaa makepung led by the Jembrana regent. The evening is often as festive as the major racing day that follows, being filled with art performances and public entertainment.
On race days, international visitors would also be equally amused by the 'buffalo fashion shows'. These feature the bovines beautifully and carefully dressed up with ornaments from hoof to horn in another segment of the 'best-dressed' competitions.
The Makepung buffalo races usually start in the early mornings at about 7.30am with dozens of pairs of pepadu participating. Another hundred or so take part in the 'fashion' parade. Races can last up to 5 hours, with the buffaloes often divided into 3 racing divisions.
The dates for each year's event vary. A rough estimate is that several heats take place monthly from July to November at the various circuit locations. All usually take place over the weekends on a Sunday morning.
Makepung Buffalo Races in Bali
Back to top