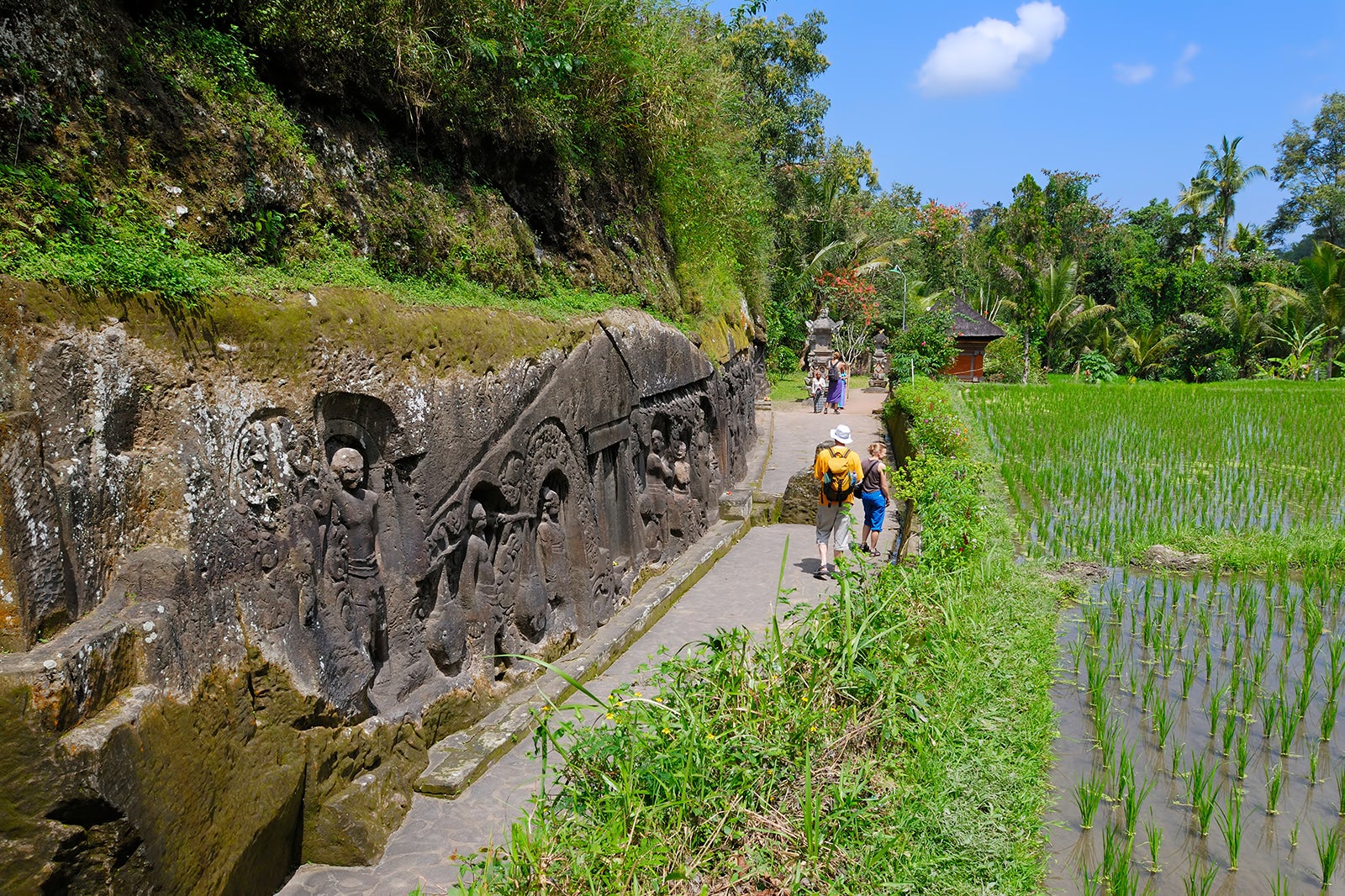 Yeh Pulu is one of Bali's fascinating archaeological sites that you can visit in the central highland village of Bedulu. After a descent on foot following a lush forest trail, you'll discover a rice field, freshwater springs and an impressive 25-metre-long array of carvings etched into a rock face. These reliefs depict mythological wayang or shadow puppet characters, Hindu gods, as well as people going about normal village life.
Yeh Pulu is located in a ravine between 2 of Bali's most historically significant rivers, the Petanu and Pakerisan. Its name means 'water of the stone vessel' in archaic Balinese, which matches its rugged natural setting with a combination of stone carvings and freshwater springs.
Yeh Pulu in Bali - one of the highlights of 10 Things to Do in Ubud off the Beaten Track and 31 Best Things to Do in Ubud (Read all about Bali here)
The site dates back to the 14th century and is only a short transfer southeast from Goa Gajah, another historical complex within the Bedulu region. Some 200 metres to the north of this main site is a sacred bathing place, also decorated with naturalistic stone reliefs. The site was excavated by the Dutch authorities in 1929, during their occupation of Indonesia.
Among the most prominent are reliefs of the elephant-headed god Ganesh, horsemen, an ascetic, and a seated woman. Compared to Goa Gajah, Yeh Pulu is less visited, though the combination of fresh air and green paddies can be very rewarding.
Yeh Pulu in Bali
Location: Jalan Yeh Pulu, Blahbatuh, Bedulu, Gianyar, Bali 80581, Indonesia
Back to top