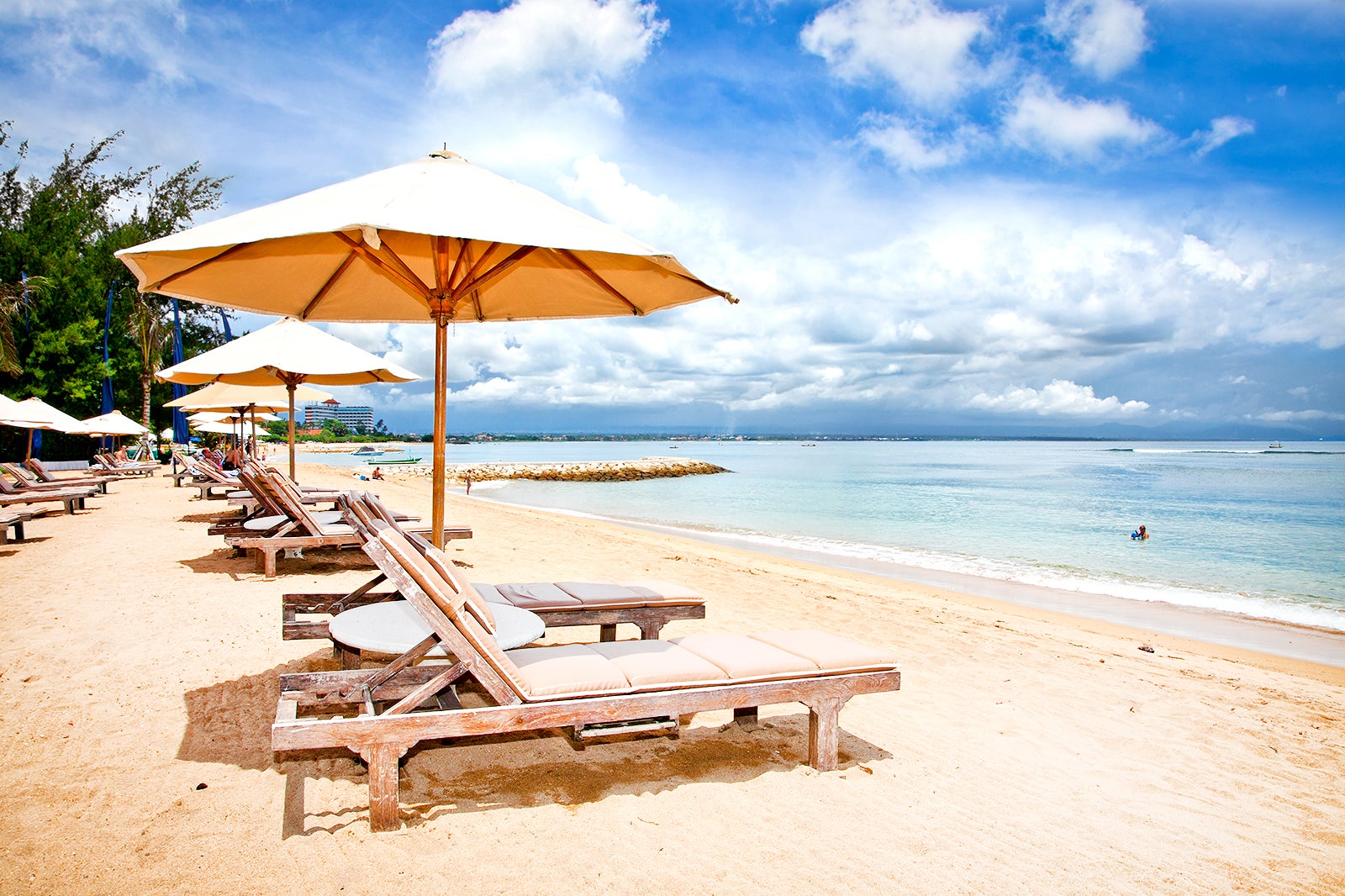 Sanur Beach stretches 8 km along the south-eastern coastline of Bali. Several notable beaches are connected by a paved footpath. It starts from the beach of Padanggalak, which hosts the annual Bali Kites Festival. For unique urban exploration, you can try the wondrous ruins of Taman Festival Bali, one of Bali's mysterious ghost towns. This abandoned amusement park features vine-covered structures and theatre ruins, attracting those looking for haunting photo opportunities.
Around 2 km south is the beach of Pantai Matahari Terbit (Sunrise Beach). Similar to Padanggalak, this 500-metre stretch is usually frequented by locals on weekends. A small cluster of warung (traditional food stalls) sell local dishes and drinks. The beach walkway continues further south, where you'll find most of the main beaches of Sanur.
Sanur Beach in Bali - one of the highlights of 26 Best Things to Do in Sanur and 11 Best Places for Cycling in Bali (Read all about Bali here)
The main beaches of Sanur
The central strip of Sanur Beach is Pantai Segara Ayu, which is protected by a reef and offers good swimming conditions. At the beach's northern end, you'll find a regular crowd of locals on weekends. Commercial wooden boats regularly take passengers to Lembongan Island from Pantai Segara Ayu. Some of the most popular recreational activities on the shore include cycling, sea kayaking, and kite flying. Most gears are available for rent at affordable prices.
Southwards from Pantai Segara Ayu, you'll find a more refined resort vibe. Cleaner beaches like Pantai Sindhu are well-maintained by their respective beachfront hotels. The waves are calm enough for swimming, while some sections of the beach have hotel-run daybeds and Balinese style gazebos.
There are also plenty of dining and shopping options available along the beach path. The sunrise scenes are quite spectacular in Sanur – on a clear morning, you can see the outlines of Mount Agung and Nusa Penida Island on the far horizon.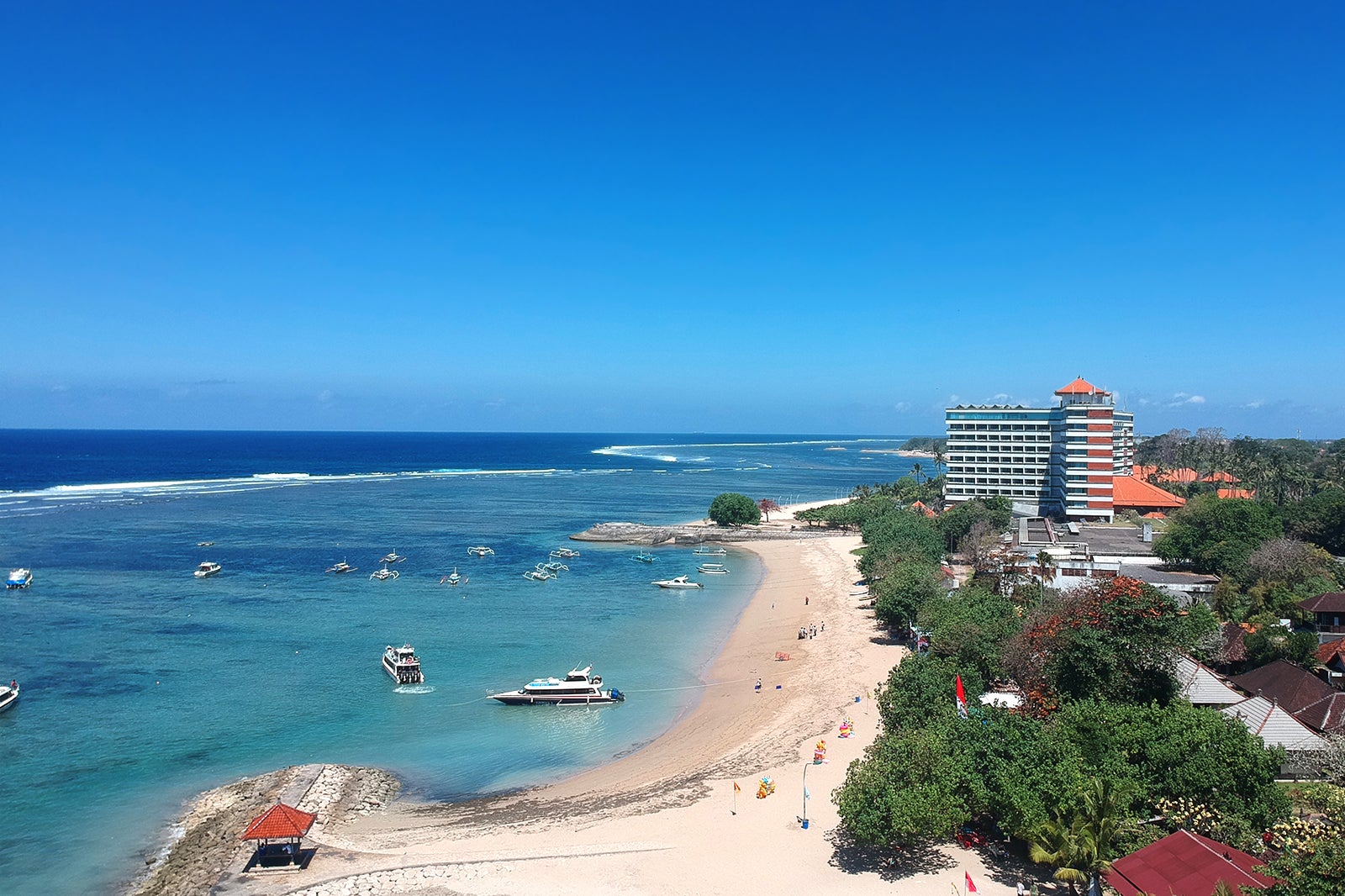 If you're looking for a quiet beach spot, Pantai Karang is a popular choice. This white sand beach is narrower, but you'll find a vibrant local dining and beach scene as well. Swimming is possible during high tide. Surfers enjoy paddling out to reef breaks that extend along the remaining 4-km stretch of Sanur Beach from Pantai Karang.
Walk further south to find Semawang Beach, Cemara Beach, and Prama Sanur Beach. Mertasari Beach is located at the end of Sanur Beach. Although it leans towards local activities such as fishing and boating, Mertasari serves a starting point for windsurfing, kitesurfing, paramotoring, and paragliding. A unique feature in Sanur is that you can watch the sun setting over mangrove forests.
Sanur Beach in Bali
Location: Sanur, Pantai Sanur, Bali, Indonesia
Back to top