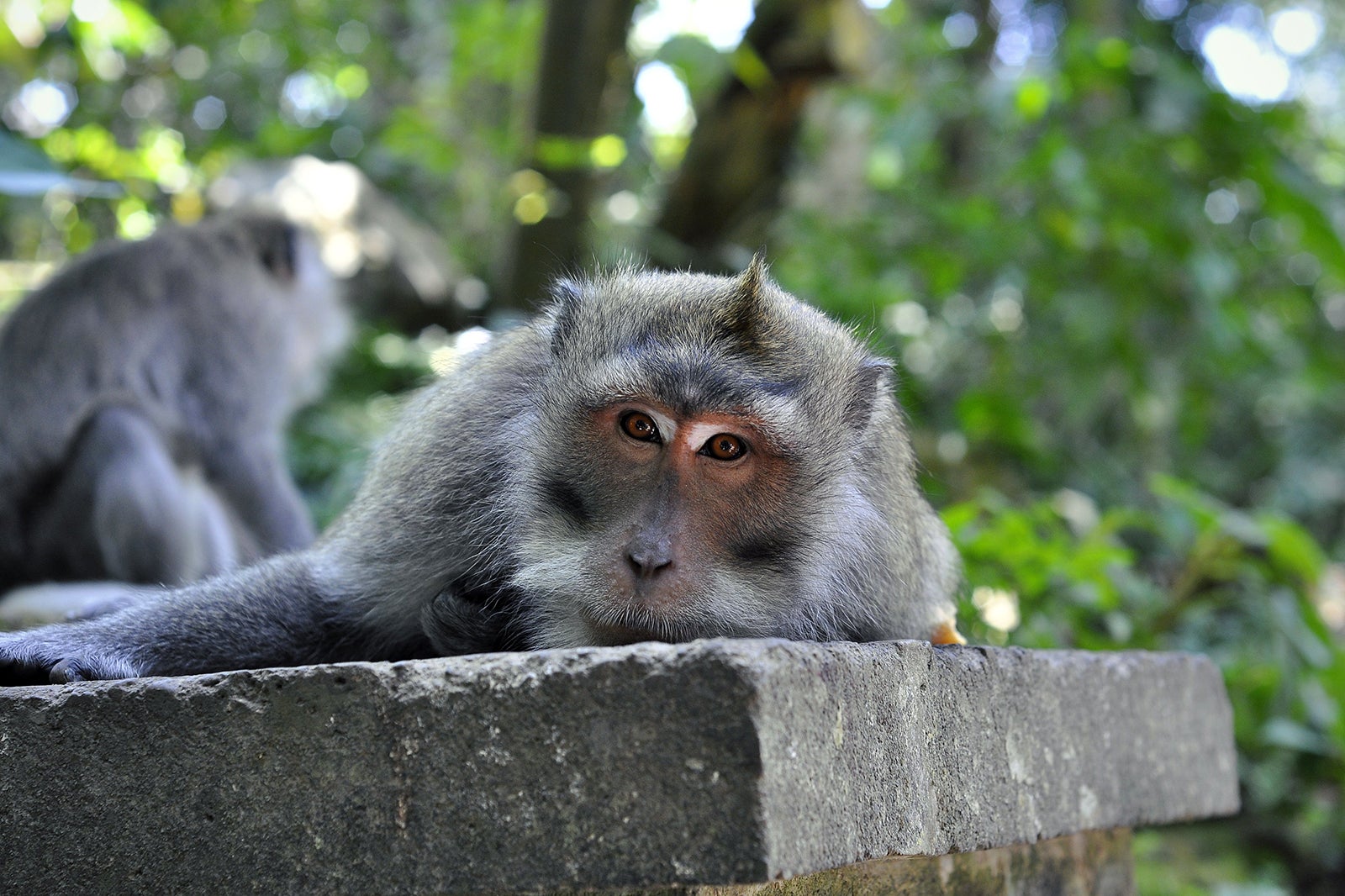 Alas Kedaton Monkey Forest, referred to by locals as Obyek Wisata Alam Alas Kedaton, is a nutmeg forest and temple which serves as a sanctuary for grey long-tailed macaques. The forest is one of several monkey forests in Bali, which you can visit as an alternative to the more popular Ubud Monkey Forest, especially on tours to the island's western region.
Alas Kedaton is slightly off the beaten track as it's far from the island's main tourist destinations. This simply means you'll usually find lesser crowds on your visit. The forest is in the village of Kutuh in the Marga district of Tabanan regency, about a 25-km drive northeast of Bali's provincial capital of Denpasar.
Alas Kedaton Monkey Forest in Bali - one of the highlights of 9 Best Bali Animal Parks and 8 Great Forests and Parks in Bali (Read all about Bali here)
The sacred Alas Kedaton Monkey Forest
The monkey forest's name comes from alas (forest), and kedaton (kingdom). The Pura Dalem Kahyangan Kedaton Temple serves as its centerpiece, with pathways surrounding the mossy temple walls that provide a pleasant walk. The temple's gates are usually closed when there's no ceremony going on, but you can easily look over the shoulder-high walls for a peek into the temple grounds.
The temple holds its piodalan temple anniversary every Anggara Kasih Tuesday as marked on the Balinese Pawukon calendar – roughly 20 days after Bali's major Galungan holidays. The heights of festivities take place for a full day and conclude before sundown.
Like the temple, the whole forest is considered sacred and so are its residents – these include the hordes of long-tailed macaques as well as the flying foxes that you can often see zooming through the misty forest canopies. As for the monkeys, the village locals, shopkeepers, guides and visitors are prohibited from harming them, no matter how impish they may be.
Good to know about Alas Kedaton Monkey Forest
The monkey forest is usually an included itinerary on temple-sightseeing tours to Bali's west, which also include Taman Ayun Temple in Mengwi and Bali's most iconic sea temple, Tanah Lot.
We don't advise purchasing peanuts and bananas that are sold here for feeding the animals. These monkeys are wild animals and dependence upon hand-outs disrupts their natural feeding cycle. A good rule of thumb with any wild animal encounter is 'don't feed the animals' and 'look but don't touch'.
If you're willing to take a selfie with a monkey, be very still and let the animals approach you in the first place, and always remember to stay calm.
Besides having the animal encounters, you can stroll past designated souvenir shops, stop for a drink or select one of the eateries outside the gate for a meal. Check if there are menu prices or items bear tags. Otherwise, be ready to hone your bargaining skills!
Alas Kedaton Monkey Forest in Bali
Location: Jalan Raya Alas Kedaton, Kukuh, Tabanan, Bali 82121, Indonesia
Open: Daily from 9am to 5pm
Phone: +62 (0)361 814155
Back to top