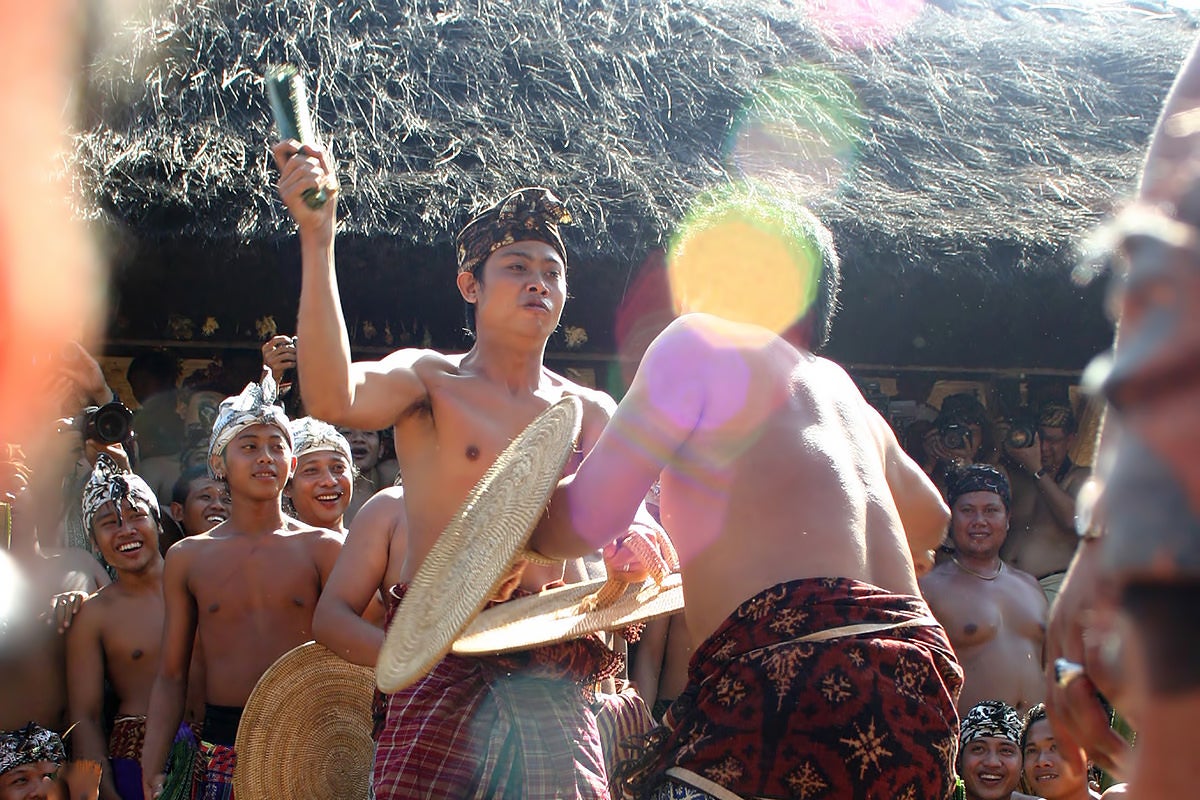 Perang Pandan is a unique age-old tradition found only at the well-preserved old Balinese village of Tenganan in East Bali. Also referred to as mekare-kare and megeret pandan among locals, Perang Pandan is a mass coming-of-age ritual, dedicated to the Hindu god of war and the sky, Indra. It sees friendly duels between young male villagers, who bout each other armed with a small rattan shield in one hand and a tied packet of thorny pandan leaves in the other.
The event is held annually, on dates that follow the village's own unique local calendar. The village of Tenganan is divided into 2 halves, separated by a river: Tenganan Pegringsingan and Tenganan Dauh Tukad.
Perang Pandan War Dance in East Bali - one of the highlights of 39 Best Things to Do in Candidasa and East Bali and 10 Places in Bali to Escape the Crowds (Read all about Bali here)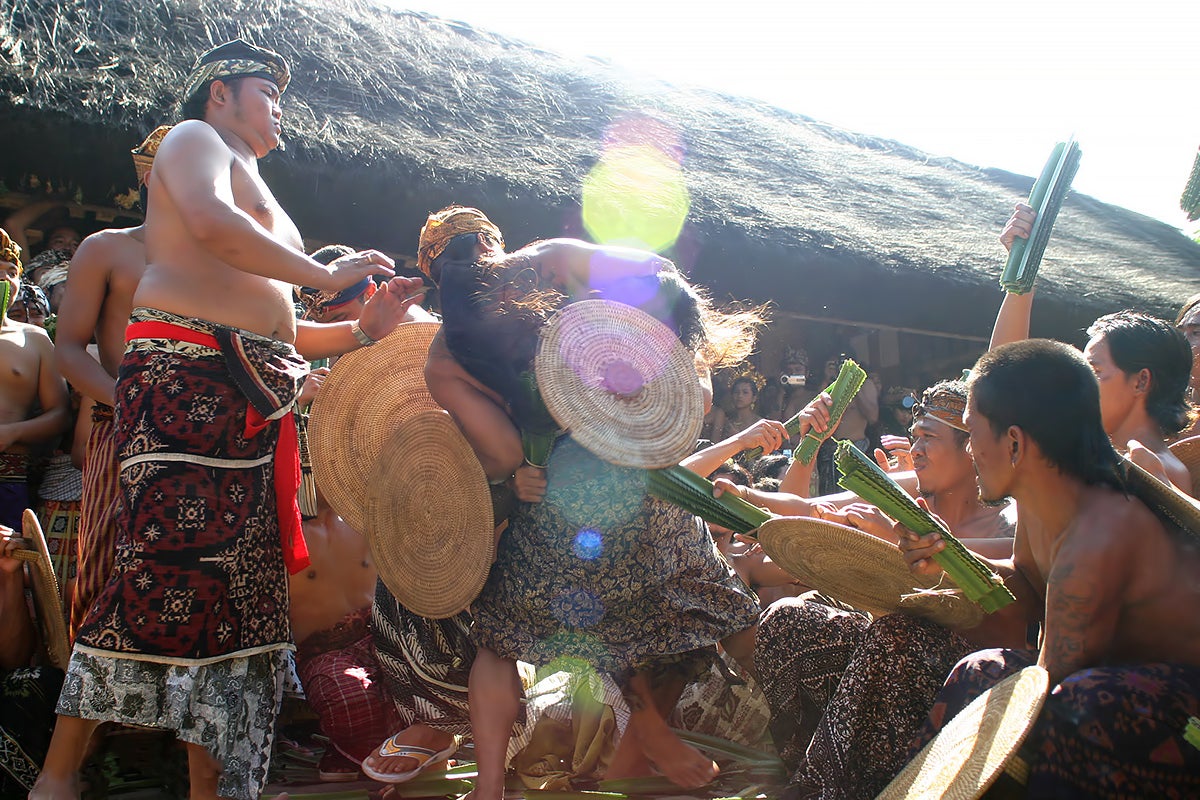 Perang Pandan, an annual spectacle in Tenganan
Tenganan Dauh Tukad is west of the river and Tenganan Pegringsingan is the Balinese village that's best known for producing the heritage geringsing 'double ikat-weave' cloth. Female villagers wear the cloth as part of family regalia during ceremonies such as Perang Pandan. You can witness the traditional manufacture of geringsing on tours to Tenganan any time of the year.
The annual ceremonies often coincide with the months of June and July. The special arena for the Perang Pandan is set up during this time, village houses are gracefully adorned, and girls ride large man-powered wooden swings as part of the festivity. The main arena will be packed with cheering villagers, as well as visiting spectators and photographers.
Inside the ring, brave boys and young men take turns in pairs to 'fight' each other, inflicting each other's bodies with lashes from the leaves' sharp thorns. Warning: there will be blood. Surprisingly, contestants show no pain and the rattan shields are seldom used to block blows (they often seem to be mere accessories). Wounds are simply treated with a special mix of herbs, turmeric and vinegar – the remedy miraculously helps dry up wounds in minutes.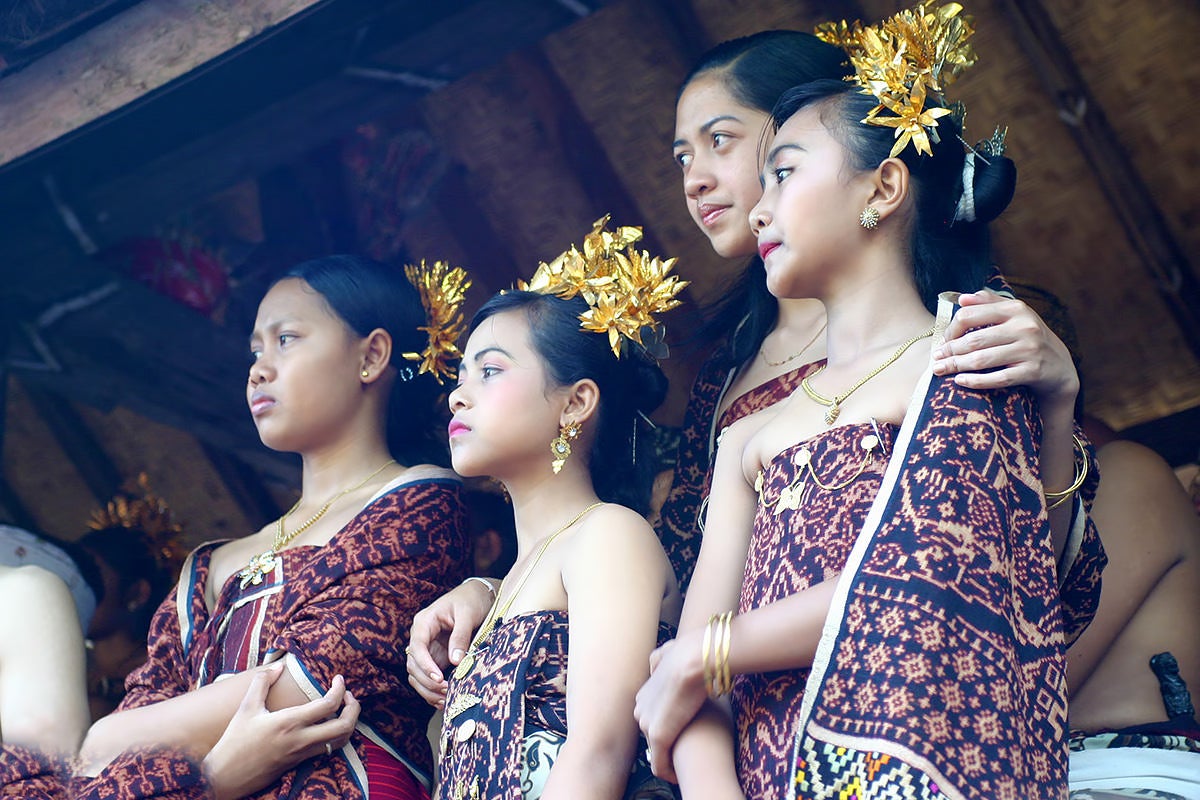 Those who are faint-hearted may opt to see other highlights of Tenganan village, such as local food stalls displaying a huge array of tasty traditional cakes, or the making of lontar palm-leaf manuscripts, carved calendars and intricate art called prasi. You can shop for intricate handicrafts such as locally produced woodcarvings and masks, or even hunt for a unique piece of the rare geringsing fabric for your living room back home.
The village of Tenganan is only a 15-minute drive north from the Jalan Raya Candidasa main road. Many hotels along the Candidasa coast often provide shuttle transfers to the village (especially during such major calendar events) as part of their guest activities and tour options.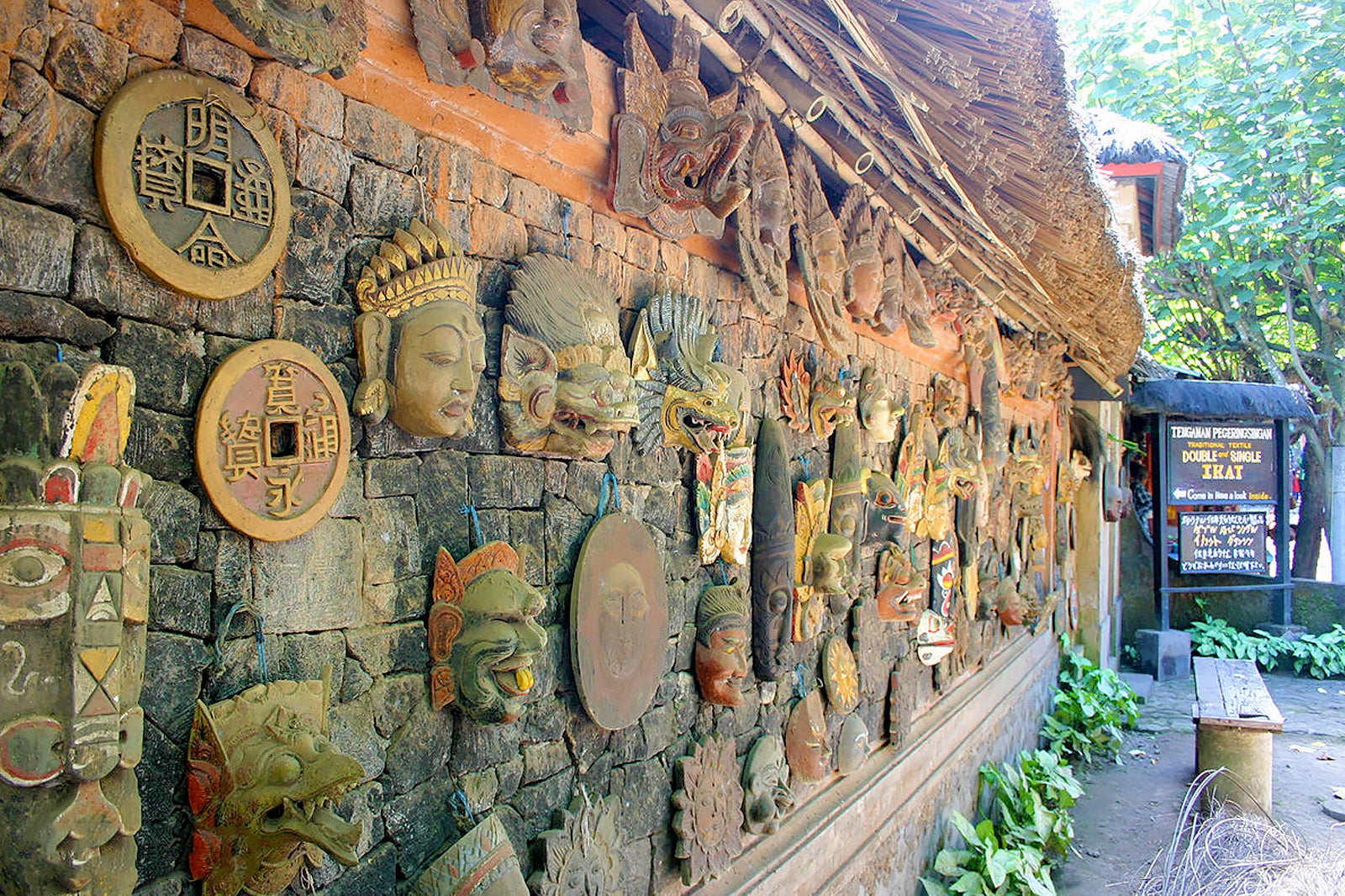 Perang Pandan War Dance in East Bali
Location: Tenganan, Manggis, Karangasem, Bali 80871, Indonesia
Back to top