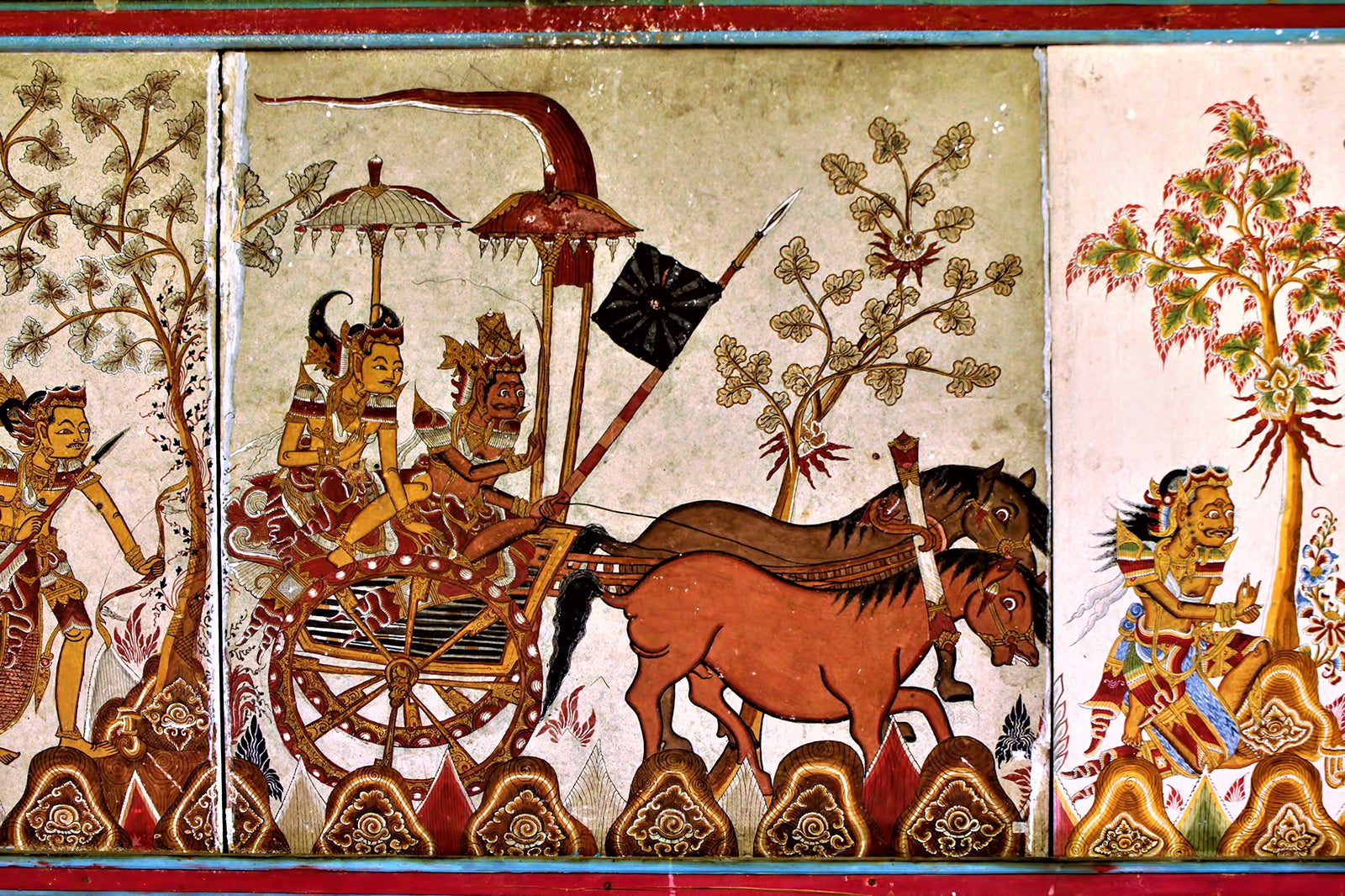 Kamasan Village is a traditional painting community in Klungkung, East Bali. It is renowned as the place where one of Bali's famous painting styles originated, and the painters' artistic skills have been passed down through generations. Throughout the village, you can visit many different painting galleries and family-run workshops.
Although artworks vary subtly, the Kamasan style is prevalent throughout the region, featuring visual narratives in the form of wayang (shadow puppet) figures inspired by episodes from favourite Hindu epics, such as the Ramayana and the Mahabharata. Among the best examples of the painting style are the ceiling artworks of the Kerta Gosa 'hall of justice'.
Kamasan Village in East Bali - one of the highlights of 39 Best Things to Do in Candidasa and East Bali (Read all about Bali here)
Kamasan – the village of Balinese painters
While Kamasan Village refers to a small community of painters, it holds a place of great significance in the history and culture of the kingdom of Klungkung. In the old days, Kamasan painters were commissioned by the royal courts. The art form has persisted to this day – much of the detailed lines and shadings in natural dyes of red and ochre applied onto cloth, bark, and more recently, canvas.
A unique aspect of Kamasan paintings in public installations is that they are painted collaboratively, so the creations tend to be anonymous. The production of these works also follows strict rules, such as when to start a project, what to feature and how to depict certain episodes, since they all carry religious significance. Today, you can witness the creation of more contemporary art pieces at various studios throughout the village and even pick up a brush and learn some strokes yourself.
Kamasan Village in East Bali
Location: Kamasan, Klungkung, Bali 80761, Indonesia
Back to top