10 Best Romantic Sunset Bars in Bali
Great Bars for Honeymooners in Bali
A romantic sunset in Bali can become a big part of your honeymoon or romantic escape on the island. These great bars let you enjoy a dramatic dusk hand in hand, and with a creatively mixed bubbly cocktail to sip on. Bali has a great collection of bars that make good use of theatrical settings, from seaside locations to stunning rooftops, which can serve you soaring views.
Here we've gathered a shortlist of the island's great sunset bars, where signature cocktails are prepared by skilful bartenders. Bali's sunsets add that finishing magical touch to prepare you for a wonderful evening.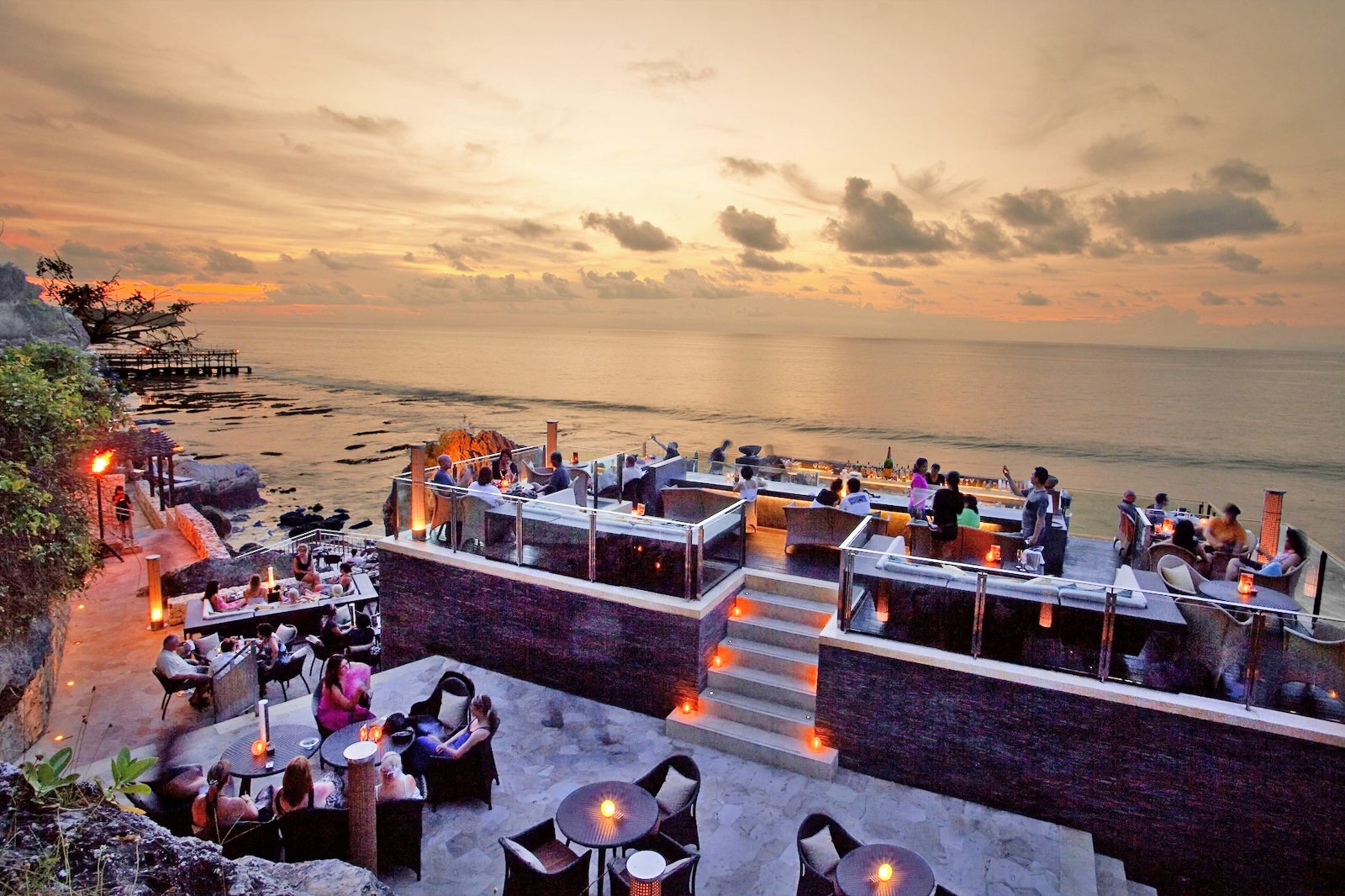 Rock Bar at Ayana
Jimbaran
The Rock Bar at the Ayana Resort and Spa is one of Bali's most iconic bars, uniquely set at the base of a secluded limestone cliff. Dramatic sunsets can be taken in with signature cocktails from the bar, such as the favourite 'Spa on the Rock' – a blend of vodka, blackcurrant liqueur, blueberry, cranberry juice and brown sugar.
Exceptional views also come with moods set by the resident music director, with world-class international DJs making regular appearances. Its open-top platform is seamlessly built onto the natural rock formation. With ambient lighting from around the bar, shades at sunset, and traditional fishing boat lanterns over the seascape adding to the dramatic appeal, the Rock Bar is perfect for couples.
Location: Ayana Resort and Spa Bali, Jalan Karang Mas Sejahtera, Badung, Bali, Indonesia
Open: Monday–Thursday from 4pm to midnight, Friday–Sunday from 4pm to 1am
Phone: +62 (0)361 702 222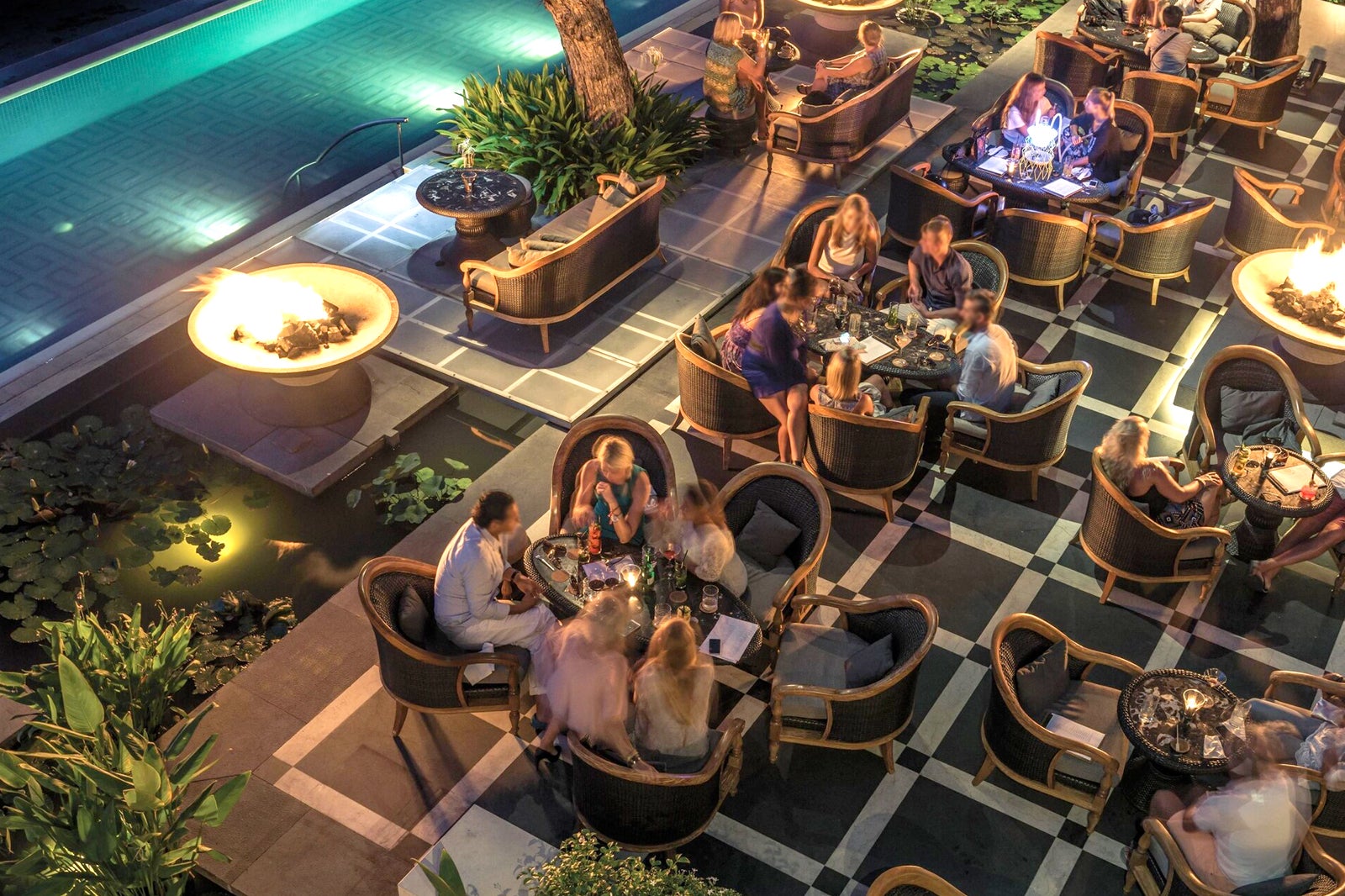 Sundara at Four Seasons Jimbaran
Jimbaran
Head to Sundara to sip world-class cocktails in an outstanding beachfront setting. Favs include Jim-Let Fox-Trot, a blend of gin, lime cordial and tonic water. Twists on classics include the Paloma of Sundara, with tequila, grapefruit honey soda and lemon juice.
The signature beach club and luxury bar at the Four Seasons Resort in Jimbaran overlooks the southernmost curve of the bay. The venue's design blends in well with the bay's settings, with its blue infinity pool and tree-shaded daybeds. The dedicated bar and alfresco area have spaces just for couples looking for intimacy. Inside, floor-to-ceiling windows fully open to provide broad views of the bay and gentle sea breezes. Resident DJs help set relaxed moods most evenings.
Location: Four Seasons Resort Bali At Jimbaran Bay, Jalan Bukit Permai, Jimbaran, South Kuta, Badung, Bali 80361, Indonesia
Open: Daily from 8am to 1am
Phone: +62 (0)361 708333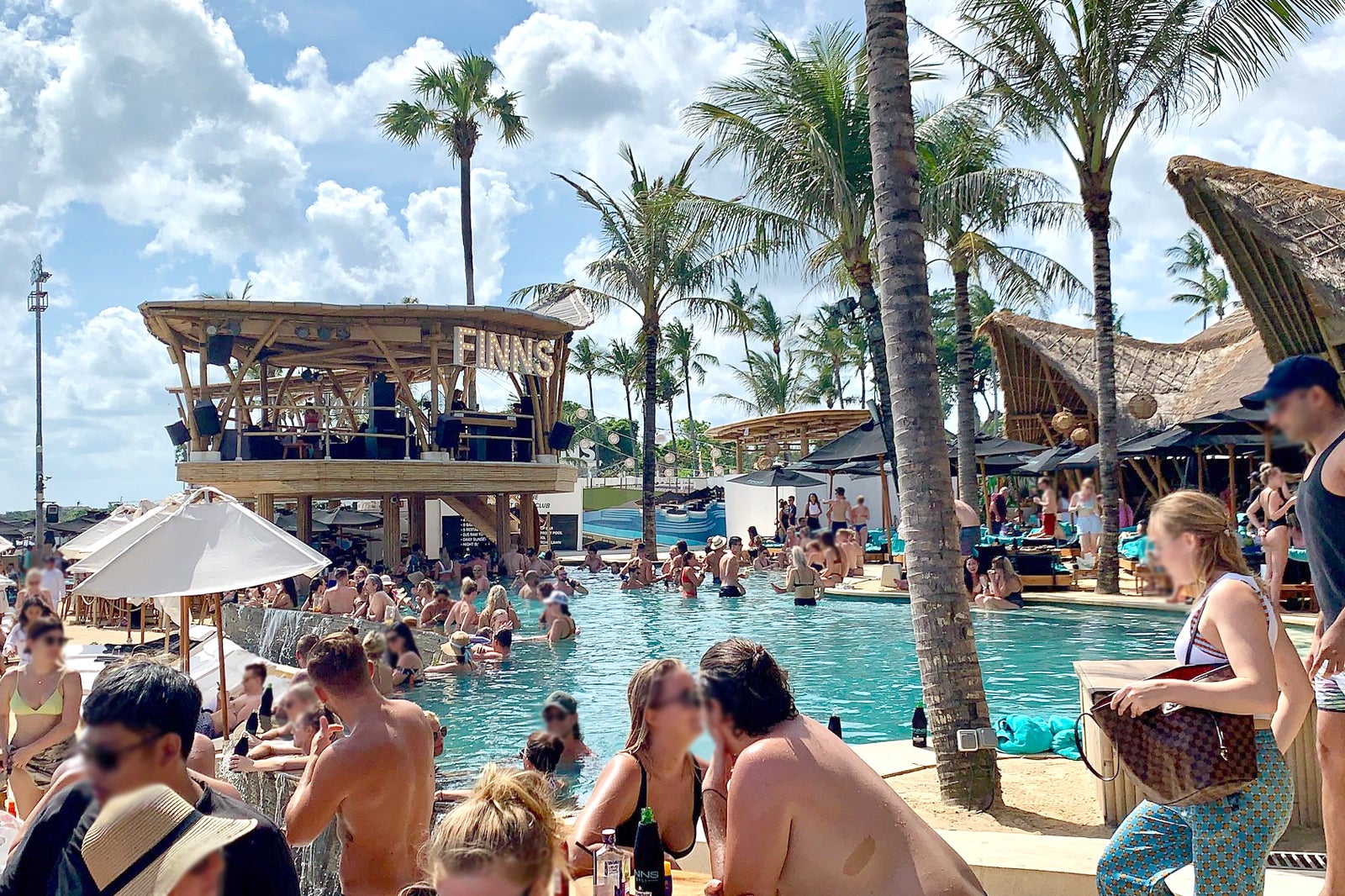 The magnificent all-bamboo bar setting by a blue-tiled freeform infinity pool makes Finn's Beach Club on Canggu's Berawa Beach a standout spot in the area. You can choose to stay in the cosy indoors, with views out to the Berawa surf, or out on the poolside, with wider ocean views and breezes.
For sunset lovers – and romantics – it's one of the best lounging spots in Canggu for memorable sun-downing moments. When you're not chilling out on their single or double parasol-shaded daybeds, you can hit the 30-metre infinity-edge pool, order your drink from the swim-up bar, and enjoy cool tunes fed through underwater speakers. From the bar are Finn's special creations, such as a strawberry balsamic crush with vodka, balsamic vinegar, strawberry and lime juice.
Location: Jalan Pantai Berawa, Tibubeneng, Canggu, Badung, Bali 80361, Indonesia
Open: Daily from 9am to 11pm
Phone: +62 (0)361 844 6327
photo by Dion Hinchcliffe (CC BY-SA 2.0) modified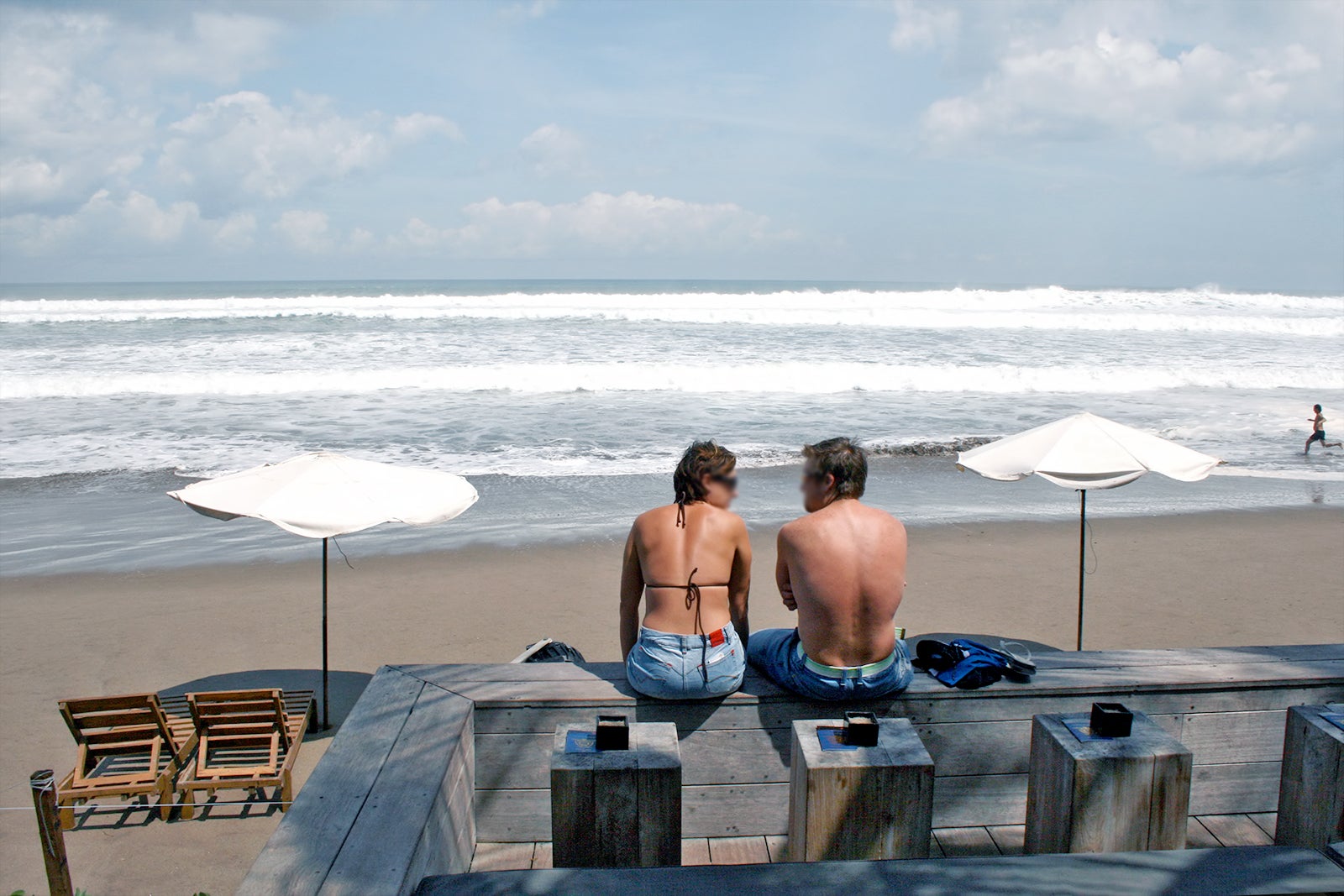 As one of Bali's nightlife institutions, Ku De Ta has much to offer, particularly for those seeking romance. The upscale seaside venue comprises a restaurant, a bar, a centrepiece sunset lawn bordering the beachfront (where all the special events take place), and a special private loft for secluded VIP-style moments.
The club's main restaurant has 'French bistro-esque' features, with many different cosy corners to sink into. The bar serves signature tropical Ku De Ta creations, such as a coconut strawberry daiquiri, made using rum, strawberry, coconut pandan milk, sugar and lime. Ku De Ta is also home to Mejekawi, a modern restaurant offering locally influenced haute cuisine, with intimate settings for 2. It has its own in-house international DJ team, which compiles its own series of compilation albums.
Location: Jalan Kayu Aya No.9, Seminyak, Badung, Bali 80361, Indonesia
Open: Sunday–Friday from 8am to 2am, Saturday from 8am to midnight
Phone: +62 (0)361 736 969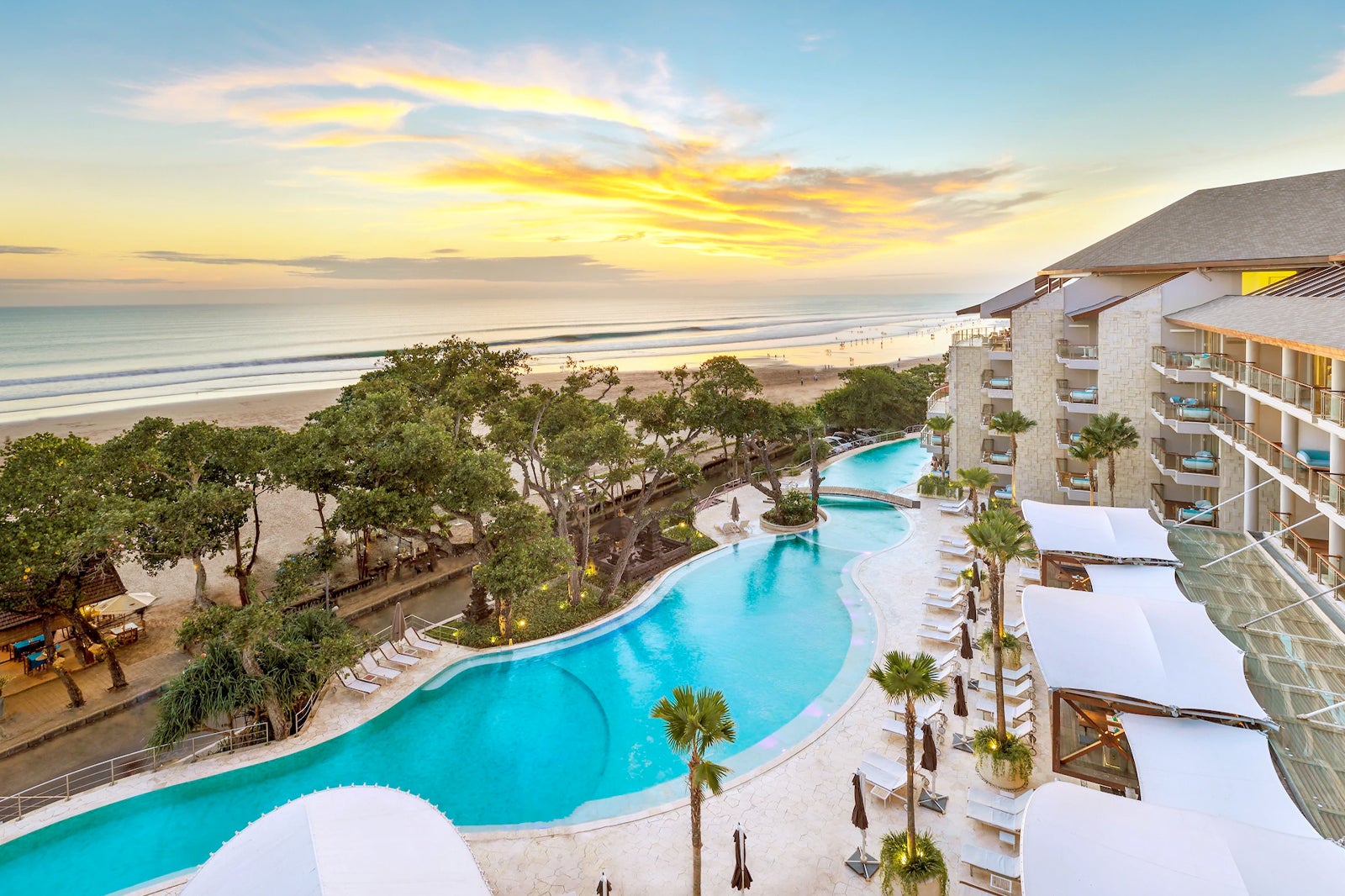 Double Six Rooftop at Double-Six Luxury Hotel
Seminyak
Double-Six Rooftop is one of the signature venues at the Double-Six Luxury Hotel in Seminyak. It carries the legendary name of the once lively club that became a Legian and Seminyak icon through the turn of the millennium. Now, this fine-dining spot serves an upmarket crowd, with its sunset lounging options offering spectacular 180-degree views over Seminyak's coastline and sunsets.
Creative cocktails are brought to your table from the bar and include refreshing selections such as Salvador Sling, a delightful blend of gold rum, Crème de Mure, ginger liqueur, fresh lime juice, pineapple juice and Angostura bitters. The bar's edge has round lounge pods with cushions and pillows that comfortably seat up to 9, set within a shallow, awning-covered freeform pool. They're also great for 2. Cool jazzy playlists complement the elegant but laidback ambience, and live gigs are held weekly.
Location: Jalan Double Six No.66, Seminyak, Kuta, Badung, Bali 80361, Indonesia
Open: Daily from 4pm to 11.30pm
Phone: +62 (0)361 734300
Potato Head Beach Club
Seminyak
As one of the most happening chill-out venues in Seminyak, the Potato Head Beach Club also offers something special for couples. Its beachfront bar and flat, 500-sq-m lawn flanked by an infinity pool are within the venue's amphitheatre-like layout. Occasional bar tables are arranged around the pool, and the sandy coast is just a few steps away, so you can 'escape' together for a more private romantic sunset moment.
The main Potato Head bar and bistro serves pastas and grills, together with a selection of cocktails like the Japanese-inspired take on the classic Bloody Mary, which comes with all the trimmings on a tray. On the upper floor, there's a fine-dining restaurant serving haute cuisine.
Location: Jalan Petitenget No.51B, Kerobokan, Badung, Bali 80361, Indonesia
Open: Daily from 10am to 2am
Phone: +62 (0)361 473 7979
photo by JasonParis (CC BY 2.0) modified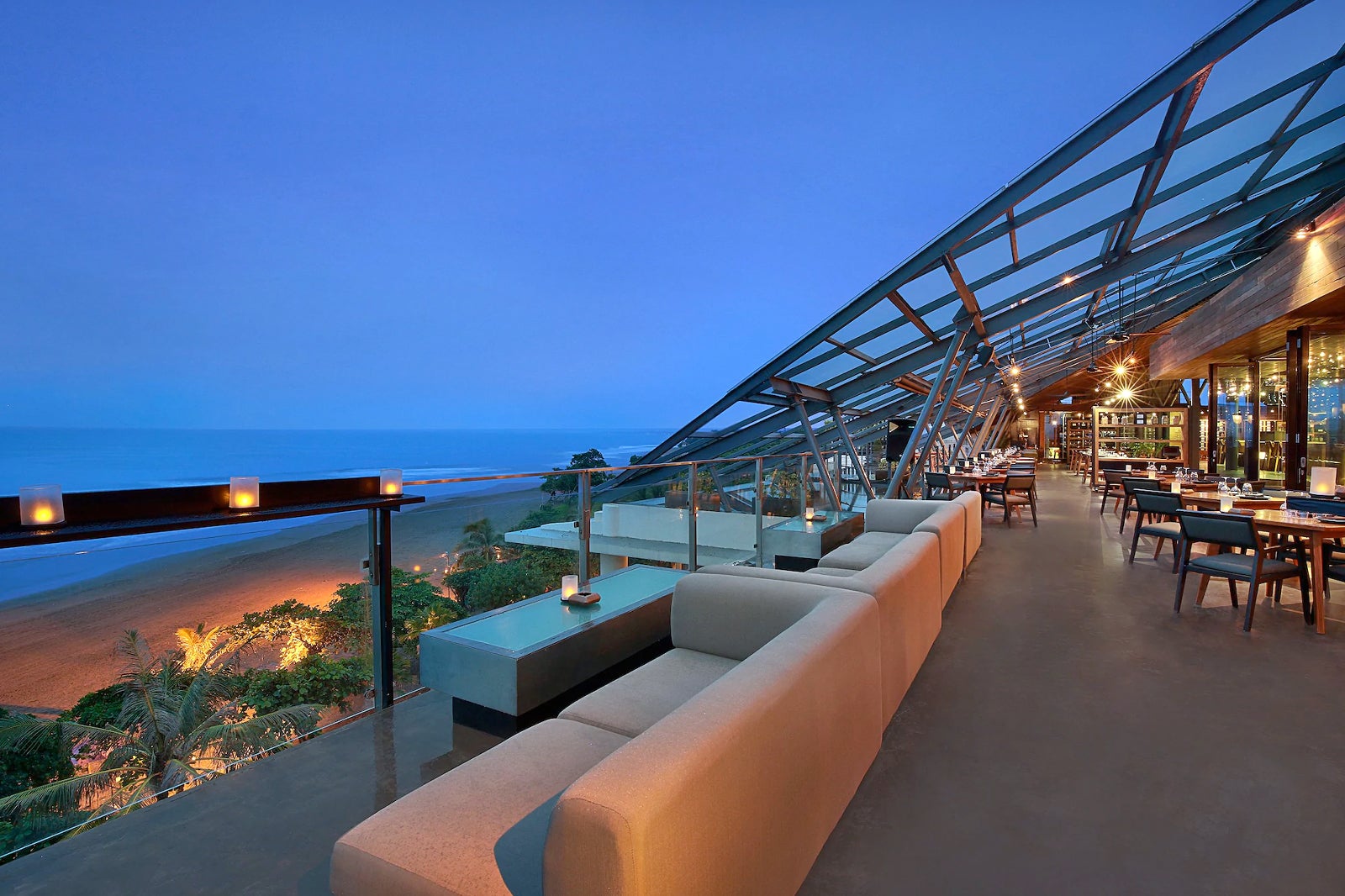 MoonLite Kitchen and Bar
Seminyak
For a great semi-rooftop spot in Seminyak, head to the MoonLite Kitchen and Bar at the Anantara Seminyak Bali. Located on the 5th-floor rooftop of the resort, it's a stylish venue that offers great views of the surf and sunsets. It welcomes you with many options: go for the seating in the main timber-decked space around the edge or under its slanted glass roof for the best views, or head to the well-stocked bar and lounge further in for different vibes.
Great signature creations include MoonLite Calamansi, which is a super-refreshing summer drink made of vodka and freshly pressed calamansi citrus, served long on ice.
Location: Jalan Abimanyu, Seminyak, Kuta, Badung, Bali 80361, Indonesia
Open: Daily from 6.30am to 11pm
Phone: +62 (0)361 737755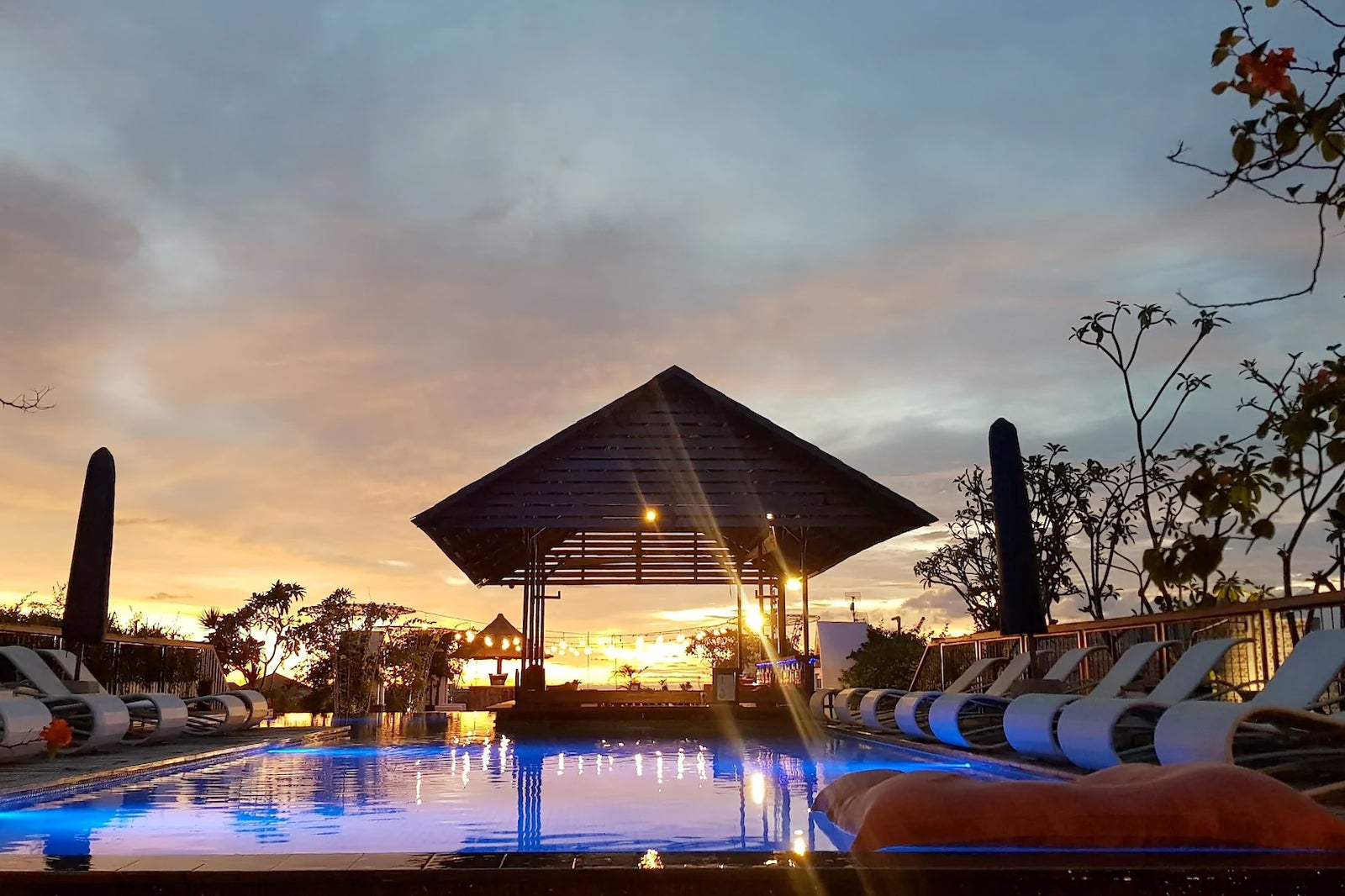 H8S at The Akmani Legian
Legian
Right on the rooftop of the Akmani Legian, H8S Rooftop Pool Bar & Lounge is a great spot to head up to and escape the busy traffic scene of Downtown Legian. It's also a great alternative spot to get to in time to catch Bali's gorgeous sunsets.
The best thing is that this venue is a Jacuzzi bar, which lets you soak in a tub as you enjoy your fresh and delicious cocktail or icy bottle of beer. The bar area is covered in wooden decking, as well as water features and ample greenery, and there is a large dip pool close to a well-stocked bar.
Location: Jalan Legian No.91, Kuta, Badung, Bali 80361, Indonesia
Phone: +62 (0)361 3339191
Couples
Photo
Nightlife
Luxury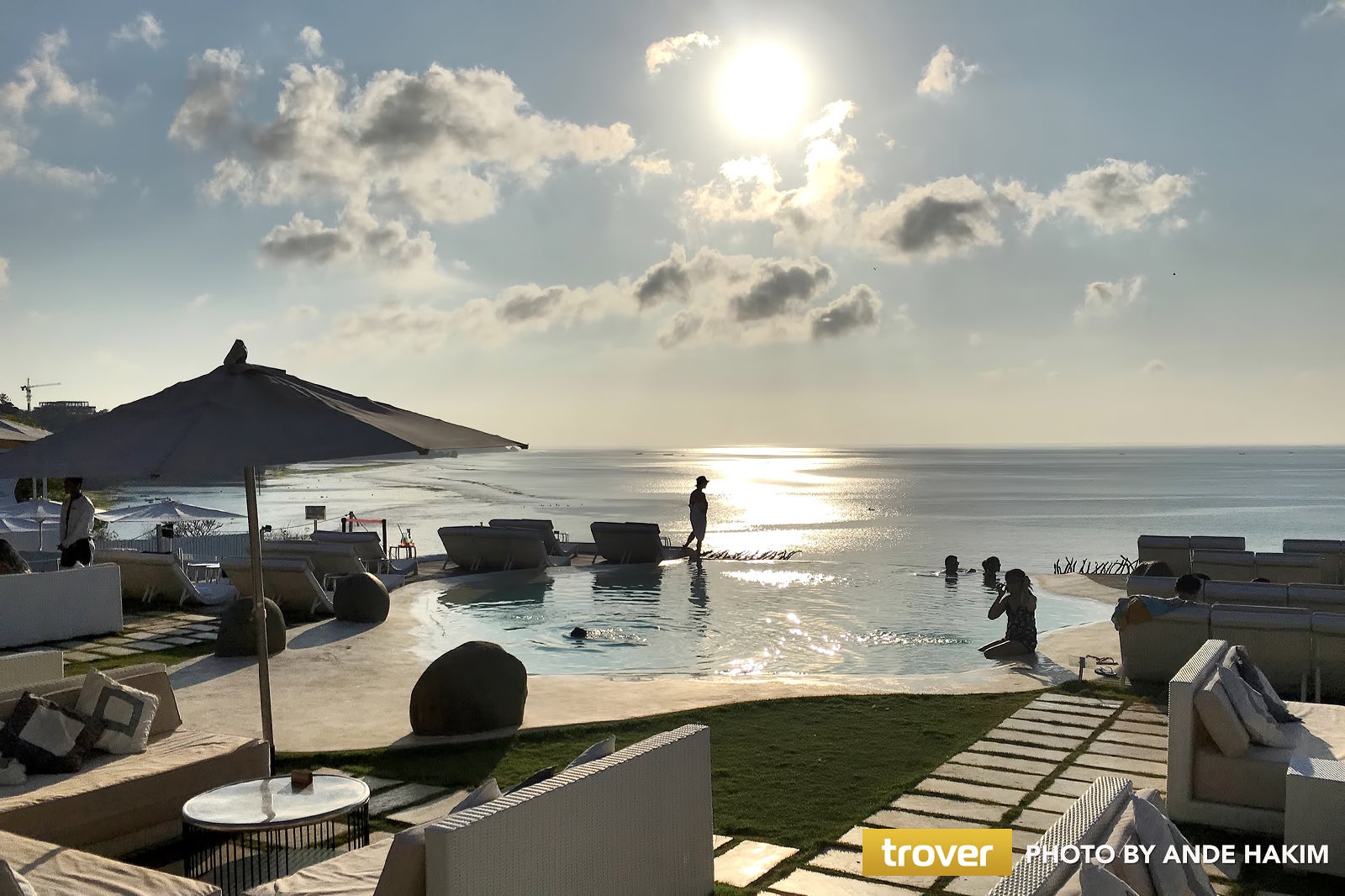 El Kabron serves authentic Spanish cuisine and a great selection of signature cocktails with a laid-back cliff-top setting in Pecatu. With a freeform infinity pool as its centrepiece and a borderless edge overlooking some of Bali's favourite surf breaks, El Kabron adds to options for chilling out to awesome sunsets, far away from south Bali's crowds.
A slightly arched doorway leads you into the ocean-facing courtyard, where blue beanbags dot real beach sand that's spread around the white stone pool. The result is a surreal 'floating' seaside scene, with Ibiza-style vibes and chill-out beats. Music is channelled from playlists, while regular live bands and guest DJs also frequent the scene.
Location: Jalan Pantai Cemongkak, Pecatu, South Kuta, Badung, Bali 80361, Indonesia
Open: Daily from 10am to 10pm
Phone: +62 (0)878-6171-7212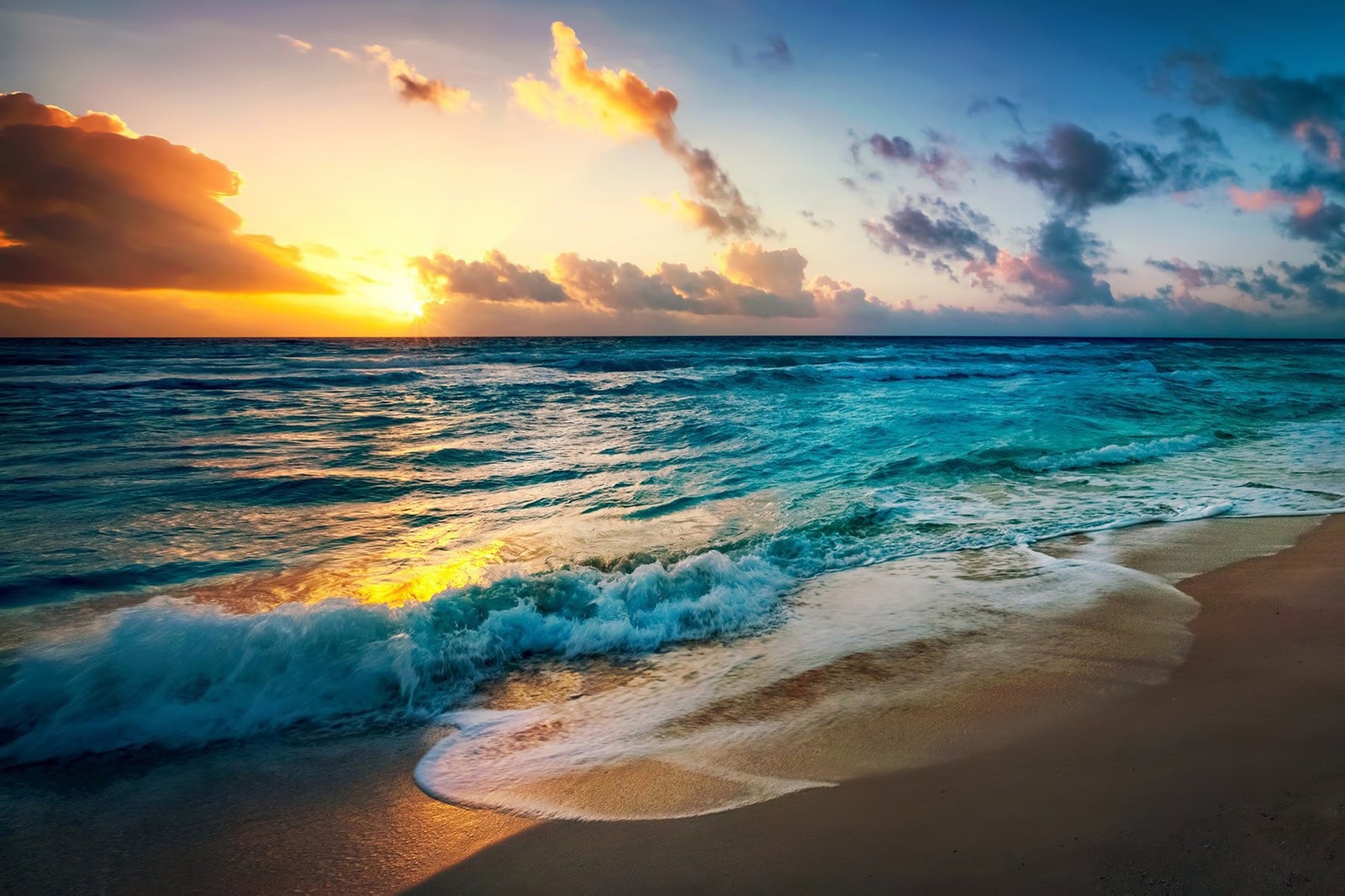 Cocoon Beach Club
Seminyak
Cocoon Beach Club is a striking venue on the corner of Jalan Double Six that has an inviting blue centrepiece pool surrounded by white sun loungers. A cool pool retreat with sea views and embroidered traditional Balinese parasols by day, Cocoon serves Asian fusion and Mediterranean cuisine and offers a great chill-out scene, with innovative cocktails to match Seminyak's sunsets.
Among its champagne and wine cocktails are Cocoon Royale and Just Keep Swimming, both of which include combinations of real fruits and vodka. For romantic early evenings, get cosy on the sunset roof terrace. This large, round platform has tables for 2 bordering its edge, and you can sink into cosy sofas in the centre, laid out in a crescent under a sparsely arranged timberwork canopy that serves as a shelter and an artistic skylight.
Location: Jalan Double Six No. 66, Blue Ocean Boulevard, Seminyak, Badung, Bali 80361, Indonesia
Open: Daily from 10am to 12am
Phone: +62 (0)361 731266
Couples
Food
Nightlife
Single
Group