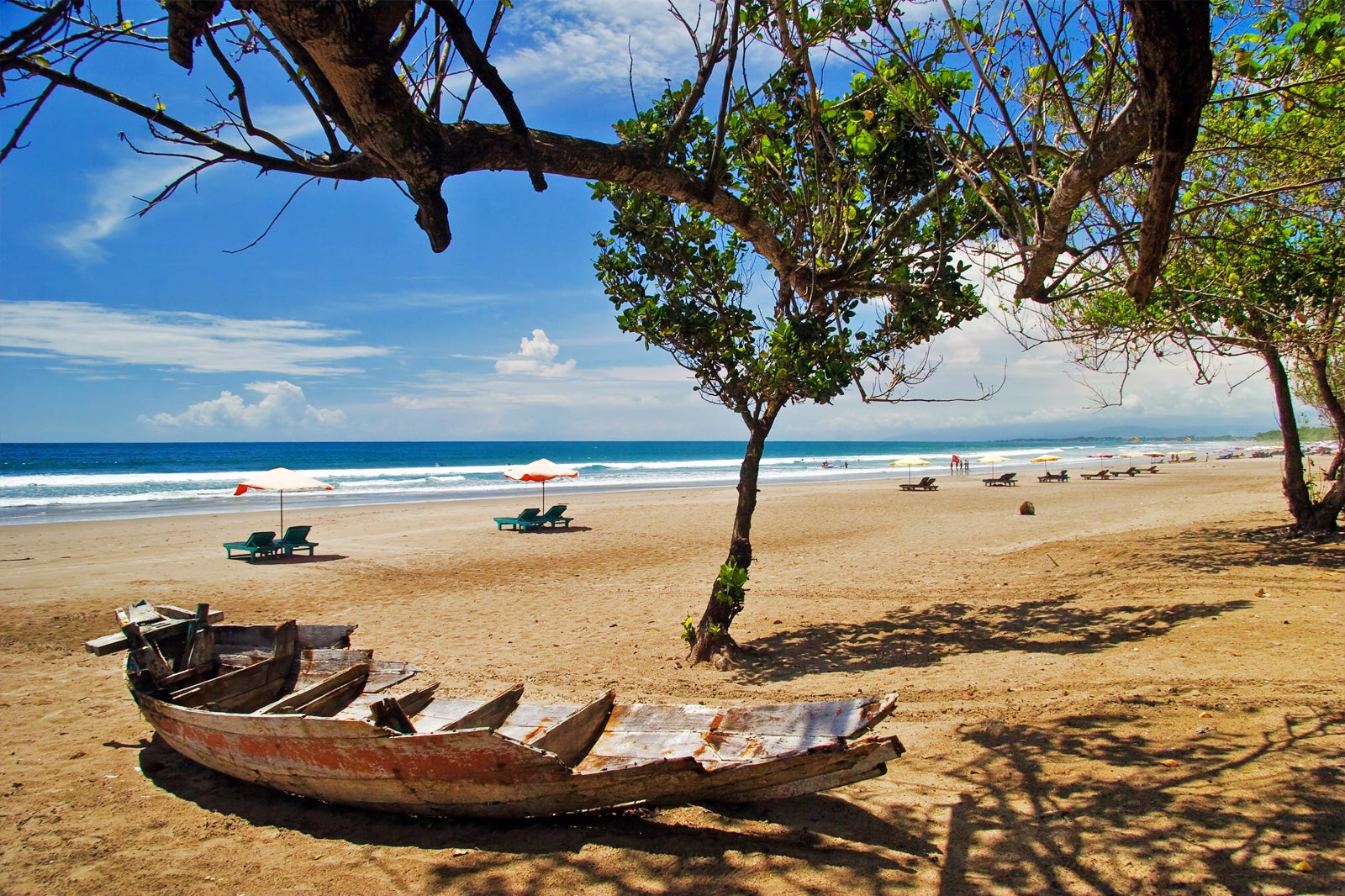 The beach of Legian stretches 2 km, starting from the northernmost point of Kuta Beach. It's quite challenging to define the borders of these beaches, and they both offer very similar activities like surfing, partying, and shopping.
The beach scene is also similar to Kuta – you'll see plenty of parasol-shaded sun loungers and beachfront kiosks selling cold drinks, as well as roaming beach masseuses and peddlers selling knick-knacks throughout the day.
The Beach of Legian - one of the highlights of 5 Best Surf Beaches in Bali for Beginners and 12 Best Things to Do in Legian (Read all about Bali here)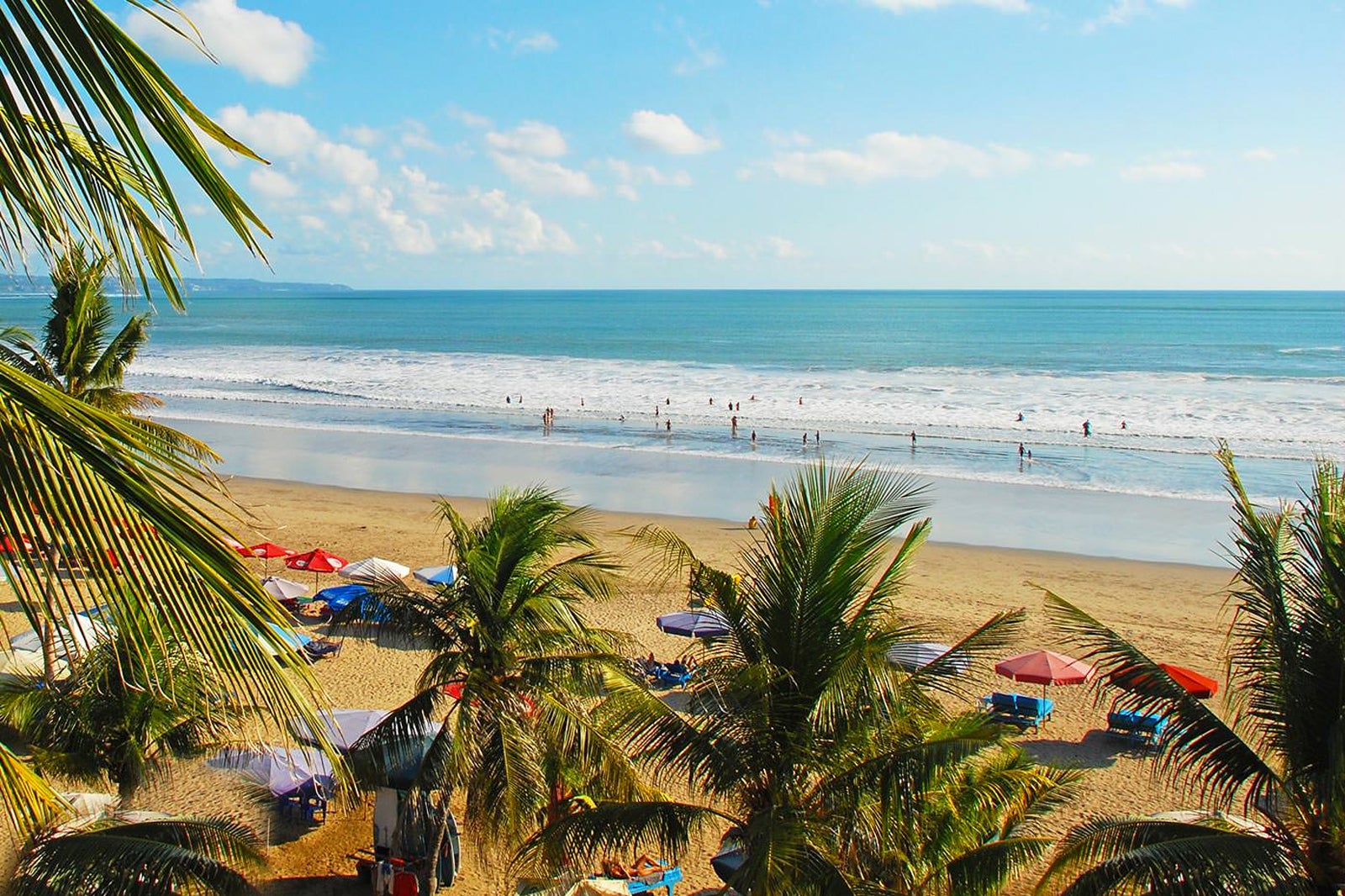 Good to know about Legian Beach
There's a narrow road separating Legian Beach from the hotels, restaurants and bars of Legian. It's only accessible on foot, so it's less busy compared to Kuta Beach. To the north, you'll find Double Six Beach (also known as Blue Ocean Beach), a 500-metre stretch of sand lined with restaurants that offer colourful beanbags on the sand.
Legian also has some of the Bali's most popular luxury resorts, with adjoining beach clubs and luxurious amenities making good use of the quieter coast, rolling surf and dramatic sunsets. Thanks to its sandy beach breaks, conditions are great for beginners. Legian has several popular surf schools, one of which is the Rip Curl School of Surf. Most of the surfing is focused around Double Six Beach and in front of Padma Resort.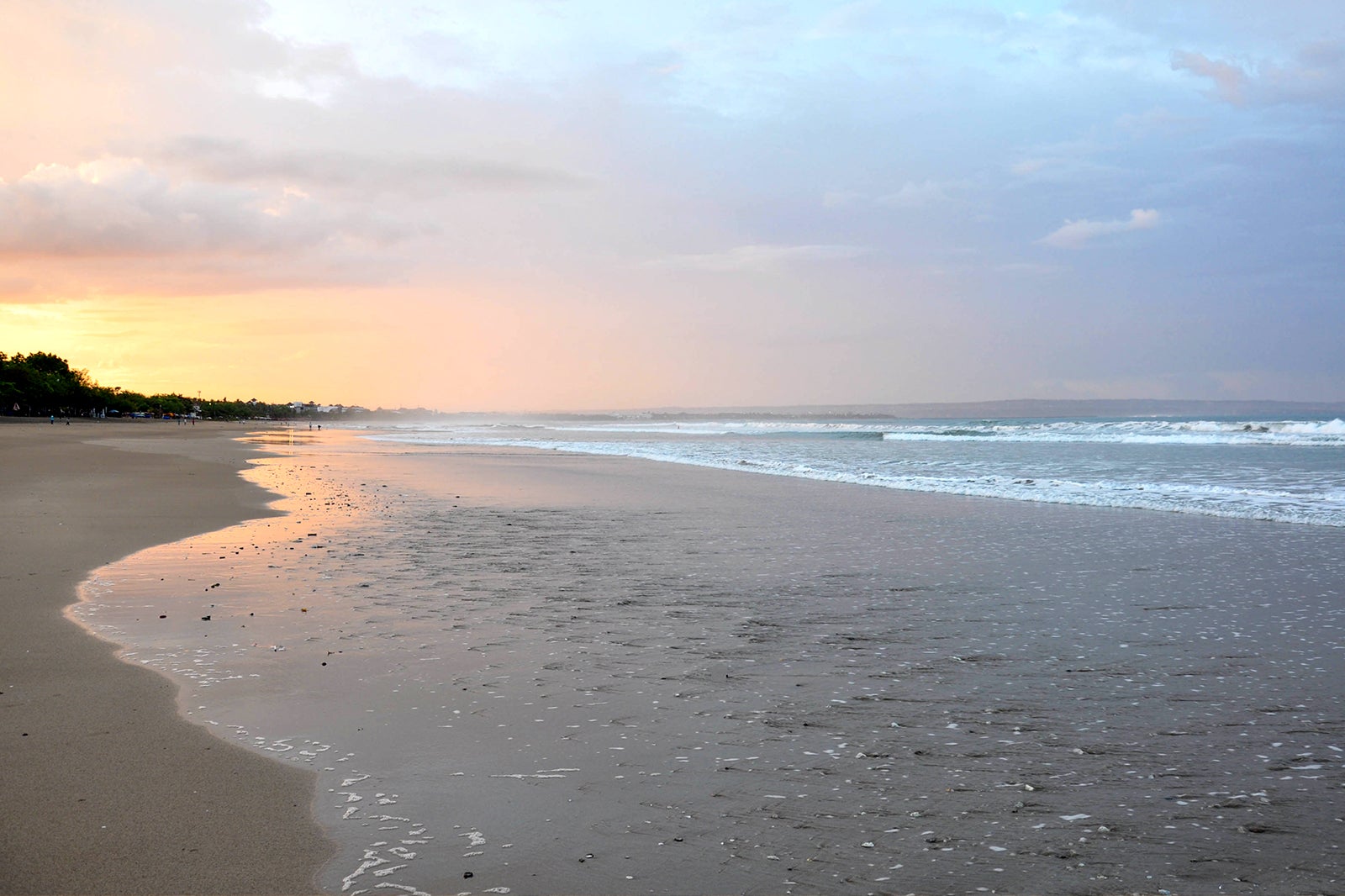 Best time to visit Legian Beach
Surfers may find that the best time to visit Legian Beach is during the dry season (from April to August), when westerly winds result in favourable swells. It's also when the water is generally temperate and free from flotsam. The swells close to Padma Resort occasionally have strong undercurrents, particularly from June to October.
There are Balawista lifeguard posts along the beach, mostly in front of Jayakarta Hotel and Double Six Beach. Red-and-yellow flags mean it's safe to swim or surf, while solid red flags mean that you should avoid due to dangerous undercurrents.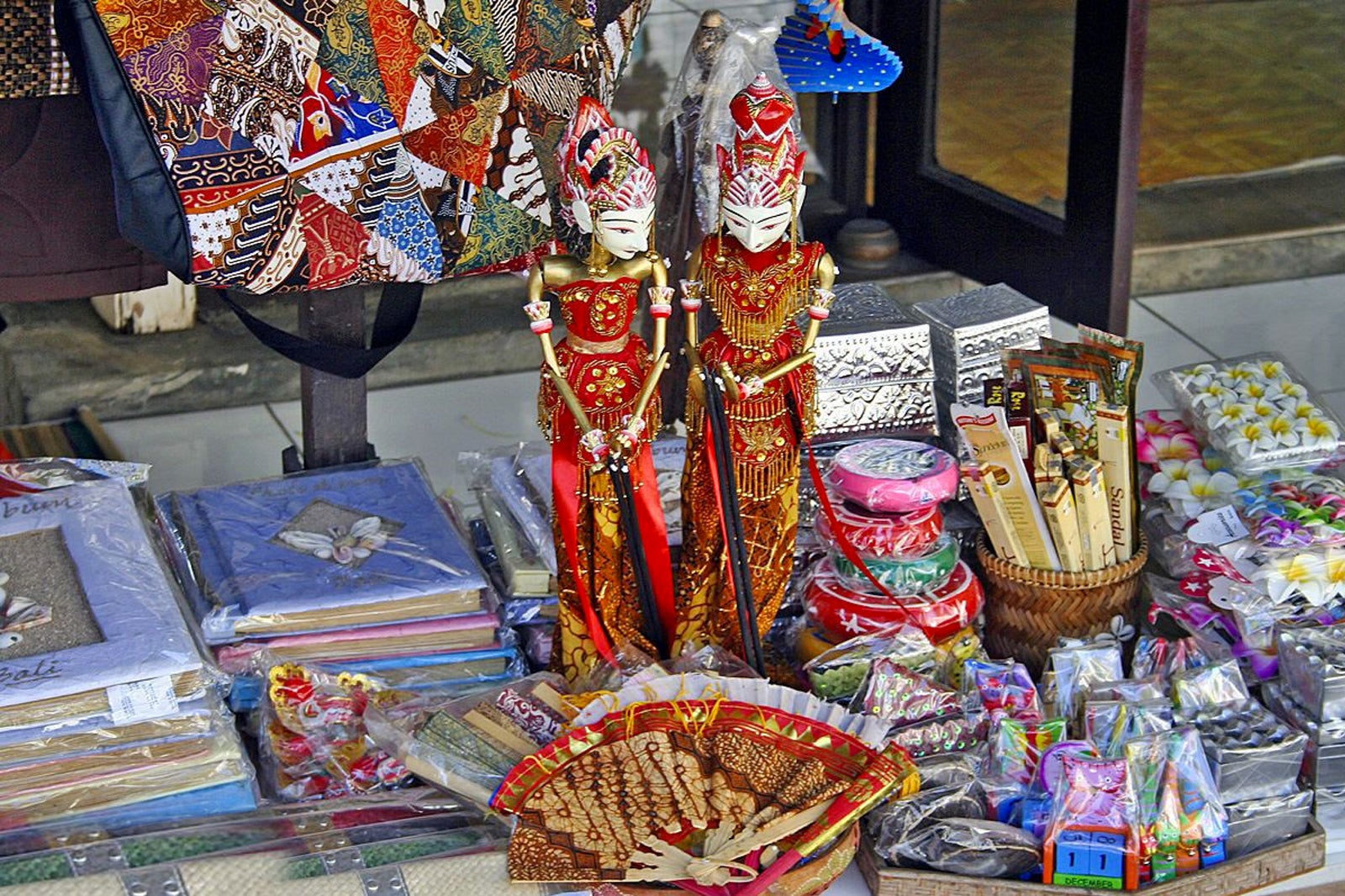 Shopping and dining at Legian Beach
The boardwalk of Legian Beach is lined with small art shops, though most of Legian's main shopping venues are away from the coastline. Designated walking streets include the 2 Poppies Lanes, Jalan Legian, Jalan Werkudara (Garlic Lane Shopping Street), and the Mertanadi Art Market on Jalan Melasti.
Luxurious Legian dining and nightlife hotspots are just a hop over the boardwalk. Chilling on a tight budget is also possible in Legian, with many choices of locally-run beach bars right on the sand.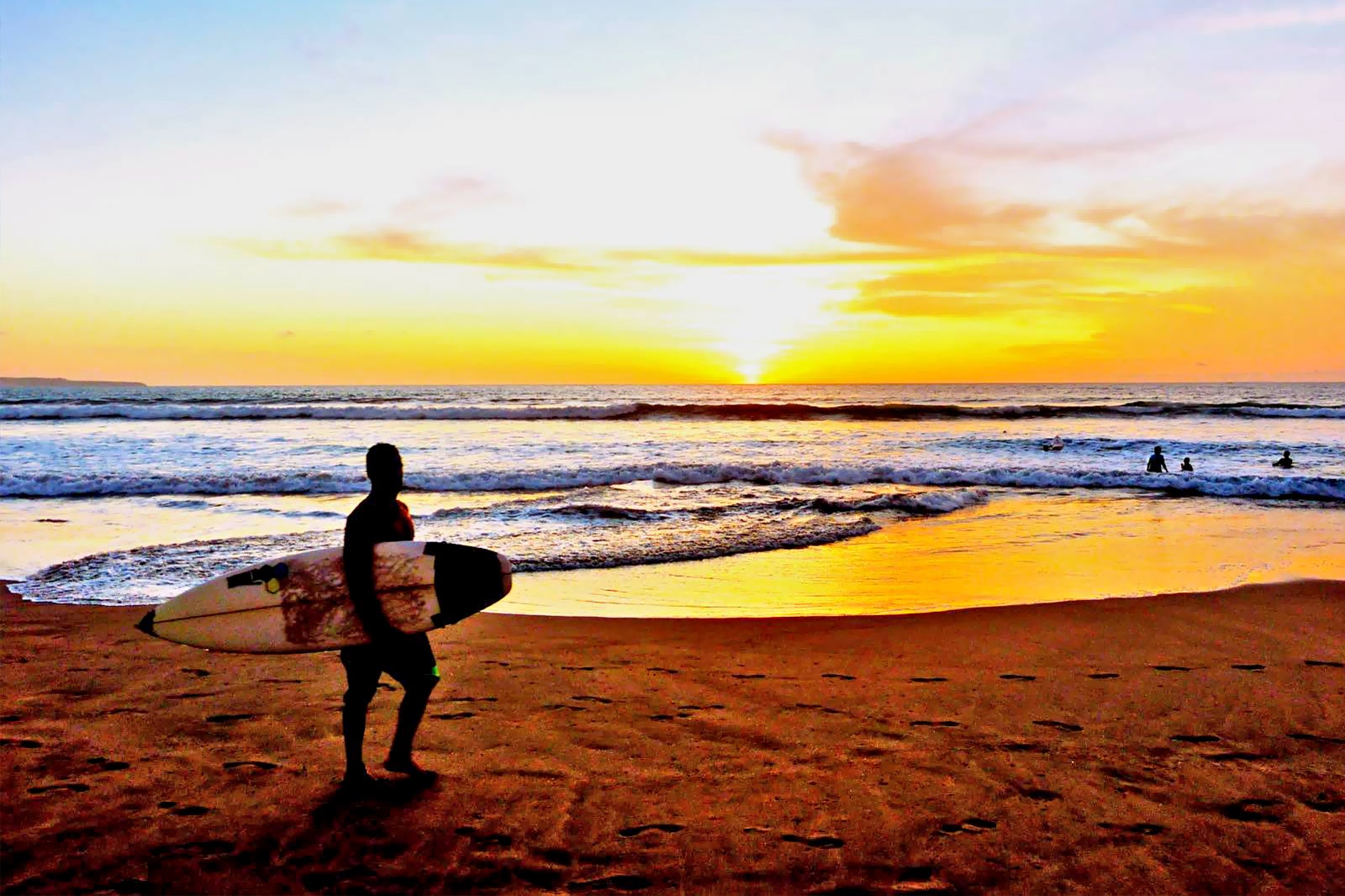 Things to do at Legian Beach
Surfing and swimming are among the best things to do at Legian Beach. If you prefer relaxing on the beach, you can rent a sun lounger to soak up some rays. Beach massage is relatively affordable, but agree on a price before your massage starts. A small tip is acceptable if you really enjoyed the experience.
When the sun goes down, you can enjoy an impromptu beach soccer or volley tournament with the locals. Contemporary games such as bubble sumo and zorbing come and go, so you can expect a very different set of activities at Legian Beach in future visits.
The Beach of Legian
Location: Jalan Pantai Legian, Legian, Badung, Bali, Indonesia
Back to top