5 Best Surf Beaches in Bali for Beginners
Best Bali Surfing Spots for Dummies
Bali has many famous surf spots, but for beginners, they can be either slightly intimidating or just too dominated by the territorial pros. It might seem surprising, but one of the best breaks to find out whether you're a goofy or a regular-footer is possibly the most recognisable one – Kuta. Along Bali's sandy southwestern coast, Kuta's sister beaches provide some of the best spots to improve your wave riding. These selections are all accessible and located not too far from the island's major surf schools.
If this is your first time at surfing, leave the more serious reef breaks and greater curls of the far-flung southern Bukit peninsula to the pros. You can add them to your wishlist once you've advanced – being constantly wiped out is no fun when you've just found your balance on your board. The best waves for most surf beaches in Bali are during the dry season (April–August) when you can enjoy good easterly winds and without much flotsam around.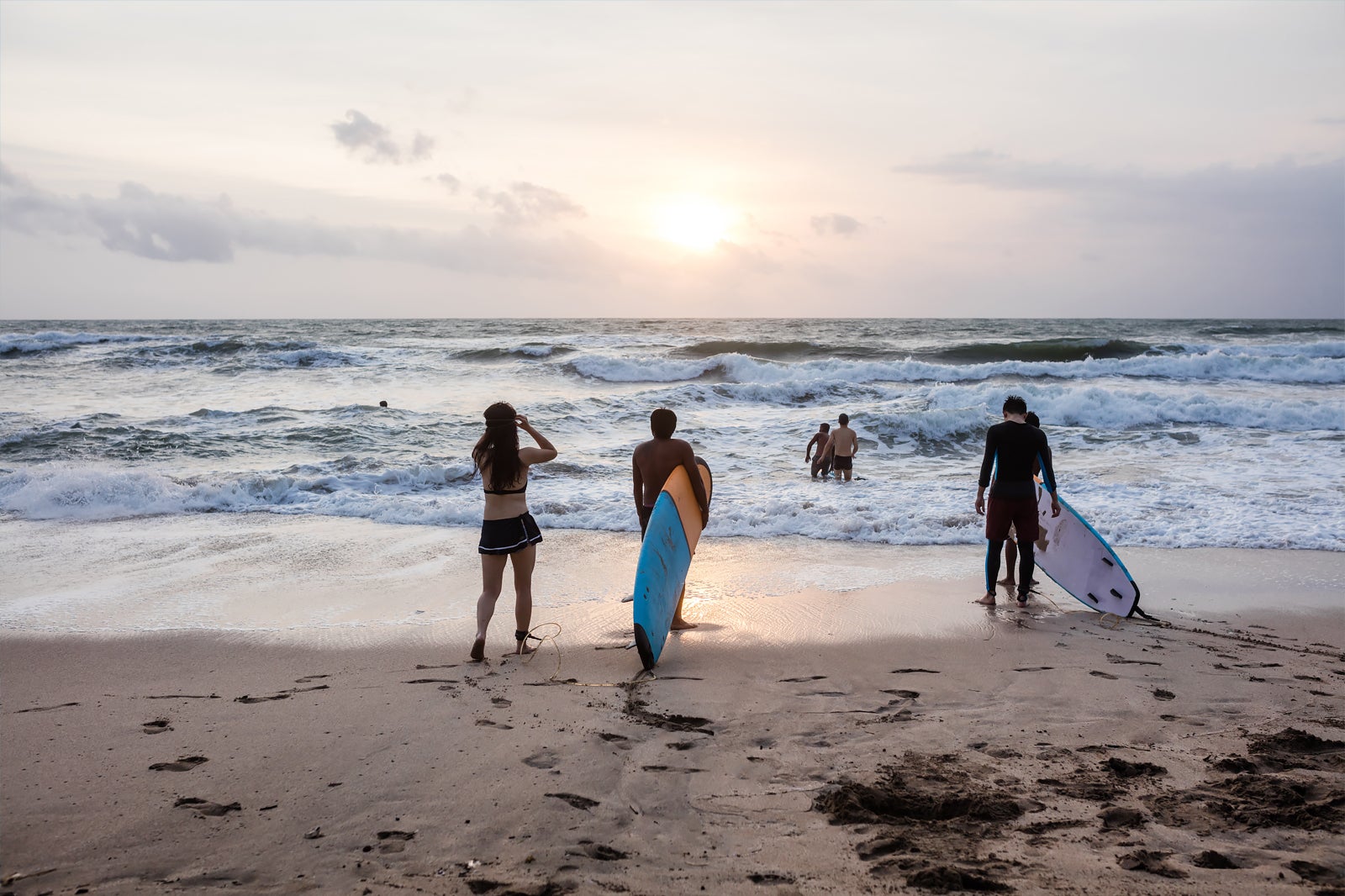 The island's first 'surfer's beach', Kuta was an empty coast back in 1936, when Robert Koke, an American expat hotelier, set out riding waves here on his homemade Honolulu-style board, soon followed by young locals. Although much has changed, Kuta is still a favourite spot for learners. The long sandy stretch has fun waves for beginners in small swells. Beware of the currents when they get bigger later in the afternoon. Along the beach, there are peddlers, some selling cold drinks, and others renting out used surfboards. Complete novices can book a course at any of the surf schools lining the beach. Kuta waves offer a variety but are consistent, with average waves measuring 0.3 to 1 metre in height.
Location: Jalan Pantai Kuta, Kuta, Badung, Bali 80361, Indonesia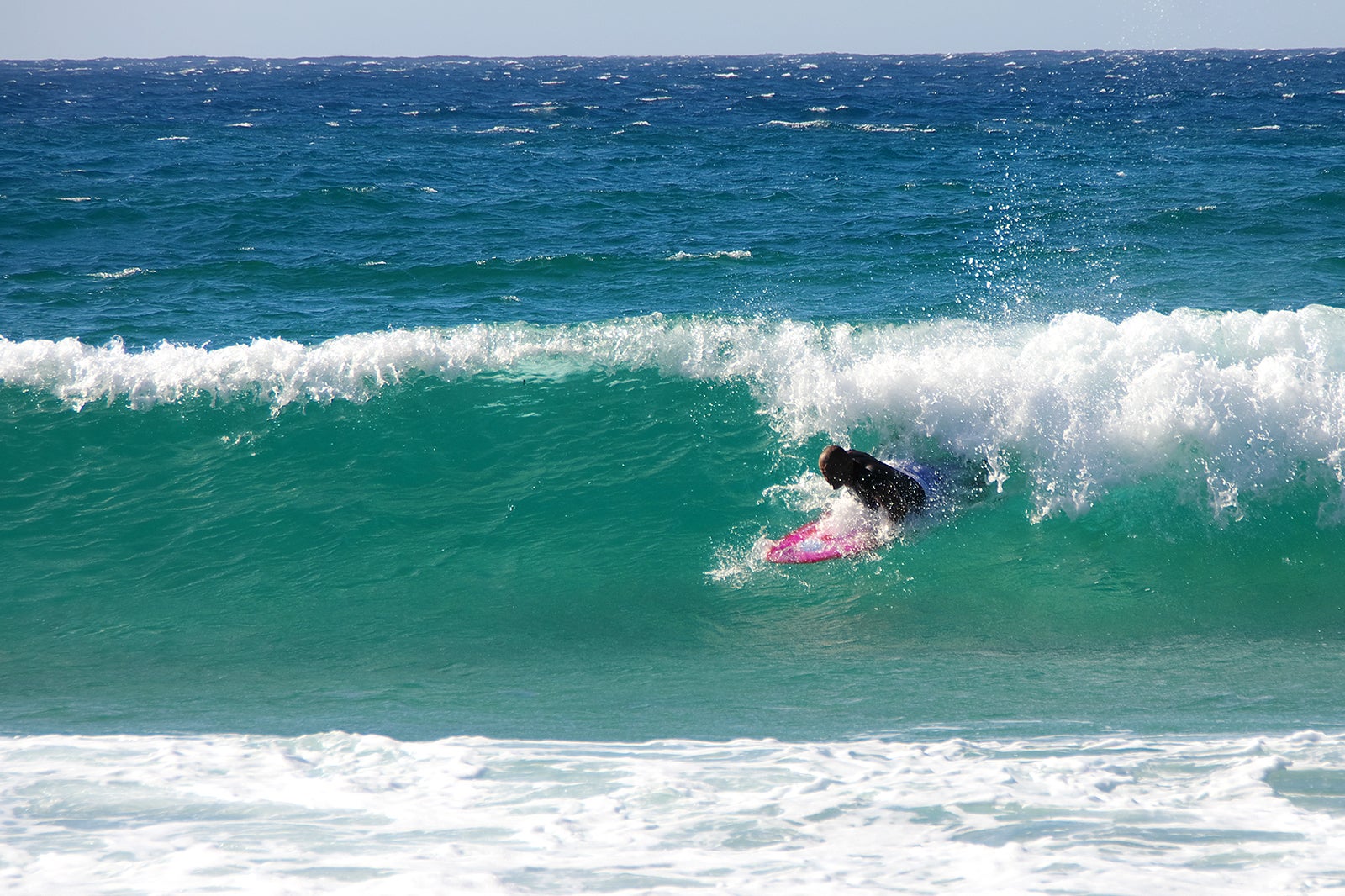 Tuban Beach (Airport Lefts and Rights)
The Ngurah Rai International Airport's strip juts out to sea around 1.5 km south of the Kuta break. The surf spots here are aptly named 'Airport Lefts' and 'Airport Rights'. The greater swells of up to 1.5 metres are beyond a reef that requires a boat ride out, while beginners can enjoy the considerably rideable waves near the shore. Lefts is north of the airstrip, while Rights is accessible from Lefts via boat ride encircling the runway to its south. Crowds are unpredictable, but most of the time it is not as busy as Kuta.
Location: Tuban, Kuta, Badung , Bali, Indonesia
photo by fabrizio.binello (CC BY-SA 2.0) modified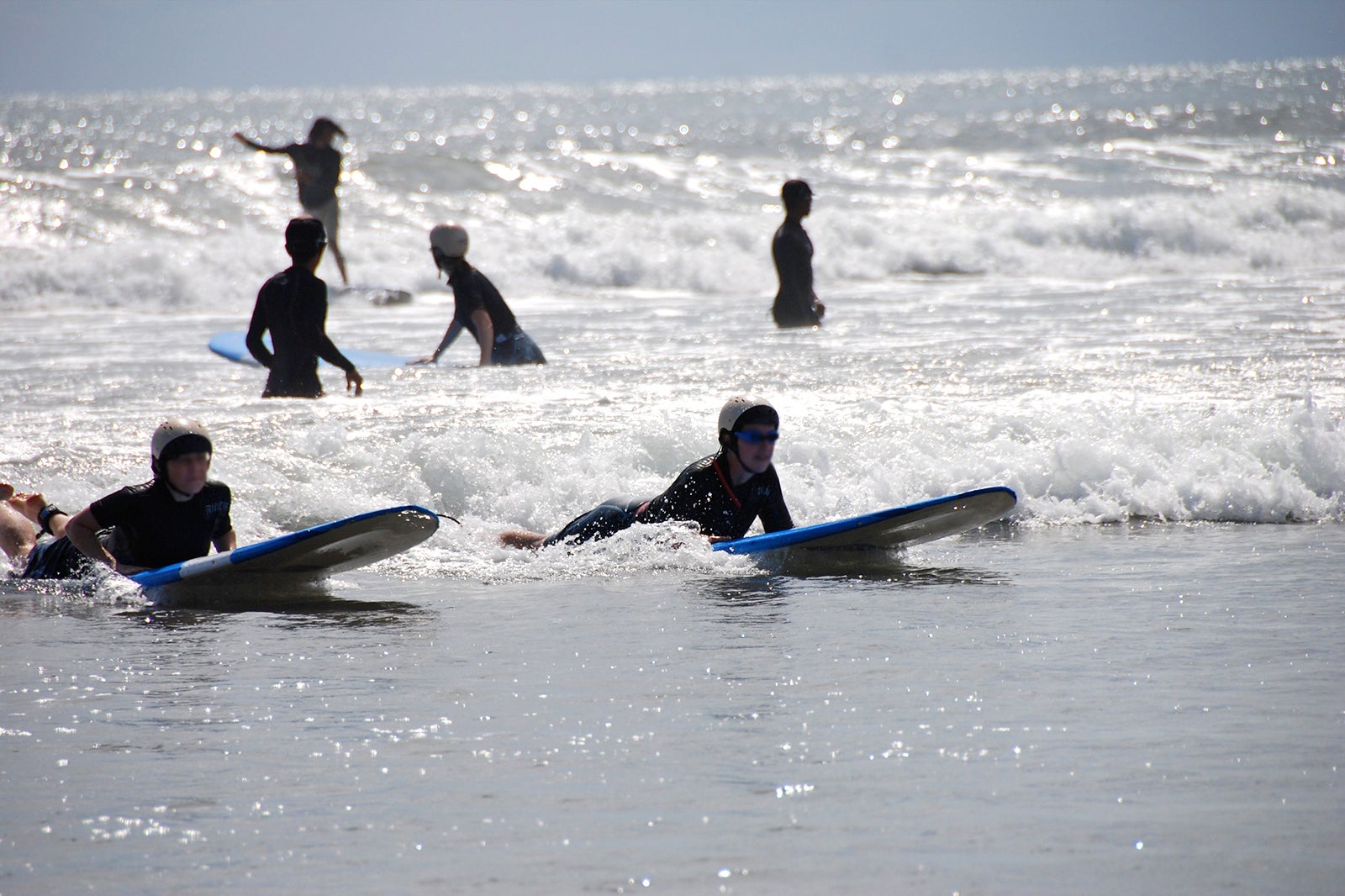 Legian Beach borders Kuta to the north and is considered its sister resort. It's accessible via the same Jalan Pantai from the south and many other side streets north of Kuta's great white beach wall. Similar to Kuta, Legian's waves come in a variety, usually between 0.3- to 1-metre-high waves. Although there aren't as many board rentals and peddlers as in Kuta, Legian has several notable surf schools such as the Rip Curl School of Surf, which you can find on Jalan Arjuna. The Ombak Legian Store & Surf Academy, accredited by the Australian Academy of Surfing Instructors (ASI), also offers wave-riding courses in front of its garden pool. Swells in Legian often grow bigger later in the afternoon.
Location: Pantai Legian, Bali, Indonesia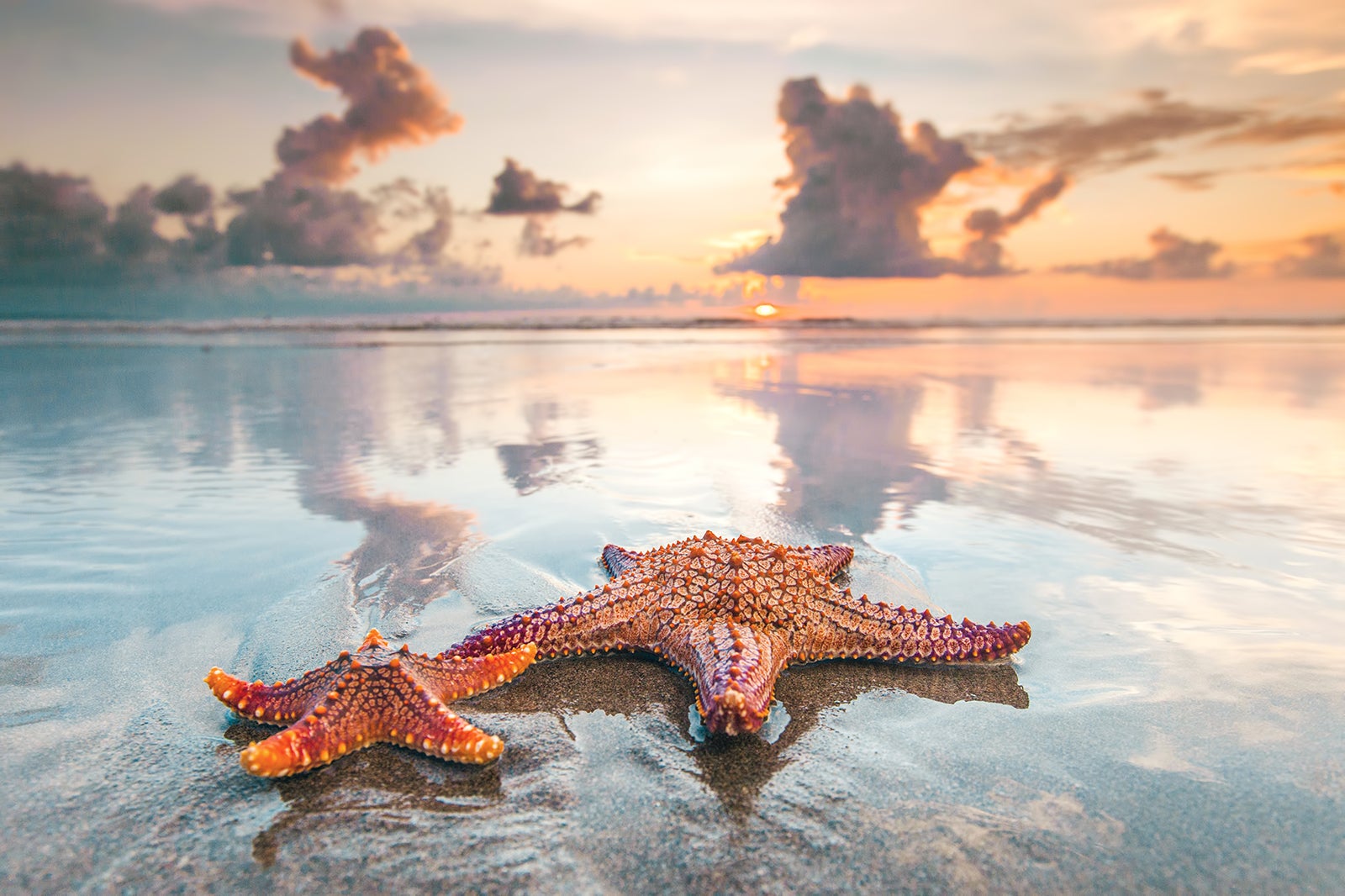 Seminyak is a beautiful white-grey sandy beach just north of Legian. It offers plenty of swells, which can be double the size of that found in Kuta. Almost all of the famous beachfront clubs in Seminyak have views of great rideable waves in front of them, such as Ku De Ta and La Lucciola.
Around 1.5 km north of Seminyak, you'll find another surf spot called Petitenget Beach. Here, you'll get lefts and rights, with short lengths suitable for kids and beginners. Another favourite coast belonging to Seminyak is known as Dhyana Pura, right on the borders of Legian. It's a good beach break, about the same quality as Kuta, but less crowded. There are several surf camps and schools along the coast, where you get to eat, sleep and hone your wave riding skills.
Location: Pantai Seminyak, Bali, Indonesia
Couples
Families
Photo
Budget
Single
Group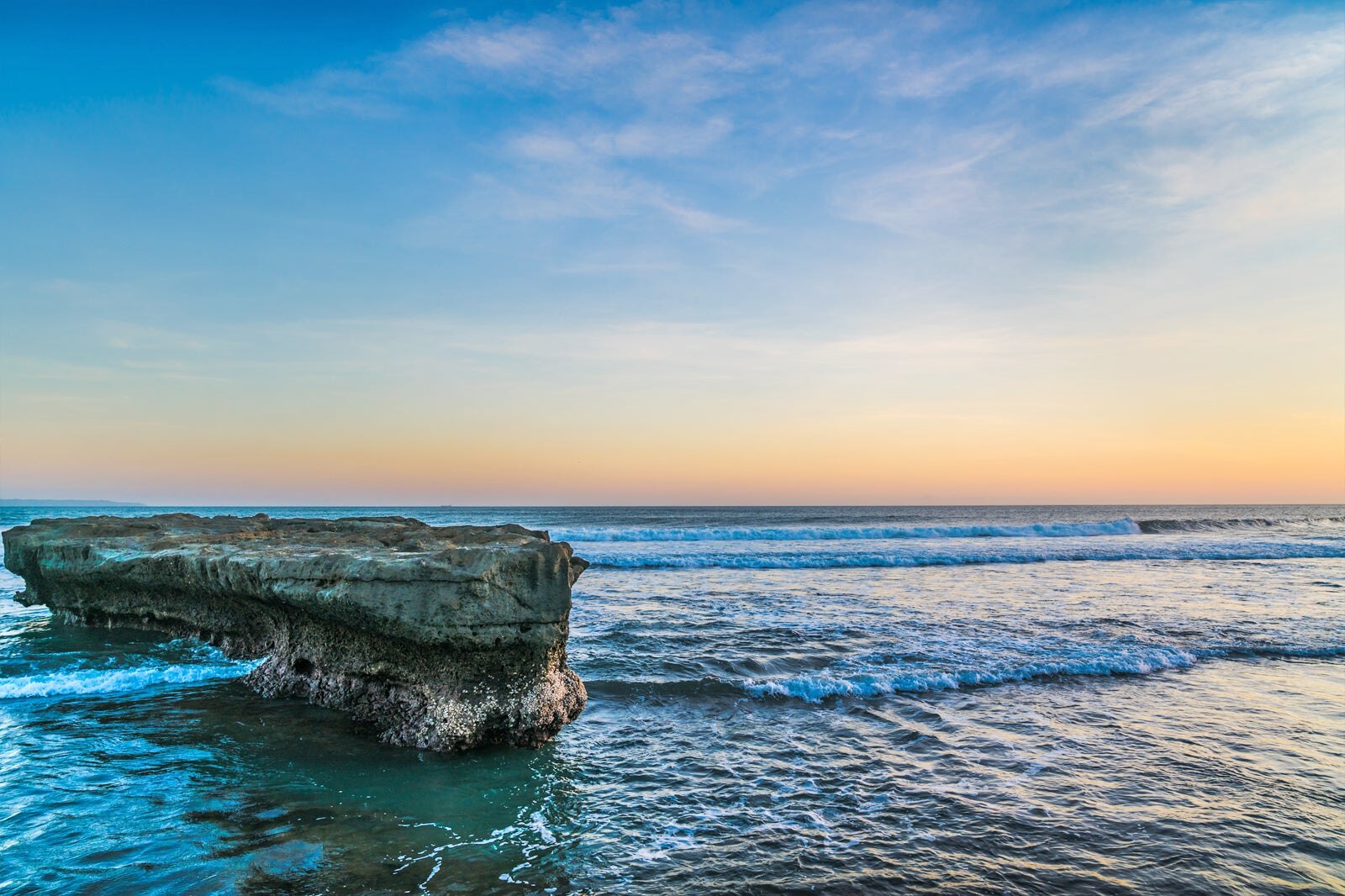 Echo Beach, Batu Bolong and Canggu
Echo Beach (nicknamed by expat surfers) is a 30-minute drive from Kuta. This gorgeous beach is called Pantai Batu Bolong by locals after a temple of the same name. The coast features small rocky crags that hide a white-sand beach from the beach road and parking area. A popular site for sunset surfing, you can rent surfboards from various stalls near the parking lot and just behind the temple. The waves cater to all types of surfers, from beginners to pros. You should be aware of your skills as there aren't any lifeguards patrolling the coast. A consistent break, flat rock bed, and below 2-metre-tall waves make Echo Beach a favourite surf spot for beginners and intermediate-level surfers. During and after sunset, the beach's many warungs (food stalls) serve grilled seafood and cold Bintang.