11 Best Things to Do in Birmingham
What is Birmingham Most Famous For?
Birmingham has been through more changes than most other British cities in the 21st century. Long gone are the dull concrete skyscrapers. Thanks to a host of regeneration projects, the best things to do in Birmingham take advantage of the city's intriguing mix of urban cool and industrial heritage.
From the mirror-fronted façade of Birmingham's Grand Central station to the 'bubble-wrapped' Bullring shopping centre, modern architectural landmarks are scattered throughout the city centre. Add to this an impressive sporting pedigree and an eclectic food culture – everything from pop-up street dining to (arguably) Britain's greatest balti restaurants – and the reasons for exploring Britain's 2nd city become clear.
What are the best things to do in Birmingham?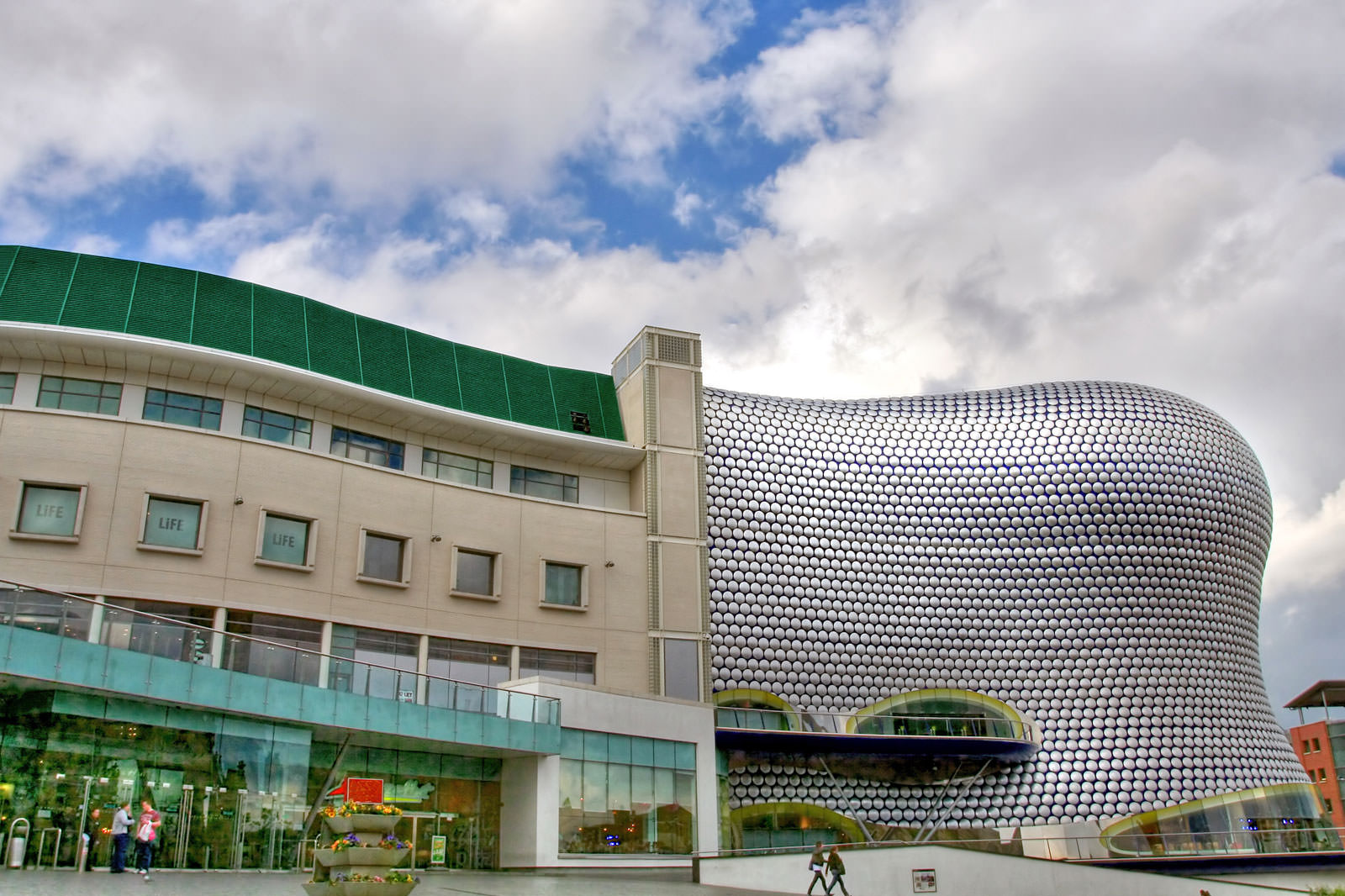 One of Birmingham's first modern marvels, the sci-fi-looking Bullring is one of the city's best places to shop. Check out the gear of some of Britain's best designers in Selfridges department store, with plenty of other prominent boutiques from the likes of All Saints and Karen Millen to choose from. High street brands include H&M and Foot Locker.
If you're out and about in central Birmingham, you're almost guaranteed to come across the Bullring as it's walking distance from New Street station and surrounded by several other prominent attractions. Come meal times, you can choose from French bistro snacks to Asian noodles and plenty in between. And if you're looking for the best areas to stay, some of the biggest hotel chains are found near the Bullring Shopping Centre.
Read more
Location: Birmingham B5 4BU, UK
Open: Daily from 10 am to 8 pm
Phone: +44 (0)121 632 1500
2
Cadbury World
Make your own chocolate at this chocolate-themed attraction
Cadbury World, one of the UK's most loved chocolate brands, is just a few miles out from Birmingham city centre. Take the family-friendly tour to see how chocolate is made, sample some new recipes and enjoy exciting rides and experiences, including a 4D short movie and a mini rollercoaster. It's all themed around famous Cadbury brands.
You can no longer take a look at the actual Cadbury production line, but there is a chance to see workers producing handmade chocolate items for the gift shop. Consider the afternoon tea set as a suitably sweet end to the tour, and choose a hotel option that's closeby to Cadbury World, so you don't have far to go after a long day.
Read more
Location: Linden Rd, Bournville, Birmingham B30 1JR, UK
Open: Daily from 9 am to 4.30 pm
Phone: +44 (0)844 880 7667
3
The Belfry golf course
Visit one of the world's most iconic golf courses
The Belfry is where passionate golfers can experience some of the world's best courses. Situated about a 15-minute drive from the centre of Birmingham, there are 3 professional-level courses to choose from, namely the Brabazon Course, The Derby and the PGA National.
As you might expect from a golf course of this stature, there's luxury found in every corner of The Belfry. While the courses are its main attractions, there's also a full spa and impressive dining venues. If you decide to visit with your kids, there's even a 12-hole miniature golf course to keep them entertained.
Location: The Belfry, Sutton Coldfield B76, Sutton Coldfield, UK
Phone: +44 (0)1675 622701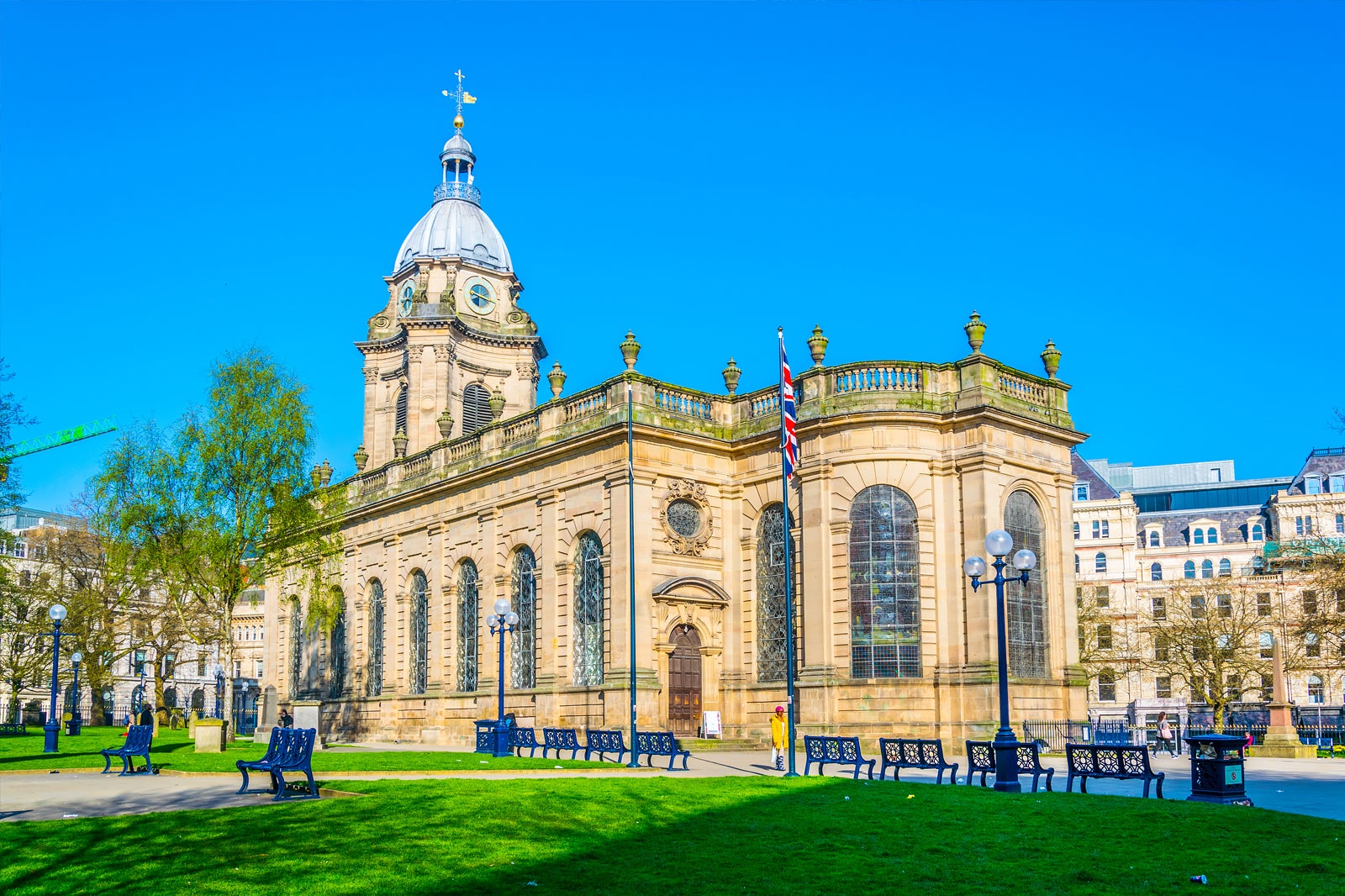 For a spot of sightseeing in the swanky surroundings of Colmore Row, you can stop and gaze at St. Philip's Cathedral. Built in 1715, the baroque stylings are pretty in any season and you can see some beautifully preserved stained-glass windows.
Surrounding the cathedral, you'll find excellent shopping options, including a high-end department store, on one side, and a collection of pubs and bars on the other. Mass takes place every Sunday, with free, guided tours and choral performances throughout the week.
Read more
Location: Colmore Row, Birmingham B3 2QB, UK
Phone: +44 (0)121 262 1840
This close-knit community of 150 jewellers and craftspeople lets you experience the industrial heritage of Birmingham. It's said that up to 40% of Britain's jewellery business is traded through this enclave of manufacturing on the northern edge of the city centre. You can easily walk to the Jewellery Quarter from New Street station in less than 20 minutes or take the train 1 stop to Jewellery Quarter station.
Interspersed between specialist jewellery shops, you'll find pubs, museums, art galleries, auctioneers, and other boutiques specialising in everything from wedding arranging to home furnishings. The Jewellery Quarter Festival takes place every July, featuring live music, parades, and lots of shopping opportunities. Book your hotel in advance to stay near the Jewellery Quarter.
Read more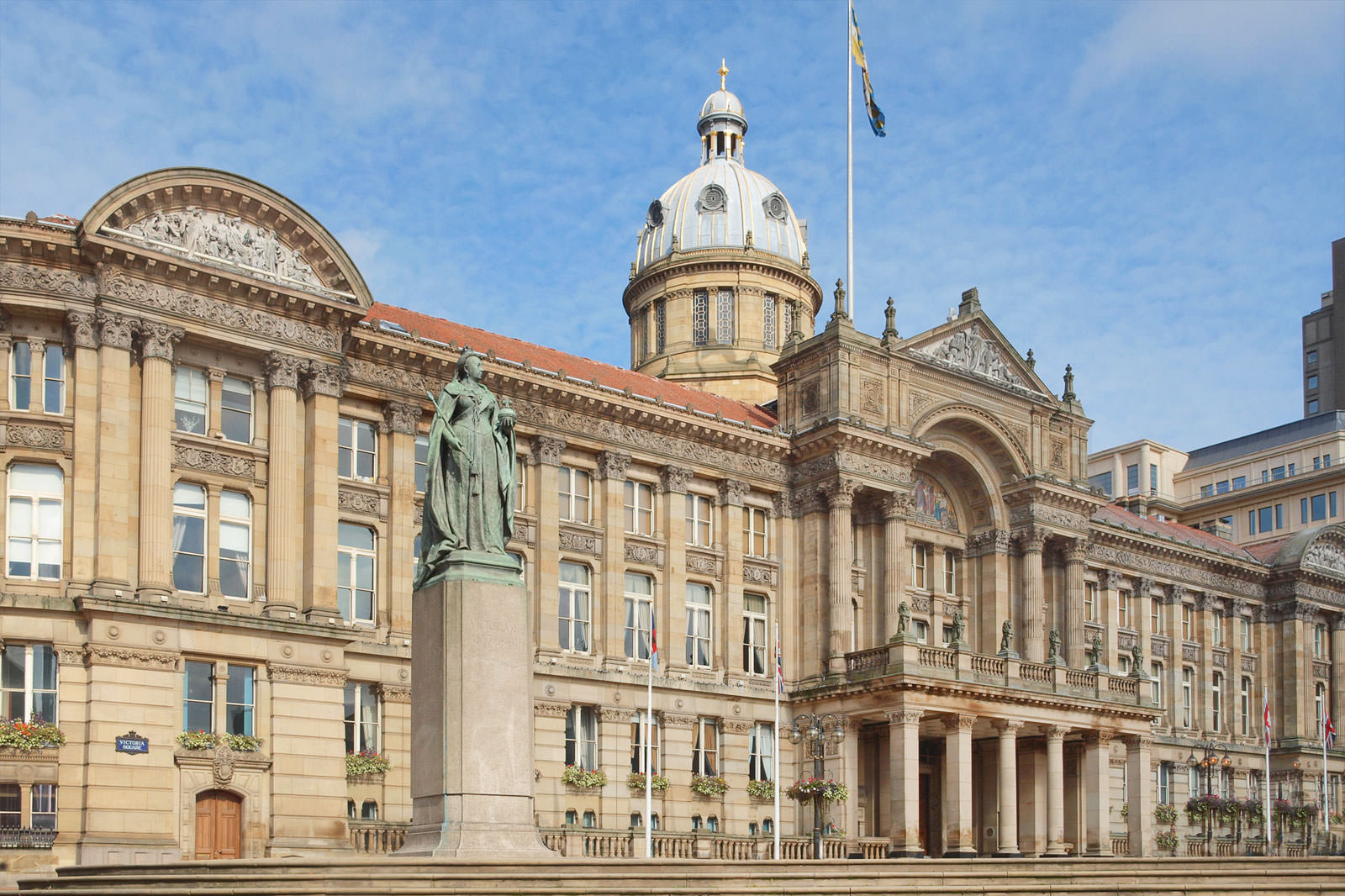 Victoria Square is home to many of Birmingham''s most beautiful Victorian buildings and landmarks. The Town Hall and Birmingham Council House are 2 of the best examples of the city's proud heritage. You'll find the Birmingham Museum and Art Gallery here, which contains several rooms of paintings and sculpture to enjoy for free.
The Baroque-style Birmingham Council House has an imposing dome and a clocktower, which has for many years been a popular meeting spot. The whole area is pedestrianised, which makes walking around easy. Every winter, Birmingham's Frankfurt Christmas Market is set up in Victoria Square and is extremely popular with shoppers looking for presents, handicrafts, and mulled wine.
Read more
Location: Waterloo St, Birmingham B1 1BB, UK
Open: Daily from 9 am to 5 pm
Phone: +44 (0)121 303 1111
7
Black Country Living Museum
Learn about the local history of Birmingham
The Black Country Living Museum is a fascinating open-air museum that tells the unique story of Birmingham's industrial history. Spanning more than 10 hectares, the Black Country Living Museum features reconstructed shops, houses and industrial sites that celebrate steam power and manufacturing in the city's past.
During your trip, you can take a ride on heritage vehicles, play historic street games and see live industrial demonstrations like nail making and chain making. You can also see a short film in a 1920s-era cinema, test your knowledge with a 1912 school lesson or have an old-fashioned drink in the Bottle & Glass Inn.
Location: Tipton Rd, Dudley DY1 4SQ, United Kingdom
Open: Wednesday–Sunday 10 am to 4 pm (closed Monday–Tuesday)
Phone: +44 (0)121 557 9643
photo by Phil Sangwell (CC BY 2.0) modified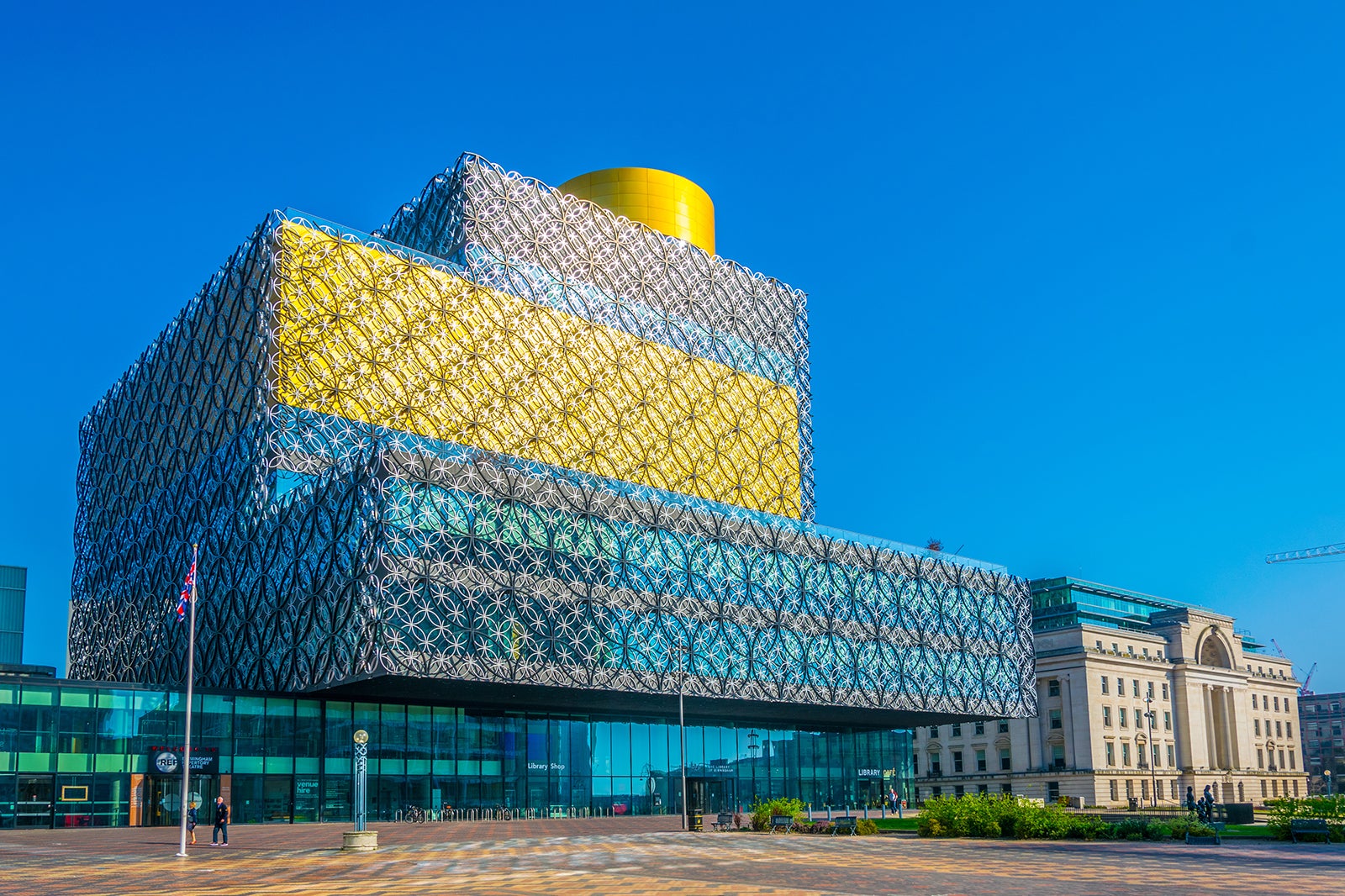 The Library of Birmingham has reimagined the whole concept for the digital age, with surprises in store, inside and out. The building itself is a real head-turner, with a 7th-floor garden and several spacious viewing platforms. Forget what you think you know about libraries.
There's a full programme of events to attend for free. Watch live theatre in the amphitheatre or explore the permanent exhibition dedicated to William Shakespeare, Britain's most celebrated playwright. For movie buffs, the entire National Film Archive is available in private booths, courtesy of the British Film Institute.
Read more
Location: Centenary Square, Broad St, Birmingham B1 2ND, UK
Open: Monday – Saturday from 11 am to 5 pm, open till 7 pm on Mondays and Tuesdays (Closed on Sundays)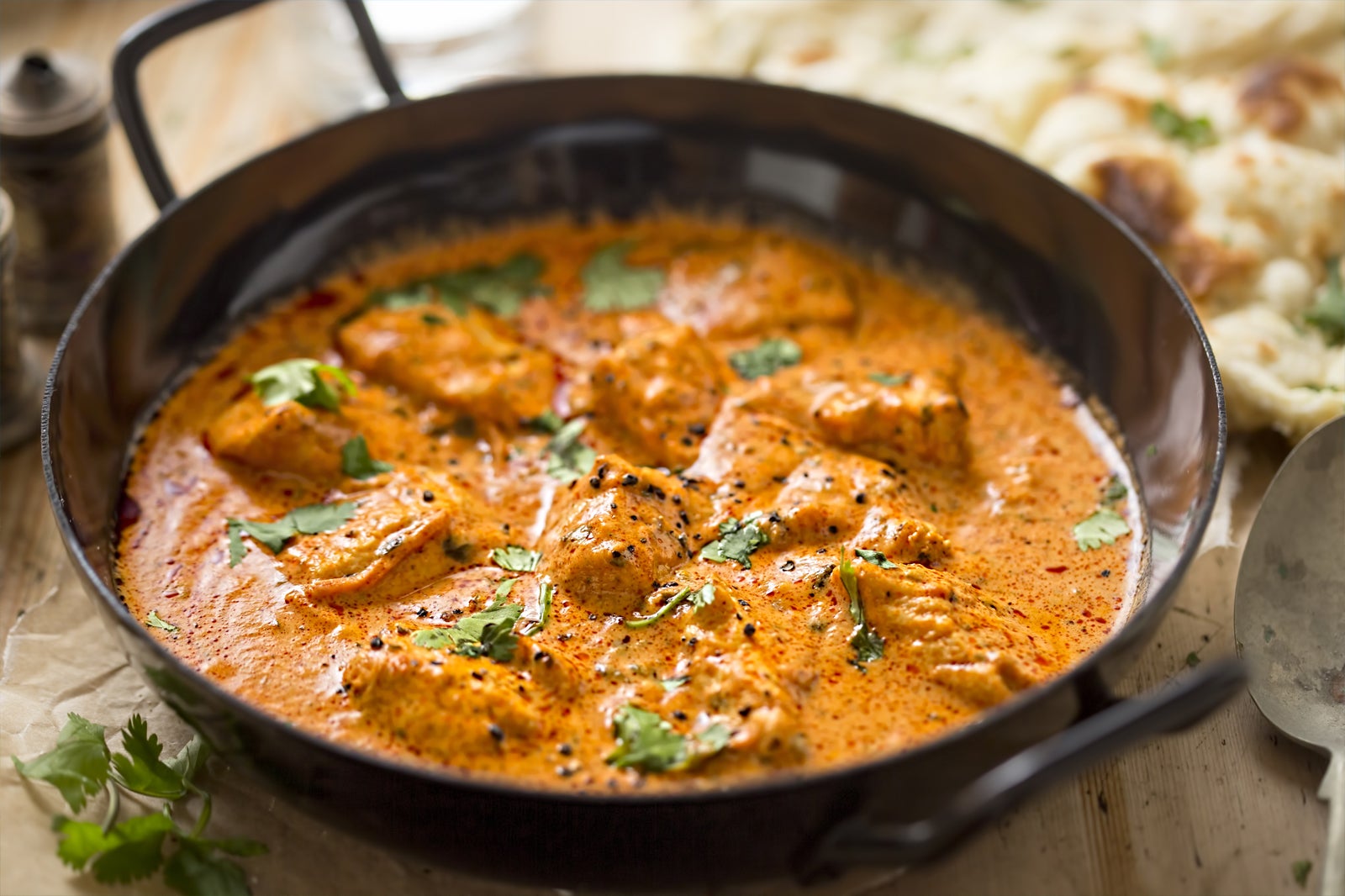 It might sound strange, but Birmingham's most famous culinary creation is the balti. It first started appearing in Birmingham restaurants in the 1970s, in an area referred to as the Balti Triangle. To try for yourself, head to Ladypool Road, just south of the city centre.
This fiery Pakistani/Indian dish, served in a metal bowl, is now a staple on menus throughout the country. Meat is roasted in a tandoor oven and then added to a rich curry that comes in several levels of spice. Most Balti restaurants don't serve alcohol, but you are free to bring your own to enjoy with your meal.
Read more
Location: Ladypool Road, Birmingham B12, UK
Open: lunch and dinner (most restaurants close around midnight)
10
Watch a game of football at a Birmingham stadium
Experience the roar of the crowd at a Premier League football match
Birmingham is blessed with many professional sports teams, but in the hearts and minds of most locals, football comes first. There are 4 major teams playing in and around the city. Aston Villa is probably the most famous, but Birmingham City and West Bromwich Albion are also popular.
Watching football live is one of the best things to do in Birmingham, and the intense experience when you first walk up into the packed stands can really get the adrenaline pumping. Throughout the 90-minute match, the crowd will chant and sing, which is a big part of the experience. The football league runs from August to May every year with most matches played on Saturday afternoons. If you're here in the summer, you could go to watch a game of cricket instead. Warwickshire County Cricket Club play at the Edgbaston Cricket Ground, around 3 miles from the city centre.
11
Brindley Place
Stroll along the canal and hop from bar to bar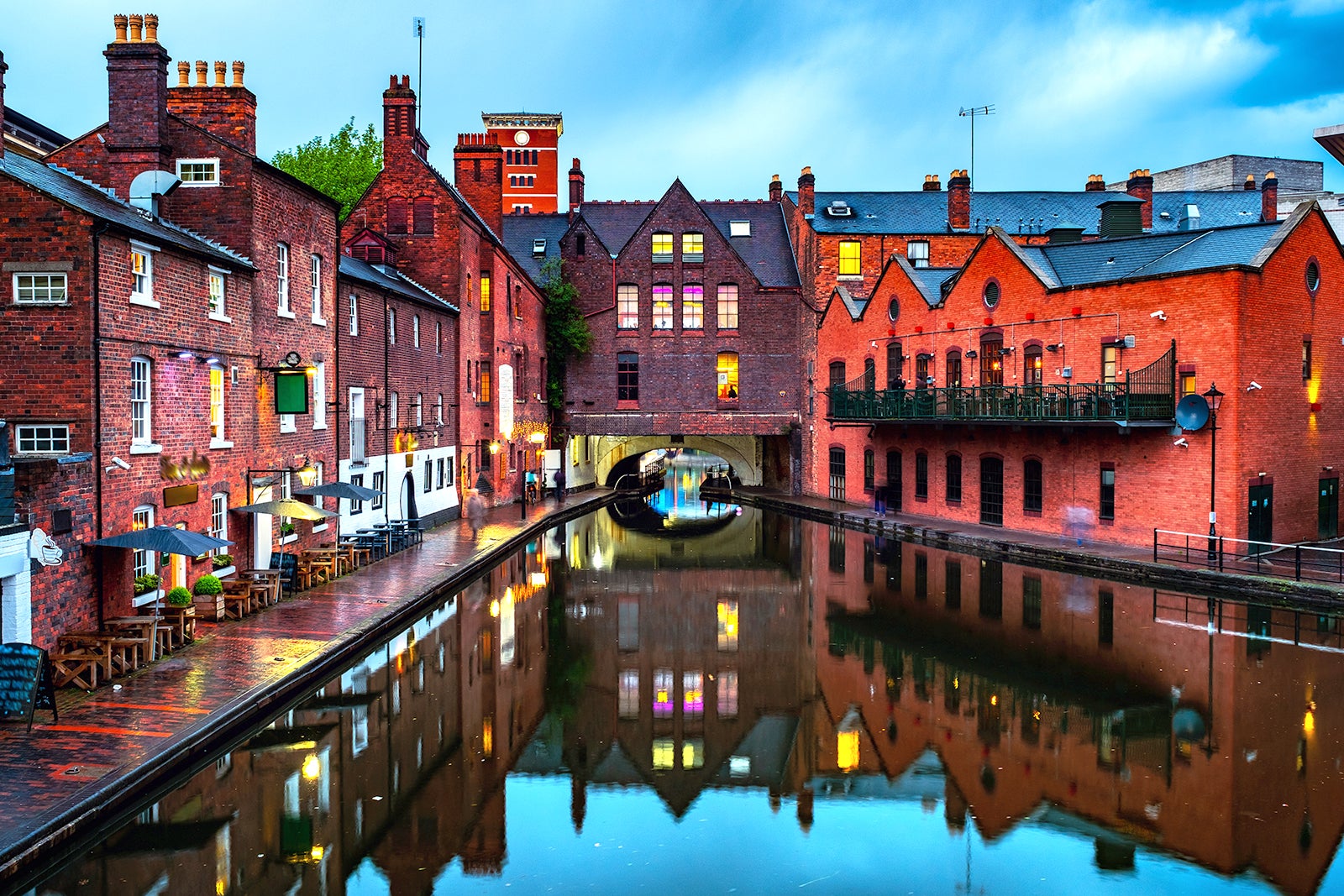 Brindley Place is a popular area of Birmingham that's packed with dining and nightlife options and crisscrossed by canals. It's a surprising fact that Birmingham has more miles of canals than Venice. There has been a real push to regenerate the waterways around the city, and the best place to see this is around Brindley Place. The whole area is alive with trendy bars, restaurants, and attractions.
Simply stroll along and stop when a bar or restaurant takes your fancy, be it a German beer hall or demure cocktail lounge. A prominent focal point just next to Brindley Place is The Mailbox – the old central post office, which now features high-end restaurants, bars, and BBC television studios. You'll also find Ikon Gallery, the National Sea Life aquarium and the Arena Birmingham concert hall, as well as plenty of hotel options nearby to Brindleyplace.
Location: Brindley Place, Birmingham, B1, UK
Back to top