10 Most Photographed Places in Ubud
Where to Take the Best Photos in Ubud
Here's where to take the best photos in Ubud, the heartland of Bali that offers a good mix of historical, cultural and artistic sights. Most of the time, it can be hard to single out a distinguishable landmark from the stunning landsacpe. Even so, this popular highland destination has several wonderful spots, either hidden or simply in plain sight.
Whether you bring your professional camera or smartphone to these notable places around Ubud, you can capture sweeping green valley landscapes, majestic palaces or eerie temples guarded by moss-covered statues. This list of the most photographed places in Ubud will help you in finding the most popular places in town to liven up your Instagram feed and stun your followers.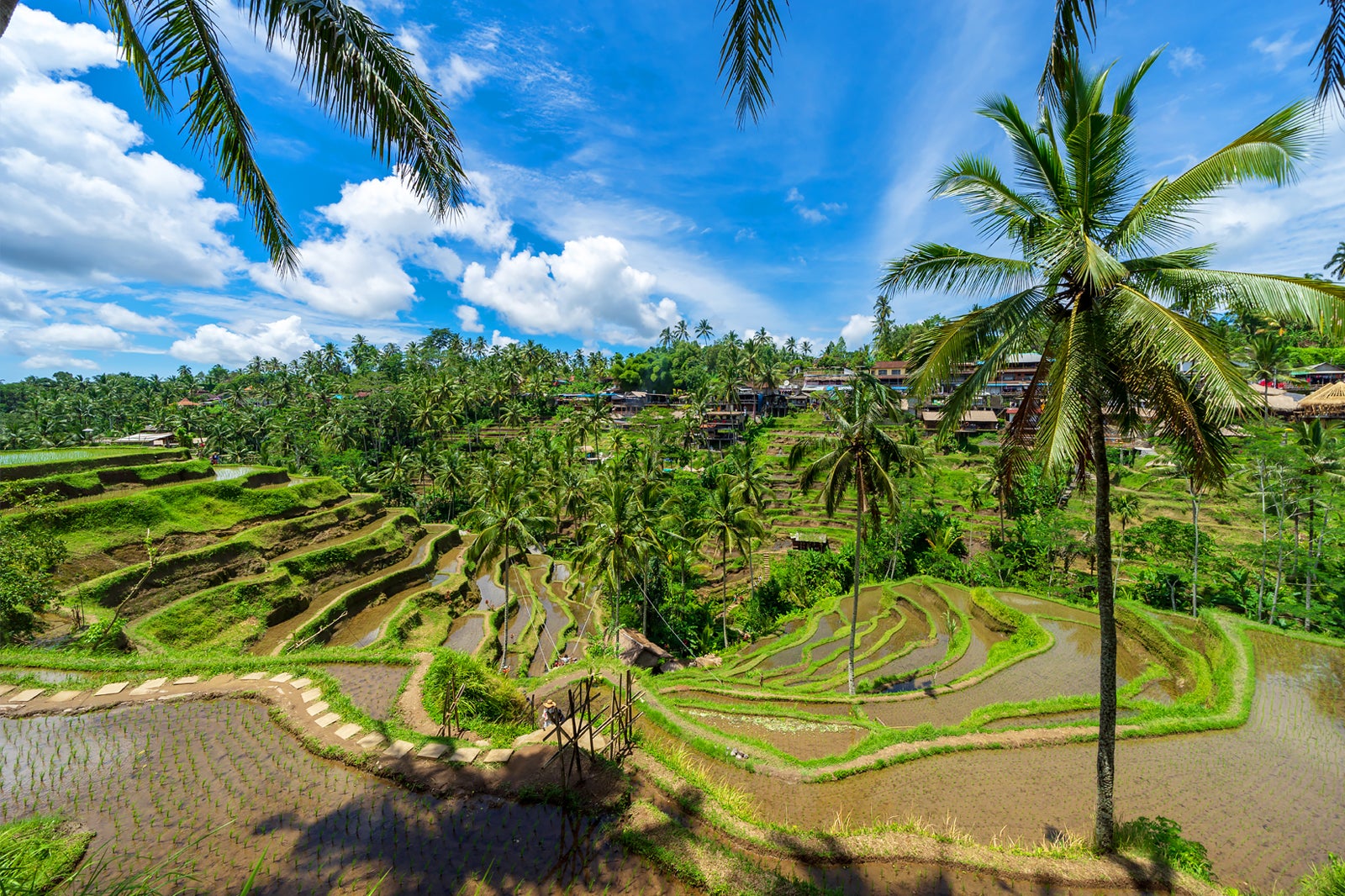 Tegallalang Rice Terraces
Ubud is famous for its beautiful rice paddies but the scenic outlook at Tegallalang is one of the stand-outs. The sculpted valley spreads down from the roadside to the opposite hills across a deep valley. The cool and breezy spot is a popular stopover for refreshments, souvenirs and photos.
Where to shoot: just about any length of the Tegallalang roadside offers you good shots, with the clearest being around the middle where most of the art shops and restaurants are. In the early mornings, the rising sun's rays will add a dramatic backlight to the coconut groves. In the afternoon, you'll have a blue sky and the best natural lighting over the paddies.
Location: Jalan Raya Tegallalang, Tegallalang, Gianyar, Bali 80561, Indonesia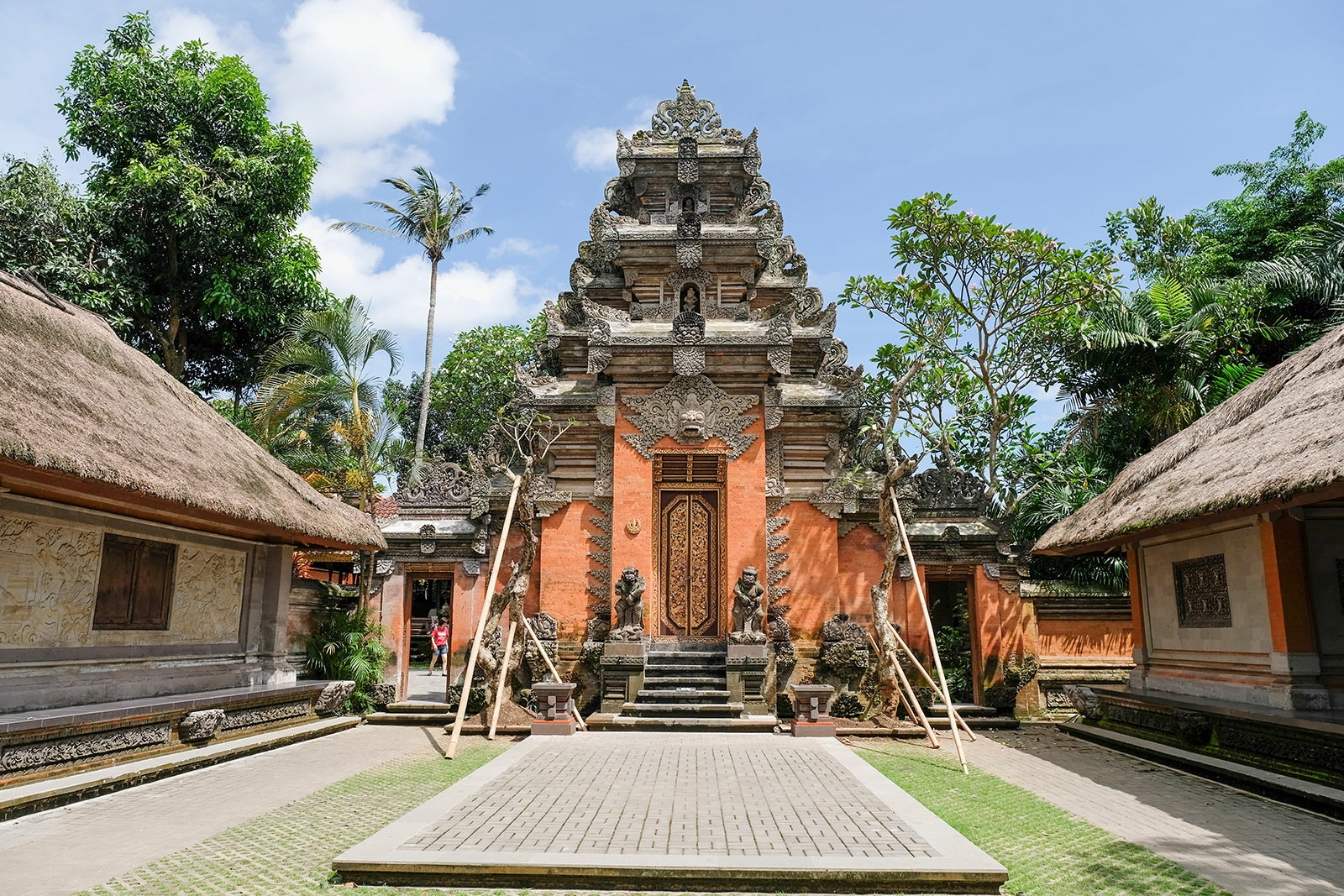 Puri Saren, or Ubud Royal Palace, is a central landmark that's just across the road from Ubud Art Market and the Ubud community hall. Built during the lordship of the late Ida Tjokorda Putu Kandel (1800-1823), the palace is well-kept by the royal family and is a great place to see classical Balinese architecture up close.
Where to shoot: the front of the palace has ornately carved walls and towering gates. In the evenings, traditional dance performances are shown, accompanied by gamelan orchestras. Tickets apply to see nightly shows but can provide you with memorable photos with the dancers.
Location: Jalan Raya Ubud No.8, Ubud, Gianyar, Bali 80571, Indonesia
Open: Daily from 8am to 7pm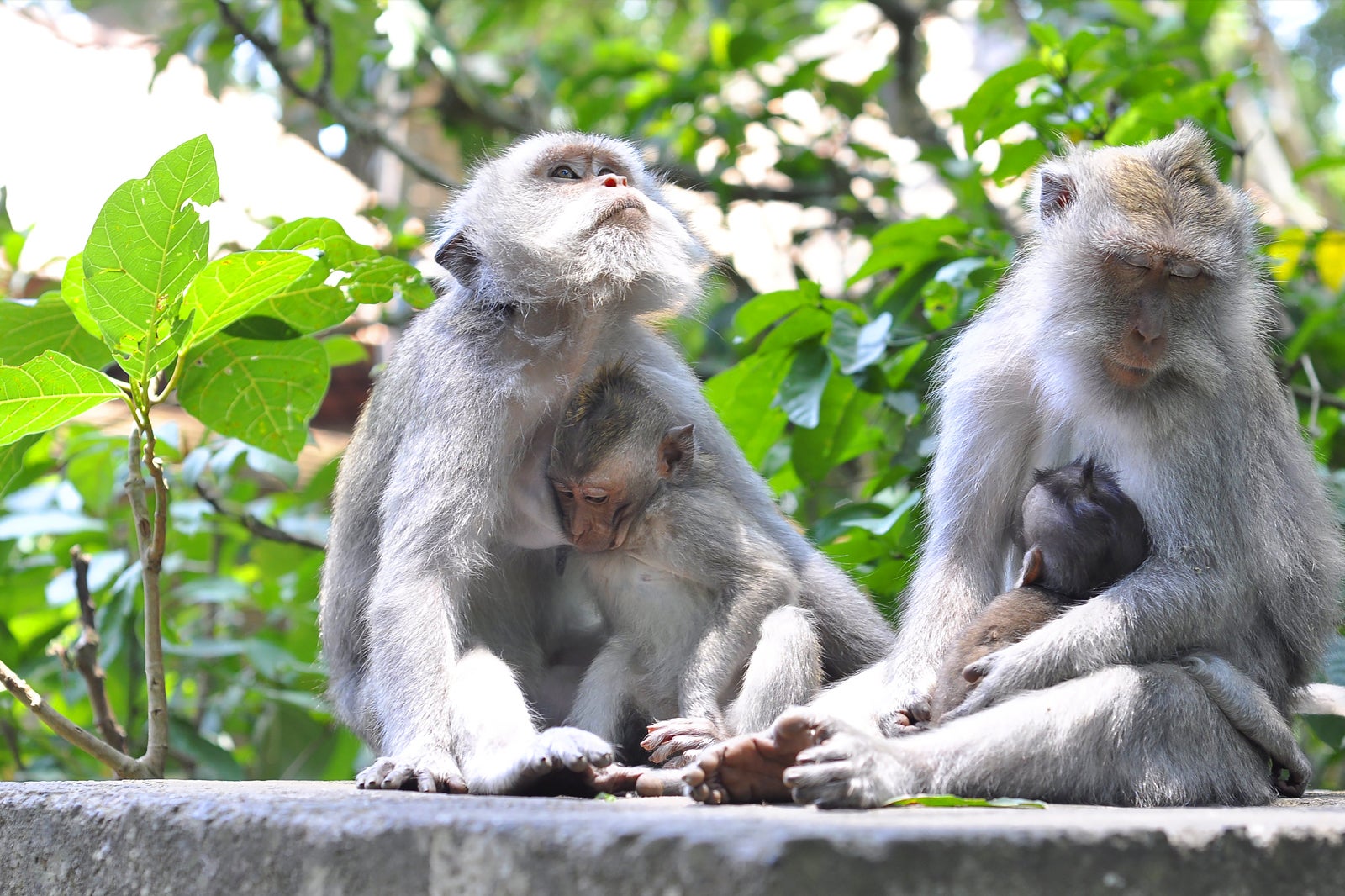 Ubud Monkey Forest, or the Sacred Monkey Forest of Padangtegal, offers a lot for photographers. The hordes of grey long-tailed macaques are fun to watch and capture through your lens. Deep in the forest are several temple complexes that are as mysterious as they are majestic.
Where to shoot: the monkeys are most active in the afternoon when temperatures cool down, and you can find most of them around the entrance and further inside along the forest trails. They frolic on the forest floor and swing through nutmeg canopies. Go deeper and you'll discover beautiful ancient shrines, temple complexes and stone dragon bridges with guardian statues covered in moss or old banyan roots.
Location: Jalan Monkey Forest, Ubud, Gianyar, Bali 80571, Indonesia
Open: Daily from 8.30am to 5.30pm
Phone: +62 (0)361 971304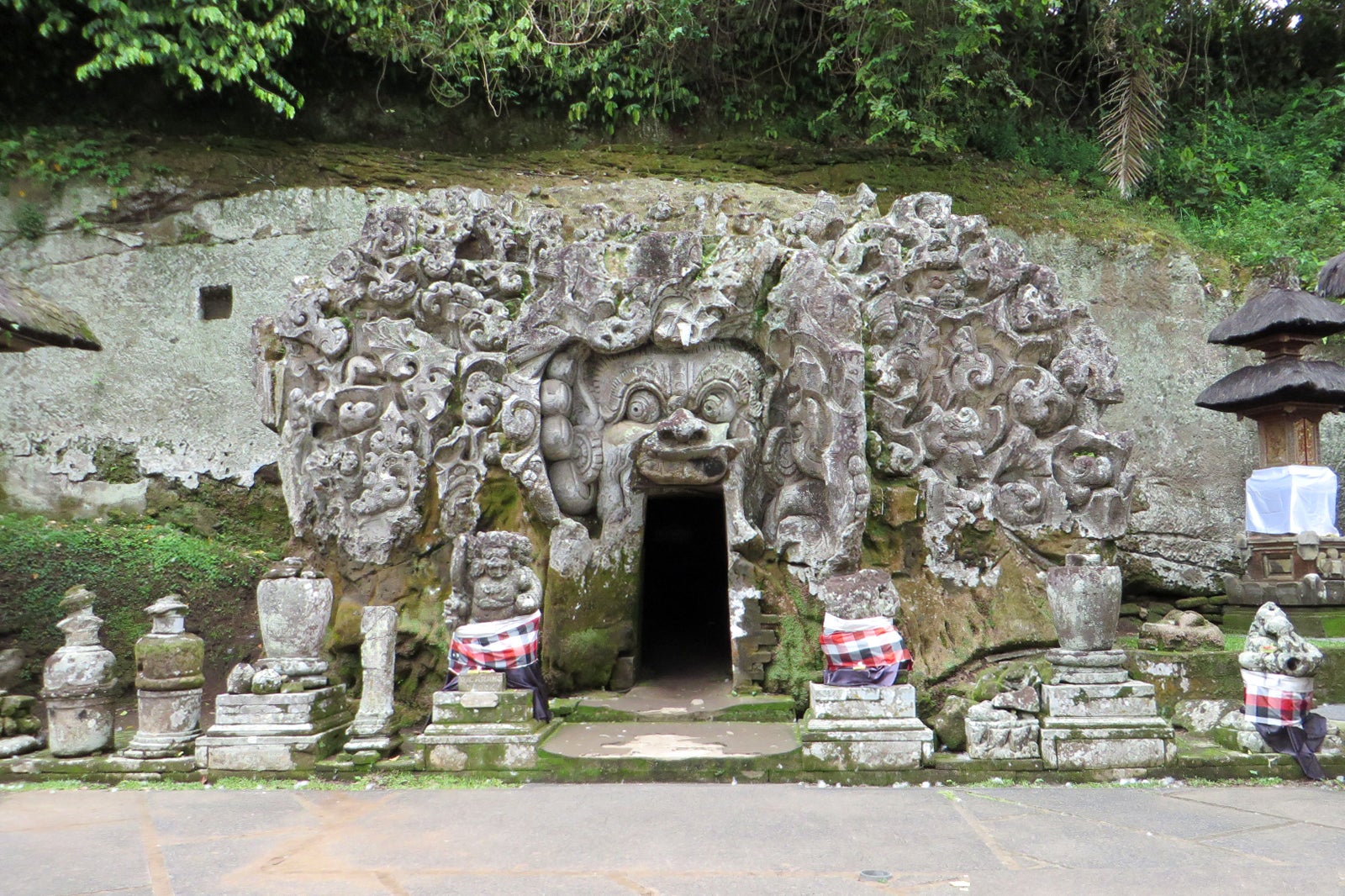 Even though Goa Gajah translates to 'Elephant Cave', you won't find any gentle giants here. What you'll discover is an expansive archaeological site filled with ancient stone relics. The main attraction is the cave surrounded by rock-wall carvings, which was primarily a meditation site. In the middle of the main courtyard is an exotic bathing pool with fountains.
Where to shoot: the 11th-century temple complex on its own offers plenty of interesting angles to shoot. But if you're up for some exploration you can head further back through a forest trail that follows down a stream, where you can stumble upon even more mysterious stone relics.
Location: Jalan Raya Goa Gajah, Pejeng Kawan, Tampaksiring, Gianyar, Bali 80582, Indonesia
Open: Daily from 8am to 4pm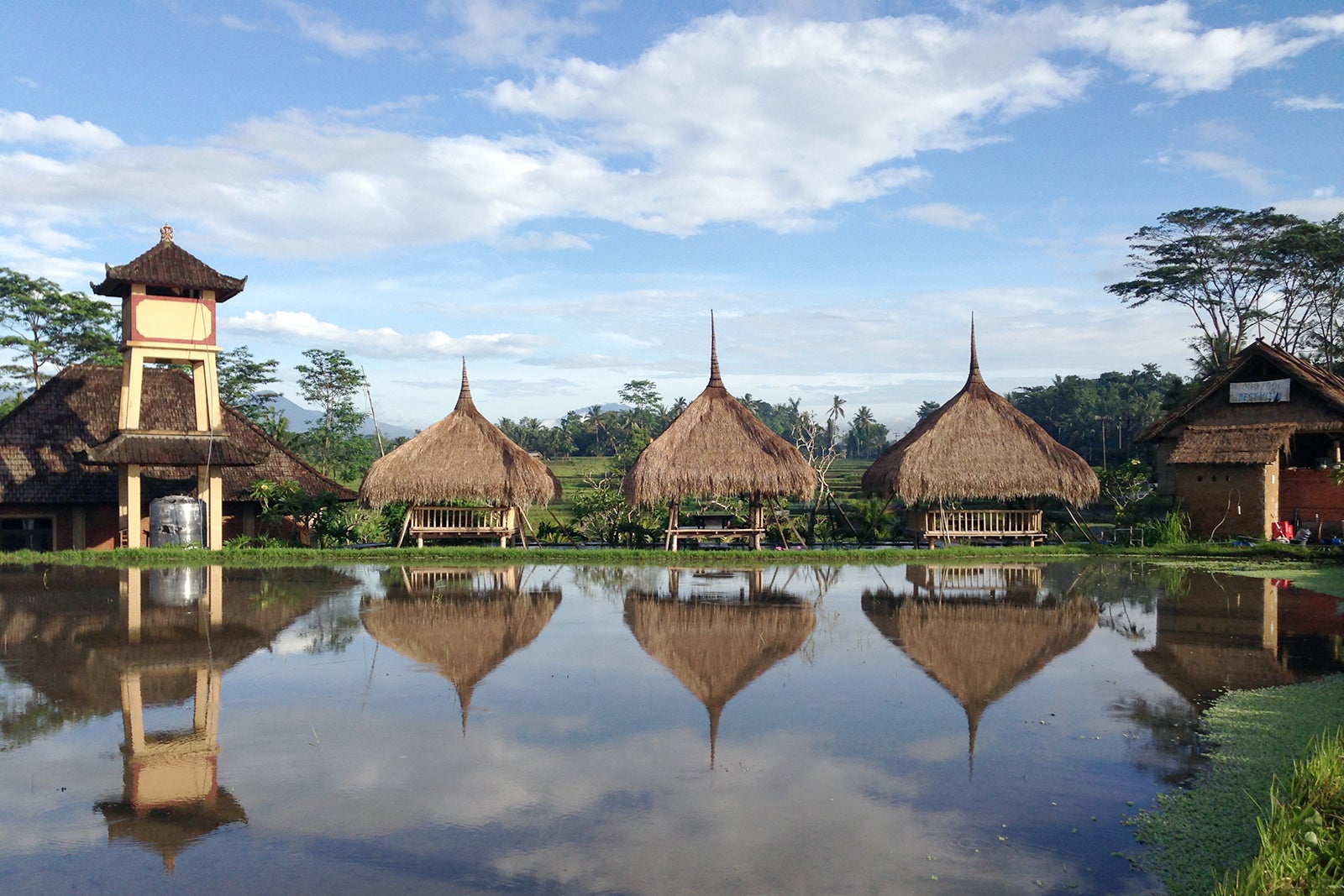 Campuhan Ridge is one of the best spots in Ubud for capturing panoramic green valley landscape shots. Getting there is a free and easy nature trek, with the majestic Gunung Lebah Temple welcoming you before the main pathways. Midway along the 9-km hill track, you'll find vast views where you can easily snap away from the savannah-like hills. Being on the peak of the ridge provides you with 360-degree possibilities for the perfect panoramic shot.
Where to shoot: halfway up the length of the route and facing north, the hilly terrain and lone palms along the track add great features to your shots.
Location: Jalan Raya Campuhan, Sayan, Ubud, Gianyar, Bali 80571, Indonesia
photo by Peter Volpe (CC BY 2.0) modified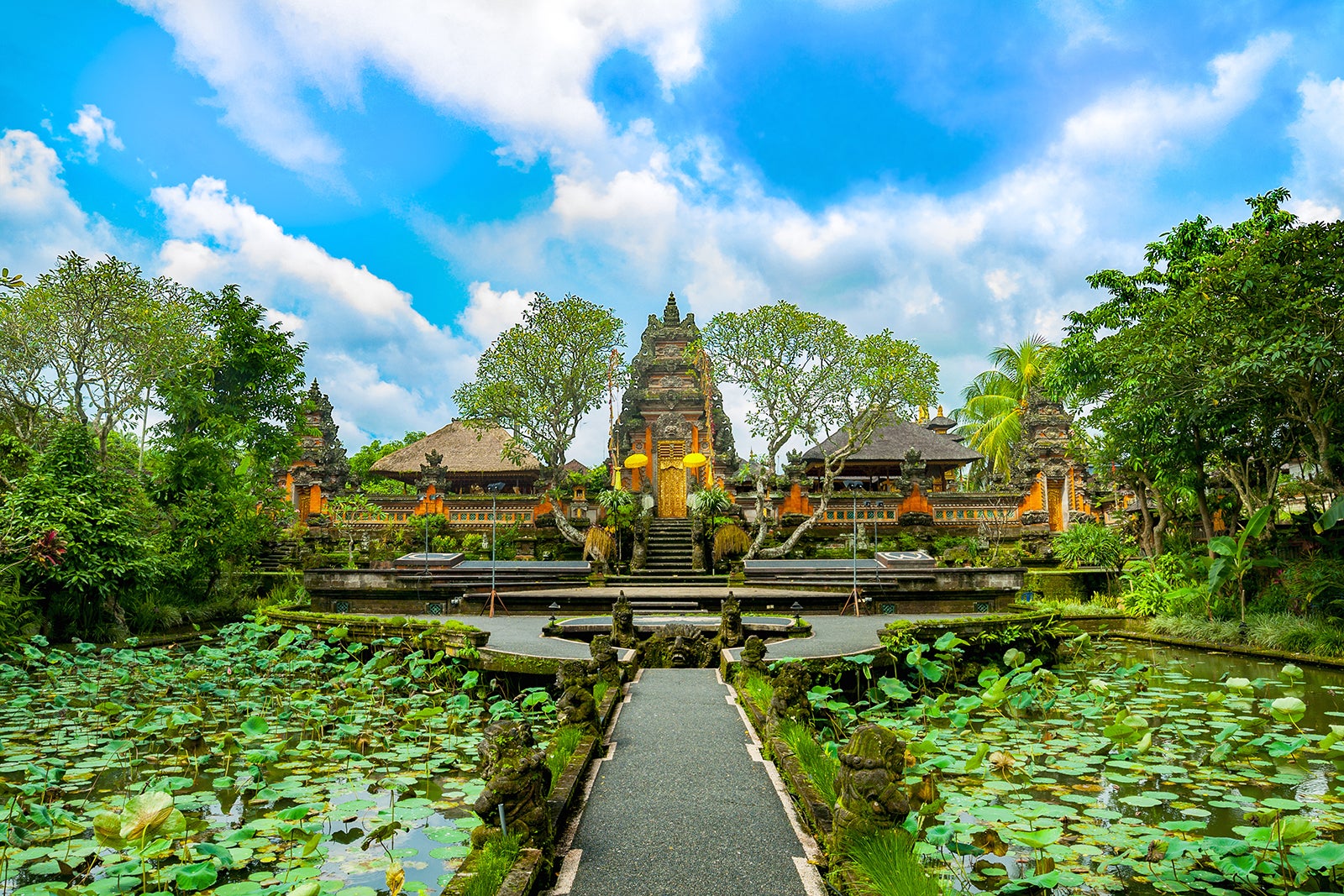 Pura Taman Saraswati Temple
Pura Taman Saraswati is a beautiful water temple in central Ubud. You can enter it from Jalan Kajeng off the main Ubud road, or simply step inside Café Lotus for a scenic spot overlooking the temple's lotus ponds and amphitheatre. It's one of the great places in Ubud where you can see classical Balinese temple architecture and, if the season is right, the ponds bloom with pink lotuses. Otherwise, the temple's reflection over the water surface adds to its photogenic appeal.
Where to shoot: entering the temple is free and you can get nice close-up pics of the architectural details. Café Lotus offers the best angle but a minimum spend charge applies.
Location: Jalan Kajeng, Ubud, Gianyar, Bali 80571, Indonesia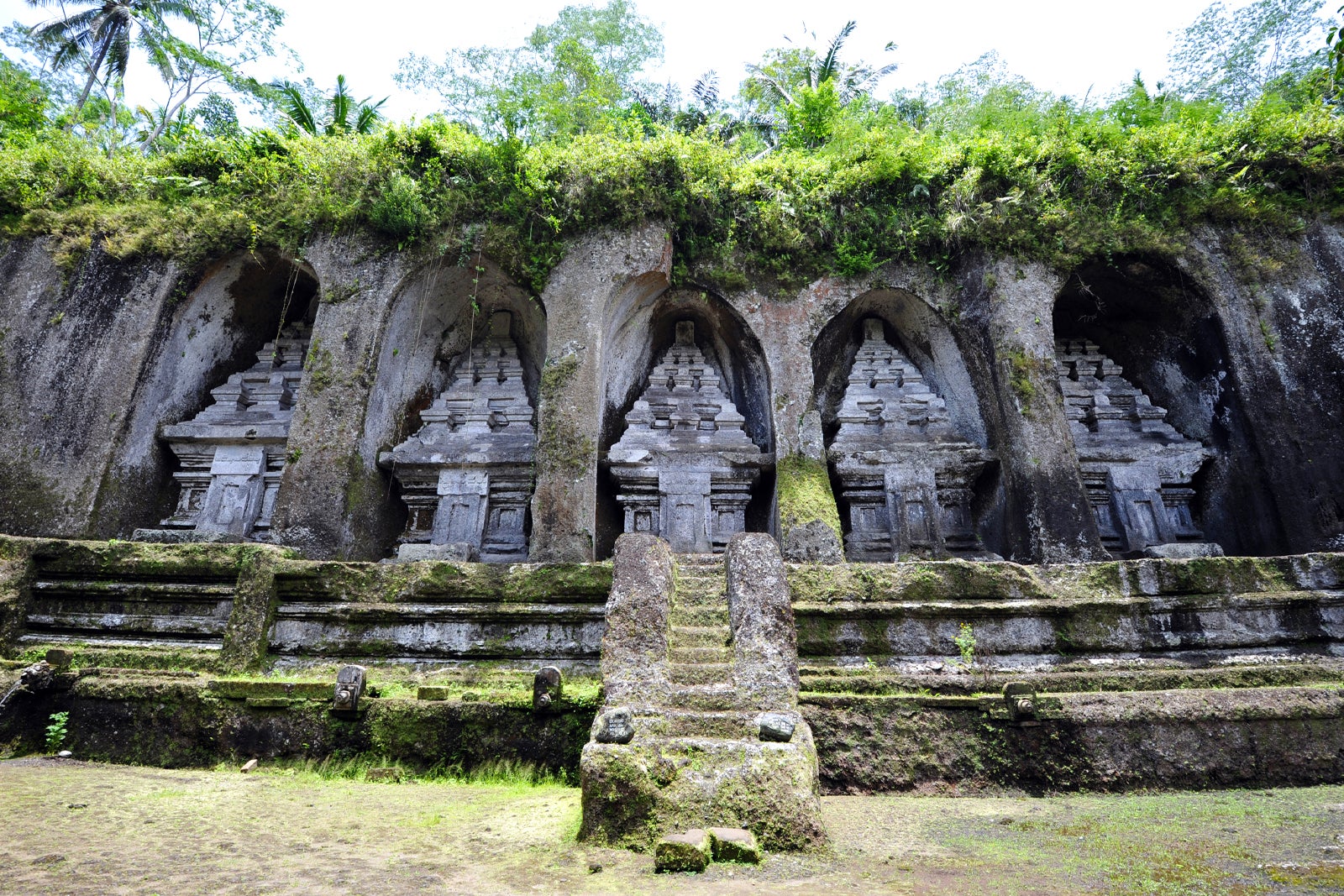 There are 2 'Gunung Kawi' temples in the highland area near Ubud that are equally beautiful. The main Gunung Kawi Temple complex is the most popular and accessible and is one of Bali's most unique archaeological sites. Getting down to the Pakerisan river valley is quite a task, but once you get there you're rewarded with a collection of ancient shrine reliefs carved into the face of a rock cliff.
Where to shoot: the main site overlooks the sacred Pakerisan River, with lush forested surroundings. Across the river from the ancient reliefs is a temple courtyard featuring old Hindu shrines in a more contemporary architectural style, which is attended by pilgrims especially during its piodalan temple anniversaries.
Location: Banjar Penaka, Tampaksiring, Gianyar, Bali 80552, Indonesia
photo by chensiyuan (CC BY-SA 4.0) modified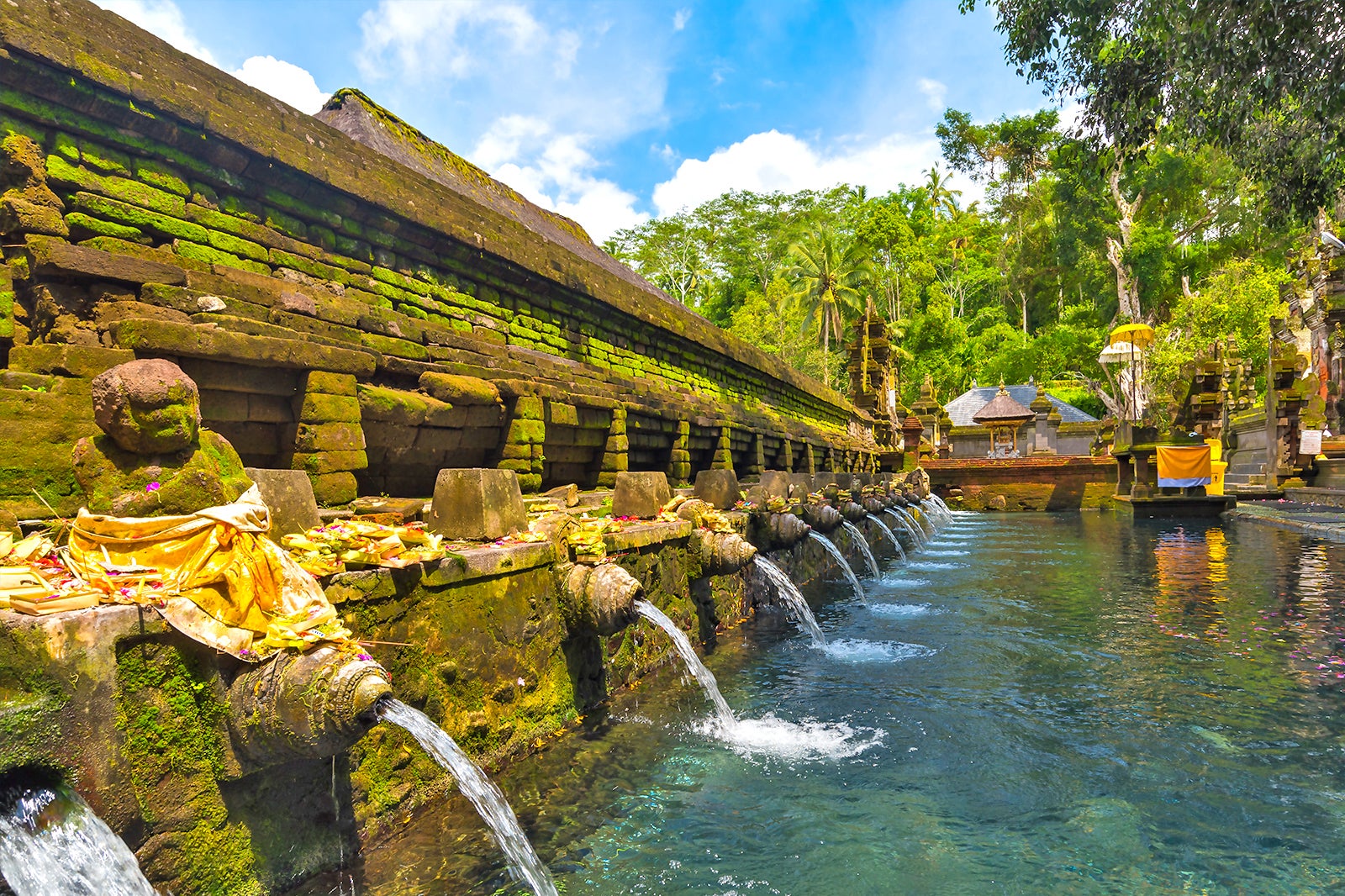 Tirta Empul is a temple site in the upland village area of Tampaksiring where you'll find Bali's famous holy spring temple. The 10th-century site has a set of purification bathing pools and fountains fed by a holy spring. The spring also feeds attractive fish ponds surrounding the temple complex's outer perimeter, before flowing into the Pakerisan River.
Where to shoot: the whole temple complex offers wonderful angles with its classical Balinese architecture and gold-painted carvings. Don't miss the centrepiece fountain pool that features a purification pool lined with stone fountains.
Location: Jalan Tirta, Manukaya, Tampaksiring, Gianyar, Bali 80552, Indonesia
Open: Daily from 9am to 5pm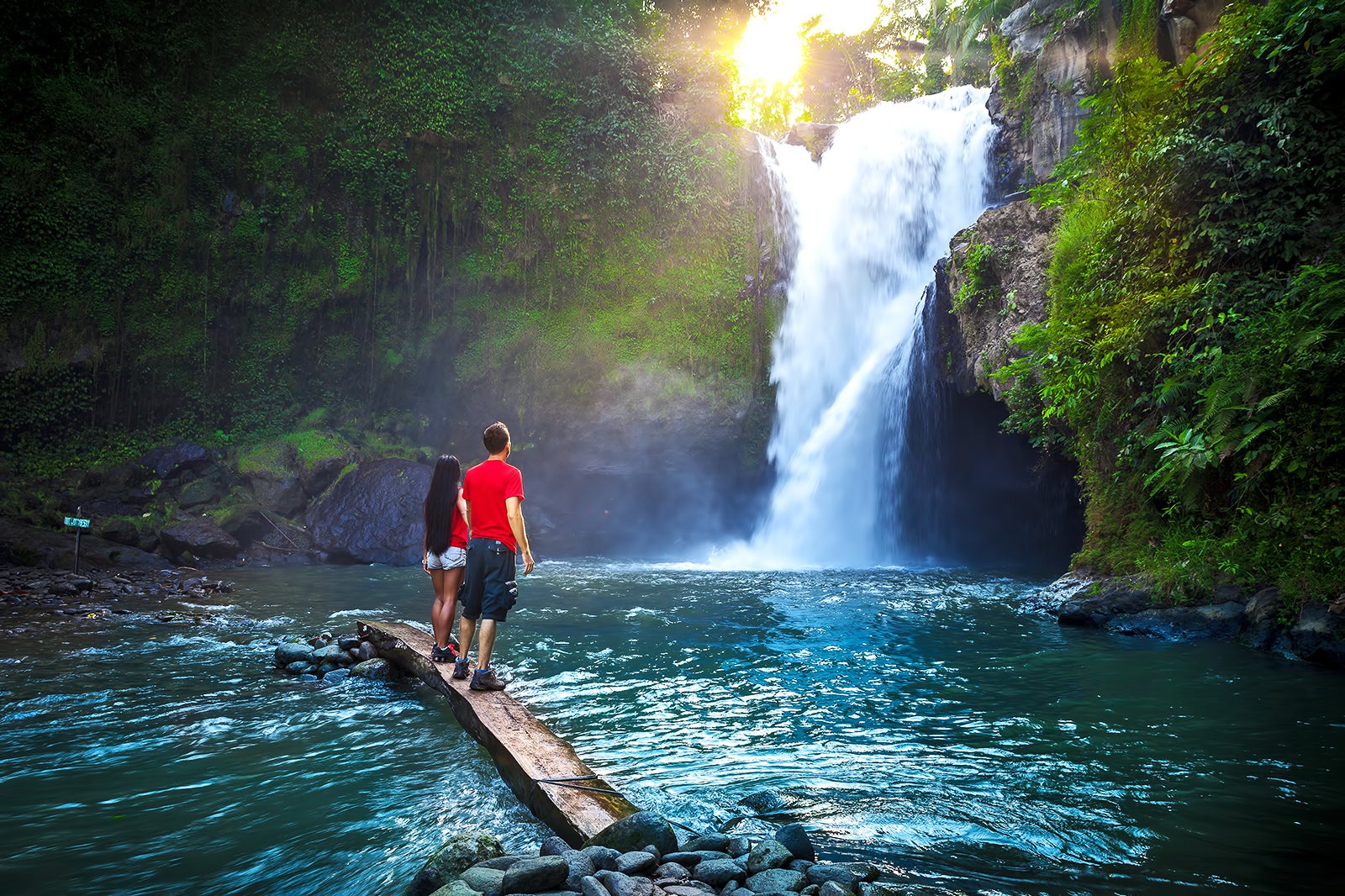 Tegenungan Waterfall is for nature lovers who happen to be staying in Ubud or have neighbouring Sukawati and the Goa Gajah temple on their tour itineraries. The falls are conveniently located halfway between Ubud and Bali's provincial capital of Denpasar and are considered the closest natural attraction of its kind that you can reach within only a half-hour transfer southeast from Ubud town. Getting to the falls is a pleasant drive down paved village roads lined with stretches of green rice fields on both sides.
Where to shoot: you can get a wide shot of the waterfall, its top greenery and stony base from before the trail down. At the base, don't get too close unless you're camera's weather sealed.
Location: Jalan Ir. Sutami, Kemenuh, Sukawati, Gianyar, Bali 80581, Indonesia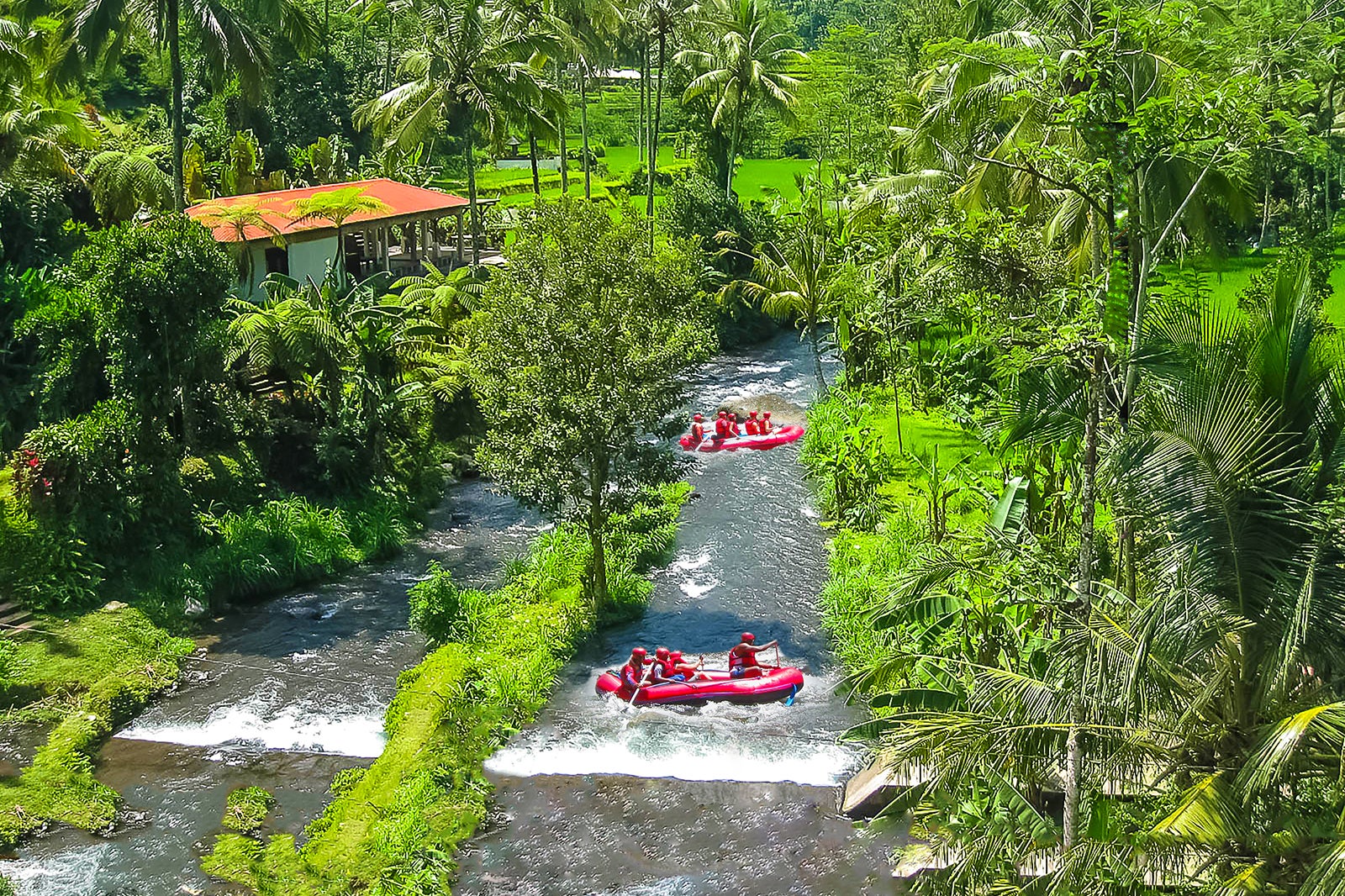 Ayung River is where you can experience a most immersive nature experience in Ubud. You can cruise down the island's longest and most popular rafting waterway. Along the ride, you'll get to capture parts of 'real Bali', ranging from exotic birds and wildlife to green panoramas, small but exotic waterfalls and crystal-clear freshwater pools, plus your own rafting action.
Where to shoot: before and after your rafting adventure, mainly for the sweeping panoramas, and all along the river for nature and action shots. It's always better to bring an action cam or waterproof housing on the ride.
Location: Ayung River, Kedewatan, Ubud, Bali, Indonesia