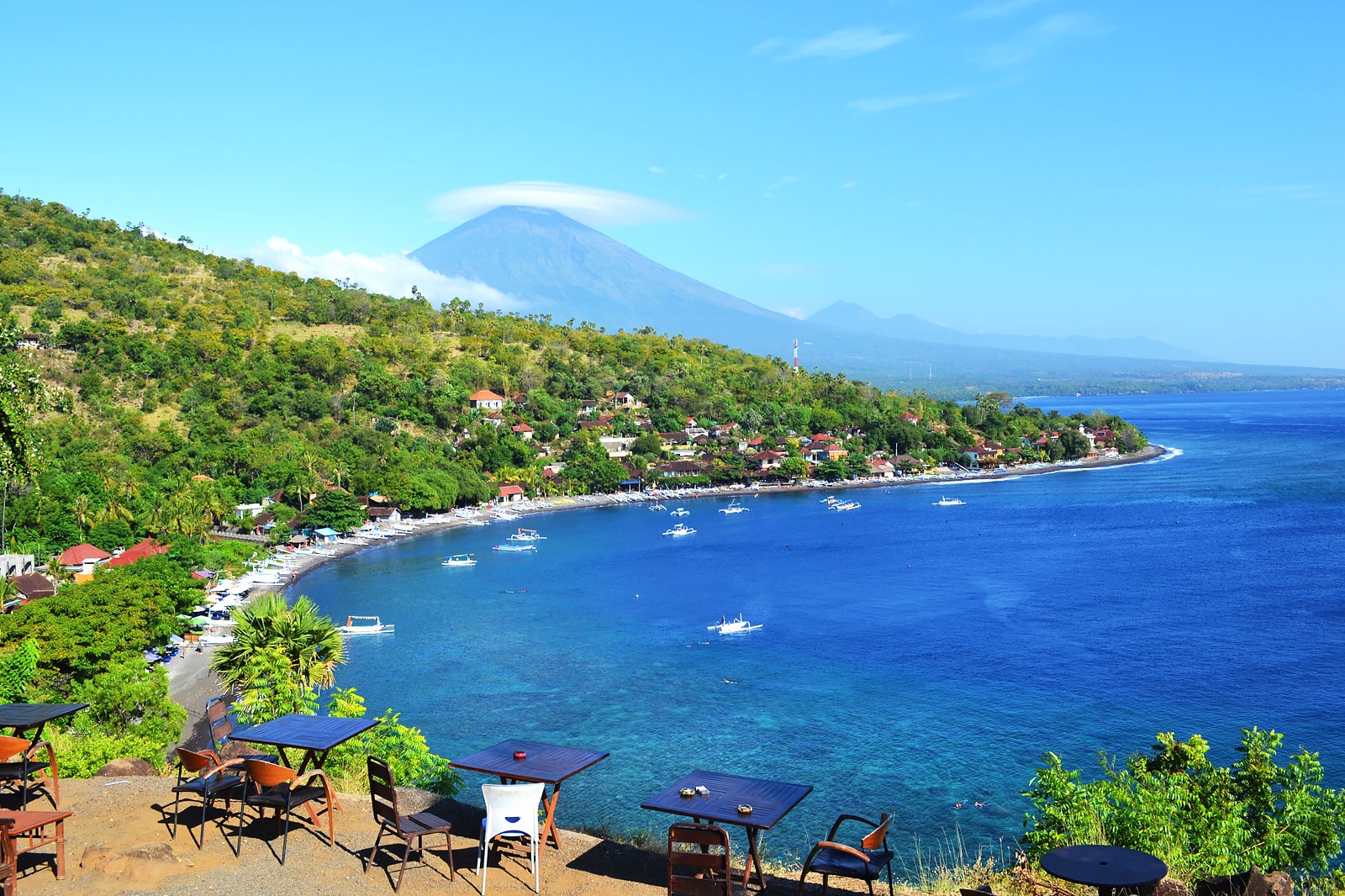 Tulamben is a small and remote coastal village in East Bali that's best known as the home of the USAT Liberty shipwreck, one of Bali's main diving attractions. The village offers a laidback atmosphere with overland terrain that is rough and slightly arid. Even its name loosely translates to 'rock-strewn' in the Balinese language. Instead of sandy beaches, you'll find that the whole coastline of Tulamben is indeed uniquely pebbly.
Most of the Tulamben villagers make a living out of fishing and marine tourism. What Tulamben lacks in overland attractions, it makes up for with its wonderful underwater scenes. Even so, you can enjoy the calm seascapes from the beach and still have a memorable time.
Tulamben in East Bali - one of the highlights of 39 Best Things to Do in Candidasa and East Bali and 5 Best Dive Sites in Bali (Read all about Bali here)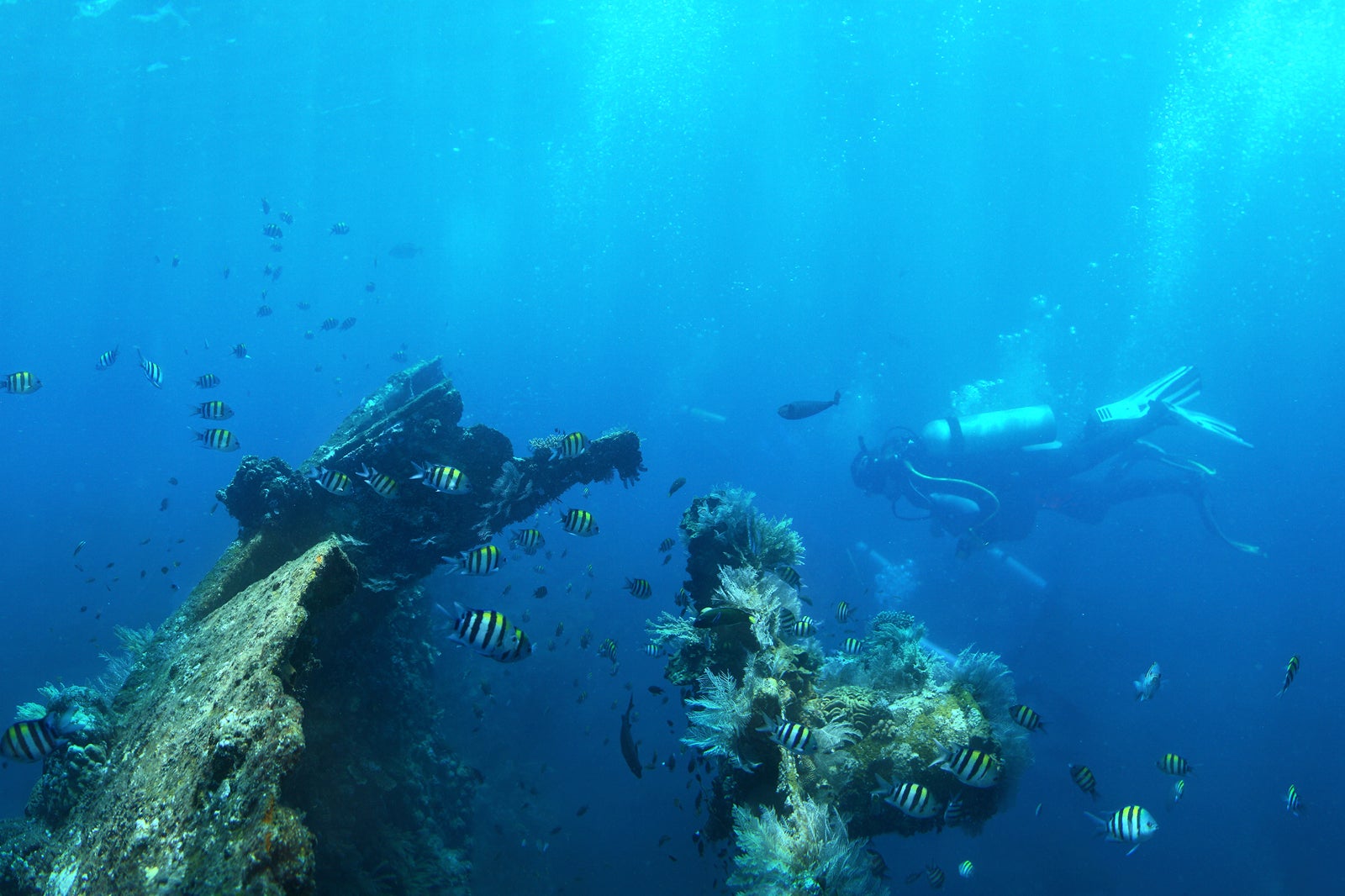 What to see and do in Tulamben
Diving is the main draw of Tulamben. Even beginners can make it their first open water dive site. Snorkelling here is also great, thanks to the good visibility with plenty of schooling fish to see. The USAT Liberty wreck is some 30 metres out from the shore. Guides can lead you through the different parts of the wreck, though you can usually explore beyond the site, such as to a drop-off with amazing coral gardens teeming with colourful marine life.
The Boga shipwreck is another great wreck dive in Tulamben. It's more recent compared to the Liberty wreck and is surrounded by unique sunken objects. These include statues and a classic Volkswagen 181 next to the ship's cargo hatch. You can find the great reef right off the shores of the Matahari Tulamben Resort Dive & Spa. The resort submerged a range of curious artefacts in the past, such as statues of Hindu gods and Buddha statues, at depths between 9 and 17 metres.

Besides diving, you can explore the fishing village or simply enjoy the uncrowded pebbly coast that's lined with palm trees. The Rumah Pohon Batu Dawa is a private complex worth exploring. It features a wide variety of fun bamboo tree houses. There's also a mini-Borobudur-like structure on-site and various wooden suspension bridges connect one structure to another. You can roam around to enjoy panoramic views over the hills of Tulamben.
Where to stay in Tulamben
Most hotels in Tulamben are dive resorts. They're great for getaways and provide everything necessary for your diving trips. Some dive resorts overlook some of the area's top dive sites. Some are right on the beach where the USAT Liberty lies not far beneath the waves. You can also find resorts that have established their own attractive dive sites. These range from sunken gardens to artificial reefs right off the beachfront.
Great stays include the Tauch Terminal Tulamben, Matahari Tulamben Resort, Bali Dive Resort and Spa, Tulamben Dive Resort and Toya Bali. Non-divers may also find that hotels in Tulamben can serve as comfortable bases for exploring East Bali. Budget stays offer rooms with either fans or air conditioning and bathrooms.
Tulamben restaurants and dining
Most of the dining spots in Tulamben are affordable and you'll hardly find fine-dining restaurants here. The best restaurants are attached to dive resorts, offering menus that generally focus on wholesome dishes for divers to replenish after a good day out at sea.
The local eateries outside of the hotels are worth trying, too. Roadside warungs or food stalls line the village streets. They sell everything from homemade traditional cakes, snacks and coffee, to tasty local favourites such as nasi goreng fried rice. Over the hills, you can try local restaurants selling grilled seafood and satays. These tasty treats are served with great views over the exotic Tulamben coast. There are also spots serving western fare around the coastal area.

Getting to, and around, Tulamben
Tulamben is about a 3-hours drive from Kuta, and half an hour north from the neighbouring dive resort of Amed.
Many Tulamben dive resorts and dive shops provide transport around the village and between dive sites. Being a remote area, you'll find no taxis here. If you prefer exploring the area on your own, motorcycle rentals are available, which are run by locals. Take extra caution and wear protective clothing and a helmet.
Tulamben in East Bali
Location: Tulamben, Kubu, Karangasem, Bali 80852, Indonesia
Back to top