10 Best Spiritual Experiences in Bali
Popular Things to Do in Bali for Spiritual Travellers
Spiritual experiences in Bali help you reconnect with Mother Nature and discover some of the island's holistic vibes. Visit centuries-old temples at the base of lush hillsides, immerse yourself in the scenic presence of a magnificent waterfall in the remote highlands, or visit an ancient village where some early traditions live on.
While some of these spiritual experiences in Bali require a considerable amount of effort, such as climbing flights of steep stairs up to a forested mountain, what awaits you at the end of your discoveries can truly be remarkable – and spiritually rewarding. You'll stumble upon your own little moments of tranquillity without trying. If you need a little help, read on for our list of popular things for Bali spiritual travellers.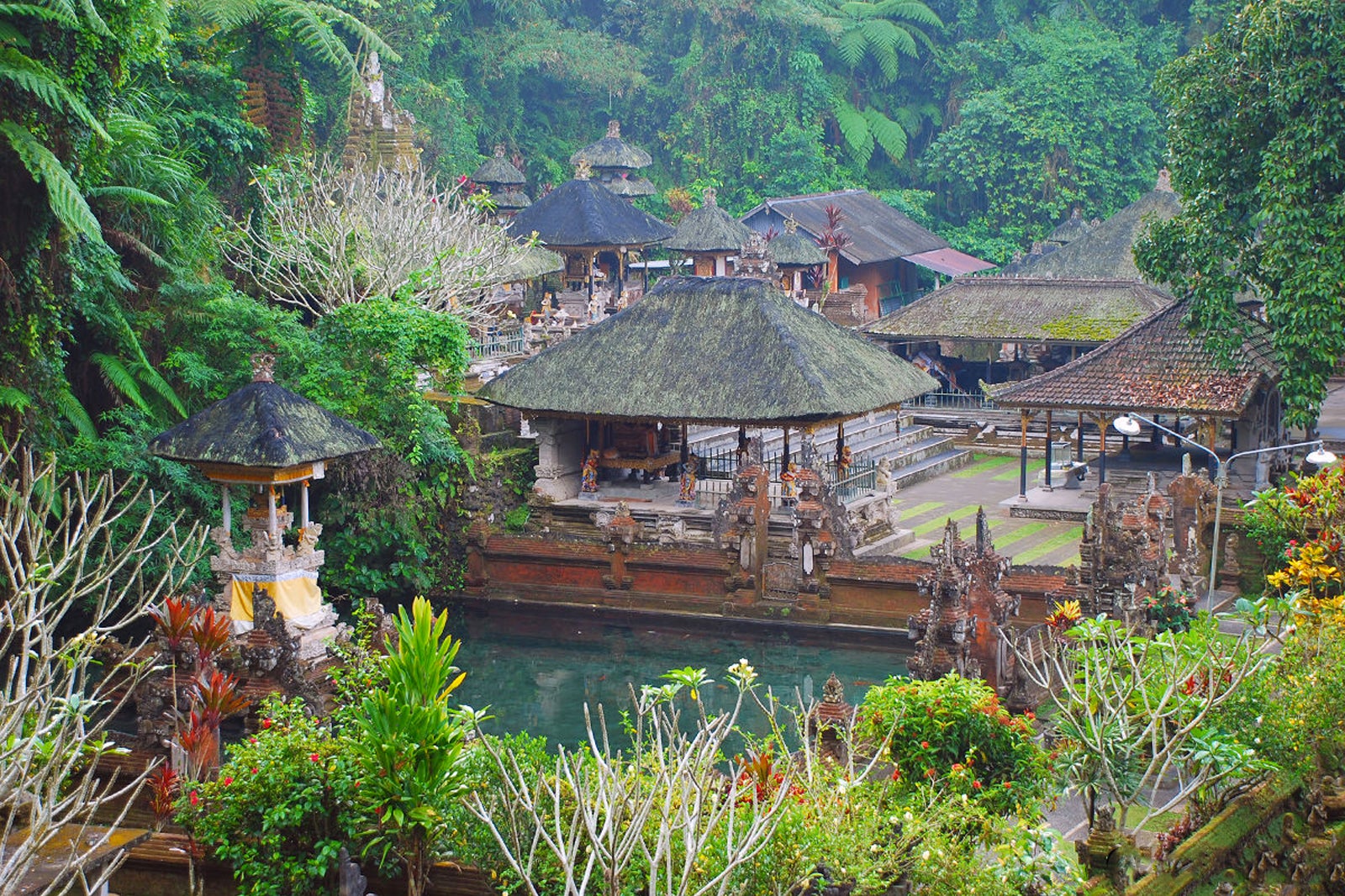 Gunung Kawi Sebatu is a lush and scenic temple complex that's about 12 km north of Ubud. Located on a forested hillside in Sebatu, you'll find mountain spring-fed holy water sources, water shrines surrounded by giant carp and blooming lotuses, ornamental fish ponds with statues, and bathing spots surrounding its magnificent main temple complex.
The tranquil setting of Gunung Kawi Sebatu provides a soothing retreat, far away from the streets and bustles of Ubud town. Not far from here is the Pura Dalem Pingit temple, revered among local Balinese Hindus as a purification spot. You descend a hillside in line to pray before immersing under a small waterfall. If you're a staying guest at the Puri Gangga Resort, you can join spiritual tours to these spots.
Location: Sebatu, Tegallalang, Gianyar, Bali 80511, Indonesia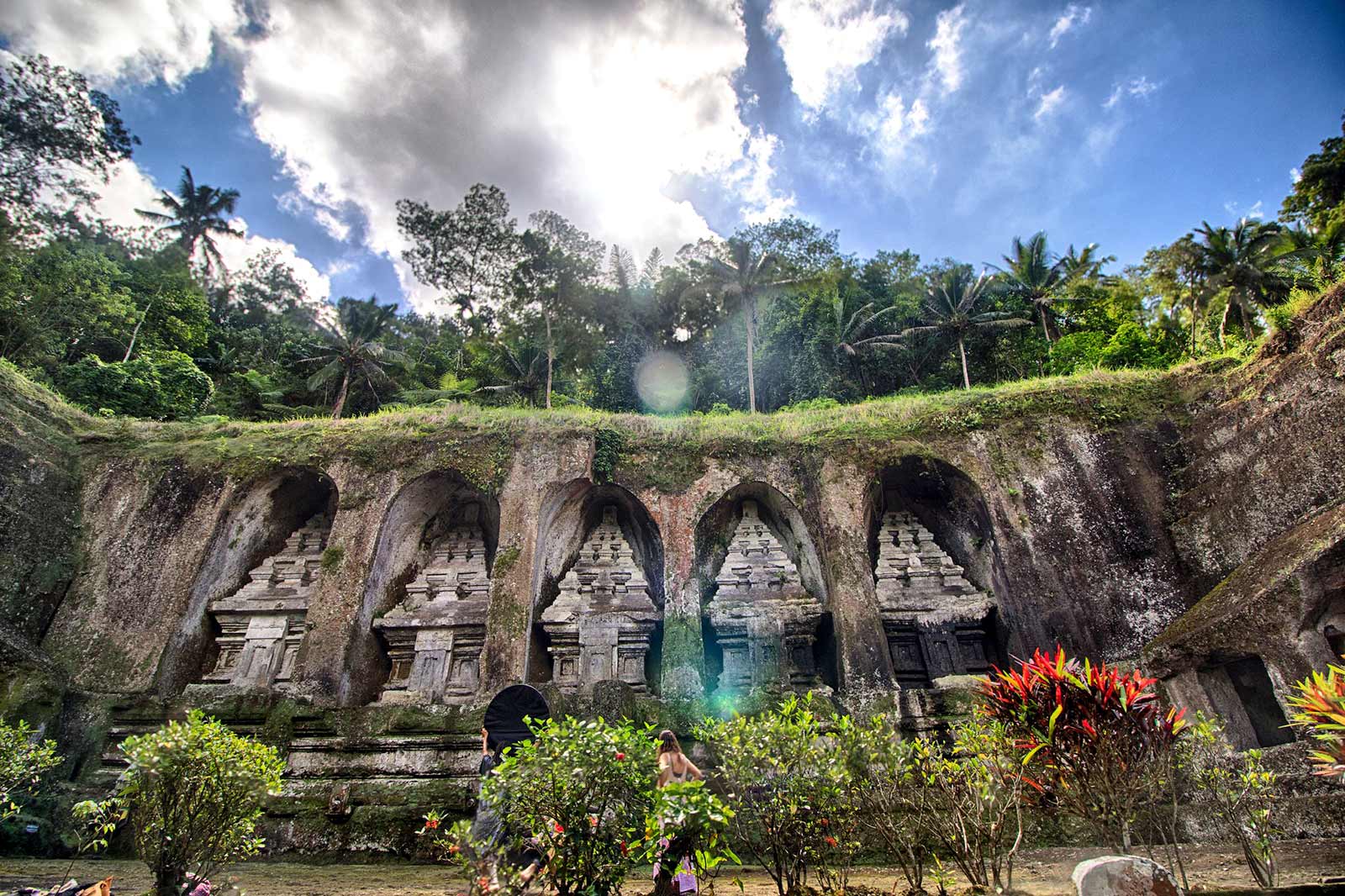 Gunung Kawi Temple is famous as among Bali's most unique archaeological sites, where you can see gigantic ancient stone shrine reliefs carved right into a cliff face. The main temple complex overlooks Bali's sacred Pakerisan River, which also flows by the Tirta Empul Temple.
Across the river from the ancient reliefs, there's a temple courtyard with an old Hindu shrine. Gunung Kawi Temple's impressive site, lush forested river setting, and lush paddy views transport you back in time and away from modernity in Bali.
Location: Banjar Penaka, Tampaksiring, Gianyar, Bali 80552, Indonesia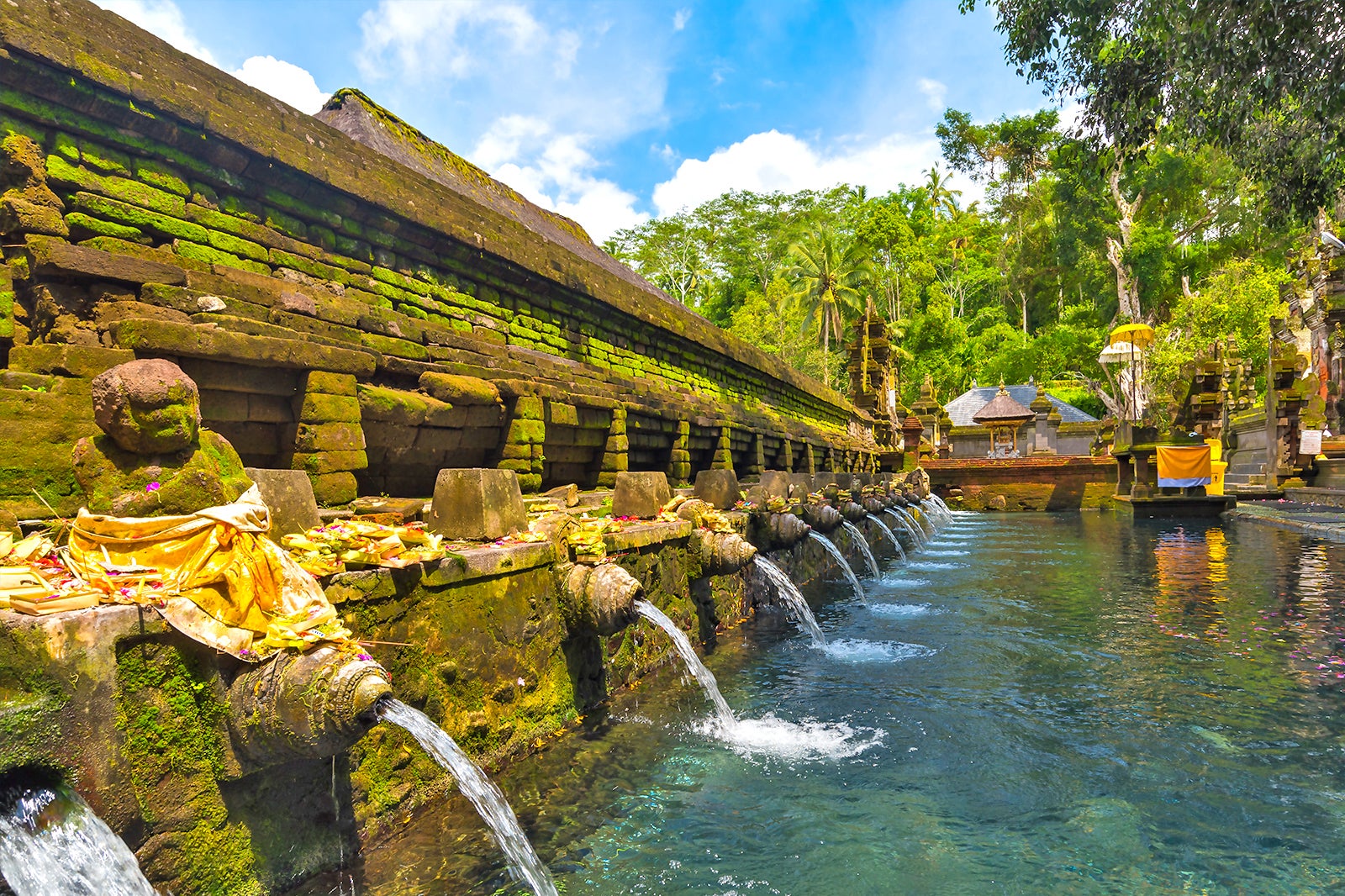 Tirta Empul is an important temple complex that's best known for its holy mountain spring and purification pools. It has been a spiritual destination for both local its Balinese Hindu pilgrims and foreigners looking to enjoy a spiritual experience.
By following a strict set of rules and codes of conduct, you're welcome to experience a purification ritual in the pools. A natural spring inside its main temple complex feeds purification baths, pools and carp ponds that surround the outer perimeter, which will eventually flow into the Tukad Pakerisan River.
Location: Jalan Tirta, Manukaya, Tampaksiring, Gianyar, Bali 80552, Indonesia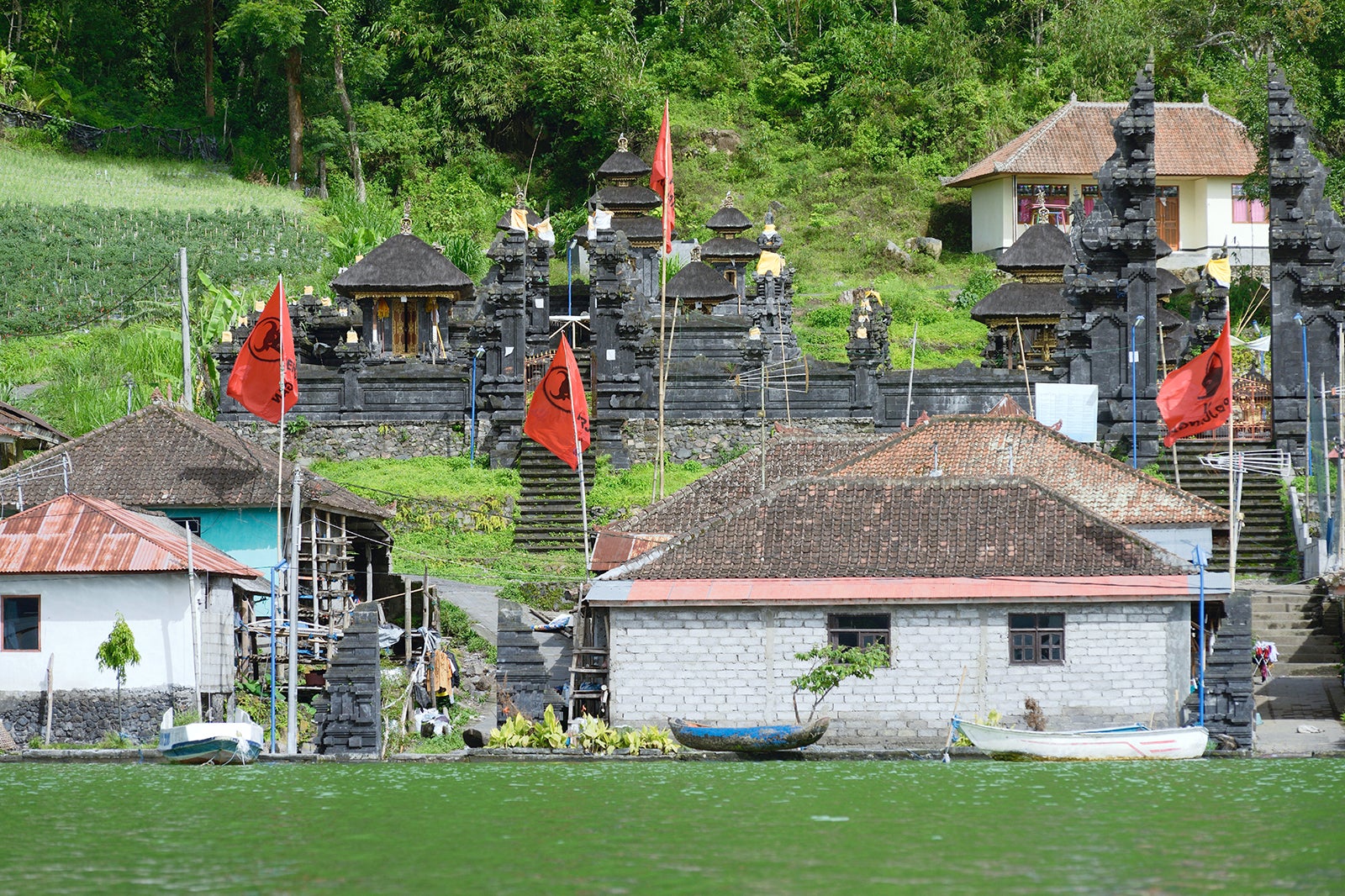 Trunyan Village
Batur Lakeside, Kintamani
Trunyan Village, an ancient and remote Balinese lakeside village, is best known for its odd burial rites and a tree of the same. Locally known as the Taru Menyan, the tree grows in the village's open-burial cemetery and exudes a strongly fragrant resin akin to benzoin or frankincense, which in turns neutralises the odours of the decomposing bodies.
The quietness of the remote area, and the chilling sight of the skulls and bones in the graveyard can be unnerving, but your first-hand encounters of the ancient and upheld traditions can truly be a one-of-a-kind experience.
Location: Trunyan, Kintamani, Bangli, Bali, Indonesia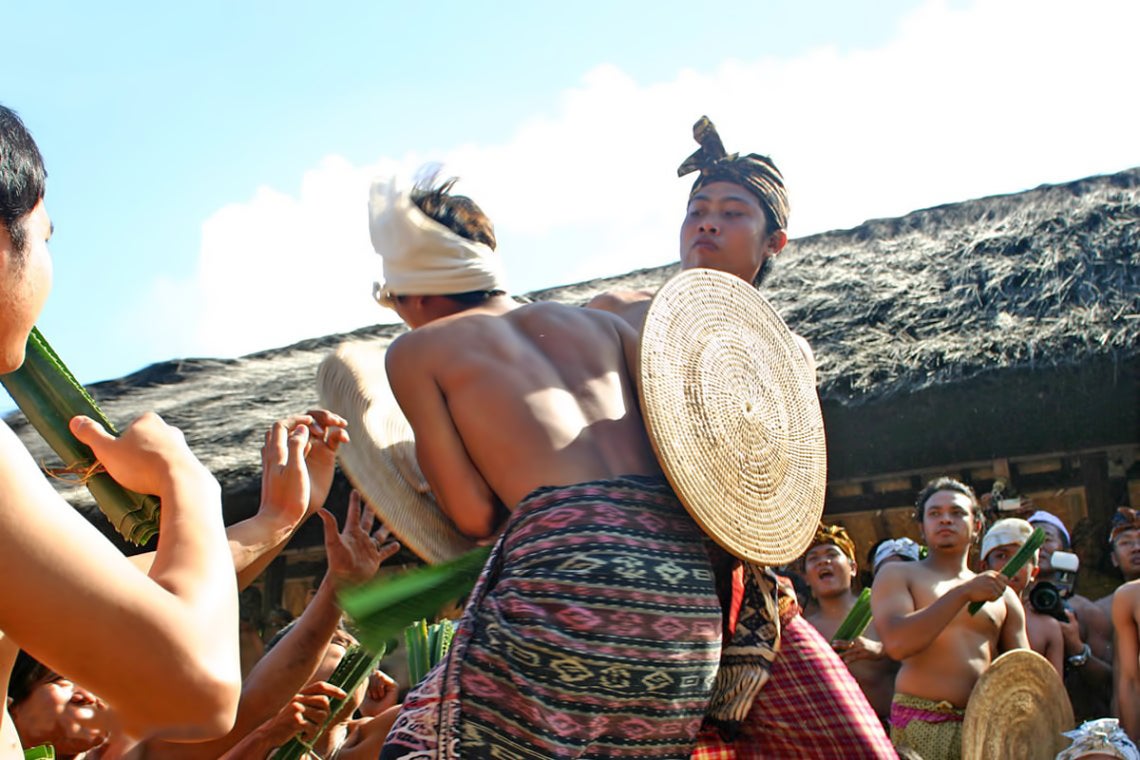 Tenganan Pegringsingan
Candidasa
The old Balinese village of Tenganan Pegringsingan is about 5 km north of the main Jalan Raya Candidasa road. Many hotels along the Candidasa coast provide shuttle transfers to the village, especially during major Balinese holidays. A prominent event is the Perang Pandan, an age-old tradition unique to this village. This mass coming-of-age ritual is dedicated to the Hindu god of war and the sky, Indra.
Friendly duels between all male villagers take place, each armed with a small rattan shield in 1 hand and a tied packet of thorny pandan leaves in the other. Tenganan Pegringsingan is one of the best places in Bali to purchase Geringsing cloth, an ancient double-ikat (tied) weave produced only in this village.
Location: Tenganan, Manggis, Karangasem, Bali 80871, Indonesia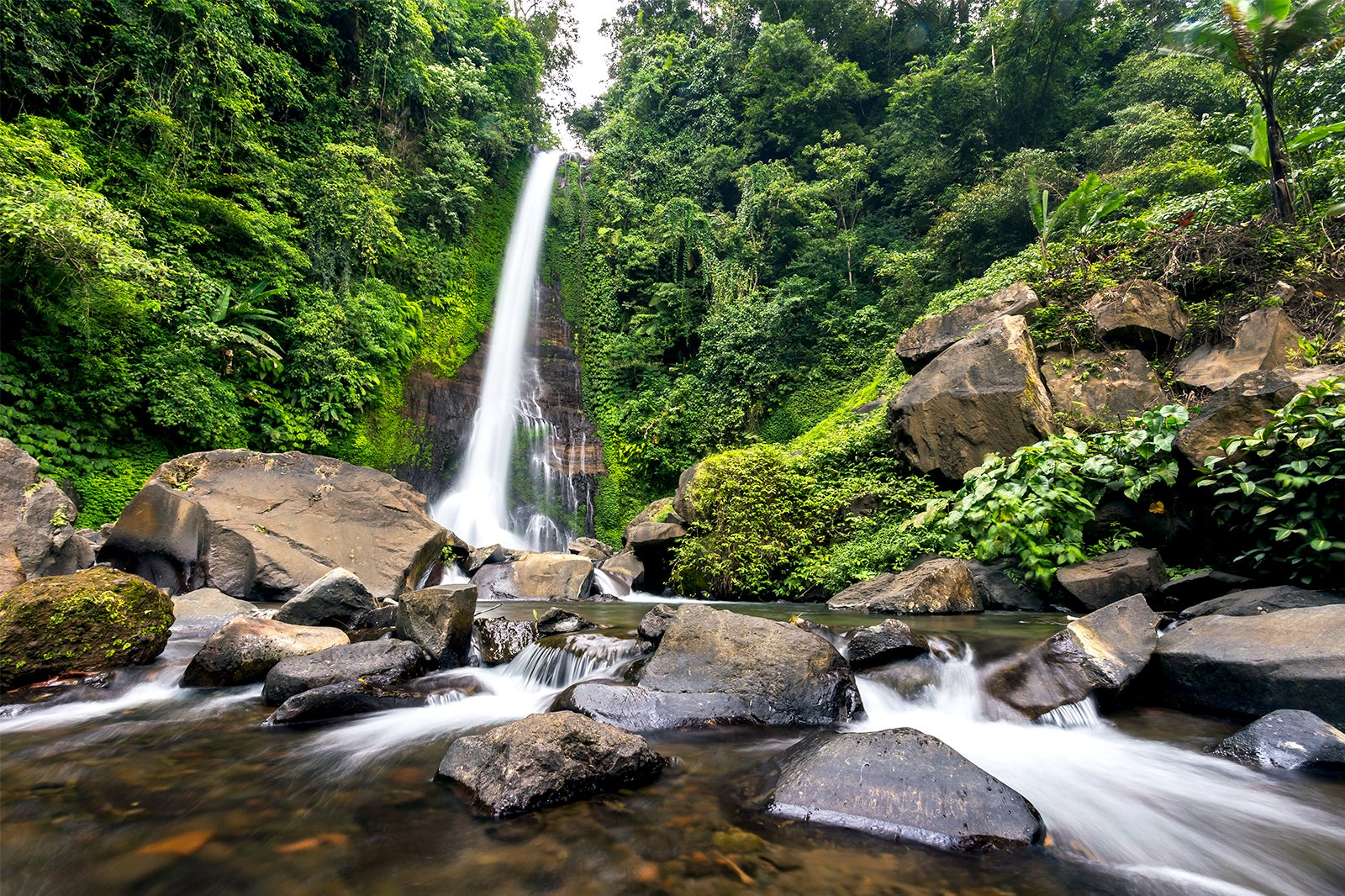 Gitgit Waterfall
North Bali
Gitgit Waterfall serves as a scenic natural attraction and a spiritual destination in Bali. The falls are about 10 km drive south of North Bali's capital town of Singaraja, and accessible from the south via the main Bedugul-Singaraja route. After a few minutes of hiking, you'll be able to enjoy the spectacular 40-metre-tall twin spouts that constant crash into a rocky pool below.
Interestingly for spiritual travellers, forested pathways clad by cacao trees will lead you to another waterfall not far from Gitgit Waterfall. Known as the Jembong Waterfall, it's a place for spiritual healings and purifications. Forested pathways clad by cacao trees lead you down to this site.
Location: Jalan Raya Bedugul-Singaraja, Gitgit, Sukasada, Buleleng, Bali 81161, Indonesia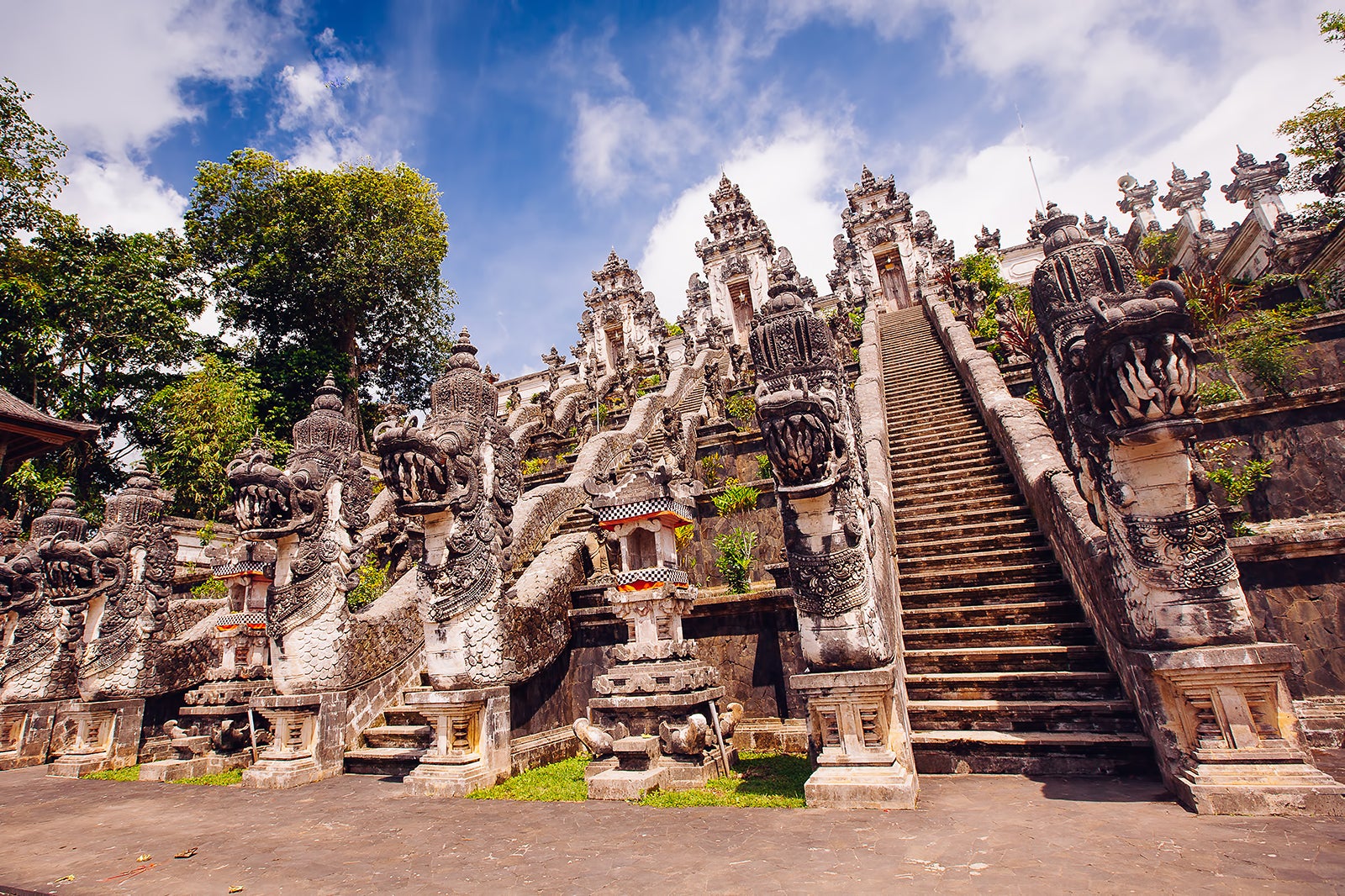 Lempuyang Temple
East Bali
Lempuyang Temple sits at 1,175 metres above sea level, on top of a mountain of the same name in Bunutan Village. It's one of Bali's oldest and most highly regarded temples, believed to predate most temples on the island. You can get there by climbing a steep paved path of over 1,700 steps – not for the faint-hearted. Along the way, there are several shrines, including the towering Pasar Agung temple.
Its gateway overlooks the blue skies and clouds, so keep your camera at hand. Sightings of tropical birds and macaques complement your climb to the Lempuyang Temple. A priest will reward you with blessing sprinkles of holy water. Locals believe that those who set out to the temple with a heavy heart can never make it to the top.
Location: Jalan Pura Telaga Mas Lempuyang, Tri Buana, Abang, Karangasem, Bali 80852, Indonesia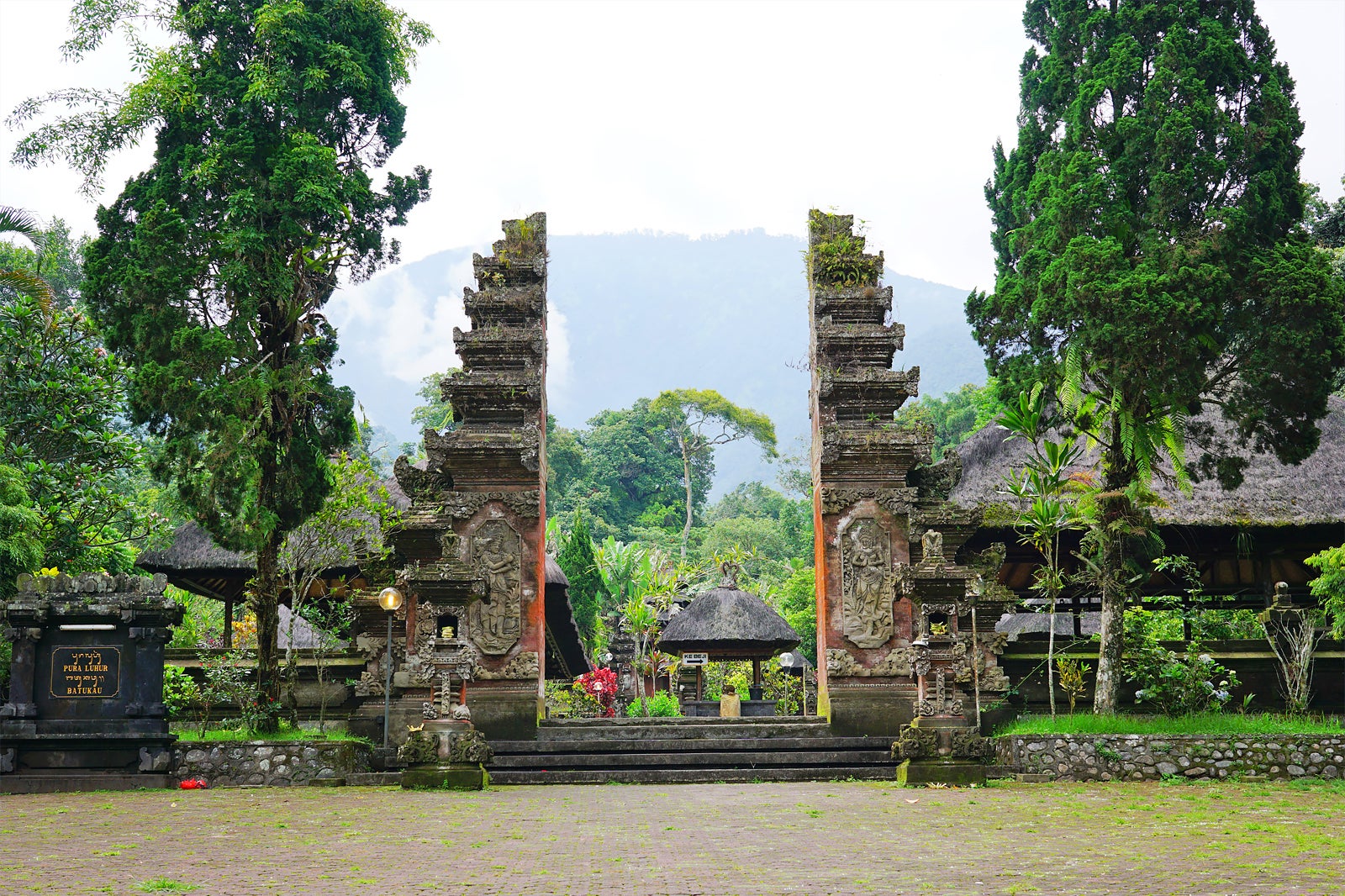 Batukaru Temple
Tabanan, West Bali
Batukaru Temple is surrounded by dense forests, providing pleasant sightseeing for nature lovers and spiritual travellers. The Jatiluwih rice terrace is about a 2-km drive southeast from the temple, so you can easily both sites during your trip to the Balinese highlands. The 11th-century temple complex has ancient structures and statues heavily covered in green moss.
While Batukaru's inner sanctum is usually off-limits to non-pilgrims, you can still enjoy a day of admiring the temple's exterior and grounds. A visit to the temple calls for proper attire and conduct. You must wear a sash around your waist, which is available for free at the security post before the temple entrance.
Location: Jalan Penatahan-Wongayagede, Wongaya Gede, Penebel, Tabanan, Bali 85125, Indonesia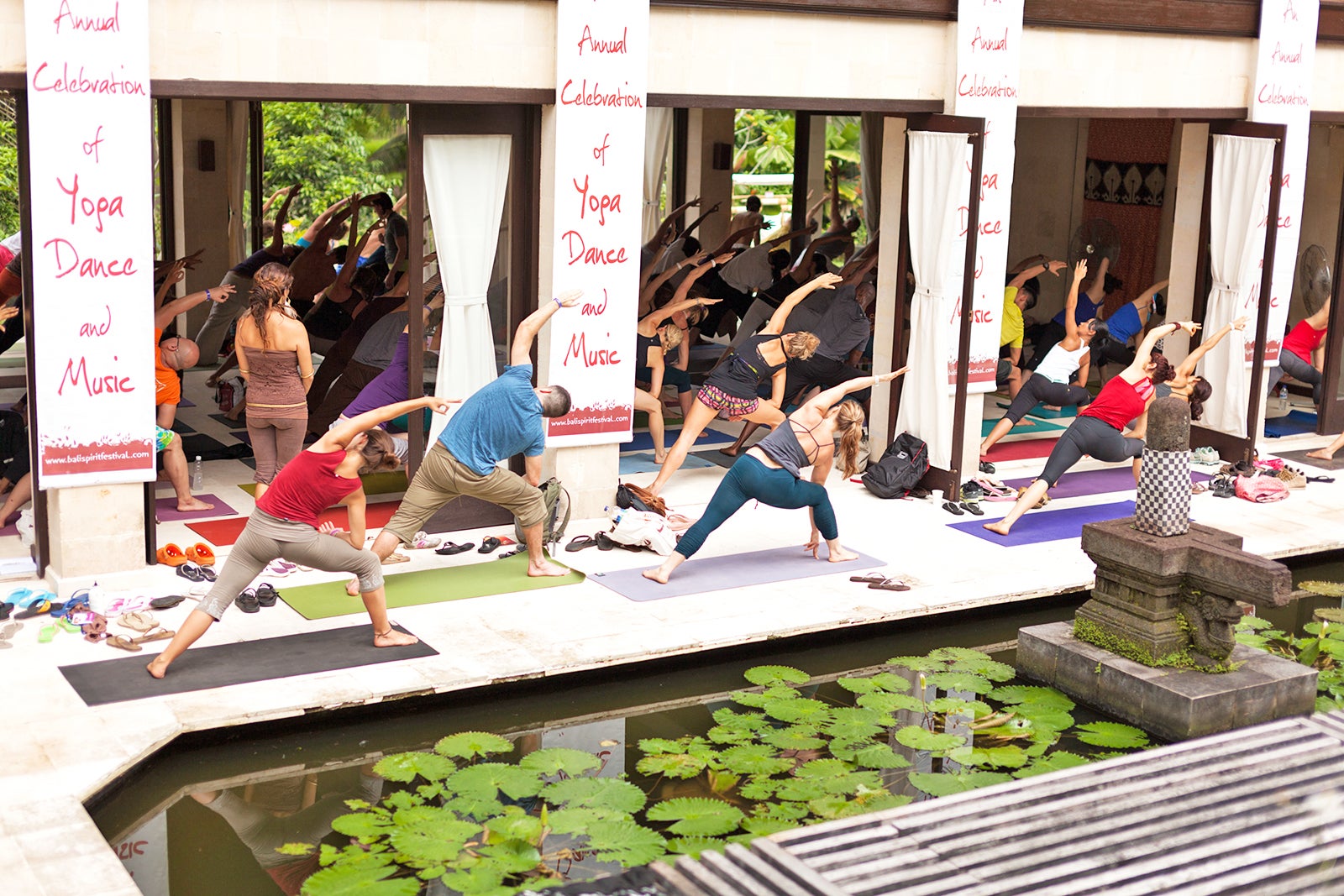 Bali Spirit Festival is an annual event that gathers like-minded yoga instructors and practitioners of different levels with holistic events, arts, dance and music. This week-long festival hosts health and wellbeing workshops in various yoga centres in Ubud, as well as side events in venues around Bali.
A full-day pass gives you access to yoga workshops, a Dharma Fair with health product bazaars and local organic food stalls, and a stage showcasing world music bands and soloists. The festival is organised by Bali Spirit, one of Ubud's most prominent holistic enterprises.
Location: Yayasan Bali Purnati, Jalan Gunung Abang, Banjar Penataran, Negara, Batuan, Sukawati, Gianyar, Bali 80571, Indonesia
Phone: +62 (0)811 393 9900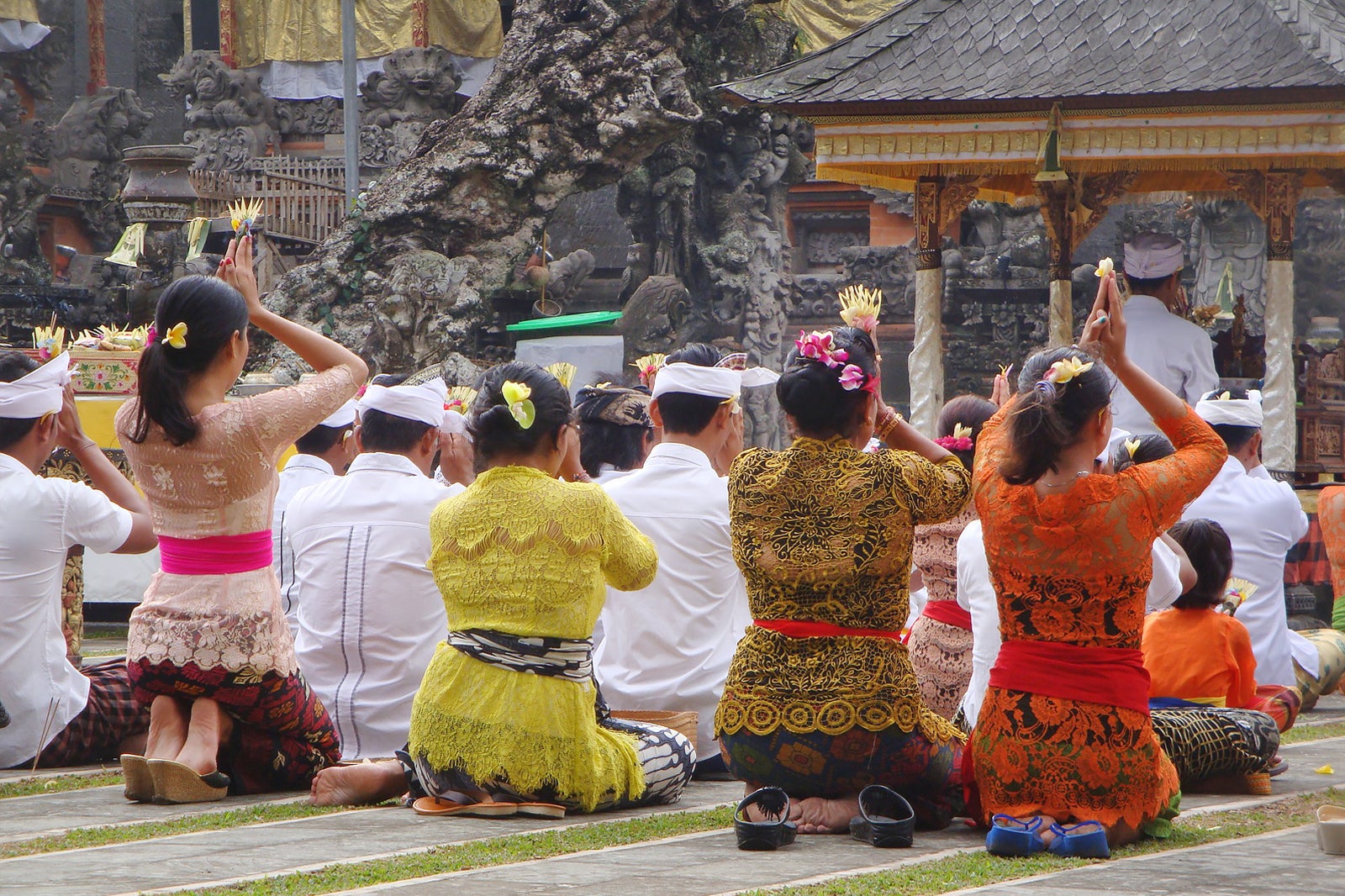 Get blessed by a Balinese priest or spiritual healer
Bangli and various places
Engage and connect with the island's spiritual and cultural side with a temple prayer and blessing from a Balinese priest. Most temples welcome you if you wear customary temple attire and closely follow the codes of conduct. Attending a temple prayer can be a highlight of your visit, where you can receive sprinkles of floral-infused holy water by a local priest.
You can visit one of Bali's youngest high priestess, Ida Panditha Mpu Budha Maharsi Alit Parama Daksa. Her ashram, Griya Agung Buddha Salahin, is located in Bangli Village. Take part in a purification ritual called melukat for aural cleansing and reconnecting with your inner self.
Location: Griya Agung Buddha Salahin, Susut, Demulih, Bangli, Bali 80661, Indonesia
Phone: +62 (0)812 3731 6359