Bali Airport is the main entry point to the island. It's located in Tuban, about 15 minutes' drive south of Kuta. The single runway stretches along Bali's isthmus that connects the Bukit Peninsula with Bali's mainland.
Officially called Ngurah Rai International Airport, it has the airport code of DPS for Denpasar, the provincial capital of Bali, which is actually 13 km north-east of the airport. Ngurah Rai is a very compact airport, but still has space for both domestic and international terminals. Between them, they serve flights from other parts of Indonesia, across Southeast Asia and as far afield as Russia, Japan, Australia and the Middle East, among many others.
Bali Airport - one of the highlights of 9 Tips to Survive Nyepi Day in Bali (Read all about Bali here)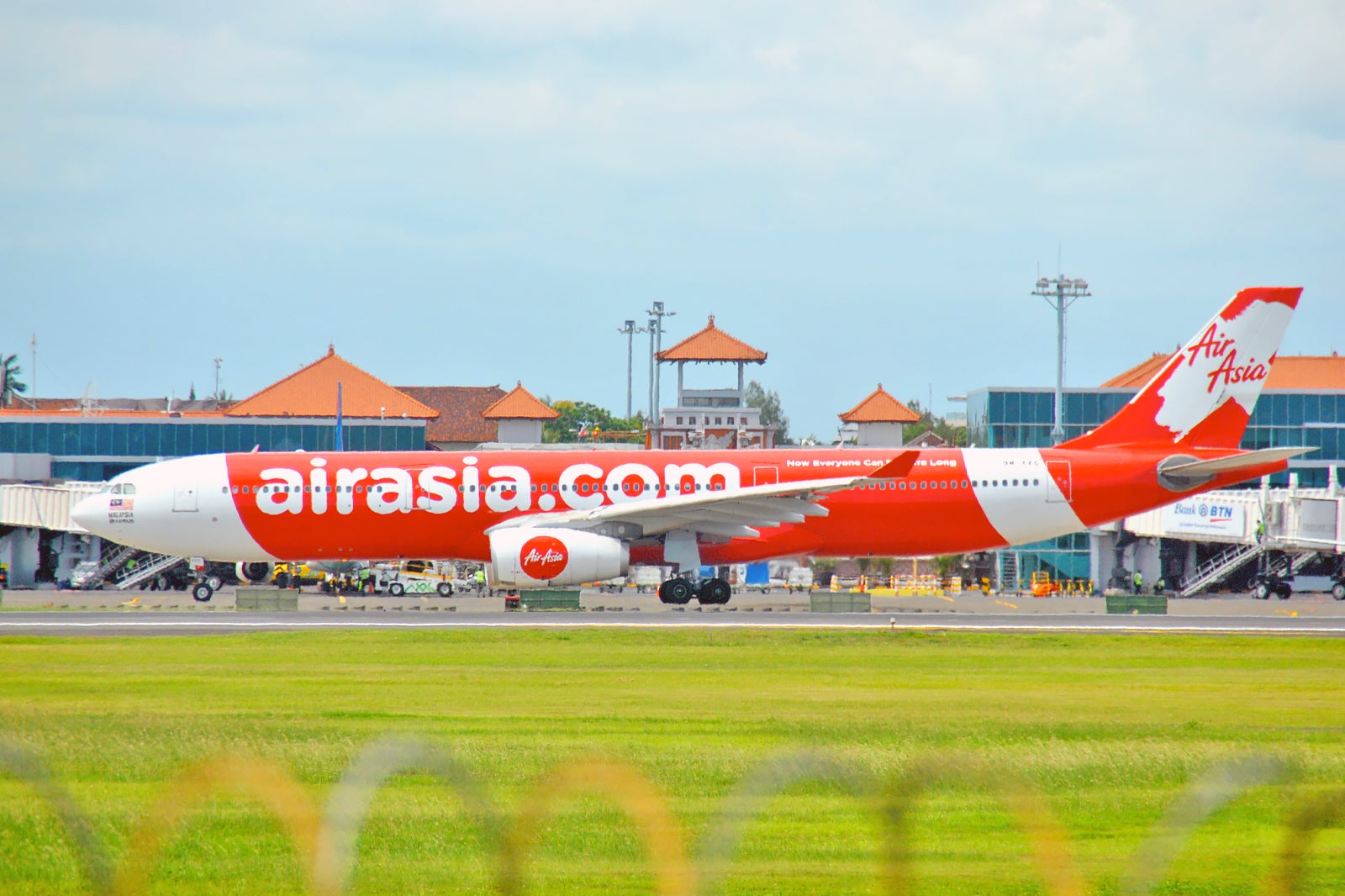 Arrivals at Bali Airport
After your plane lands at Bali Airport, you'll head inside the arrival terminal which houses the immigration area where you present your passport and visa. There are 2 sections, 1 for Visa-on-Arrival (VoA) and the other for those who got their visa in advance ("Non Visa on Arrival"). There are at least 169 nations eligible to enter Indonesia visa-free.
Passing through immigration shouldn't take longer than 15 minutes, but expect long queues if your plane is landing at the same time as others. Once your passport's been stamped, proceed to baggage claims. Trolleys are available around the baggage claim area, as well as porter services.
Just outside the terminal is the arrival hall. This is the rendezvous point and pick-up zone where hotel and tour pick-up services will meet you. Here's where your holiday in Bali really begins!
Getting to your hotel from Bali Airport
Ngurah Rai is in the south of the island, where most of the main tourist areas and hotels are. Many hotels offer courtesy shuttle services, so check with the hotel you booked to see if they can get you there for free. If not, the following alternatives are available.
Bali Airport Taxi, or Taksi Ngurah Rai, is the only taxi service available at the airport. You can find taxi counters outside both terminals. They operate on a pre-paid voucher system, with vouchers sold at an official taxi desk. The service is available 24 hours.
A list of fixed taxi prices shows rates depending on the hotel destination (Kuta, Sanur, Nusa Dua or other areas). Many drivers offer services based on 'negotiated price' but you should try to insist on sticking to the listed rates. Those taxis operating at the drop zone, pick-up zone and the parking area have no meters.
Metered taxis operate outside Bali airport's grounds. They aren't allowed to pick up passengers directly from the airport. While these cars are generally cheaper than the official airport taxis, walking to the exit and waving one down can be a little exhausting, especially if you have luggage in tow.
Car rental services are available. Find these at both domestic and international terminals.
Banks, ATMs and money changers
The 1st floor of the domestic terminal has ATMs of national Indonesian banks. These include Bank Mandiri, Bank EXIM, BII, BRI, CIMB and BCA. A money changer is operated by PT Dirgahayu.
The international terminal of the Bali airport has more banks and ATMs. There are at least 7 bank counters with ATMs and 8 different money changers. Citibank also has a privilege room here with an ATM. The 2nd floor of the terminal has only 1 money changer operated by Citra Nusa Davalas. The more money changers there are in the same place, the more competitive their exchange rates should be.
Departures from Bali Airport
Arriving at Bali Airport for your trip home, you'll head from the drop zone to the security checkpoint where you're required to present your air ticket and ID. They'll then scan your luggage items and all of your belongings. Passengers themselves will then need to walk through a metal detector.
Check-in counters are open 2 hours prior to departure. After checking in, you'll need to go through a 2nd security checkpoint. Have your ticket or boarding pass and passport at the ready for this one and remember that you can only take a maximum of 1 litre of liquids, aerosols or gels onto the flight. After that, you can head for your departure gate. It's recommended for passengers to get to their departure gates at least 30 minutes before the flight schedule.
Eating and drinking at Bali Airport
You can buy snacks and sandwiches, light meals, ice cream, cold beer or coffee throughout the Bali Airport terminals. Both the domestic and international terminals contain snack bars, small restaurants and cafés on both sides of passport control. As with most airports, these eateries can be expensive and the meals rather basic. For better value, it's best to have a 'parting meal' at your hotel or favourite spot before leaving the island.
Entertainment facilities in Bali Airport
You can use a free internet connection in the boarding/waiting areas of the airport. Internet is available via Wi-Fi and at computer terminals. There are also executive lounges for major airlines, where members can expect extra facilities and services. The international terminal has spa and massage services on both levels.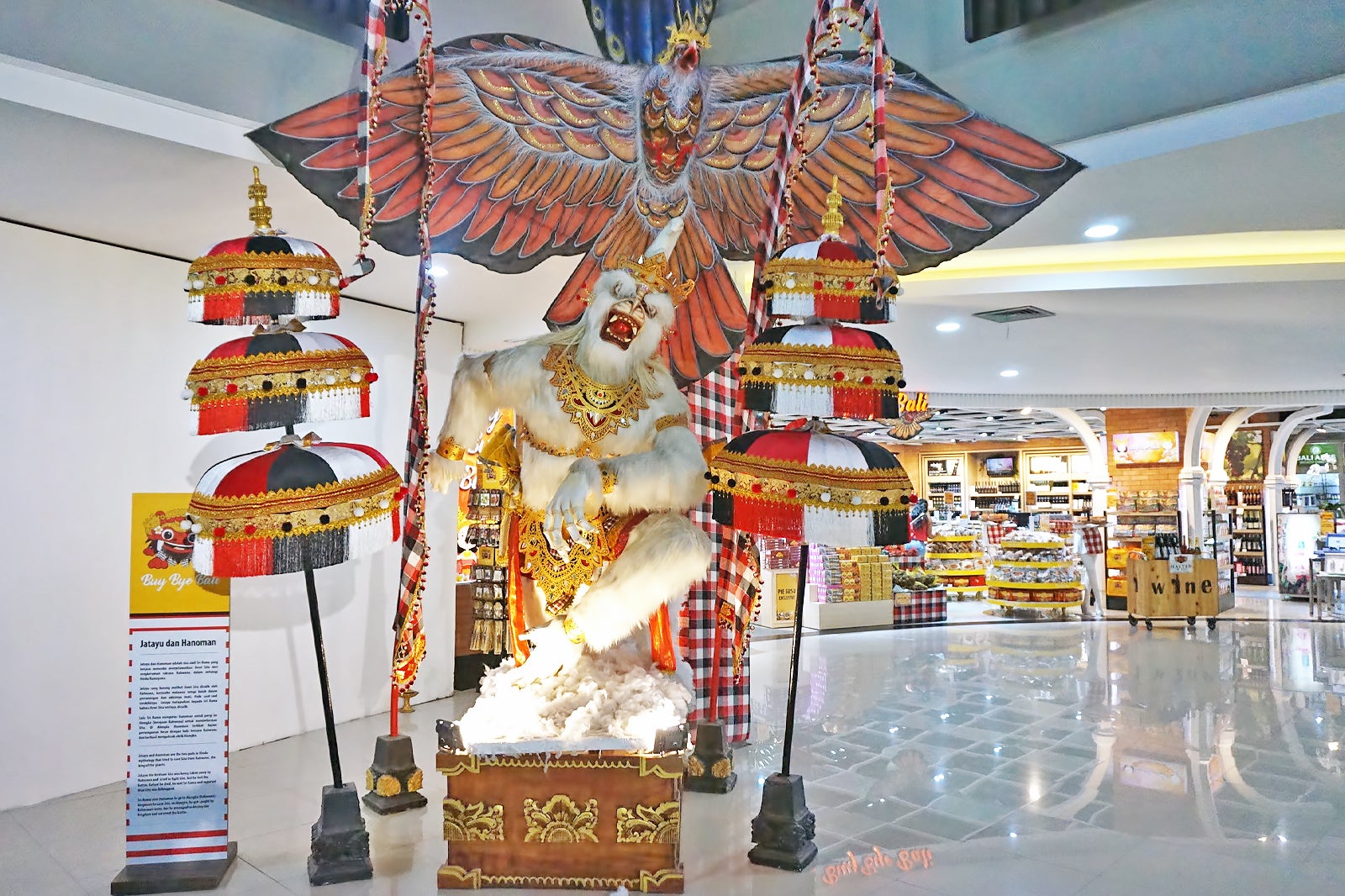 Shopping and duty-free
There are boutiques, bookshops and mini-marts throughout Bali Airport, as well as a good choice of duty-free shops. You can find big-brand perfumes, cosmetics, clothes and drinks at tax-free prices, as well as a selection of special local products like Balinese coffee, fabrics and souvenirs.
Tax refunds are available for items you've purchased in Indonesia. Refunds are valid if you've spent no longer than 2 days holiday in Bali. It only applies to minimum purchases of Rp 500,000. Be sure to present the special tax invoice issued by duty-free stores on the island.
Things you should know about Bali Airport
Porter services are available upon arrival at Bali Airport. It's common practice to pay more than their published charge – this can be up to Rp 50,000 for a porter's service. It's best to take note of the porter's ID number as a security measure, in case of any inconvenience.
Avoid changing your money on the street or at unauthorised money changers. If you have no other option, always re-count your money in front of the teller to make sure that you're giving them the correct amount and that they've given you the correct amount back.
A brief history of Bali Airport
Ngurah Rai International Airport's name honours Bali's national hero, I Gusti Ngurah Rai. He led the fight for Indonesia's independence from the Dutch in 1946 and died in an airstrike.
The Dutch colonial government opened the Bali Airport in 1930. At the time, the runway was less than a kilometre long. It was extended to 1.2 km during the Japanese occupation in 1942.
After the end of the Second World War, the Indonesian government further expanded the airport. Land reclamations resulted in an additional extension of the runway to 2.7 km. It's official inauguration as Ngurah Rai International Airport was in 1963.
Bali Airport
Location: Jalan Raya Gusti Ngurah Rai, Tuban, Badung, Bali 80362, Indonesia
Phone: +62 (0)361 9351011
Back to top