10 Best Beaches in Marbella
Which Marbella Beach is Right For You?
Reducing the best beaches in Marbella to a manageable list is pretty tricky, especially as Spain's Costa del Sol is home to some of the best beaches in the Mediterranean. The region of Andalusia, particularly Marbella, has an air of luxury about it, with stunning marinas, extravagant yachts and opulent establishments being the norm.
Many of Marbella's beaches reflect the lavish lifestyle that the area's so well known for, but each has its own individual charm and unique appeal. From cool and trendy hangouts and casual, chiringuito-lined shores to rolling dunes and the most exclusive of beachfront clubs, here's our take on Marbella's best beaches.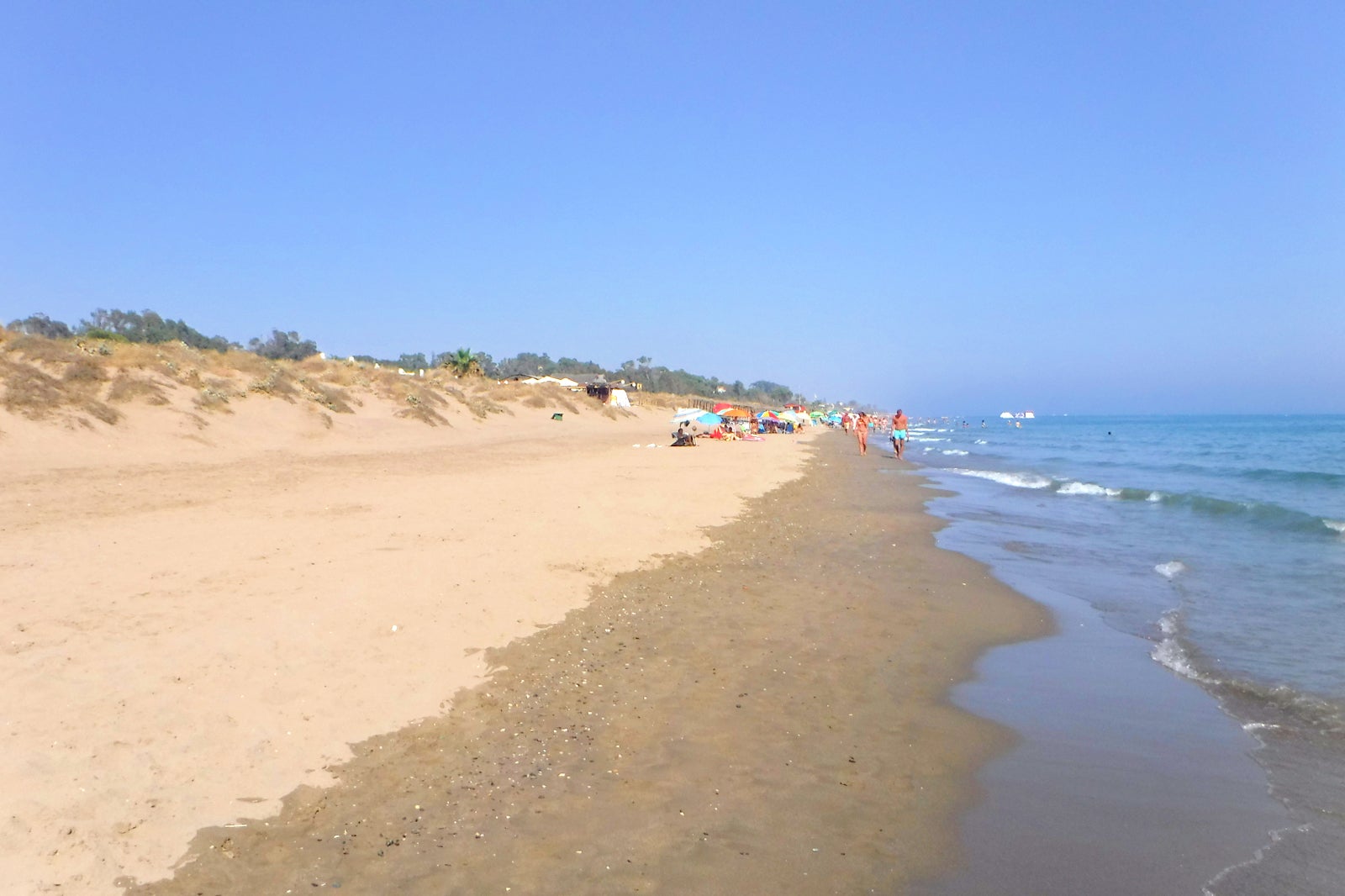 Playa del Alicate
Beach bars aplenty
Located to the east of Marbella, Playa del Alicate is a surprisingly popular beach, considering it's one of the narrower ones. It might only be 25 metres wide, but it's 850 metres in length and lined with arguably one of the highest concentrations of beach bars along the Andalusian coast.
The sand here is typical of that along the Costa del Sol – coarse and golden, but soft under foot. Just bear in mind that it shelves fairly steeply into the sea. There are loungers and umbrellas to hire, plus toilets, showers and a place to rent out water sports equipment.
Location: Urb. Los Monteros, 29603 Marbella, Málaga, Spain
Photo
Nightlife
Budget
Adventure
photo by Tyk (CC BY-SA 4.0) modified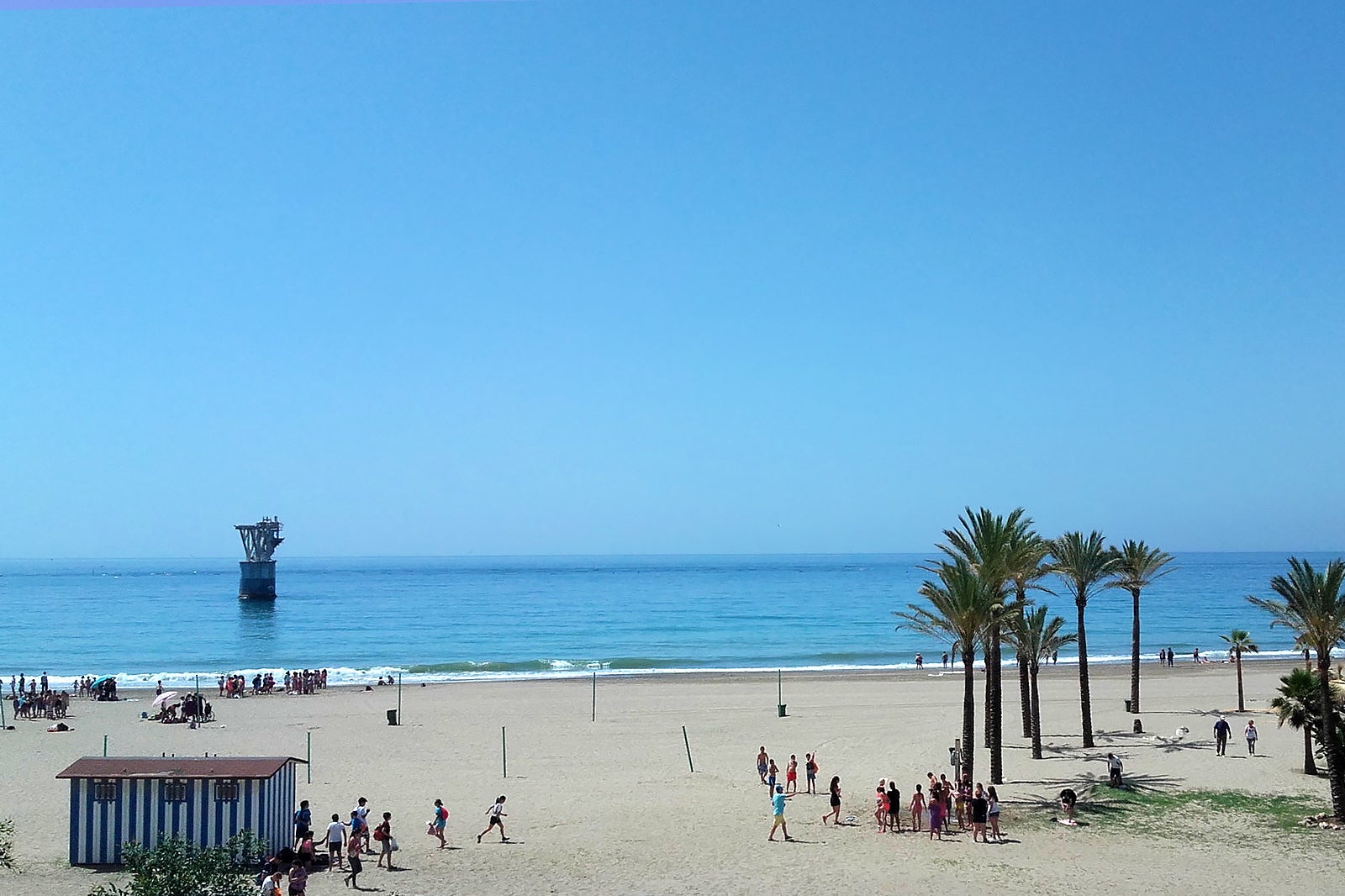 Bounty Beach
A hangout for the young and trendy
Officially called Playa del Cable, Bounty Beach is named after the popular beach bar that you'll find there. This is the trendiest beach to head to, where younger crowds love to play volleyball and hire out pedalos and canoes. There are also beach parties arranged here every Sunday throughout the summer.
The beach is 1,300 metres long and 70 metres wide. It has soft, fine sand, sun loungers to rent, toilets and showers, too. Another bonus is it's within an easy walking distance from Marbella's centre.
Location: Camino Pescadores, Las Chapas, 29603 Marbella, Málaga, Spain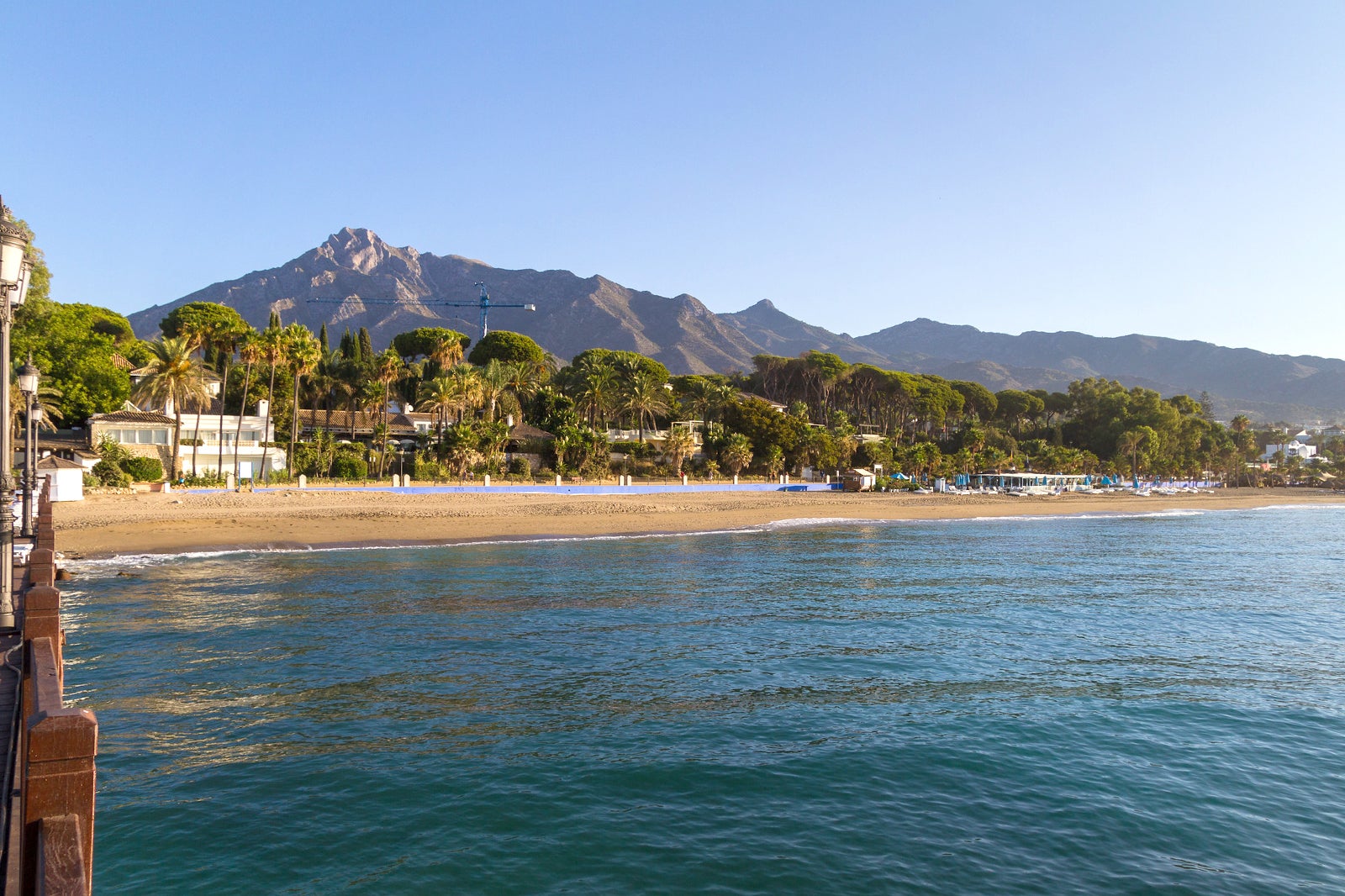 Playa Nagüeles
A celebrity hotspot
Located on Marbella's 'Golden Mile', Playa Nagüeles is lined with the city's most exclusive and luxurious restaurants, beach clubs and hotels – an ideal place to do a bit of celeb spotting. For this reason, it's always quite busy here, but it's well worth hiring one of the loungers and spending some time soaking up the sun.
Be sure to check out the famous Trocadero Playa on the beach, one of the best restaurants in town. The beach is cleaned daily, has all the facilities you could wish for, has lifeguards on duty and has fine sand that gently shelves into the sea, making it ideal for families with little ones.
Location: Urb. Marbella Country Club, 29602 Marbella, Málaga, Spain
Families
Photo
Food
Budget
Luxury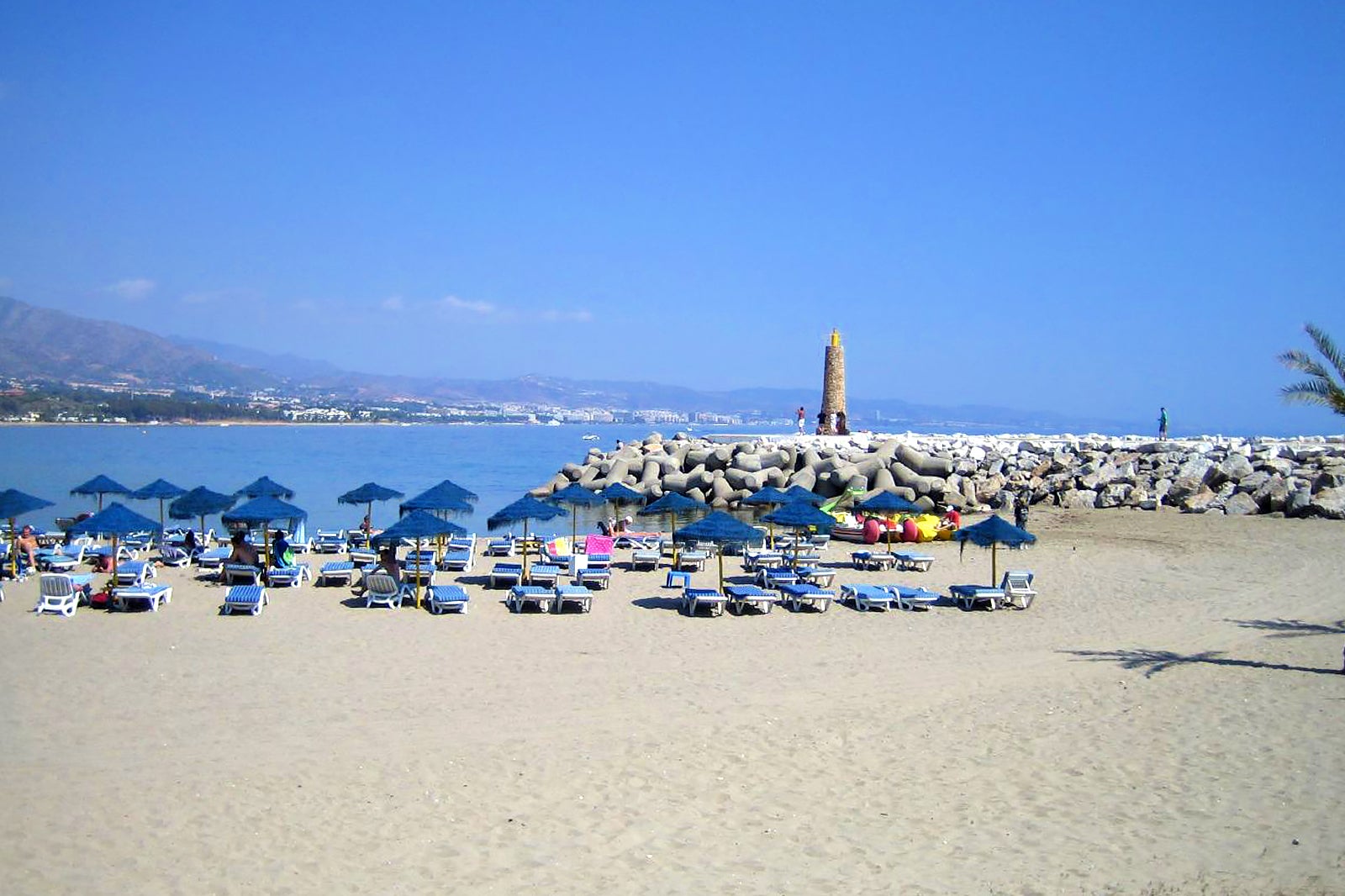 Playa de Puerto Banus
A stone's throw from the marina
Also known as Playa de Levante, this beach lies just west of Marbella, in the stunning resort of Puerto Banus, well-renowned for its glitzy marina. Situated right next to the said marina, this beach is 1 km long and 50 metres deep, with fine, golden sand. A large breakwater helps keep this part of the coast well protected. Pair that with its calm, shallow waters and you can see why this is a popular choice for families.
There are all the facilities you can expect from a busy, central beach, as well as seasonal lifeguards, kids' play areas and a summer craft market.
Location: Urb. Coral Beach, 29602 Marbella, Málaga, Spain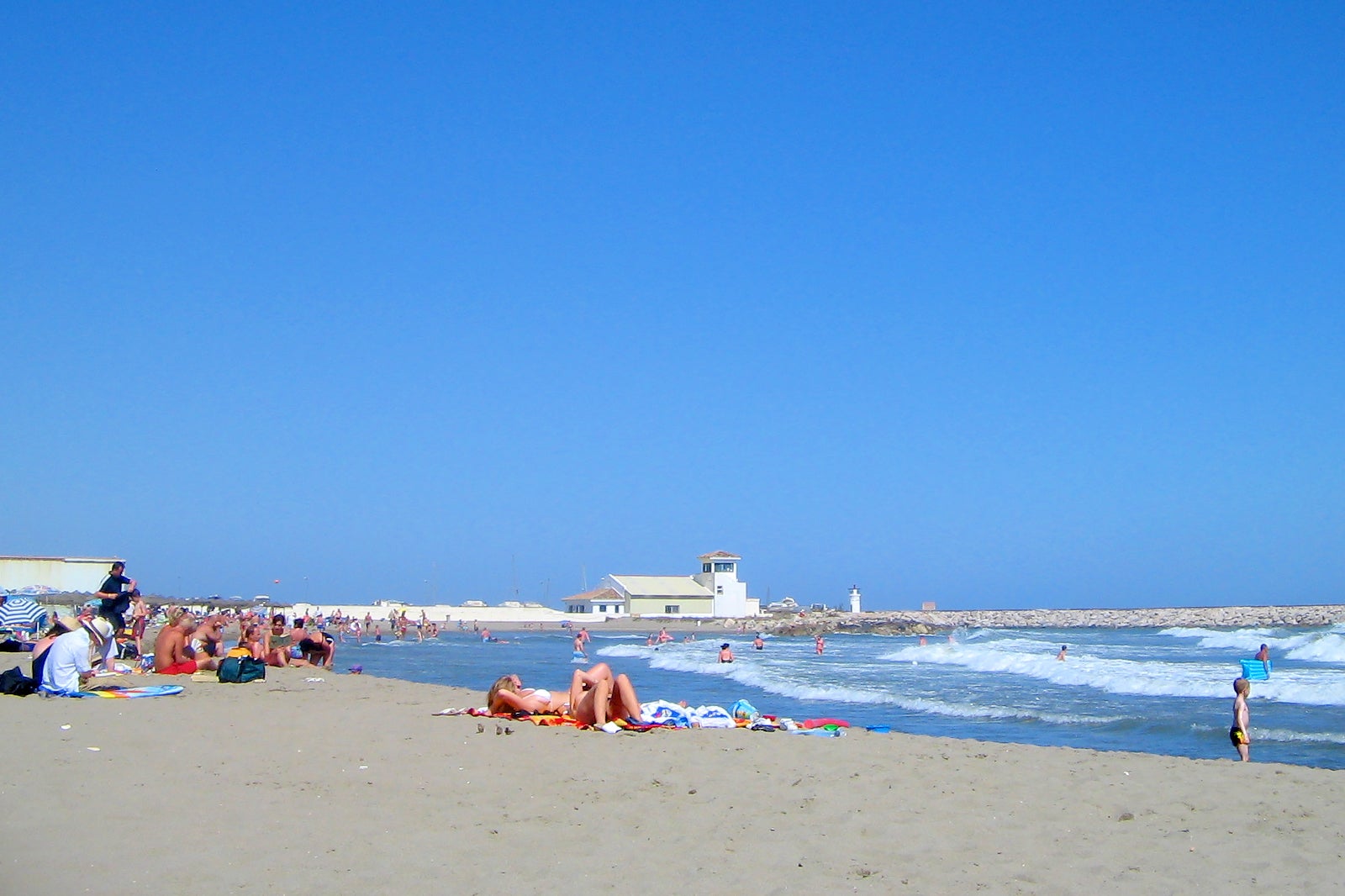 Cabopino Beach
A beach that's got it all
Cabopino Beach is a beautiful shoreline, just along the coast from Marbella. On the one side, you have Cabopino's port, teeming with luxury yachts gently bobbing in the water. And on the other, you have the Artola sand dunes, with a section that's popular with nudist bathers.
Along the 1,500-metre stretch of sand, you'll find plenty of bars and chiringuitos to grab a drink or bite to eat. There are ample car parking spaces nearby, too, although there are regular buses travelling to and from Marbella. You can hire all kinds of water sports equipment on the beach, or why not head out on a dolphin-spotting trip?
Location: Autovía del Mediterráneo, 29604 Marbella, Málaga, Spain
Photo
Nightlife
Budget
Adventure
photo by Konstantin (CC BY-SA 3.0) modified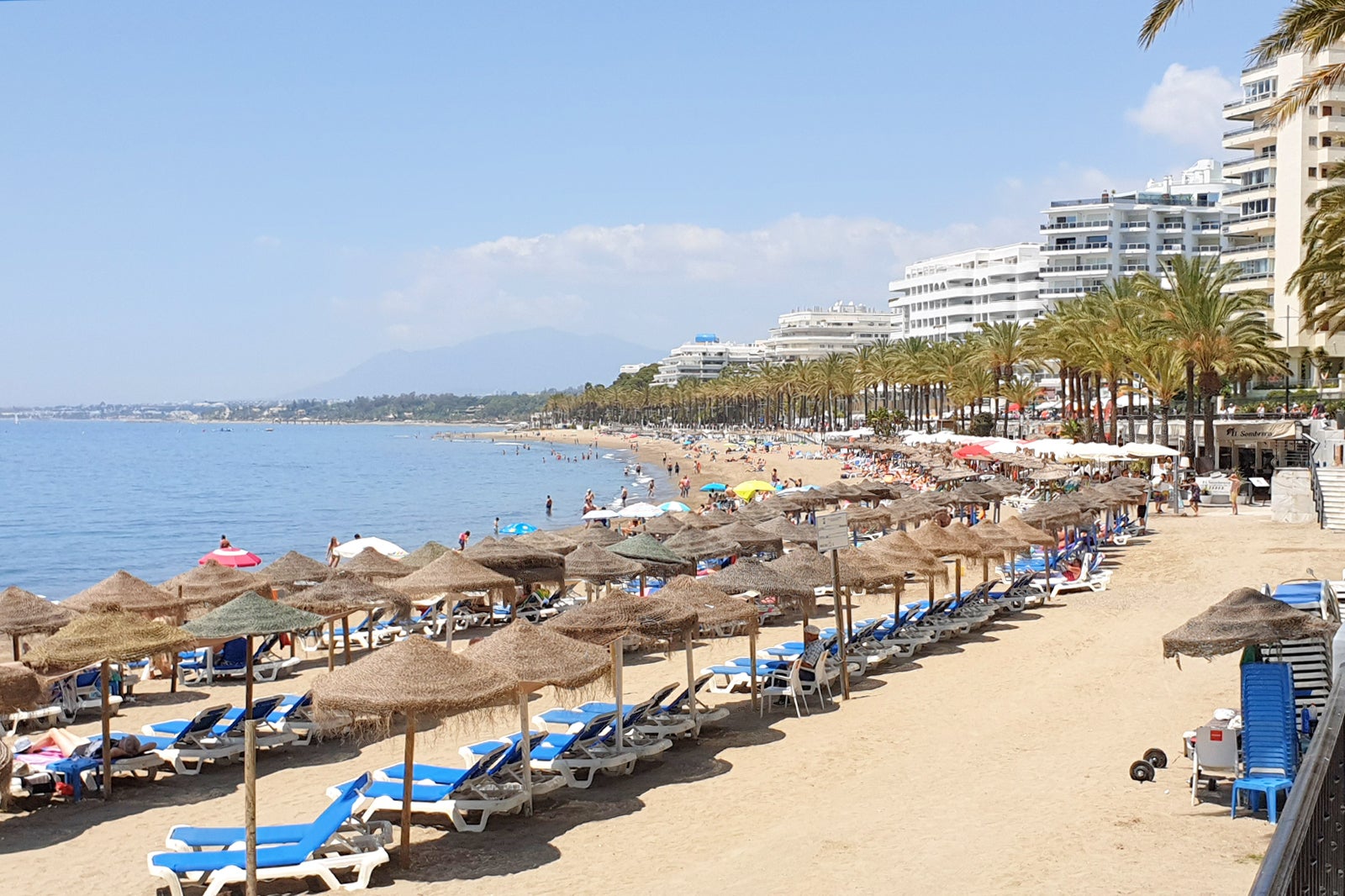 Playa de la Fontanilla
In the heart of the city
Playa de la Fontanilla is one of Marbella's more popular urban beaches, within easy walking distance of the city centre. It's often considered as the best city centre beach, with locals and tourists alike flocking here to find the ideal spot in the sand.
With its well-appointed location, it won't come as a surprise to hear that Playa de la Fontanilla has no shortage of amenities and facilities close by. On the beach, you'll find toilets, showers, lifeguards and hireable loungers, plus various activities to try. Then off the beach, the Paseo Marítimo – or promenade – runs parallel, packed with restaurants, bars and shops.
Location: Paseo Marítimo, 29602 Marbella, Málaga, Spain
Shoppers
Photo
Food
Nightlife
Budget
photo by Cabeza2000 (CC BY-SA 4.0) modified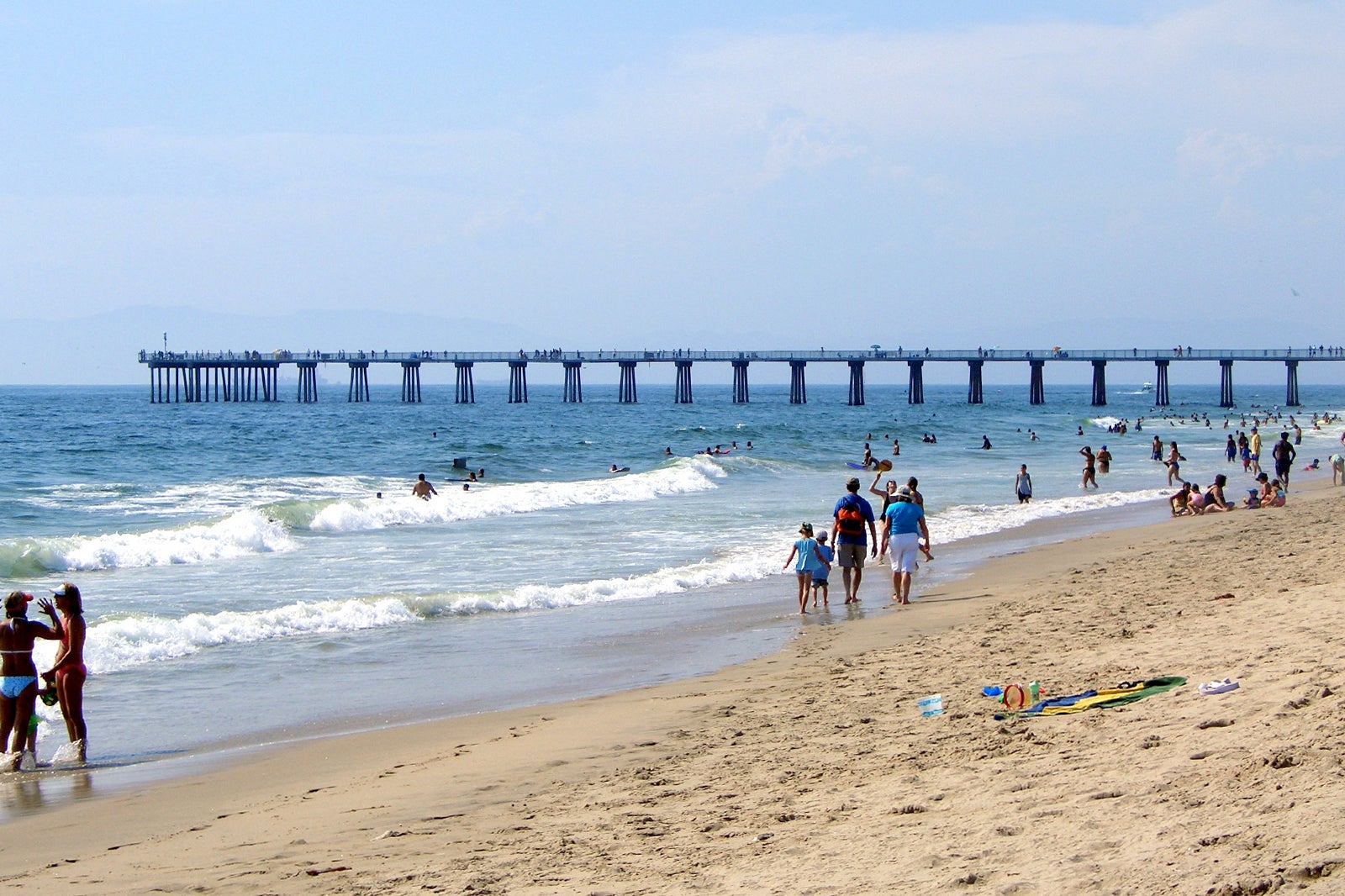 Playa Hermosa
Small but perfectly formed
Playa Hermosa may only be small, but it's still worthy of a mention in our list. The beach is joined onto Costabella Beach, but this end is well-sheltered, with calm, shallow waters, making it a popular choice for families. There are plenty of bars, restaurants and chiringuitos along the beach, so you'll have no problem finding something for lunch after building up an appetite, playing hard and relaxing even harder on the beach.
The beach is super clean, with toilet facilities and places to hire pedalos and other water sports equipment nearby. One thing's for sure, this beach certainly lives up to its name translation – 'beautiful'.
Location: Calle Playa Hermosa, 29604 Marbella, Málaga, Spain
photo by Estrategy (CC BY-SA 3.0) modified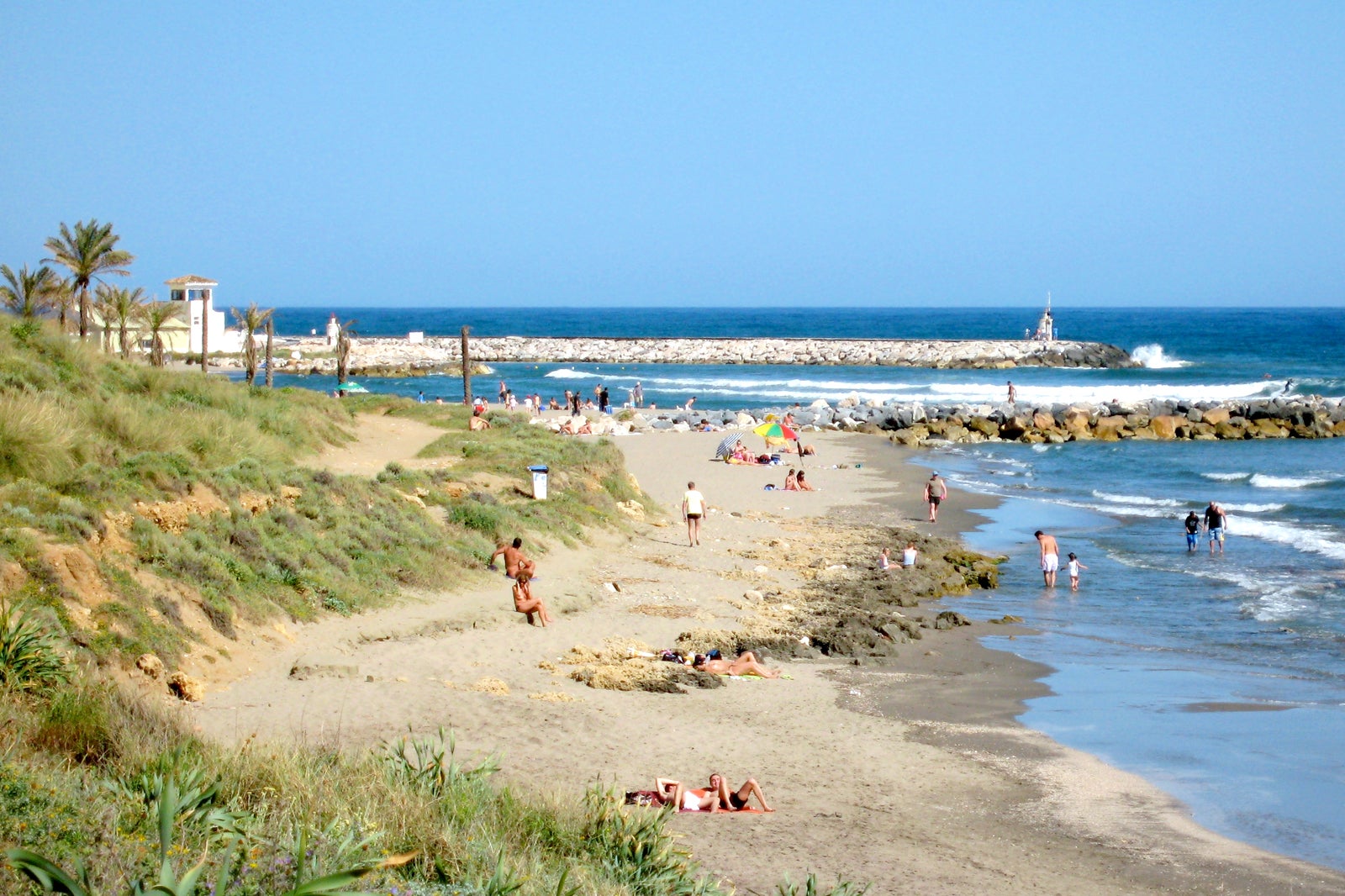 Playa de Artola
Be at one with nature
Joining onto Cabopino Beach, Playa de Artola boasts rugged natural beauty with its backdrop of sand dunes. The Dunas de Artola is a protected area, making this beach the only one in our pick of the best beaches in Marbella to not be surrounded by shops, restaurants and hotels. It gives you the opportunity to really be at one with nature. So much so, that there's even a nudist section.
The beach has gained recognition for its cleanliness and facilities, earning it Blue Flag status. Add a bit of history to your beach day by checking out the ancient Torre Ladrones watchtower, just by the small car park. It dates back to Roman times and has been declared a Site of Cultural Interest.
Location: Urb. Cabopino, 29604 Marbella, Málaga, Spain
photo by Olaf Tausch (CC BY 3.0) modified
Playa de la Vibora
Splash out at Nikki Beach Marbella
Playa de la Vibora ('Viper Beach') is a beautiful and peaceful coastal stretch, with fine pebbled sand and gently swaying palm trees. But the thing that this 850-metre-stretch of shoreline is most famous for is the highly exclusive Nikki Beach Marbella, a luxurious beach club frequented by high-flyers and the rich and famous.
If you're feeling flush, indulge in an opulent lunch, sip champagne by the pool or part with a few hundred euros and hire one of the famous white mattress loungers. If you've something to celebrate or you're looking to really treat yourself this holiday, this is the place to do it.
Location: Carretera de Cádiz, km 192, 29604 Marbella, Málaga, Spain
Photo
Food
Nightlife
Budget
Luxury
Playa Real de Zaragoza
Escape the crowds
There's no doubt that Playa Real de Zaragoza is one of the biggest and best beaches in the area, and well worth the effort to get to. Located a little way outside of Marbella, its size and distance from the city means you'll never fail to find a peaceful spot on the soft sand to while away your day.
The beach is around 1,700 metres long, with a width of 30 metres. There are countless places to eat in the surrounding area and the beach itself has all the necessary amenities, such as showers, toilets and lifeguards in the summer. You can even hire a lounger and parasol for approximately just €5 – a steal in comparison to the nearby Nikki Beach Marbella!
Location: Urb. Real de Zaragoza, 29604 Marbella, Málaga, Spain