NDSM is a former shipyard and neighbourhood in the Amsterdam-Noord area. The name of the area comes from a former company that used to build and repair ships by the docks, called Nederlandsche Dok en Scheepsbouw Maatschappij. Covering over 90 hectares of land, the NDSM area sits by the River IJ, making it a picturesque visit for art lovers in Amsterdam.
Over the years, a variety of offices have begun to set their foundations in the NDSM area. Well-known names such as Red Bull, MTV, and the Dutch store chain HEMA have settled down in the neighbourhood, making NDSM one of the hottest commercial areas in Amsterdam.
Despite this, much of NDSM's charm lies where the shipbuilding warehouses and drydocks are. From flea markets to 3-day-long music festivals and creative art displays, there's never a quiet moment for the local community.
NDSM in Amsterdam - one of the highlights of 10 Best Free Things to Do in Amsterdam and 10 Most Instagrammable Places in Amsterdam (Read all about Amsterdam here)
A brief history of NDSM in Amsterdam
Originally a shipbuilding and ship repair company, Nederlandsche Dok en Scheepsbouw Maatschappij became defunct in 1979. The company's clientele included Royal Dutch Shell and the Royal Netherlands Navy. Many locals fondly knew the company – and later the shipyard – as NDSM.
Following the closure of the shipbuilding company, the NDSM area became neglected. It wasn't until 1999 when the area began to receive restoration from the Amsterdam-Noord borough, turning it into the edgy art community hotspot it is today.
Although the shipyard is no longer in use for ships, much of the structures and warehouses remain in the NDSM area. This adds to the classic and hipster character of the neighbourhood, making it a hip spot for both tourists and locals to visit especially on weekends.
What are the highlights of NDSM?
If you're a lover of all things vintage, don't miss out on the IJ Hallen flea market in the NDSM area. Held twice a month, it's regarded as the largest flea market in the Netherlands. Over 750 stalls occupy an open-air carpark and a covered shipyard warehouse. You can find goods from second-hand furniture to preloved clothes and vintage toys for sale. As not all sellers provide shopping bags with your purchases, it's a good idea to bring a backpack for your vintage goods hunt.
On sunny days, you'll often see locals and tourists filling up the variety of cafés and pubs in the NDSM neighbourhood. A highly recommended spot is Noorderlicht, a former greenhouses-turned-café that offers a vegetarian-friendly menu.
NDSM hosts DGTL Festival on Easter each year. In this week-long dance festival, you can expect nonstop underground electronica and a variety of other live music.
NDSM is home to Blast Galaxy, one of Amsterdam's most unique vintage arcades. Unlike most pay-per-play arcades, you only pay a flat fee and can spend all day playing as many games as you wish. It's a great spot for gamers looking for a touch of nostalgia with games like Metal Slug or trying out newer machines like the Star Wars trilogy.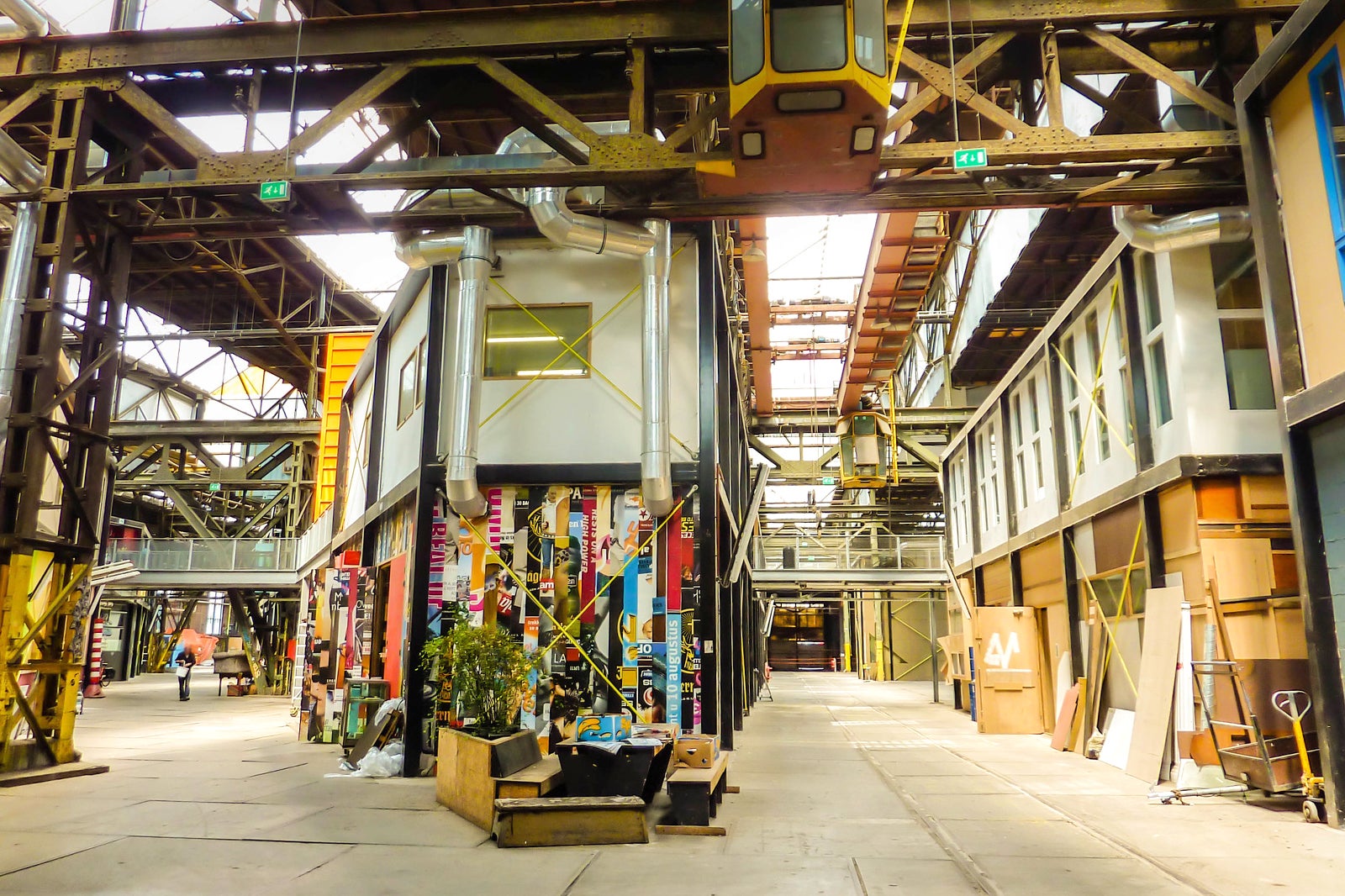 Good to know about NDSM in Amsterdam
Thanks to its location by the River IJ, NDSM is reachable via a complimentary ferry ride from the Amsterdam Centraal station. The ferries run at 15-minute intervals daily and takes you on a relaxing trip over the Noordzeekanaal. While seats are limited on the ferry, you're always welcome to stand around the bow. You'll want to be mindful of onboard bicycles, though.
For those who aren't keen on taking the ferry, consider hopping on the Connexion buses 391 or 394. Do note that the Amsterdam day- or multi-day travel passes do not apply on these buses, so you may have to pay extra for your ride.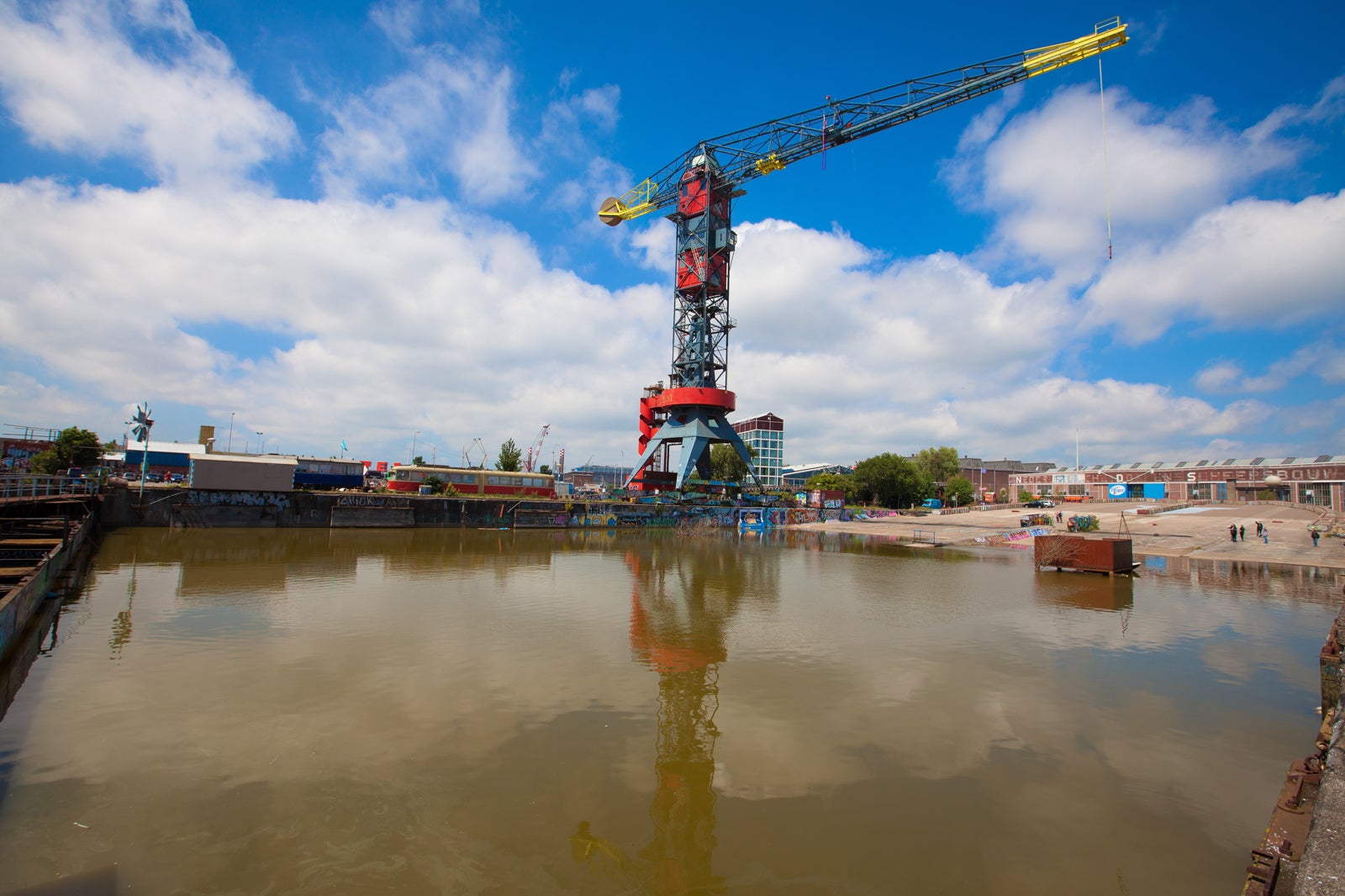 NDSM in Amsterdam
Location: NDSM-Plein 28, 1033 WB Amsterdam, Netherlands
Back to top