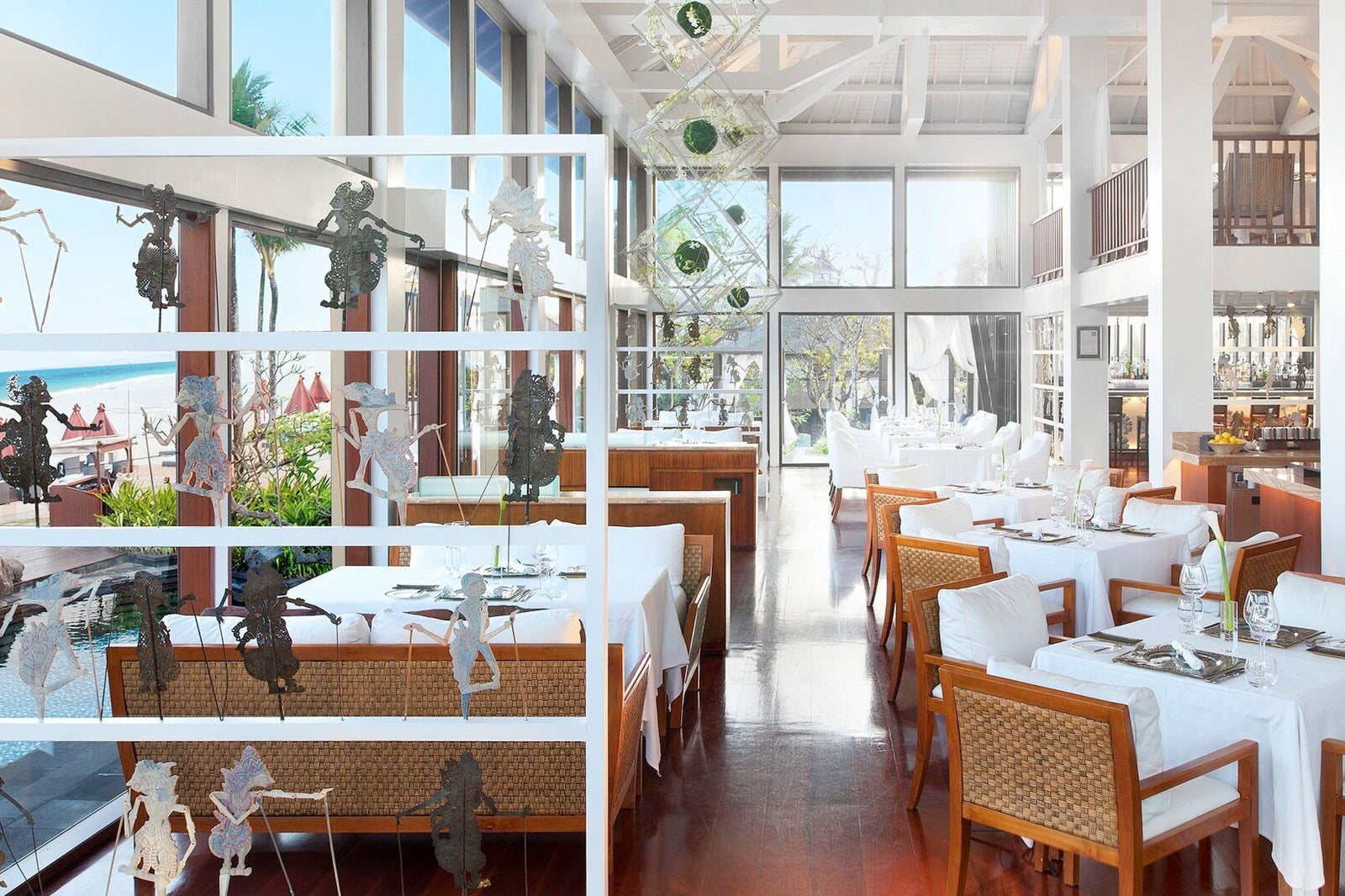 Kayuputi Restaurant is the signature restaurant of The St. Regis Bali Resort on the southern coast of Nusa Dua. It offers fine dining with Asian-inspired cuisine, complemented by a gorgeous pool and seaside views. The restaurant is located on the southeastern beachfront of the 5-star resort, comprising elegant and stylish interiors in dominant white, lined with signature wayang (traditional Indonesian shadow puppet) motifs and wooden figurines.
The centrepiece of Kayuputi Restaurant is a large open kitchen where you can witness the culinary brigade – headed by an award-winning Balinese chef – prepare your amazing dishes.
Kayuputi Restaurant at St. Regis Bali Resort - one of the highlights of 10 Best Restaurants in Nusa Dua and 10 Best Restaurants in Bali (Read all about Bali here)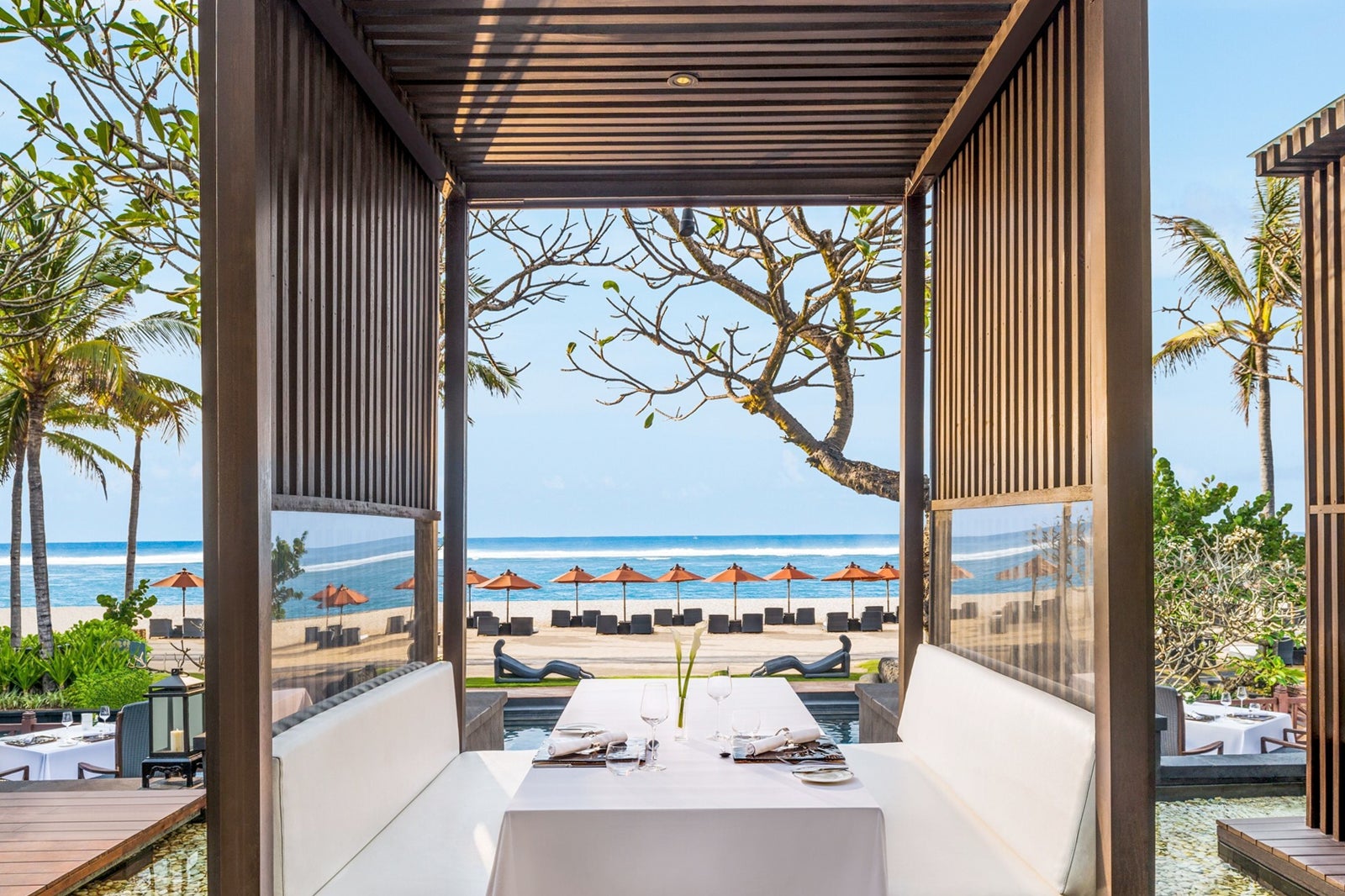 Starters at Kayuputi Restaurant
Kayuputi Restaurant presents a rich array of dishes through a la carte and degustation menus, as well as Sunday brunches and special champagne brunches. Each item integrates Asian flavours with classic western influences. Fine examples of this marriage of flavours and textures include fresh marinated, quick-seared yellowfin tuna, served with sweet-sour tamarind and tuna broth – a luscious sauce inspired by the island's heritage rujak dressing that is sweet, tangy and truly appetising.
Other entrées include a Caesar salad of young romaine lettuce tossed with garlic anchovy dressing, grilled king prawns and topped with toasted French bread and crisp garlic parmesan tuiles. There's also a dish comprising a selection from the ocean, prepared as sashimi, consisting of Tasmanian salmon, yellowfin tuna, cold poached sweet sea prawns and fresh oysters served with pickled ginger, wasabi and light shoyu.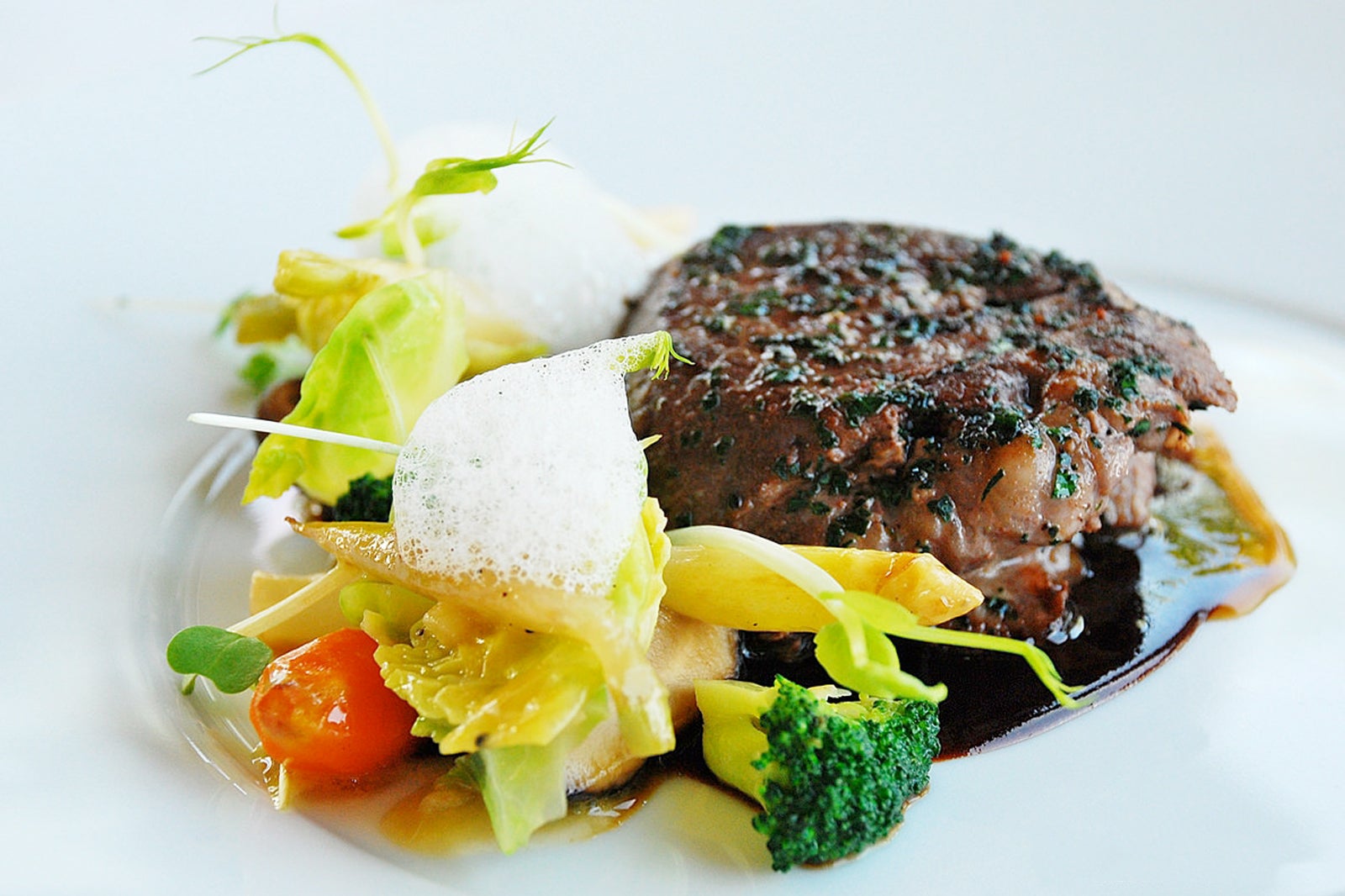 Main courses at Kayuputi Restaurant
On to the mains, the medium-rare Black Angus beef tenderloin served with butter glazed mushroom and potato, garden salad and red wine meat jus is a delightful and juicily tender treat. There are some great vegetarian dishes available, too. The gracious wait staff know their menu well and deliver swift, attentive but unpretentious service.
The Bali lobster at Kayuputi Restaurant is plated and presented in an impressive fashion: the bright red crustacean is served as a whole, split into halves to reveal its moist and tender meat and fillings of garlic butter and sautéed garden veggies. It comes with 4 dipping sauces on a side plate.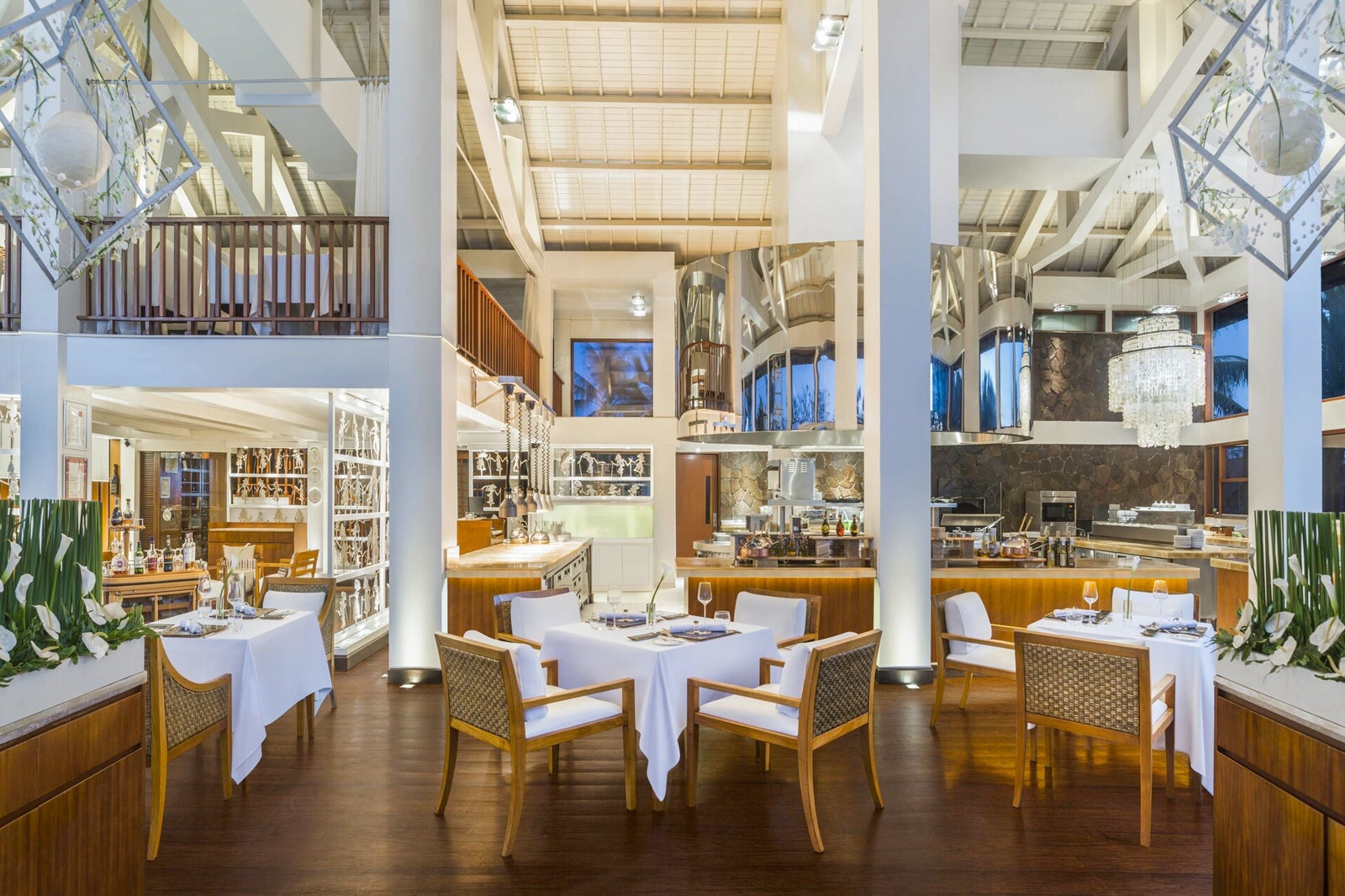 Desserts at Kayuputi Restaurant
Desserts are heavenly at Kayuputi Restaurant at The St. Regis Bali Resort. Warm crispy apple tart topped with Papua vanilla ice cream provides a delightful play of contrasts, and the ice cream slowly melting on the warm tart is a visual treat on its own. The mango coconut cake served with a unique coconut milk sherbet and mango coulis is a brighter presentation compared to the tart and brings a lighter, fruitier sensation to the palate. A classic Valrhona choco gateaux bring it down heavier again, served with chocolate ice cream and chocolate coulis.
The award-winning restaurant presents a stellar wine list to complement the luxurious multi-course degustation menus, especially with the sommelier's hand-selected wines. Just ask and they'll help you to pick the perfect complement for your dish.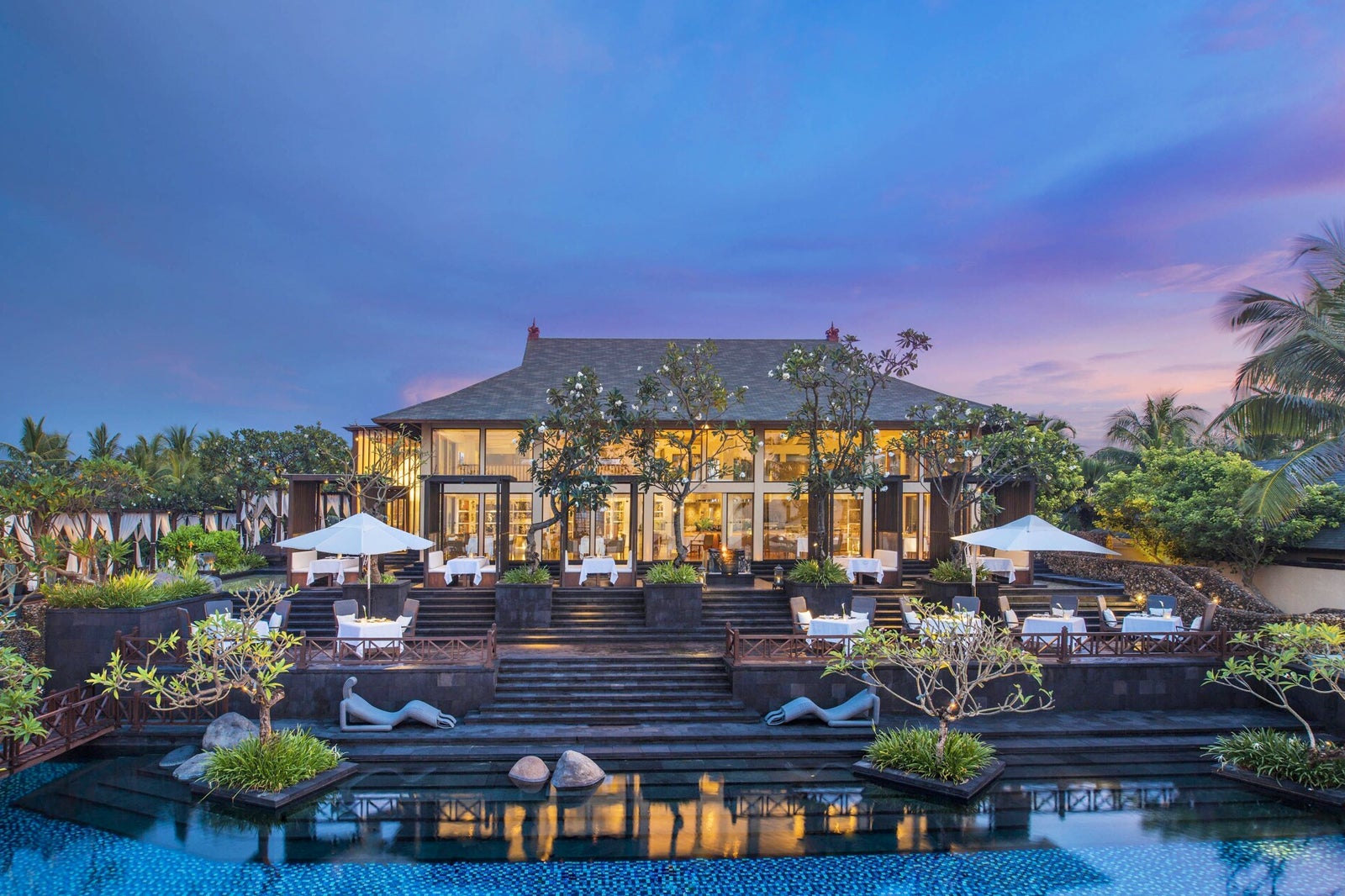 Kayuputi Restaurant at St. Regis Bali Resort
Location: The St. Regis Bali Resort, Kawasan Pariwisata Nusa Dua, Blok Lot S6, Nusa Dua, Badung, Bali 80363, Indonesia
Open: Daily from 12pm to 11pm
Phone: +62 (0)361 3006786
Back to top