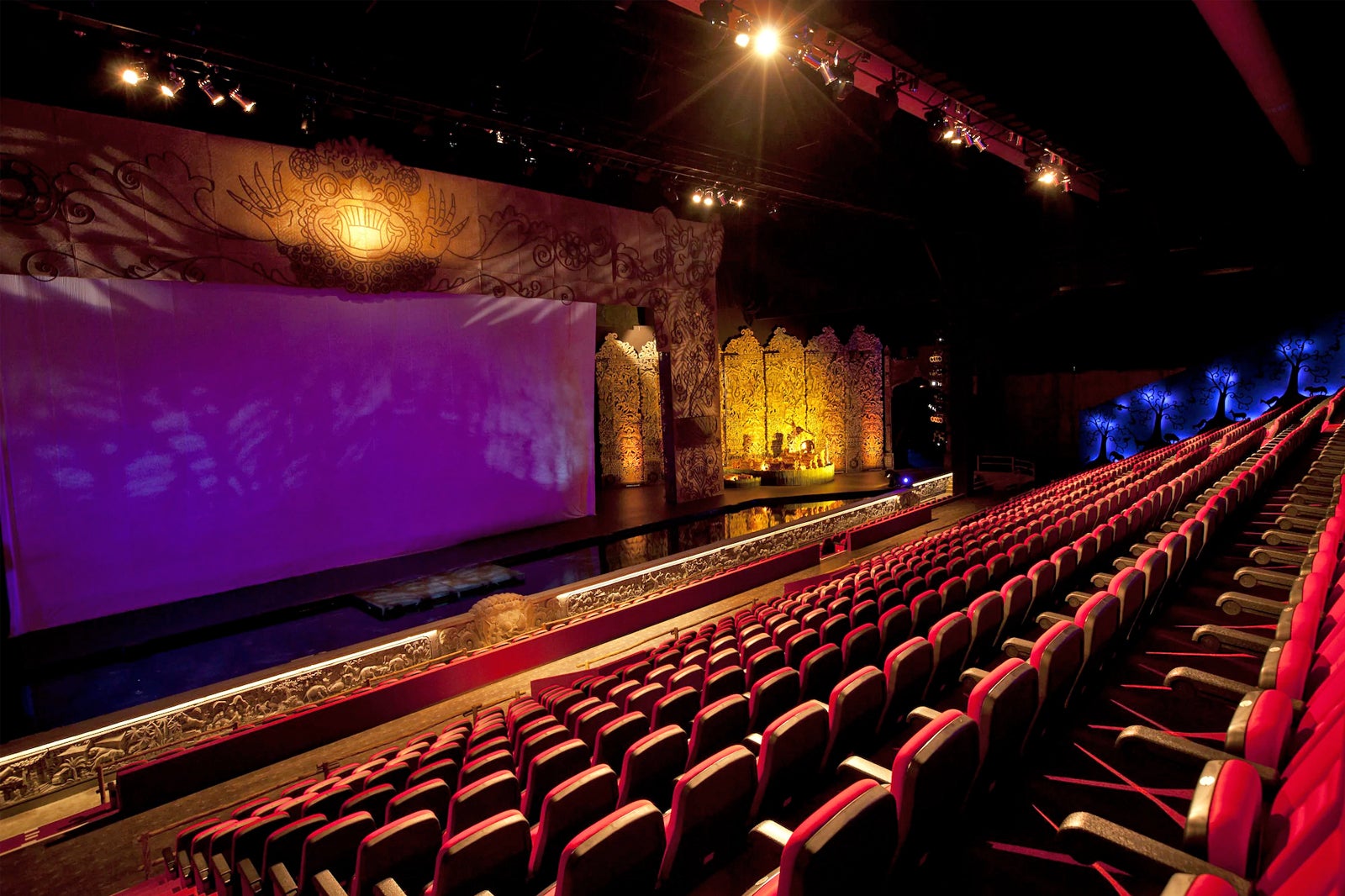 Bali Agung is a theatrical art performance that tells of a Balinese legend through lively dance choreography, vibrant costumes, dramatic music compositions, and modern lighting and sound systems. The hour-long show takes place at Bali Theatre, the modern indoor stage adjacent the MARA RIVER SAFARI LODGE at Bali Safari & Marine Park.
This theatre show brings a modern take on theatrical art performances by presenting a combination of traditional and contemporary dance, modern puppetry brought alive by 150 performers, along with several animals of the Bali Safari Marine Park as their co-stars.
Bali Agung Show - one of the highlights of 31 Best Things to Do in Ubud and 14 Best Traditional Dance Shows in Bali (Read all about Bali here)
Bali Agung Show highlights
The story is about the epic Balinese love tale of King Sri Jayapangus and Chinese princess Kang Ching Wei. It unfolds as a retelling by a shadow puppeteer who narrates most of the show with his son. The pair, in conversation, reveal many important aspects to accompany the stage performances.
Episodes are interspersed with scenes depicting the island's culture and village life. A royal palatial atmosphere and various stage elements that form fantastical dream realms serve as settings for the romance and heroism depicted in the tale.
The performances take you on a journey that recounts the romantic, tragic and heroic epic of the 2 main characters, culminating in the king's intertwining romance with Dewi Danu, the water goddess of the volcanic lake of Mount Batur.
The opening scenes present a regal parade with the king's character riding an elephant, followed by his loyal subjects and various animals from the Bali Safari & Marine Park. Some scenes have real ducks and boatmen pedalling across a pond in front of the main stage.
Good to know about Bali Agung Show
Bali Agung Show has English narrations, but you'll be able to read short narrations in several languages before the performance. The show takes place at 2.30pm and lasts for about an hour. The Bali Theatre has specially designed props, curtains and water cannons that bring dramatic effects to the performance.
Bali Agung Show
Location: Bali Safari and Marine Park, Jalan Prof. Dr. Ida Bagus Mantra Km. 19.8, Serongga, Gianyar, Bali 80551, Indonesia
Open: Tuesday–Sunday from 2.30pm to 3.30pm (closed on Mondays)
Phone: +62 (0)361 950000
Back to top