Sian Ka'an Biosphere in Tulum
A Wildlife-Rich Nature Reserve With Epic Boating Excursions
The Sian Ka'an Biosphere Reserve is a UNESCO-listed nature park just south of Tulum on Mexico's tropical Yucatán Peninsula. Unlike other parts of the Riviera Maya, Sian Ka'an remains unaffected by the pitfalls of mass tourism. Thus, the biodiverse site gives visitors the chance to experience the region's enchanting flora and fauna away from the crowds. Travellers commonly spot crocodiles, dolphins, and turtles in its murky mangrove swamps, while colourful birdlife flocks through the trees above.
The wildlife-rich area became a UNESCO World Heritage site in 1987 to protect its fragile ecosystem – logging, mining, and fishing remain prohibited today. Spanning a staggering 2,797 sq km (about the size of nearby Cozumel), the sprawling expanse can be daunting at first glance. Read on to learn more about the highlights, features, and essential information to help you plan your trip to this remarkable site.
Sian Ka'an Biosphere in Tulum - one of the highlights of 10 Best Things to Do in Tulum for Couples and 10 Best Things to Do in Tulum (Read all about Tulum here)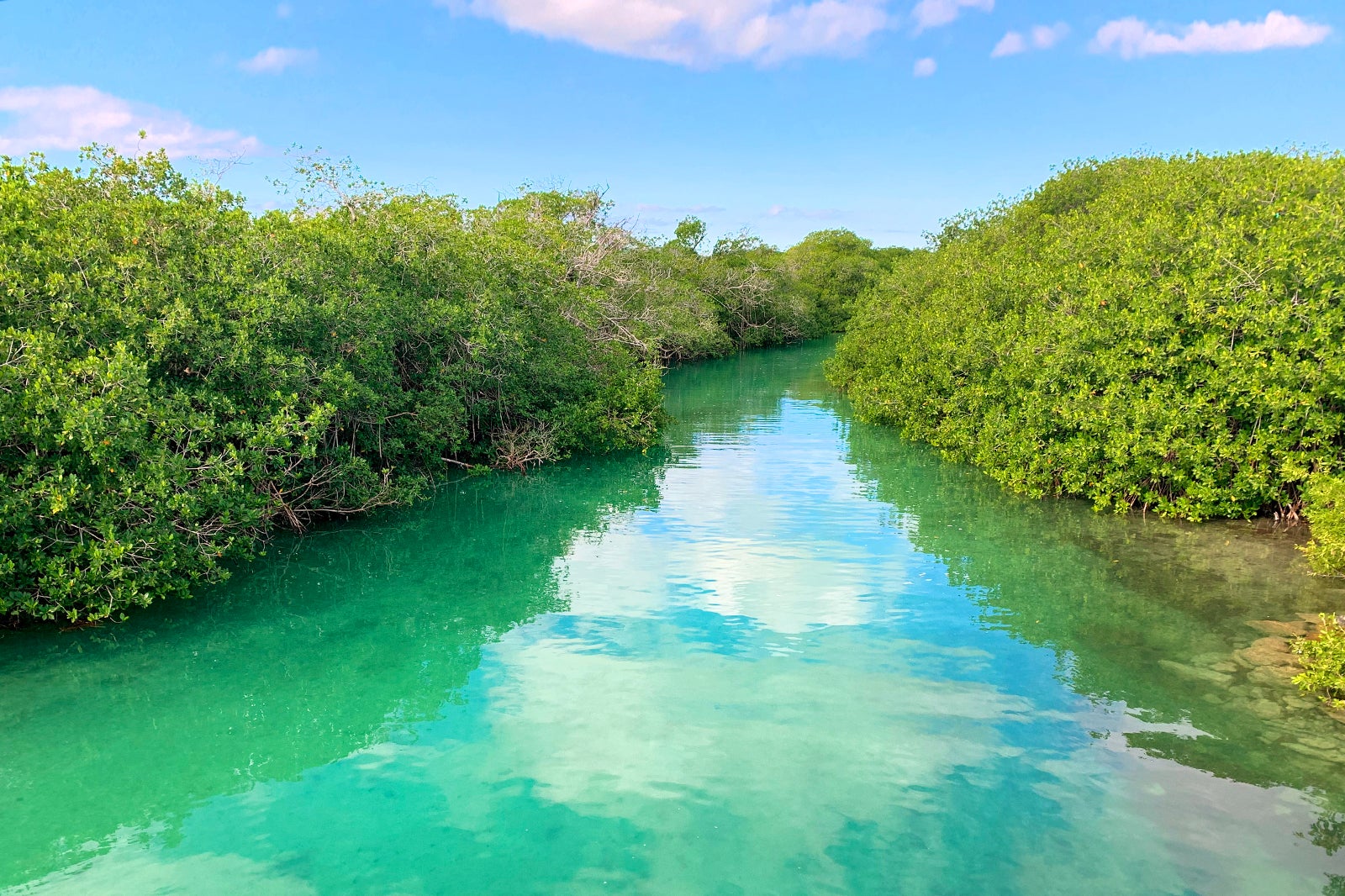 What are the highlights of the Sian Ka'an Biosphere?
The highlight of any trip to Sian Ka'an Biosphere Reserve is the wildlife safari boat tour, which departs from the docks at Muyil (or Punta Allen). The scenic 2-hour jaunt weaves through glistening lagoons and narrow canals, with an expert local guide on-hand to point out wildlife on the way. You're almost guaranteed to spot crocs, dolphins, and turtles here – lucky travellers may even sight a manta ray or manatee. A 4-hour trip is also on offer for serious wildlife enthusiasts.
Before or after the cruise, pop by the crumbling Mayan ruins at Muyil. Although these aren't as spectacular as those in Coba or Tulum, they're impressive enough for a quick detour – the El Castillo pyramid is worth a look. Best of all, there's a chance you'll get the entire ruins to yourself as it attracts far fewer visitors than it's more famous neighbours.
Getting between the ruins and the docks requires a quick hike through the thick Yucatán jungle. But don't worry, the 500-metre trip traverses a flat boardwalk and only takes 20 minutes or so. Halfway through, you'll find a rickety observation tower. Climb to the top for lovely views of the jungle canopy.
Another memorable activity is to jump on a float and drift downstream through an ancient Mayan canal. Crystal-clear waters make it easy to spot fish and amphibious critters on the 20-minute trip, then you get the chance to snorkel at the end. The float often comes included in the boat safari, and your captain will drop you off and pick you up at the end.
Natural diversity in the Sian Ka'an Biosphere
As the biggest protected reserve in the entire Mexican Caribbean, Sian Ka'an is home to a bewildering array of flora and fauna. Tropical forests and mangrove marshes comprise most of the vast expanse, housing 400 species of fish and 300 types of birds. Exotic cats like jaguars, pumas, and ocelots roam through the jungle, although it's unlikely you'll spot these elusive beasts on a tour.
Over 850 vascular plants grow in the park, including 120 species of wooded trees. The latter house howling troops of spider monkeys and provide shelter for mammals like the Central American Tapir. Amphibians and reptiles like turtles and crocodiles roam the rivers and canals. Its 120 km of undeveloped coastline has a barrier reef that's teeming with marine life.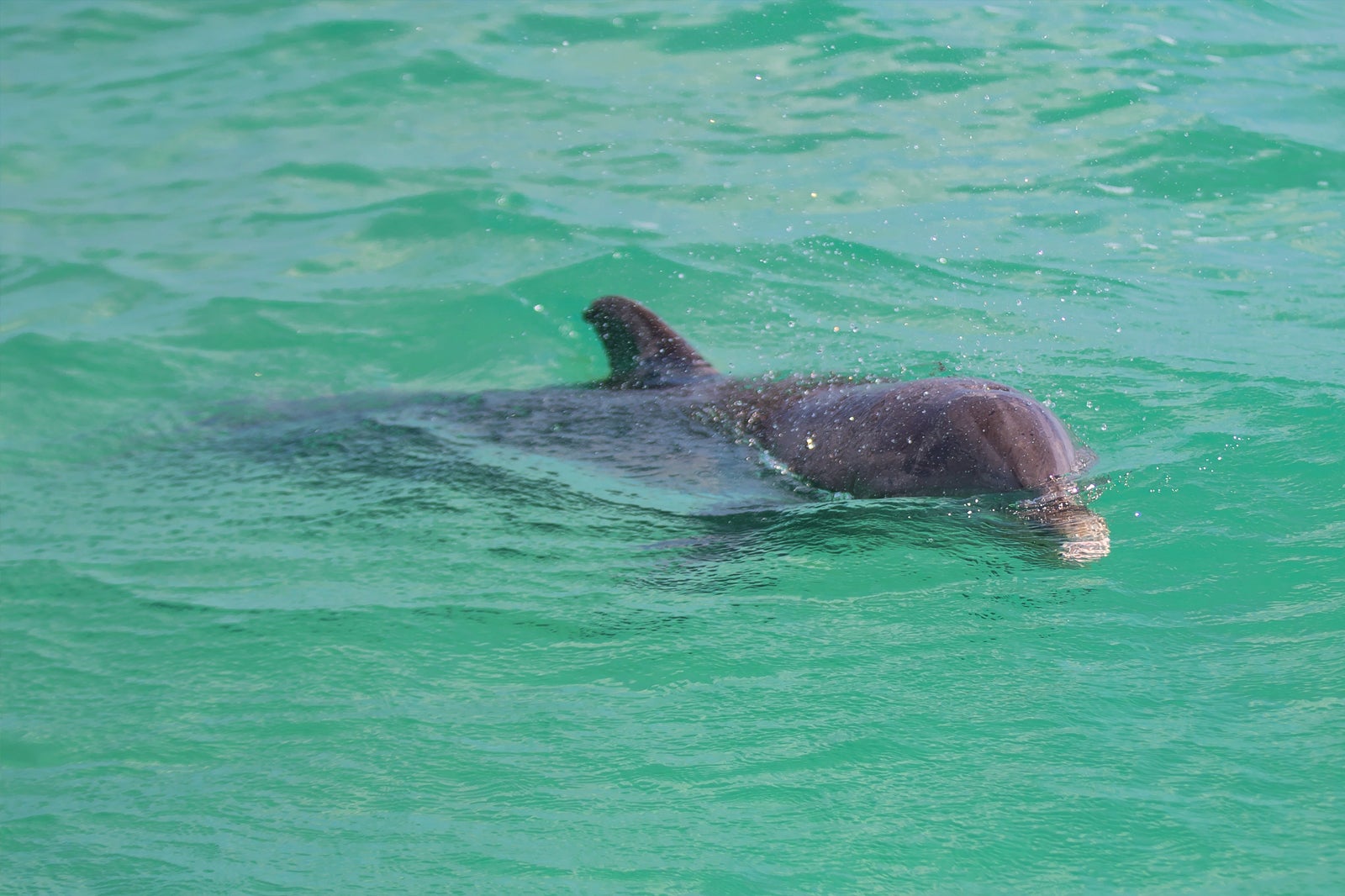 Good to know about the Sian Ka'an Biosphere
Sian Ka'an means "Origin of the Sky" in Mayan, a reference to its immense natural beauty. The easiest way to visit is on a tour from Tulum, which typically includes a boat trip, float, and a visit to the ruins.
If you'd rather go solo, grab a bus ticket to Chunyaxché from Tulum's ADO Bus station and hop off at Munyil. From there, it's an easy walk to the ruins and the boat dock. A modest entry fee applies. Solo travellers won't save much money going independently because the boatmen charge per departure rather than per person. Grab a group if you can to get a better deal.
Muyil resides just 20 minutes south of Tulum, making Sian Ka'an an easy day trip for anyone staying in the bustling resort town. If you'd like to sleep within the biosphere itself, Punta Allen runs boat tours and has a few basic hotels. However, its rough and muddy access road isn't for the faint of heart and can wash away entirely in the wet.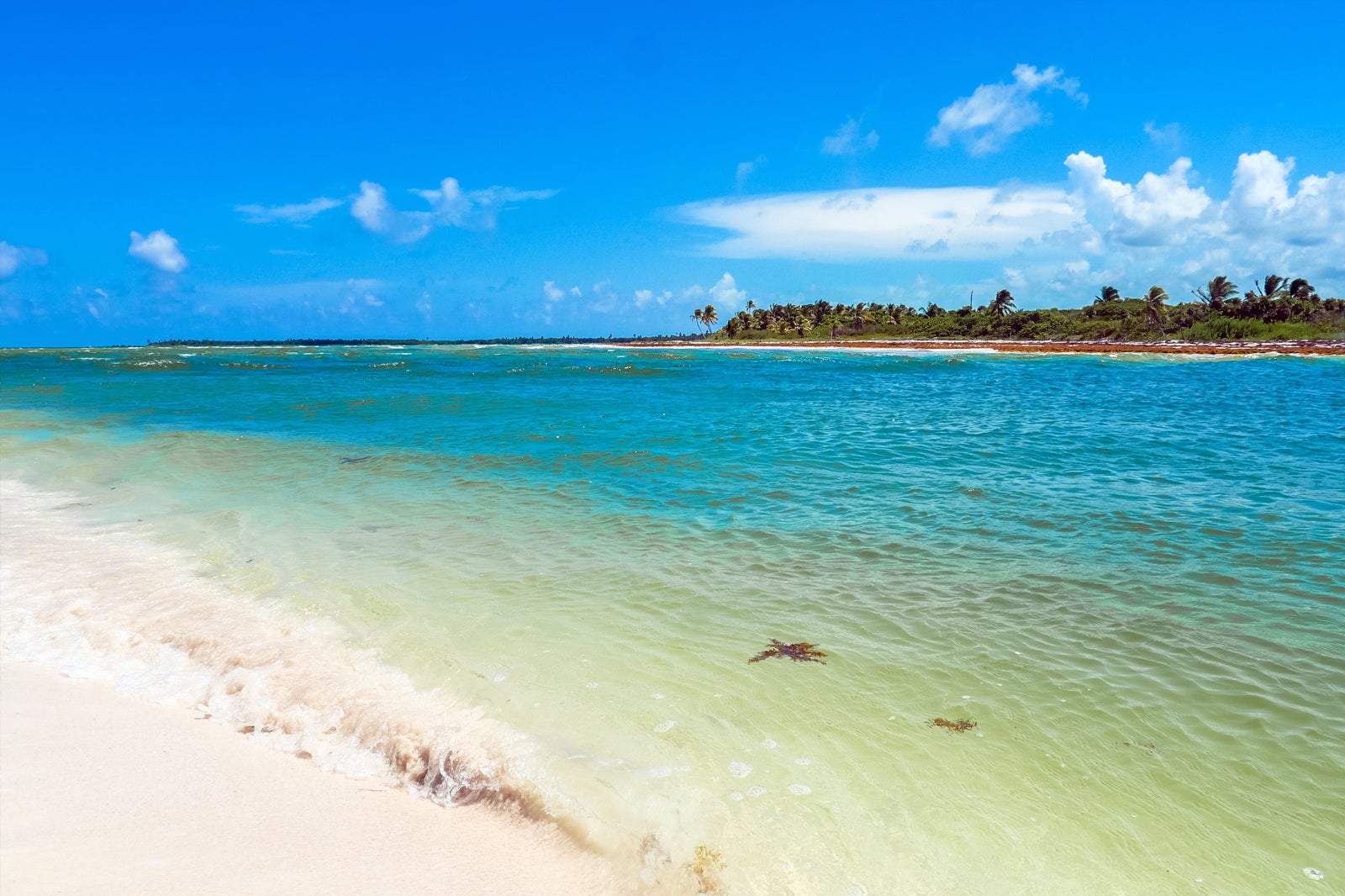 Sian Ka'an Biosphere in Tulum
Location: Felipe Carrillo Puerto, Quintana Roo, Mexico
Phone: +52 984 145 6696
Back to top