8 Best Restaurants in Uluwatu
Where to Eat and What to Eat Around Uluwatu
The best restaurants in Uluwatu include a selection of fine dining restaurants at some of the 5-star resorts that dot the limestone cliff-fringed southern peninsula. They offer a wide range of options, from Italian, Asian and fusion cuisine to Indonesian and local favourites with a twist. Some of the luxury resort restaurants also serve local haute cuisine worth sampling.
Whether you're looking for a place to kick back and relax with a chilled cocktail at hand together with dramatic sunsets or want a great time with a shared dining experience over tapas and Mediterranean-style dishes, there's a choice within these selections of the best restaurants in Uluwatu.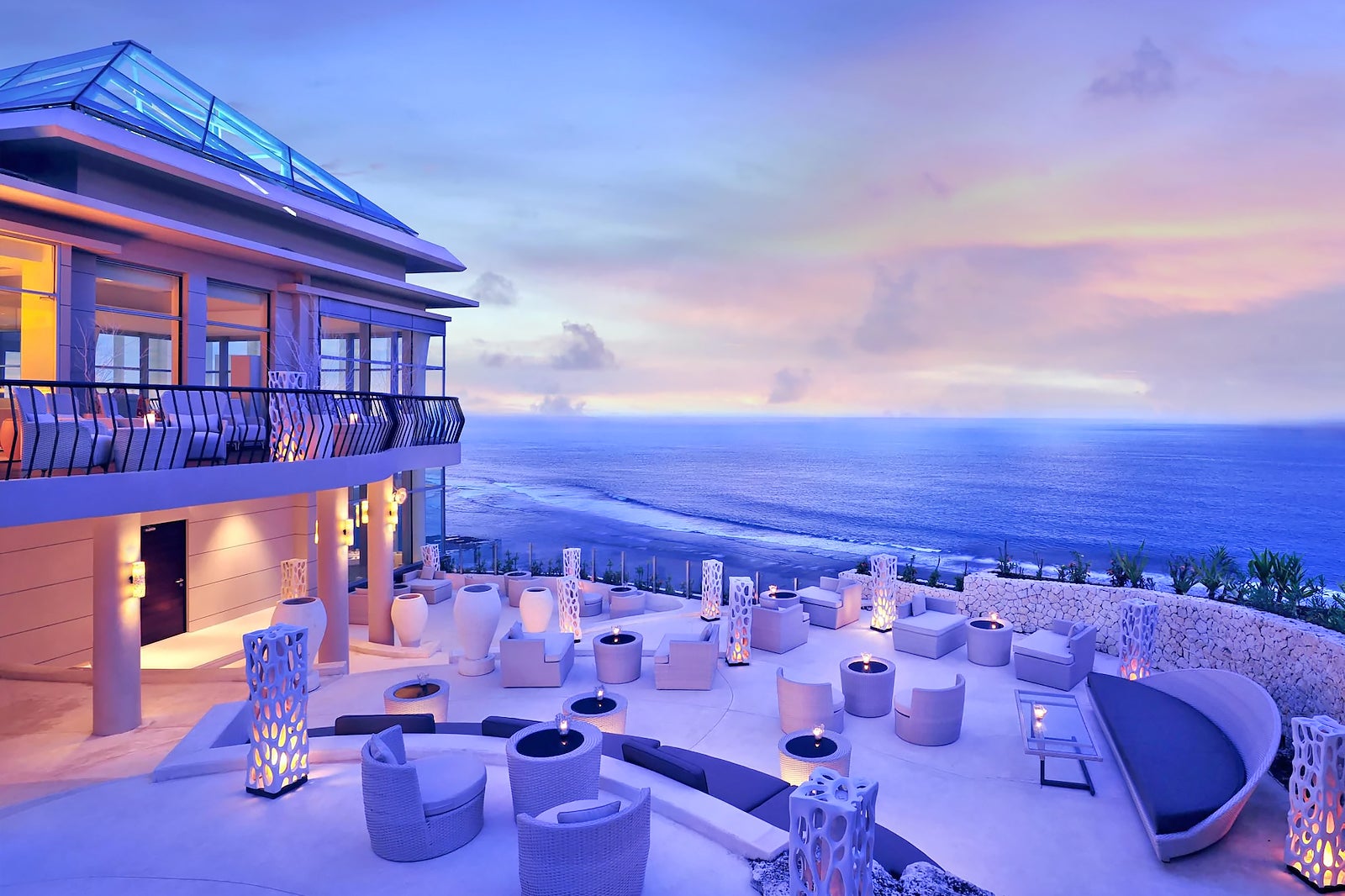 Ju-Ma-Na at Banyan Tree Ungasan
Ju-Ma-Na at the Banyan Tree Ungasan not only offers a fine-dining experience. It couples it with spectacular views from its 70-metre-high cliff perch overlooking the Indian Ocean. Comprising a main restaurant and bar, Ju-Ma-Na offers ala carte and degustation menus in a romantic setting on 2 levels. Its spacious wooden deck is also one of the island's best chill-out spots for those who enjoy ocean breezes under the stars.
Not to be missed are its signature cocktails such as chilli martini with the glass rim garnished with curled chilli skin, or the lava lamp cocktail – champagne in a glass with a bowl of bright strawberry mash and 'ginger caviar'. The menu presents a rare and eclectic selection of French cuisine, with recommended dishes including Wagyu No. 9 Duo, featuring grilled striploin and syrah-braised short ribs. Its wine collection boasts fine and often rare selections.
Location: Banyan Tree Ungasan, Jalan Melasti, Banjar Kelod, Ungasan, Badung, Bali 80364, Indonesia
Open: Daily from 12pm to 11pm
Phone: +62 (0)361 3007000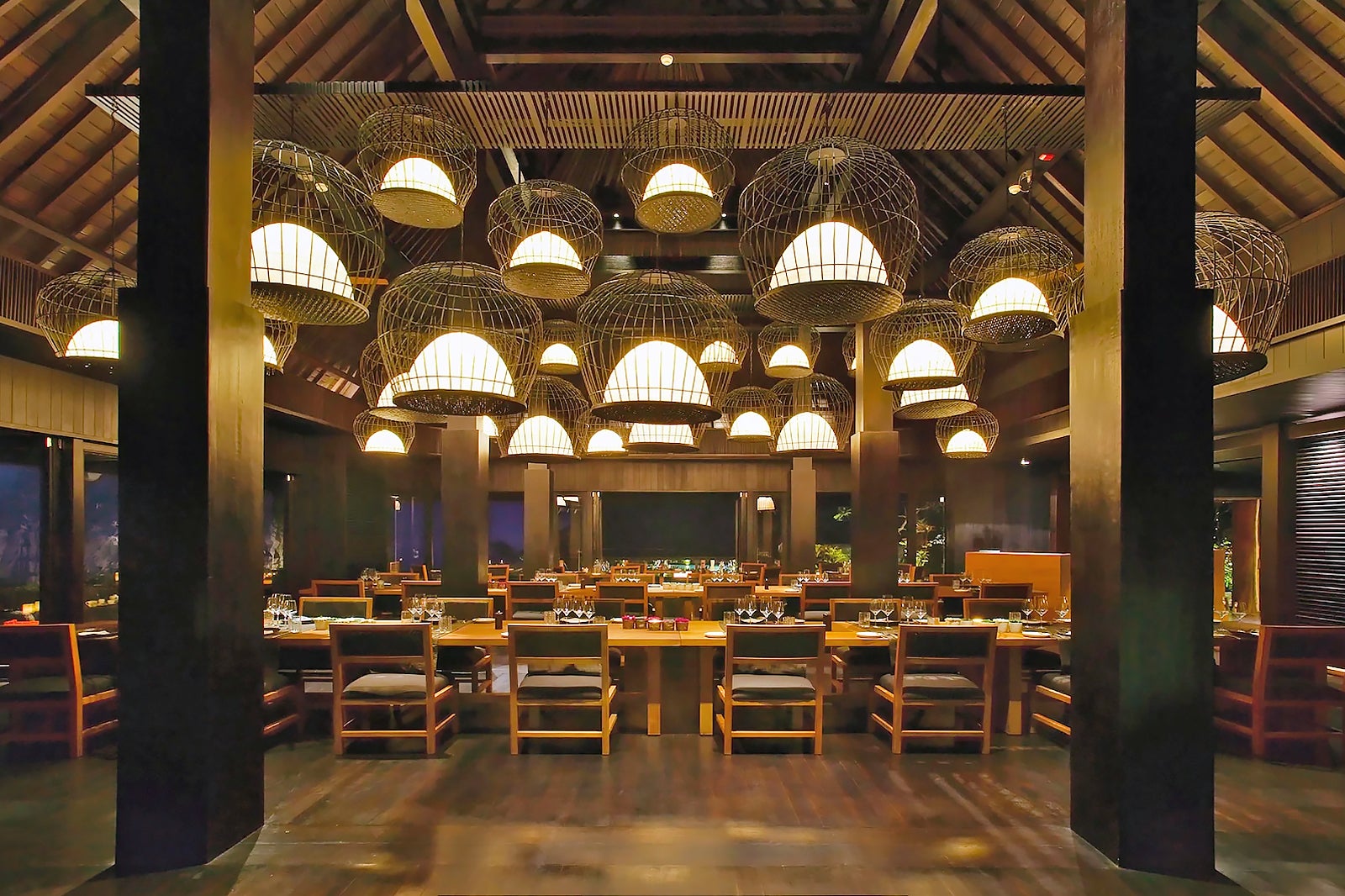 Sangkar at Bulgari Resort Bali
For Indonesian haute cuisine, Sangkar Restaurant at the Bulgari Resort Bali is hard to beat. The interior of the main dining hall is romantic, subtly-lit with lamps in the form of rooster cages hanging from its open-beam ceilings. A cocktail and alfresco dining area overlooks the cliff and the wide seascape.
Recommended choices on the menu include succulent Wagyu beef carpaccio and a wagyu burger. Other must-tries include foie gras soup, grilled bass with saffron rice, and there's an irresistible list of desserts. Touches of Japanese, Thai, Malay, and Vietnamese cuisines are evident in some of its selections, each brought to a higher level of presentation by their highly skilled culinary brigade.
Location: Bulgari Hotels & Resorts, Bali, Jalan Goa Lempeh, Banjar Dinas Kangin, Pecatu, Badung, Bali 80361, Indonesia
Open: Daily from 7am to 10pm
Phone: +62 (0)361 8471000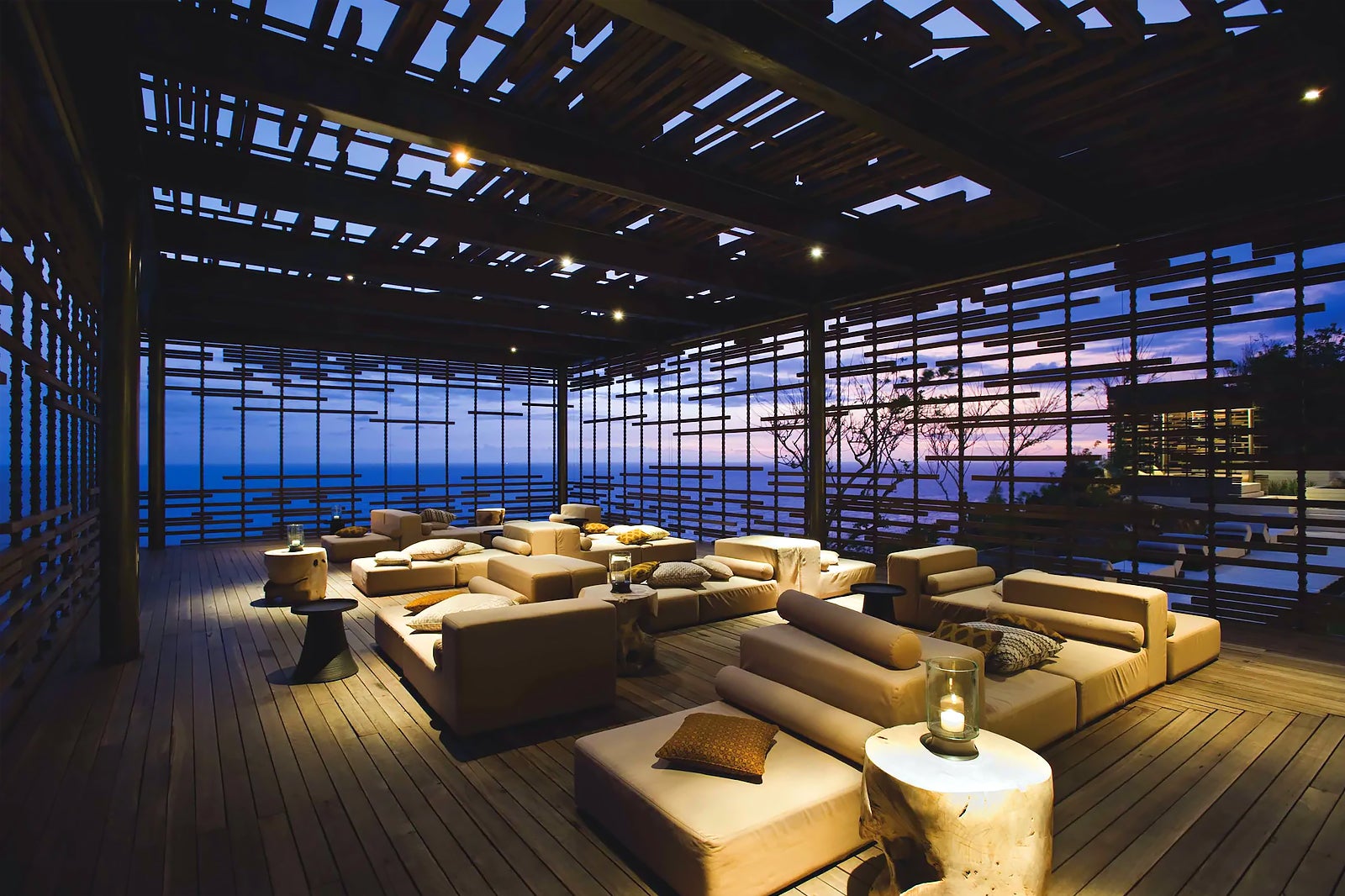 The Warung at Alila Villas Uluwatu
The Warung offers the perfect mix of authentic Indonesian cuisine and stellar views of the Indian Ocean. The fine-dining restaurant is located at Alila Villas Uluwatu, a luxury resort with a clifftop location, making the venue ideal for sunset gazing. The food is up to the same high standards as the views.
Location: Alila Villas Uluwatu, Jalan Belimbing Sari, Banjar Tambiyak, Pecatu, Badung, Bali 80364, Indonesia
Open: Daily from 11am to 11pm
Phone: +62 (0)361 8482166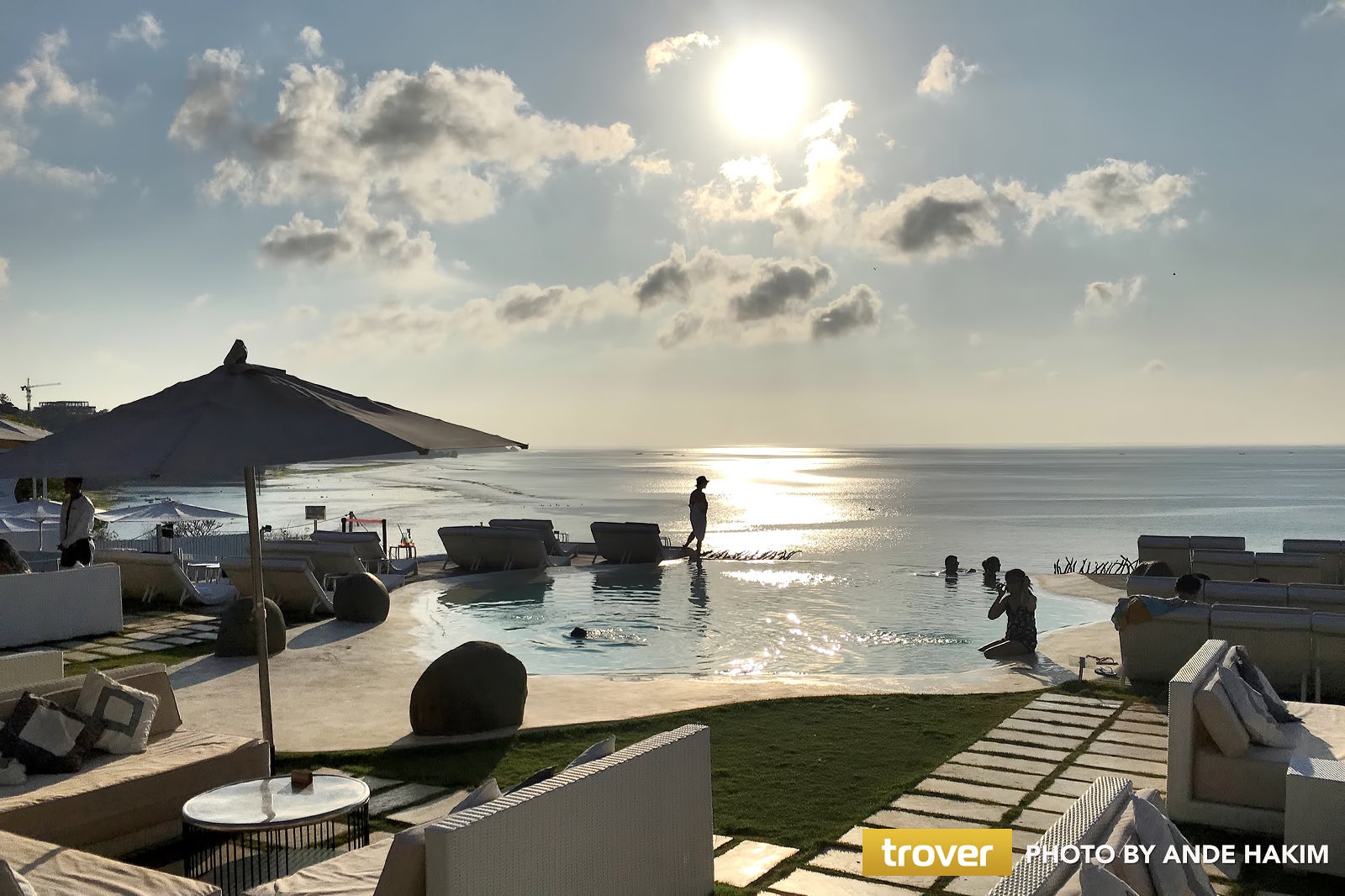 El Kabron Restaurant & Cliff Club is the go-to chill-out spot if you are looking for a cliff-top sunset experience in Pecatu, which is also pleasantly remote and away from the crowds. The beach club and restaurant is located right between the premier surf spots of Dreamland Beach and Impossibles.
El Kabron provides guests with a 180-degree Indian Ocean seascape, whether they are dining or chilling out with a cocktail. Delights coming out from the kitchen include traditional Spanish and Mediterranean dishes crafted by its Executive Chef who hails from Barcelona who led the kitchen of the 3-Michelin-star Restaurant San Pau.
Location: Jalan Pantai Cemongkak, Pecatu, Badung, Bali 80361, Indonesia
Open: Daily from 10am to 10pm
Phone: +62 (0)878-6171-7212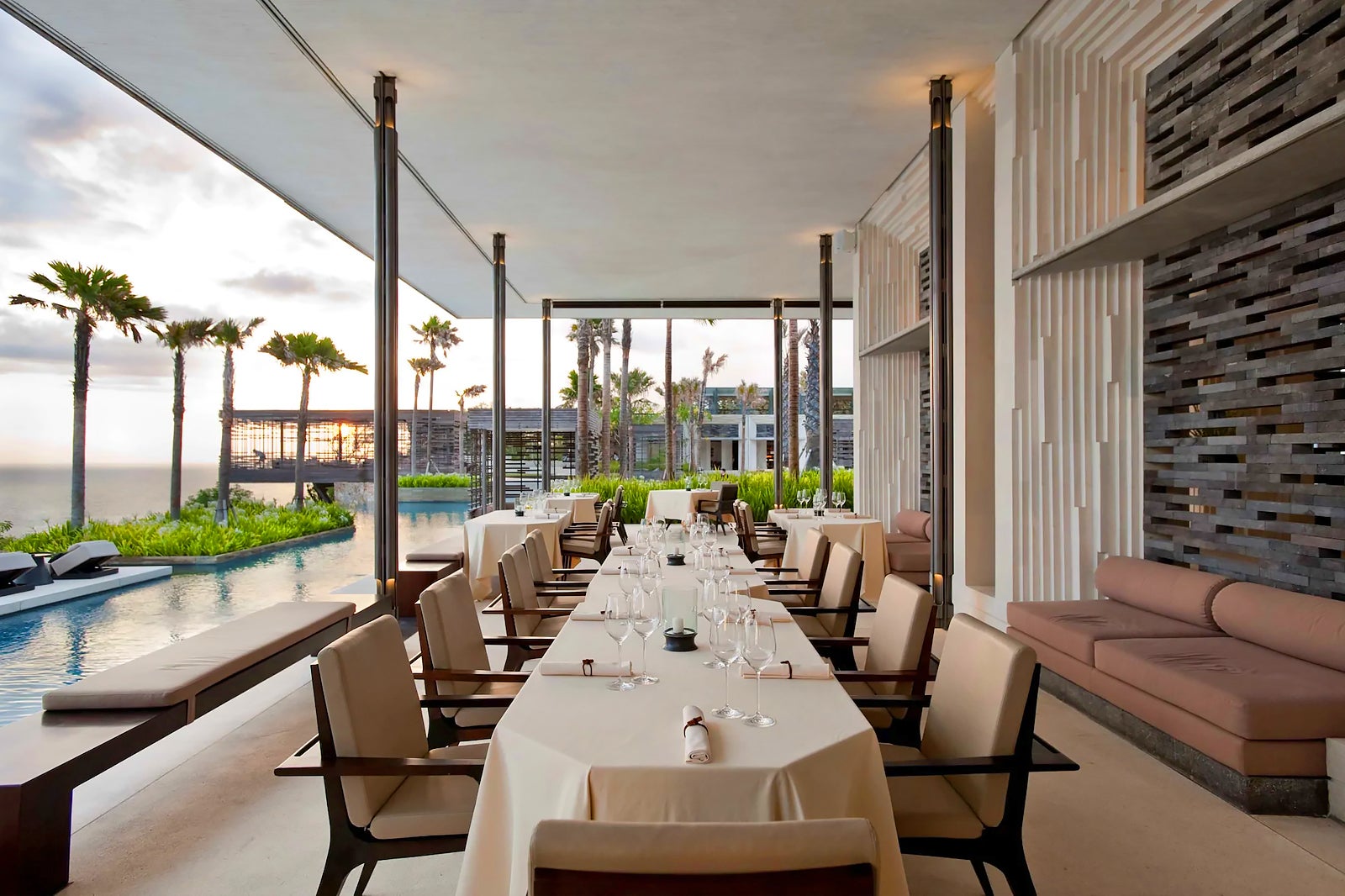 CIRE at Alila Villas Uluwatu
CIRE is the signature restaurant at Alila Villas Uluwatu, which presents a menu that marries East Asian flavours and ingredients with western cooking techniques. The menu includes ala carte selections and daily-changing 4-course meals that promote healthy dishes using sustainable, locally-sourced produce. The restaurant setting is romantic and features unique architectural features with the vast Indian Ocean as a backdrop.
Location: Alila Villas Uluwatu, Jalan Belimbing Sari, Banjar Tambiyak, Pecatu, Badung, Bali 80362, Indonesia
Open: Daily from 7am to 11pm
Phone: +62 (0)361 8482166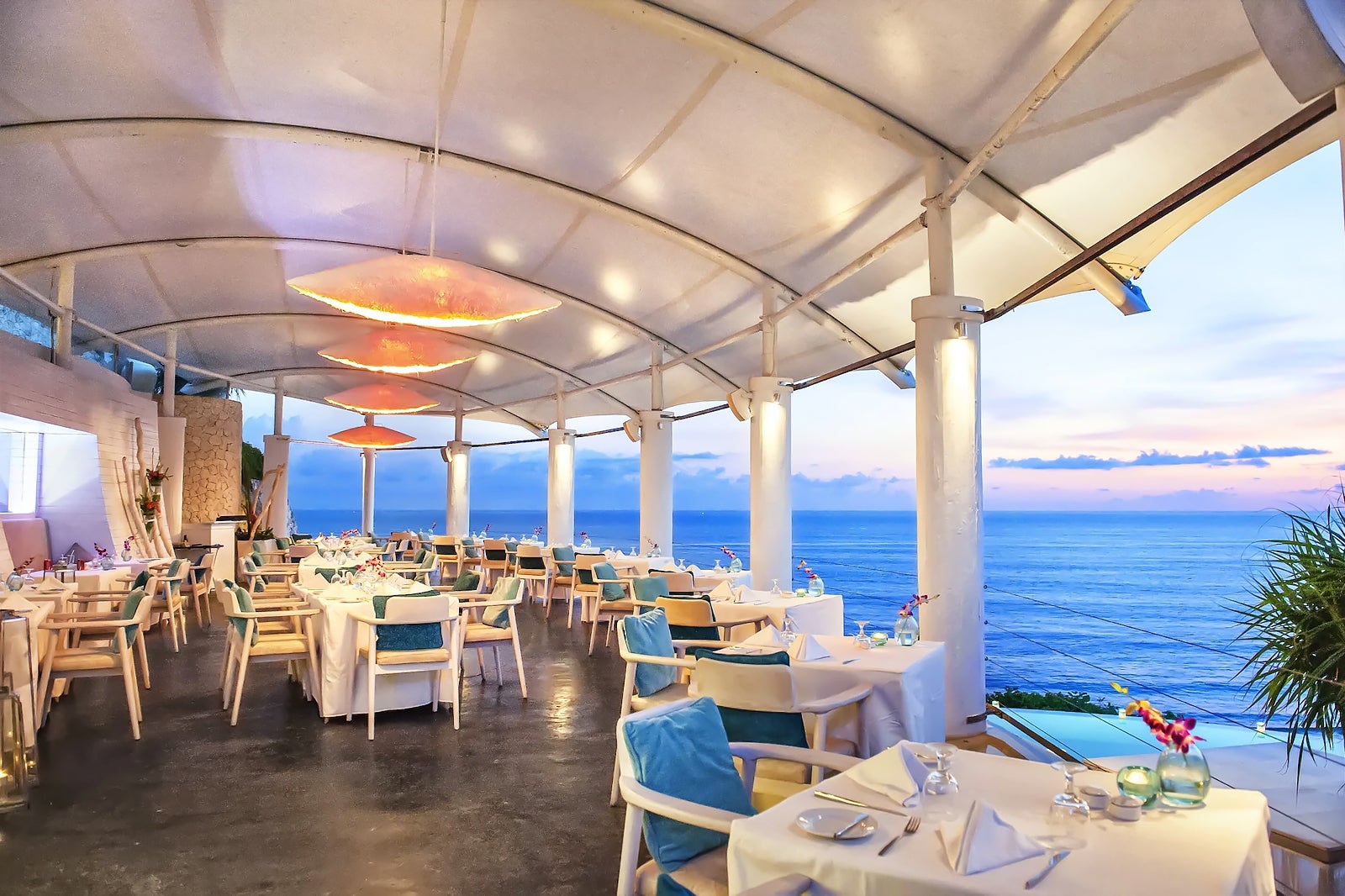 Di Mare at Karma Kandara Resort
Di Mare is the signature ocean-view restaurant of the Karma Kandara Resort, which offers Mediterranean-style fine dining and a bird's-eye view over the horizon and surf 85 metres below. The architecture features a pavilion with sail-like roofs.
The emphasis is on seafood and must-tries include sea bream with bronze fennel and French tarragon dressing, black linguine with freshwater clams and a high-grade Wagyu in a Calabrese red wine sauce. The wine cellar stocks over 3,000 wines from around the globe, ready for pairings and special moments.
Location: Karma Kandara Resort, Jalan Villa Kandara, Banjar Wijaya Kusuma, Ungasan, Badung, Bali 80362, Indonesia
Open: Daily from 7am to 11pm
Phone: +62 (0)361 8482200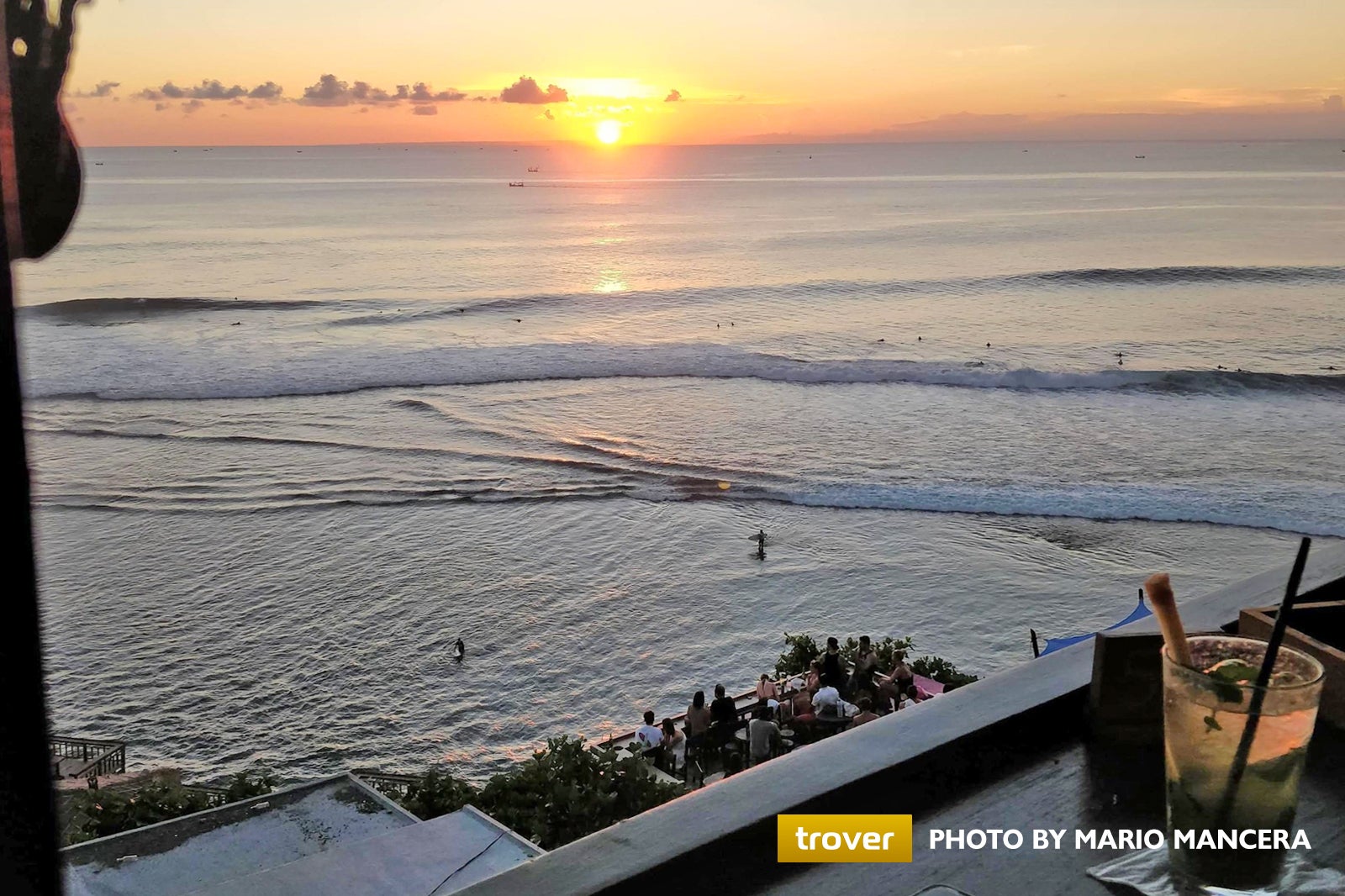 Single Fin is a surfer's hangout and dining spot conveniently overlooking one of Bali's best-known surf spots: Suluban Beach, otherwise known as Blue Point. It offers a laidback atmosphere, with great bites such as hearty salads or delicious pizzas to share, together with coffee or margaritas to pair with the sunsets. It's also a great spot to kick back and enjoy the gruelling action displayed by the pro wave riders down below.
Onsite is a surf shop that is chock-full of men's and women's surfwear, gear, books, photos and surf memorabilia. A juice bar presses and blends refreshing tropical fruit juices and smoothies. Not to miss are the Sunday sunset sessions, which feature live gigs from local bands and guest DJs. The best spot is, of course, the sunset patio, for which bookings are recommended.
Location: Jalan Labuan Sait, Suluban, Pecatu, Badung, Bali 80361, Indonesia
Open: Mondays, Tuesdays and Tursdays from 8am to 11pm, Wednesdays and Sundays from 8am to 1am, Friday–Saturday from 8am to 12am
Phone: +62 (0) 361 769941
Warung Cikgo is one of a handful of local restaurants in the Pecatu area, south of Jimbaran, which offers a great open-air Balinese-style setting. It also has a menu that predominantly promotes its special grilled pork ribs and seafood barbecues. Go for the combined dish of crab and pork chops, which come served with delicious sauces that range from hot n' spicy to milder options. There's also an array of Indonesian and Asian cuisine to choose from, from fried noodles to spiced chicken wings and kebabs.
Refreshing drinks include Cikgo's own recipes, such as the 'fresh green garden' that consists of mint leaves and orange and pineapple juice topped with soda. There's also the 'jungle green apple' that is a blend of fresh lemon, green apple, orange juice and mint leaves.
Location: Jalan Raya Uluwatu No.888, Pecatu, Ungasan, Badung, Bali 80361, Indonesia
Open: Daily from 12pm to 10pm
Phone: +62 (0)822-3756-5788