Getting married in Bali is popular for couples looking for an exotic and romantic setting to exchange vows. As one of the world's best island destinations to tie the knot, Bali offers plenty of luxury resorts and hotels with dedicated wedding venues, and with professional planners available to take care of every detail.
Instead of having a western-style wedding, you can get married like a Balinese couple, complete with full traditional costumes and a priest to officiate the ceremony. We've compiled a mini-guide to what you need to know about getting married in Bali – including the best time to tie the knot, venue options, and legal issues.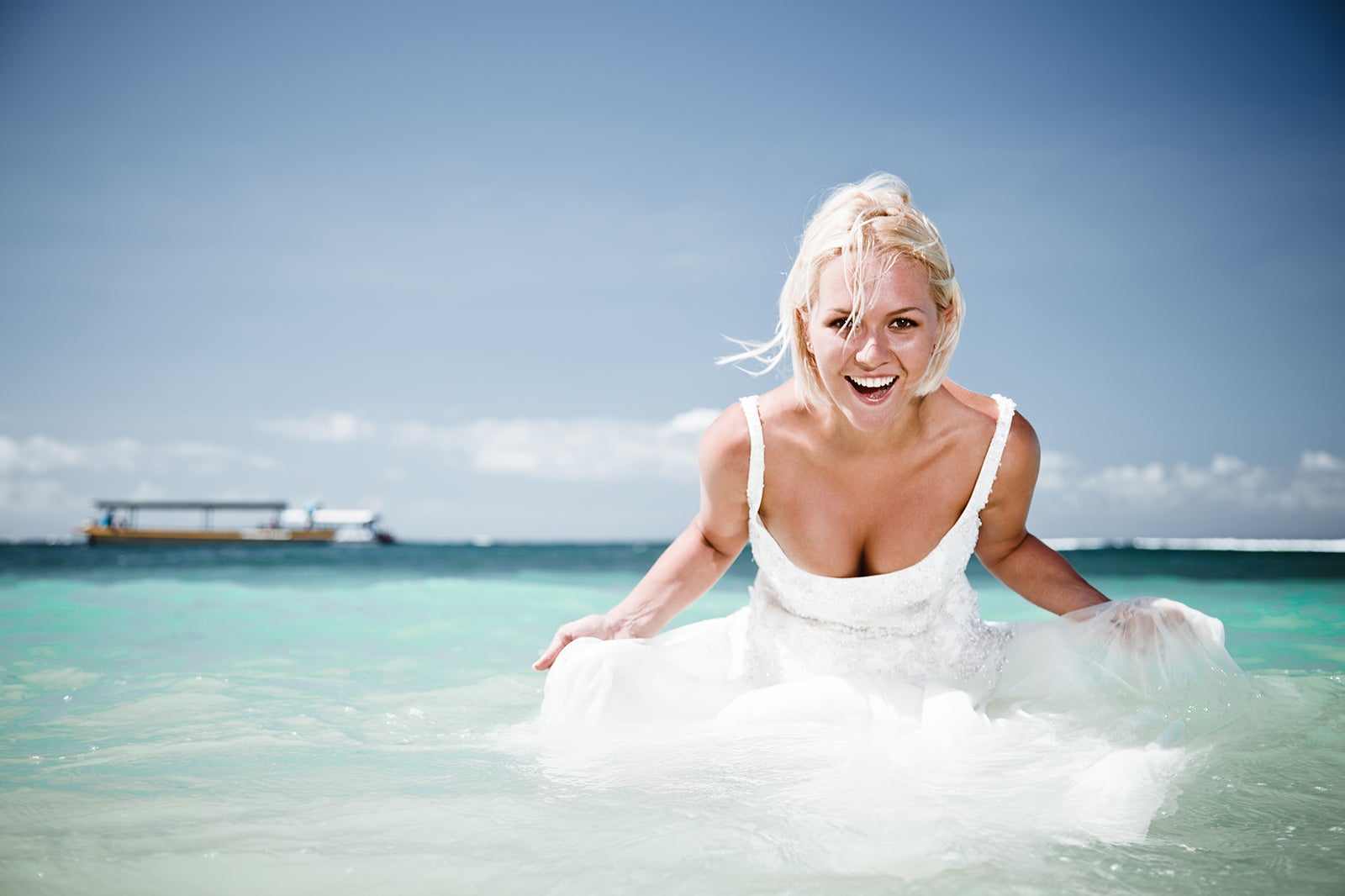 Why get married in Bali?
Bali enjoys a unique and vibrant culture, as well as gorgeous backdrops of pristine beaches and lush highlands. Many luxury hotels and resorts make very good use of their locations, offering memorable setups for those looking to get married in Bali. The island also enjoys sunny days throughout the year, allowing for excellent outdoor weddings on the beach or within a tropical forest.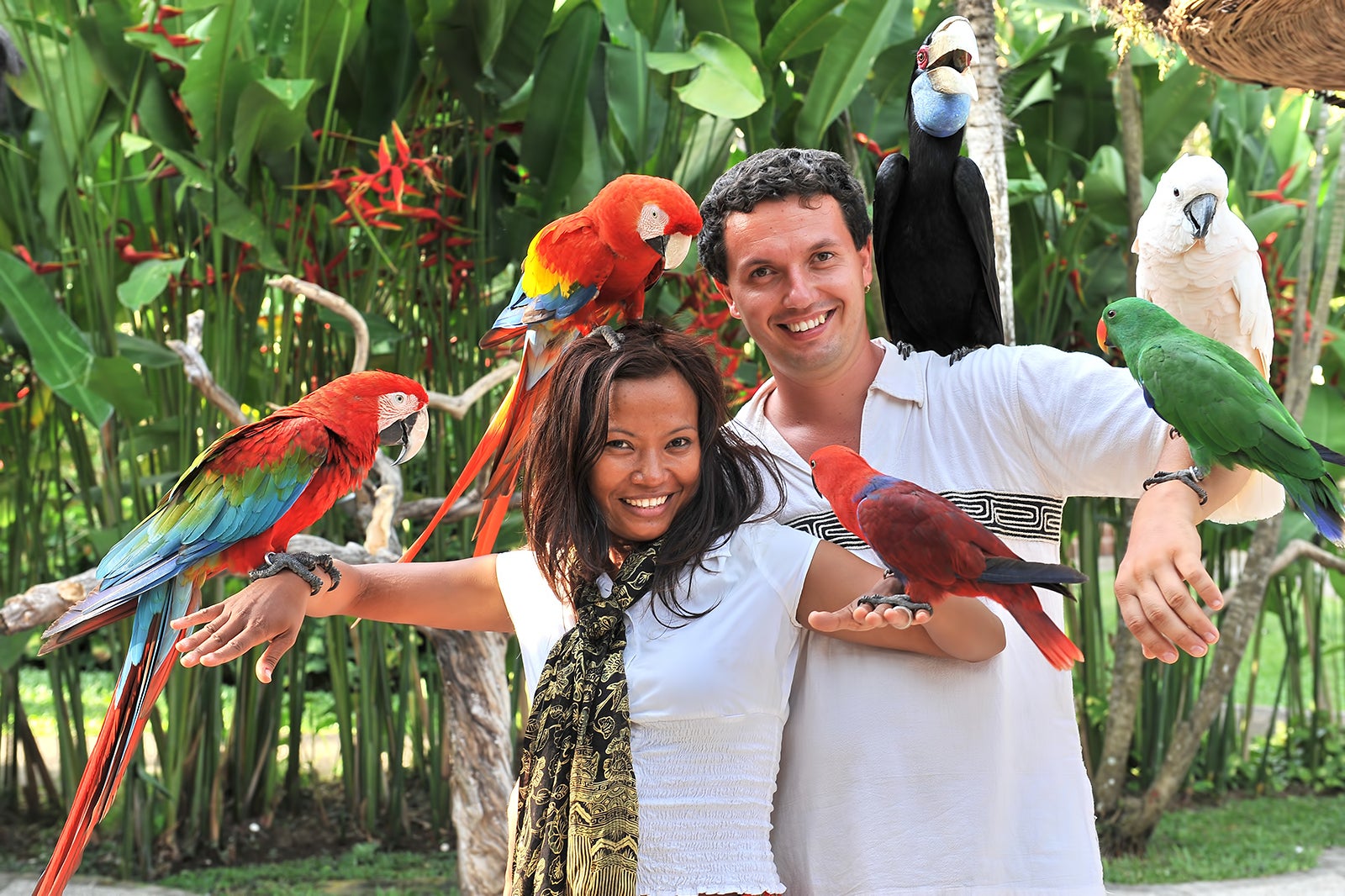 Best time to get married in Bali
The best time to get married in Bali, especially if you're planning an outdoor ceremony, is between May and August. The dry season is when the island enjoys low humidity, blue skies and a cool breeze.
Morning sessions usually take place from 10am to noon, when natural light often results in beautiful wedding photos. If you want a dramatic sunset for your wedding shoot, the best time is from 6.15pm to 7pm.
It's good to know that Bali sometimes experiences unpredictable weather, so rain is always a possibility. Locals believe rain to be a sign of good of luck and prosperity on your wedding day. You can opt for an indoor or ballroom ceremony, which is virtually unaffected by the weather.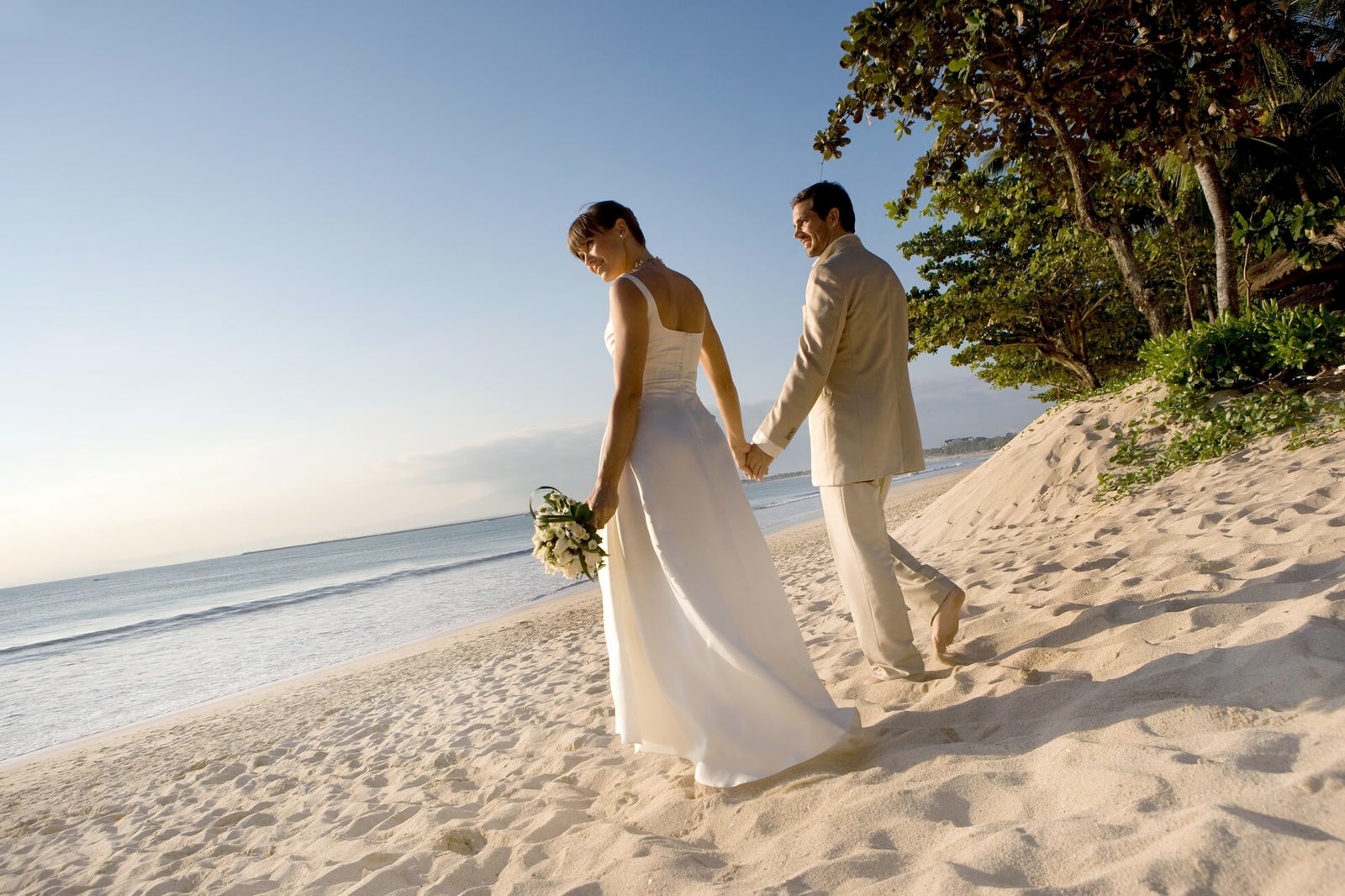 Western weddings in Bali
Western weddings in Bali can be arranged at most 5-star resorts on the island. A celebrant usually officiates the ceremony, but you can request for an official priest in advance. Weddings often take place at the resort's onsite chapel, while venues range from outdoor setups to indoor ballrooms. There are usually wedding planners to help take care of every detail, including floral arrangements, live music, food and wine.
Catholic weddings in Bali
Catholic weddings in Bali can only take place at a catholic church. International couples who wish to marry are required to register, file paperwork, and have a civil celebrant and a priest to officiate their wedding ceremony.
One of the best catholic churches in Bali is the Lady of All Nations (Maria Bunda Segala Bangsa), located at Puja Mandala Complex in Nusa Dua. You can always do the official part of your wedding in your home country, before your non-legal blessing ceremony in Bali with a non-official celebrant.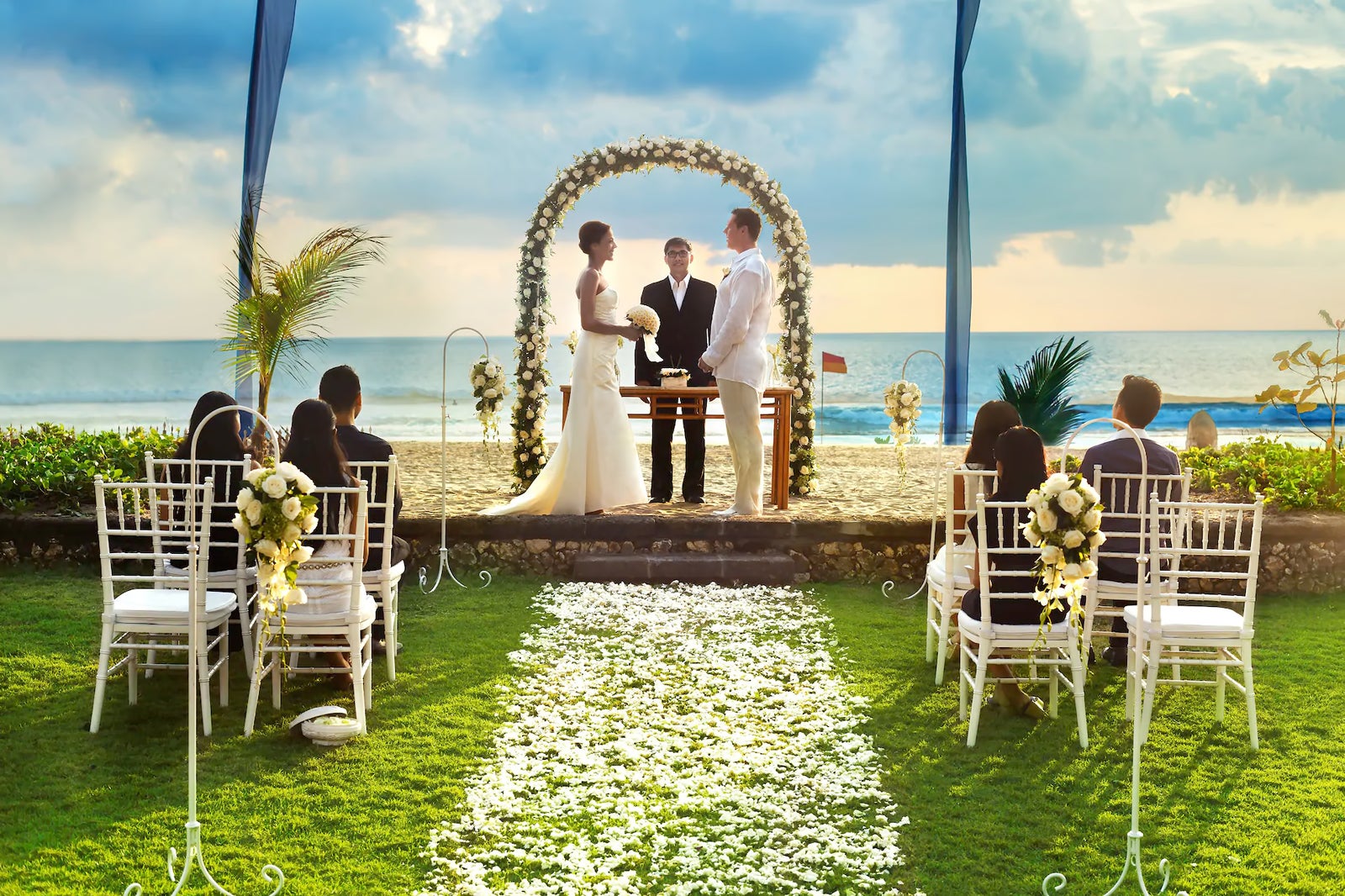 Legal marriages and wedding legality issues in Bali
Most wedding planners in Bali can assist with legal paperwork relating to marriages in Bali. The first stop should be your embassy or consulate to obtain a Letter of No Impediment to Marriage. This letter officially signifies that you are single and may proceed to be married. As a religious country, Indonesia's law recognises marriage to be legit only if it has been carried out according to the guidelines of the respective religions of the bride and groom. Indonesian law applies a minimum age restriction for marriage – no less than 16 for women and 19 for men.
Muslim marriages are registered at KUA, an Islamic religious affairs office. The Indonesian Civil Registry Office (Kantor Pencatatan Sipil) recognises Hindu, Buddhist, Christian-Protestant and Catholic marriages. Note that couples must be of the same religion to be legally married. This office issues a Notice of Intention to Marry, which allows you to have your wedding ceremony. Marriage certificates are produced within a 10-day waiting period.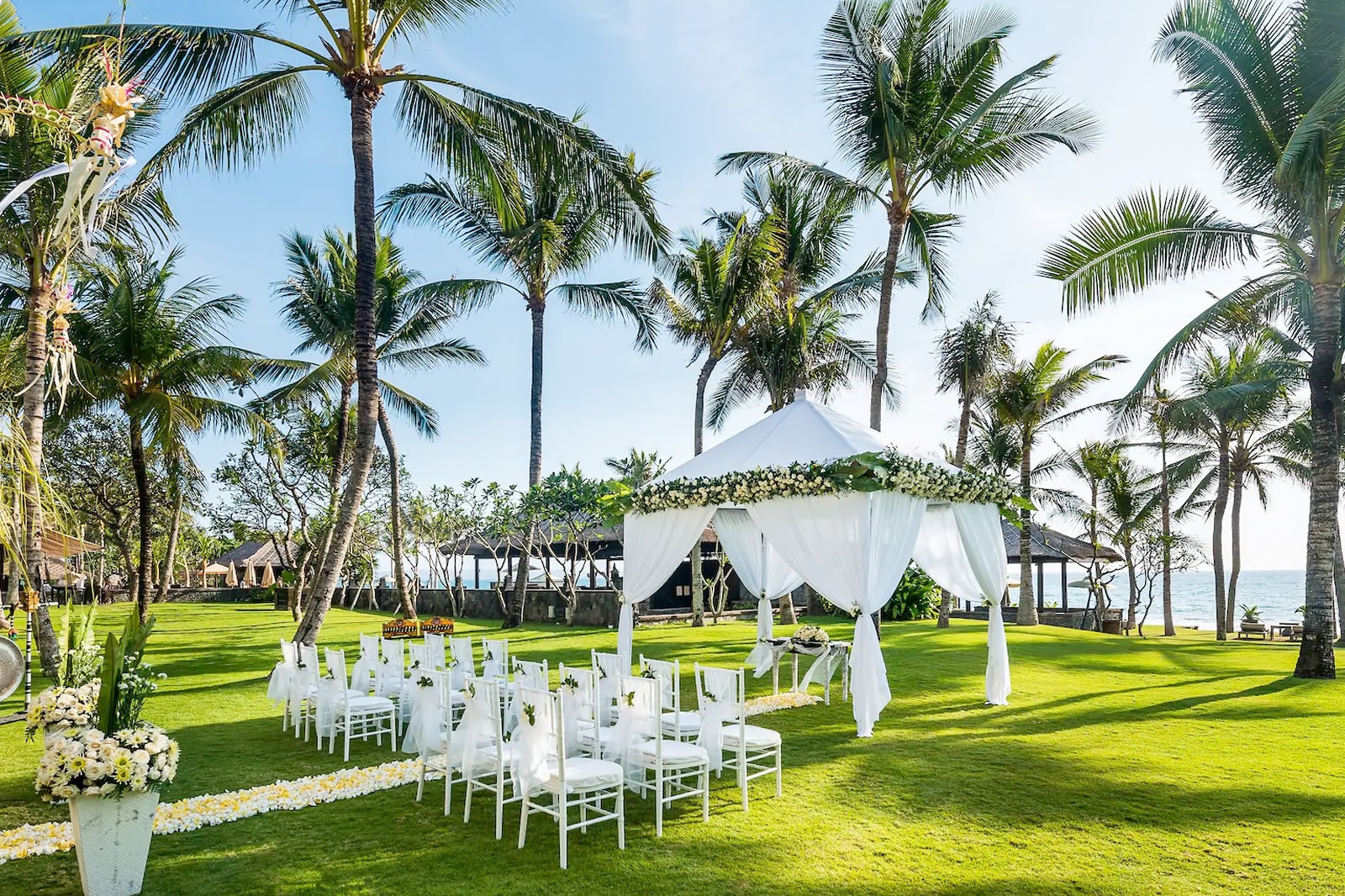 Back to top