9 Best Nightlife in Kerobokan
Best Places to Go at Night in Kerobokan
Kerobokan nightlife mirrors a bit of the glitziness of Seminyak's upmarket scene some of the island's classiest and exclusive beach clubs and sunset bars within easy reach. Kerobokan's interconnecting side streets – the likes of Jalan Mertanadi and Jalan Batubelig – are lined with some great dining spots and watering holes that also cater to night owls.
Though you won't find as many nightspots within the immediate Kerobokan area as you would in neighbouring Seminyak or Legian, it still offers a cool range of options. In Kerobokan central, you can enjoy a different kind of ambience after sunsets – rooftop bars allow you to quietly sit back and enjoy a more urbane cityscape with quality cocktails.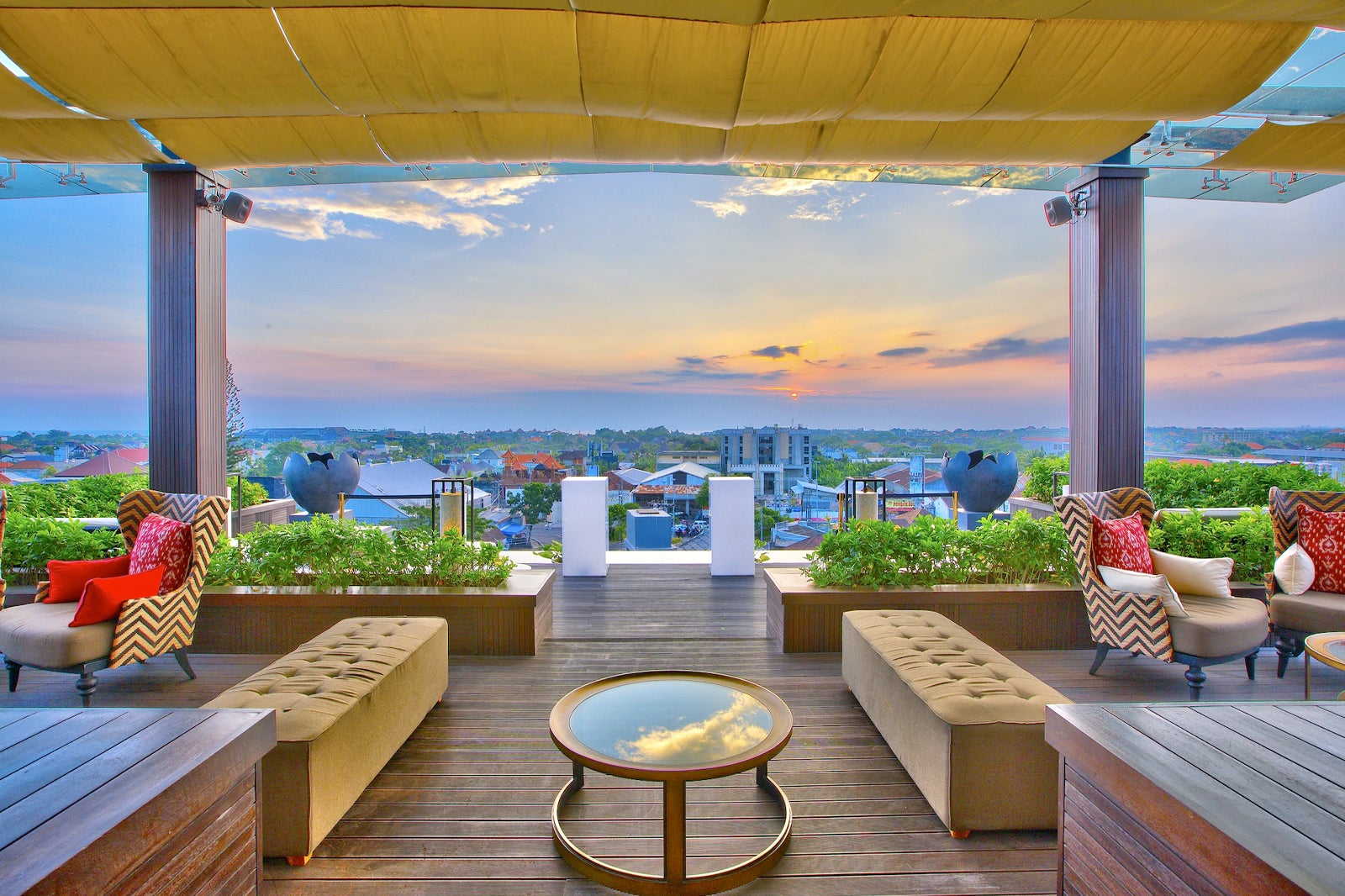 18th Rooftop Bar at the Trans Resort Bali
The 18th Rooftop Bar is the stylish venue of Trans Resort Bali that offers a breezy space to enjoy sunsets over both the Seminyak and Kerobokan townscapes. The bar has a glass roof partially covering a lounge area with a parquet platform. Sun loungers on the outer perimeter let you chill under starlit skies and there is a good selection of tapas together with a range of cocktails to help complement the moods.
Open in the late afternoon, The 18th Rooftop Bar is best to visit after sunset as you'll have the best and 'unseen' views of the area. No kids are allowed in the bar.
Location: Trans Resort Bali, Jalan Sunset Road, Kerobokan, Badung, Bali 80361, Indonesia
Open: Daily from 4pm to midnight
Phone: +62 (0)361 8981234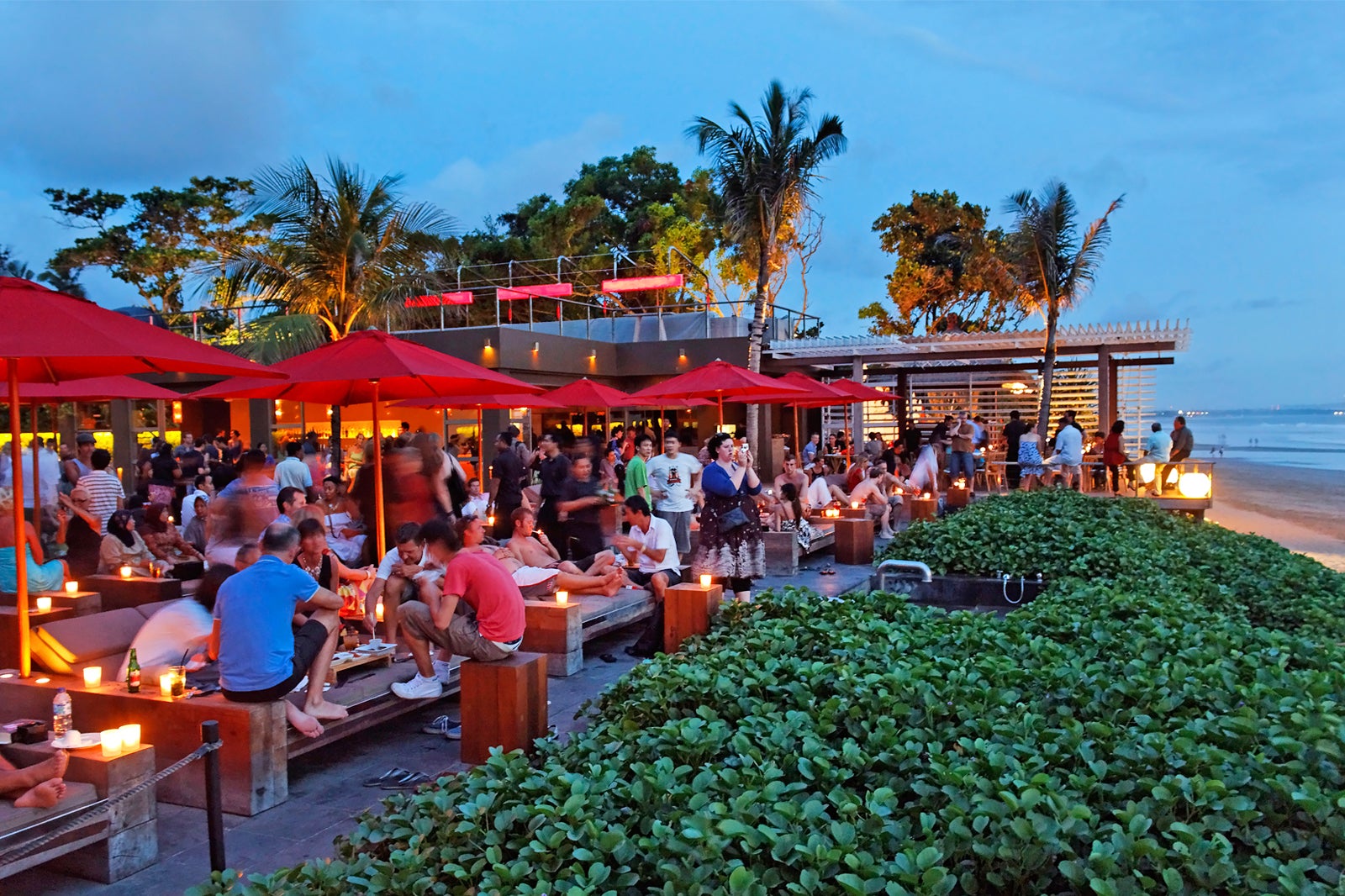 Although Ku De Ta is considered one of Seminyak's prime venues, the popular spot is located along the street of Petitenget, which is part of Kerobokan. Anyhow, it's one of Bali's most prominent venues for chilling out at sunset thanks to their seaside lawn parties. The series of events on its yearly agenda is highly anticipated.
There's a main restaurant area, a dedicated beachfront bar, and an infinity pool that borders its centrepiece lawn with the dark sand beach and surf. A private loft deck is reserved for VIPs, and there's also the fine-dining spot of Mejekawi where you can enjoy a stylish, high-end meal.
Location: Jalan Kayu Aya No.9, Seminyak, Badung, Bali 80361, Indonesia
Open: Sunday–Friday from 8am to 2am, Saturday from 8am to midnight
Phone: +62 (0)361 736969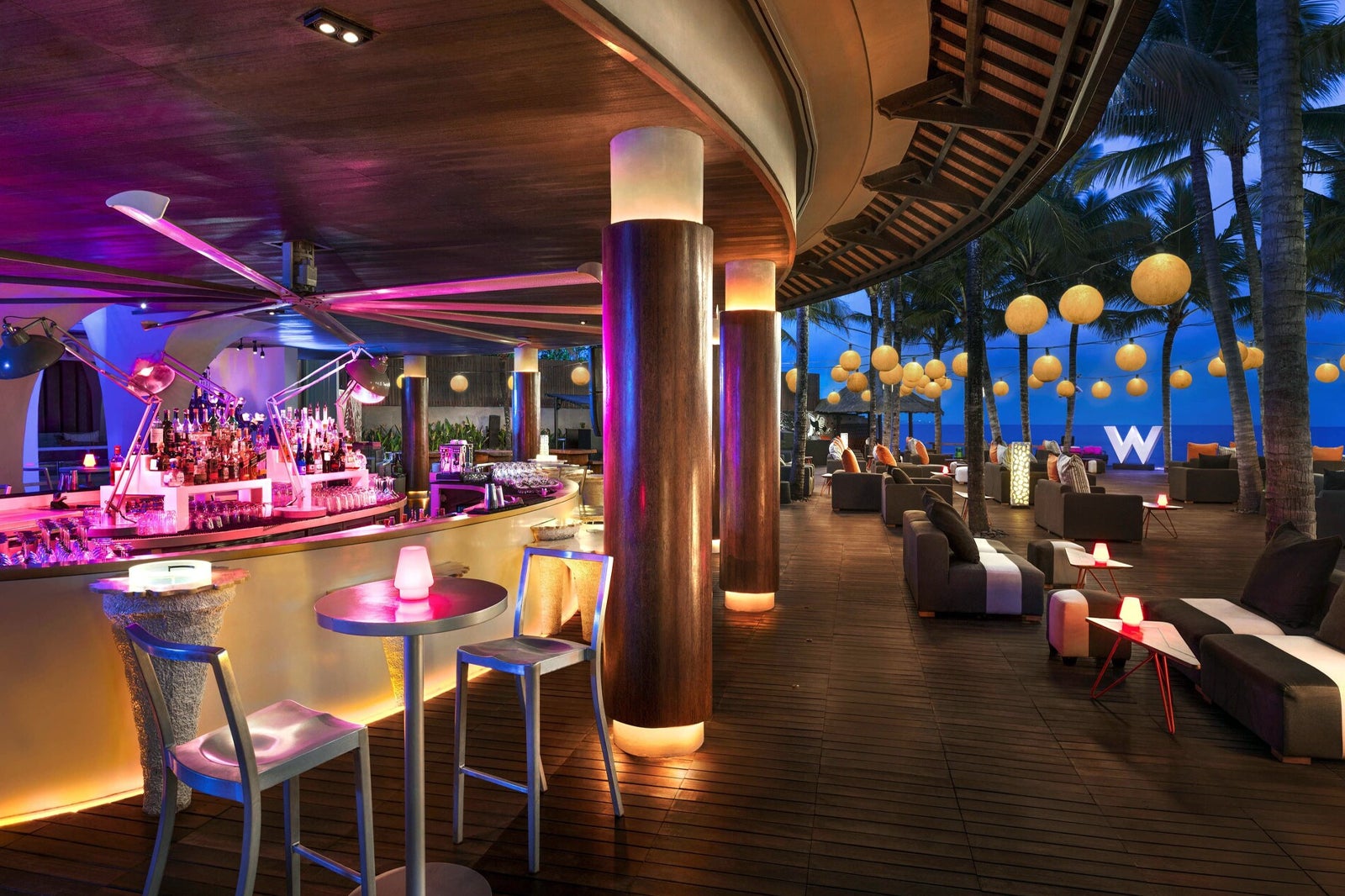 W Bali's WooBar has become one of the island's most coveted nightspots, thanks to its chic design and regular agenda of world-class gigs. The bar is one of the great perks for guests staying at the W, as it offers a lively scene right by the resort suites. Even so, it also welcomes non-staying guests, especially during special events.
As a regular roster of international live DJs and performers liven up the bar, you can simply go down to the bar for sunset and lay by the poolside with its delicious row of cocktails and tapas. To add to the fun, you can also order and puff your way through the evening with a cool assortment of fruity-flavoured hookahs.
Location: W Bali - Seminyak, Jalan Petitenget, Seminyak, Badung, Bali 80361, Indonesia
Open: Sunday–Thursday from 10am to 1am, Friday–Saturday from 10am to 2am
Phone: +62 (0)361 473 8106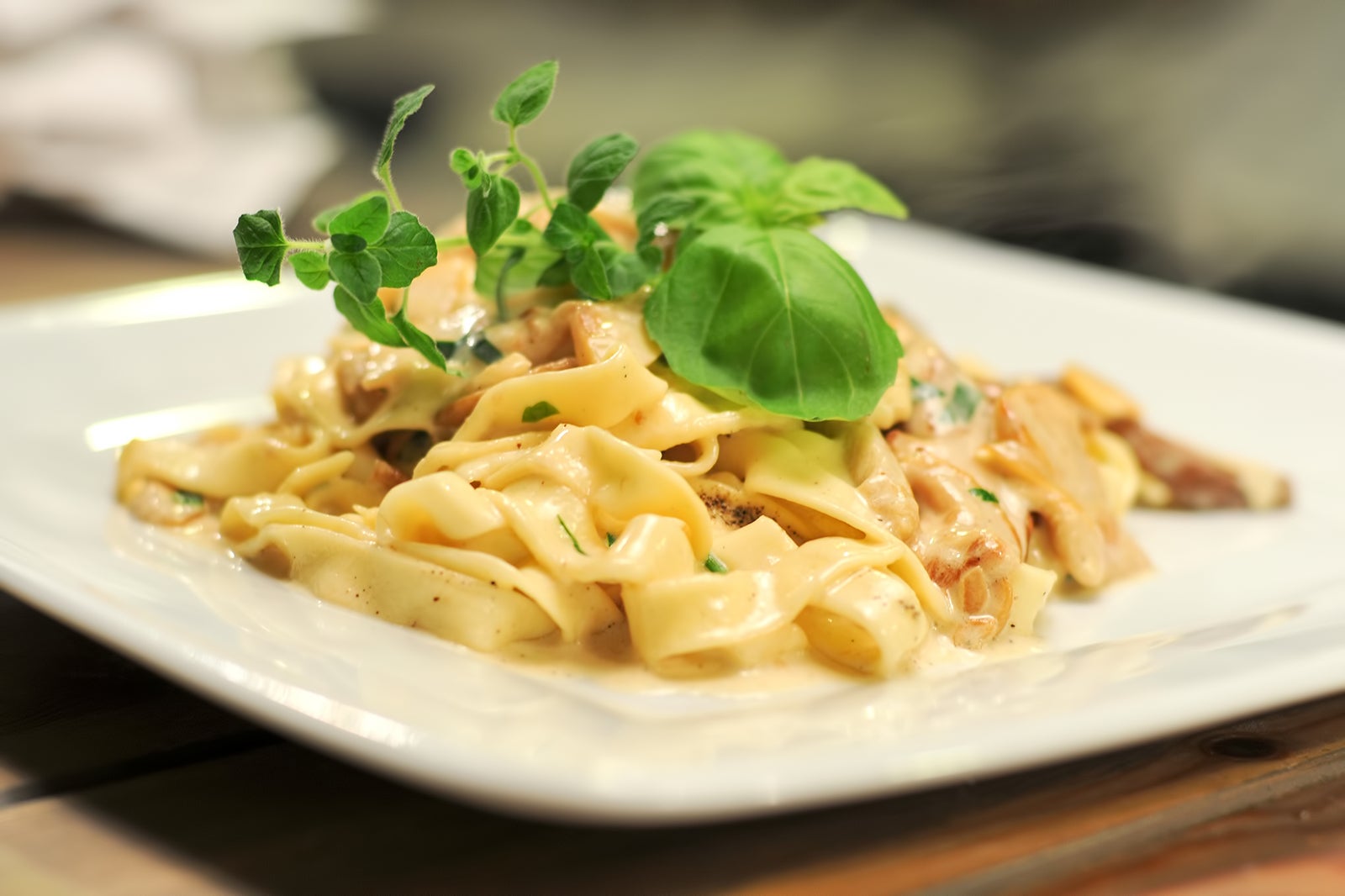 Metis is both a fine-dining restaurant and an unofficial landmark along Jalan Petitenget. This French-Mediterranean restaurant, bar and lounge is where you can enjoy 'sensory dining' experiences. Metis also has an art gallery and boutique under one roof, complementing its 350-seat dining space.
Adjacent the bar is a subtly lit lounge space fitted with plush cushion sofas overlooking a beautifully designed garden. Top-notch sound systems help resident and international guest DJs deliver their chill-out sounds as you enjoy great cocktails mixed using high end liquors and ingredients, from Beluga Vodka, Patrón Tequila to Dom Pérignon.
Location: Jalan Petitenget No.6, Kerobokan, Badung, Bali 80361, Indonesia
Open: Monday–Saturday from 11am to 2pm, Sundays from 5.30pm to 2am
Phone: +62 (0)361 4737888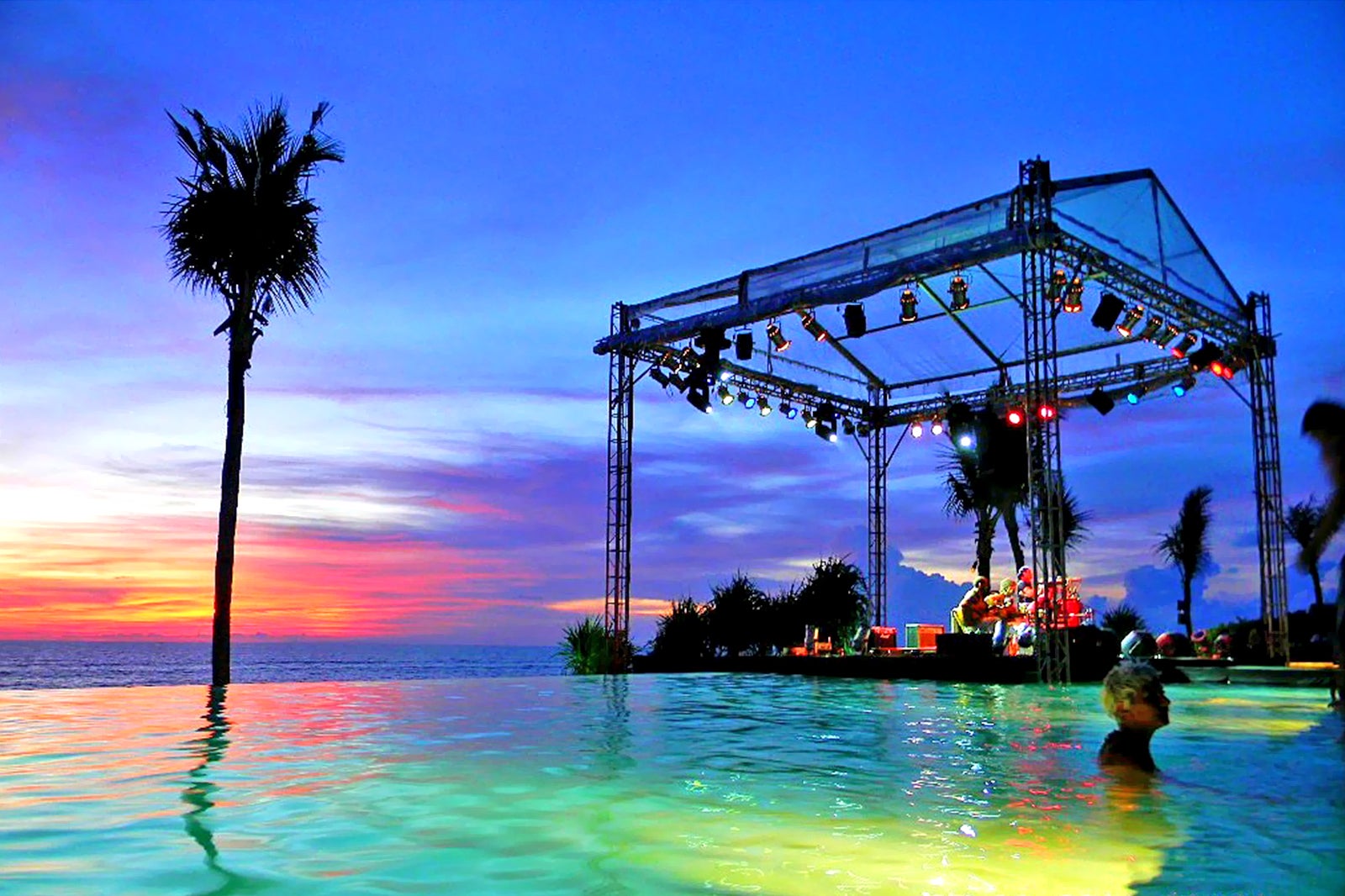 Potato Head Beach Club is one of the most happening chill-out venues on Jalan Petitenget. Its trademark patchwork of old and worn teakwood window shutters towers before you as you approach the venue, and upon entering you'll walk through a thin curved pathway like a gladiator entering for battle.
The beachfront bar and flat 500 square-metre lawn of the beach club are flanked by an infinity pool that also frequently serves as a makeshift stage for world-class EDM events. On regular weekends, there's a small pool for the kids too, so it's a great escape for weekending families as well.
Location: Jalan Petitenget No.51B, Kerobokan, Badung, Bali 80361, Indonesia
Open: Daily from 10am to 2am
Phone: +62 (0)361 4737979
photo by Geraldo Maribondo (CC BY 2.0) modified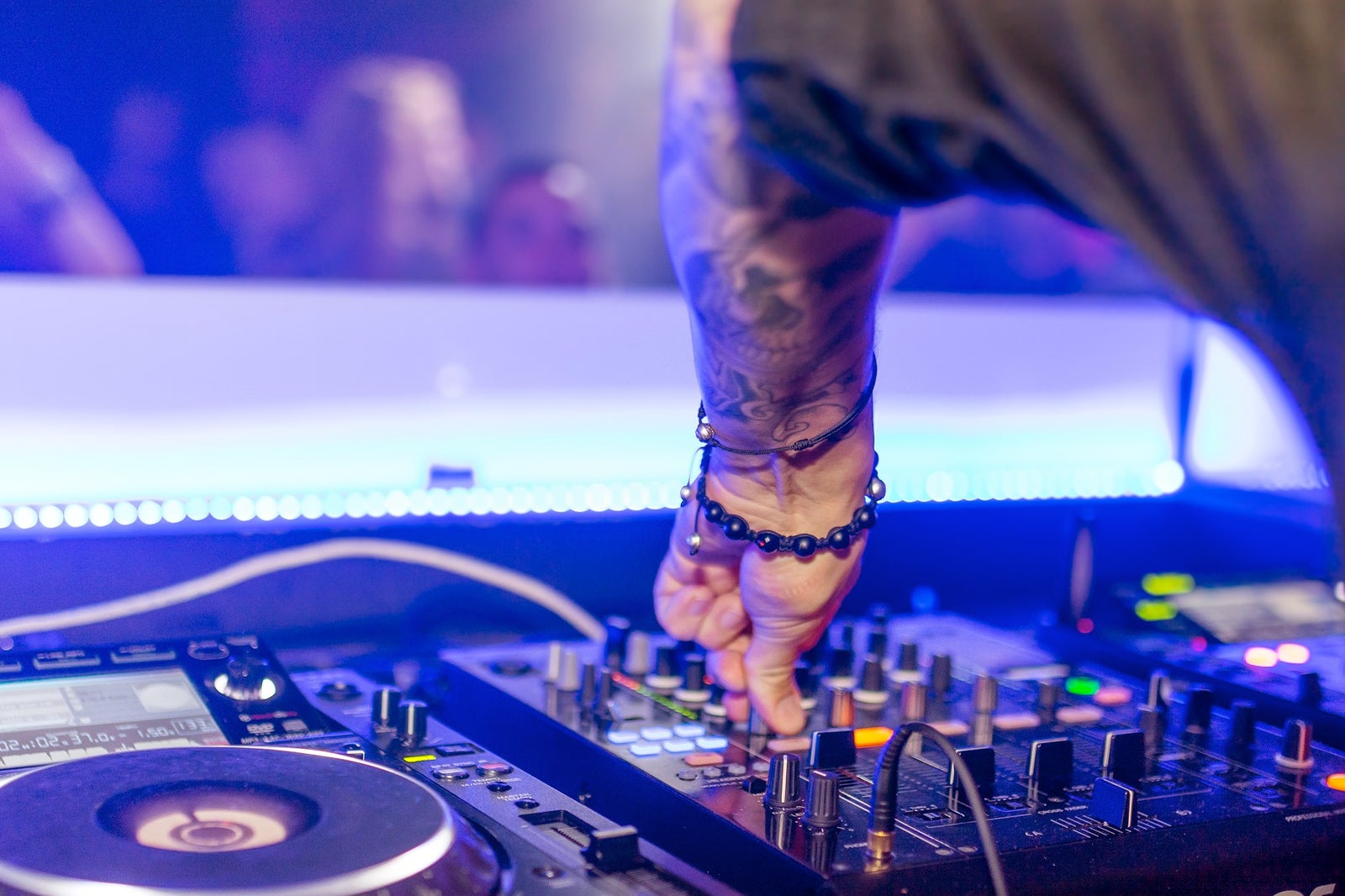 Enter Mirror Bali Lounge and Club and you'll find a gothic cathedral-inspired clubbing space on Jalan Petitenget. Glittery mosaic-like wall décor, stained glass windows and towering ceilings complement the scene with futuristic laser lighting and industrial, deep bass, to house and hip-hop.
Mirror Bali Lounge and Club regularly holds late-night partying events, tied in with its roster of international and resident DJs. A dress code applies here – basically, casual chic for guys and 'dress to impress' for ladies.
Location: Jalan Petitenget No.106, Kerobokan, Badung, Bali 80361, Indonesia
Open: Wednesday–Sunday from 11pm to 5am (closed on Mondays and Tuesdays)
Phone: +62 (0)361 8499800
Head up to Adrenalin Sports Bar to enjoy a cold Bintang with live sports feeds. The bar is at the top floor of the Seminyak Square at the corner of Jalan Kayu Aya and attracts a steady flow of revellers looking for a good spot for watching live sporting events broadcast from across the globe.
Live feeds range from the major leagues, world soccer matches, NBA games, to V8 Supercars and MotoGP races. There aren't many sports bars in the immediate area, especially ones that you can ask to play sporting reruns if you missed a big game – Adrenalin Sports Bar often answers to that need.
Location: Seminyak Square, Jalan Kayu Aya, Seminyak, Badung, Bali 80361, Indonesia
Open: Daily from 10am to midnight
Phone: +62 (0)361 738030
At La Favela, you'll enter a different kind of bar scene right off the Jalan Kayu Aya main road. A quirky vintage design that draws a lot of inspiration from the urban scenes of Rio becomes your setting for lunch or dinner here. Most of the crowds, though, come for the chilled evening vibes past the sunset hours.
Inside you'll find a bar and lounge, with walls heavily adorned with funky old clocks and picture frames. From the bar, special exotic signature cocktails to try include Favela Breeze, and La Favela Mystique with vodka, green pear, fresh strawberries, apple sour and cranberry juice.
Location: Jalan Kayu Aya No. 177X, Seminyak, Badung, Bali 80561, Indonesia
Open: Daily from 5pm to 3am
Phone: +62 (0)361 730603
The Plumbers Arms is a standout English style pub on Jalan Banjar Anyar in northern Kerobokan. It's one of the few pubs in the area where you can order an ice-cold Kilkenny, Guinness or Heineken, and sit back with good company to enjoy live sports feeds and flowing music.
Fish and chips and Sunday roasts are regular highlights at the pub, alongside seafood, Tex-Mex selections, homemade pasta, burgers, jacket potatoes, sandwiches, and a good assortment of English mains and desserts. Fun nights at the pub often include a few games of darts and pool as well as quiz nights. The pub is kid-friendly.
Location: Jalan Raya Banjar Anyar No. 8, Kerobokan, Badung, Bali 53164, Indonesia
Open: Daily from 9am to 1am
Phone: +62 (0)851 00449132