8 Amazing Underwater Sculptures and Gardens in Bali
Great Bali Dive Sites with Underwater Sculptures
Bali has amazing sunken gardens and underwater sights that appeal to divers and snorkelers. The waters surrounding Bali offer plenty in terms of natural marine biodiversity, with sightings of some of the world's most peculiar sea creatures, from oceanic sunfish to whale sharks.
Some of these great Bali dive sites are decorated with life-sized underwater sculptures like temples and people, which were carefully designed and built on dry land using materials that enable coral growth. After they're submerged at specific spots, the resulting sunken gardens provide thriving reef ecosystems that are teeming with colourful tropical marine life. Many of these underwater sculptures offer out-of-this-world holiday photos as well, thanks to their ethereal (sometimes haunting) setting.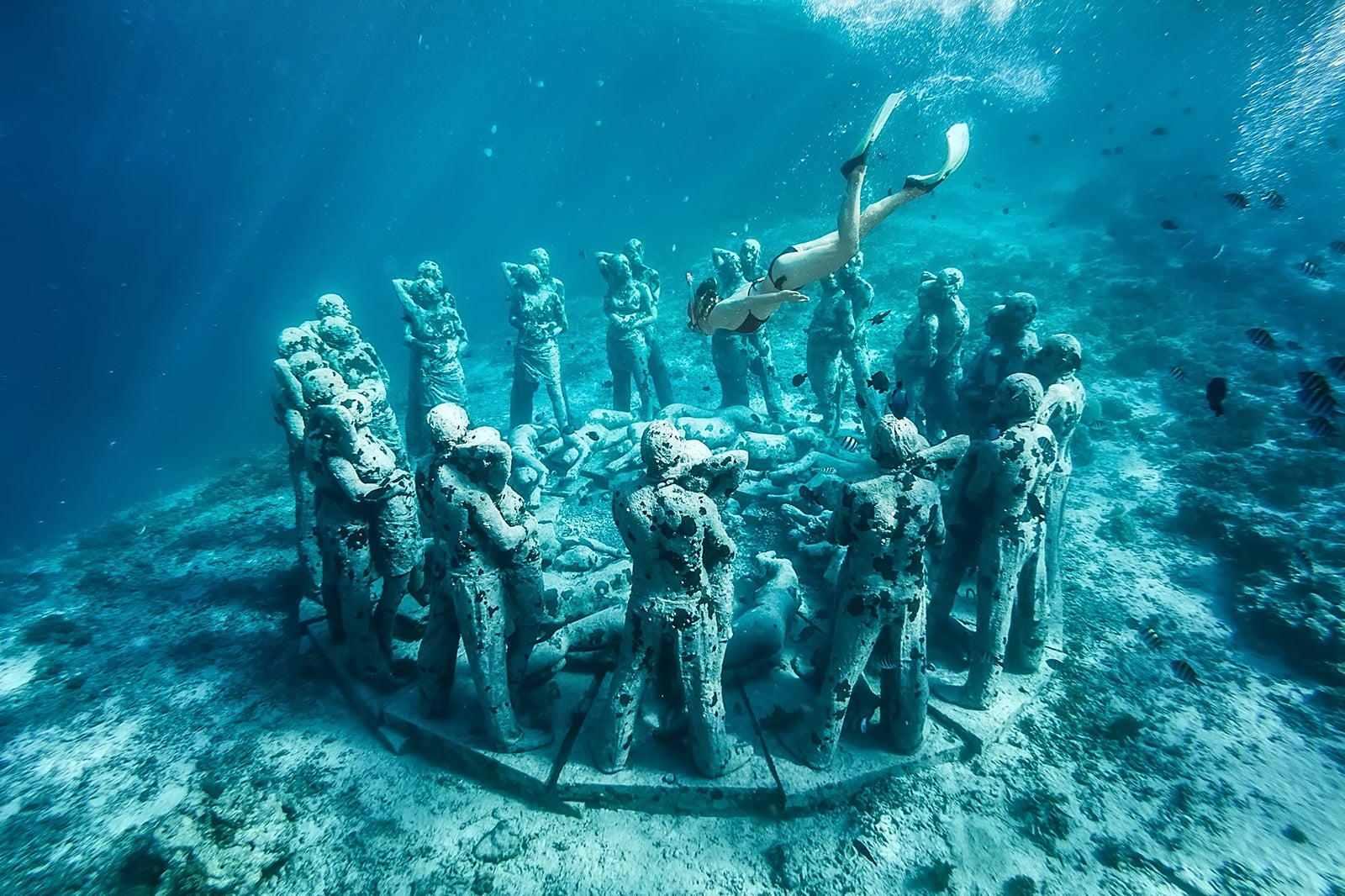 BASK Nest is an underwater sculpture park right off the shore of Gili Meno. Designed by Jason deCaires Taylor, it comprises a circle of 48 life-sized figures encircling several more on the seabed. Some of his sculptures can be found in various dive sites around the world, including the Caribbean and the Canary Islands.
BASK Nest offers an eerie yet beautiful place to dive in Indonesia, thanks to the statues' detailed expressions. You may encounter turtles, moray eels, octopus, white tip and blacktip reef sharks during your visit.
Location: Gili Meno, Gili Indah, Pemenang, Lombok Utara, Nusa Tenggara Barat 83352, Indonesia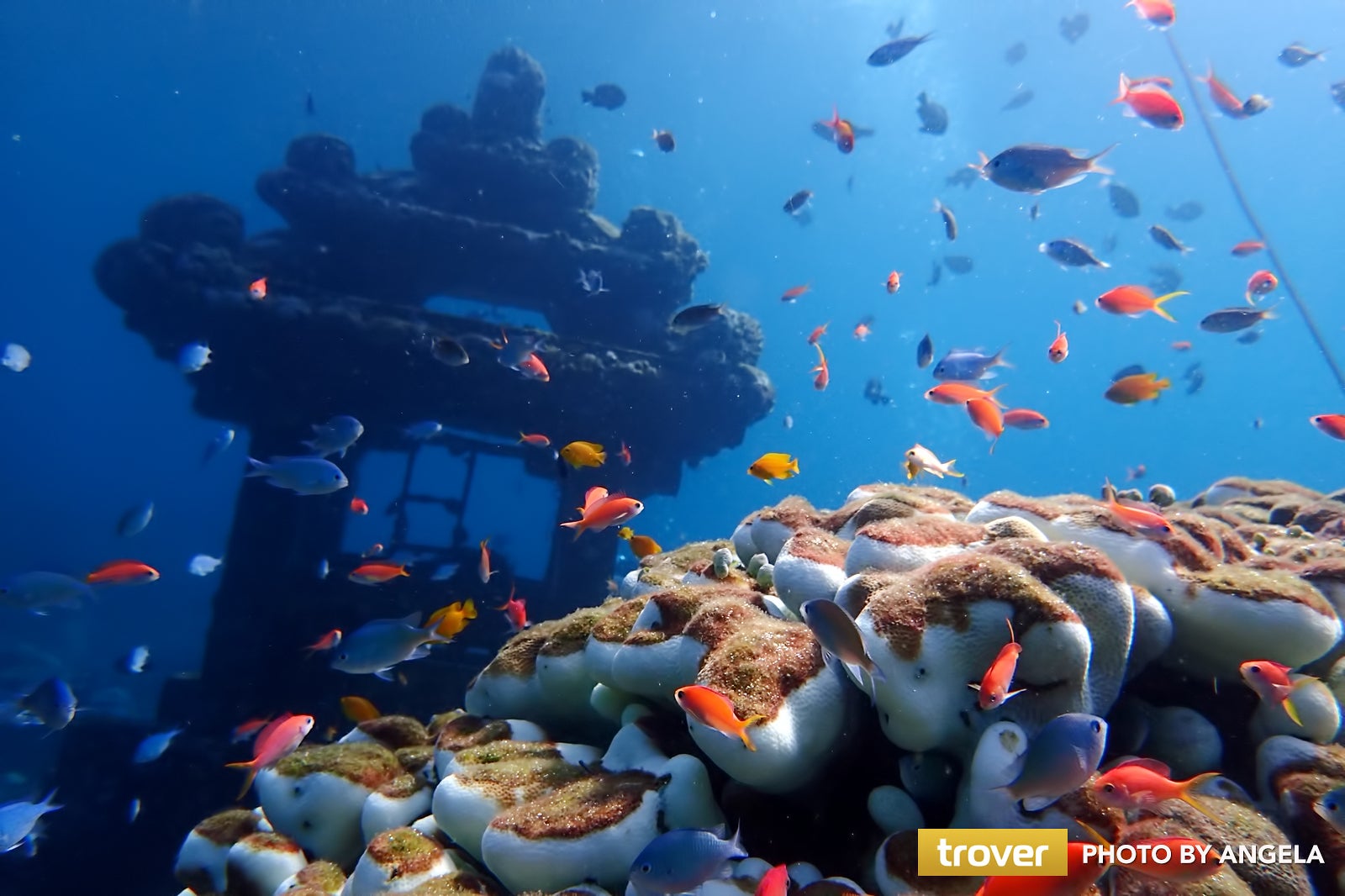 Jemeluk Bay underwater gallery
Amed
The Jemeluk Bay underwater gallery displays "living sea" sculptures by Indonesian artists like Wayan Winten and Eddi Prabandono. It's located in Amed, a dive site renowned for its calm waters and amazing biodiversity that thrives along its coral walls.
Some of the most prominent sculptures include a giant baby head, beautiful apsara (Hindu water nymphs), mermaids, treasure chests, and a barong (the Balinese king of the spirits). A longstanding underwater feature at the Jemeluk Bay underwater gallery is its working mailbox. You can purchase waterproof postcards from local shops, then dive to this box and post it in.
Location: Pantai Jemeluk, Amed Street, Bunutan, Abang, Karangasem, Bali 80852, Indonesia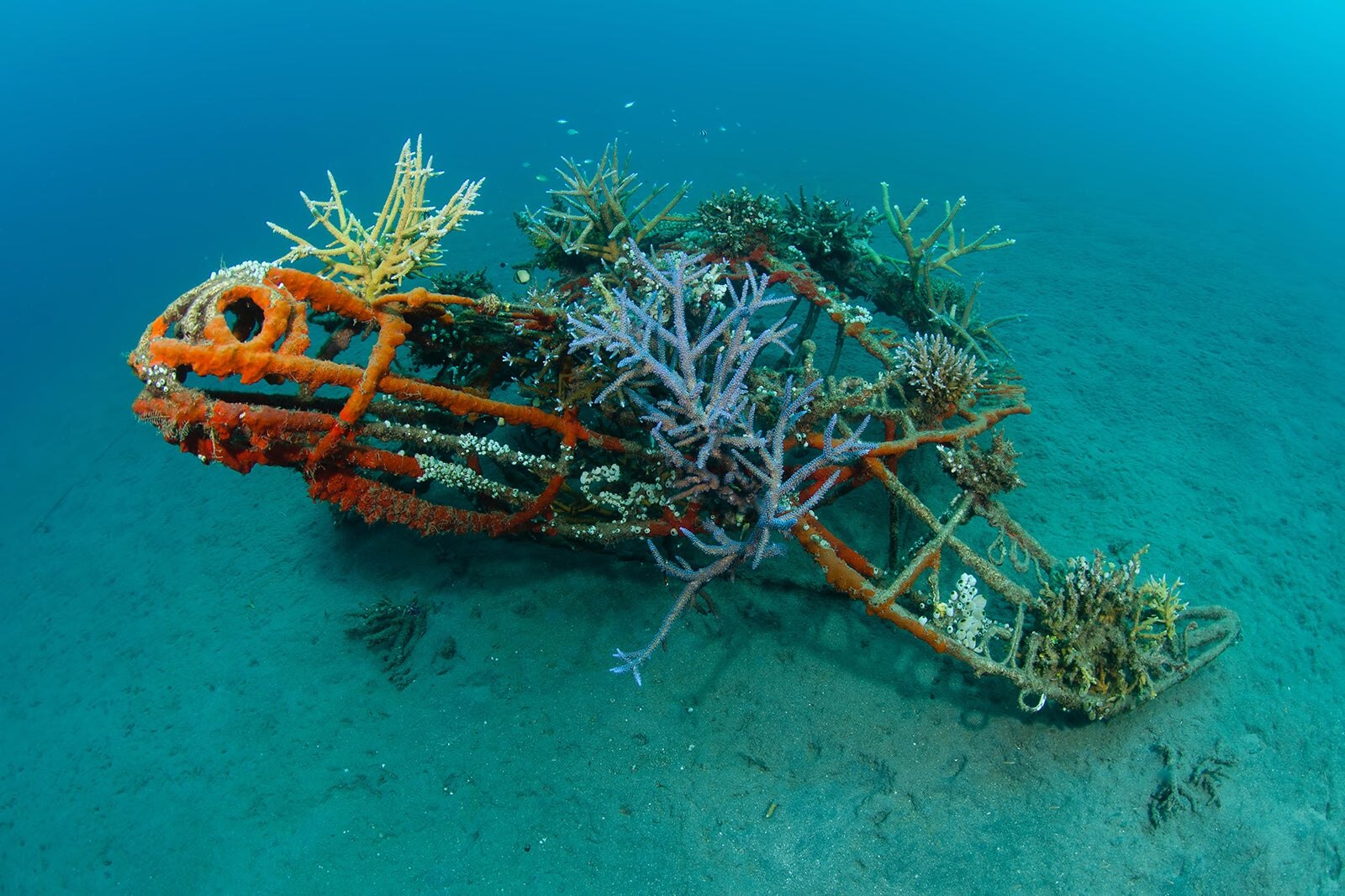 Karang Lestari Bio-Rock Reef Project
Pemuteran
The Bio-Rock Reef Project by Karang Lestari Foundation is one of the world's most successful reef restoration efforts. These artificial reefs are off the shores of Pemuteran Bay in Bali's northwest, which is home to shallow coral reefs spanning 20,000 sq m. This marine protected area has over a dozen coral nurseries on sunken metal structures, which are fed with low electrical currents that help stimulate coral growth.
Some of the sculptures you can see during your dive include giant domes, blossoming lotuses, bicycles, and statues of Buddha and Hindu deities. For a small donation, you can sponsor a baby coral by having a small coral fragment planted next to your name (made using iron wire) within the site.
Location: Biorock Center, Banjar Loka Segara, Desa Pemuteran, Buleleng, Bali 81155 Indonesia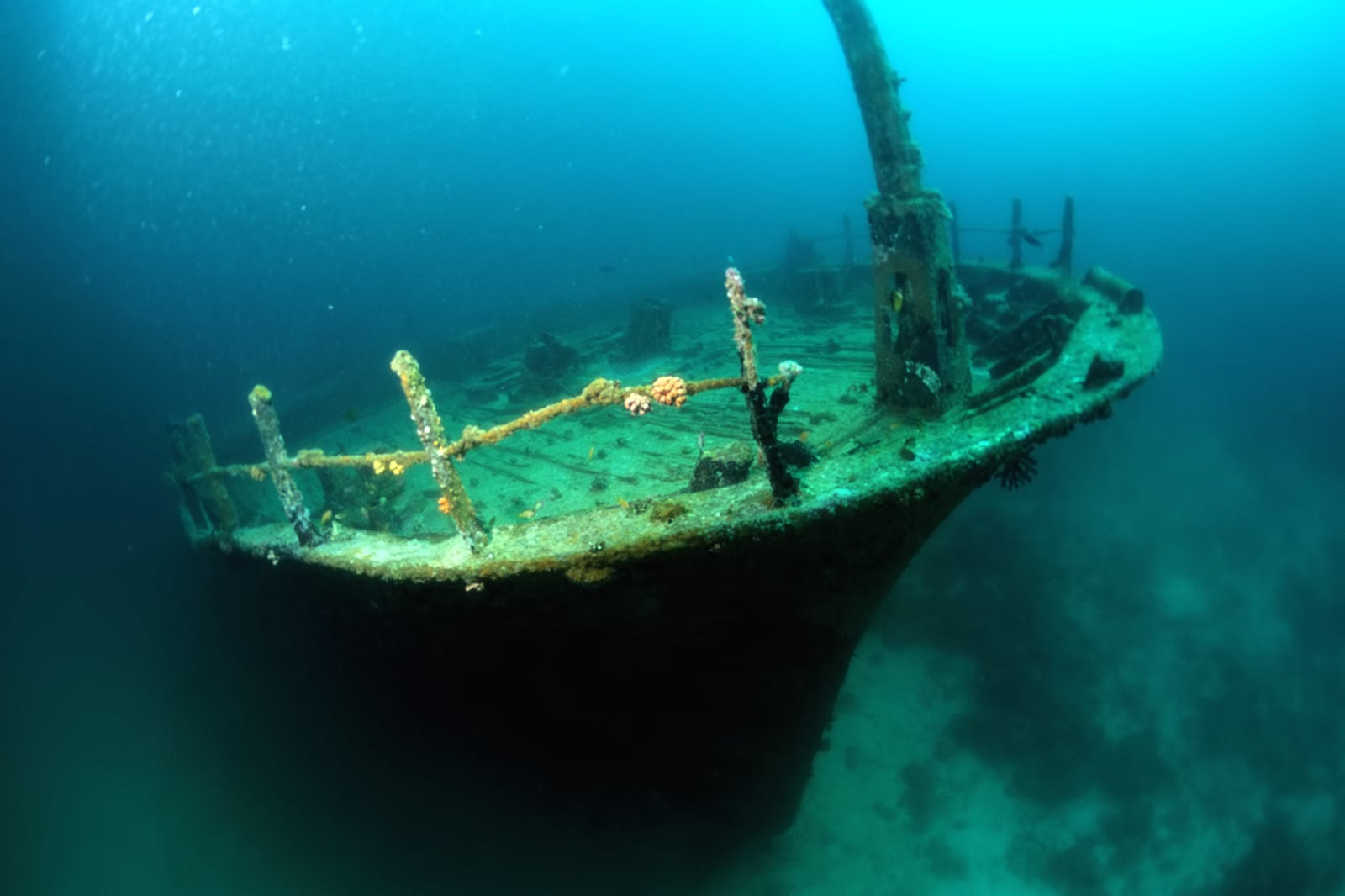 The Boga shipwreck is located off the coast of Tulamben in East Bali, at a depth of 30 metres. This WWII cargo ship was torpedoed by a Japanese submarine back in 1942. The 85-metre-long wreck is covered with algae and coral, attracting a variety of fish like sunfish, great barracuda, peacock grouper, coral trout, and angelfish.
The Boga shipwreck has an intact steering wheel that's a favourite photo-op among freedivers, along with a sunken Volkswagen 181. The best time for diving is between October and November when the weather in Bali is relatively calm.
Location: Tulamben, Kubu, Karangasem, Bali 80852, Indonesia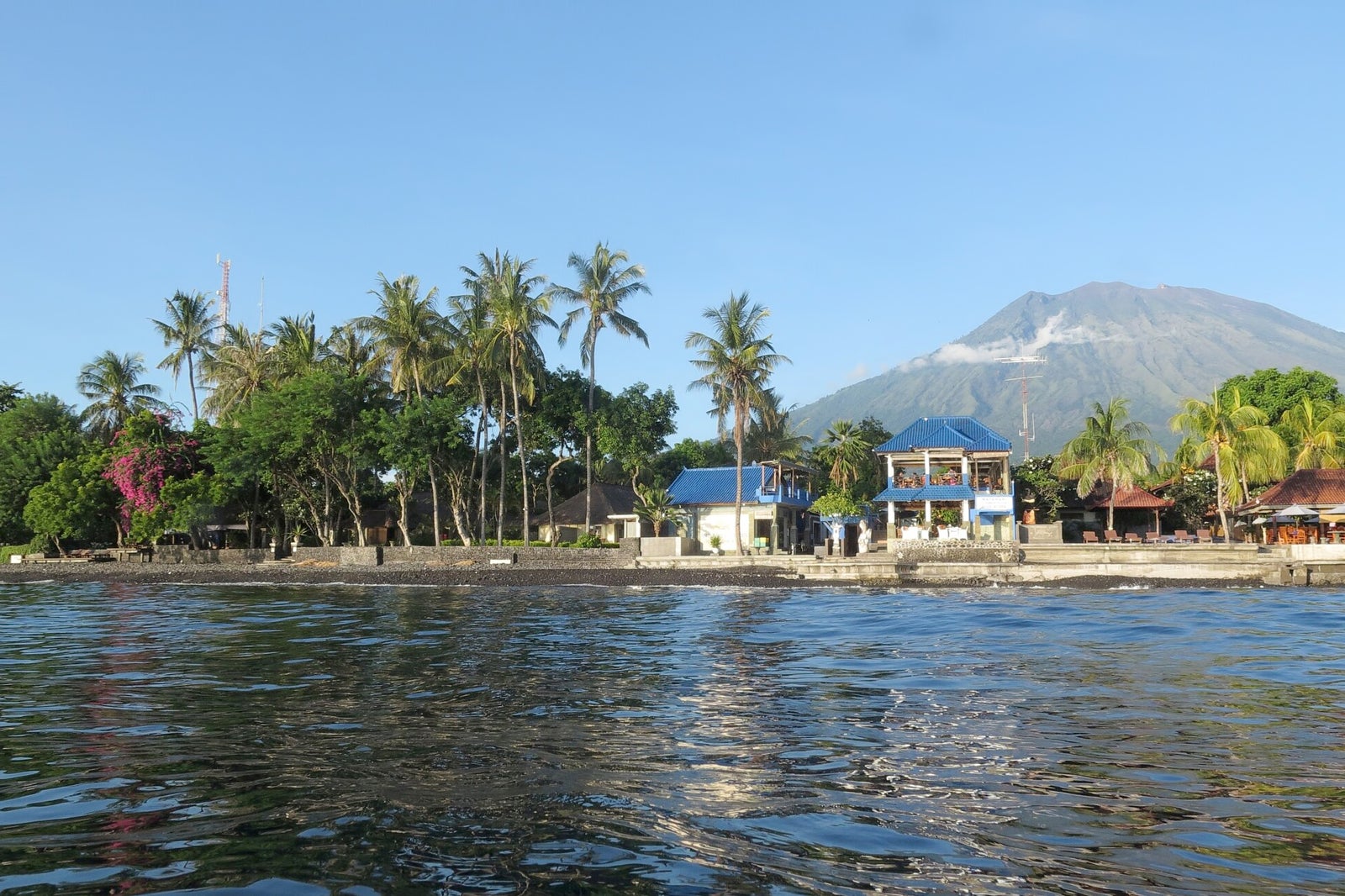 Suci Place is a beautiful diving spot right off the shores of Matahari Tulamben Resort. The site dates back to 2013 when the resort wanted to have its own house reef for divers in Tulamben. Matahari Tulamben Resort also has a dive centre that organises diving trips to Suci Place.
With a depth of around 9 to 17 metres, this sunken garden has Buddha images, temples and stupas, as well as Hindu gods and goddesses. Tropical fish, moray eels, ocean sunfish, and eagle rays have been sighted in the waters.
Location: Tulamben, Kubu, Karangasem, Bali 80853, Indonesia
Deus BioRock
Gili Trawangan
Deus BioRock is a collaborative project between The Marine Foundation and Deus Ex Machina, an Australian surf, skate, motorbike and lifestyle brand. Located off the coast of Gili Trawangan, the brand sank a motorbike 6 metres underwater, in keeping with the brand's custom culture.
You can call it a bike, a sculpture or a bio reef, or what the Deus guys like to call, bio rock 'n' roll. The site is some 50 metres off the shore of Café Gili. The extraordinary setting of a vintage motorbike covered in coral and algae offer a nice photo opportunity for divers and snorkelers in Gili.
Location: Gili Trawangan, Gili Indah, Pemenang, Lombok Utara, Nusa Tenggara Barat, Indonesia
Ceningan Buddha Point
Ceningan Island
Ceningan Buddha Point is an underwater temple at a depth of 7 metres, making it rather easy for snorkelling. You'll find a 2.4-metre-tall Buddha surrounded by smaller statues and Buddhist temple stupas similar to the ones in Borobudur Temple.
Bali Underwater Scooter organises day tours to this diving point near Ceningan Island, where you can explore the site on an underwater scooter. Swimming and snorkelling to Ceningan Buddha Point are also possible, but take extra precaution as the water current can be rather strong.
Location: Ceningan Island, Lembongan, Nusapenida, Klungkung, Bali, Indonesia
Badung Underwater Cultural Park
Nusa Dua
The Badung Underwater Cultural Park lies around 500 metres off the shores of Samuh Beach, just north of the Nusa Dua's peninsula islands. Established by Nusa Dua Reef Foundation in 2012, the underwater park has 26 Bali-themed artificial reef sculptures at a depth of around 11 metres.
You'll see life-sized kecak (fire) dancers and characters from the Hindu epic Ramayana, all of which are covered with colourful corals. While it's a little deep for snorkelers, they can easily view the Badung Underwater Cultural Park from the surface on clear days.
Location: Pantai Samuh, Benoa, South Kuta, Badung Regency, Bali 80361, Indonesia