9 Best Things to Do in Heraklion
What is Heraklion Most Famous For?
Heraklion is Crete's capital city, where you can enjoy plenty of things to do and see during your holiday. These include visiting ancient Minoan and Venetian landmarks, exploring miles of sandy beaches, and enjoying its lively nightlife scene. The port city also serves as the main transportation hub of Crete Island, with international travellers arriving at its marina and international airport.
Allow plenty of time to see its historical sites as they're among the largest and well-preserved in all of Greece. There's also a modern vibe to Heraklion's Old Town, which has pedestrian-friendly squares and a seaside promenade lined with restaurants, taverns and bars, as well as museums showcasing the city's colourful past.
What are the best things to do in Heraklion?
1
Old Town
Explore its scenic promenade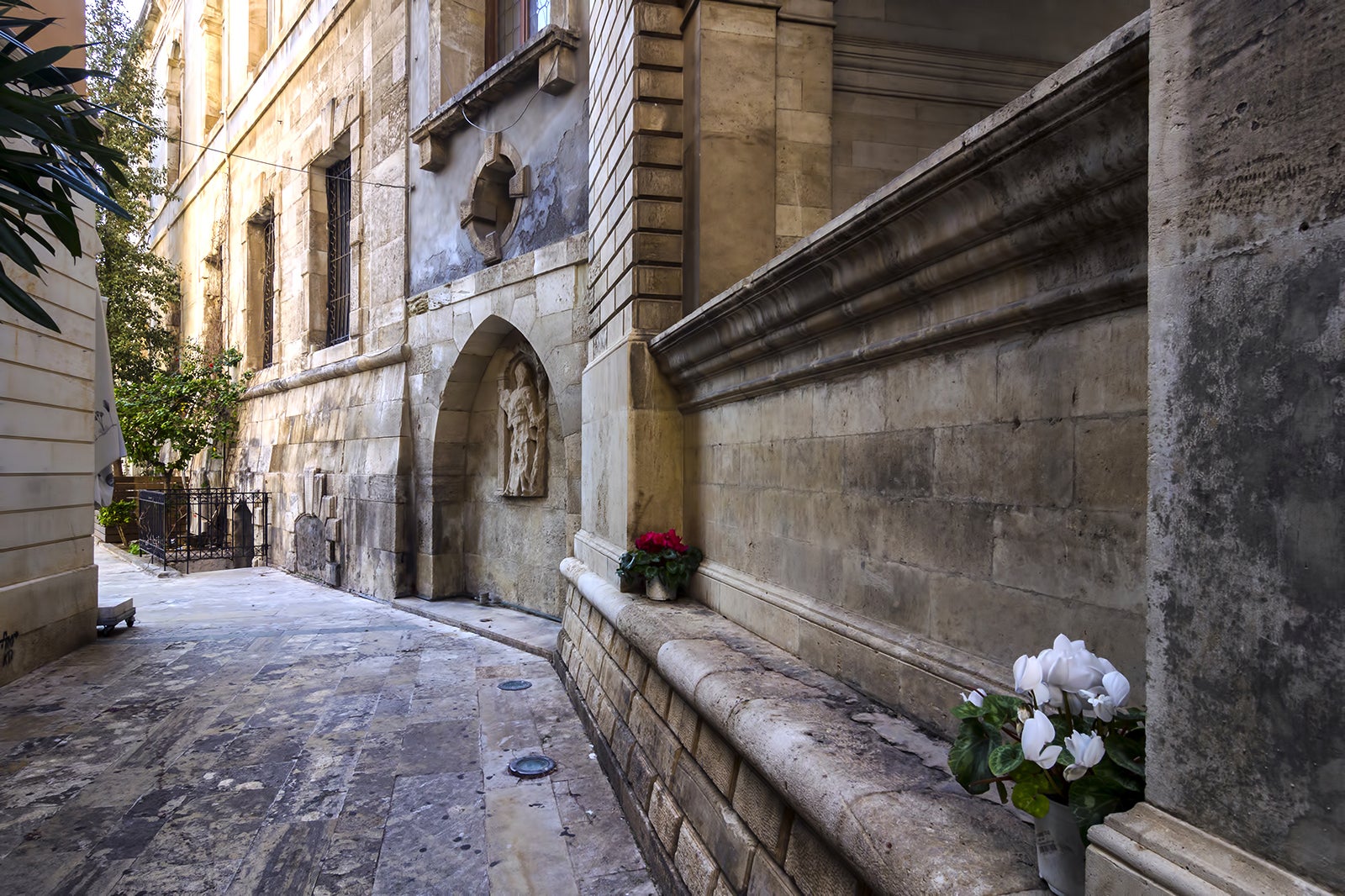 Heraklion's Old Town is an excellent place for sightseeing and getting a feel of the local culture. Some of its most notable landmarks include 16th-century Koules Fortress, Jesus Gate and the Venetian City Wall. The Heraklion Archaeological Museum and Historical Museum of Crete are must-visits if you want to learn about the port city's history.
A popular meetup point in the Old Town is the Morosini Fountain in Lions' Square. The stone fountain dates back to 1628, with an octagonal pedestal that's mounted by 4 lions and a lower basin with 8 lobes and reliefs of Greek mythological icons.
Location: Heraklion 712 02, Greece
2
Koules Fortress
Also known as the Rocca a Mare Fortress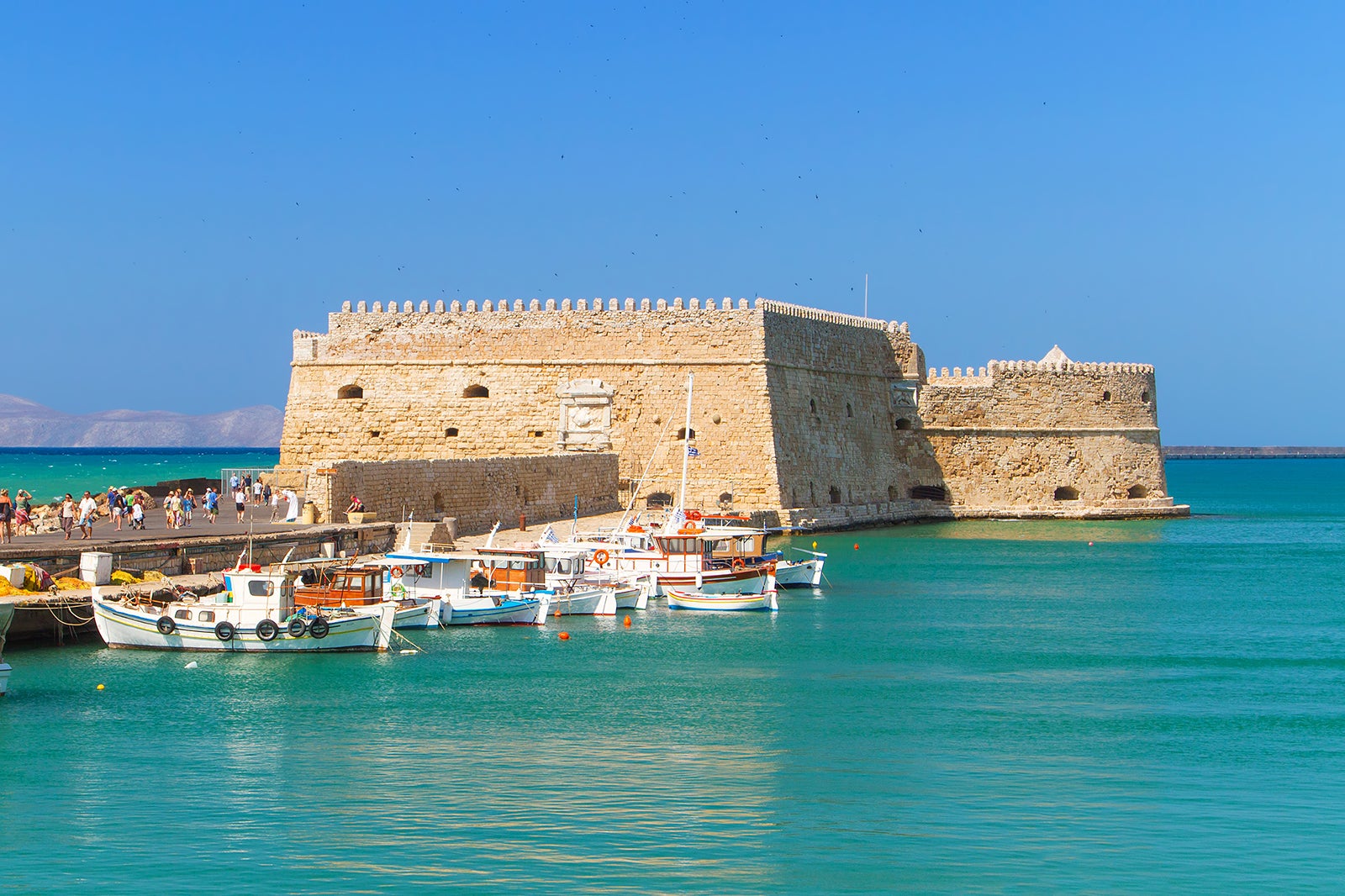 Koules Fortress (Rocca a Mare Fortress) is an impressive Venetian structure near the entrance of Heraklion Port. Built in the early 16th century, the imposing fortress houses around 26 rooms and vaults displaying old cannons, period pieces, and cannonballs. You'll also find information panels and a short film showcasing Koules's history.
You can climb to the top of Rocca a Mare Fortress for impressive views of Heraklion and the Aegean Sea. There's a lighthouse on the northern part of the fortress, about 2 km away.
Location: Heraklion 712 02, Greece
Open: Wednesday–Monday from 8 am to 6 pm (closed on Tuesdays)
Phone: +30 281 024 3559
3
Ammoudara Beach
Learn how to kitesurf at this family-friendly beach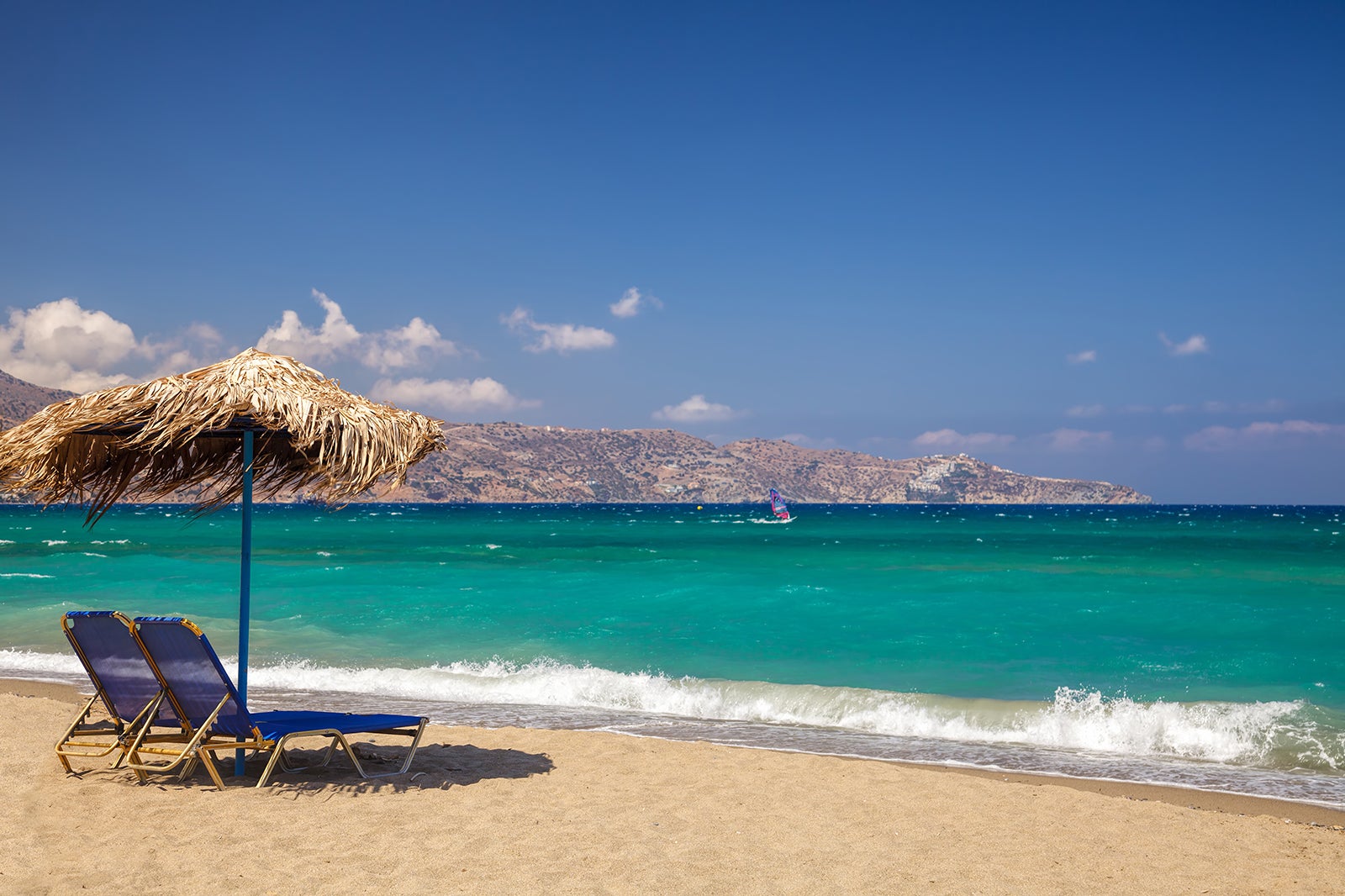 Ammoudara is a beach resort around 5 km west of Heraklion Town. Its Blue Flag-awarded beach spans around 5 km in length, offering clean sands and waters, as well as excellent conditions for windsurfing.
You can find secluded spots on Ammoudara Beach if you explore far west, but stay closer towards Heraklion to enjoy amenities like sunbeds and umbrellas for rent, lifeguards, showers and changing rooms. If you're into hiking, head towards the western edge of Ammoudara to explore Almiros Gorge and Mount Stroumboulas.
Location: Vagias 10, Gazi 714 14, Greece
4
Minoan Palace of Knossos
Best-preserved Minoan site in Crete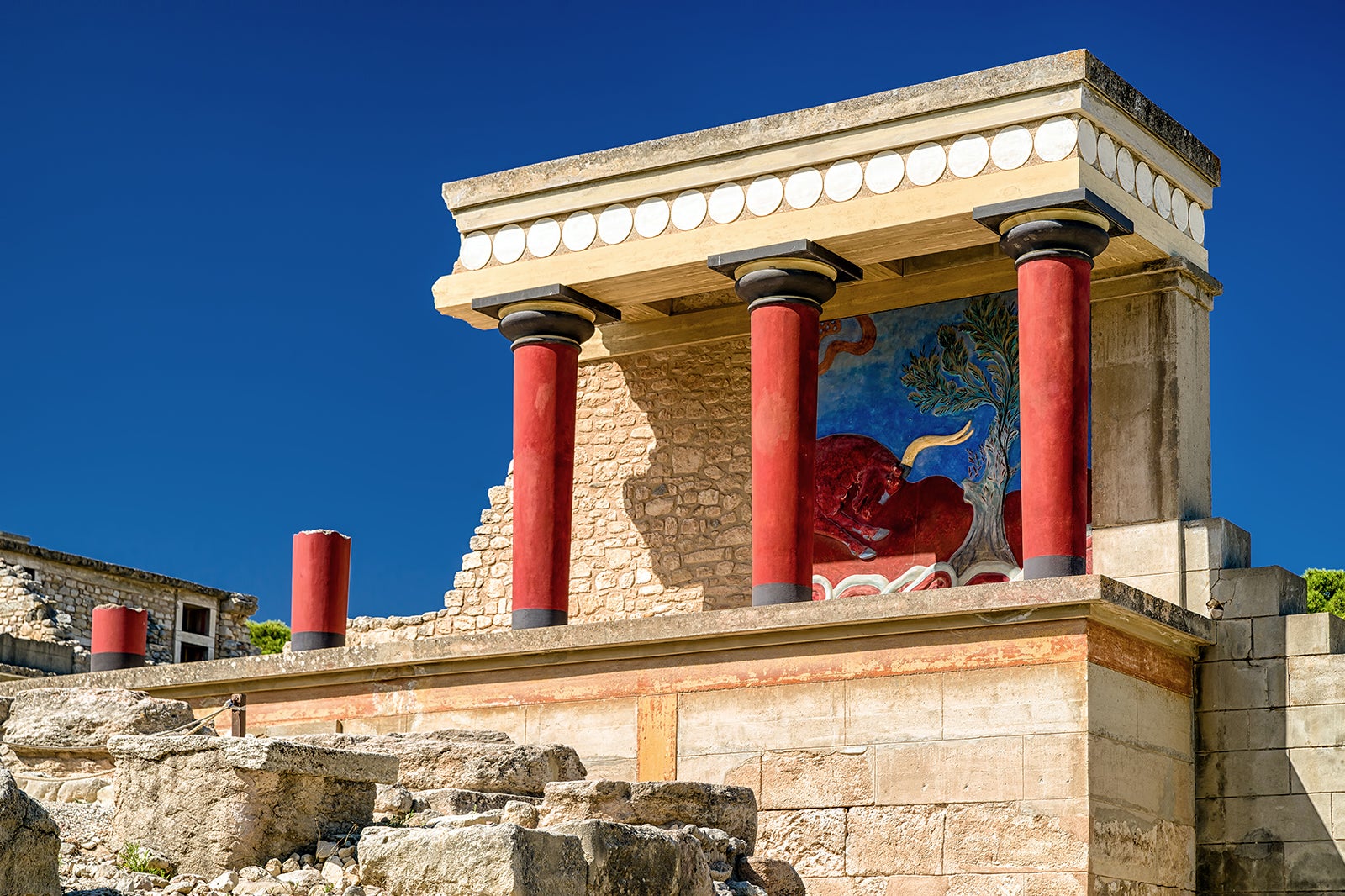 The Minoan Palace of Knossos is the largest and best-preserved Minoan site on Crete Island. Most of the ruins date back to 1,450 BC, with several reconstructions from the early 20th century dotting the site. Relics from past excavations are displayed at the Heraklion Archaeological Museum.
The Minoan Palace of Knossos has 4 wings surrounding a central courtyard – these buildings have reception halls, living areas, a throne room, and a complex drainage system. Knossos is around 5 km southeast of Heraklion. Buses depart from the Old Town every 15 minutes during the summer.
Location: Heraklion 714 09, Greece
Open: Daily from 8.30 am to 5 pm
Phone: +30 281 023 1940
5
1866 Street
Shop at Heraklion's central market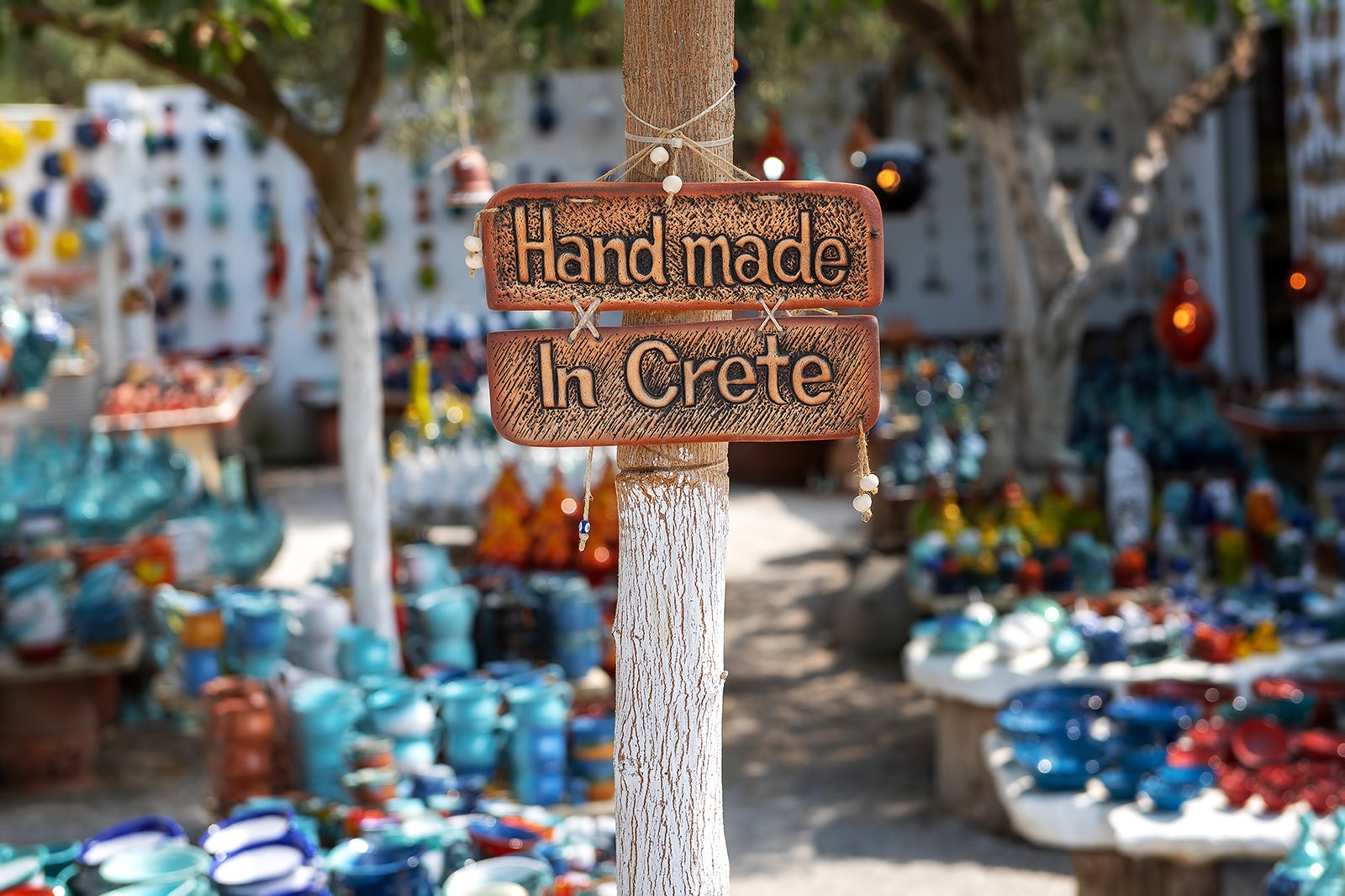 1866 Street is a narrow alley lined with tightly packed shops selling all sorts of goods. Known as the Central Market, it's only open to pedestrians for safe shopping in Heraklion. You can shop for clothes, souvenirs, fridge magnets, jewellery, linens at rather reasonable prices.
Locals often visit the market in the early mornings to buy fresh fruit and vegetables, herbs, cheese, seafood and meat. 1866 Street remains rather traditional throughout the years – Kornarou Square and the Venetian archway City Wall are within a 5-minute walk of the marketplace.
Location: Heraklion 712 01, Greece
6
Agios Minas Cathedral (Cathedral of St. Minas)
One of the largest holy places in Greece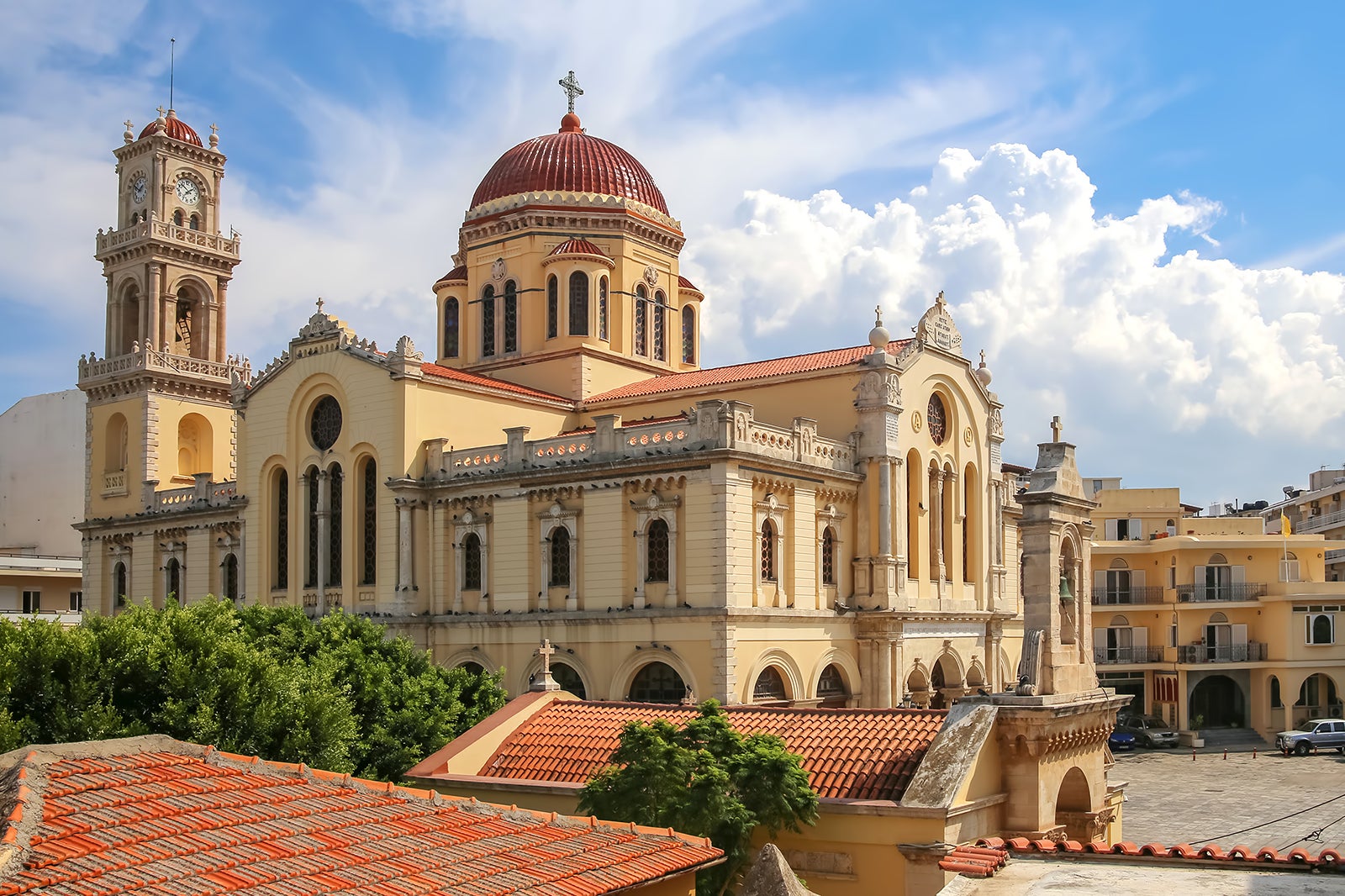 Agios Minas Cathedral is an impressive holy place in Heraklion Town. Built in the late 19th century, the Greek Orthodox cathedral's 8,000-capacity makes it among the largest complexes on Crete Island.
Inside, you'll find Byzantine murals depicting apostles, tales from the Bible, and Christ Pantocrator decorating the main dome. A must-see is the marble wall of icons and religious paintings, which replaced the original wooden iconostasis during the 20th century.
Location: Agiou Mina 25, Heraklion 712 01, Greece
Open: Daily from 8 am to 6 pm (hours vary)
Phone: +30 281 028 2402
7
Party in Lions Square
Heraklion's nightlife centre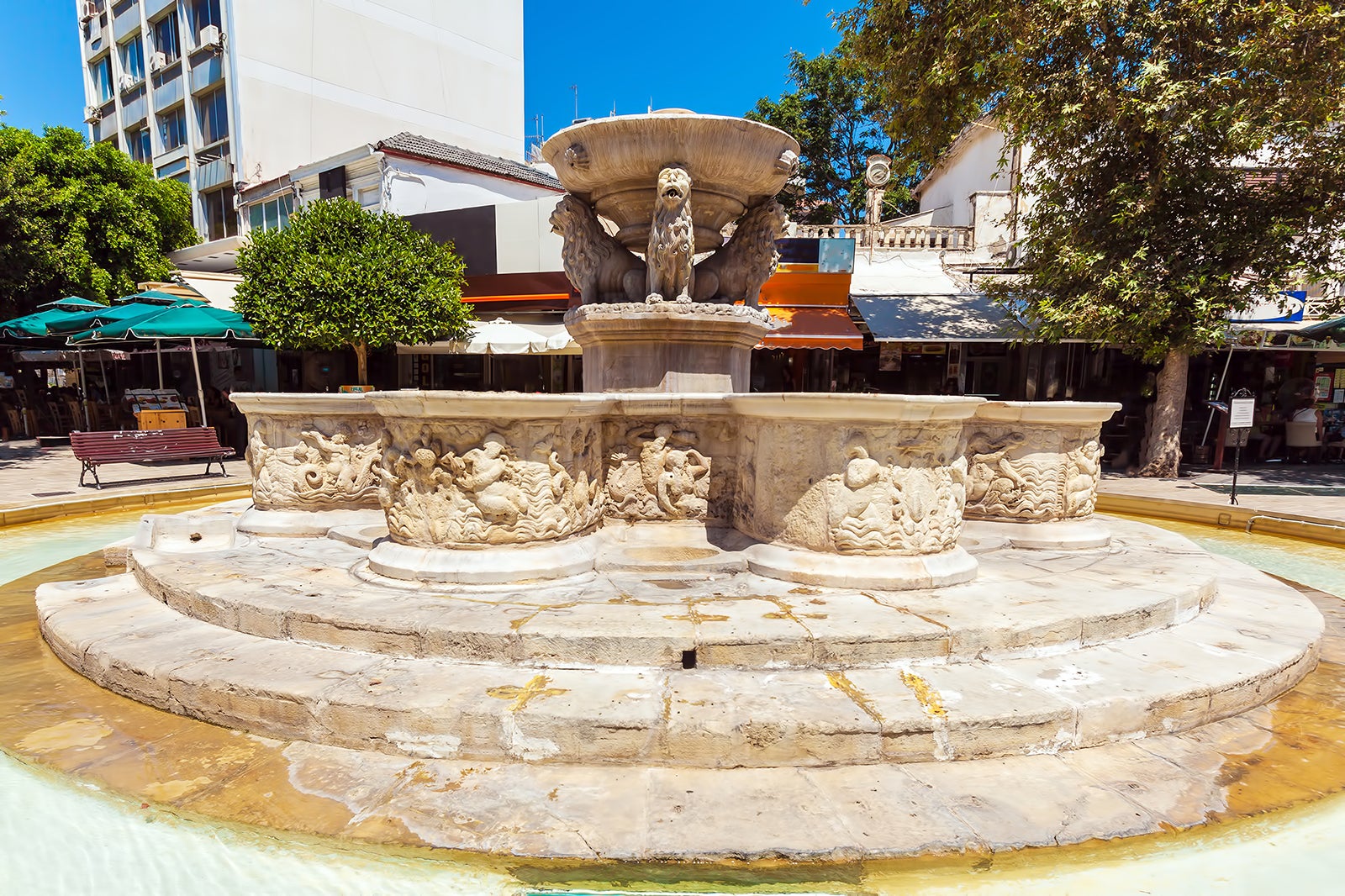 Located in the middle of Heraklion's Old Town, Lions Square has a rather vibrant nightlife scene. You can find several all-night clubs, but the area is mostly famous for its laidback bars, which often have locals playing Greek bouzouki-style music until late.
Summertime in Heraklion often sees taverns offering outdoor seating overlooking the Old Town's historical landmarks. If you prefer a quiet night out, taverns around Morosini Fountain serve authentic Greek dishes, local wines, and tsikoudia (Crete brandy).
Location: Lions Square, Heraklion 712 02, Greece
8
Join a wine tour
Book a tour and tasting at Heraklion's popular wineries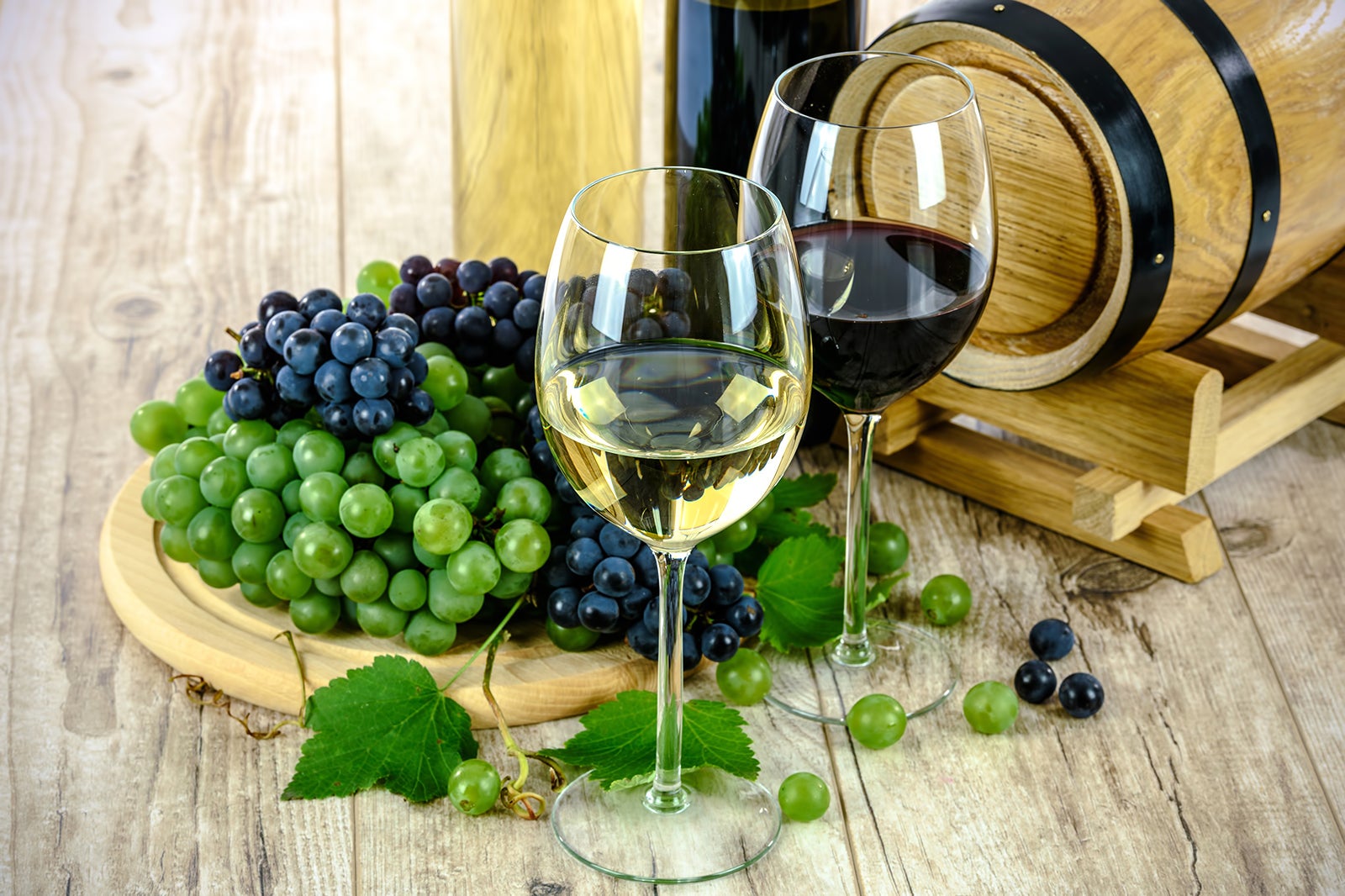 The hilly landscape on the southern part of Heraklion has miles of quality vineyards. While most produce Greek Vilana, Mandilaria and Vidiano wines, you can also find a few wineries specialising in Chardonnay, Sauvignon Blanc, Syrah, and Cabernet Sauvignon.
Book a wine tour at the award-winning Lyrarakis Vineyards, which was founded by Manolis and Sotiris Lyrarakis in 1966. The tour includes a visit to the 14th-century Karoula wine press and the vineyard's facilities, as well as first-hand information from the owners. You also get a guided tasting session of various cheeses and Lyrarakis' excellent wines, which are made with local grape varieties, Plyto and Dafni.
9
Bougatsa
A sweet breakfast treat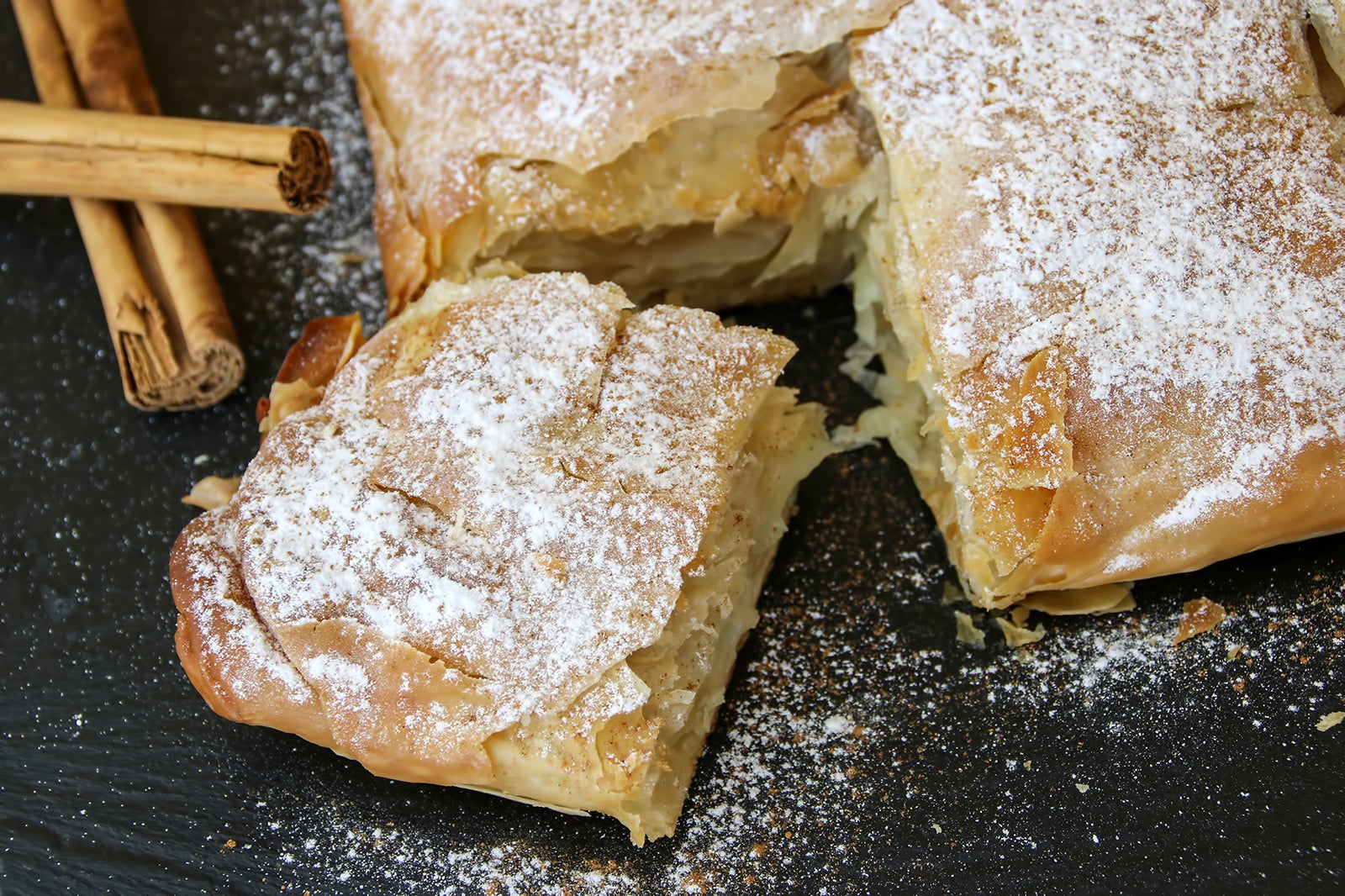 Bougatsa is basically a cream-filled phyllo pastry with a light dusting of powdered sugar and cinnamon on top. While this popular Greek breakfast treat usually contains custard, Heraklion's version is filled with mizithra cheese and honey – you might also be able to find a savoury bougatsa that comes with minced meat.
Many cafes in Lion Square serve bougatsa for breakfast, but Kirkor and Phyllo Sophies are often recommended by locals. These venues have been serving this rustic Greek pie since the 1920s, and both are fairly close to the famous Morosini Fountain.
Back to top