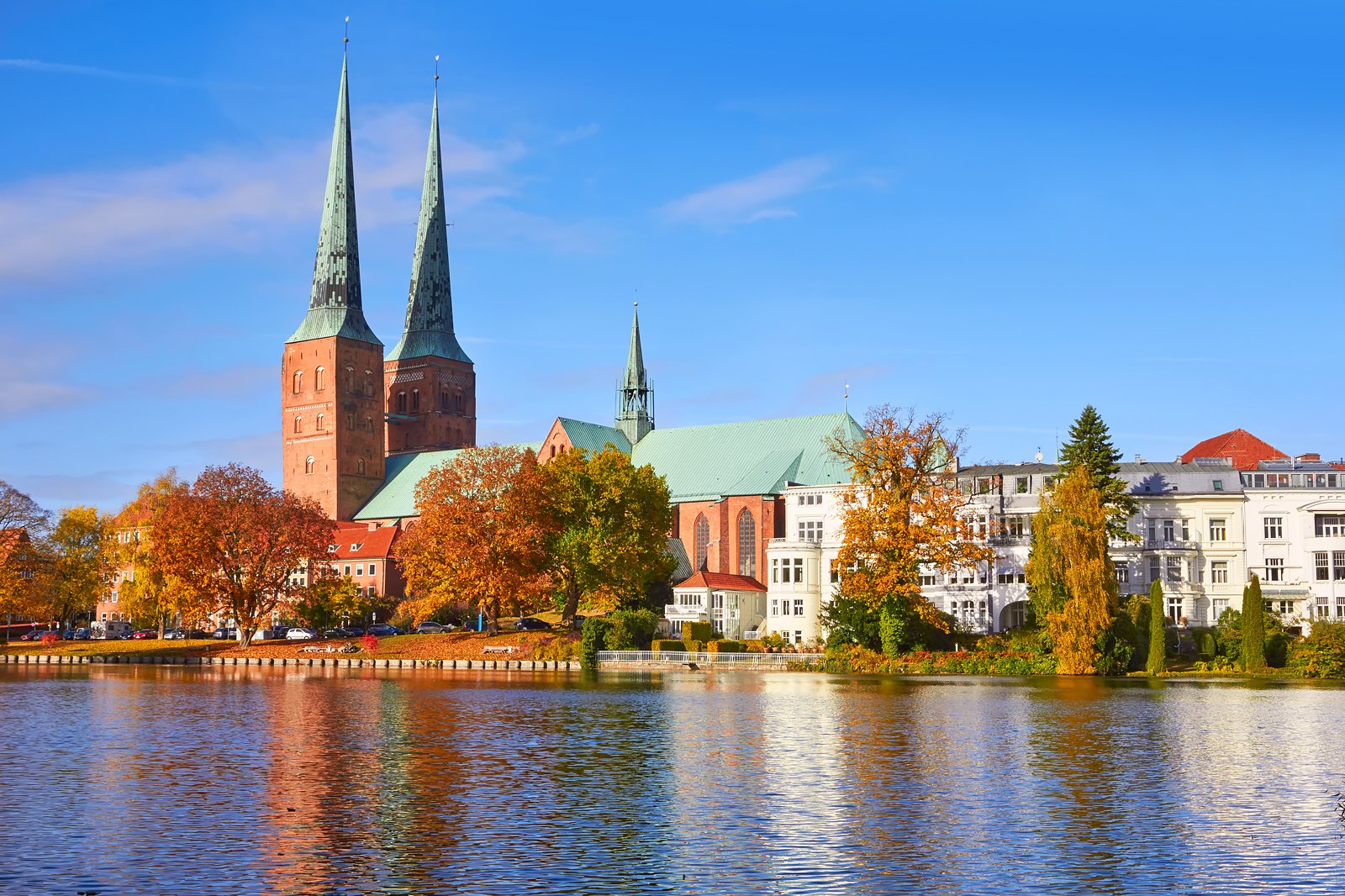 10 Best Things to Do in Luebeck
What is Luebeck Most Famous For?
Luebeck is a major city in northern Germany famous for its historical heritage. It has been listed by UNESCO since 1987. The "Queen of the Hanseatic League", as it was nicknamed during the 14th century, has many remnants of its glorious past. In the Old Town, you'll discover many remarkable landmarks built in the Brick Gothic style specific to the region, including Saint-Mary's Church and Holstentor Museum.
Besides its many cultural spots inherited from the past, Luebeck offers a very pleasant destination for a holiday. Among the great things to do in Luebeck are the Baltic Sea and the Travemünde beaches which are just a 15-minute drive away, and there's the Old Town that offers lively dining and shopping scenes.
What are the best things to do in Luebeck?
1
An der Obertrave
Take a leisure walk on the serene riverside of Luebeck
An der Obertrave is a 700-metre-long picturesque promenade along the River Trave. Lined with trees and featuring many places to sit, it's a very serene place to start your tour of the Old Town. Splendid listed houses alongside the promenade give it a quaint, timeless feeling.
You'll also find a good choice of bars and restaurants if you want to take a break during your stroll. On warm days, their terraces are especially inviting.
Location: An der Obertrave, 23552 Luebeck, Germany
photo by Andrzej Otrębski (CC BY-SA 4.0) modified
2
Holstentor
Learn about the history of Luebeck in this historical building
The Holstentor (Holsten Gate) is one of Luebeck Old Town's medieval gates. This fully restored brick building dates back to the 15th century. Made of 2 towers and a central building, it sits on the west side of the Old Town and hosts a museum dedicated to the history of Luebeck.
The Holstentor is the first historical building you meet when coming from the train station. It's the perfect first stop to learn about the city before you wander around the Old Town.
Location: Holstentorplatz, 23552 Luebeck, Germany
Open: January–March: Tuesday–Sunday from 11 am to 5 pm (closed on Mondays). April–December: daily from 10 am to 6 pm
3
Luebeck Old Town
Walk in the streets of the former Queen of the Hanseatic League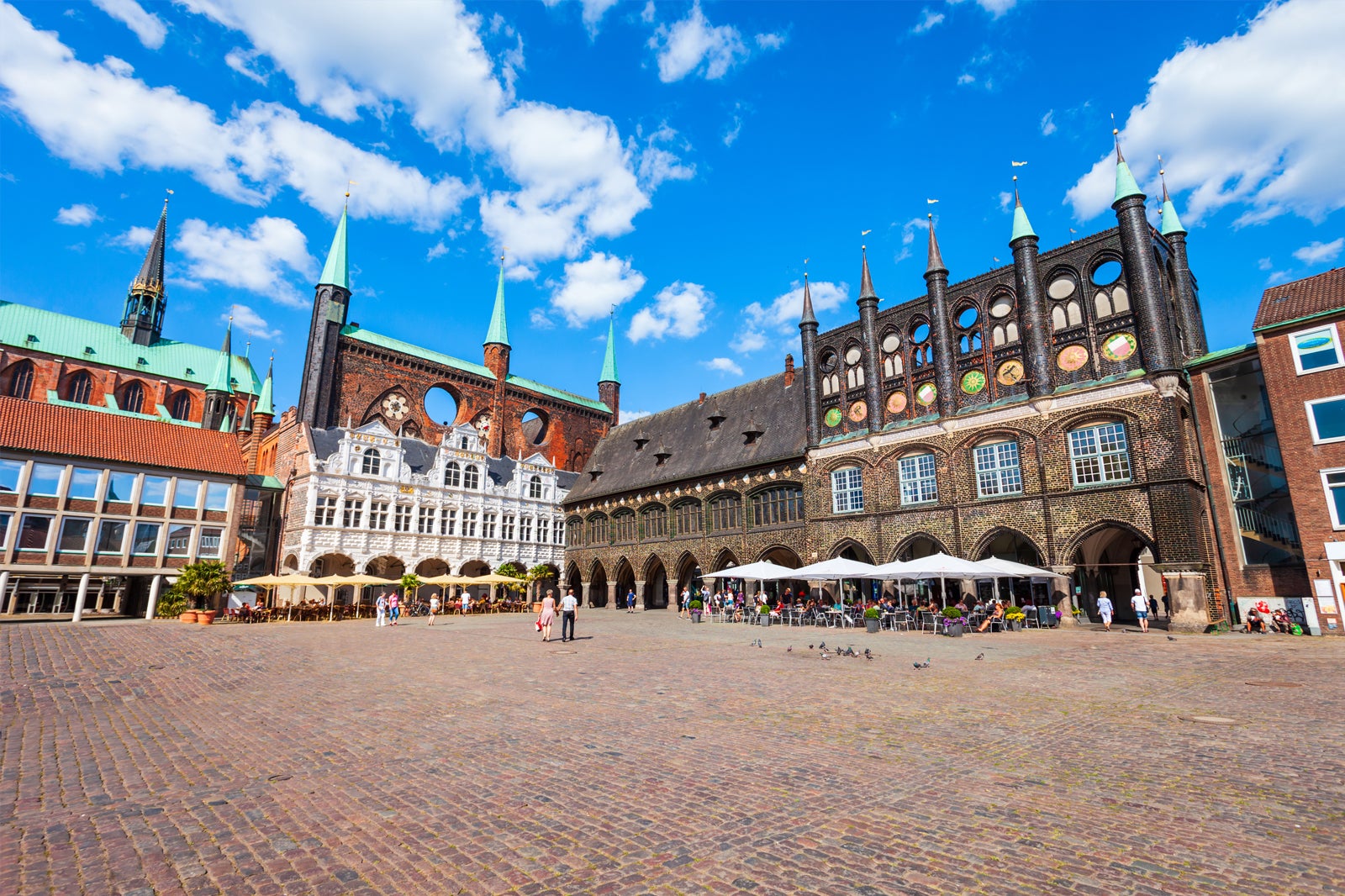 Luebeck Old Town sits on an island in the middle of the River Trave. Listed as a UNESCO World Heritage Site, it's accessible via 5 bridges and hosts a mix of historical and modern buildings. Churches, civic buildings, museums, Willy Brandt's house and many other places of interest dot the Old Town, interspersed with restaurants and shops.
For a real travel-back-in-time sensation, don't hesitate getting away from the main streets and explore the smallest lanes.
Location: On an island in the centre of the city
4
Breite Straße
Wander along Luebeck's main shopping street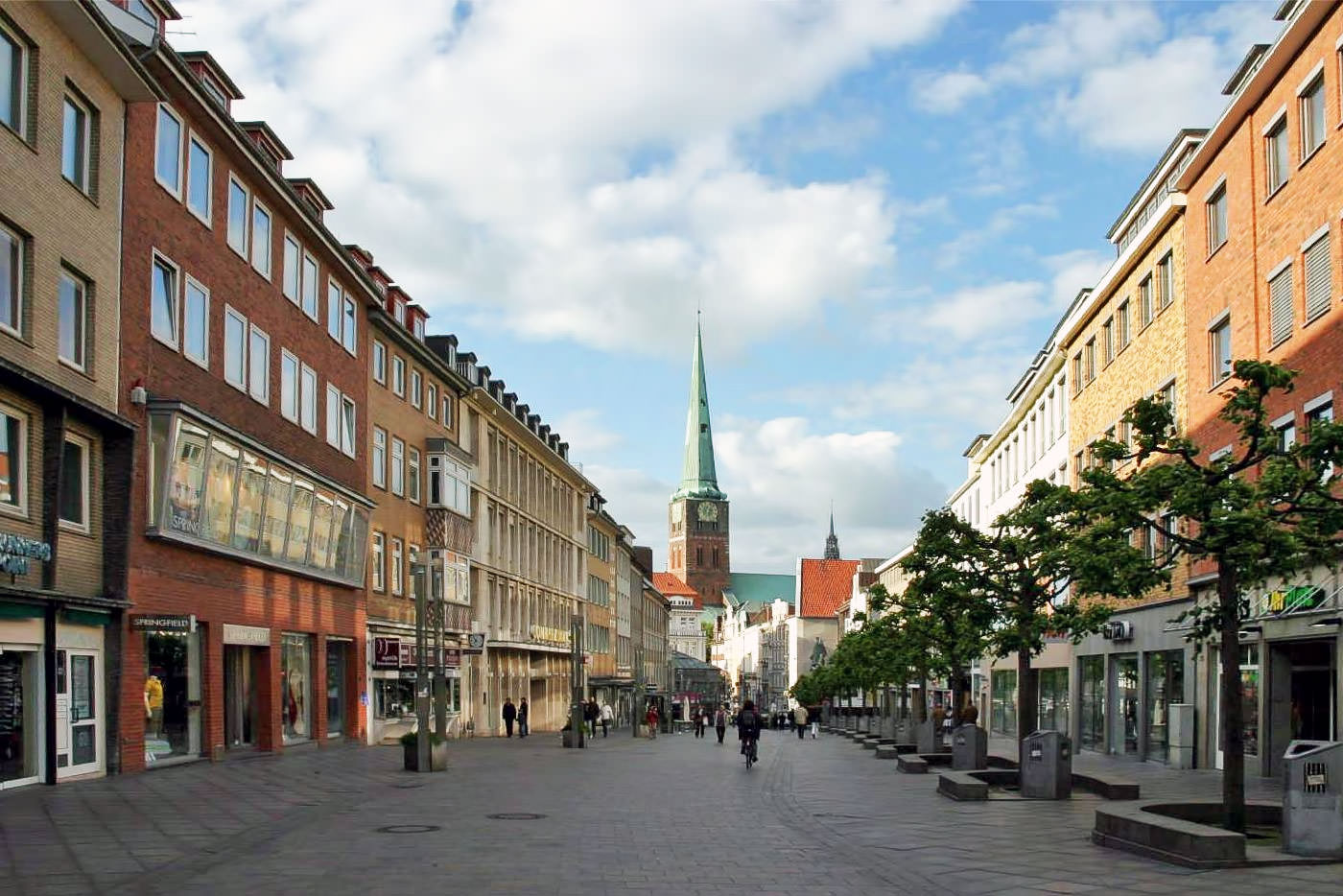 Breite Straße is a 450-metre-long street that runs north to south through the centre of the Old Town. Hosting designer fashion, accessories and jewellery shops, it's a popular spot in the city for bargain hunters. Breite Straße is a pedestrian street where you'll not only find trendy boutiques and shopping malls, but also a great range of bars and restaurants.
Location: Breite Straße, 23552 Luebeck, Germany
photo by Andreas Geick (CC BY-SA 3.0) modified
5
Saint-Mary's Church
Explore one of the largest churches in Germany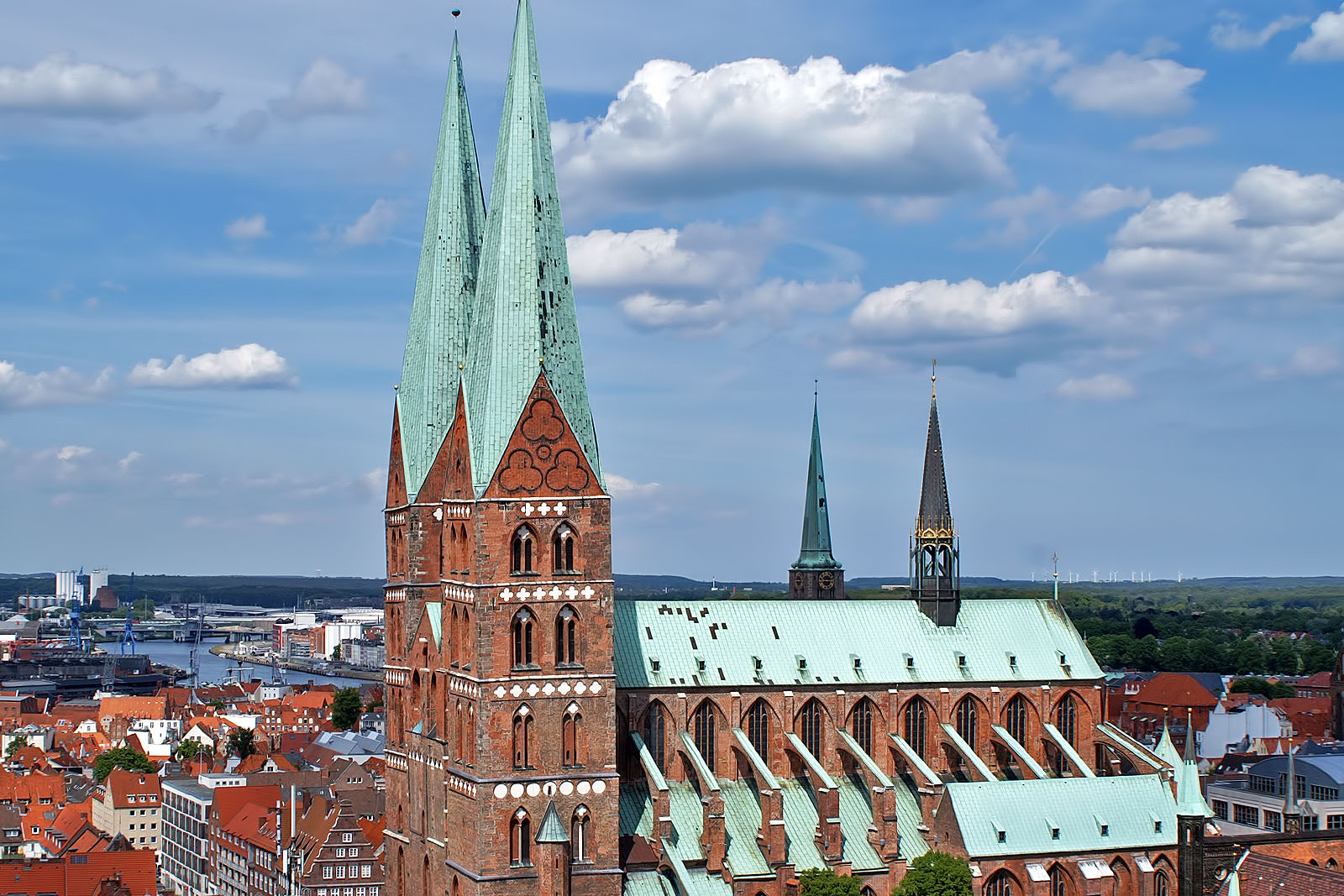 Known as Marienkirche in German, Saint-Mary's Church is an emblematic symbol of the old Hanseatic city of Luebeck. The 3rd largest church in Germany is also one of the oldest, dating back to the mid-14th century. With towering spires that reach 124 metres high, it's a superb example of north German red-brick Gothic style that can be seen from around town.
Don't miss the panoramic view from the top, it's breathtaking. Many remarkable pieces of art, such as a 16th-century astronomical clock, are hosted in the church. The visit of Saint-Mary's Church is worth the modest entrance fee.
Location: Marienkirchhof 1, 23552 Luebeck, Germany
Open: Daily from 10 am to 6 pm
6
Travemünde
Visit Luebeck's seaside neighbourhood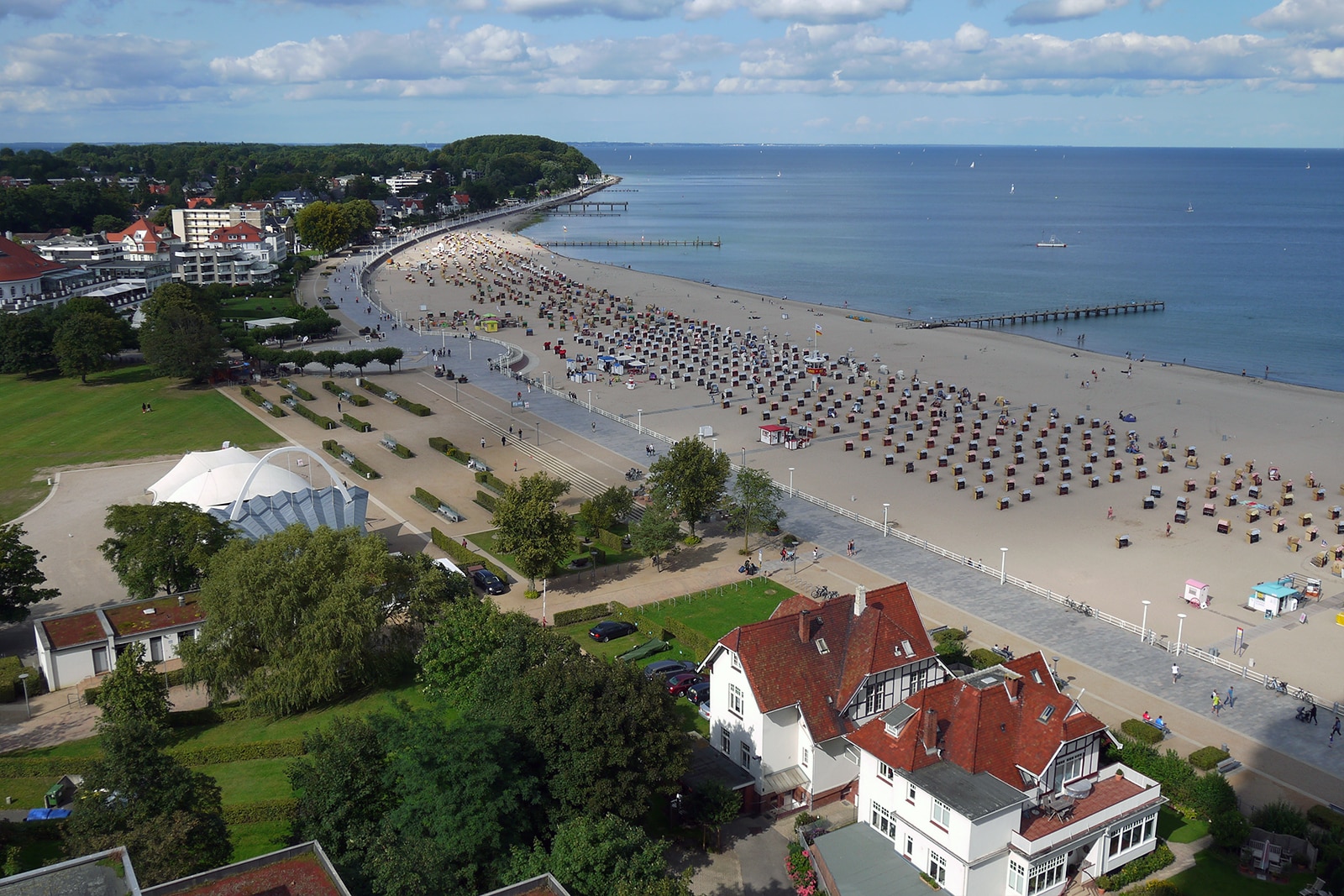 Couples
Families
History
Photo
Travemünde is Luebeck's seaside neighbourhood. Located 16 km northeast of the Old Town, at the mouth of the River Trave, it features long beaches, historical buildings, a museum and one of the largest ferry piers in Germany. The waterfront boardwalk is very pleasant to stroll and you'll find a good range of beachfront restaurants here.
Going to the beach is indeed among the top things to do things to do in Luebeck – while in Travemünde, you can include a visit to the S/S Passat, a well-preserved German four-mast steel ship built in 1911.
Location: 16 km northeast of Luebeck Old Town
7
European Hansemuseum
Get into the history of the Hanseatic League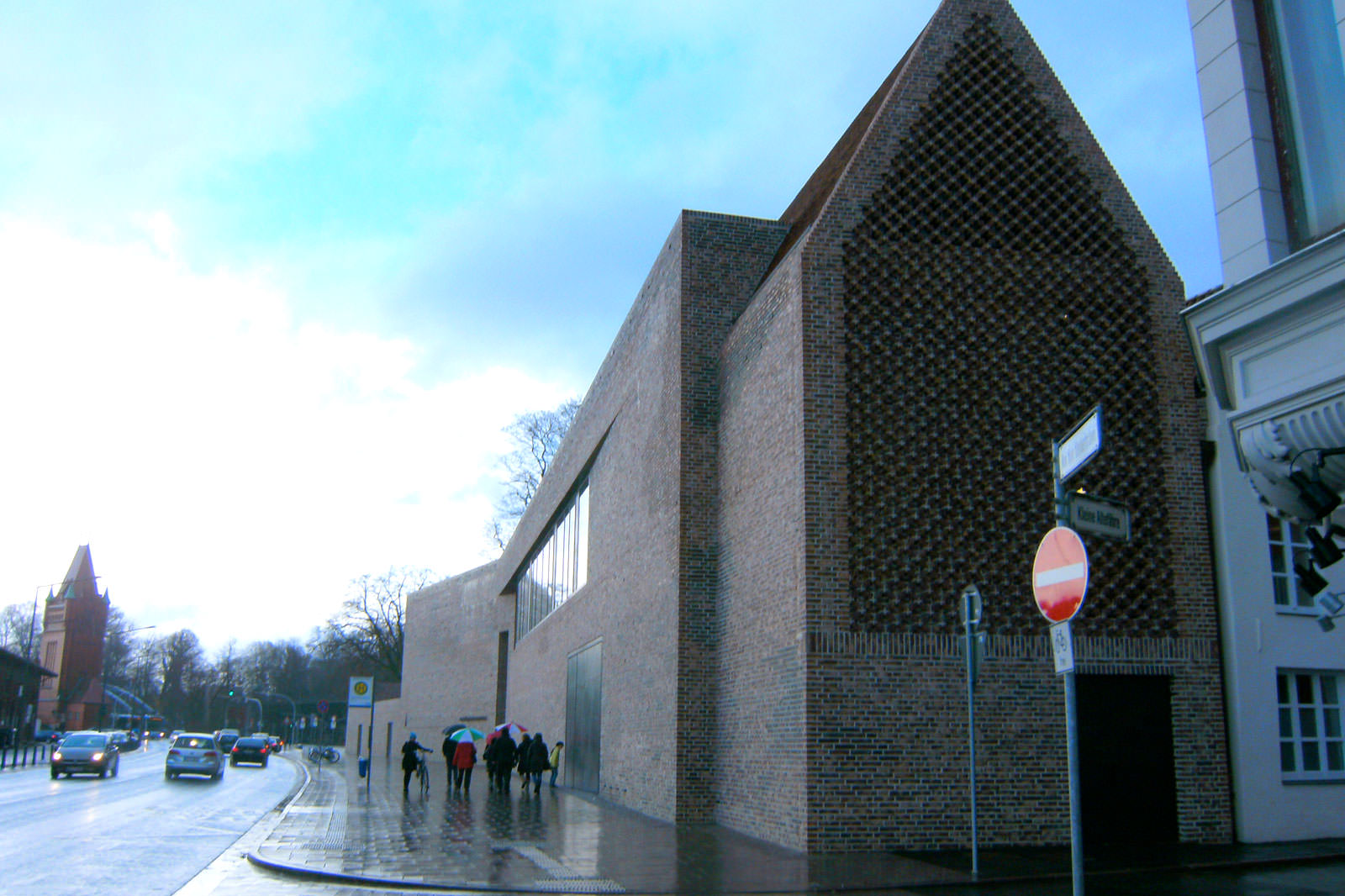 Located towards the northern tip of the Old Town island, the European Hansemuseum is dedicated to the history of the Hanseatic League. Settled in a splendid building that blends modern and historical styles, you'll learn everything about this Middle Ages confederation of German merchants who dominated commerce on the Baltic Sea for 3 centuries.
With interactive elements, original items and documents, and staged historical scenes, the European Hansemuseum is a captivating place to visit. A cool bar and restaurant on the roof offers a cool place to chill out with a view.
Location: An der Untertrave 1, 23552 Luebeck, Germany
Open: Daily from 10 am to 6 pm
photo by Roland.h.bueb (CC BY 3.0) modified
8
River cruises
Rolling on the rivers in northern Germany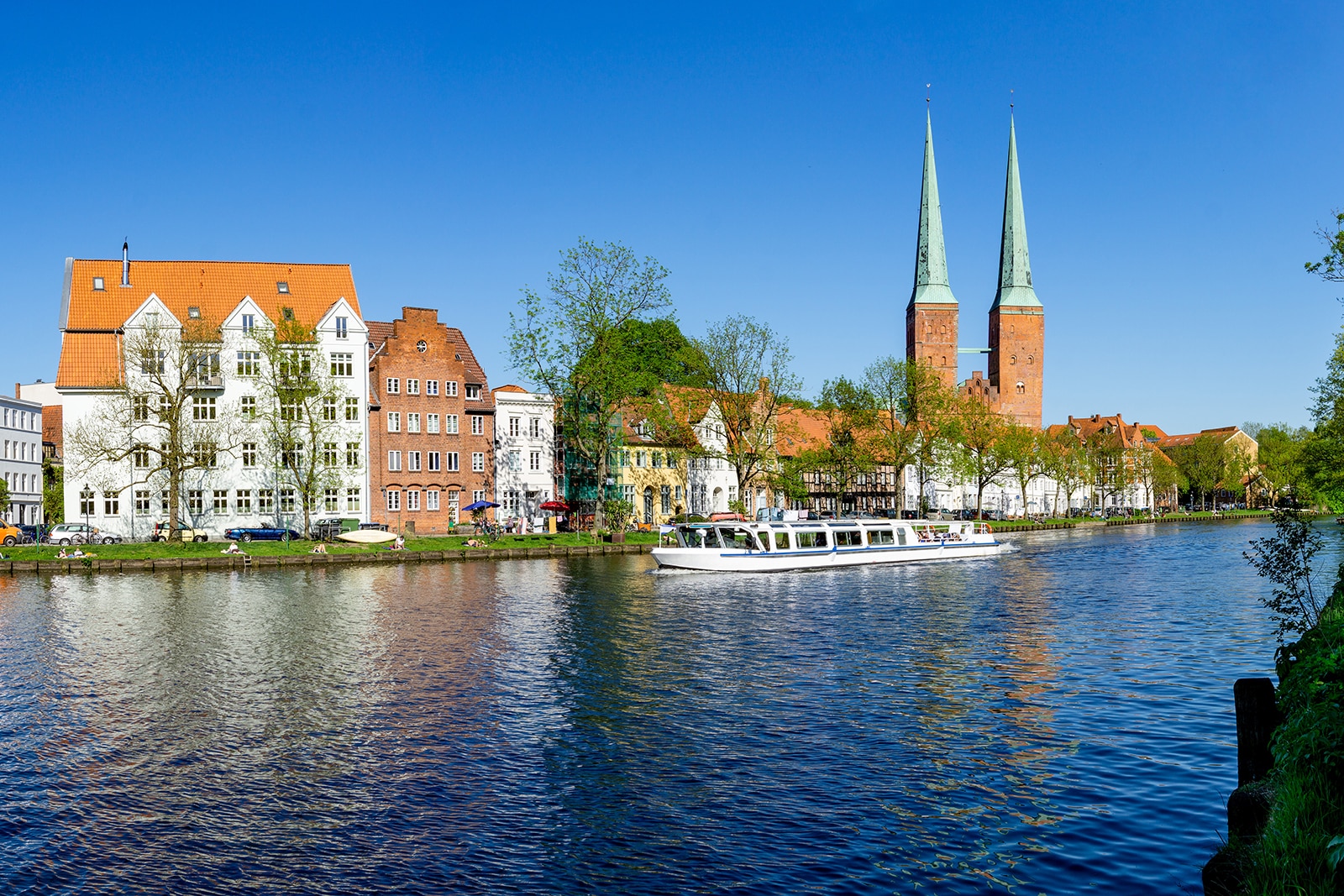 The River Trave and the River Wakenitz give you the opportunity to enjoy pleasant, relaxing cruises around Luebeck. The most popular boat tours at hand on the River Trave include the trip around the Old Town, and the cruise to Travemünde.
Another popular boat trip on the River Wakenitz takes you through unspoilt nature to Rothenhusen. These boat trips are reasonably priced and they give you another perspective on this splendid region of northern Germany.
Location: Boat tours companies can be found along the quays near the Holstentor Museum
9
Bar hopping in the city centre
Each to their own in Luebeck Old Town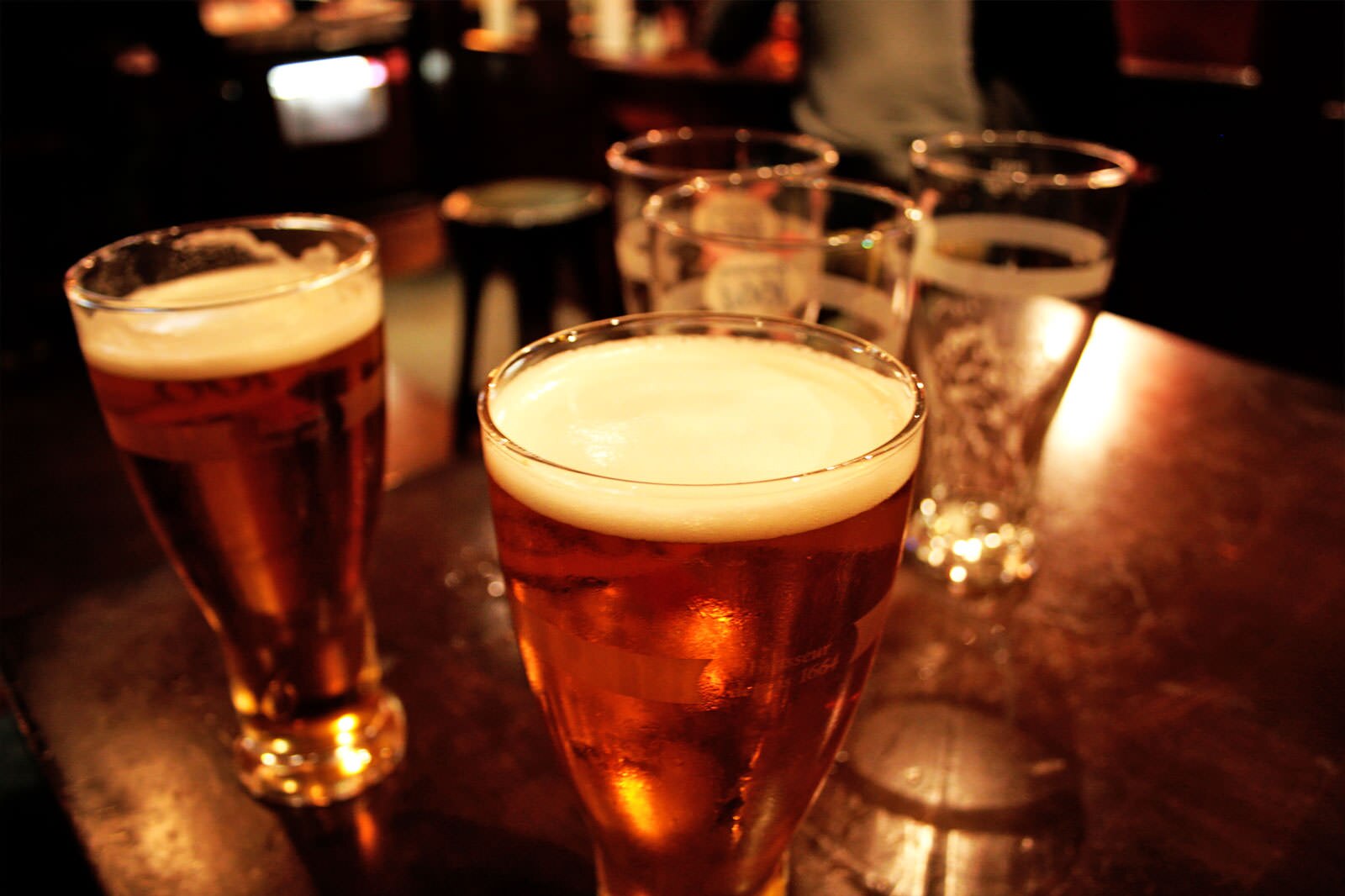 Luebeck Old Town hosts a lively, eclectic scene of bars and restaurants. We've picked 3 of the most popular venues to enjoy a few drinks at night, each of them with a total different style.
If you're looking for a genuine classic German beer house, head to Altstadt-Bierhaus on Braunstraße. 650 metres away, Torrio's American Bar is also a classic venue, but this time with an American style. It sits on Königstraße and is famous for crafting its own gin. Unklar is a festive bar and club located on Clemensstraße. With impressive cocktails, live music, and DJs, this venue literally rocks the Old Town.
10
Cod in mustard sauce and other local specialities
Feast on North German hearty cuisine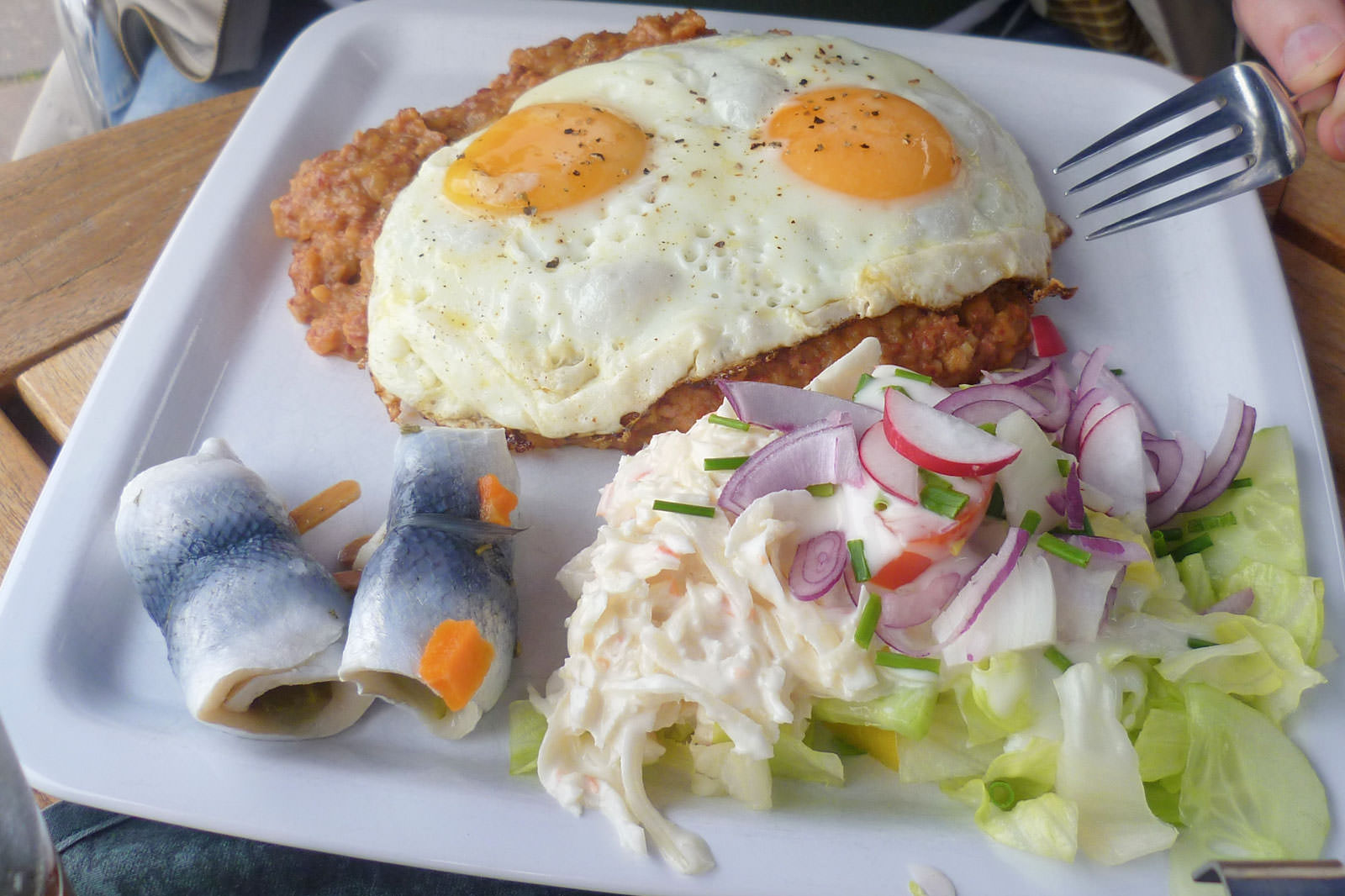 With the Baltic Sea lying 16 km away, you can expect to sample a lot of seafood in Luebeck. One of the favourite local dishes is Labskaus. It may sound odd but the Luebeck version of this famous north German dish features beef, potato, herring, beetroot and eggs. Another popular dish in Luebeck is the cod in mustard sauce.
Last but not least, you can't leave Luebeck without tasting marzipan at Café Niederegger in the Old Town. This venue describes itself as the birthplace of marzipan – even though many other places around Europe do the same.
photo by Pemba.mpimaji (CC BY-SA 3.0) modified
Back to top