11 Best Things to Do in Marseille
What is Marseille Most Famous For?
Marseille is the second-largest city of France, located on the Mediterranean coast in the south of the country. Blessed with a moderate climate, Marseille is also the sunniest major city in the country, and a popular travel destination all year round. The history of Marseille goes back to 600 BC, so you can expect to walk among old streets, castles, churches and museums. In more recent times, Marseille has been home to many famous bicycle races, football matches and international sports events.
No visit to Marseille would be complete without trying some of the local specialties: Bouillabaisse is the best-known dish, while Pastis is a famous anise liquor that goes perfectly with the hot summer days, playing petanque under the trees of the Old Town. If you're looking for a nice souvenir to take home, Marseille is famous for its soap, simply called 'Savon de Marseille'.
What are the best things to do in Marseille?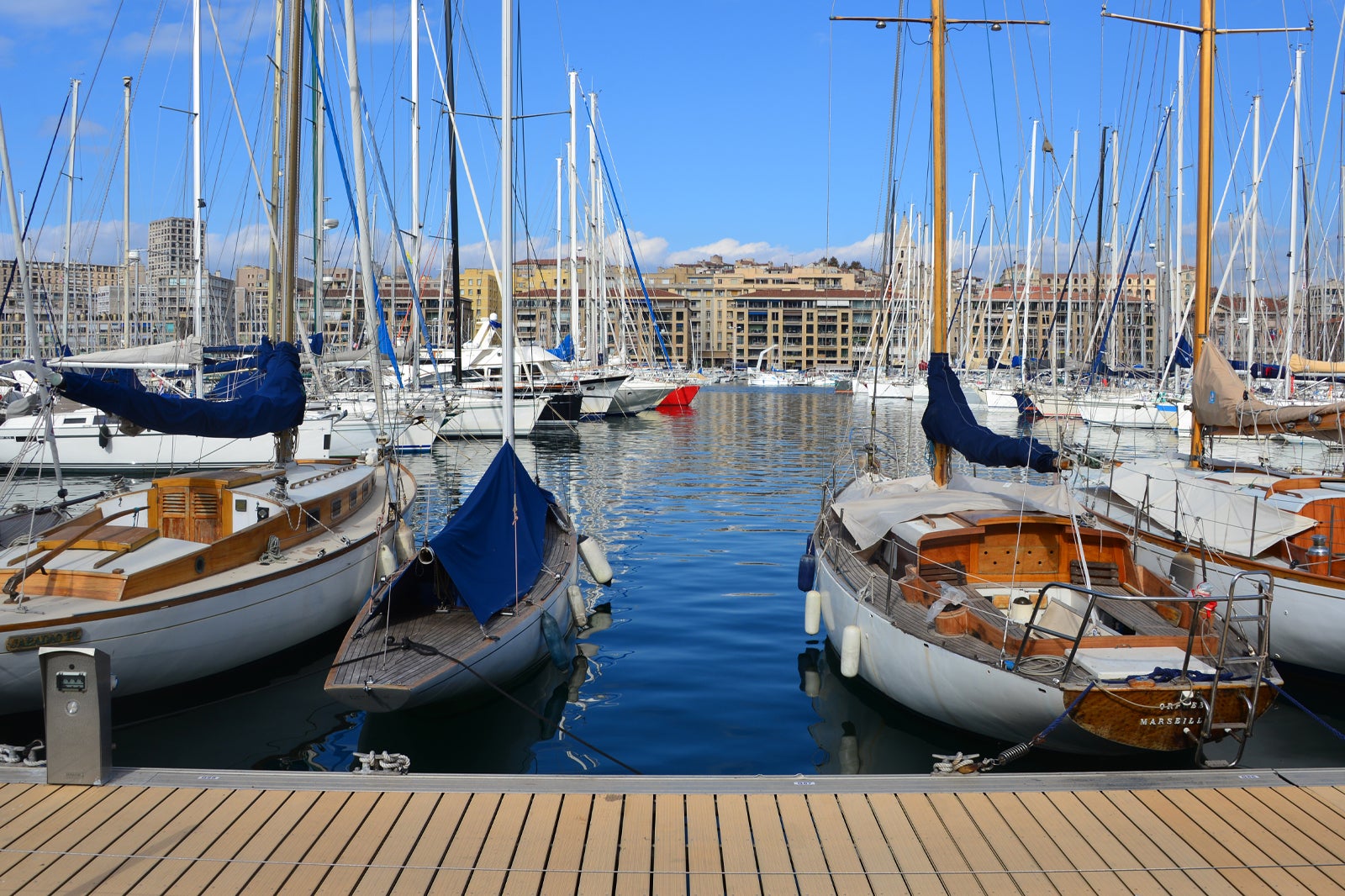 Le Vieux Port is an old and immense harbour mostly used to shelter leisure boats and a few fishing boats. This is where most people start their first visit, casually strolling along dozens of cafes and restaurants. With more than 2000 years of history, the Old Harbour is surrounded by historical buildings from 18th century and older. This is where you'll catch a ferry to visit the famous Chateau d'If and to the Calanques.
Read more
photo by Clément Bardot (CC BY-SA 4.0) modified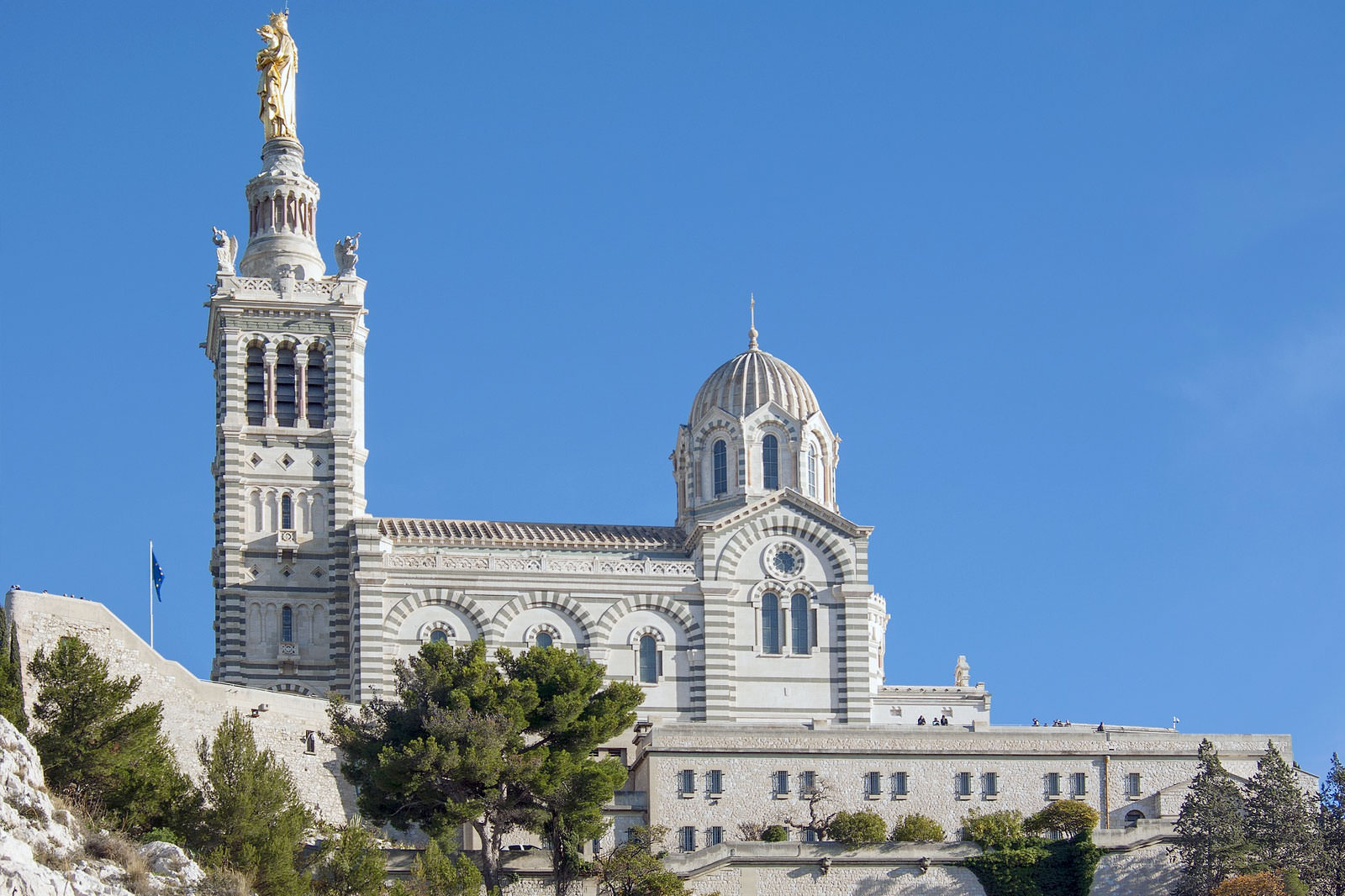 As soon as you approach the centre of Marseille, you will spot the basilica of Notre-Dame de la Garde, majestically perched at the top of the highest hill. Built between 1853 and 1864, in Neo-Byzantine style, this immense church is dominated by an impressive gilded Madonna, standing high at the top of the belfry. The fantastic panorama over the city from the church terrace makes this a 'must visit'. The basilica is easy to reach using one of the many local buses.
Read more
Location: Rue Fort du Sanctuaire, 13281 Marseille, France
Open: Daily from 7 am to 6.15 pm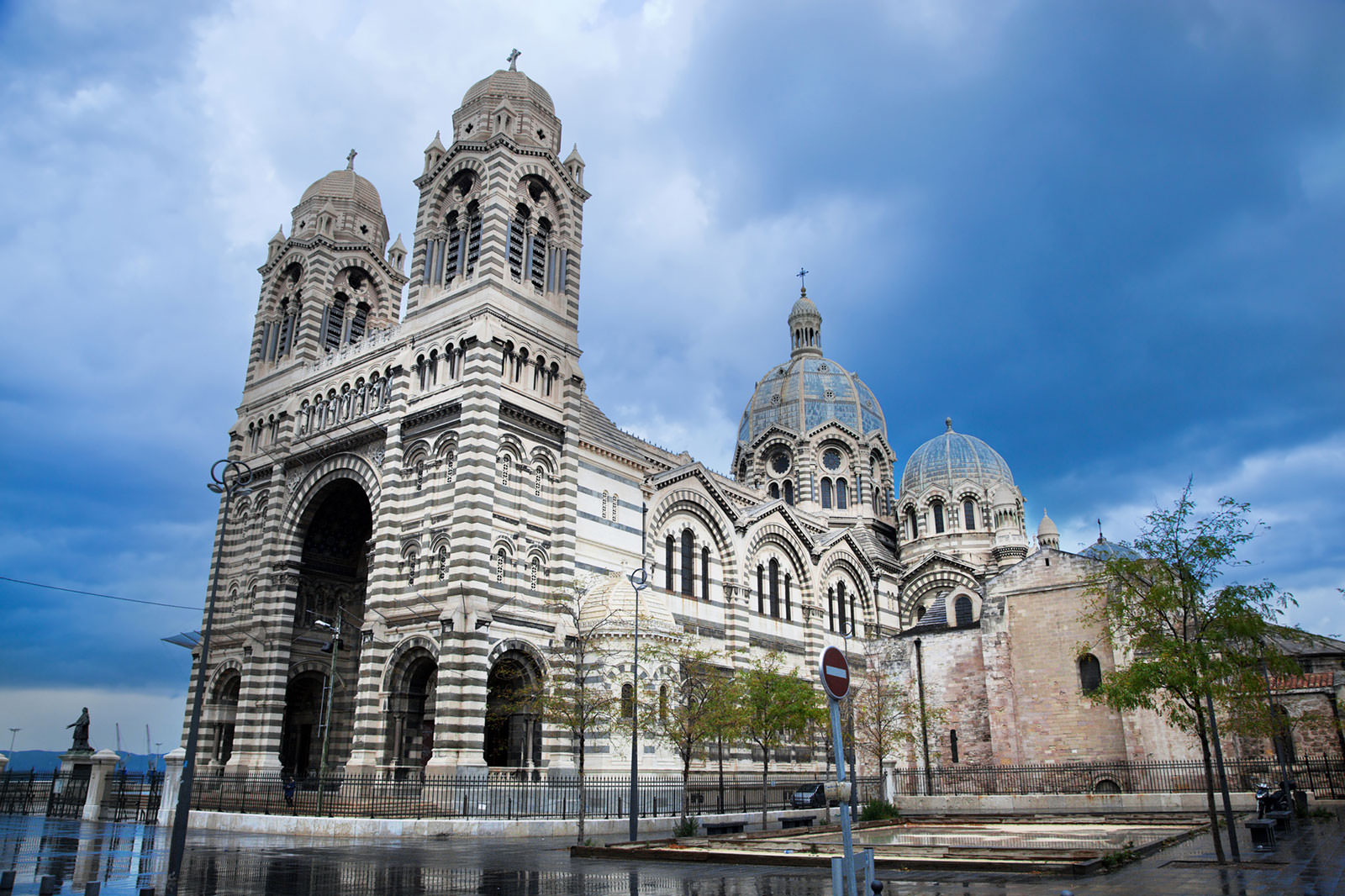 Cathédrale La Major, or Cathédrale Sainte-Marie-Majeure, is an important landmark in Marseille, and one of the largest in France. It can welcome up to 3,000 people. Built in Byzantine-Roman style with alternating green and white limestones, this Roman Catholic Cathedral resembles Florence's Duomo.
Read more
Location: Place de la Major, 13002 Marseille, France
Phone: +33 (0)4 91 90 52 87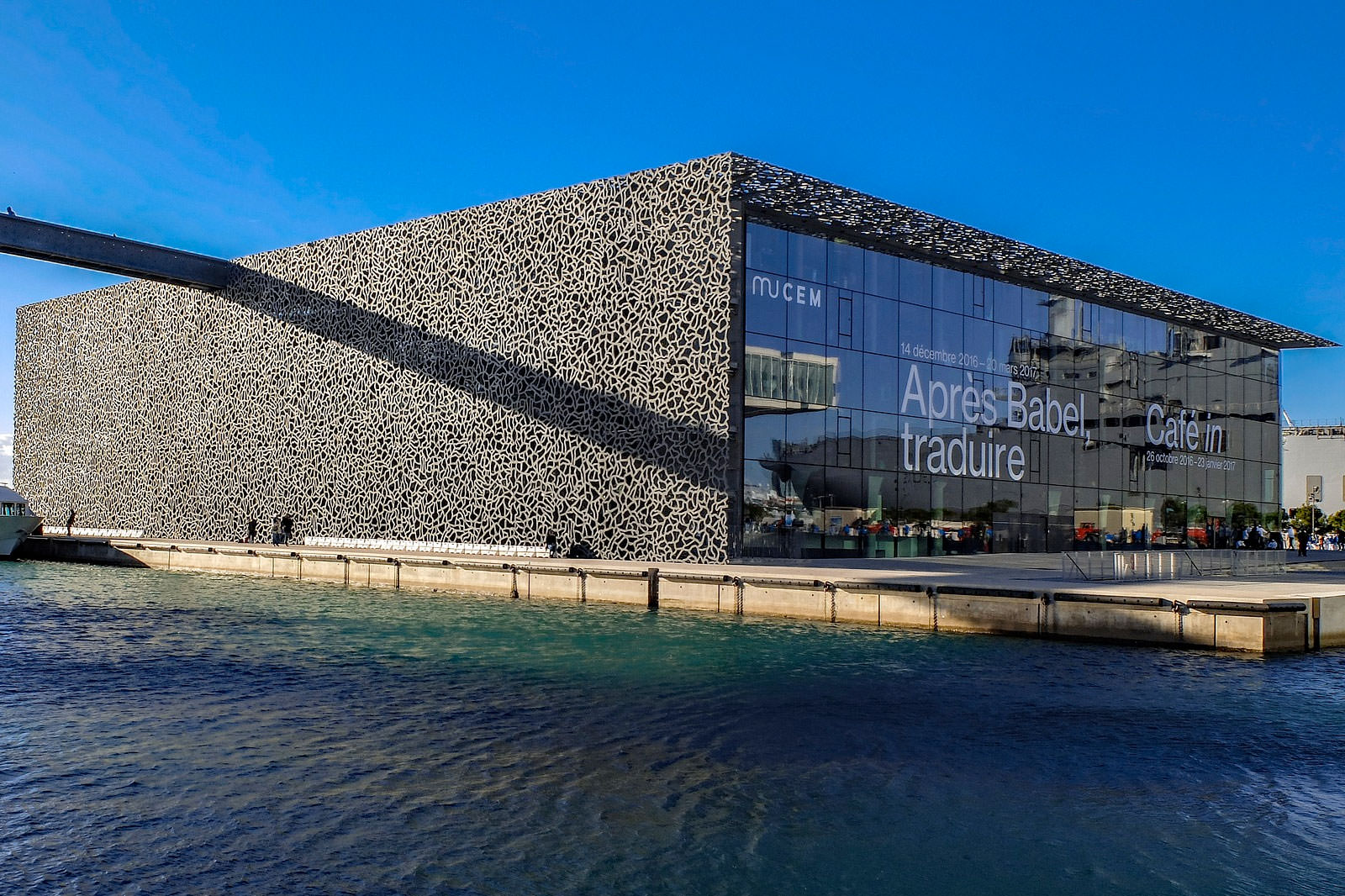 MuCEM, as it's locally called, is a museum built partly in a 12th-century fort (Fort Saint Jean) and partly in a modern complex with an intricate design. Here, visitors can learn about the history of Mediterranean civilizations, but also discover the rich past of Marseille through thousands of photos, postcards, films and exhibits. One of the highlights is a 115m suspended bridge that connects the museum to the Fort Saint Jean.
Read more
Location: 7 Promenade Robert Laffont, 13002 Marseille, France
Open: Tuesday – Sunday from 11 am to 6 pm, closed on Mondays
5
Château d'If
Explore the fortress from which the Count of Monte Cristo escaped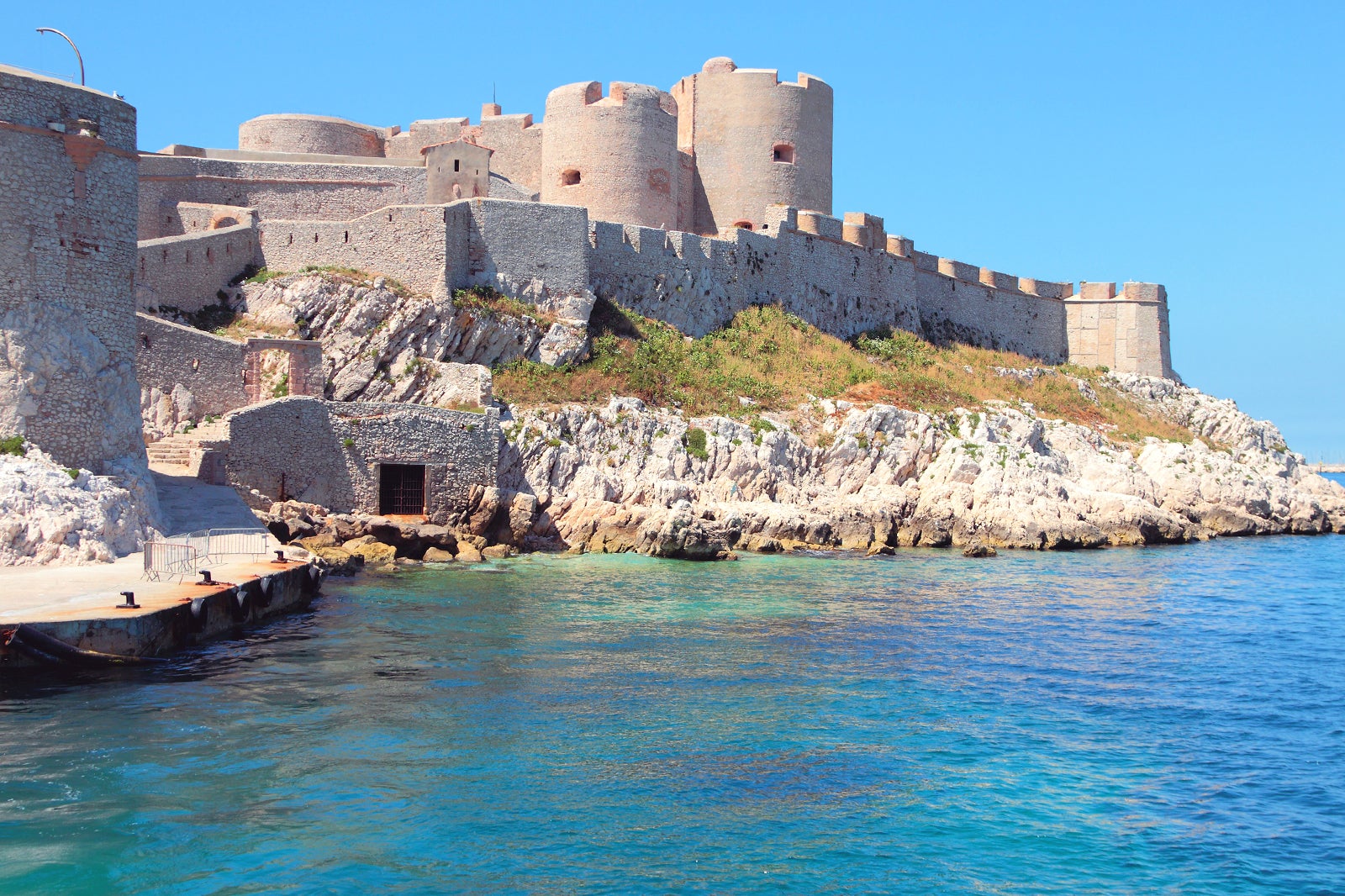 Families
History
Photo
Budget
The Château d'If overlooks the fortified island of the same name 3.5 km southwest of the port of Marseille. This 16th-century fortress was converted into an Alcatraz-style prison in the 18th century. It became famous in the 19th century for being the main setting of Alexandre Dumas's novel, The Count of Monte Cristo. Getting there is a pleasant mini-adventure for the whole family. It's a well-preserved historic castle from which you get beautiful views of Marseille. A restaurant with outdoor terrace offers a delighting place for lunch.
Read more
Location: Château d'If, 13007 Marseille, France
Open: October–March: Tuesday–Sunday from 10 am to 5 pm. April–September: daily from 10 am to 6 pm
Fort Saint-Jean is a historic fortification that dates to 1660 and connects to a historical district and the first French national museum outside of Paris. Here you can walk the parapets that overlook the city and ocean and explore the structure that protected the city from invasion during the Middle Ages. It served as a military outpost and barracks up through the 20th century and played a critical role in World War II. With easy access to the neighbouring Le Panier historic district and the old harbour, it's an enchanting place to walk in the footsteps of history.
Read more
7
Beaches of Marseille
Spend the day on an unspoilt beach
Marseille is an ideal destination for beachgoers looking for sun, sand, and sparkling waters. Calanque d'En Vau is not easy to reach – you'll need to hike 1-2 hours through jagged cliffs. But the unspoilt beach, crystal-clear water, and dramatic cliffside scenery make it all worthwhile. Be sure to wear hiking boots and bring all the food and drinks you need for the day.
Plage des Catalans is a much easier beach to reach. You can walk there from the Pharo neighbourhood. Its location in the centre of Marseille means it's not quite a peaceful place to relax. On the other hand, it's fantastic for people-watching and quick cool-offs in summer. Another slice of beach heaven is Sainte Croix Beach, west of Marseille. The idyllic setting with warming, calm turquoise waters makes it a pleasure for families with children.
8
Le Panier
Discover an old neighbourhood of Marseille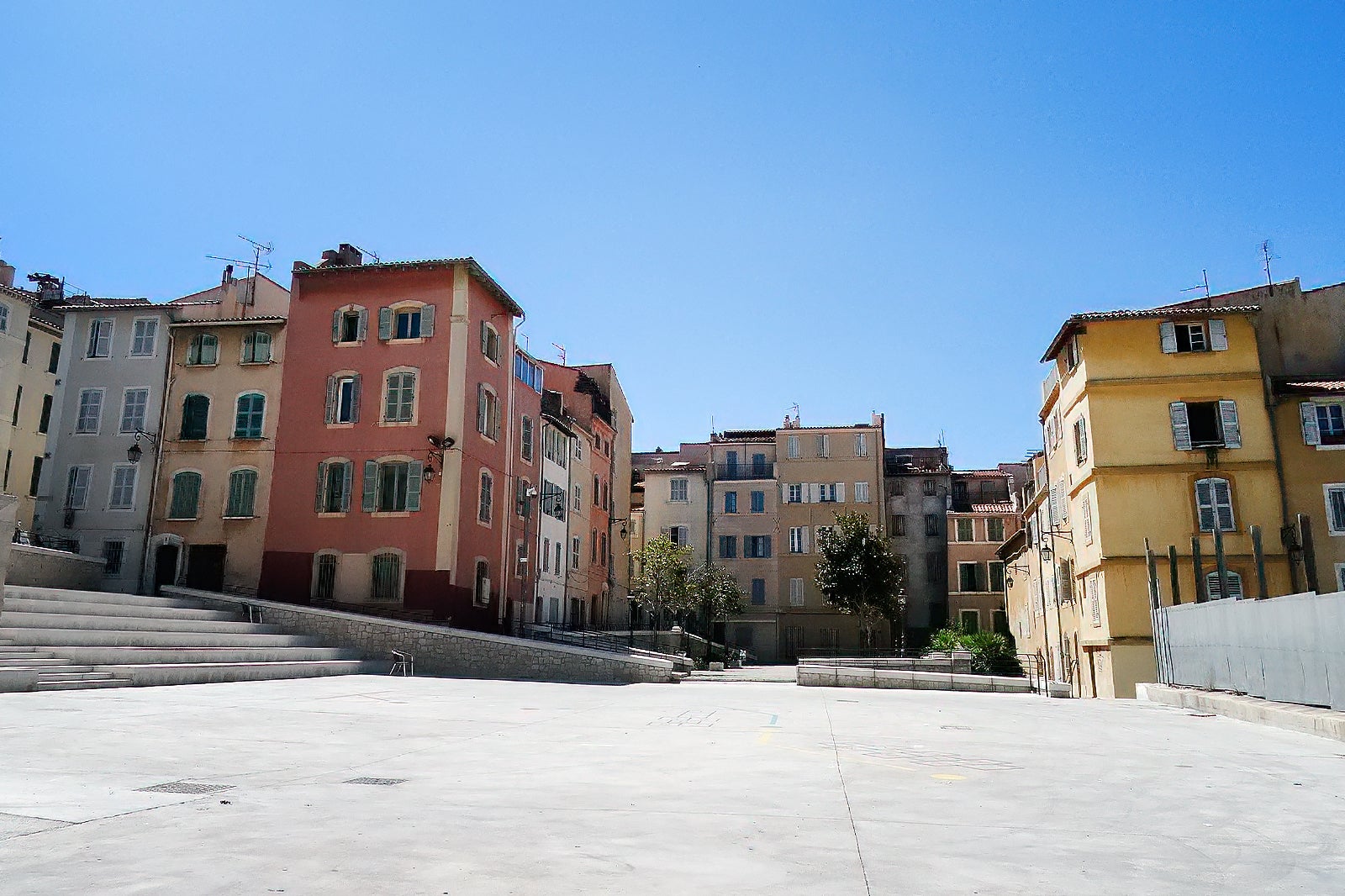 Couples
History
Photo
Budget
Le Panier is a very attractive neighbourhood of Marseille found in the north of the Old Port district. It has been inhabited for more than 2000 years. Once considered the poorest part of town, it has recently become trendy, with a lot of typical small shops and cafes. Le panier is a good place to wander around for a half a day and take photos of the small alleys and stone stairways lined by ochre stone houses.
photo by Guiguilacagouille (CC BY-SA 3.0) modified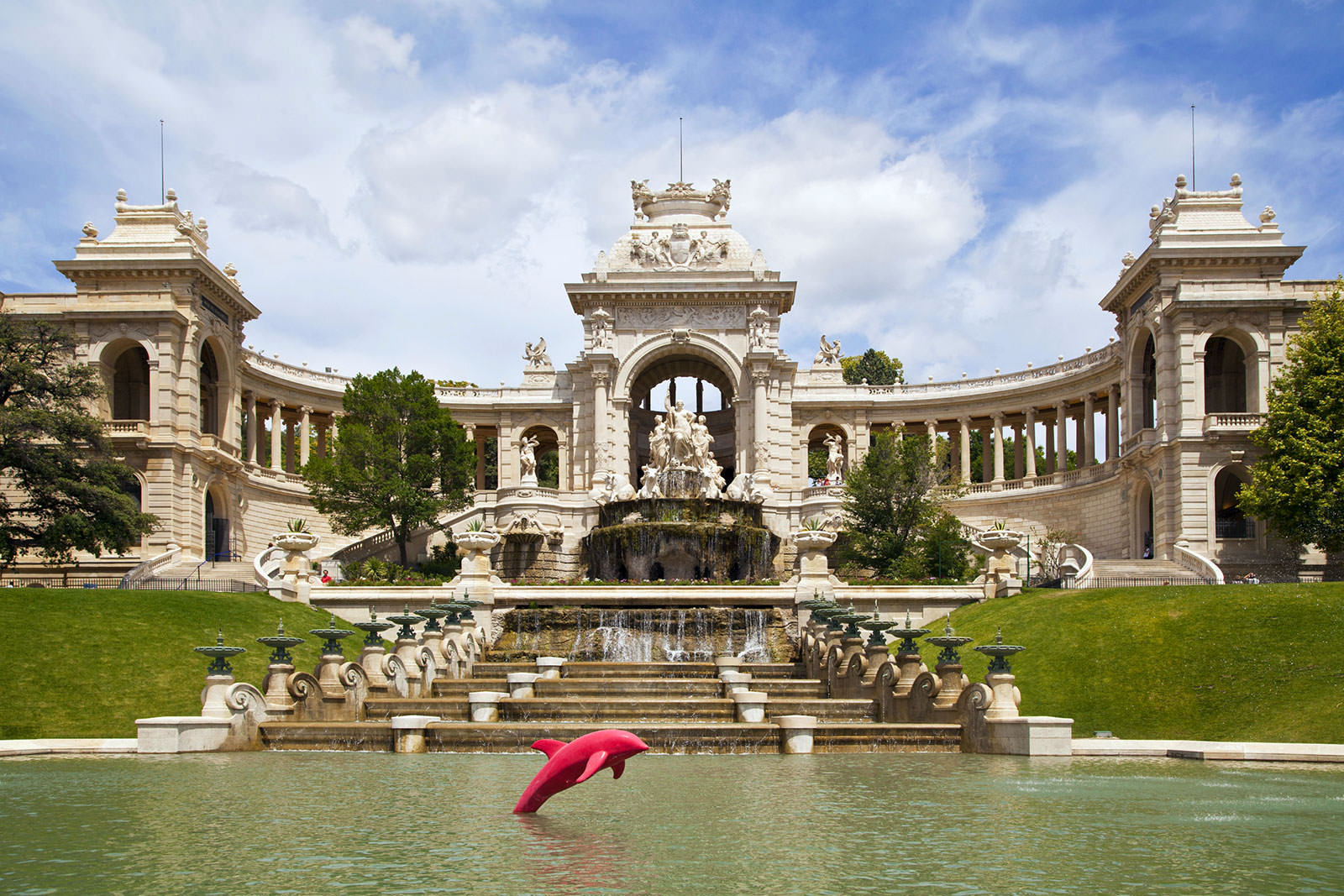 Couples
Families
History
Photo
Palais Longchamp is an impressive monument built in 1869, best known for its magnificent fountain, water features, and colonnades. The Palace is worth visiting on its own but is also a chance to explore two of the most important museums of Marseille: the Musée des Beaux-Arts and the Museum of Natural History. Behind the Palais, don't miss the Parc Longchamp – a beautiful 'Garden a la Française' that used to be a zoo. You can easily reach it by tramway or Metro.
Read more
Location: Boulevard Jardin Zoologique, 13004 Marseille, France
Open: Daily from 8 am to 6.45 pm
Phone: +33 (0)4 91 55 25 51
10
La Canebière
Take a stroll on the main shopping avenue in Marseille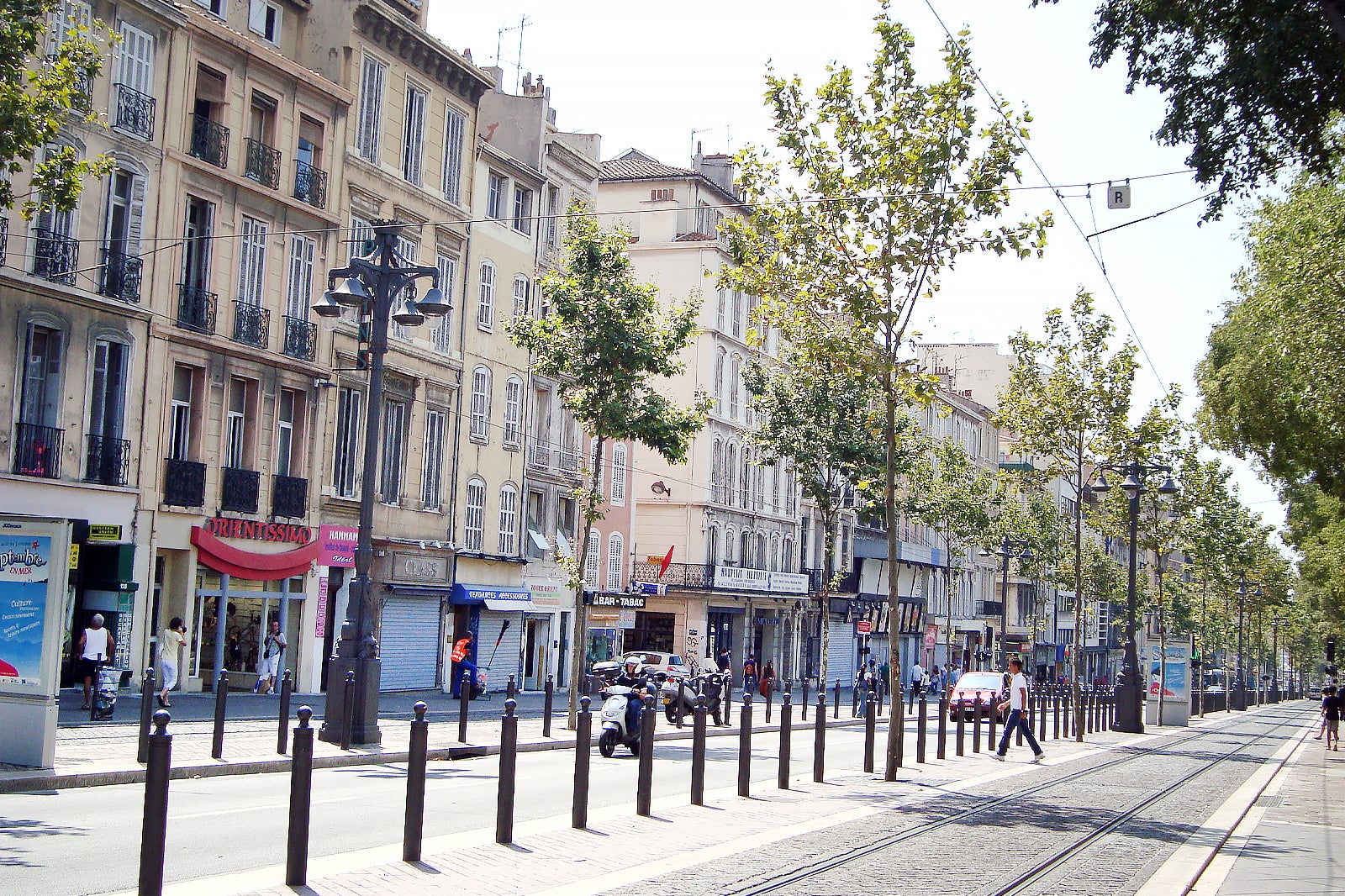 This famous avenue is the wealthy shopping heart of Marseille. It's sometimes compared to The Champs Elysees in Paris, where luxury brands alternate with cafes and restaurants. This wide street starts from Le Vieux Port and stretches all the way to the Capucin neighbourhood. La Canebiere is not as glamorous as it used to be but is still one of the most important streets of Marseille and was featured in the movie French Connection 2.
Read more
photo by Martin Stiburek (CC BY-SA 4.0) modified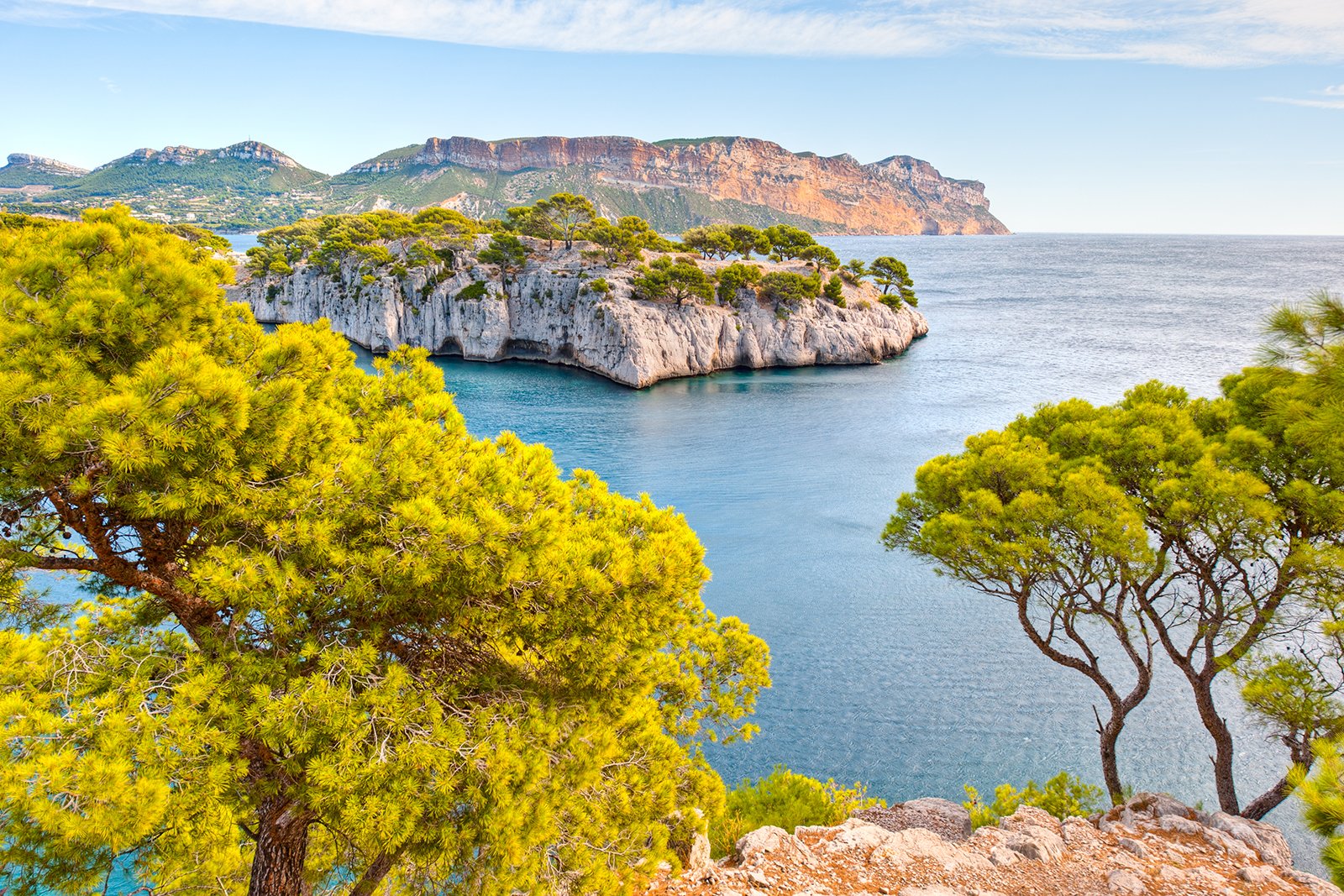 The Calanques are a set of scenic white limestone cliffs in the southern and eastern parts of Marseille, on the way to nearby Cassis town. The superb panoramic views, beaches, and clear blue water of the creeks hiding between high cliffs are worth a day trip. The Calanques are accessible both by land and sea from the Old Harbour, and the best time to visit them is obviously summer. Kayaking and bicycle tours are easy to find if you prefer an active and eco-friendlier visit to this national park. The Corniche des Crêtes and Cap Canaille offer the most spectacular views.
Read more
Location: Bât A4, Parc Valad, Impasse Paradou, 13009 Marseille, France
Back to top