10 Best Things to Do in Lille
What is Lille famous for?
Lille is a major city of northern France famed for being an important cultural and commercial hub, and for its historical centre. Established in the Middle Ages, Lille sits a few kilometres east of the border with Belgium. The city therefore blends French and Flemish influences in its cuisine, architecture and bike culture.
The best things to do in Lille listed below are just a few of the must-see attractions in the city. From historical edifices to hearty dishes to the cheerful character of its inhabitant, Lille has a lot to offer to its visitors. If you're around Lille early September, do not miss the Grande Braderie. This huge flea market is the largest annual event held in the city and an absolute must-do.
What are the best things to do in Lille?
1
Start the day in the Grand Place
Unwind in the heart of the city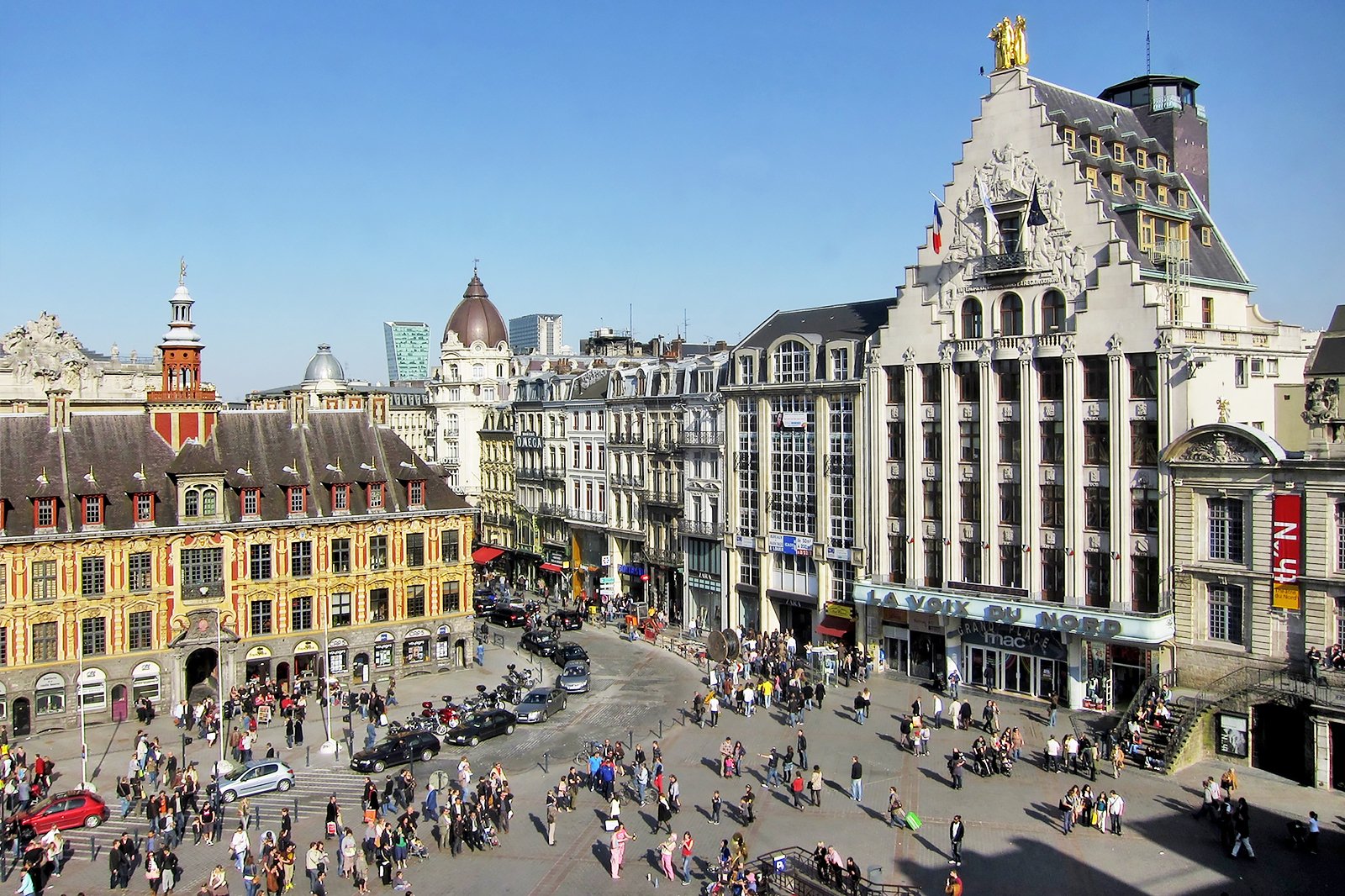 Commonly called the Grand Place, the Général de Gaulle Square sits just northeast of the city centre. This lively square lined with a mix of historical and modern buildings is one of the favourite meeting spots in the city. The Grand Place covers almost 10,000 sq m and features one of the city landmarks in its central part – a fountain with the Column of the Goddess. On clear days, the outdoor terraces of bars and restaurants settled on the square offer pleasant people-watching spots while sipping a locally brewed beer.
Location: Place Charles de Gaulle, 59800 Lille, France
photo by Velvet (CC BY-SA 3.0) modified
2
Get the view from the top of the Belfry
Take in a panoramic view of Lille and surroundings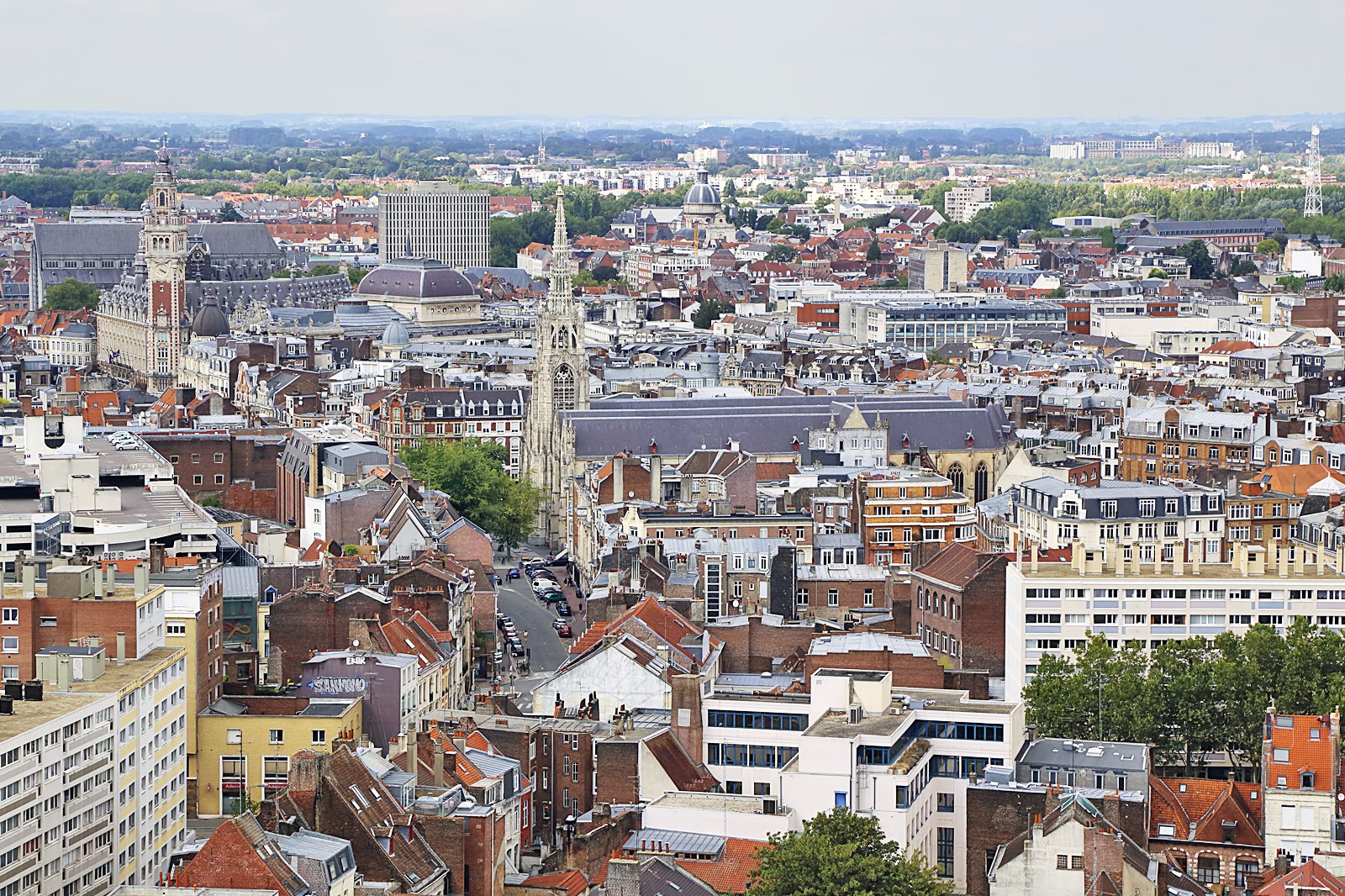 History
Photo
Budget
Adventure
The Town Hall Belfry dominates Lille from a height of 104 metres. It offers a unique 360-degree panoramic view of the city and up to 30 km around, on clear days. Listed as a UNESCO World Heritage site, the Town Hall Belfry was built in the early 20th century in a classic Flemish style. There are around 100 steps to climb before you reach the lift to get to the top. If you're fit enough, you can climb the 400 or so steps to get up there. The ascent costs only a few Euros, and the view is really worth the effort.
Location: Place Roger Salengro, 59000 Lille, France
Open: Daily from 10 am to 1 pm, and from 2 pm to 5.30 pm
photo by Jamain (CC BY-SA 4.0) modified
3
Stroll in Old Lille
Lose yourself in a quaint maze of narrow streets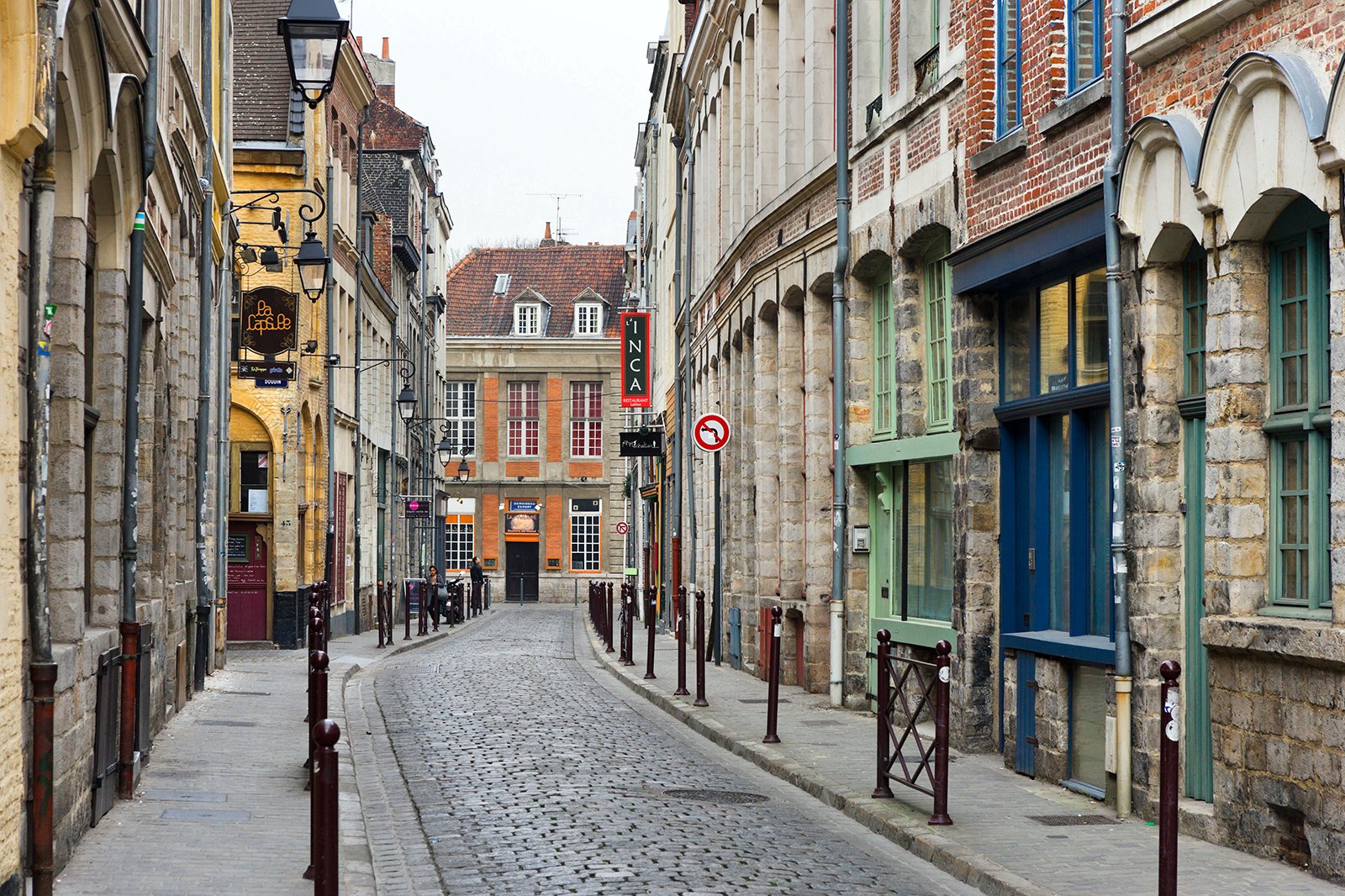 The Vieux-Lille – Old Lille – district fits within a 1-km radius of the Grand Square. Besides the beautifully restored bricks and stones houses, some of which are dated back to the 17th century, Old Lille is home to many attractions and landmarks such as the Old Stock Exchange building, the Opera House and the birthplace of Charles de Gaulle. Lose yourself in a maze of narrow, winding streets, which host a lively scene of estaminets – small bars in local dialect – restaurants and boutiques.
Location: 59000 Lille, France
4
Must-See: The Old Stock Exchange building
Wander in a stunning vintage courtyard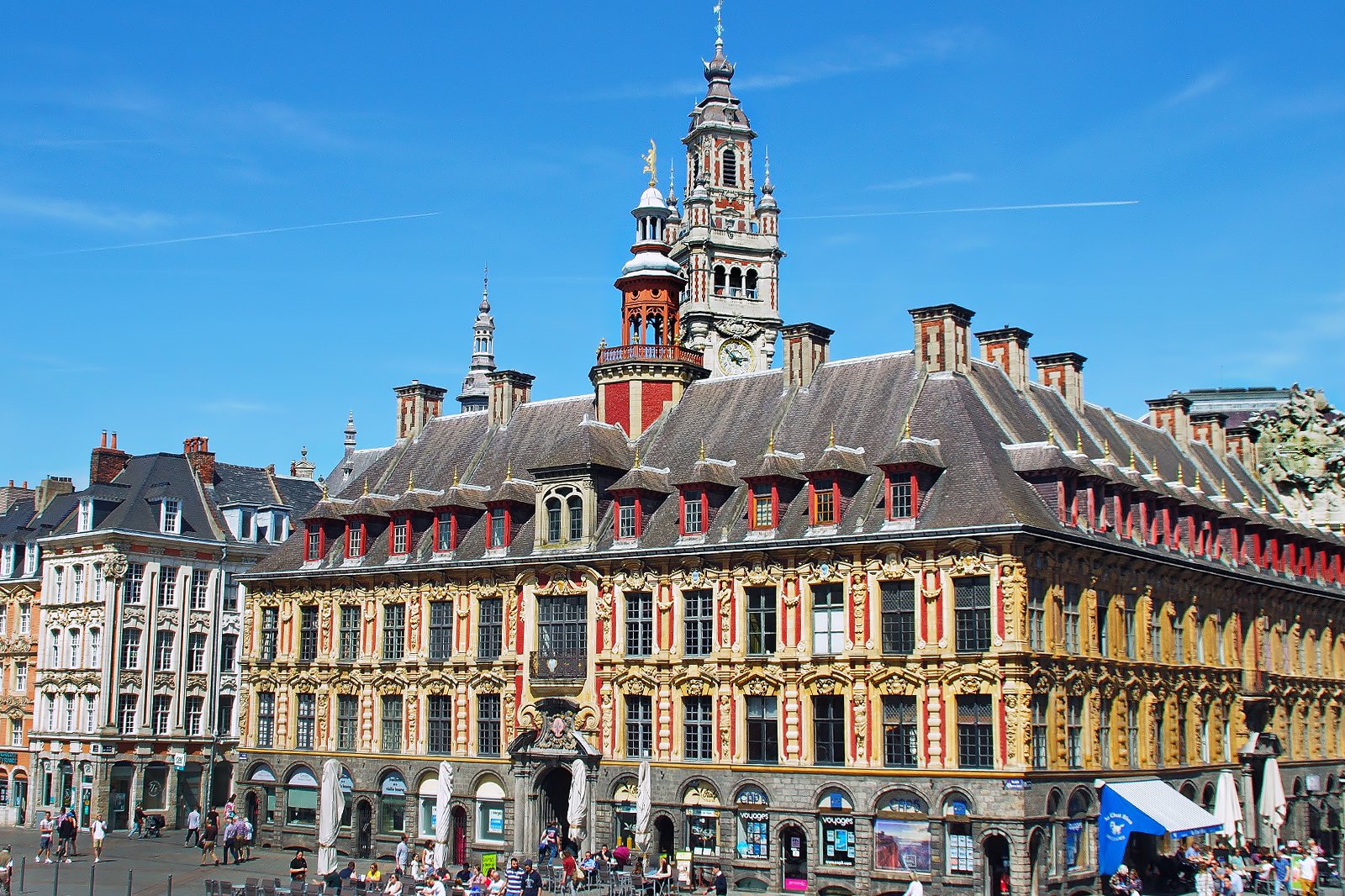 Couples
Shoppers
History
Photo
Called la Vieille Bourse in French, the Old Stock Exchange building is acclaimed as one of the finest edifices in Lille. Made of 24 little houses enclosing an arched courtyard, it's a splendid example of 17th-century Flemish Renaissance style. Listed as a Historical Monument, it's a lively place which hosts a second-hand books market, florists' stalls, and chess players' tables. In summer, do not miss the tango and salsa performances held in the courtyard in the late afternoon.
Location: Place Charles de Gaulle, 59000 Lille, France
Open: Tuesday – Sunday from 1 pm to 7 pm, closed on Mondays
5
Explore the Marché de Wazemmes
Browse through a lively, popular market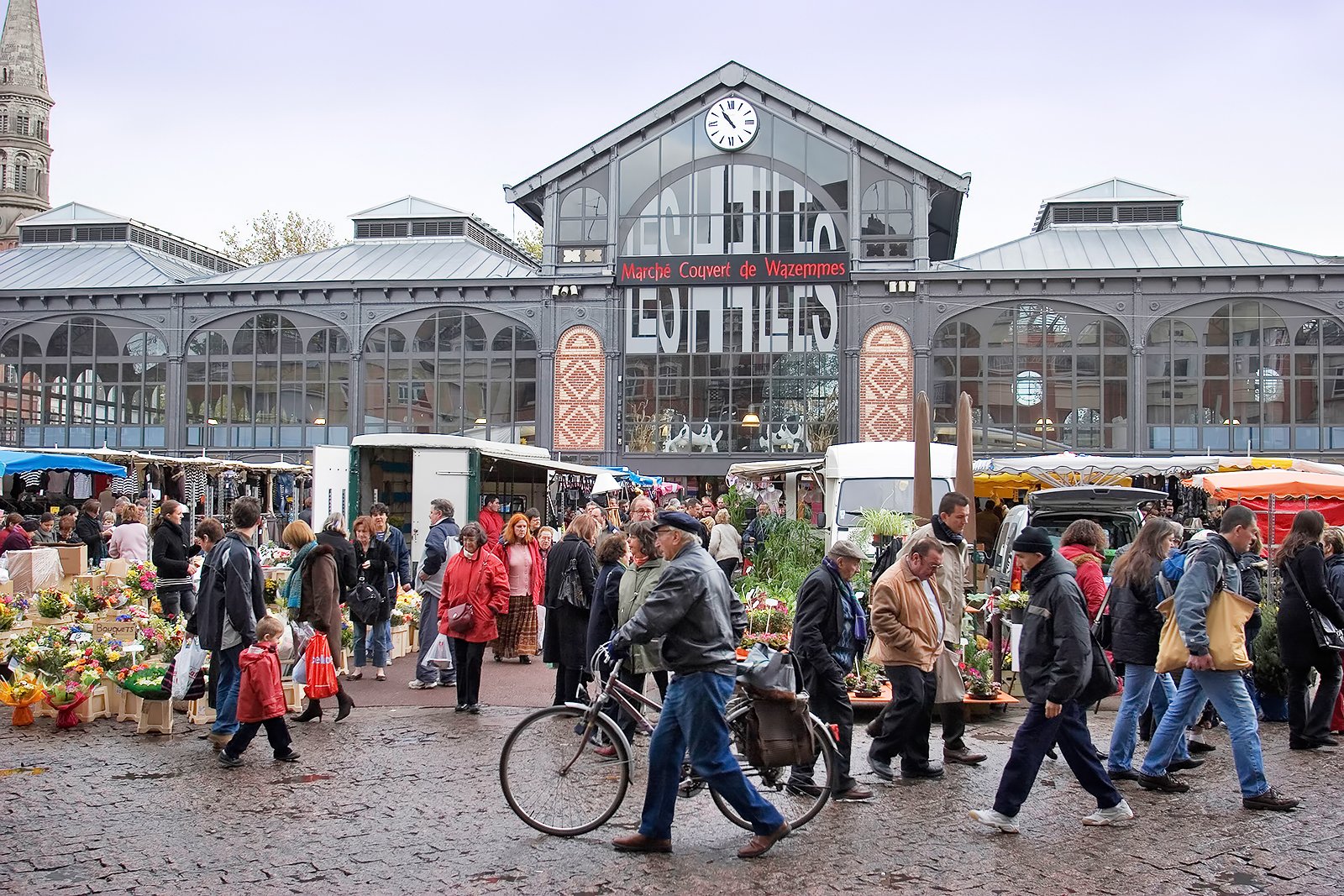 Settled in a large red-brick building typical of northern French architecture, the Marché de Wazemmes is one of the most popular markets in Lille. It's a real pleasure to stroll the alleys of this busy market filled with appetising scents. It hosts a mix of stalls selling local and exotic products, from fresh fruits to meat to cheese. You'll also find just outside the covered market a wide array of items for sale including clothing, household linens, antiques, toys and more. Street food and refreshments are also available in this lively market.
Location: Place Nouvelle Aventure, 59000 Lille, France
Open: Tuesday, Thursday and Sunday from 7 am to 2 pm
6
Visit the Palais des Beaux Arts
Amble in one of the largest fine arts museums in France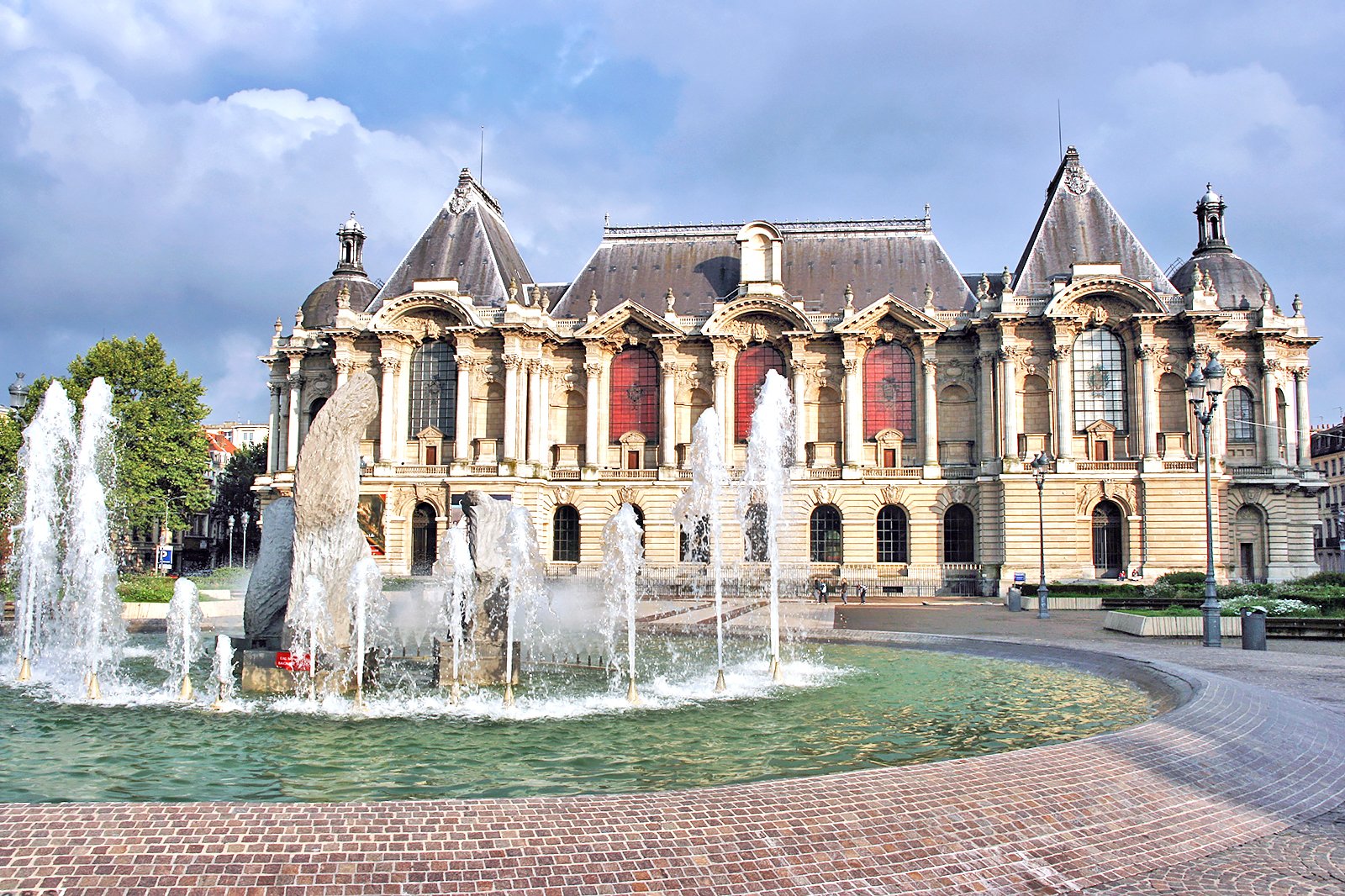 Established in a lavish Belle Époque-style building in 1892, the Palais des Beaux-Arts de Lille - Lille Palace of Fine Arts - houses impressive collections of paintings, sculptures and drawings from Antiquity to the 21st century. One of the largest fine arts museums in France, it's home to masterpieces such as 'Belisarius begging for alms' by Jacques Louis David, 'Olga in fur collar' by Pablo Picasso and 'Medea' by Eugene Delacroix, just to name a few. The entrance ticket costs only a few Euros and includes an audio guide. A gift shop and a restaurant are available on site.
Location: 18 Bis Rue de Valmy, 59000 Lille, France
Open: Wednesday – Sunday from 10 am to 6 pm, Monday from 2 pm to 6 pm, closed on Tuesdays
7
See many attractions in the Parc de la Citadelle
Take a leisure walk in Lille's largest green space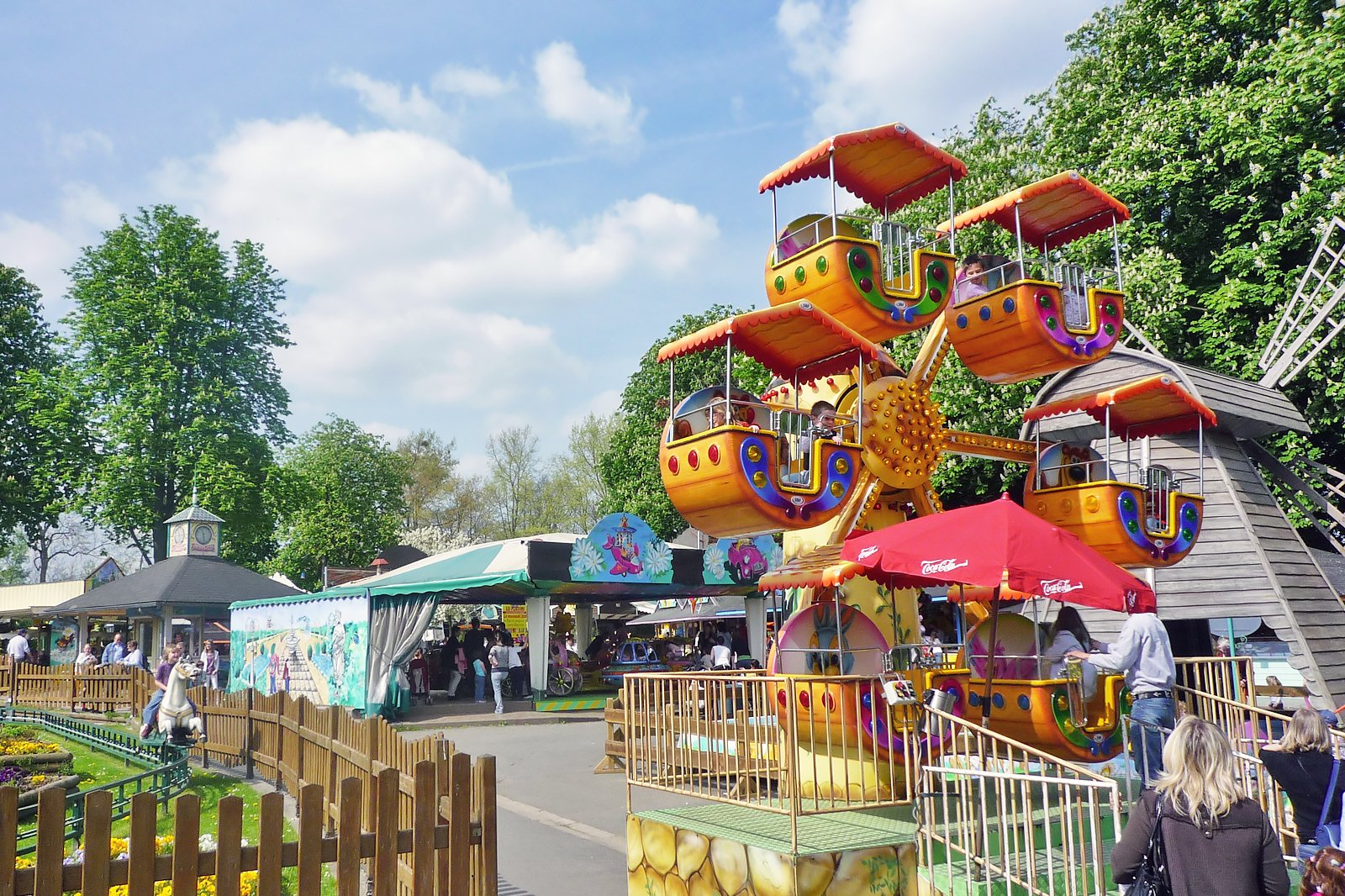 Couples
Families
History
Photo
Budget
The Parc de la Citadelle is a 60 ha island surrounded by the Deûle canal. Located just east of Lille Old Town, it's the largest green space in the city. Here, you'll find major landmarks and attractions including Lille Citadel, the Vauban Garden, Lille Zoo, the Boulogne Wood and the Citi-Parc, a small amusement park. It's really a cool place for a leisure walk on sunny days, especially for families. A few snack and refreshment stands are available in the park.
Location: Avenue Mathias Delobel, 59000 Lille, France
Open: You can get to the park 24/7. The zoo is open Wednesday – Monday from 10 am to 5 pm in winter and from 10 am to 6 pm in summer (it closes at 7 pm on weekends). The zoo is closed on Tuesdays.
8
Eat Maroilles cheese tart
Sample a genuine local speciality
The Maroilles is often described as "the subtlest of strong cheeses". An iconic cheese of northern France, its strong smell and blunt taste – when eaten fresh – may put you off. Fortunately, the Maroilles cheese tart – aka Flemish tart – somehow softens the taste of this unique cheese. You should not leave Lille without tasting a piece of this hearty tart. It can be found served with salad and French fries in most restaurants, and even in bakeries. It's even better when washed down with a local beer.
9
Shop and dine in Euralille
Explore a lively, modern urban complex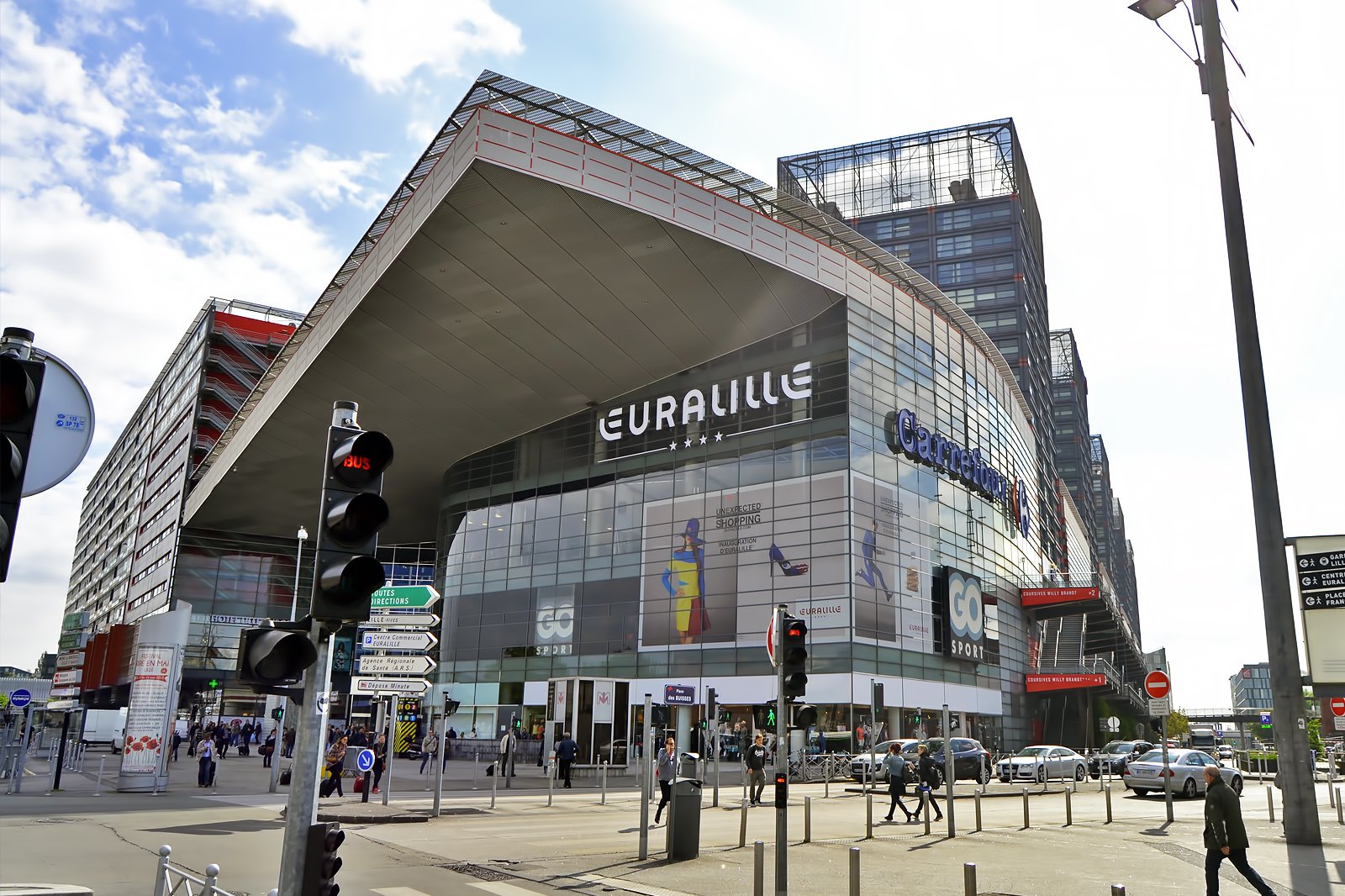 Euralille is an urban district 750 metres east of the city centre. Established between Lille's 2 main train stations, it blends a business district, residential area, hotels, shopping and dining outlets and entertainment facilities in a vast, stylish urban complex. The Euralille Mall houses over 100 boutiques and 20 restaurants in a spotless, modern environment. A congress centre – Lille Grand Palais – holds cultural events and concerts. There's also a casino.
Location: 100 Avenue Willy Brandt, 59777 Lille, France
photo by Mathcrap35 (CC BY-SA 4.0) modified
10
End the day bar hopping in the Old Town
Experience the warm atmosphere of northern France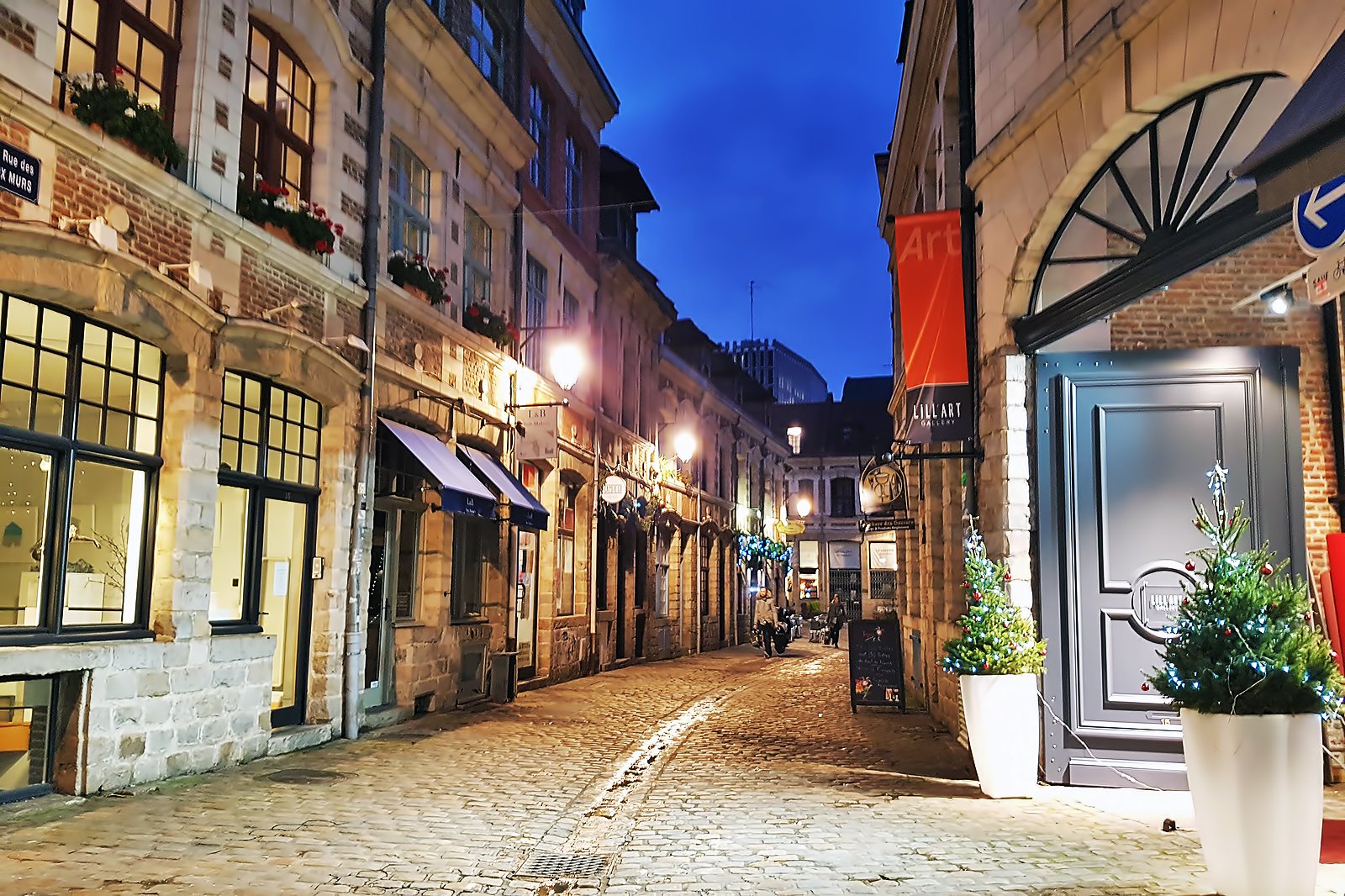 Old Lille quarter hosts a lively scene of affordable cool bars – estaminets - where you can enjoy a drink, grab cheese and cold cuts and mingle with the locals after dark. Le Dandy, on Rue Basse, is a classy cocktail bar at which you can sample delicious, original drinks in a cheerful ambience. A short walk west takes you to Fifi's wine bar on Rue de la Barre. Here, you'll find the genuine, warm atmosphere of northern France and a good list of reasonably priced wines. Last but not least, if you want to sample locally brewed beers, head to La Capsule on Rue des Trois Mollettes. With 28 draught beers and over 100 bottled beers, you may find something for your taste.
Back to top