10 Most Beautiful Castles in Austria
Austria's Instagrammable Fairy-Tale Landmarks
Austria is a beautiful country with many fairy-tale-like landscapes. Charming mountain villages with a backdrop of dense forests and rugged Alpine scenery are only a short drive from cities like Salzburg and the capital, Vienna. The mountainous countryside are dotted by historical treasures, most of which happen to be some of the most beautiful castles in Austria.
Stunning landmarks range from medieval fortresses built on rugged hilltops or ancient volcanoes, to strongholds that stand tall on tiny islands in placid lakes. Most of these castles are also museums where you can immerse yourself in the treasures of a bygone era. Here's a compilation of Austria's Instagrammable fairy-tale landmarks for your most memorable shots.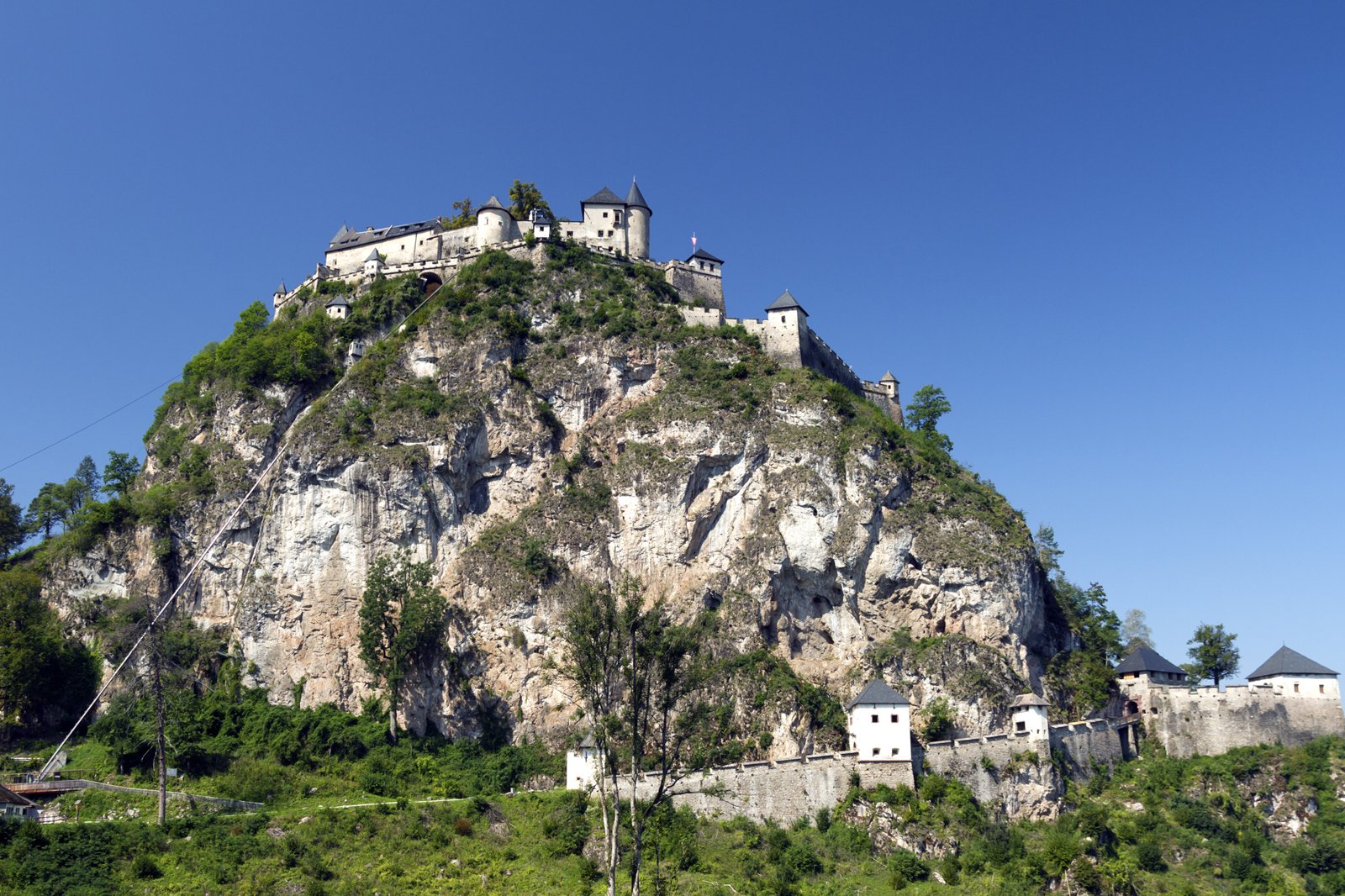 Hochosterwitz, Launsdorf
An impressive castle built on solid dolomite rock
Burg Hochosterwitz (Hochosterwitz Castle) is easily one of the most beautiful castles in Austria. The strikingly photogenic medieval rock castle sits on top of a 172-metre tall dolomite mount, and overlooks the mostly flat plains of Carinthia below. You can usually visit some parts of the castle between April and October.
Try walking the lengthy but scenic pathway up to Hochosterwitz's 14 gates. Inside, various showing rooms feature a collection of impressive Renaissance arts alongside medieval weaponry and armour. The castle's church and flower gardens are dreamy and the countryside views from the top are breathtaking.
Location: Hochosterwitz 1, 9314 Launsdorf, Austria
Open: hours vary by season
Phone: +43 4213 2010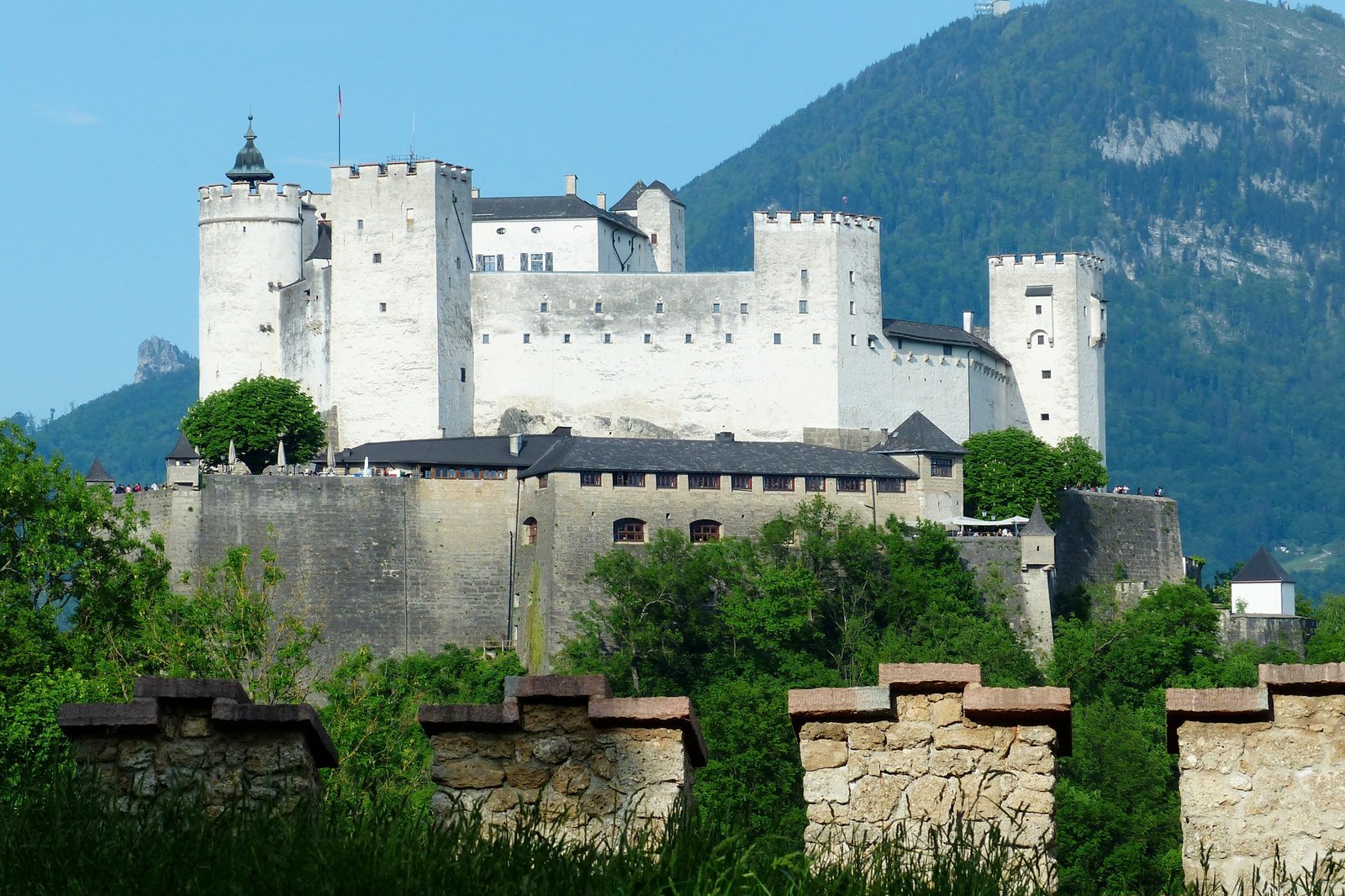 Hohensalzburg, Salzburg
Magnificence on a green hilltop
The huge hilltop fortress of Hohensalzburg dominates the skyline of Salzburg in Austria. The castle complex dates back to 1077 and features a collection of medieval chambers and internal courtyards that you can explore. A funicular railway takes you up to the castle (a combined castle admission ticket is available).
Check out Hohensalzburg's unusual coat of arms: a lion holding a turnip. You can spot these on some of the castle's walls. There are a couple of different museums within the complex, including a cute marionette museum that showcases historical puppets from the Salzburg Marionette Theater's collection.
Location: Mönchsberg 34, 5020 Salzburg, Austria
Open: January–April and October– December: daily from 9am to 5pm. May–September: daily from 8.30am to 8pm
Phone: +43 662 84243011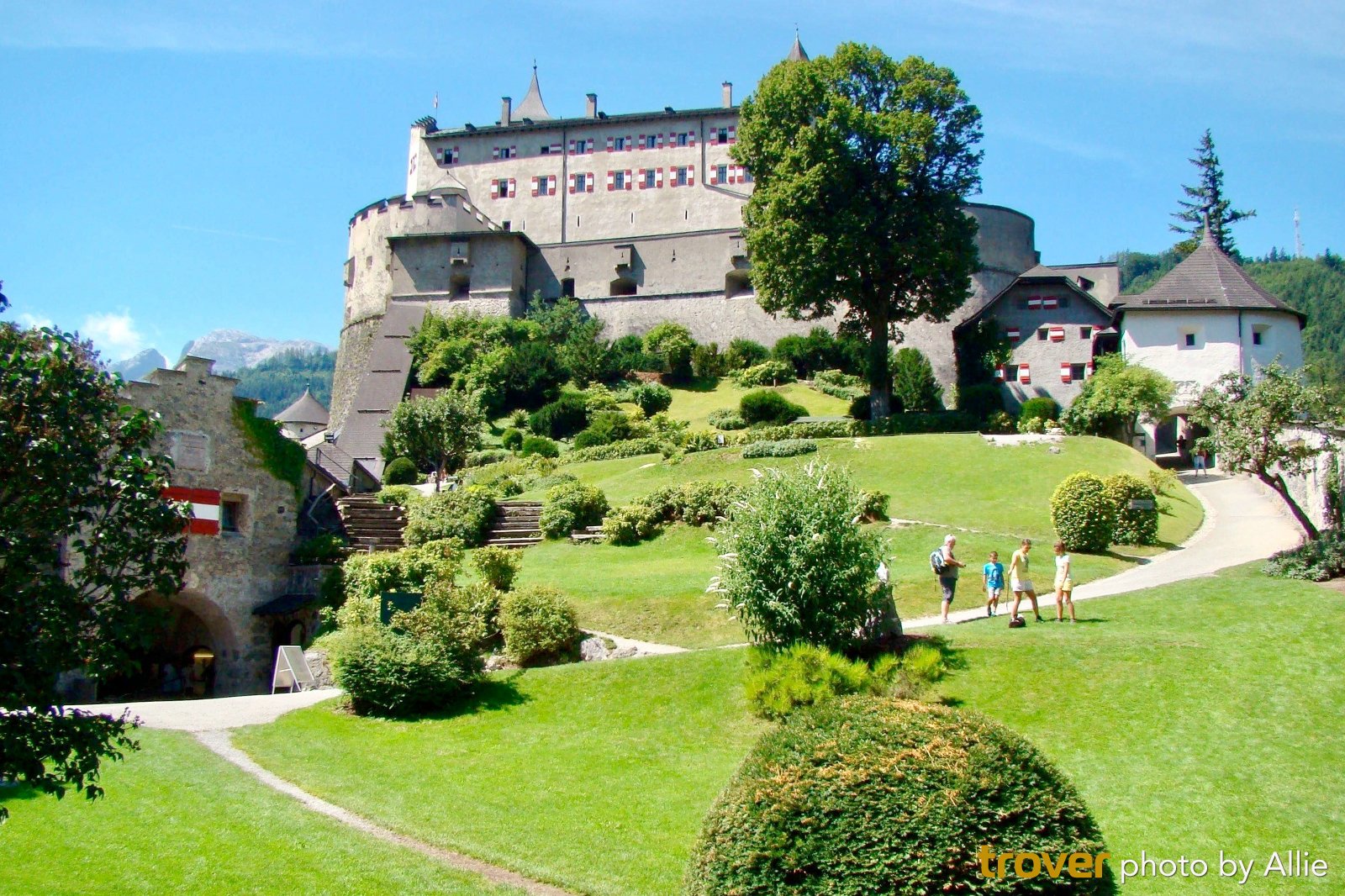 Hohenwerfen, Werfen
Set against forested alps
Hohenwerfen is both a hilltop castle and a medieval history museum, overlooking the market town of Werfen in Austria. Having been built by the Prince-Archbishopric of Salzburg, Hohenwerfen is often considered the sister of Hohensalzburg Castle.
Hohenwerfen is a great spot for enjoying the medieval experience. You can reach the hilltop by a scenic funicular ride up the forested crag. You can opt for guided tours of the castle, and there's a falconry centre on site that presents bird of prey shows regularly.
Location: Burgstraße 2, 5450 Werfen, Austria
Open: hours vary by season
Phone: +43 6468 7603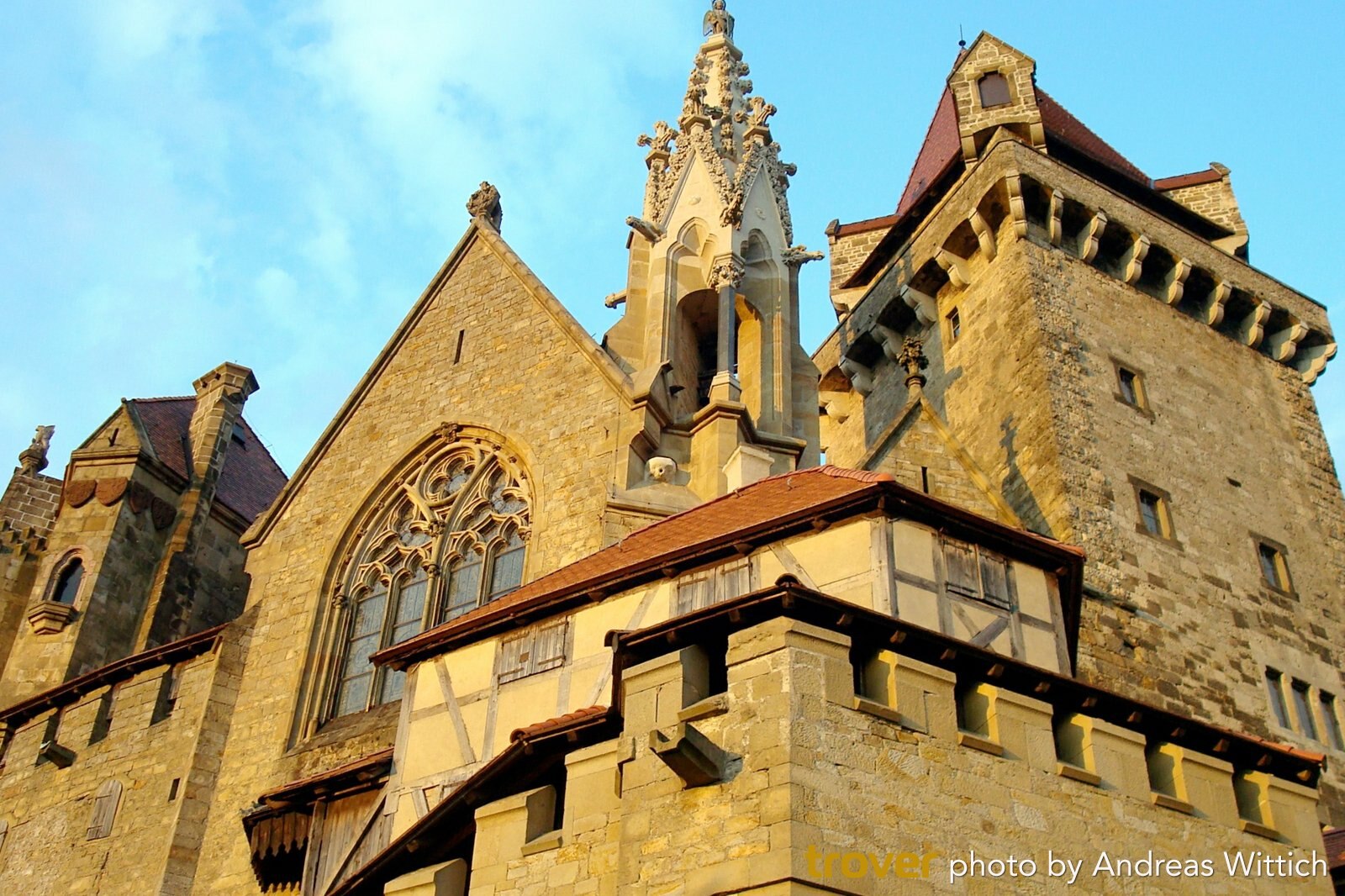 Kreuzenstein, Leobendorf
Rebuilt using different castle parts from all over Europe
Burg Kreuzenstein (Kreuzenstein Castle) is one of Austria's picturesque fairy-tale castles, with an adjoining tower that looks as if it could be keeping Little Briar Rose. Unlike many of the old castles in this list, Kreuzenstein looks well maintained. This is because it was rebuilt using the remains of other medieval castles from all around Europe.
The castle has frequently served as a filming location due to its great condition, mostly for movies about vampires, medieval knights, and similar fantasy genres.
Location: 2100 Leobendorf, Austria
Open: Monday–Saturday from 10am to 4pm, Sundays from 10am to 5pm
Phone: +43 664 1632700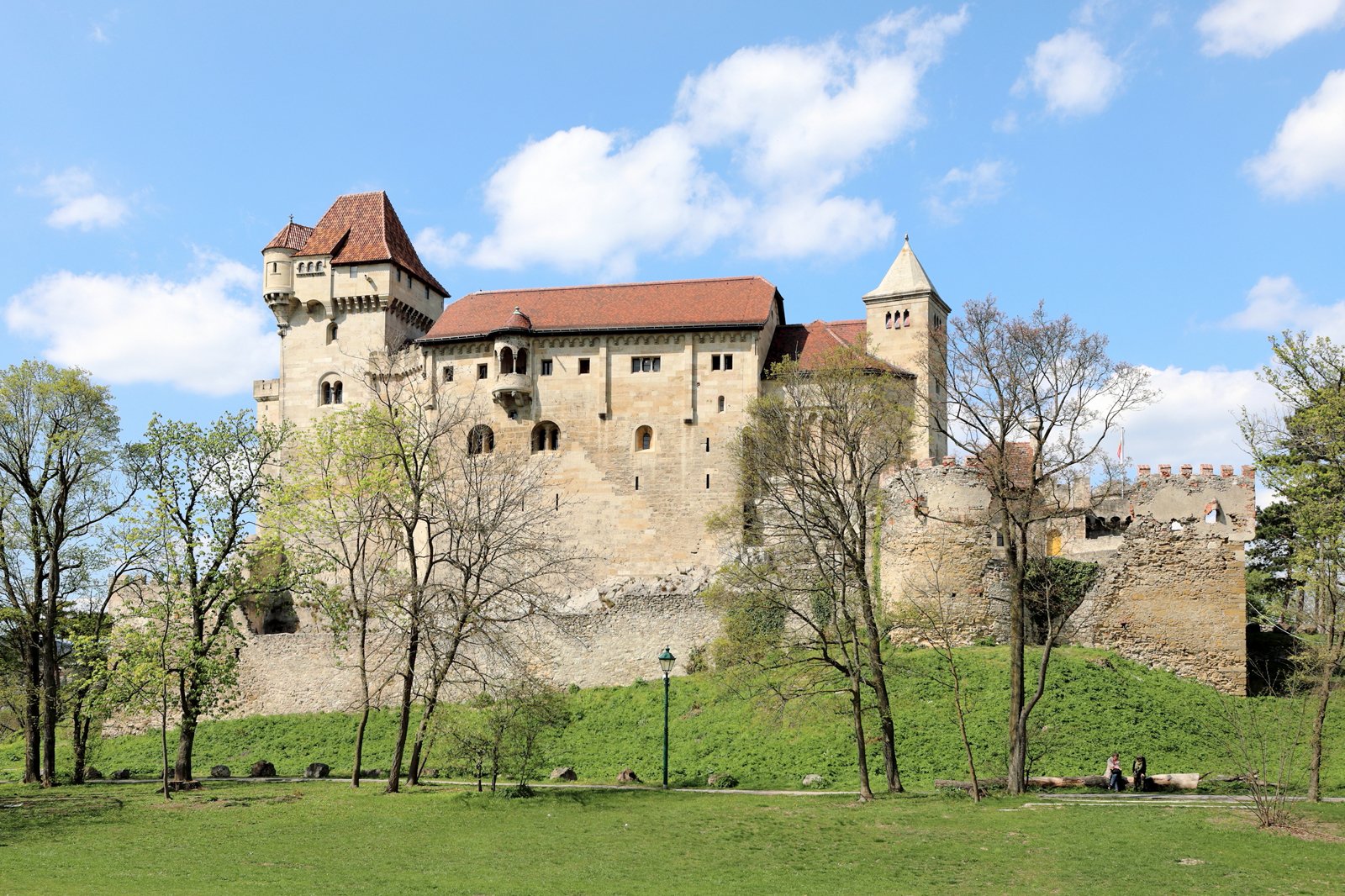 Liechtenstein, Maria Enzersdorf
On the edge of the Viennese Forest
Not to be confused with the castle of the same name in Württemberg, Germany, Austria's Liechtenstein is in the dense highlands of Vienna Woods, south of the Austrian capital. The magnificent Romanesque landmark is often surrounded in forest mist, making it a dreamy fairy-tale-like sight.
On clear summer days, however, the old Liechtenstein Castle offers tours that take you to see the medieval weaponry and furnishings inside. You can also take in breathtaking panoramic views over the woods from the balconies.
Location: Am Hausberg 2, 2344 Maria Enzersdorf, Austria
Open: hours vary by season
Phone: +43 650 6803901
photo by Bwag (CC BY-SA 4.0) modified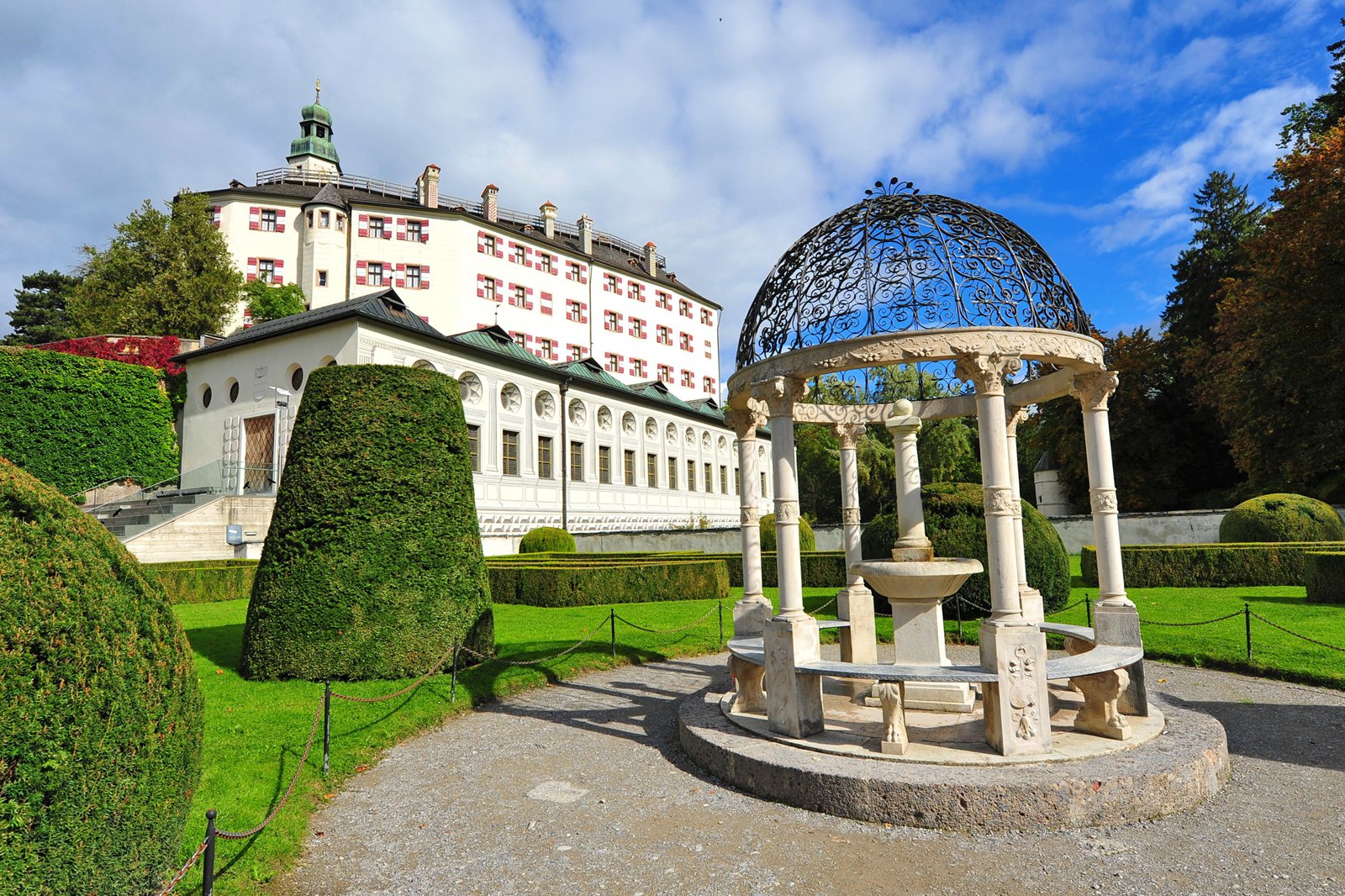 Ambras, Innsbruck
A bastion of renaissance elegance
Ambras Castle is a medieval fortress that represents the height of the Renaissance, featuring an impressive design that was ahead of its time. A separate museum complex houses the treasured art of the castle's 16th-century Tyrolean ruler. It is regarded as a precursor to museums today.
Check out the castle's armouries, which are filled with an impressive collection of 15th-century plate armours and weapons of Renaissance-era knights. You can also learn more about the history of the castle itself. The collections extend into the realm of arts, showcasing fine paintings, Gothic sculptures, and artisanal glassworks.
Location: Schloßstraße 20, 6020 Innsbruck, Austria
Open: Daily from 10am to 5pm
Phone: +43 1 525244802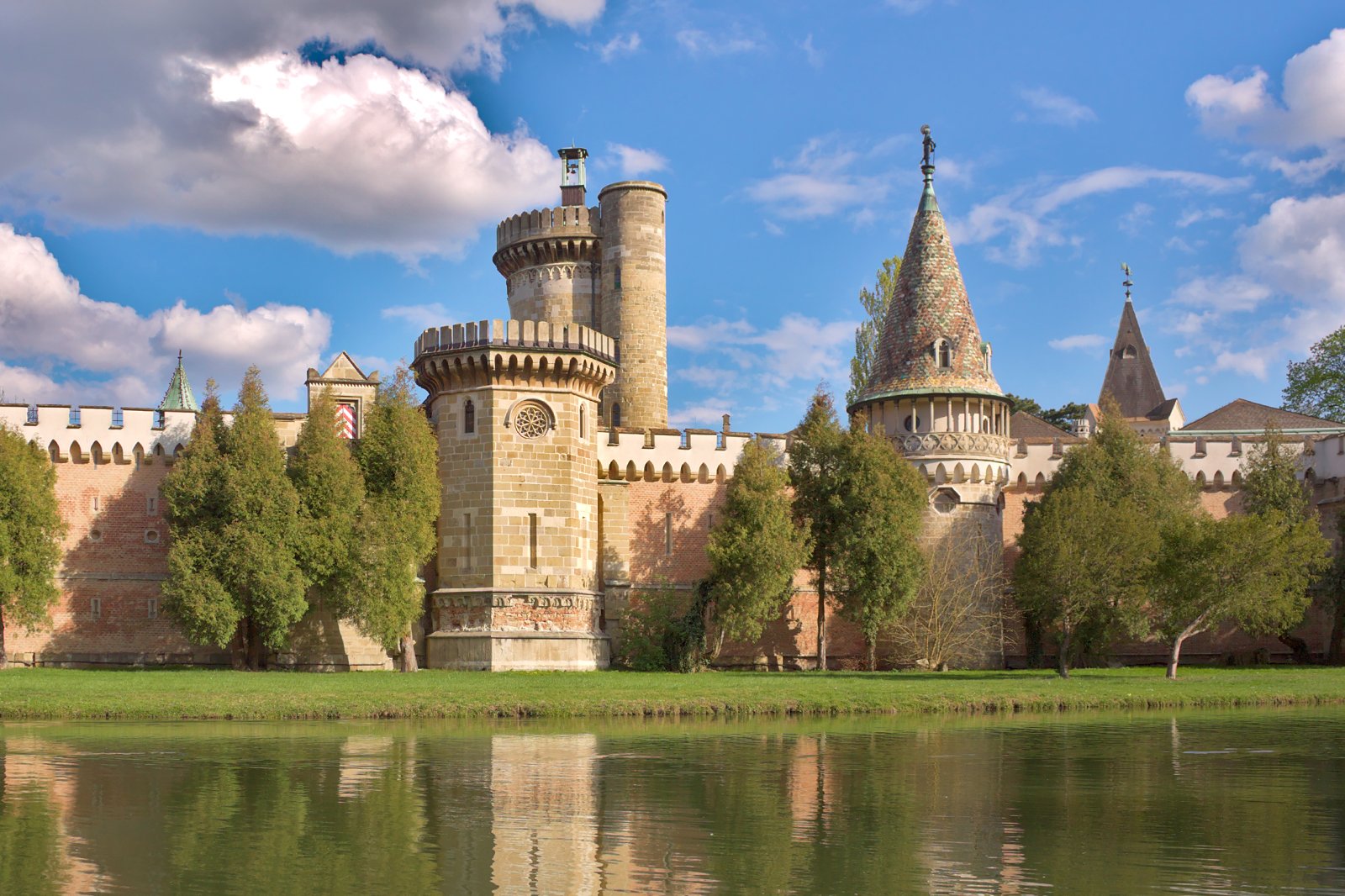 Franzensburg, Laxenburg
A dreamy water castle in lush gardens
Franzensburg is a water castle that's secluded by lush forested gardens. It's part of the palatial complex known as Laxenburg Castles, just outside Vienna. The castle dates back to 1801 and was built on a tiny island in a manmade lake within the castle garden grounds.
Franzensburg, together with the Laxenburg Castles, offer great recreational options – hiking trails throughout the gardens make for romantic walks while families with kids can have fun biking or playing in the playgrounds. Boat rentals are available for cruising on the scenic lakes with the majestic castle serving as dreamy backdrop.
Location: Schloßpl., 2361 Laxenburg, Austria
Open: Daily from 9.30am to 7pm
Phone: +43 2236 712260
photo by Hendric Stattmann (CC BY-SA 3.0) modified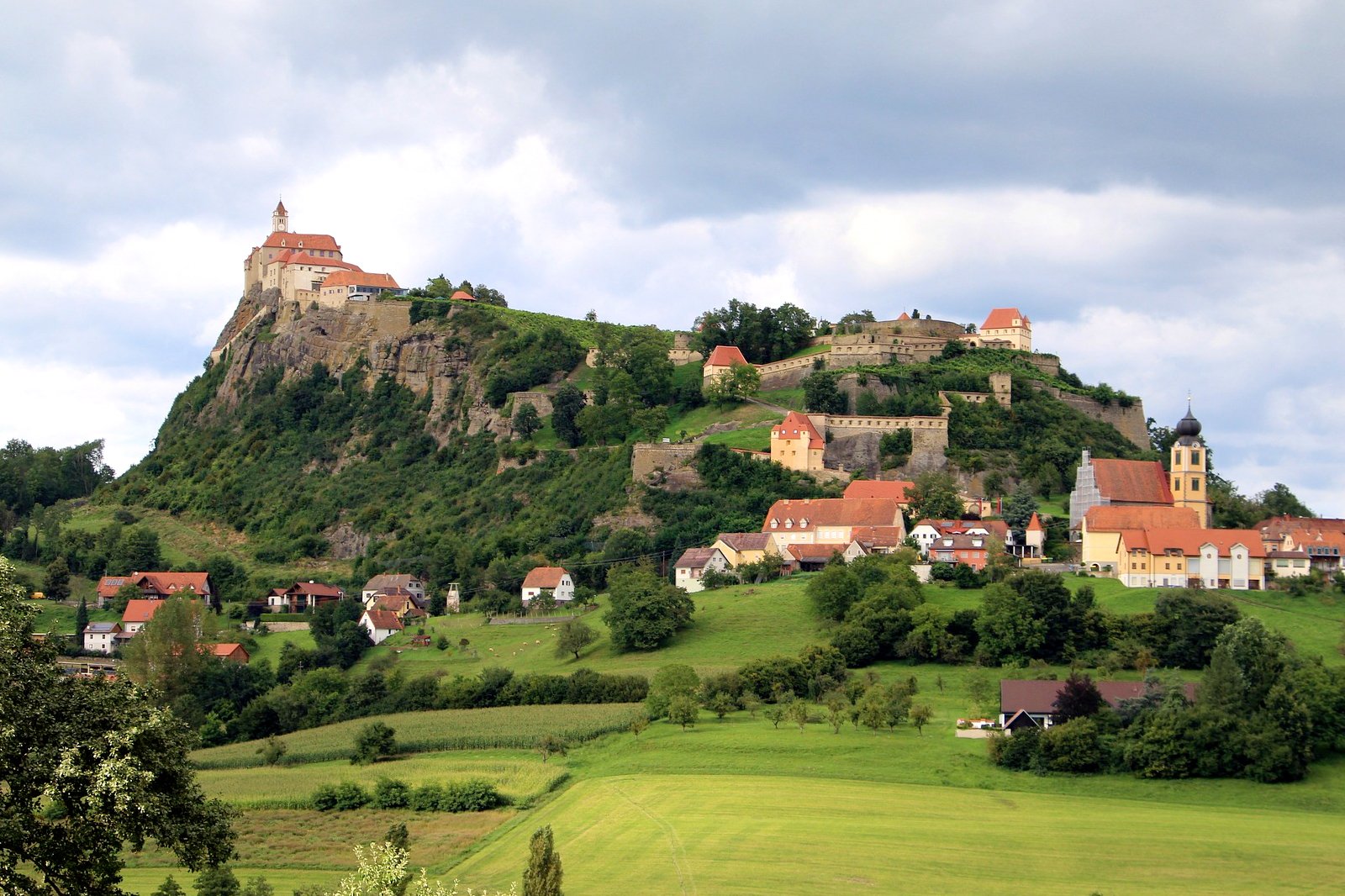 Riegersburg, Riegersburg
A fortress atop a dormant volcano
Riegersburg looks like it rose from the molten lava of the ancient volcano peak on which it stands. Parts of the castle were indeed built using the hill's basalt stones. The castle dates back to the 1100s and looms over the ancient valley town of the same name.
Riegersburg Castle now serves as a museum, with royal rooms and galleries showing you the tumultuous history of the castle and the village. The views from the castle are breathtaking. You can also check out adventure activities around the castle as well as medieval falconry shows held before noon and between 2pm and 5pm.
Location: Riegersburg 1, 8333 Riegersburg, Austria
Open: hours vary by season
Phone: +43 3153 82131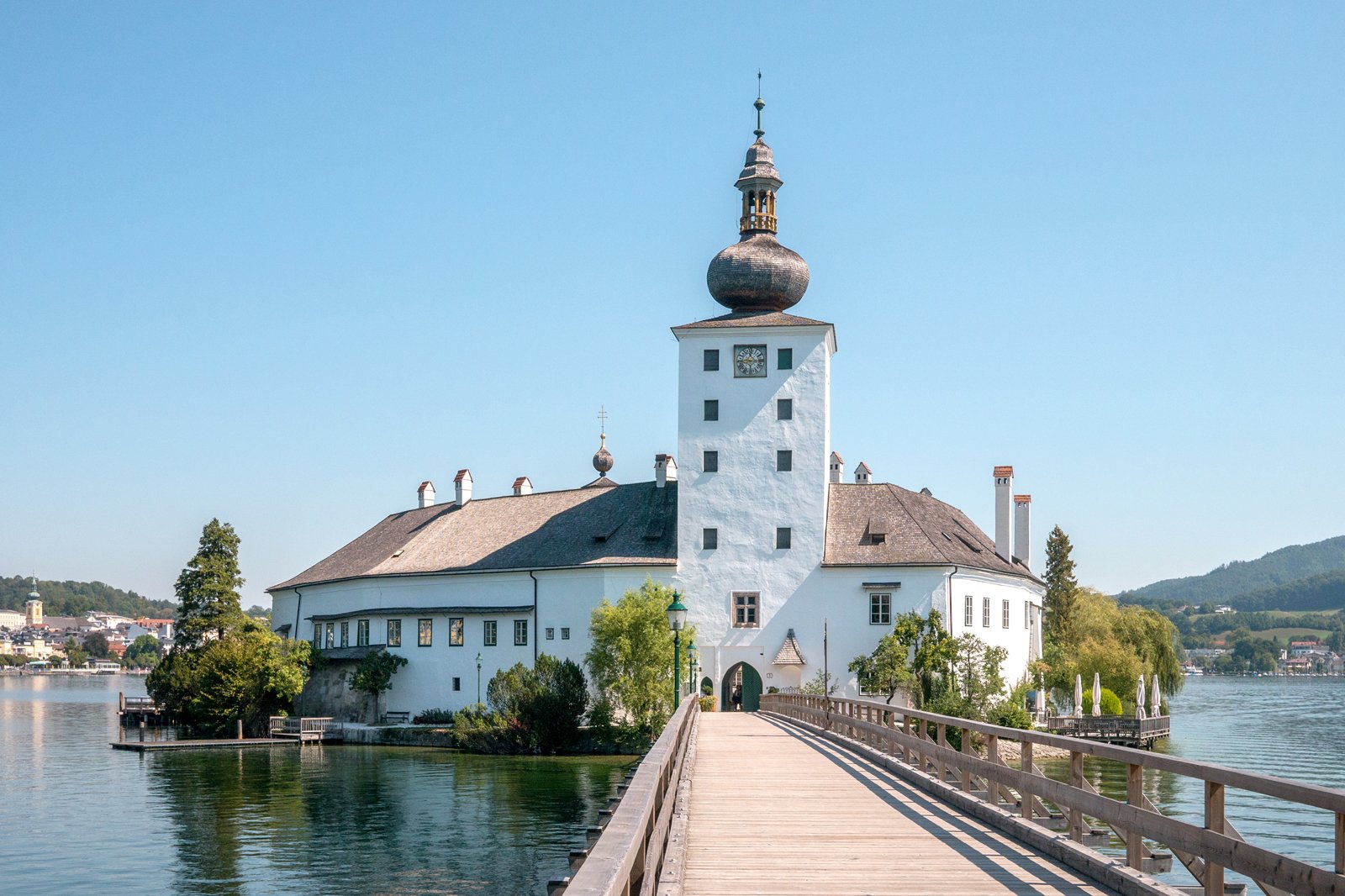 Ort, Gmunden
Island castle in the middle of a lake
Seeschloss Ort (Ort Lake Castle) is the jewel of Lake Traunsee in Gmunden, Austria. On a clear day, the shimmering lake surface reflects the castle, with the outlines of the Erlakogel mountains in the background. It's a popular scenic lunch spot in Gmunden and a must-see on road trips between Vienna and Hallstatt.
The castle dates back to 1080 and survived WWI. It's now a place for events and exhibitions. You can walk to the castle via a wooden pier from the lakeside. Hearing about Lungy, the giant seahorse-like lake monster that's said to lurk in the placid waters, adds a bit of fun to your visit.
Location: Ort 1, 4810 Gmunden, Austria
Open: Daily from 10am to 5pm
Phone: +43 676 88794280
photo by Thomas Ledl (CC BY-SA 4.0) modified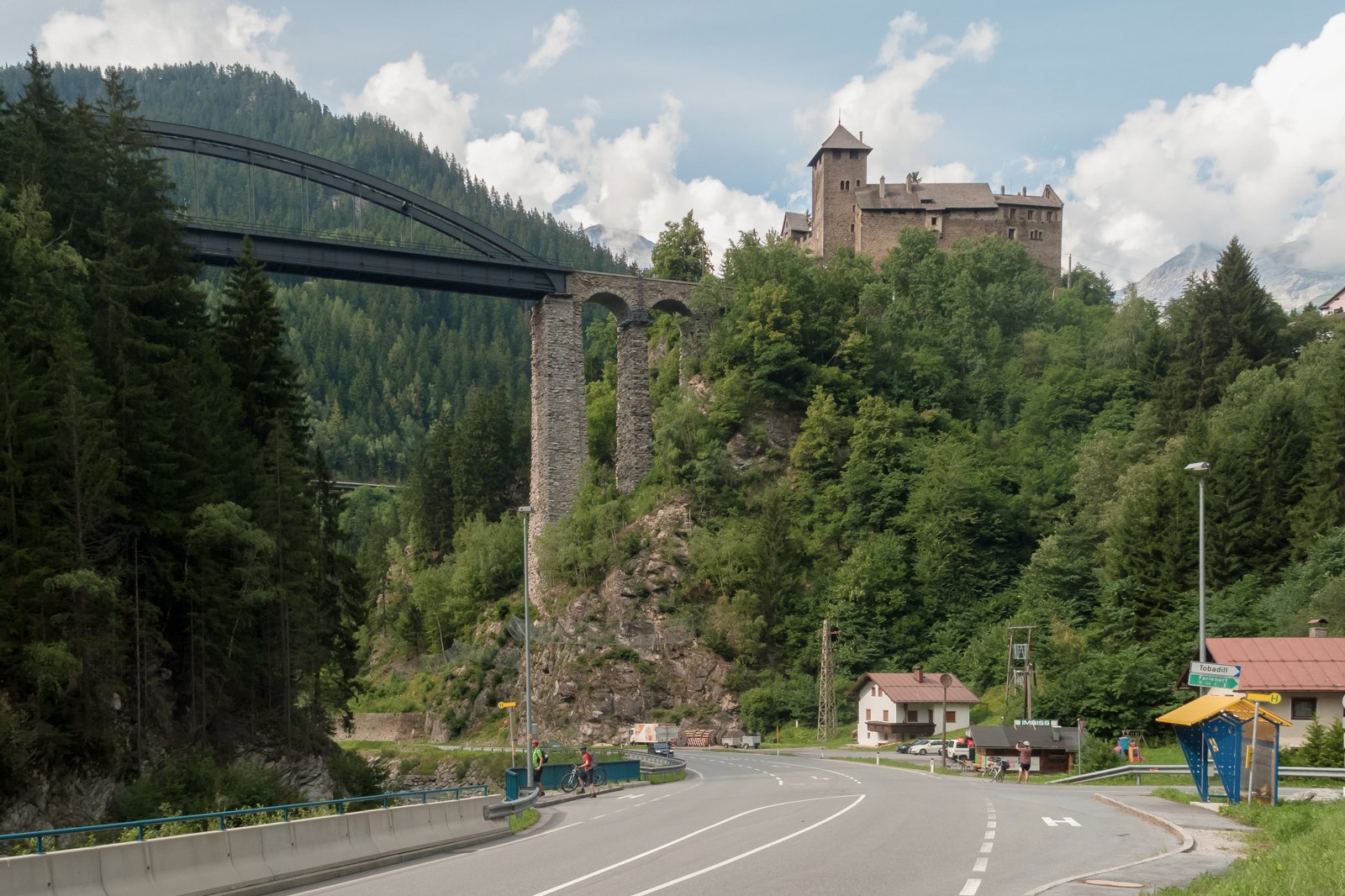 Wiesberg, Tobadill
A castle above a valley
Schloss Wiesberg (Wiesberg Castle) sits on top of a green hill overlooking Paznaun Valley, 4 km west of Landeck town in Austria's Tyrol region. The castle is a cool sight as you drive down the valley road of Silvretta-Hochalpenstraße, with the striking railway Trisanna bridge stretching over to it.
Unfortunately, Wiesberg is private property, meaning you won't be able to drive up and drop by for a visit. The castle sequentially changed ownership since the 13th century and even served as a silent witness to a battle between Bavarian and Paznaun troops in 1809.
Location: Wiesberg 70, 6552 Tobadill, Austria
photo by Michielverbeek (CC BY-SA 4.0) modified