10 Best Family Things to Do in Koh Phangan
What to Do for Fun in Koh Phangan with Your Kids?
Many of the best family things to do in Koh Phangan take full advantage of the beautiful island surroundings. If you're not relaxing in a hammock flanked by palm trees or building sandcastles on beaches, the island is a hub of fun and adventure in the Gulf of Thailand.
Located 70 km from the mainland, Koh Phangan is best known for its all-night full moon parties on Haad Rin Beach, yet this tropical paradise has so much more to offer. Those visiting Koh Phangan with kids will find many activities dotted around the island.
1
Phaeng Noi Waterfall
A beautiful nature spot best enjoyed after the rainy season
Families
Couples
Photo
Budget
Adventure
Phaeng Noi Waterfall is the star attraction of the Than Sadet National Park. The best time to visit is after the island's monsoon season, which runs from July to September. Otherwise, you might find the falls to be bone dry. The lush surroundings offer respite from the heat, but it's still advisable to visit in the morning when temperatures are lower.
Parts of the hike can be strenuous but can be completed in under 1 hour. Look out for tropical birds, butterflies, and the occasional monkey along the way. At the bottom of the falls, you can cool off with a swim in a rather shallow pool.
2
Wake Up! Wakeboarding
Wakeboarding excursions for all skill levels
Wake Up! Wakeboarding is an excellent adventure sports centre on the north coast of Koh Phangan. It has taught many people how to wakeboard for over a decade. You can find the school near Chaloklum Bay, on the northern end of the island.
Wake Up! Wakeboarding's highly qualified and English-speaking instructors can take you out for a short session or a full day. Whether you're an experienced wakeboarder or a beginner trying the sport for the first time, you'll be carving waves from behind their speedy Yamaha boats in no time.
Location: Ko Pha-ngan Sub-district, Ko Pha-ngan District, Surat Thani 84280, Thailand
Open: Daily from 9 am to 6 pm
Phone: +66 (0)87 283 6755
3
Hydrofoiling (eFoil)
A different way of exploring the Andaman Sea
If you've wanted to experience hydrofoiling (or eFoiling), Koh Phangan is a great place to give it a try. Many of its pristine and sheltered beaches have ideal flat-water conditions, making it easy for beginners to learn this sport. Those who have experience in surfing, skateboarding, and snowboarding will quickly be able to master the eFoil.
Chaloklum Bay, on the north of the island, has places to rent boards and take lessons. On the southwest of the island, near Thong Sala, you can find many vendors renting out watersport equipment, including electric hydrofoils.
4
Snorkelling
Family-friendly beaches double as great snorkelling spots
Snorkelling is one of the best family activities in Koh Phangan. Many of the island's most family-friendly beaches are also great snorkelling spots. Haad Yao and Haad Salad have calm and shallow water, with excellent coral reefs. Two stunning snorkelling beaches that flank Choloklum Bay include Malibu and Haad Khom.
You can join a boat trip to take you out to some of the most beautiful snorkelling and dive sites in the Gulf of Thailand. Many excursions provide the necessary equipment you'd need. Otherwise, you can purchase snorkel gear at most supermarkets in Thong Sala or rent equipment at cabanas along Haad Yao and Haad Salad.
5
Boat trips
Explore around Koh Phangan or neighbouring islands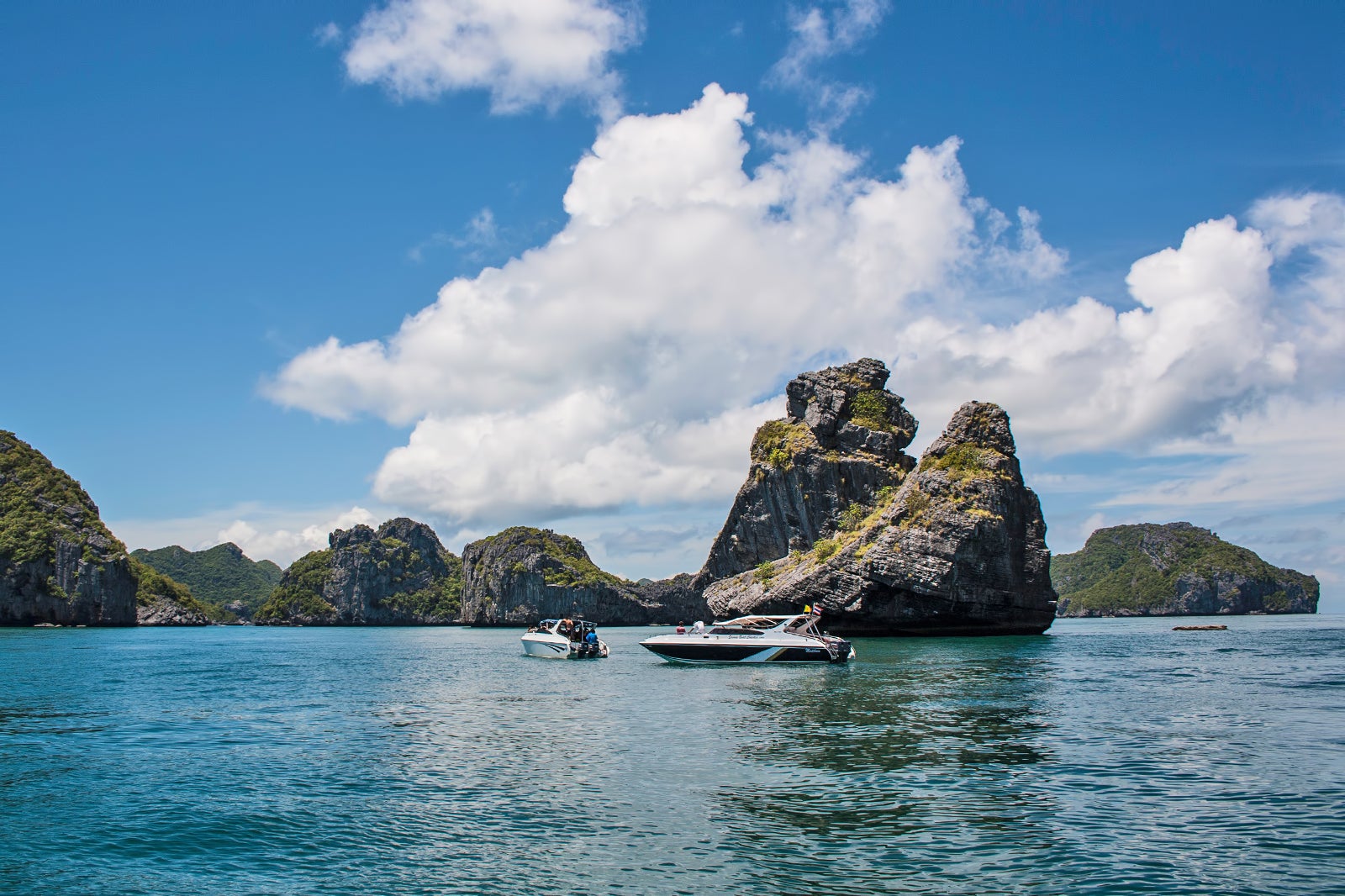 Boat trips from Koh Phangan are a great way to explore another part of the island or enjoy snorkelling and diving excursions at remote coral reefs. From speedboats or sailing trips to chartered yachts or longtail boats, a day at sea is sure to be a family pleaser.
Many Koh Phangan boat tours head for the Ang Thong National Marine Park, located 38 km west of the island. This archipelago is a mecca for diving, snorkelling, and hiking. For something unique, you can check out the Red Baron Chinese Sailboat Tour or hire a longtail boat from Black Coral Tours.
6
Kitesurfing
Koh Phangan offers excellent conditions for learning to kite surf
Kitesurfing is a popular activity in Koh Phangan, as the island's beaches have flat, shallow water and ideal wind conditions. The best season for beginners is between January and May, when the wind speed is around 10 to 20 knots. While this is a full-body exercise, even young kids can learn how to kitesurf.
Most kitesurfing schools are near Thong Sala, except for a few in the north, near Cholokum Bay. Many places offer an affordable introductory lesson if you're on the fence about committing to a full course.
7
Family yoga class
Great for soothing the mind and body
Family yoga classes are very popular in Thailand, especially in Koh Phangan. Yoga is a wonderful spiritual and physical practice to introduce to young children. Even teens and adults can benefit from the strength and peace it provides to the body and mind.
Many Koh Phangan resorts offer family yoga sessions, usually in the morning. You can even book a family yoga retreat at healing centres based in Sri Thanu, on the west of the island. Standouts include Wonderland Healing Centre, Orion Healing, and The Yoga House Cafe.
8
Phangan Adventure Minigolf
A modern mini golf course with friendly staff
Phangan Adventure Minigolf is a modern 18-hole course with lush, tropical surroundings. Located near family-friendly Thong Nai Pan, you can enjoy a challenging and entertaining round of minigolf with your little ones.
Besides offering lessons for players of all ages, Phangan Adventure Minigolf also serves ice cream and cold drinks. It provides all the necessary equipment. It's a good idea to wear a hat and sun protection or visit in the early morning or evening to avoid the heat of the day.
Location: Ban Tai, Ko Pha-ngan District, Surat Thani 84280, Thailand
Open: Daily from 10 am to 9 pm
Phone: +66 (0)81 432 4601
9
First Bow and Arrow Club
A reasonably priced and well-equipped archery club
First Bow and Arrow Club is a great facility to try some target practice in Koh Phangan. The friendly and knowledgeable staff can assist you with instructions and getting to know the equipment. There is plenty of shade at the archery range, and cold drinks are available.
Prices at First Bow and Arrow Club are reasonable and inclusive of equipment rental. If you're staying on the island for several days and plan to make multiple visits, you could benefit from purchasing a membership.
Location: Unnamed Road, Ko Pha-ngan Sub-district, Ko Pha-ngan District, Surat Thani 84280, Thailand
Open: Daily from 10 am to 5:30 pm
Phone: +66 (0)81 274 0173
10
Paintball Battle Koh Phangan
Great for families with high-energy teens
Paintball Battle Koh Phangan, also known as La Casa de Paintball, is located less than 10 minutes inland from Thong Sala. The paintball battlefield is set in a lush jungle, with trees and recycled materials serving as barriers and shields.
The centre offers 3-hour sessions during the day and at night – it's possible to arrange for a BBQ dinner afterwards. For families with young kids, Paintball Battle Koh Phangan provides their littlest warriors with a fun yet safe experience with water balloons.
Location: Unnamed Road, Ko Pha-ngan Sub-district, Ko Pha-ngan District, Surat Thani 84280, Thailand
Open: Daily from 9 am to 10 pm
Phone: +66 (0)63 539 3671
Back to top