10 Best Things to Do in Rimini
What is Rimini Most Famous For?
Rimini is a coastal town that's known for its expansive beaches and lively nightlife scene. It has over 100 beaches and seaside promenades that are lined with villas, resorts, and hotels overlooking the Adriatic Sea. Summer is when the beaches are alive with life. You'll see thousands of bronzed beachgoers enjoying activities like sunbathing, swimming, jet skiing, and sailing.
Rimini's city centre is where you can find historical landmarks and buildings constructed during the ancient Roman Empire. Many of these structures have manage to survive despite years of war and development, giving you a sense of being transported back in time. Classical concerts, street parades, and seasonal markets are often celebrated in Rimini, especially between the summer months from June to September. If this is your first time in Rimini, we've compiled a list of the best things to do in the vibrant Italian city.
What are the best things to do in Rimini?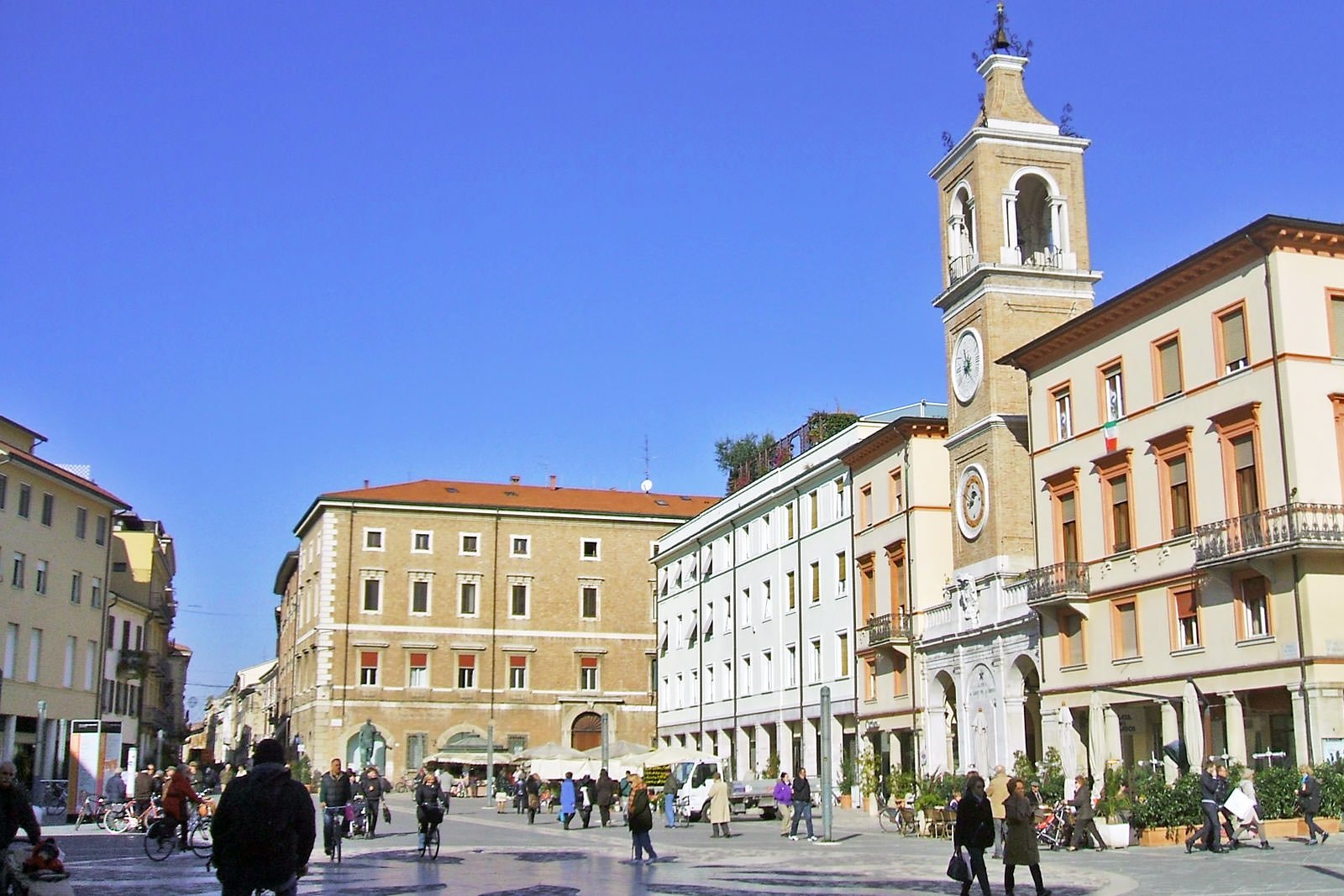 Start the day at Piazza Tre Martiri
Check out Ancient Roman architecture at this historical square
Piazza Tre Martiri is a historical square in central Rimini and has plenty of picturesque architecture dating back to the Ancient Roman period. The northern end of the square is home to reputable shops, restaurants and cafes. The southern part is where you can visit many important landmarks, including the 16th century church Tempietto di Sant Antonio, Torre dell'Orologio clock tower, and the statue of Julius Caesar. Piazza Tre Martiri is a popular meeting place thanks to its central location and pedestrian-friendly streets. It also hosts markets, festivals, and concerts throughout the year, especially in spring and summer.
Location: Piazza Tre Martiri, 47921 Rimini RN, Italy
Couples
Families
History
Photo
photo by RiminiCity (CC BY-SA 3.0) modified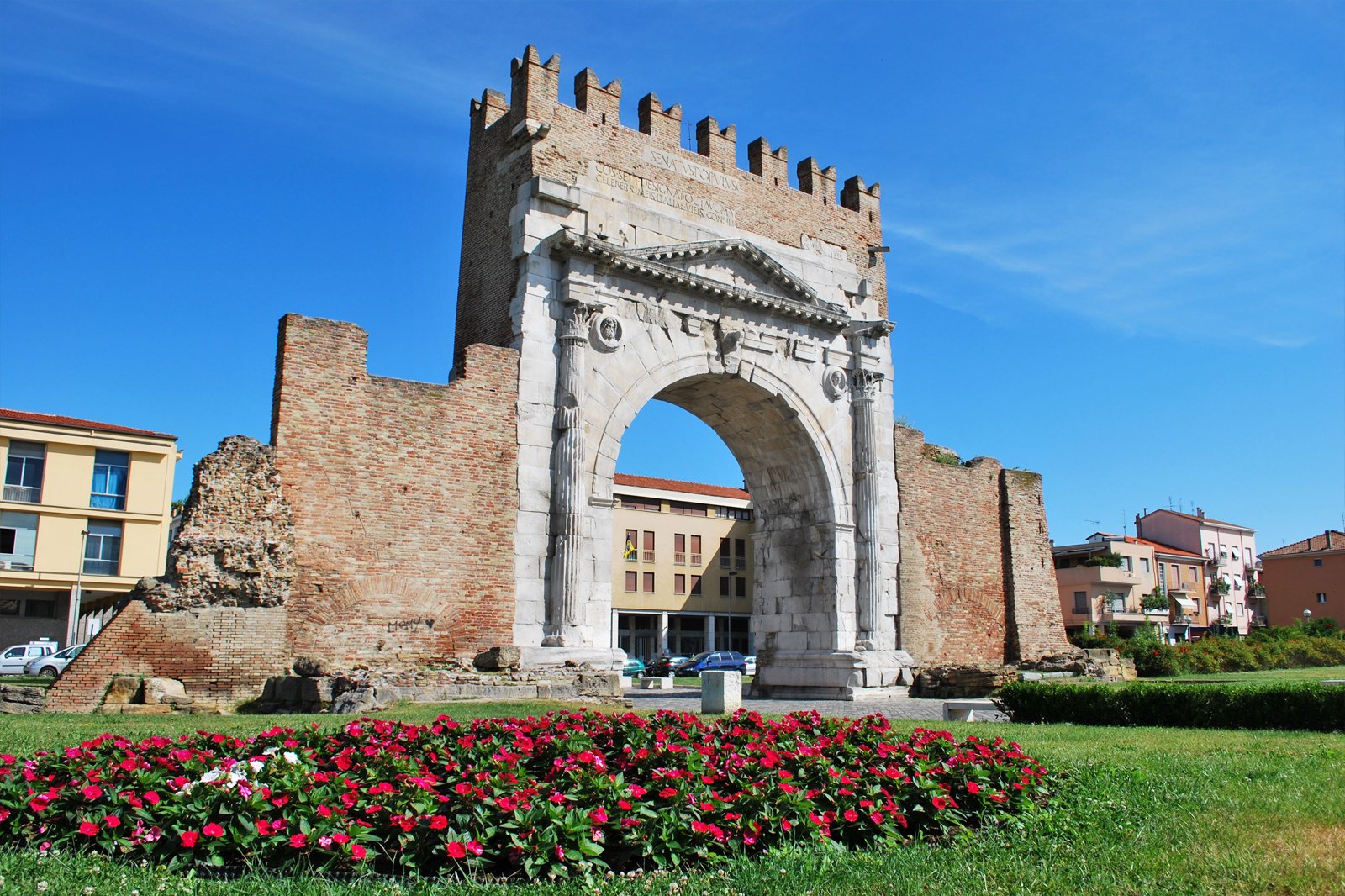 Walk through the Arco d'Augusto Archway
See intricate carvings of Roman gods at this archway
Arco d'Augusto was constructed 27 B.C. and named after Caesar Octavian Augustus, who was the first emperor of the Roman Empire. One of the oldest surviving examples of Roman architecture, its central arch is flanked by 2 Istrian stone columns with elaborate Corinthian orders. There's also an inscription dedicated to the emperor and intricate reliefs of 4 Roman gods, Jupiter, Apollo, Neptune, and Roma. Located in Corso d'Augusto, this picturesque archway is a 5-minute walk from Piazza Tre Martiri.
Location: Arch of Augustus, Corso d'Augusto, 47923 Rimini RN, Italy
Families
History
Photo
Budget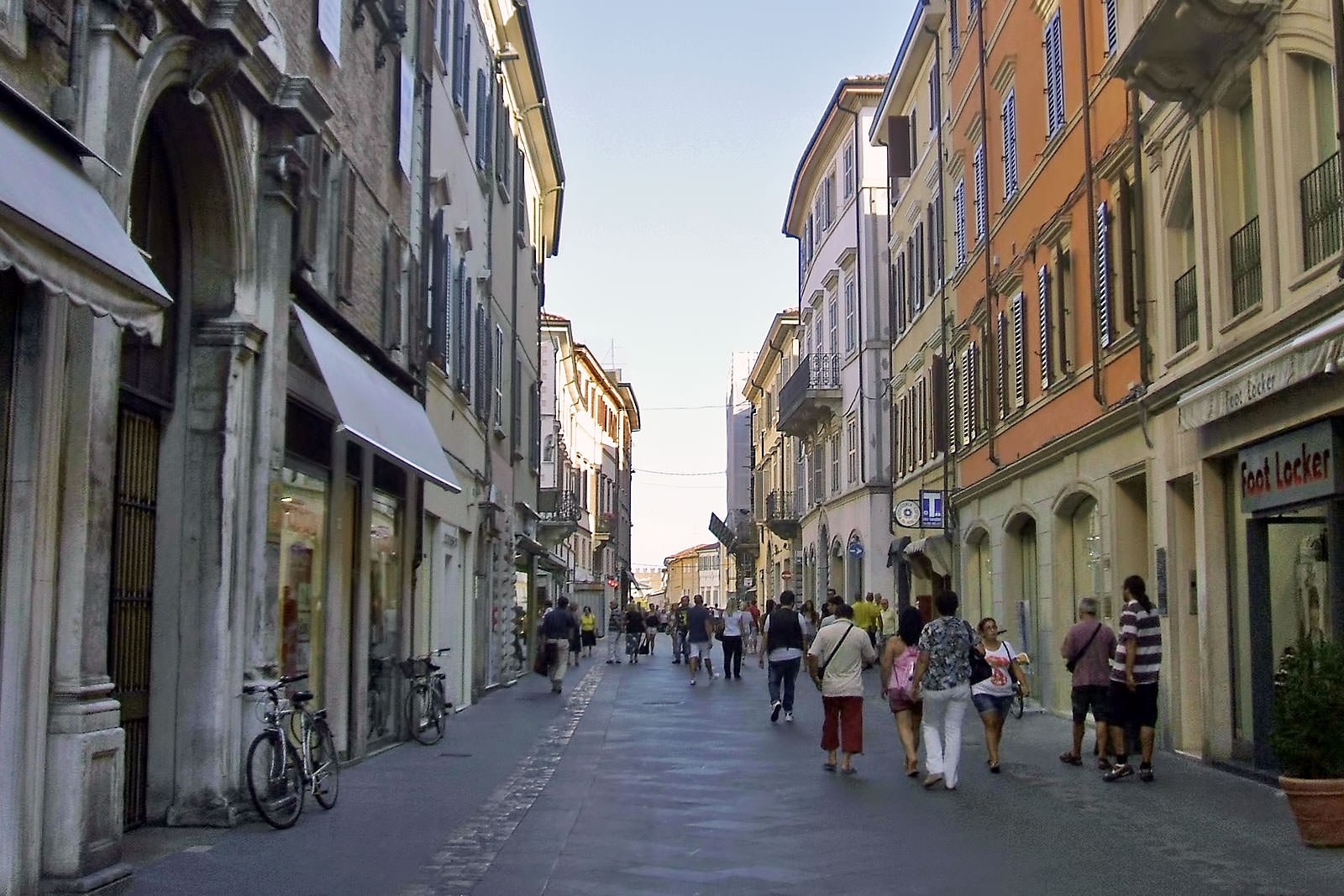 Go shopping at Corso d'Augusto
Explore designer brands and souvenir stores in this shopping street
Corso d'Augusto is a vibrant shopping street between the Arco d'Augusto and Ponte d'Augusto in central Rimini. Here, you can find many upmarket and high-street fashion brands alongside quaint shops selling a variety of souvenirs, jewellery and beauty products. Corso d'Augusto is relatively small, so you can easily explore the entire street on foot or bicycle. There are also plenty of cafes and pubs with outdoor terraces overlooking many historical sites within central Rimini.
Location: Corso d'Augusto, 47921 Rimini RN, Italy
Couples
Families
Shoppers
Luxury
photo by RiminiCity (CC BY-SA 3.0) modified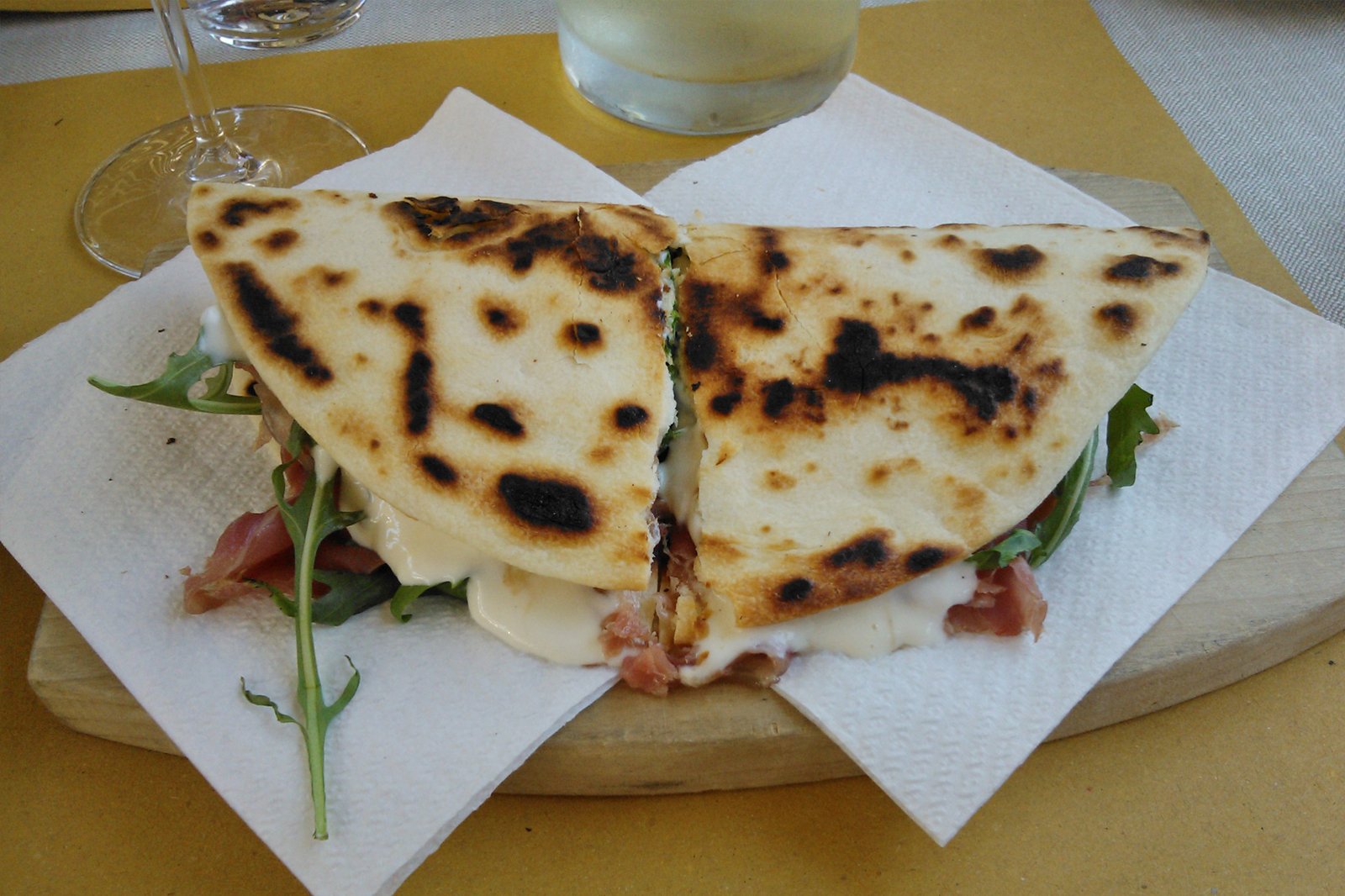 Snack on piadina, Rimini's famous street food
Stop by a piadineria and enjoy your piadina sandwich right on the beach
Piadina is an Italian-style flatbread typically filled with cured meats, cheeses, and vegetables. This versatile street food is usually made to order, combining flour, salt, water, and lard into a dough, and cooking it on a griddle or terracotta dish until crispy. Popular fillings include prosciutto, tomatoes, mozzarella, rocket leaves, and basil. While piadina is a traditionally a savoury meal, you can find several cafes and restaurants in Rimini serving it with chocolate and jam fillings.
Location: Lungomare Augusto Murri, 47921 Rimini RN, Italy
photo by Sergio Conti (CC BY-SA 2.0) modified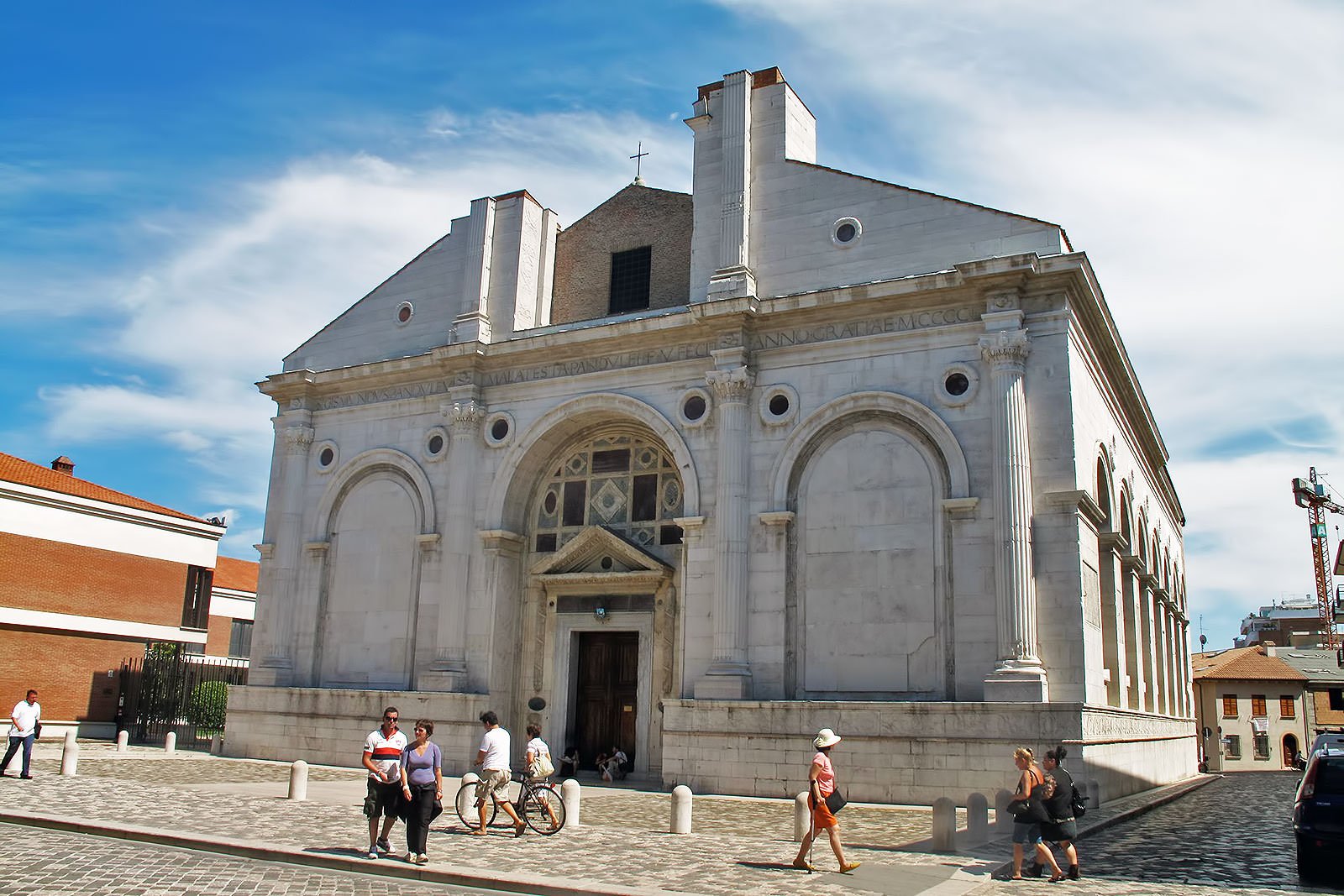 Must-See: Tempio Malatestiano
See the church's extensive collection of 15th-century decorations and sculptures
Tempio Malatestiano (Malatesta Temple) is a fine example of Early Renaissance architecture. This structure was originally a 13th century cathedral called the Church of San Francesco before it was converted into a massive tomb for the Malatesta family, who had ruled Rimini between 1295 and 1500. Today, it houses a collection of 15th century artefacts, including Sigismondo Pandolfo's sepulchre, sculptures by Agostino di Duccio, and an ornate crucifix by Giotto.
Location: Via IV Novembre, 35, 47900 Rimini RN, Italy
Open: Monday – Friday from 8.30am to 12pm & 3.30pm to 9pm, Saturday from 8.30am to 12pm, 3.30pm to 4.30pm and from 6.30pm to 9pm, Sunday 9am to 10.30am, 12pm to 1pm and from 3.30pm to 9m
Phone: +39 0541 183 5100
Couples
Families
History
Photo
photo by Alain Rouiller (CC BY-SA 2.0) modified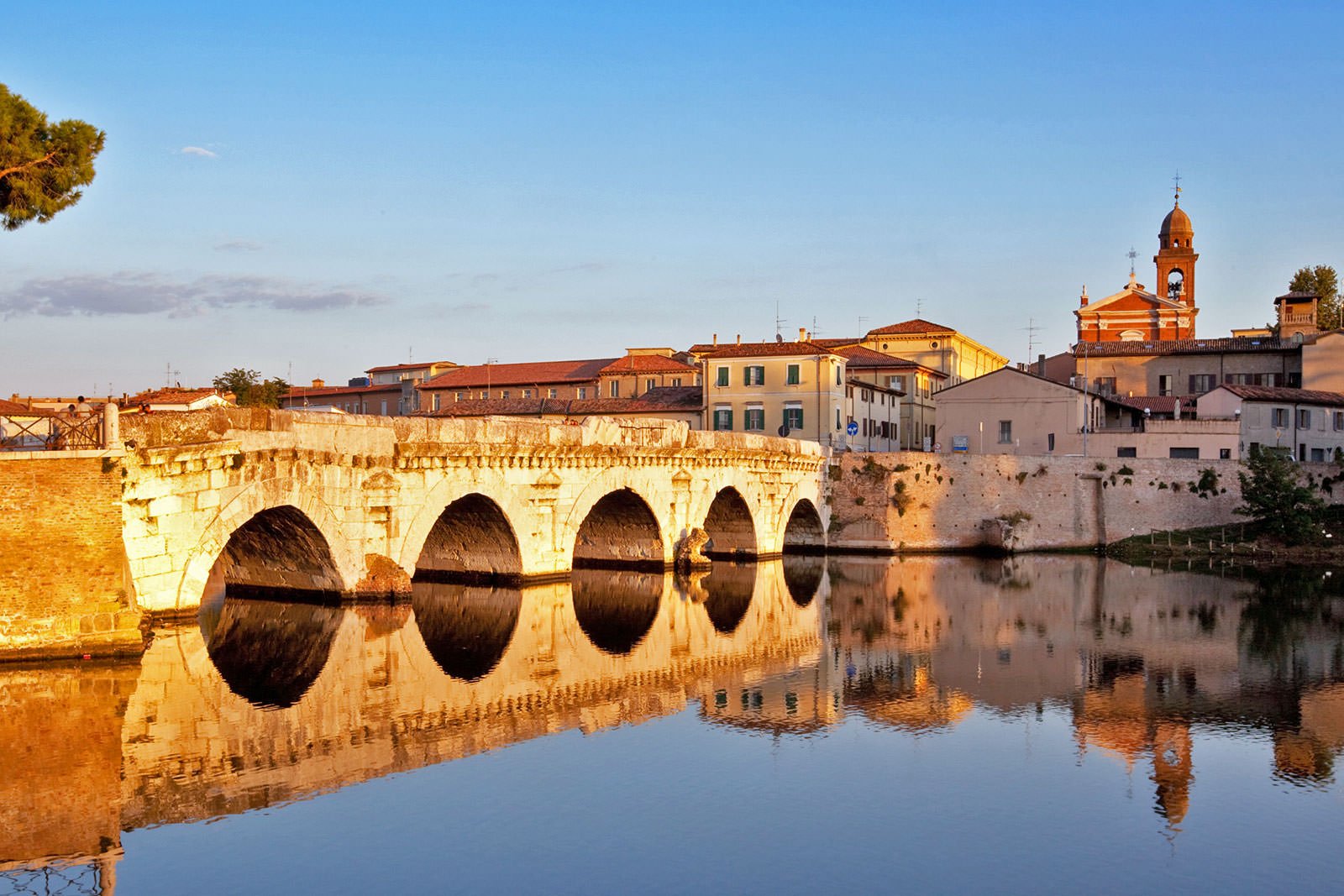 Cross the Ponte di Tiberio Bridge
Enjoy views of Borgo San Giuliano when crossing this historical bridge
Ponte di Tiberio (Tiberio Bridge) dates back to ancient Roman times, when Rimini was under the reign of Roman Emperor Caesar Octavian Augustus in 14 A.D. Made with Istrian limestone, it's one of the oldest Roman bridges and features 5 semi-circular arches with a total length of 70 metres. Today, the bridge connects central Rimini with the Borgo San Giuliano hamlet. It's still in relatively good condition and is only open to pedestrians, cyclists, and vehicles such as cars and motorcycles.
Location: Ponte di Tiberio, 47921 Rimini RN, Italy
Couples
Families
History
Photo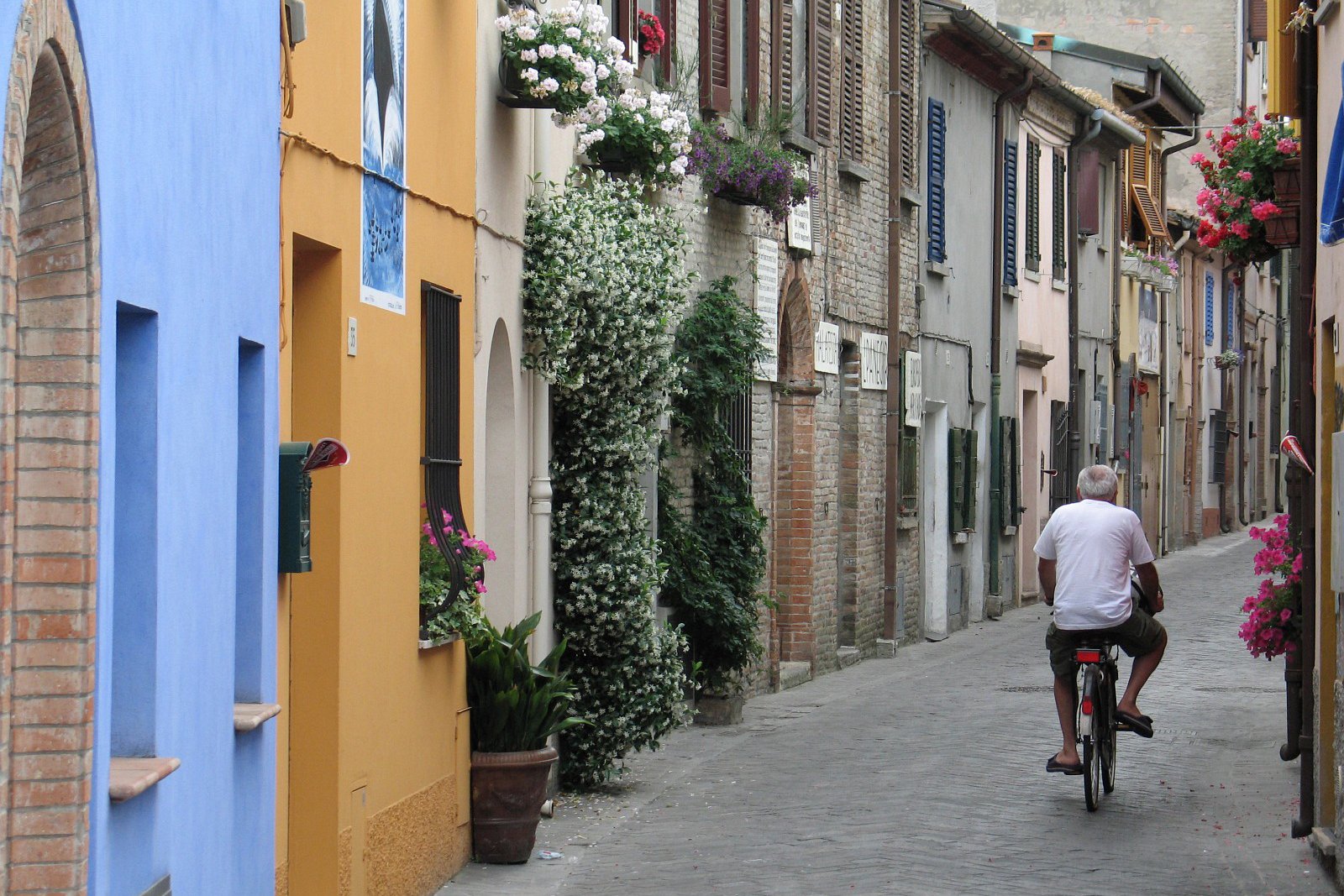 Explore Borgo San Giuliano
Watch street performances and fireworks during the biannual Festa de' Borg
Borgo San Giuliano is a traditional fishing hamlet about 1.6 km south of Marina Centro. It's made up of cobblestone streets and charming cottages. It's also a good place for enjoying seafood and authentic Italian cuisine such as pastas and piadina (flat-bread sandwiches). Borgo San Giuliano's most popular feature is its extensive collection of murals depicting scenes from Federico Fellini's films, some of them dating back to 1980.
Festa de' Borg is a biannual festival that takes place in the first weekend of September. Over the course of two days, the neighbourhood hosts colourful parades, live music and dances, and ends with a fireworks display over the Ponte di Tiberio River.
Location: Via S. Giuliano, 47921 Rimini RN, Italy
photo by Roberto Ferrari (CC BY-SA 2.0) modified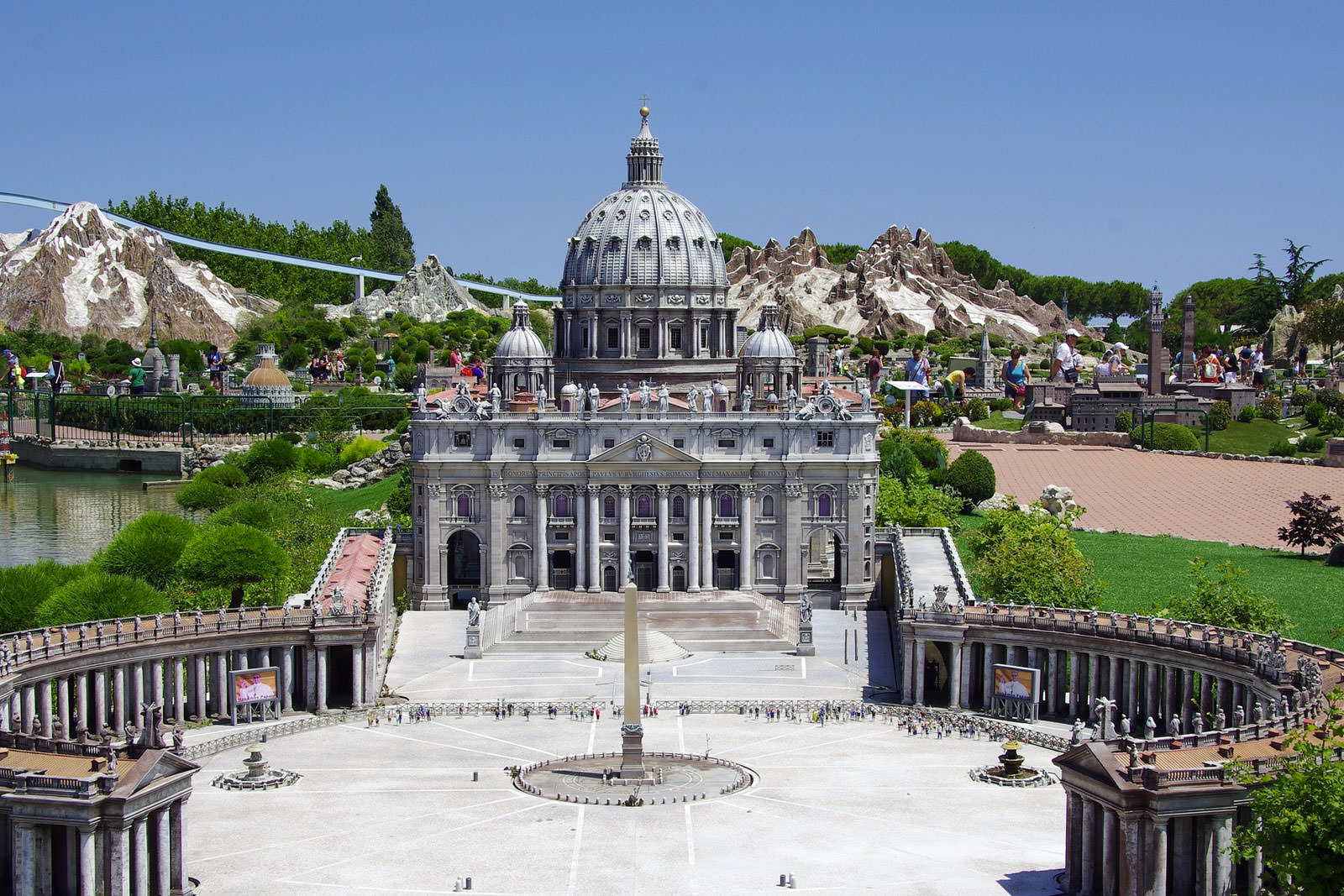 Must-See: Italia in Miniatura
Ride the monorail to see the theme park's attractions from above
Italia in Miniatura (Miniature Italy) is home to over 250 miniature historical buildings and natural landscapes of Italy. Founded in 1970 by Ivo Rambaldi, this theme park features an open-air exhibition space spanning 85,000 sq m, where you can see highly detailed models of the monuments such as the Colosseum, the Leaning Tower of Pisa, and the Duomo of Milan. Children's activities are plentiful as Italia in Miniatura also has a bird park, science fun fair, and an interactive driving school. The Arcobaleno monorail ride lets you view the theme park's attractions from a height of up to 6 metres.
Location: Via Popilia, 239, 47922 Viserba RN, Italy
Open: Daily from 10.30 to 6pm
Phone: +39 0541 736 736
Catch classical performances during La Sagra Musicale
Watch classical singers and musicians at this month-long festival
La Sagra Musicale Malatestiana is a long-running festival commemorating classical music in Rimini. The event was first held to celebrate the reconstruction of Tempio Malatestiano in 1950. Today, it offers a month-long series of classical concerts by renowned European conductors, soloists, pianists, and opera singers. La Sagra Musicale typically starts in late-August and is held at popular auditoriums and music halls throughout Rimini. Past venues include the Augustinian Complex, Ermete Novelli Theater, and the Church of the Suffrage
Location: Rimini, Italy
Open: Summer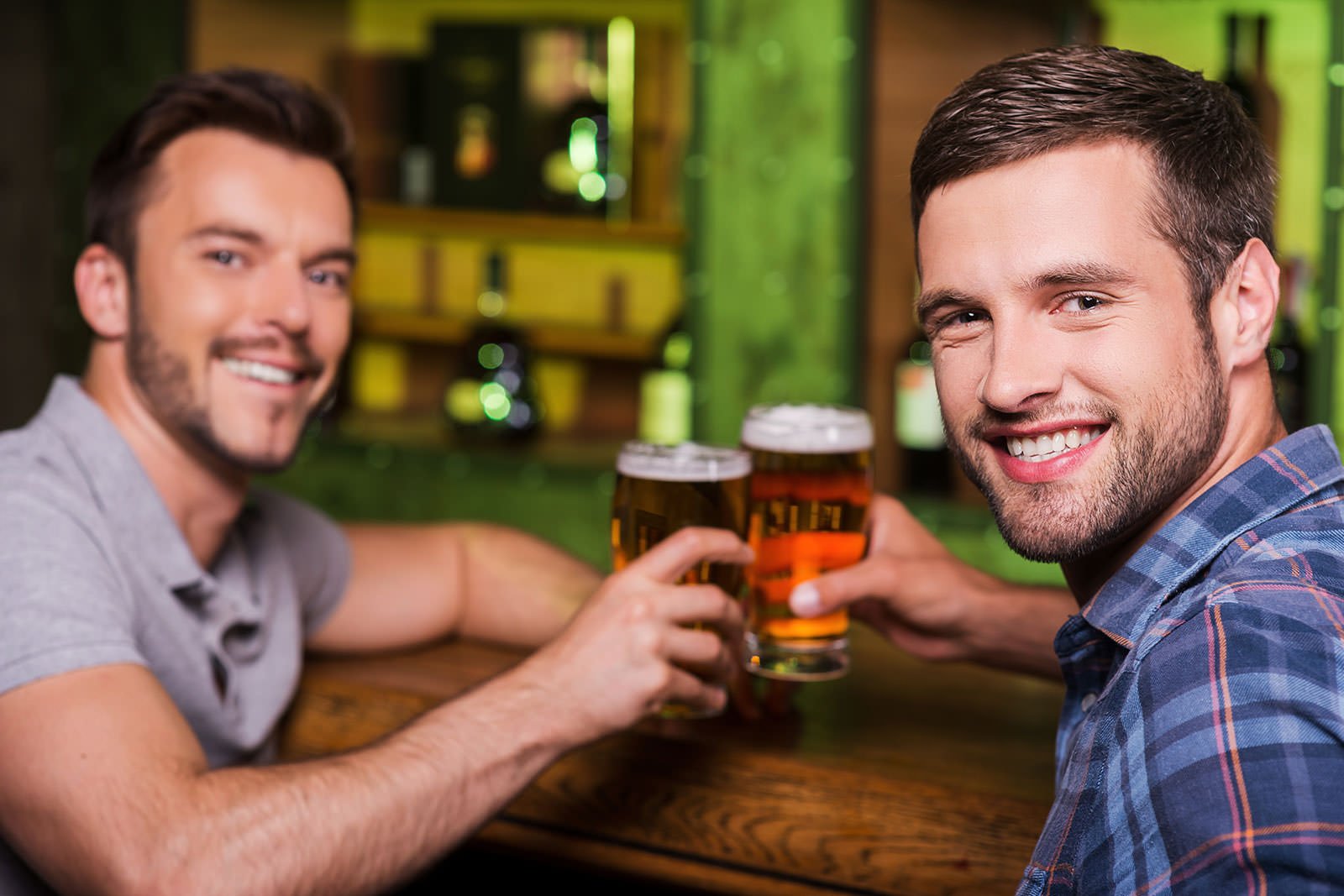 End the day at a bar in Marina Centro
Check out Rimini's busiest nightlife spots along Viale Vespucci
Marina Centro is a sea-fronting promenade in Rimini, where you can find some of the city's busiest nightlife spots. A 20-minute walk from the historical Piazza Tre Martiri, it's a popular spot for activities such as sunbathing, jogging, and jet skiing during the day.
At dusk, the entire area transforms into a giant party, especially along the tree-lined avenue Viale Vespucci. Stylish nightclubs, discos, and cocktail bars are plentiful, most of which are fitted with outdoor terraces overlooking the Adriatic Sea.
Location: Marina Centro, Viale Amerigo Vespucci, 8, 47921 Rimini RN, Italy