Neka Art Museum is an art gallery and museum in Ubud, established in 1976 by Balinese art lover Wayan Suteja Neka. Inside the museum, you can admire a vast collection of paintings and sculptures that are displayed throughout 6 different buildings laid out in a Balinese garden compound.
The 6 buildings in traditional Balinese architecture house an expansive collection of paintings and sculptures, but one of the main exhibits at Neka Art Museum are the traditional Balinese keris daggers. The daggers are the personal collection of the museum's founder, whose family hails from the Balinese Pande clan of smiths.
Neka Art Museum in Bali - one of the highlights of 5 Must-See Art Galleries in Ubud and 37 Best Things to Do in Ubud (Read all about Bali here)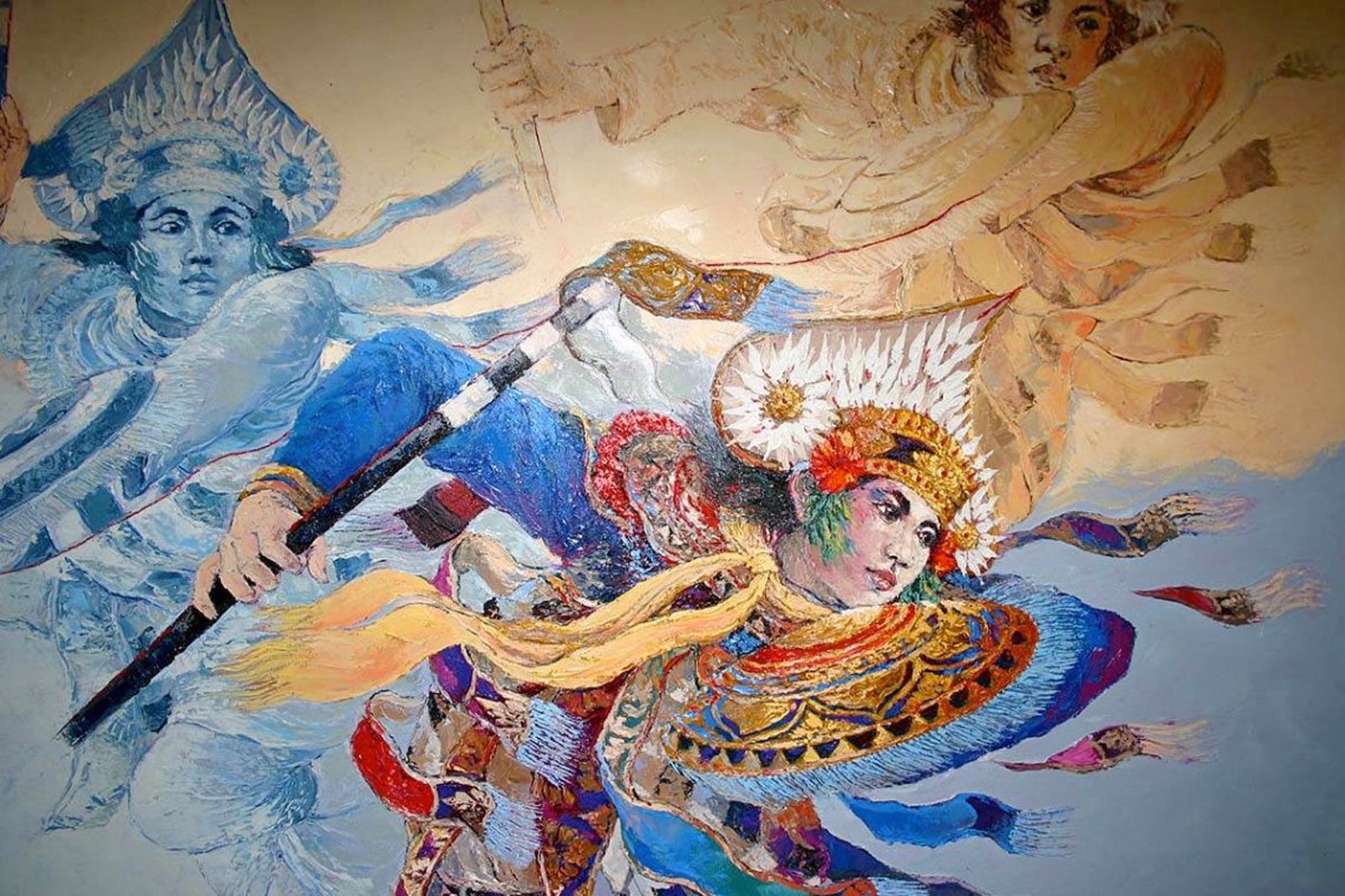 The various exhibits at Neka Art Museum
The first building has 4 exhibits. Exhibit A displays Kamasan-style wayang paintings depicting the Ramayana and Mahabharata epics as well as Javanese and Balinese myths and legends. Exhibits B and C display paintings with western influences which developed in the 1920s in Ubud, and later became known as Ubud-style paintings. This influence was brought on by German artist Walter Spies and Dutch painter Rudolf Bonnet, who both introduced their subtle techniques in lighting, shadows, perspectives and subject anatomy. Exhibit D has Batuan-style paintings from the village of the same name that's not far from Ubud.
The second building is named the Arie Smit Pavilion after the Dutch-born Indonesian painter who resided in Bali, Adrianus Wilhelmus (Arie) Smit. It was set up in admiration of the artist by Neka for his role in developing art in Ubud. The pavilion has 2 floors. The first displays the works of young artists from the 'Young Artists Movement' that Smit helped generate in 1960 – the likes of Nyoman Cekra, Ketut Soki and several others in contemporary, expressionistic and abstract styles. The upper floor features the works of Arie Smit in various themes and painting styles that depict Balinese community life and imaginative renderings of Bali's nature.
The third building houses photographic exhibits. Here, you'll find archive collections of black-and-white photos, especially those taken by American Robert Koke (one of the earliest expatriates in Bali), which date back to the 1930s.
The fourth building is the Lempad Pavilion, named in honour of the late Balinese sculptor and architect, Gusti Nyoman Lempad. Lempad is best known for his unique Balinese painting styles. His themes range from epics to local legends and rural Balinese village life.
The fifth building houses contemporary and modern artworks from Indonesian artists through 5 exhibits.
The sixth building's 2 levels are dedicated to the works of famous Indonesian and international artists. The first floor features the works of acclaimed Indonesian artists likes Affandi, Soedjono, Srihadi Soedarsono, Widayat, Nasyah Djamin, Bagong Kussudiardjo, Ahmad Sadali and Abas Alibasyah. The second floor features international artists such as Antonio Blanco, Rudolf Bonnet, Miguel Covarrubias, and others.
Besides the 6 main art buildings, Neka Art Museum also features the founder's own passion through his traditional keris dagger collection. Here, Neka keeps his cherished 272 or so curved daggers that he has collected throughout the half-century of his lifetime. These elaborately decorated daggers are genuine samples made by master smiths of the past and all are laid out in order behind glass displays.
Good to know about Neka Art Museum
A visit to the Neka Art Museum is both a journey into the past as well as an educational tour that enlightens you with information on techniques and the history of the development of art in Bali. You might also meet up with the founder himself who, as a member of the Pande clan of Balinese smiths himself, will passionately show and explain the process of creating a keris dagger.
The museum features modern supporting facilities: Spacious meeting halls, tropical gardens, a refreshment store, restrooms, and ample parking space. You can easily find Neka Art Museum on Jalan Raya Campuhan in the village of Kedewatan, just a few minutes' drive north-west from the main Ubud centre.
Neka Art Museum in Bali
Location: Jalan Raya Sanggingan Campuhan, Kedewatan, Ubud, Gianyar, Bali 80571, Indonesia
Open: Daily from 9am to 5pm
Phone: +62 (0)361 975074
Why book with Hotels.com?