10 Best Things to Do in Crete
What is Crete Most Famous For?
The largest island in Greece, Crete is a diverse and vibrant land packed with ancient ruins, buzzing cities and breathtaking beaches. Many people come here for the sun, sea and sand yet the best things to do in Crete include much more than the standard package holiday. From some of the best hiking in Europe to world-class museums, the attractions here are as varied as the landscape.
As you might expect from an island blessed with such a rich history and natural beauty, locals in Crete are fiercely proud of their homeland and their hospitality is impeccable. Whether at a homely countryside taverna or an atmospheric seaside cafe, slipping into the slow pace of life here is all part of the Cretan experience.
What are the best things to do in Crete?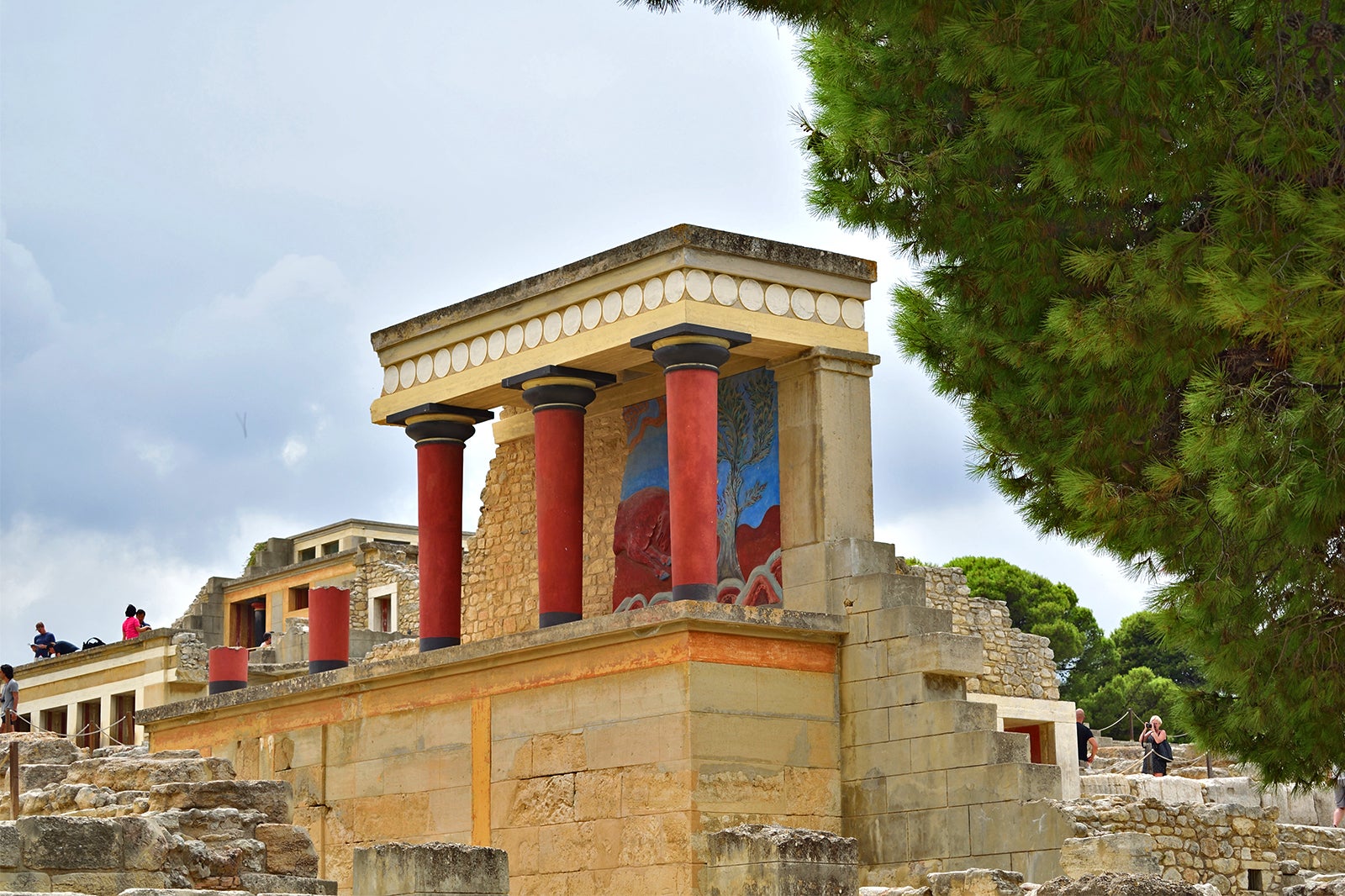 Step into history at The Palace of Knossos
Explore Bronze Age ruins amid lush Cretan countryside
The Palace of Knossos was once the epicentre of the island's ancient Minoan civilisation. Located about 5 km south of Heraklion, the ruins are packed with fascinating historical features including vibrant frescoes, crumbling staircases and soaring columns, all of which make for hours of exploration. Most visitors to Knossos come for a glimpse of the restored frescoes vividly depicting day-to-day life in the ancient city. Highlights include the Cup Bearer Fresco, the Prince of the Lilies Fresco and, most famous of all, the Charging Bull Fresco.
The site gets extremely busy during peak months, so it's best to try and time your visit for the morning or evening when crowds and temperatures are at their lowest. Entry to the attraction costs about €15 per person, with Knossos served by its own bus (City bus 2 to Knossos) that leaves every 10 to 30 minutes from Heraklion's long-distance bus station.
Location: Knossos, Crete 714 09, Greece
Open: April–September from 8am to 8pm. October from 8am to 7pm. November–March from 8am to 3pm
Phone: +30 281 023 1940
photo by Theofanis Ampatzidis (CC BY-SA 4.0) modified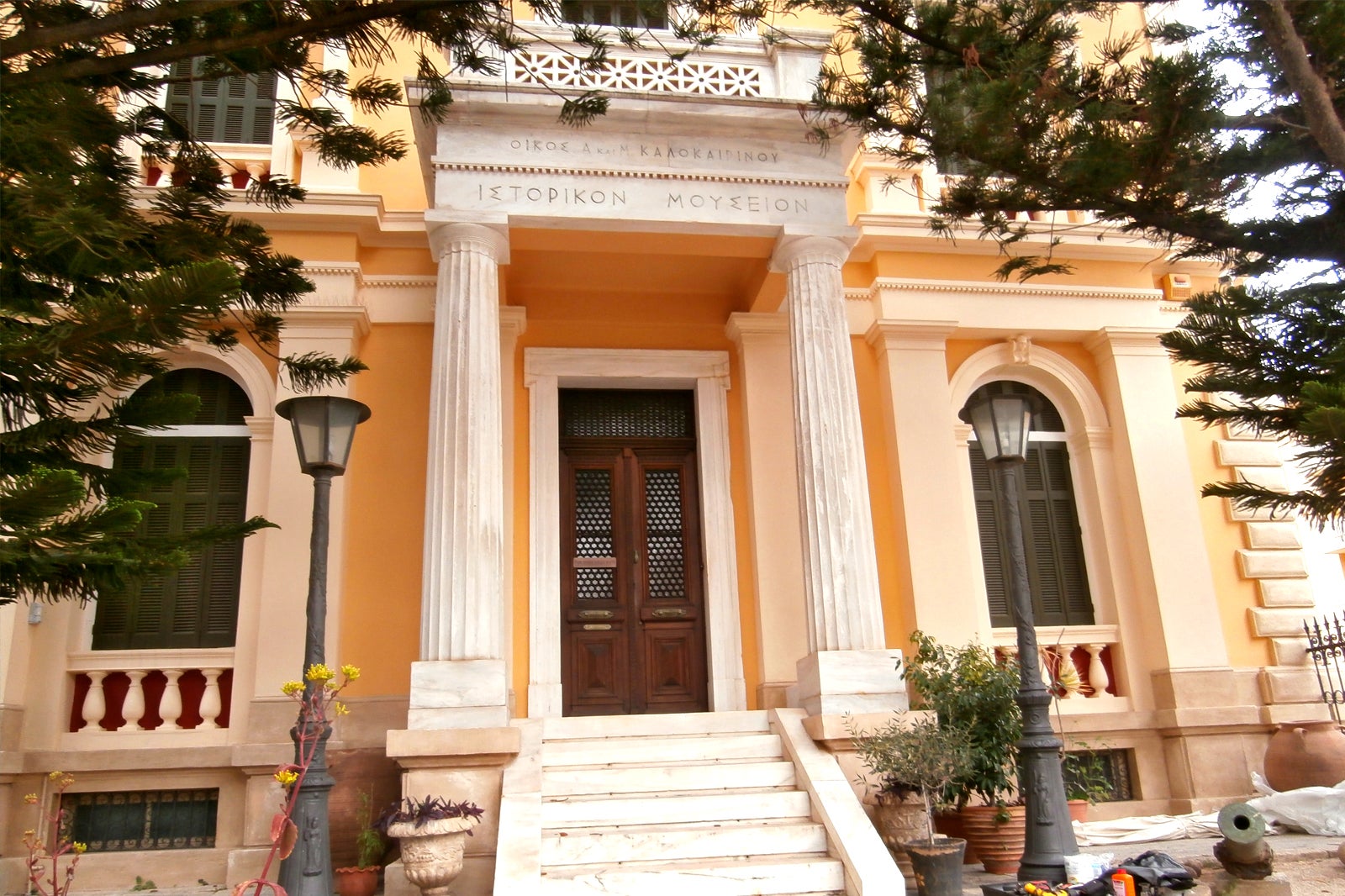 Admire ancient artefacts at Heraklion Archaeological Museum
The finest collection of Minoan art in the world
This large museum is home to one of the most extraordinary collections of ancient Greek artefacts on the planet. After a couple of hours spent exploring this unique 2-storey building in the centre of Heraklion, which encompasses over 5,500 years of Cretan history, it isn't difficult to see why this place is held in such high regard.
Amid the thousands of artefacts on show, the Minoan collection is one the finest. Featuring all manner of pottery, jewellery and ceremonial pieces, the sheer quantity and diversity of the artefacts help bring to life ancient Crete's most celebrated civilisation. Entry to the museum costs around €10, but we recommend the combined option, which also includes a ticket for the unmissable Palace of Knossos.
Location: Xanthoudidou, Chatzidaki, Heraklion, Crete 712 02, Greece
Open: April–October: daily 8am to 8pm. November–April: daily 8am to 4pm
Phone: +30 281 027 9000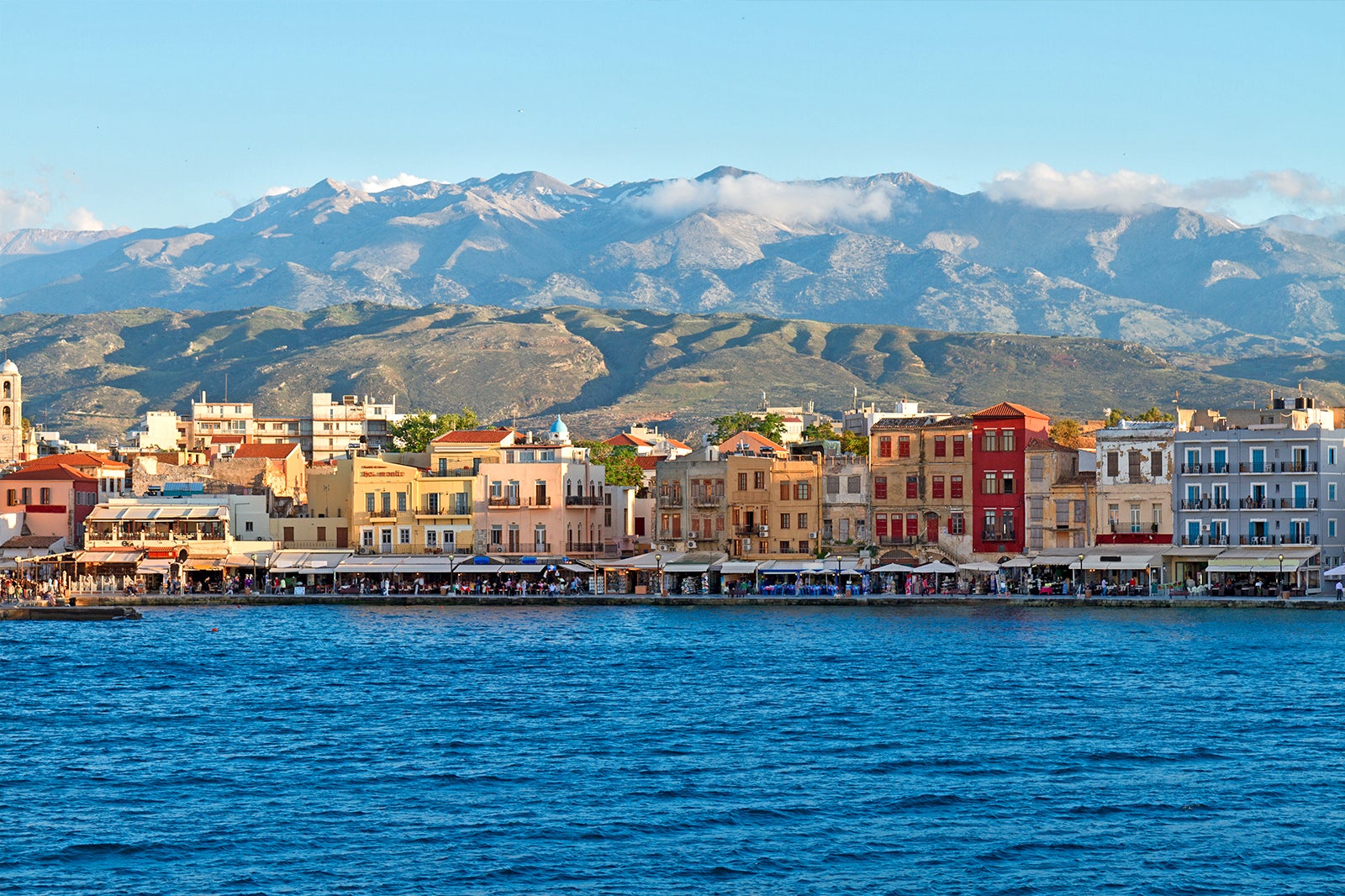 Explore atmospheric Chania
Venetian and Turkish influences add vibrancy to this stunning seaside city
One of Crete's largest cities, Chania is renowned for its atmospheric harbour and narrow streets packed with local charm. The harbour itself dates back to the 14th century when the city was ruled by the Venetians, with a northern Italian influence still very much tangible in Chania today.
Among Chania's highlights is the 16th-century lighthouse which stands at the entrance to the harbour. With an uncanny resemblance to Ottoman minarets, the structure is yet another reminder of this city's rich and diverse history. Nearby, the Kucjk Hassan Mosque sits across the harbour from the Maritime Museum of Crete. Chania becomes extremely crowded during the summer months. The best time to visit is during spring when temperatures are balmy and the harbour remains at its most pleasantly relaxing.
Location: Chania, Χανιά, Greece
Couples
History
Photo
Budget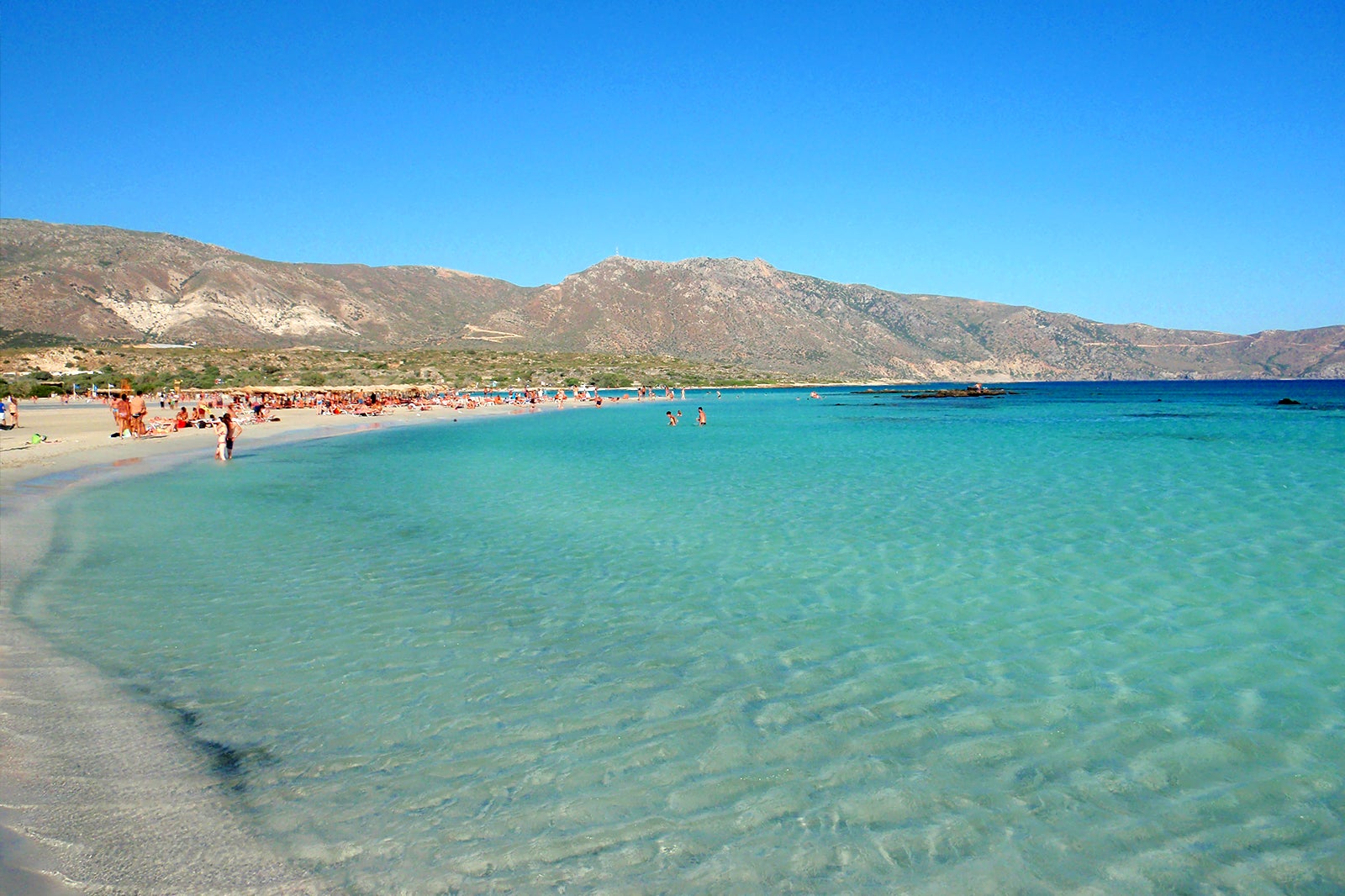 Kick back on the white sands of Elafonisi
Explore sandy beaches and craggy coves on this protected island
Elafonisi is a tiny islet made up of idyllic beaches reachable on foot from the Cretan mainland. Located off the west coast of the island, the shallow waters of Elafonisi are breathtakingly turquoise in colour.
Elafonisi is about a mile long, with many of the island's best and least crowded beaches located at the opposite end to the main strip of sand. Make sure to explore the various caves and rock formations scattered across Elafonisi to gain a real sense of the island's stark natural beauty. For botanists, the island is a dream as it's home to exactly 110 individual plant species including the rare Androcymbium rechingeri, for which it is a protected area.
Location: Elafonisi, Inachori, Greece
photo by Jimzoun (CC BY-SA 4.0) modified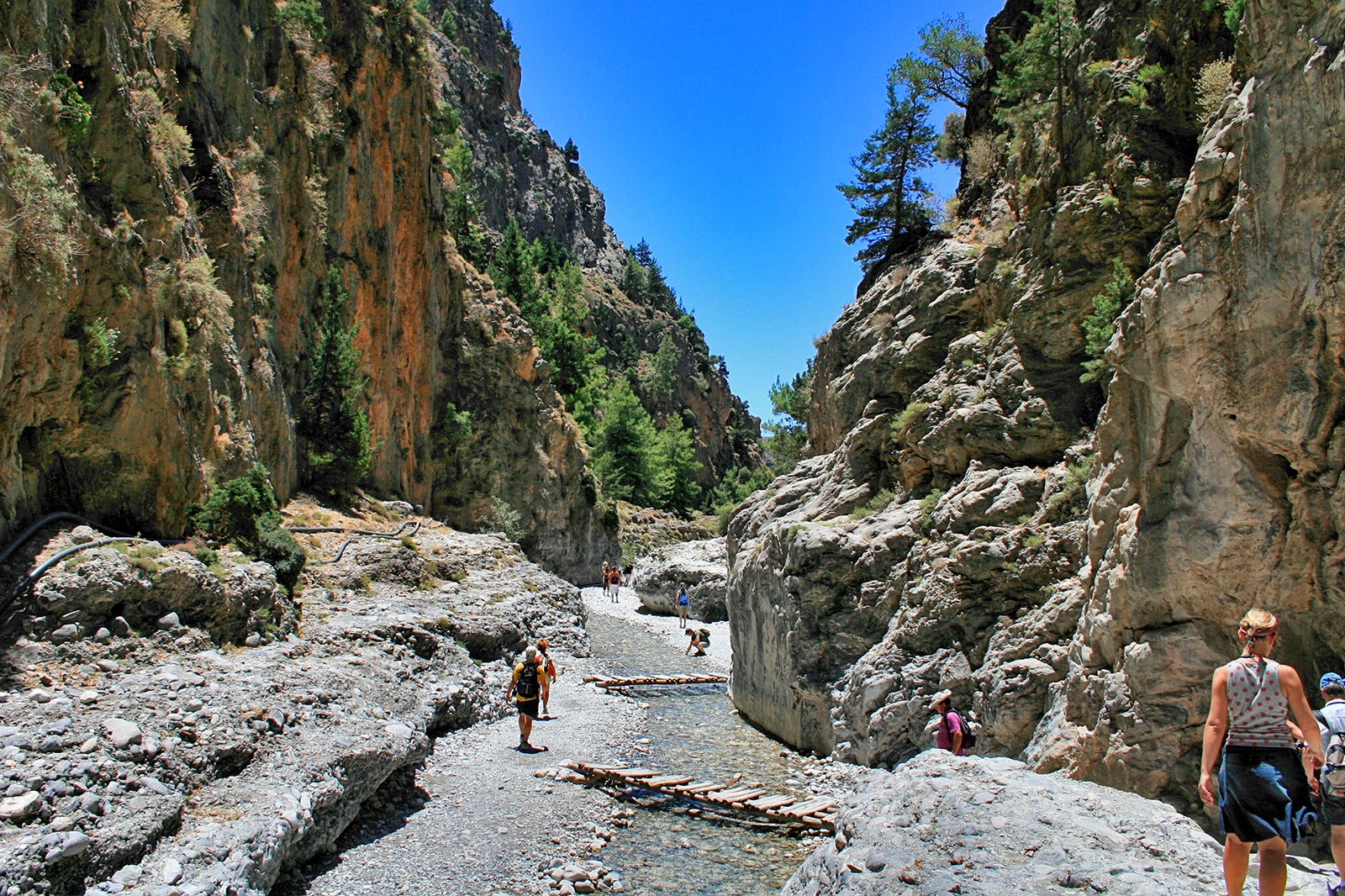 Hit the trails at the breathtaking Samaria Gorge
Stunning vistas and soaring cliffs in Crete's most famous national park
Encompassing a trek of around 15 km through narrow pathways and abandoned villages, hiking the Samaria Gorge is one of Crete's most rewarding outdoor experiences. Beginning at the mountain trailhead of Xylóskalo and ending in the seaside village of Agia Roumeli, the trail takes in a variety of landscapes including steep rocky terrain and lush green forests.
Highlights along the way include several churches and chapels such as the tiny St. Nicholas's and the slightly larger yet no less quaint Osia Maria, which dates back to the 14th century. Make sure to bring a good pair of walking boots and, for those with weak knees or ankles, a set of hiking poles. The trek takes in some rather steep sections and it is not uncommon for hikers to suffer twists or sprains.
Location: Old National Road, Chanion-Kissamou, Sfakia, Crete 730 05, Greece
History
Photo
Budget
Adventure
photo by Lapplaender (CC BY-SA 3.0) modified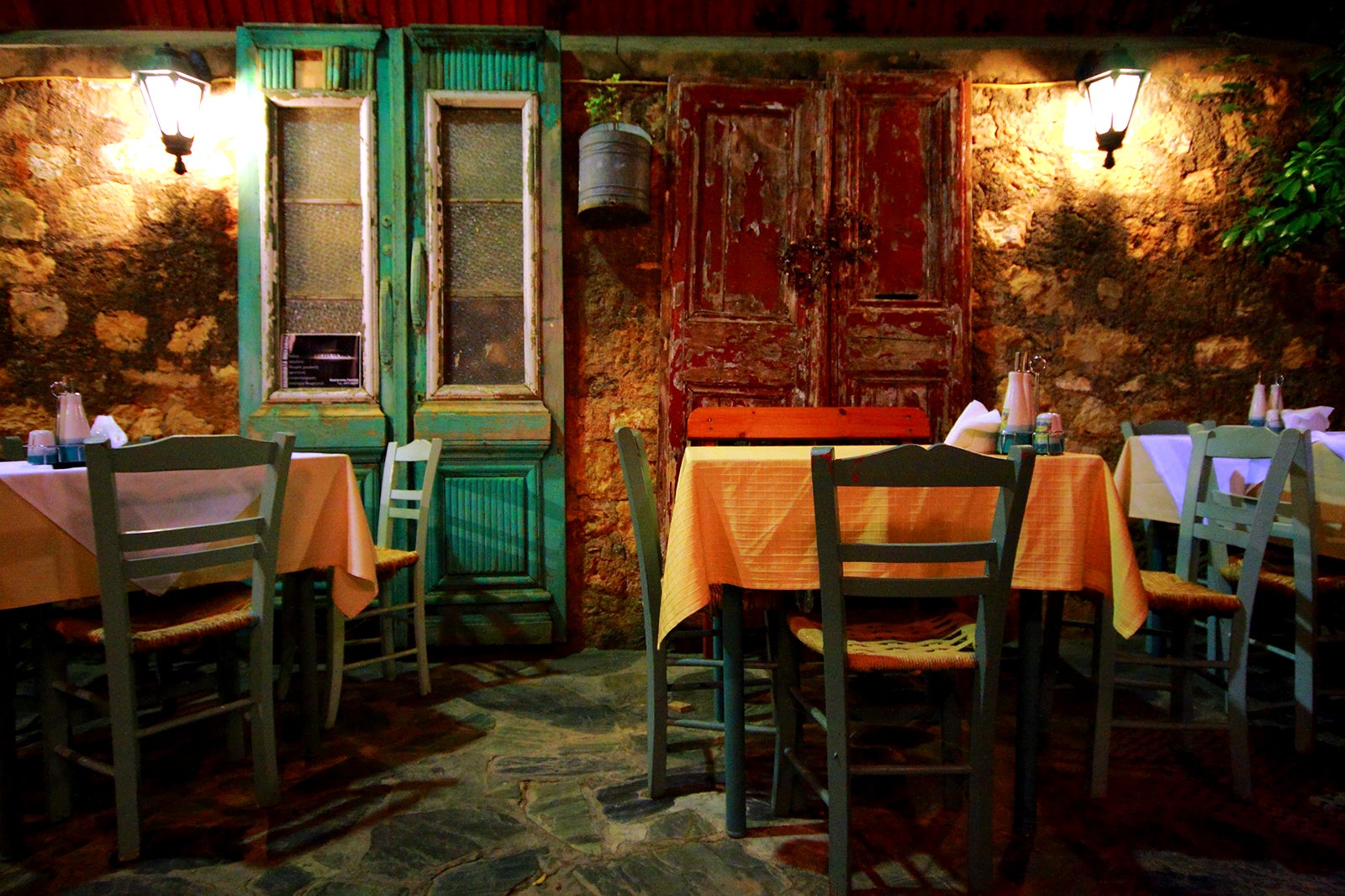 Enjoy a traditional meal at a countryside taverna
Sample deliciously hearty fare at these informal local eateries
Often owned and ran by the same family for generations, Crete's tavernas litter the island and provide an affordable yet delicious option for lunch or dinner. Dining at a countryside taverna is a quintessential Cretan experience, thanks to soulful local specialities such as kolokythanthoi yemistoi (stuffed zucchini blossoms) and spanakopita (stuffed filo pastry).
One of the very best tavernas in all of Crete is Gramboussa, located on the island's extreme north-west coast. The only thing that surpasses the view here is the quality of the food, with specialities including rabbit wrapped in lemon leaves and a wide variety of fish dishes served amid ambient surrounds. Another excellent option, this time on Crete's east coast, is the Ferryman Taverna, located in Elounda close to Agos Nikolaos and the island of Spinalongha. The family-owned restaurant is home to one of the very best choritaiki salata (traditional Greek salad) around, not to mention exceptional homemade bread.
Location: Gramboussa, Emmanouil Diktaki 1, Kaliviani 734 00, Greece
Open: Daily from 11.45am to 12am
Phone: +30 2822 022707
photo by Vassil Tzvetanov (CC BY 2.0) modified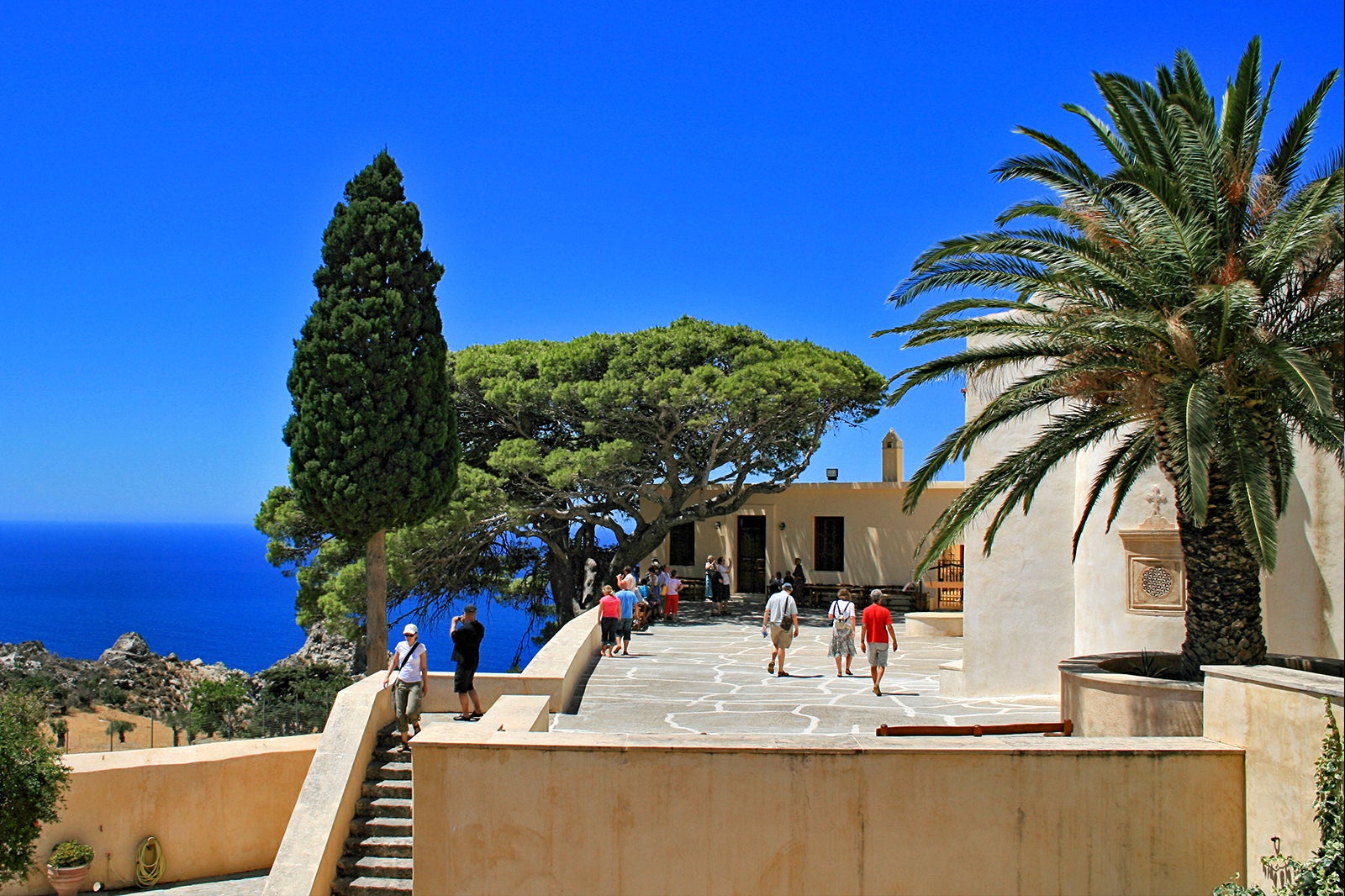 Pay a visit to Moni Preveli, Crete's most sacred monastery
The historic site sits on a hill overlooking the Libyan Sea
Moni Preveli is one of Crete's most revered holy sites as well as its most visited monastery. Not only was the monastery a key centre of resistance during the island's numerous eras of occupation, but it benefits from a gorgeous setting in the foothills of southern Crete.
Visiting this 500-year-old site should take no longer than 1 hour, so a good idea would be to combine a trip to Moni Preveli with a few hours on the stunning beach below. In fact, little Preveli Beach is one of southern Crete's most beautiful and least crowded stretches of sand.
Location: Preveli, Rethymnon, Crete 740 60, Greece
Open: April–October 9am to 6pm.
photo by Lapplaender (CC BY-SA 3.0) modified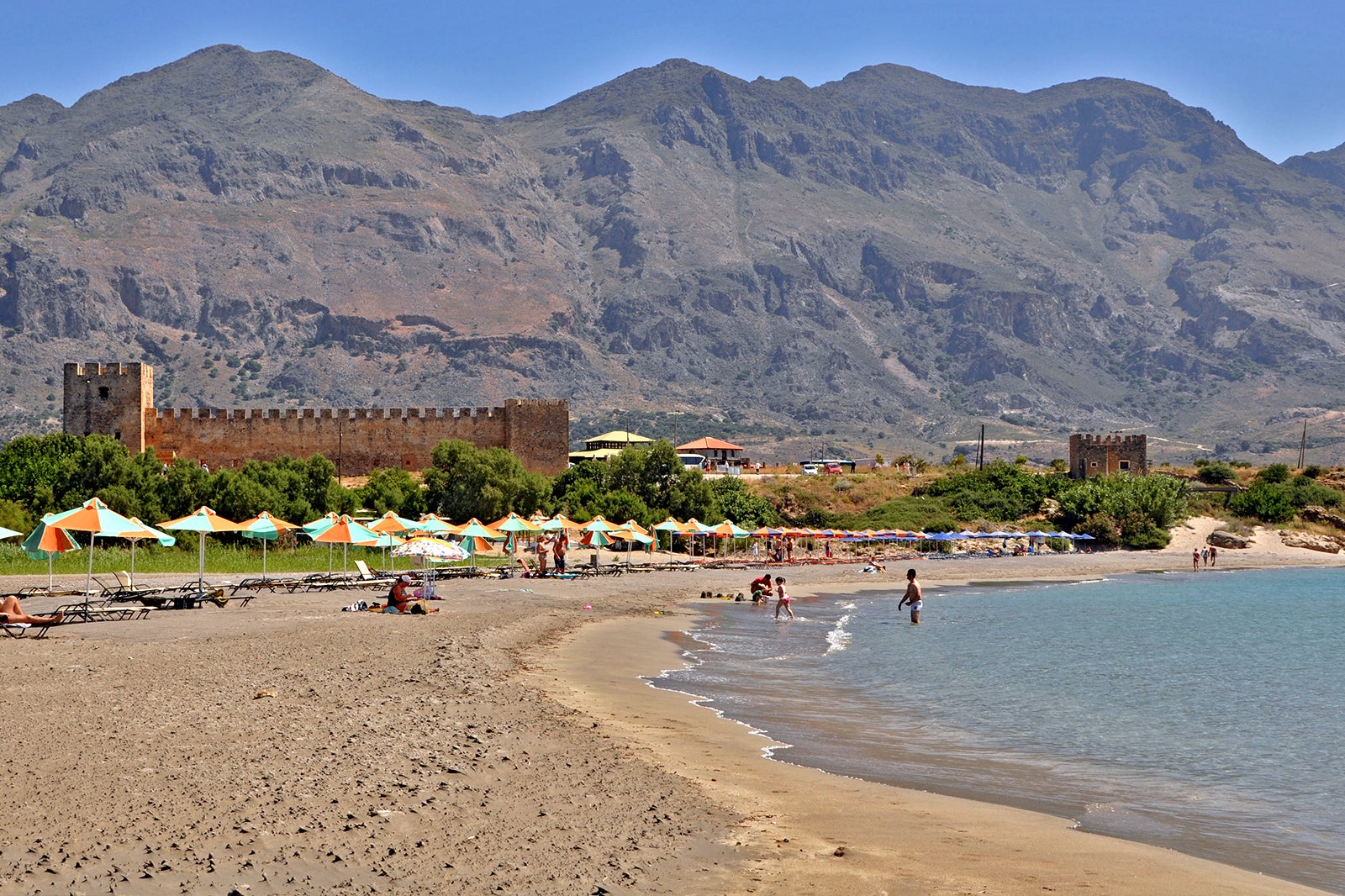 Spend an afternoon in historic Frangokastello
The ruins of a Venetian castle sit alongside one of Crete's best loved beaches
Frangokastello is a beach on Crete's southern coast that's best known as the home of a ruined 14th-century Venetian castle. The blend of dramatic historical architecture and turquoise waters have made Frangokastello a fast-growing favourite among both locals and tourists in Crete.
Frangokastello castle itself can be explored in just 1 hour or so, leaving you plenty of time to enjoy the lightly sloping white sand beach of the same name. In May, visit the area at dawn and you might just catch a glimpse of the Drosoulites, which locals say are the ghosts of warriors who died at Frangokastello in 1828. The phenomenon was actually a mirage, reflections created by the overheating of the soil around the castle.
Location: Frangokastello, Sfakia, Greece
photo by Marc Ryckaert (MJJR) (CC BY 3.0) modified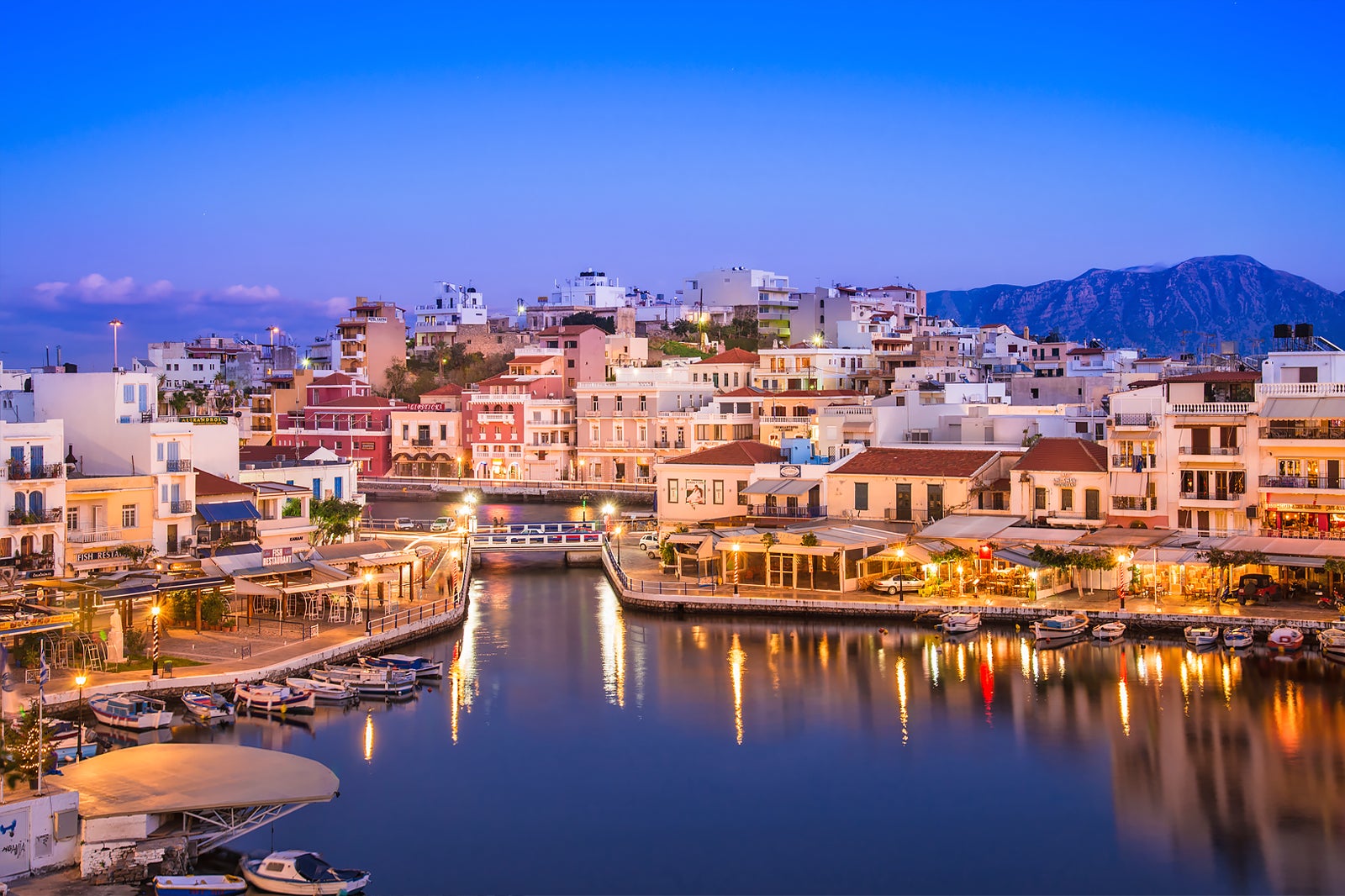 Spend the evening in Agios Nikolaos
Eastern Crete's cultural hub is ideal for dinner with a view
In the town of Agios Nikolaos, the already leisurely pace of Cretan life slows down to little more than a crawl. Ag Nik – as the locals know it – benefits from 3 separate seafronts: a lake and port, a beach and a marina. Each of these areas has its own distinct feel and one of the most enjoyable ways to spend an evening in this small town is by meandering between the 3.
Start at Kitroplatia beach, where you can enjoy the sunset at one of the polished cafe-bars before strolling into town for dinner at the marina, a wonderful spot for yacht-watching. Take a walk across Agios Nikolaos before finishing the evening at Voulismeni Lake, the town's spiritual heart and nightlife centre of all kinds.
Location: Agios Nikolaos, Crete, Greece
Couples
Families
Food
Nightlife
Discover mysterious Spinalonga Island
The former leper colony is home to a ruined Venetian fortress
Spinalonga is a dazzlingly beautiful islet located in the Gulf of Elounda off the northeastern coast of Crete. The island has a long and storied history that includes a series of invasions, a revolution and a now-abandoned leper colony.
Today Spinalonga is a popular destination for tourists in Crete due to the impressive ruins of its Venetian castle, the remains of its leper colony, and the handful of pebble beaches that line its shores. Spinalonga is reachable by tourist boats leaving every 30 minutes from Elounda. Tickets cost around €12 for a round trip while entry to the island itself costs about €8.
Location: Spinalonga Island, Agios Nikolaos, Greece