10 Best Things to Do in Dresden
What is Dresden Most Famous For?
Dresden, nicknamed the Florence on the Elbe, is a vibrant riverfront city filled with Baroque and Rococo architecture. A stroll through the Old Town takes you back to Dresden's opulent past, with its grand palaces and cathedrals. These historical sites have been faithfully reconstructed since the end of World War II, and many of them display various treasures, ancient weaponry, and paintings by renowned artists.
The city's thriving arts community can be found in Neustadt district, where you can stumble upon quirky art installations, galleries, street graffiti, and colourful building facades along its narrow pathways. From dining in a 19th-century dairy shop to museum-hopping in the Old Town, check out our comprehensive guide of the best things to do in Dresden in a day.
What are the best things to do in Dresden?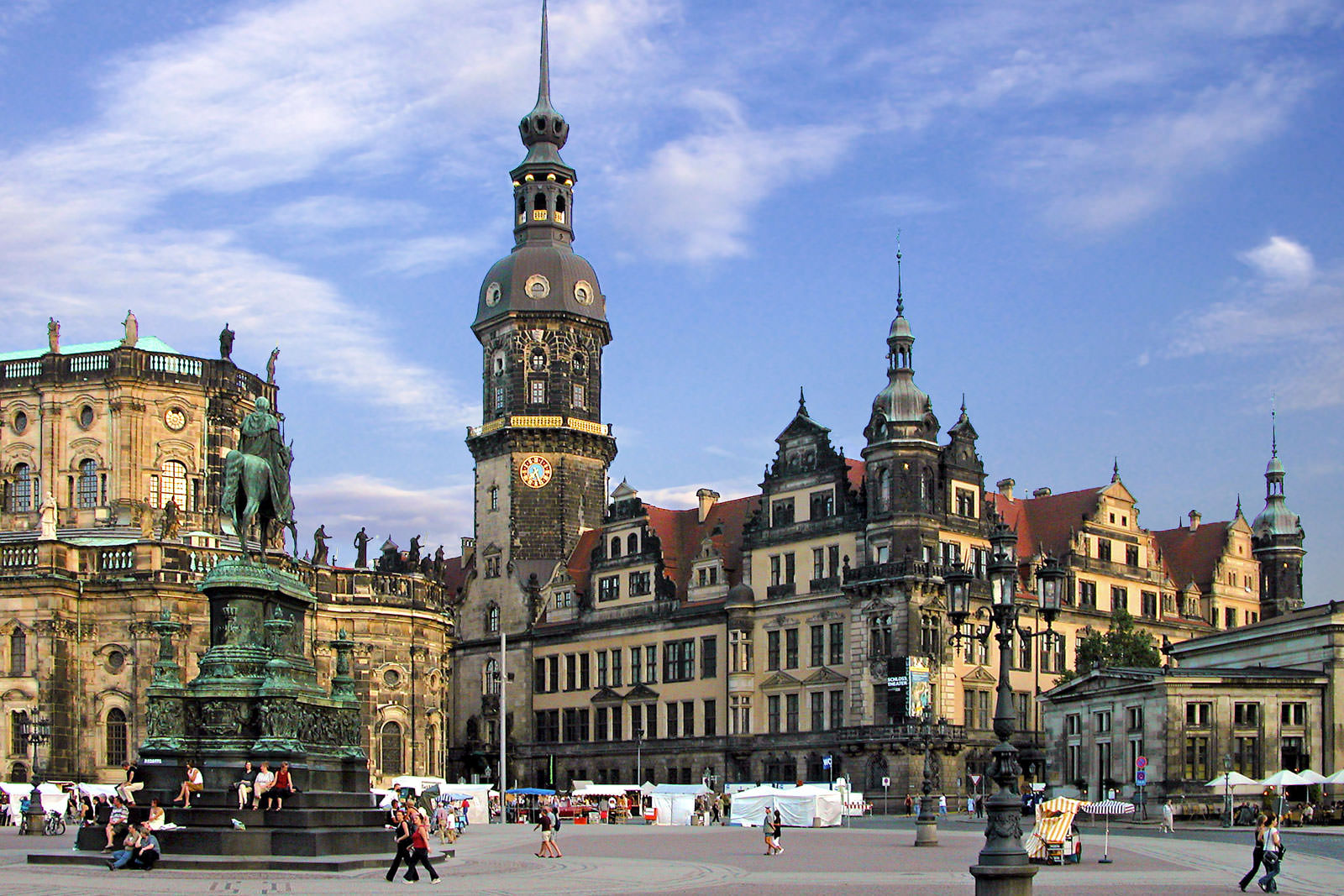 Start the Day at Dresden Theaterplatz
Check out one of Europe's largest porcelain murals
Dresden's central square of Theaterplatz is home to many historical monuments, Baroque palaces, and extravagant museums. One of the most walkable districts in the city, you're bound to snap plenty of beautiful photos throughout the day. A prominent landmark here is the Fürstenzug, which is a 102-metre-long mural dating back to 1870s. Its porcelain tiles depict 35 former rulers and prominent figures of Germany. Among the many buildings worth visiting in Theaterplatz are Zwinger Palace, Hofkirche (Dresden Cathedral), and Semper Opera House.
Location: Theaterplatz, 01067 Dresden, Germany
photo by Jörg Blobelt (CC BY 4.0) modified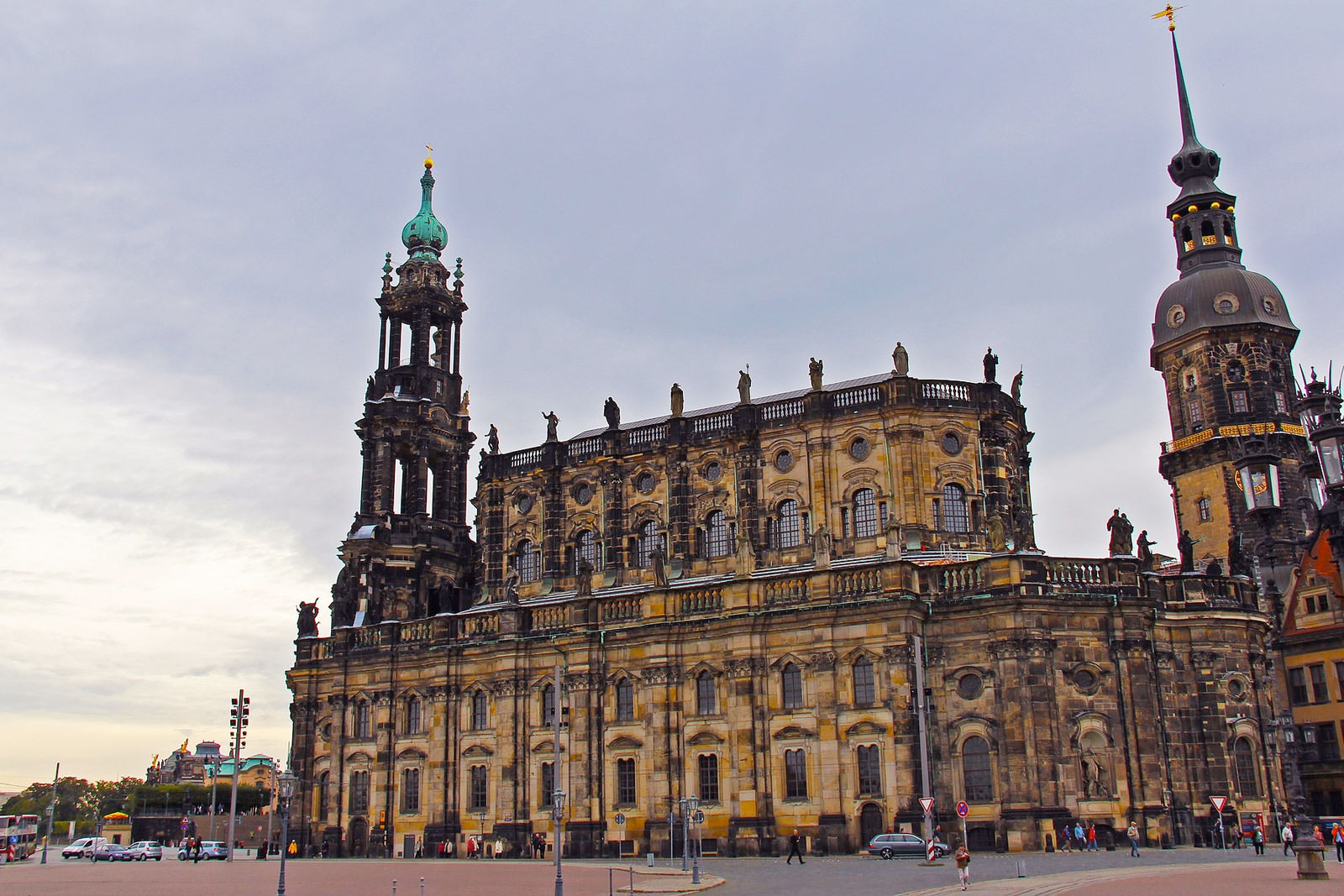 Must-See: Dresden Royal Palace
See treasures at the Grünes Gewölbe museum
Residenzschloss (Royal Palace) is an extravagant Renaissance palace in Dresden's Inner Altstadt. It's home to the 16th-century Green Vault (Grünes Gewölbe), where you can find 2 permanent exhibits with a total of 3,000 treasures made of gold, silver, gemstones, ivory, mother-of-pearl, and amber. The palace also has an armoury (Rüstkammer) filled with intricate armour, weapons, and saddles, many of which were collected between the 7th and 18th centuries. Tickets to Residenzschloss and Grünes Gewölbe cost around €12 and are sold separately, so purchase the combined ticket for a reduced rate.
Location: Residenzschloss, Taschenberg 2, Dresden, Germany
Open: Wednesday – Monday from 10am to 6pm (closed on Tuesdays)
Phone: +49 (0)351 49142 000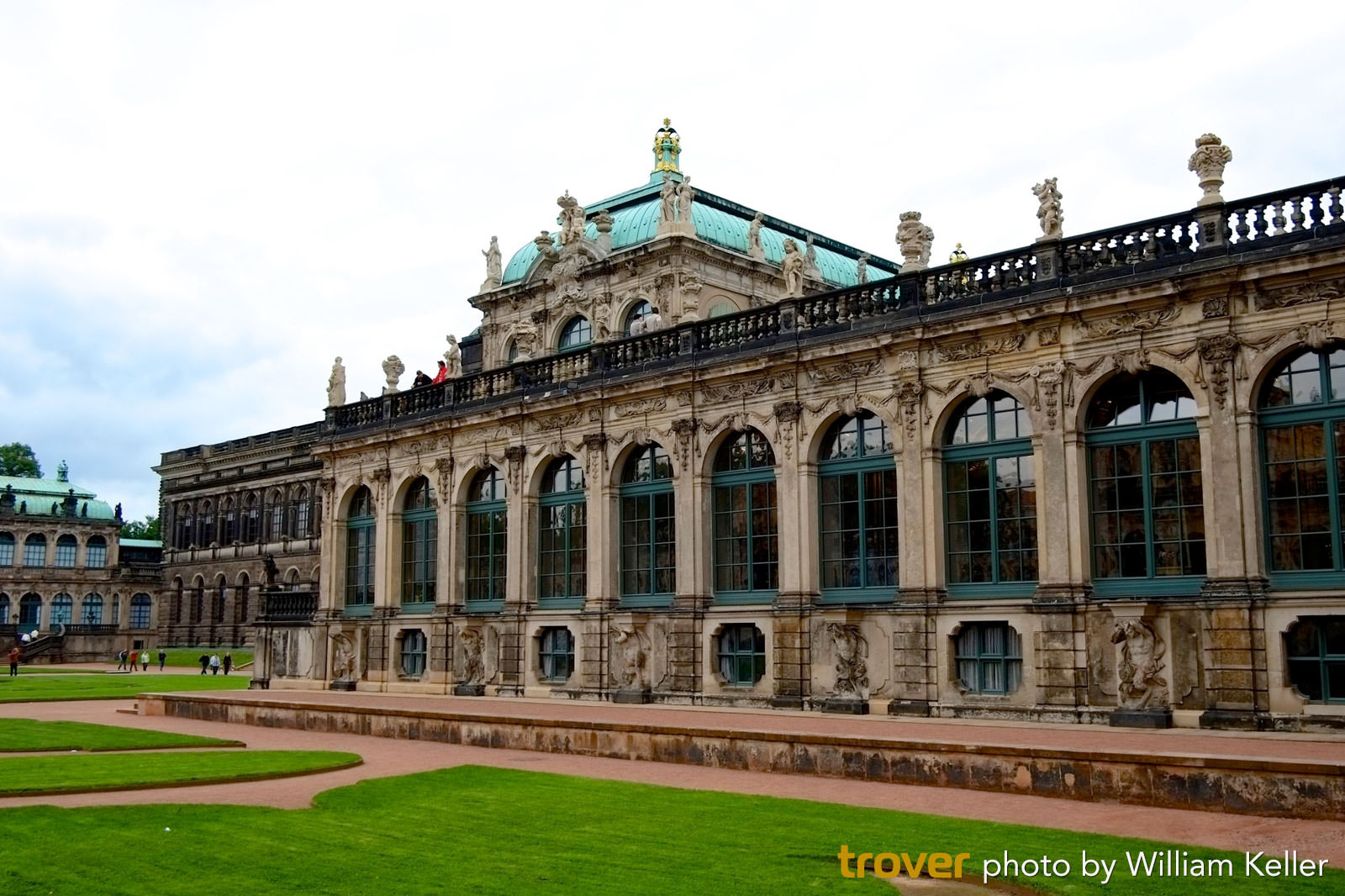 Explore the Museums in Zwinger Complex
Visit ornate gardens and museums at this palatial complex
Zwinger is a Baroque palace with elegant pavilions and galleries dating back to the early 18th century. Located in Theaterplatz, the complex has 3 museums displaying artefacts and paintings from Dresden's vibrant past. The southeast end of Zwinger's courtyard is home to the Glockenspiel House, a carillon with 30 bells made of Meissen porcelain. The Galerie Alte Meister (Old Masters Picture Gallery) displays over 750 paintings by renowned Italian, Flemish, Spanish, and Dutch artists. One of its most prominent artworks is the Sistine Madonna by Raphael Sanzio.
Location: Zwinger Palace, Sophienstraße, Dresden, Germany
Open: Daily from 6am to 8pm
Phone: +49 (0)351 4914 2000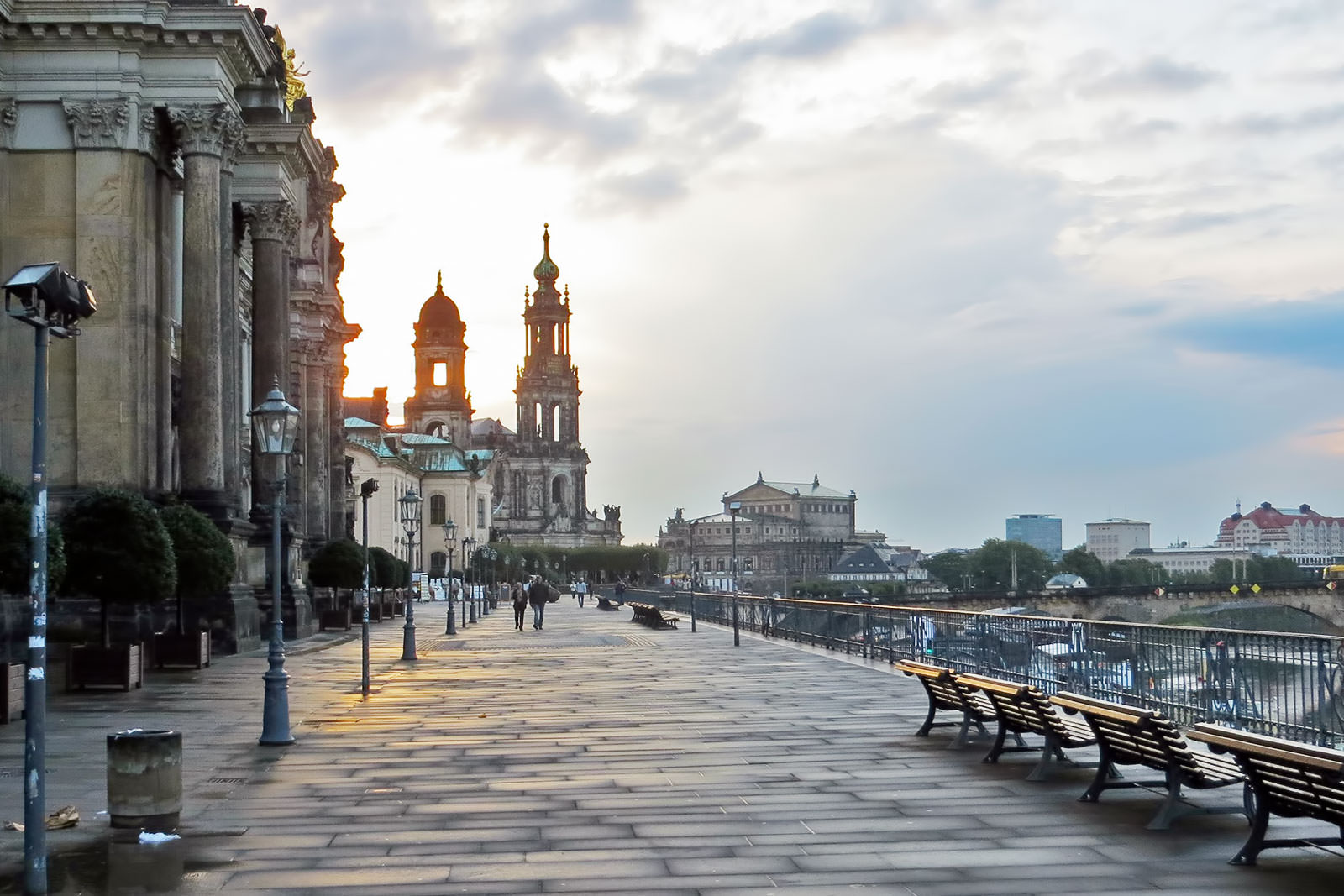 Enjoy Views of Dresden at Brühlsche Terrasse
Enjoy a sunset view of Dresden and Elbe River at this open-air balcony
Brühlsche Terrasse is a 500-metre-long terrace with plenty of benches overlooking the Elbe River. Also known as The Balcony of Europe, the terrace features medieval structures and monuments such as the Dresden Fortress, the Bärenzwinger Vault, and a statue of Gottfried Semper. Here you can also find impressive displays of modern artwork at the Academy of Fine Arts (Kunstakademie) and the Albertinum. Brühlsche Terrasse is found along the western banks of Elbe River, about a 5-minute walk of Frauenkirche (Dresden Cathedral).
Location: Brühl's Terrace, Georg-Treu-Platz 1, 01067 Dresden, Germany
Open: Daily from 10am to 6pm (hours may vary)
Phone: +49 (0)351 501 501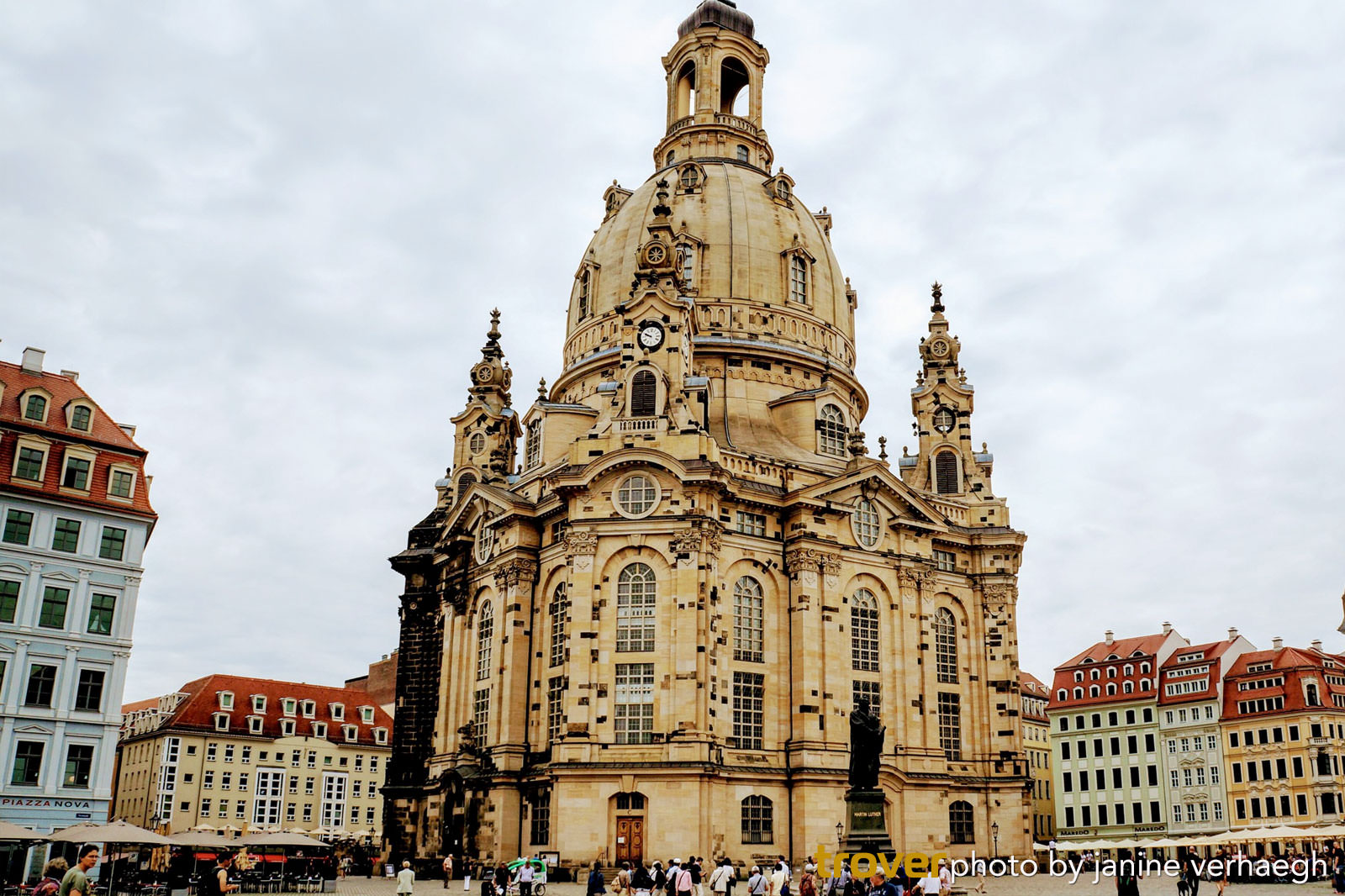 Must-See: Frauenkirche
Visit the viewing platform to see Dresden from above
Frauenkirche is a fully-reconstructed Lutheran cathedral that serves Dresden's Christian community. One of its most impressive features is its stone dome, which has a 67-metre-tall viewing platform. The basement level consists of an exhibition hall displaying original documents and photographs detailing the process of rebuilding Frauenkirche after World War II. Audio guides in German, English, French, Italian, Japanese and Russian are available for about €2.50. If you want to climb to the viewing platform, admission tickets start from €8.
Location: Frauenkirche, Neumarkt, Dresden, Germany
Open: Monday – Friday from 10am to 12pm & 1pm to 6pm (hours vary during weekends)
Phone: +49 (0)351 656 06100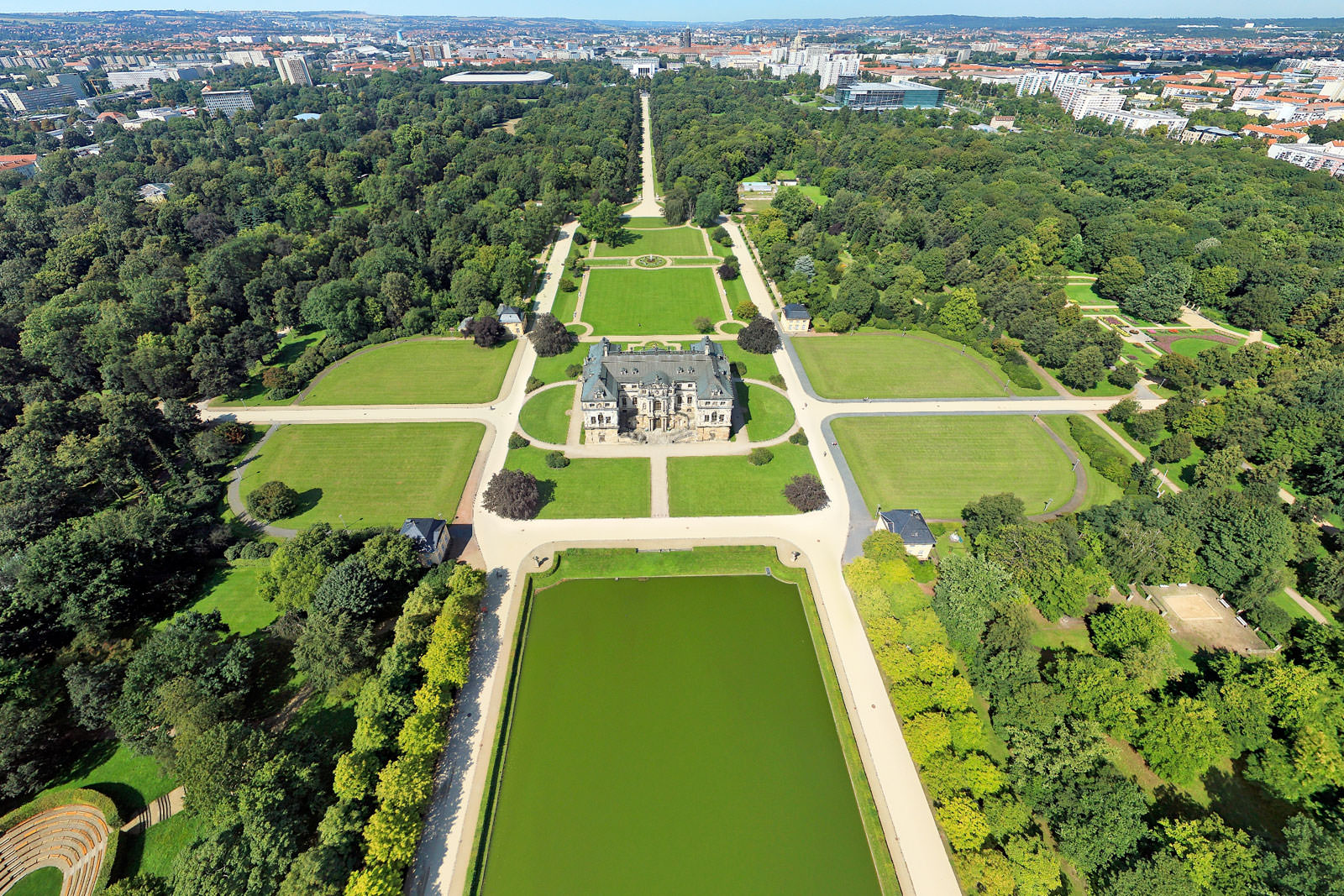 Take a Break at Grosser Garten
Ride the steam locomotive through the park
Grosser Garten, located 3.5 km southeast of Theaterplatz, is the largest green space in Dresden. The botanical park is home to Sommerpalais, a reconstructed Baroque palace that was originally built in the 17th century. For a leisurely way of exploring Großer Garten, the Dresden Park Railway features steam locomotives that runs every 10 to 30 minutes on a 5.6 km route. The garden also hosts a variety of open-air concerts, exhibitions, and fireworks displays during the summer.
Location: The Grand Garden of Dresden, Hauptallee 10, 01219 Dresden, Germany
Open: Daily from 10am to 6pm
photo by Patrick Ribeiro (CC BY-SA 3.0) modified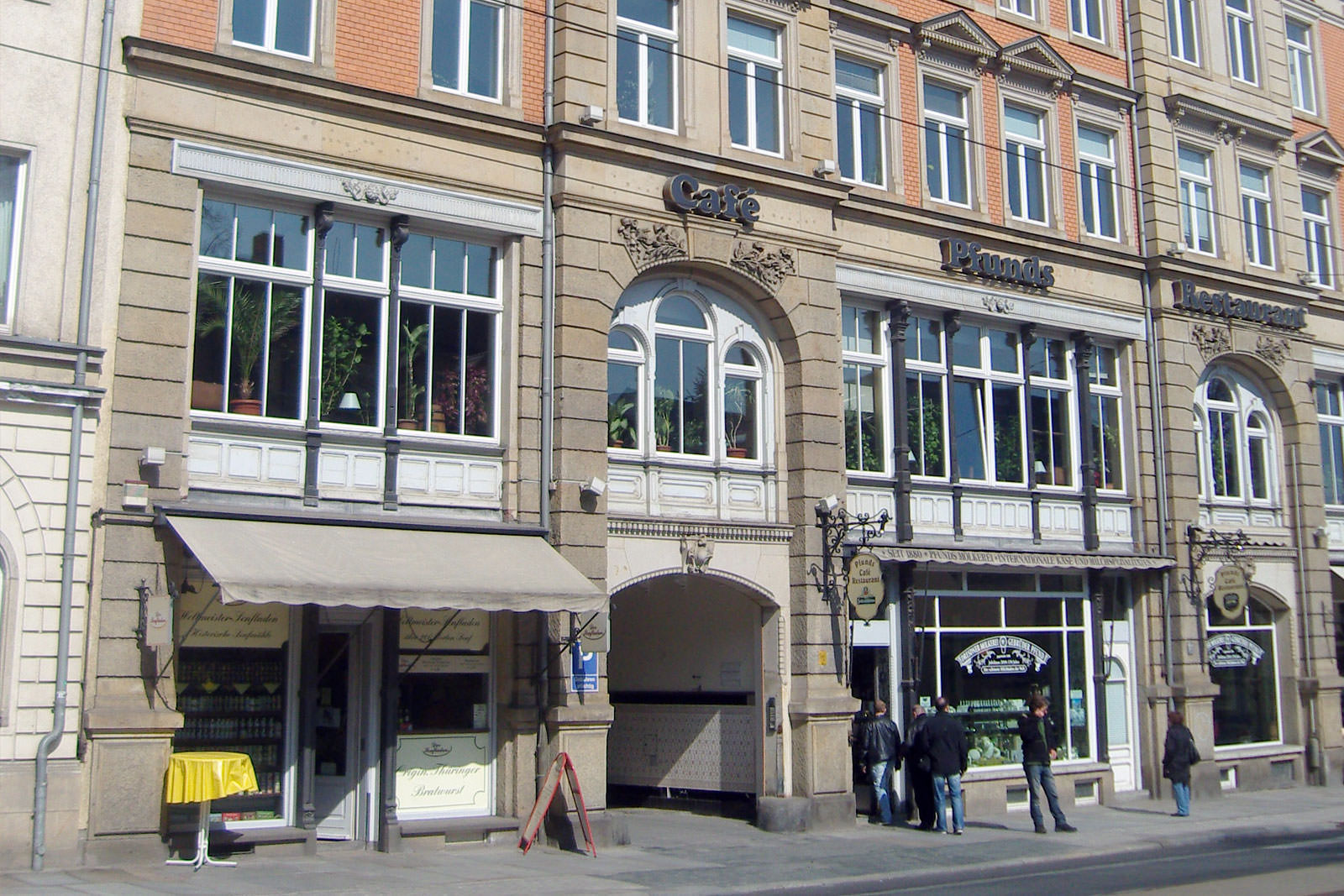 Dine at Germany's Oldest Dairy Shop
Order quarkkäulchen at its restaurant
Pfunds Molkerei has been operating in Neustadt since 1879, making it Dresden's oldest dairy shop. You can shop for a variety of speciality cheeses, milk, fruit jams, and wines here, as well as milk-based beauty products. Even if you're lactose intolerant, it's worth paying a visit to this picturesque store, which is decorated with chandeliers and hand-painted Villeroy and Boch ceramic tiles. Its upstairs restaurant serves cheese platters, cakes, quark pies, and authentic Saxon dishes such as quarkkäulchen (quark potato balls).
Location: Pfunds Molkerei, Bautzner Straße 79, Dresden, Germany
Open: January – March: Daily from 10am to 6pm, April – December: Monday –Saturday from 10am to 7pm & Sunday from 10am to 6pm
Phone: +49 (0)351 808 080
photo by Z thomas (CC BY-SA 3.0) modified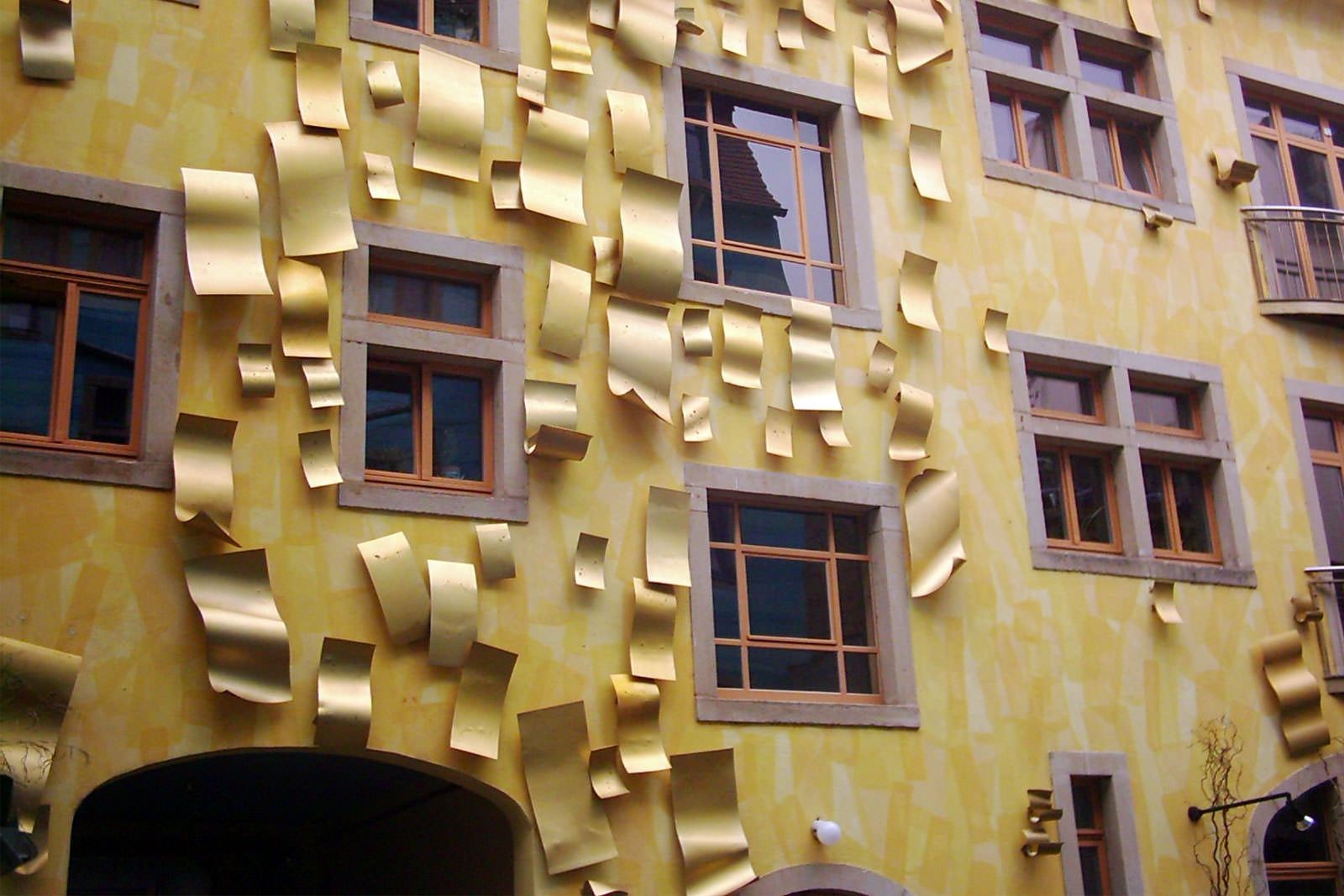 Shop in Kunsthofpassage
Check out the 5 "Courtyard of Elements" installations in this quirky district
Kunsthofpassage (Art Courtyard Passage) features an array of quirky shops, art installations, galleries, cafés and bars. Set within the artistic Neustadt district, it's divided into 5 courtyards with independent boutiques selling unique handicrafts, vintage clothes, flowers, and local specialities. A must-see when you're visiting Kunsthofpassage is the Singing Drain Pipes, an intricate funnel system attached to a turquoise-coloured building, which makes music during rainfall.
Location: Kunsthofpassage Dresden, Görlitzer Str. 21-25, 01099 Dresden, Germany
Open: Daily from 11am to 7.30pm (hours may vary)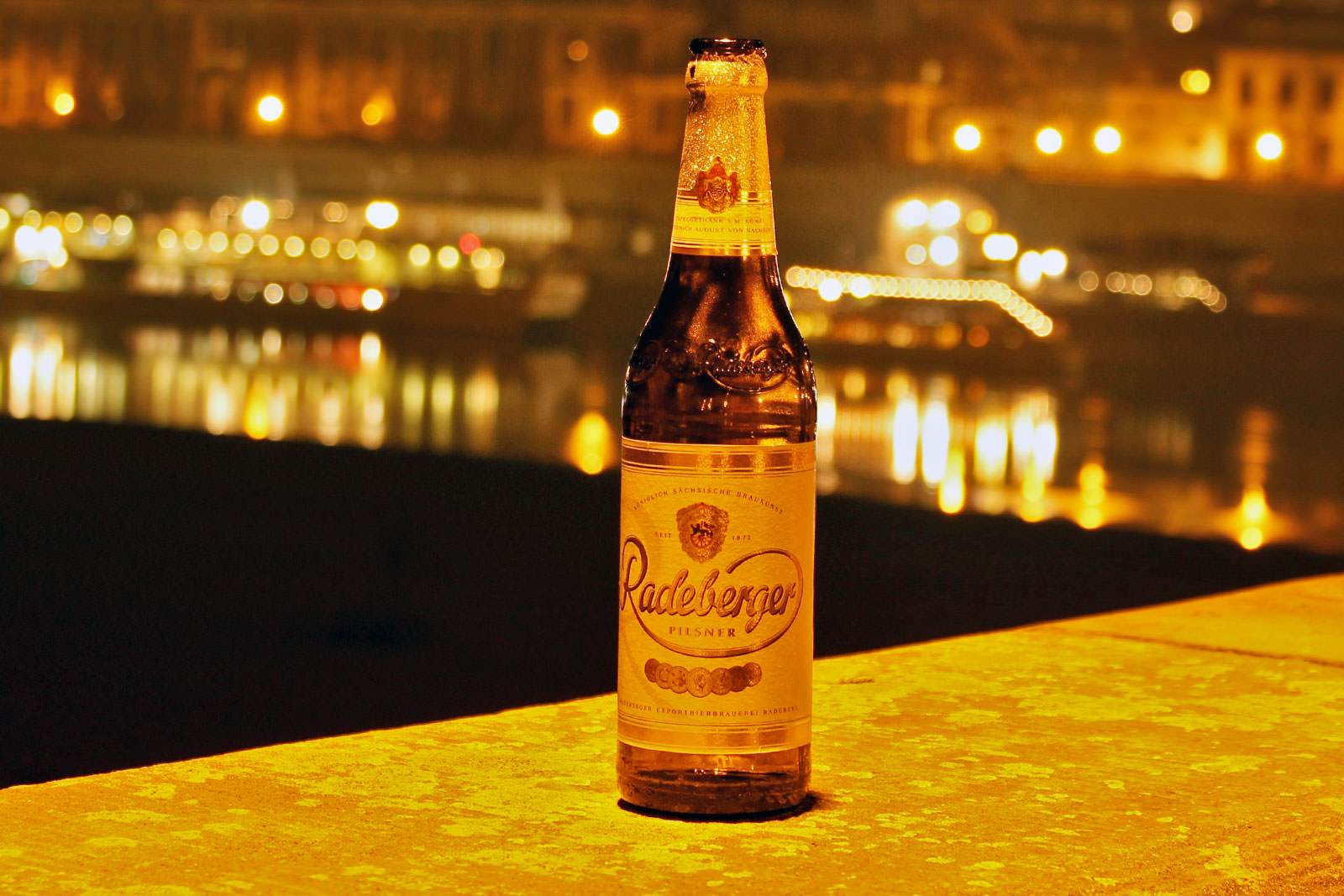 Try Radeberger Pilsner
Enjoy this light German beer at Radeberger Spezialausschank
Radeberger Pilsner is a light lager with a pale gold colour and crisp taste. While it's available in most bars and pubs in Dresden, one of the best spots to enjoy this German beer is at the Radeberger Spezialausschank. Located on the Brühlsche Terrace, this bar serves a wide range of beers, cocktails, and wines, as well as Radeberger Pilsner and Radeberger Zwickelbier on tap. Grab a seat at the rooftop terrace to enjoy expansive views of Theaterplatz and the Elbe River.
Location: Radeberger Spezialausschank, Terrassenufer 1, 01067 Dresden, Germany
Open: Monday – Thursday & Sunday from 11am to 11pm, Friday – Saturday from 11am to 11.30pm
Phone: +49 (0)351 484 8660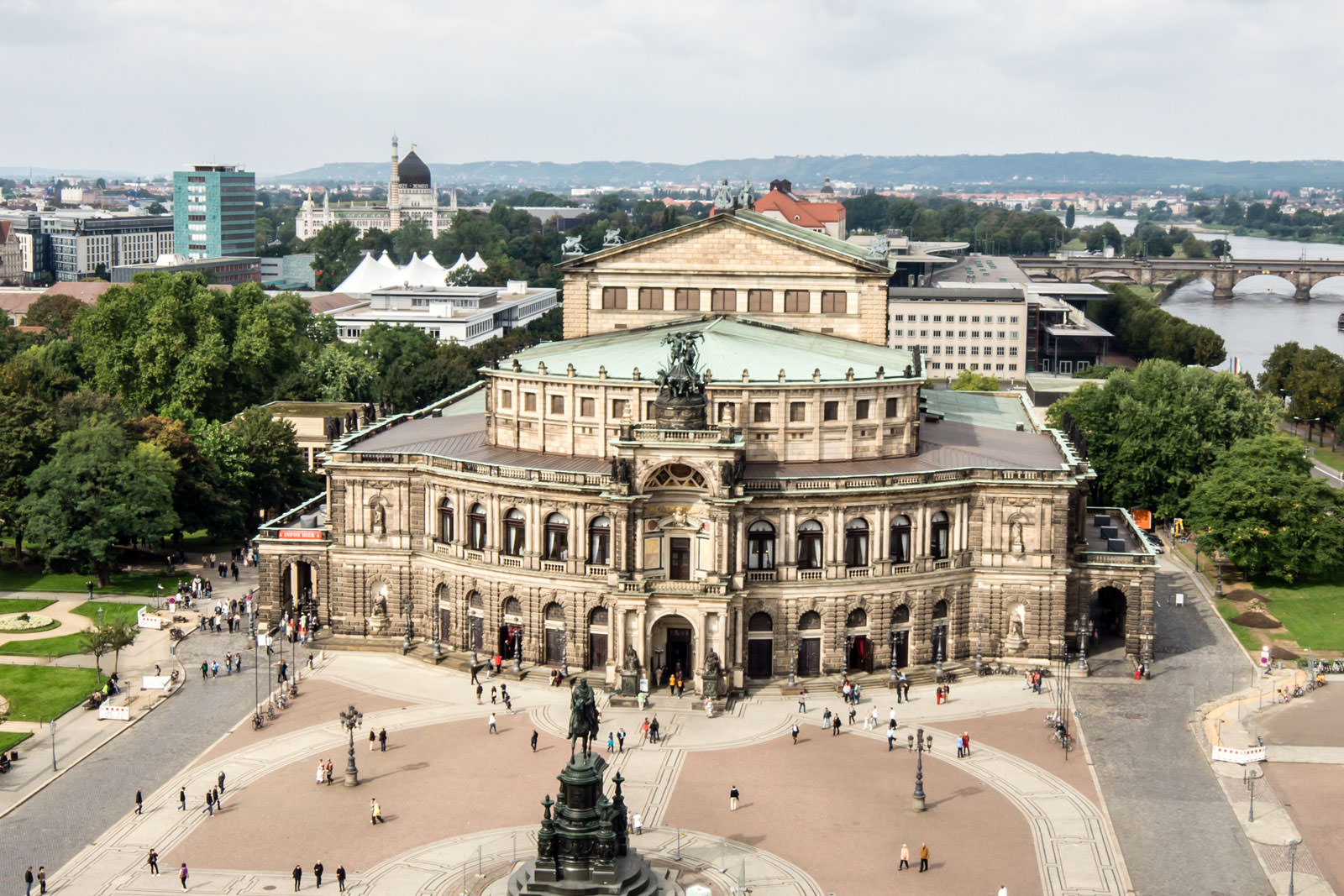 End the Day Watching a Symphony at Semperoper
Catch a performance by one of the world's oldest orchestras
The Semperoper is a grand opera house in the Theaterplatz square of Dresden. The Italian Renaissance concert hall was originally designed by Gottfried Semper in 1841 and features intricate statues of famous figures such as Shakespeare, Molière, and Goethe and Schiller. You can watch regular symphonic performances by the Saxon State Orchestra, which is one of the world's oldest orchestras. The opera house also hosts a variety of classical and contemporary concerts throughout the year. Guided tours in English and German are available if you want to learn about the history of the Semperoper.
Location: Vorverkauf Schinkelwache, Theaterplatz 2, Dresden, Germany
Open: Box Office: Monday – Friday from 10am to 6pm, Saturday from 10am to 5pm, Sunday from 10am to 1pm
Phone: +49 (0)351 320 7360