10 Ways to Save Money in Munich
How to Spend Less While in Munich?
This list of ways to save money in Munich includes tips and alternative attractions to help you save a few euros during your stay in the Bavarian capital. Indeed, with its lavish palaces and world-class museums, a holiday in Munich can be rather expensive. Getting a public transport card lets you enter many attractions at discounted rates while visiting museums on a Sunday is cheaper than a pretzel.
Make full use of the city's free walking tours, which start from Marienplatz Square. English-speaking guides take you to notable landmarks such as Frauenkirche church and English Garden, sharing interesting facts along the 3-hour tour. From affordable eats to historical sites that don't require as much as a single euro, check out this handy guide on Munich for budget travellers.
1
Get a Munich City Tour card
Discounts at over 80 Munich landmarks, restaurants and shops
If you have plans to visit Munich's historical sites, getting a Munich City Tour card can save you a few euro. This travel pass allows you to use all public transport within the central area or the whole of Munich, depending on the ticket type. You also can enjoy discounts of up to 50% at over 80 landmarks, restaurants, and shops listed in the Munich City Tour guide booklet. Prices start from €12.90 for a 24-hour pass that's only valid within the inner city, and €19.90 for a pass that covers the entire city.
2
Stay where the locals are
Affordable lodging outside the city centre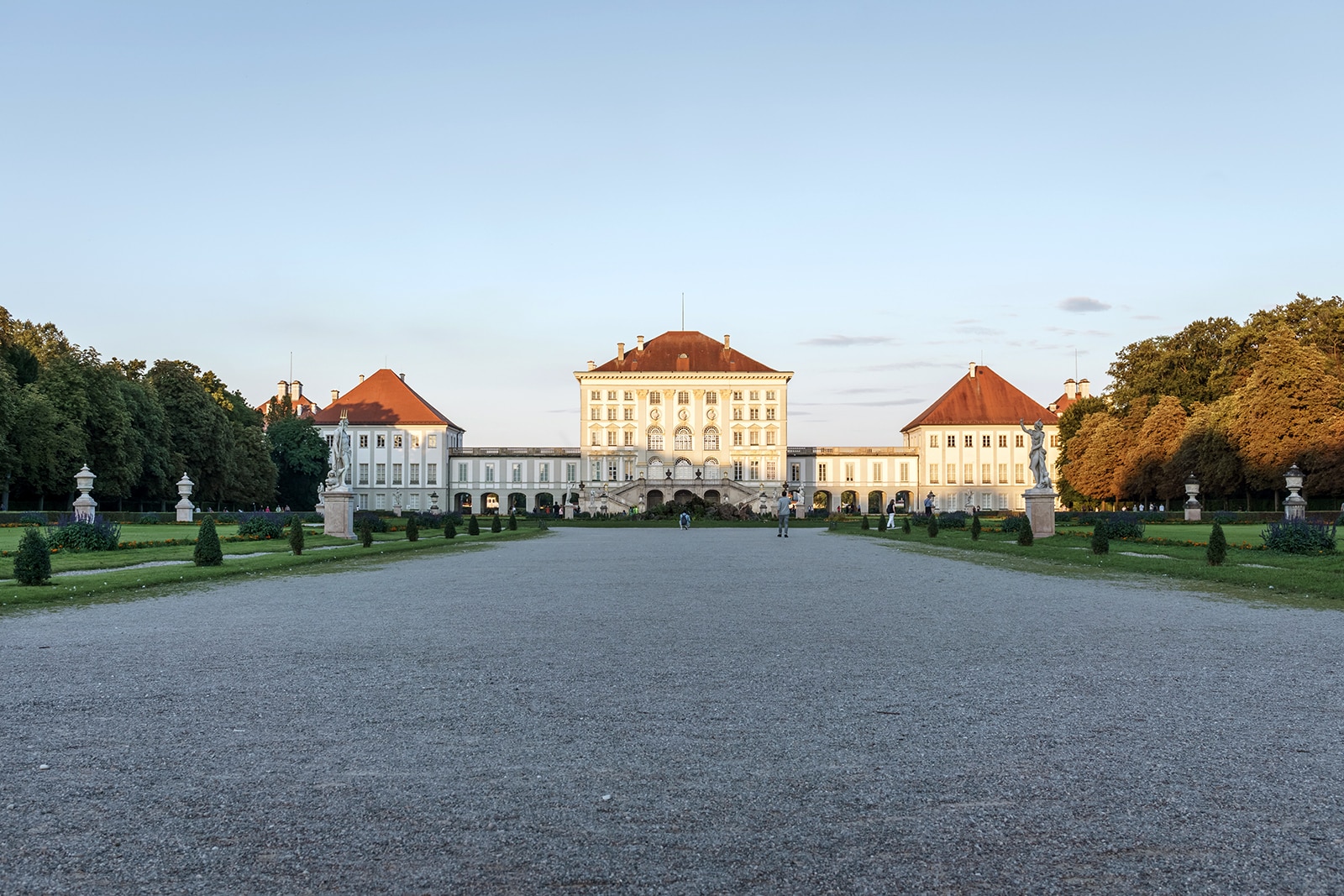 If you want to save on accommodation, consider staying in residential neighbourhoods rather than the city centre. Munich's public transport is rather efficient, so it will still be convenient for you to travel to Marienplatz Square for sightseeing. A laidback residential area located 5 km east of central Munich, Laim is home to the Nymphenburg Palace and Hirschgarten beer garden. Another affordable option is Munich's university district, Maxvorstadt, which is just 2 km north of Marienplatz.
3
Visit the museums on Sundays
See a myriad of historical artefacts for only €1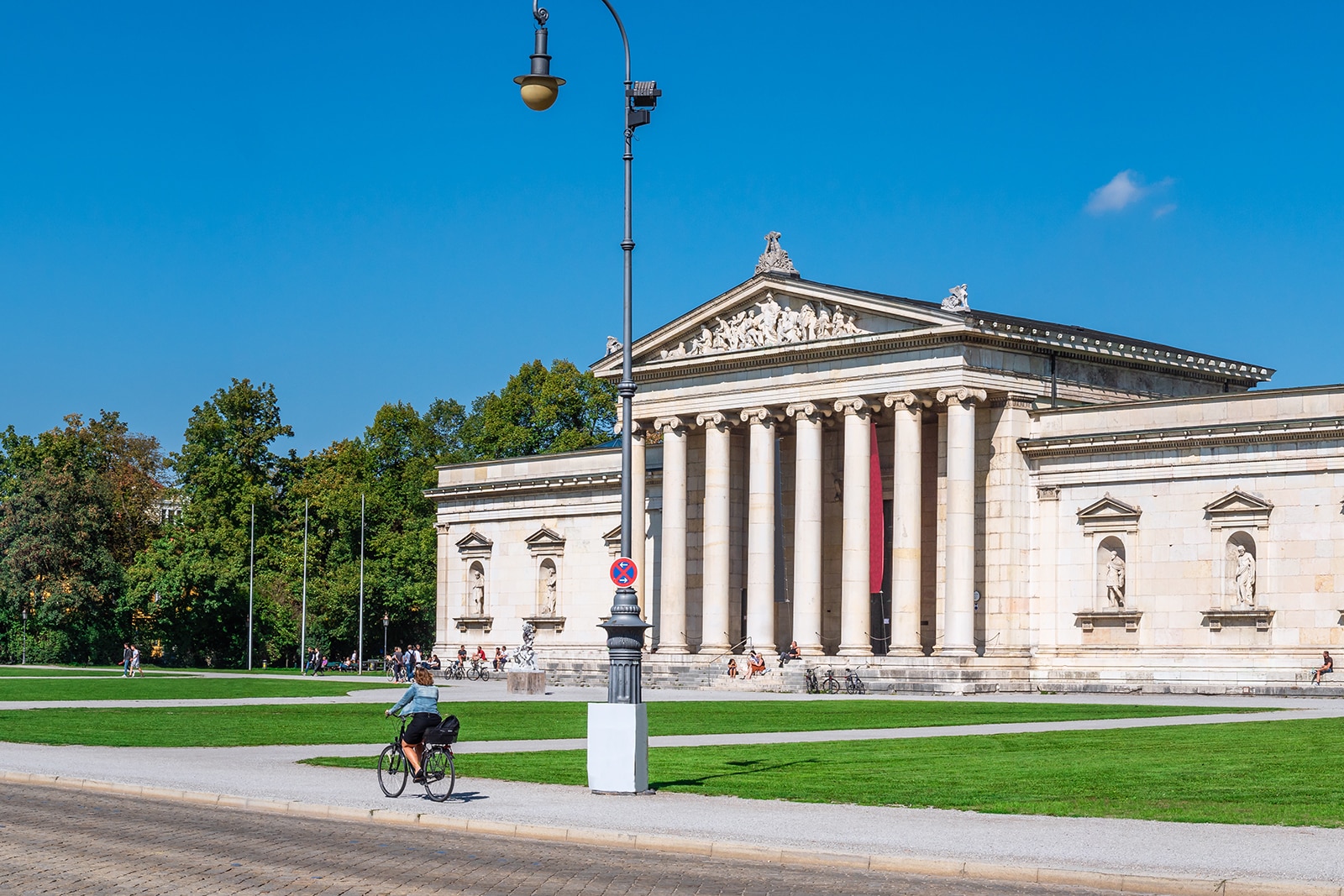 Museums in Munich grant free admission to under 18s all year round, while adults are charged at least €7 each. However, notable places such as Glyptothek, Alte Pinakothek, and Munich's Design Museum let you explore their extensive collection of artefacts for only €1 on Sundays. There are also several museums that are free to enter all year round, including MaximiliansForum, Münchner Kaiserburg, and the Geiger Archive.
4
Look out for lunch specials
Enjoy a filling meal for less than €10
Eating out can be wallet-draining when visiting Munich. Fortunately, many restaurants in Bavaria's capital offer mittag teller, a lunch platter typically consisting of meat, potatoes, and vegetables for about €8. Between 11am and 3pm, you can also find 3-course prix fixe meals, which come with an appetiser, main course, dessert, and a drink. Some of the cheapest restaurants are located in Schwabing and Maxvorstadt, as these neighbourhoods accommodate many university students in Munich.
5
St Peter's Church
Climb the tower for views over Munich's red rooftops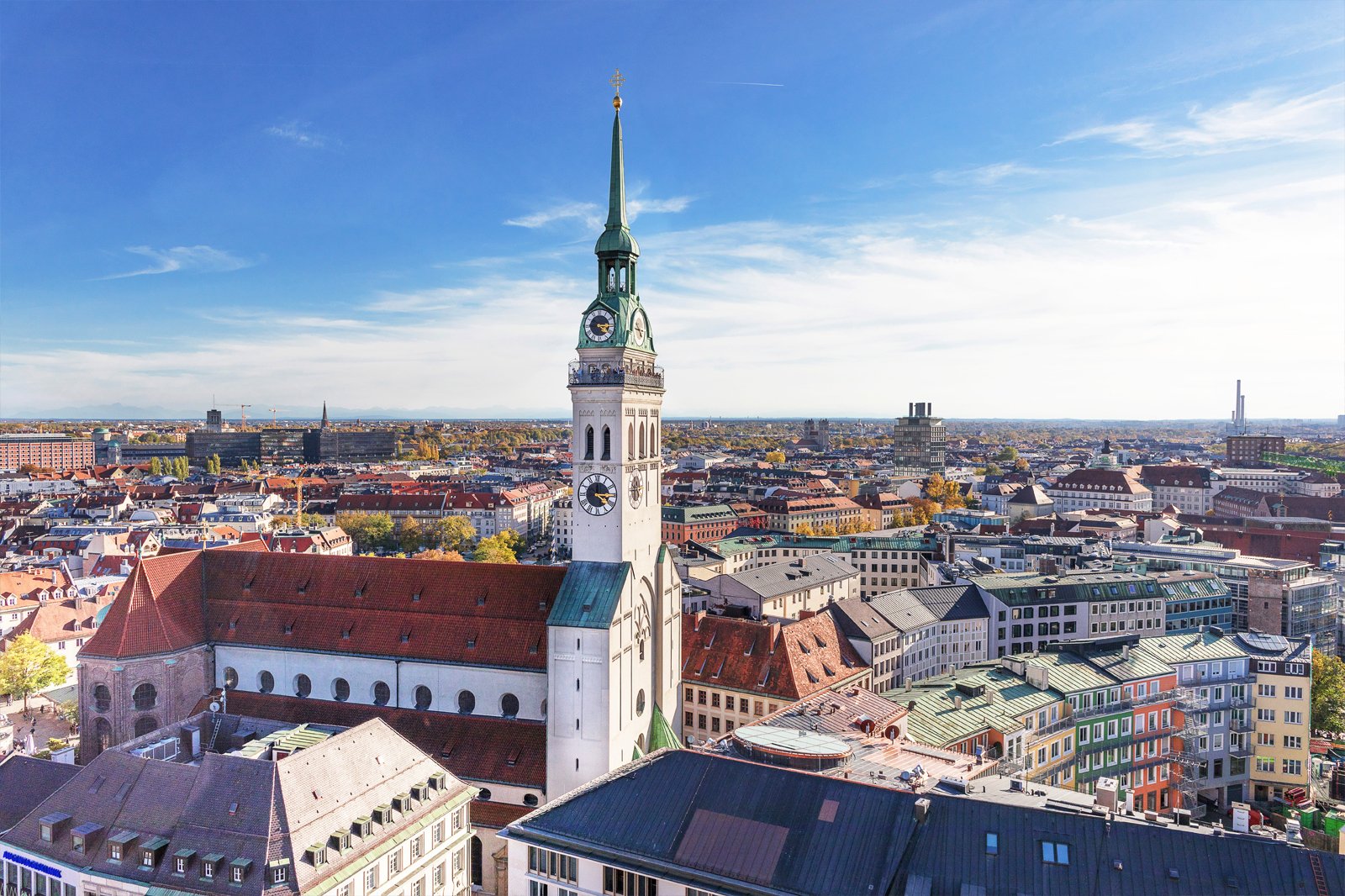 Couples
History
Budget
Photo
Peterskirche (St Peter's Church) looms 91 metres above Munich's Old Town, providing an outstanding view from its steeple. The Romanesque structure dates back to the 12th century, and is one of the oldest buildings in Germany. Many undertake the 306-step climb to the top of the church tower for views of the city's skyline and, on sunny days, the frosted peaks of the Alps. Inside the church, you can see a glass case that houses the bejewelled remains of the Christian martyr, Saint Munditia.
Location: Rindermarkt 1, 80331 Munich, Germany
Open: Monday–Friday from 9 am to 6 pm, Saturday–Sunday from 10 am to 6 pm
6
Asamkirche (Asam Church)
See the ceiling fresco "Life of Saint Nepomuk" by Cosmas Damian Asam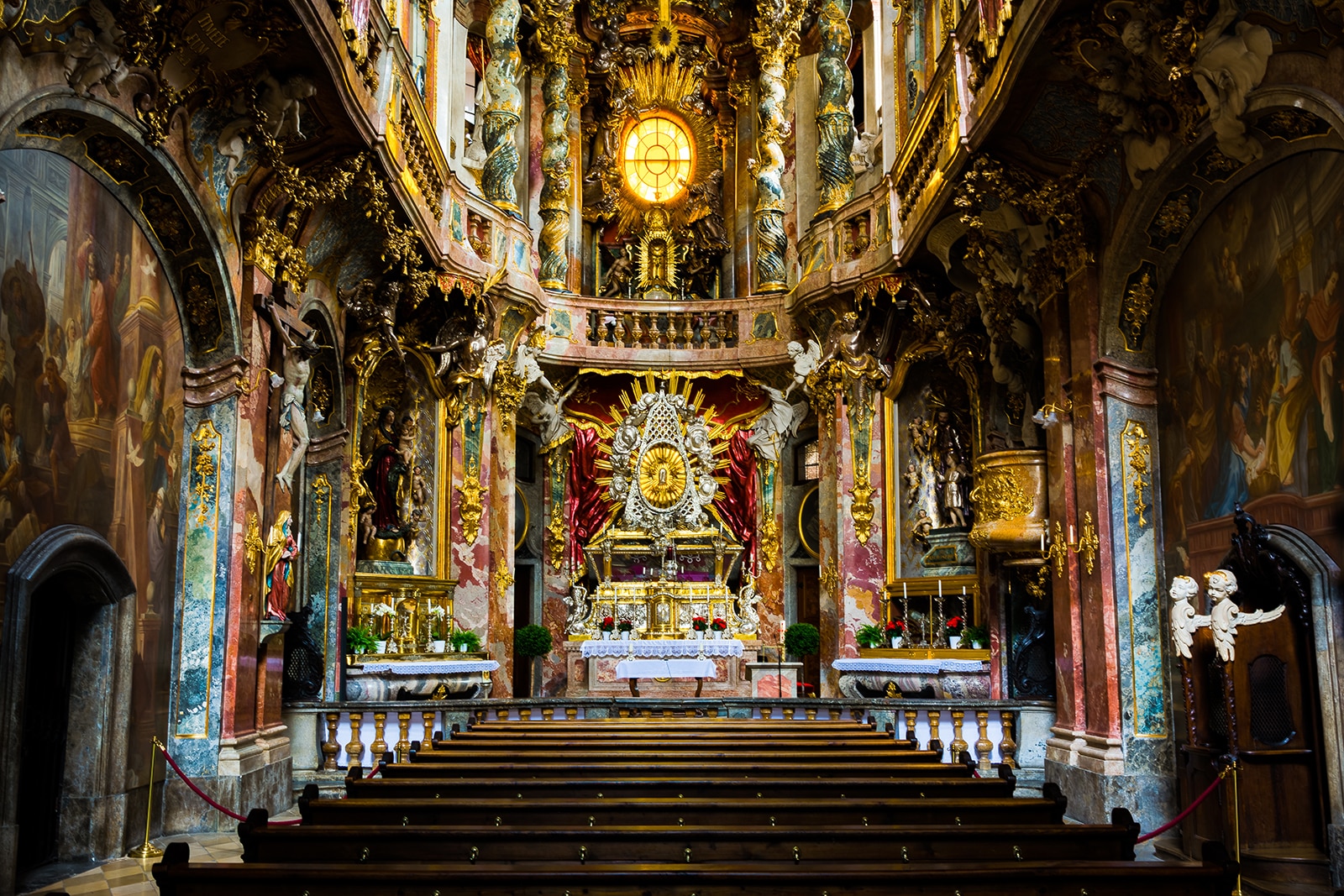 Asamkirche is an 18th century church designed and built by 2 brothers, sculptor Egid Quirin Asam, and painter Cosmas Damian Asam. Located in Sendlinger Strasse, it's one of the best preserved examples of Baroque architecture in Germany. Here, you can see carvings of cherubs and angels, gold-plated columns and fixtures, as well as religious relics displayed behind wrought iron gates. A standout feature here is the massive ceiling fresco depicting the life of Saint John Nepomuk. Asamkirche is open to the public for sightseeing and mass, but we highly recommend visiting in the early morning to avoid the crowds.
Location: Sendlinger Strasse 32, 80331, Munich, Bavaria
Open: 8 am to 6 pm daily
Phone: +49 89 236 87 989
7
Lunchtime concerts at the Gasteig
Watch performances by students of the Academy of Music and Theatre Munich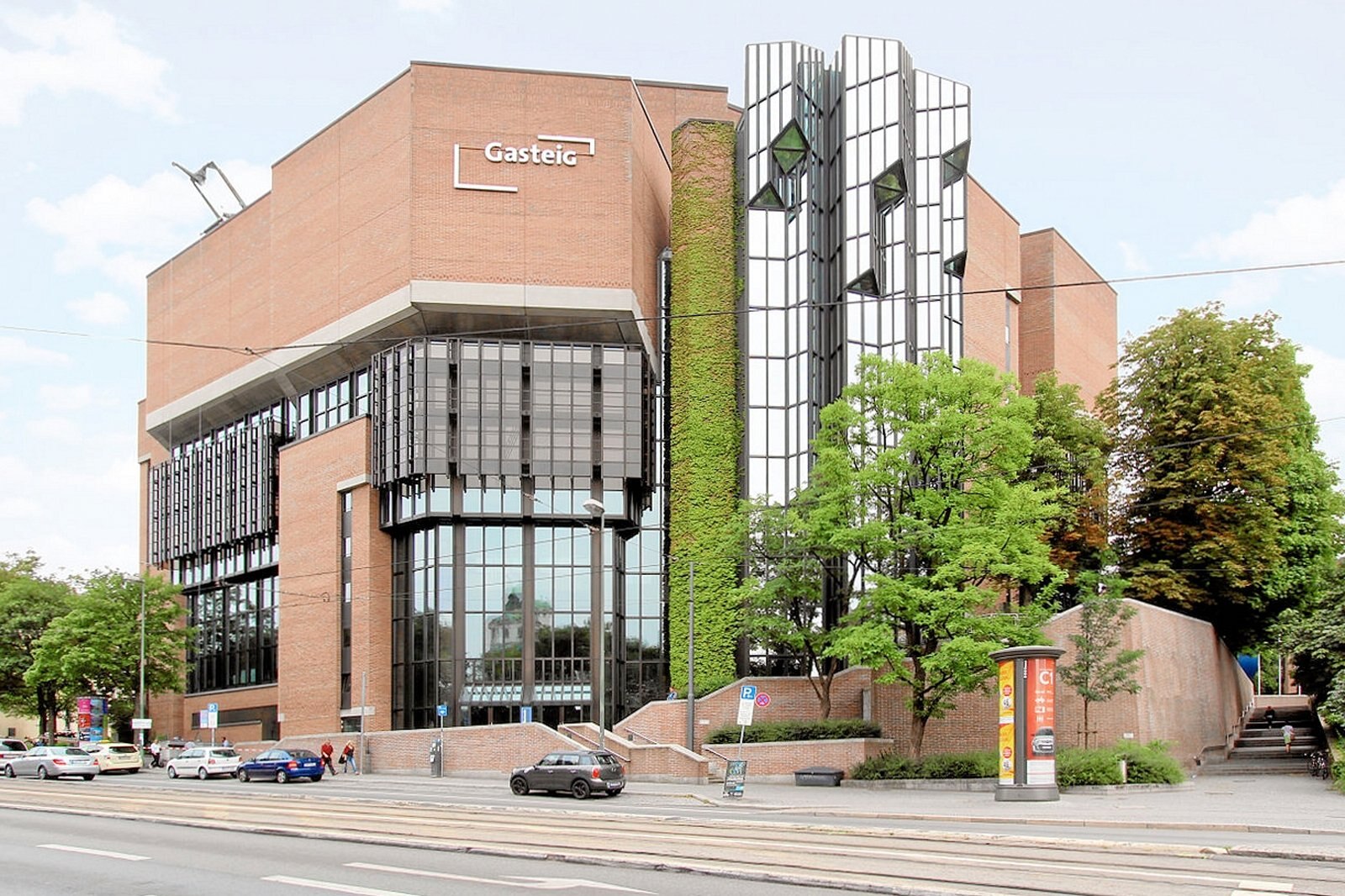 Aside from hosting the Munich Philharmonic Orchestra, the Gasteig serves as a training venue for students pursuing their studies in classical music and theatre. This cultural centre typically hosts free concerts in several of its rooms, including the philharmonic stage, Carl Orff Hall, and Kleiner Konzertsaal. These performances are mostly chamber music and piano recitals by the students of the Academy of Music and Theatre Munich.
Location: Rosenheimer Str. 5, 81667 Munich, Germany
Open: Daily from 8 am to 11 pm
Phone: +49 (0)89 480 980
photo by Wikiolo (CC BY-SA 4.0) modified
8
Viktualienmarkt
Shop for fresh produce, cheese, and meat at this historical farmer's market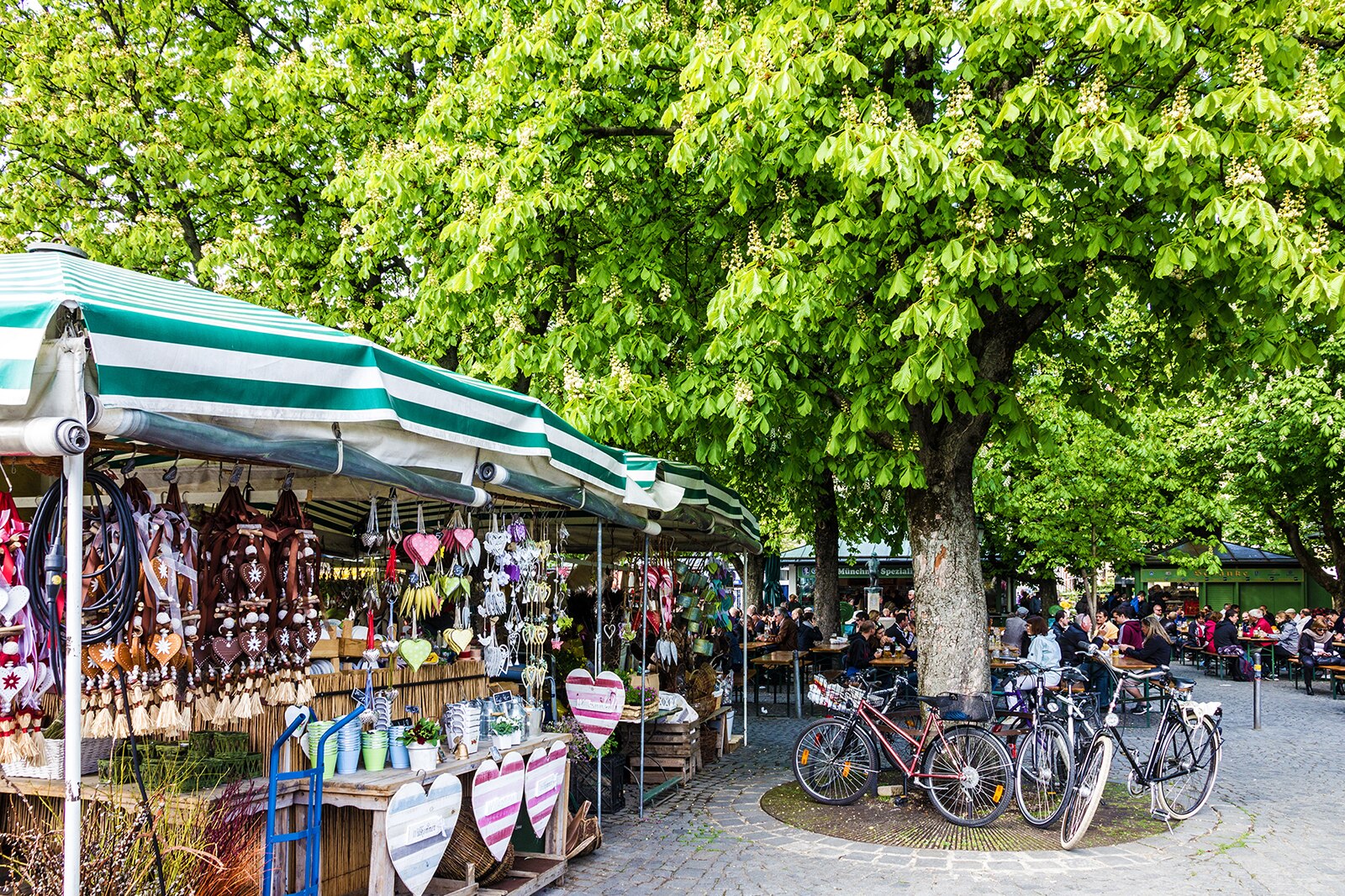 Viktualienmarkt is a historical marketplace that dates back to 1823, making it one of the oldest shopping spots in Munich. The market's rooftop has a colourful maypole fitted with various figurines dressed in traditional costumes. Inside, there are about 140 stalls selling just about everything, from fresh meat, seafood and fruit, to artisanal cheese, wines, and sausages. A bright and airy beer garden is attached to the market, where you can enjoy a mug or two of cold beer with some traditional German snacks. Unlike many other markets, most stalls in Viktualienmarkt close at 6pm on weekdays and 3pm on Saturday, so visit in the morning to experience the market at its most vibrant.
Location: Viktualienmarkt 3, 80331 Munich, Bavaria
Open: Monday - Friday from 10 am to 6 pm, Saturday from 10 am to 3 pm (closed on Sundays)
9
Rathaus-Glockenspiel
See the clock tower's midday performance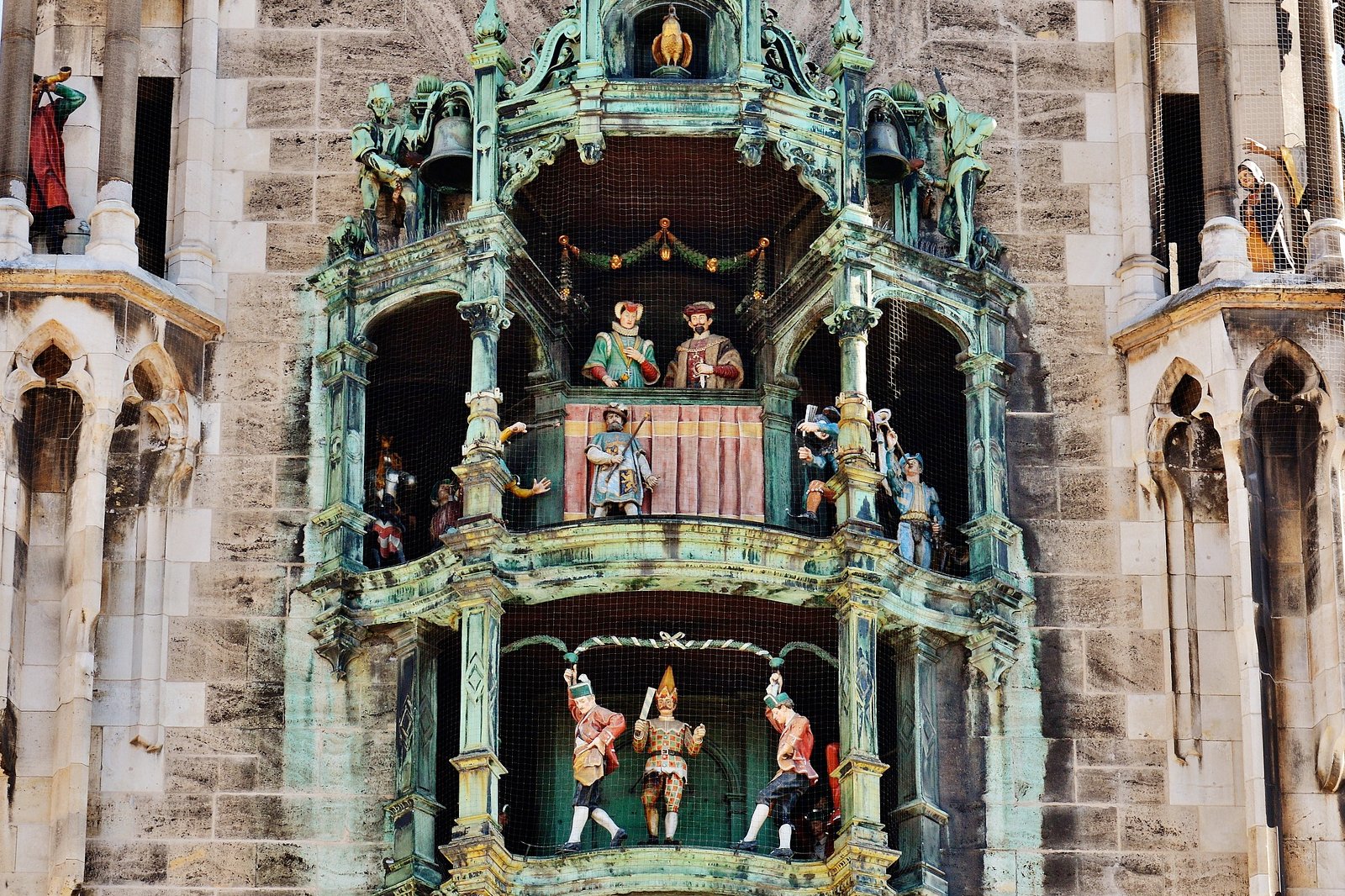 A landmark in Marienplatz, the Rathaus-Glockenspiel clock tower is part of Munich's Neues Rathaus (New Town Hall). Every day at 11am, 12pm, and 5pm, you can enjoy a performance of life-sized figurines dancing and jousting inside of the tower. The 15-minute show involves 32 motorised characters depicting notable events from Bavarian history. If you're in Munich during wintertime, only the morning and noon performances take place at Rathaus-Glockenspiel.
Location: Rathaus-Glockenspiel, Marienplatz 8, Munich, Germany
Phone: +49 (0)89 2330 0155
10
BMW Welt
Look out for your dream motor at this modern car showroom
BMW Welt is a futuristic-themed showroom displaying the brand's latest cars and motorcycles within a sleek exhibition area. Among the many models on display here are Rolls Royce, Mini, and BMW Motorrad vehicles. The showroom is free to explore all year round, and you can also head over to the adjoining BMW Museum if you want to see more models from this world-famous German manufacturer. Note that the museum charges an admission fee of €10 per adult.
Location: Am Olympiapark 1, 80809 Munich, Germany
Open: Monday–Saturday from 7.30 am to midnight, Sunday from 9 am to midnight
Phone: +49 (0)89 1250 160 01
Back to top