10 Best Things to Do in Dubrovnik
What is Dubrovnik Most Famous For?
The best things to do in Dubrovnik take full advantage of the city's mesmerizing medieval architecture, quaint limestone streets and distinctive terracotta rooftops. The ancient city is on Croatia's stunning Dalmatian Coast and is a jewel in the azure Adriatic Sea. With this combination of natural and manmade attractions, it's no wonder that so many people instantly fall for its charms.
The city's historical Old Town might not be very big, but it certainly packs a lot inside its world-renowned walls. Whether you're there for the history, the wine, the sun or the scenery, or perhaps you've been watching a certain HBO series, you'll find plenty of things to do in Dubrovnik. Here are some of the top things to fit into your first day in the city.
What are the best things to do in Dubrovnik?
1
Dubrovnik Old Town
Inside the famous city walls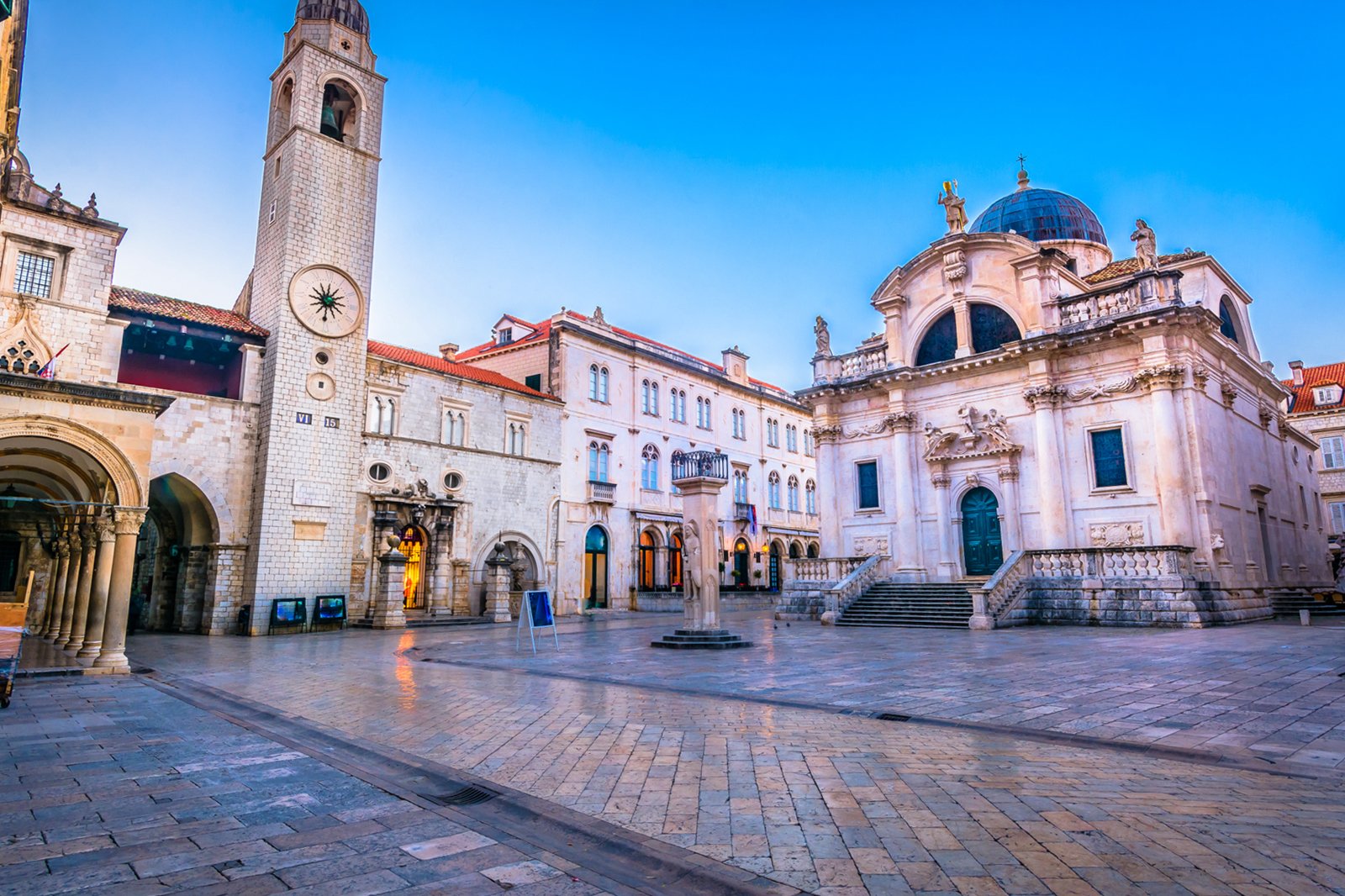 Couples
Photo
Budget
History
It's all well and good exploring the Old Town for yourself, but there's no better way to delve deep into the city's ancient past than on an expertly-guided walking tour. Book your tour in advance or, if you're unsure of when exactly you'll be in the city, you'll find plenty of vendors selling tours when you arrive.
Highlights of Dubrovnik's wonderful Old Town include the ornate Onofrio's Fountain, the Franciscan Monastery (home to one of the oldest functioning pharmacies in Europe and an impressive 14th-century Gothic cloister), the Church of Saint Blaise and Orlando's Column. Most of these can be found along Stradun, the limestone-paved main street. Once your tour is complete, be sure to explore the shops and sights of the quaint and narrow cobbled alleyways leading off from here.
2
Dubrovnik Cable Car
See the city from up high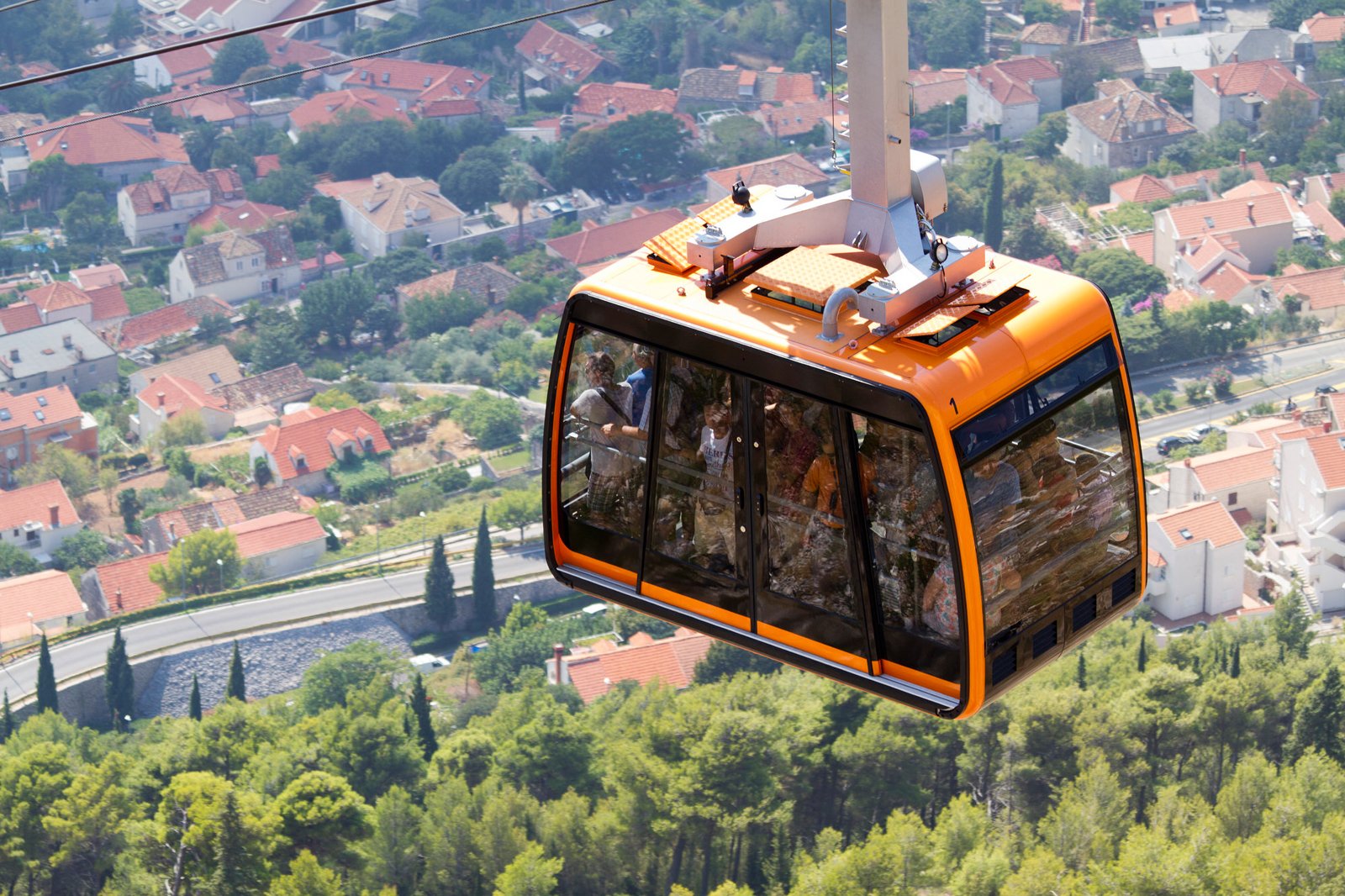 Head just outside the Old Town and hop on the Dubrovnik Cable Car for an incredible ride to the peak of the city. It's considered quite unique for somewhere so ancient to have such a modern way to see the sights, but it's perfect for those whose legs aren't quite up for the steep climbs.
Enjoy 360° views on the 4-minute journey to the top of Mount Srđ, then take your time soaking up the sights of the Old Town and beyond from up high. There are more than just magnificent views at the top – there's a souvenir shop and a restaurant boasting exceptional views, too.
Location: Dubrovnik Cable Car, Ulica kralja Petra Krešimira IV, 20000, Dubrovnik, Croatia
Open: Open daily from 9 am (closing times vary by season)
Phone: +385 (0)20 325 393
photo by AleGranholm (CC BY 2.0) modified
3
Dubrovnik ancient city walls
Dubrovnik's iconic sight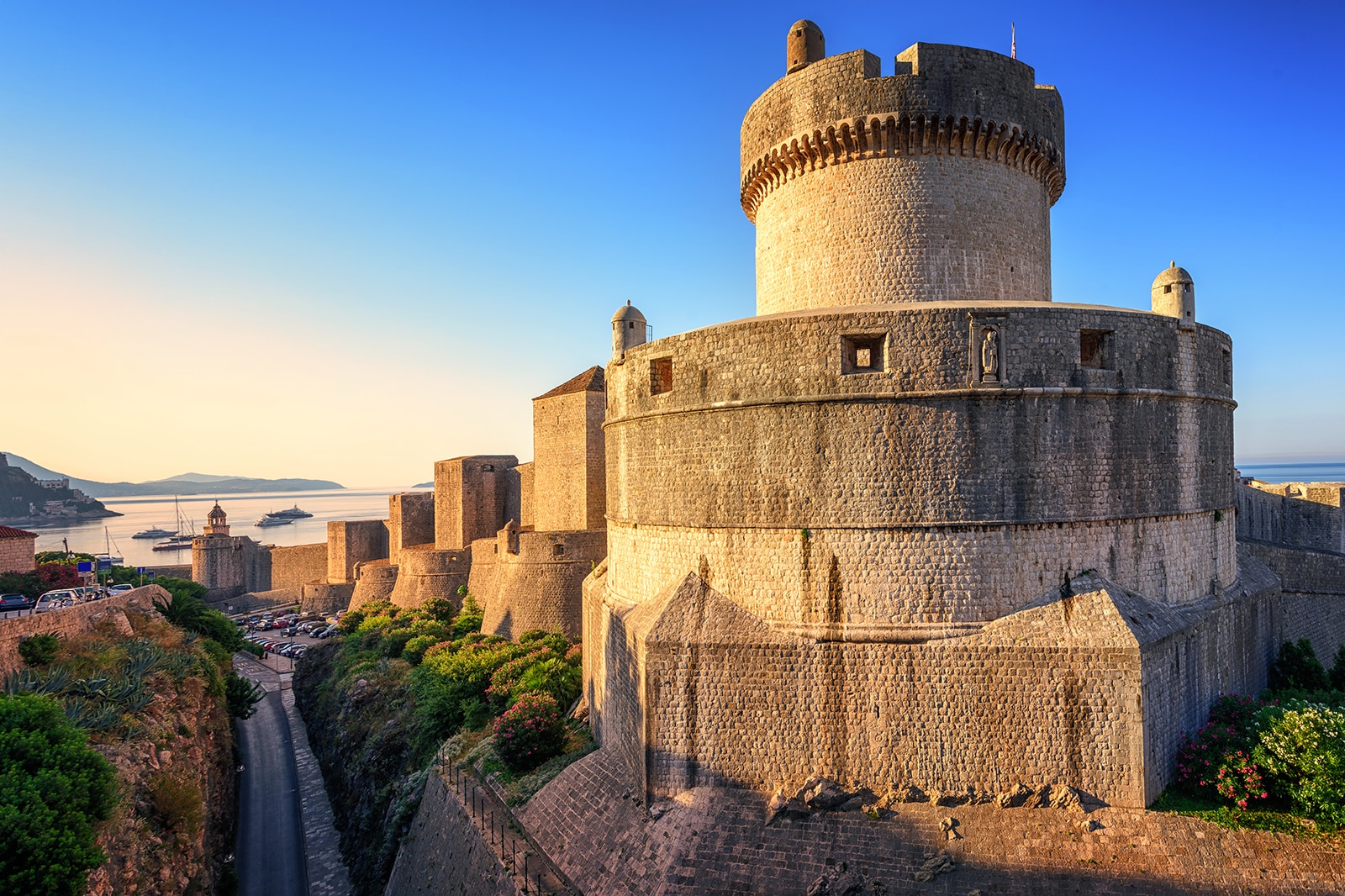 The ancient city walls are perhaps the most iconic sight you think of when you conjure up images of Dubrovnik. On the walk around them, you're treated to spectacular views of the glistening Adriatic Sea and the charming Old Town, with its bright terracotta rooftops.
Once you've got your tickets, there are 3 points where you can join the anticlockwise route. Pile Gate is often the busiest, so aim to join at Ploče Gate or the Maritime Museum instead. Linking together the city's many medieval towers and forts, the walls are 6 metres thick in places and up to 25 metres tall. Make sure you have plenty of water on you, as it can get a little strenuous and very hot at times.
Location: Walls of Dubrovnik, Poljana Paška Miličevića, 20000, Dubrovnik, Croatia
Open: April–October: Daily from 8 am (closing times vary). November–March: Daily from 10 am to 3 pm
Phone: +385 (0)98 950 6625
4
Minčeta Fortress and Gornji Ugao Tower
The most prominent protecting tower
Originally built in 1319, the Minčeta Fortress is the largest of Dubrovnik's protecting towers, dominating the city's landscape. Located on the north side of the city's Old Town, you can access the tower while traversing the ancient city walls. The magnificent historic stronghold is the highest point in the city and is therefore the perfect spot to grab your camera and capture your own memories of your visit while overlooking the sights below.
Near the Minčeta Fortress is the Gornji Ugao Tower, or the Upper Corner Tower Foundry Museum. Here, you can see and explore what remains of a well-preserved 15th-century medieval foundry. It originally operated until 1667, when an earthquake filled the land with rubble and left it forgotten about. Rediscovered between 2005 and 2008, you can now see the old warehouses and tools that were once used there.
Location: Minčeta Fortress, Ul. Ispod Minčete 9, 20000, Dubrovnik, Croatia
Open: Open daily from 10 am to 7 pm
Phone: +385 (0)20 638 800
photo by LBM1948 (CC BY-SA 4.0) modified
5
Banje Beach
Dubrovnik's best beach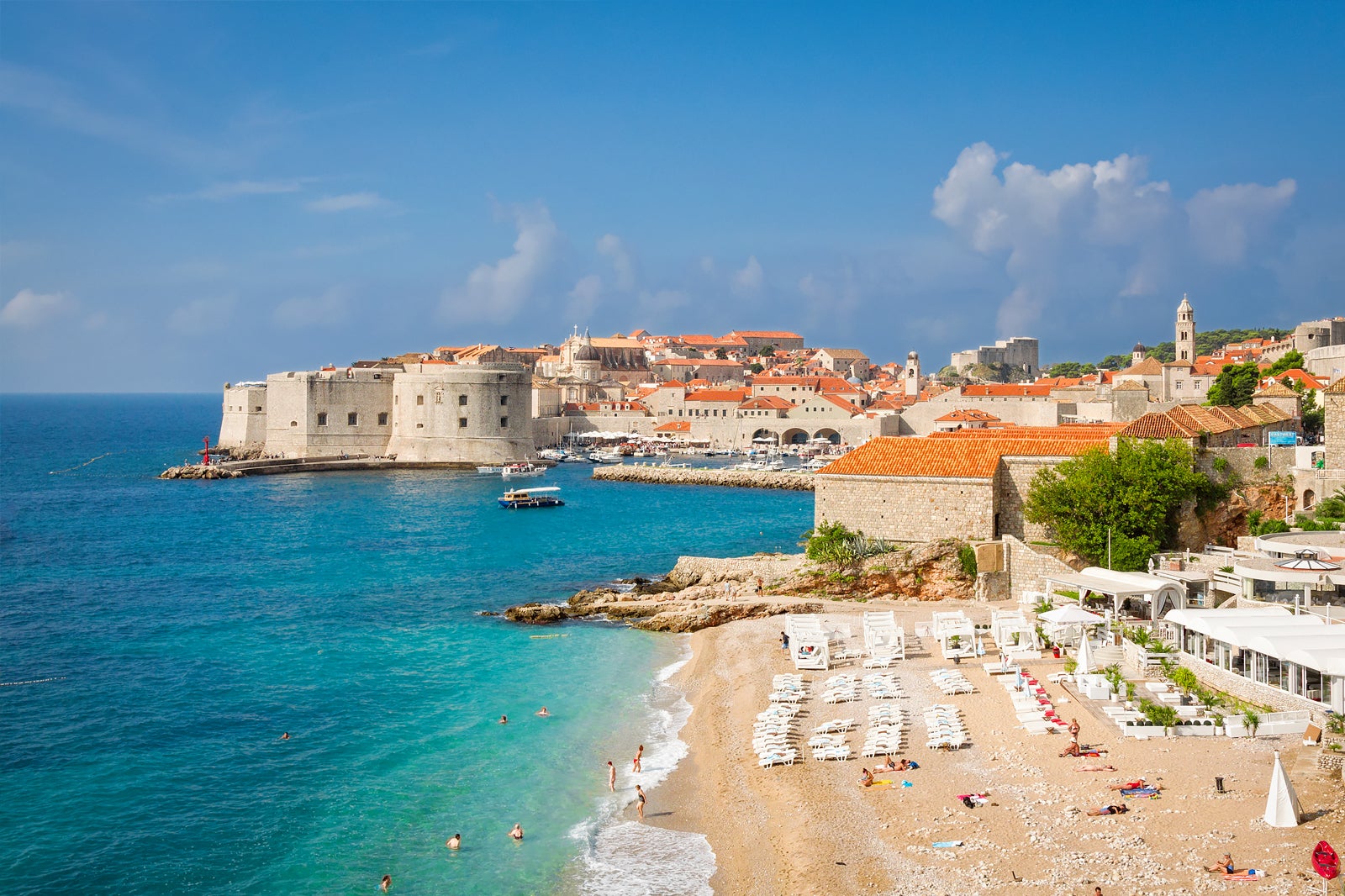 Couples
Photo
Food
Nightlife
Budget
Banje Beach is Dubrovnik's most popular and arguably most beautiful beach. Just east of the Old City, you get a good view of Lokrum Island straight out to sea from the pebbly sand, with the Old Port off to your right.
The beach is dominated by the Banje Beach Restaurant and Nightclub, which serves great Mediterranean seafood dishes in a very romantic setting. The restaurant also has a selection of sun loungers for rent, but you get them for free if you order drinks.
Location: Ul. Frana Supila 10/B, 20000, Dubrovnik, Croatia
6
Lokrum Island
A tranquil escape from the city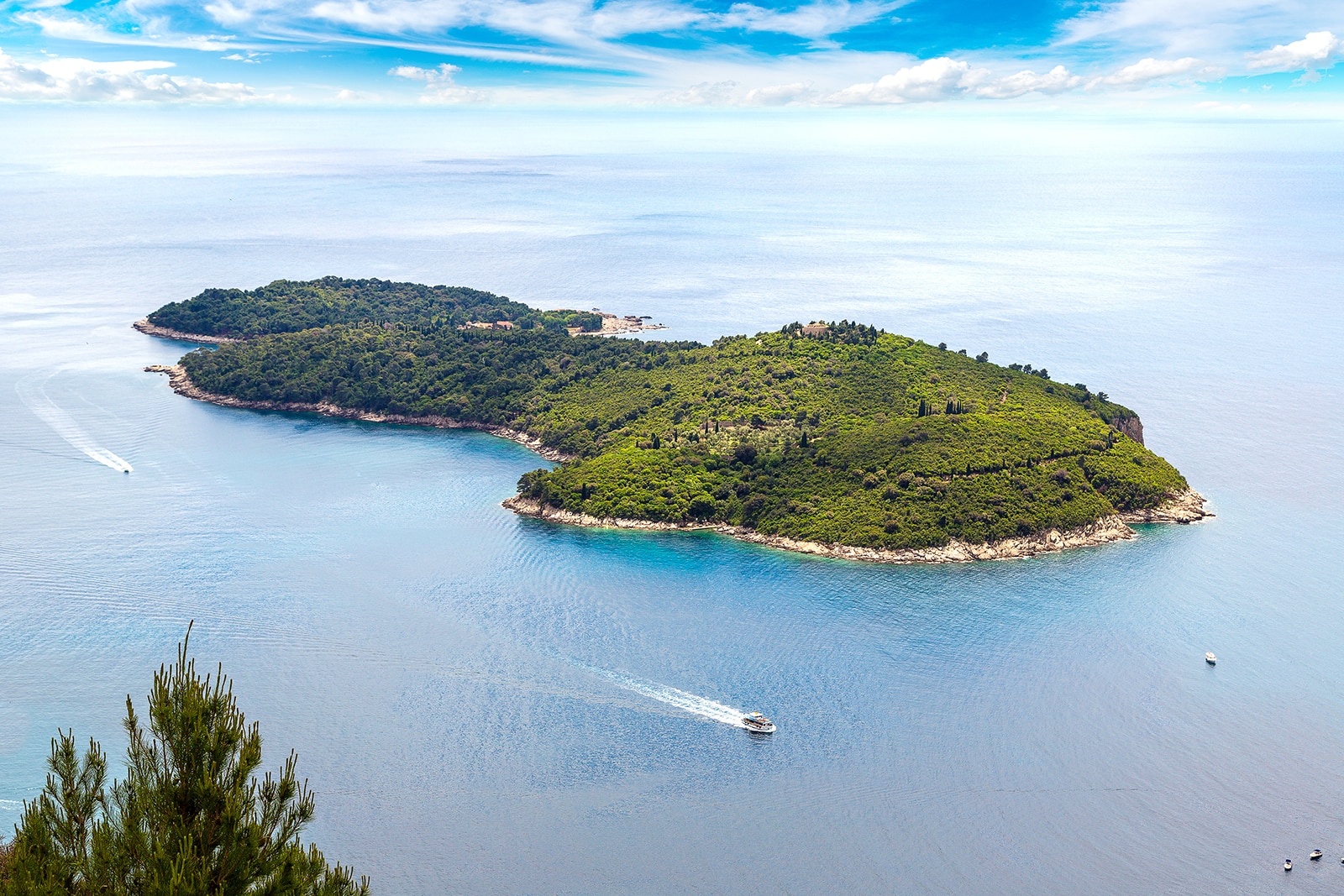 For a change of scenery from the bustling city streets, take a 10-minute water taxi over to the lush, green island of Lokrum. Located just 600 metres off the coast of Dubrovnik, it's super-easy to get to, with boats leaving regularly from the city's Old Port.
With its blanket of pine, olive and cypress trees, Lokrum is a beautiful place to discover and provides some much-needed shade from the warm Croatian sun. Explore the island's 19th-century Botanical Gardens, visit the ruins of the Benedictine Monastery and climb to the top of Fort Royal for unbeatable panoramic views of the Adriatic and Dubrovnik's distinctive coastline.
7
Dominican Monastery
More than just a staircase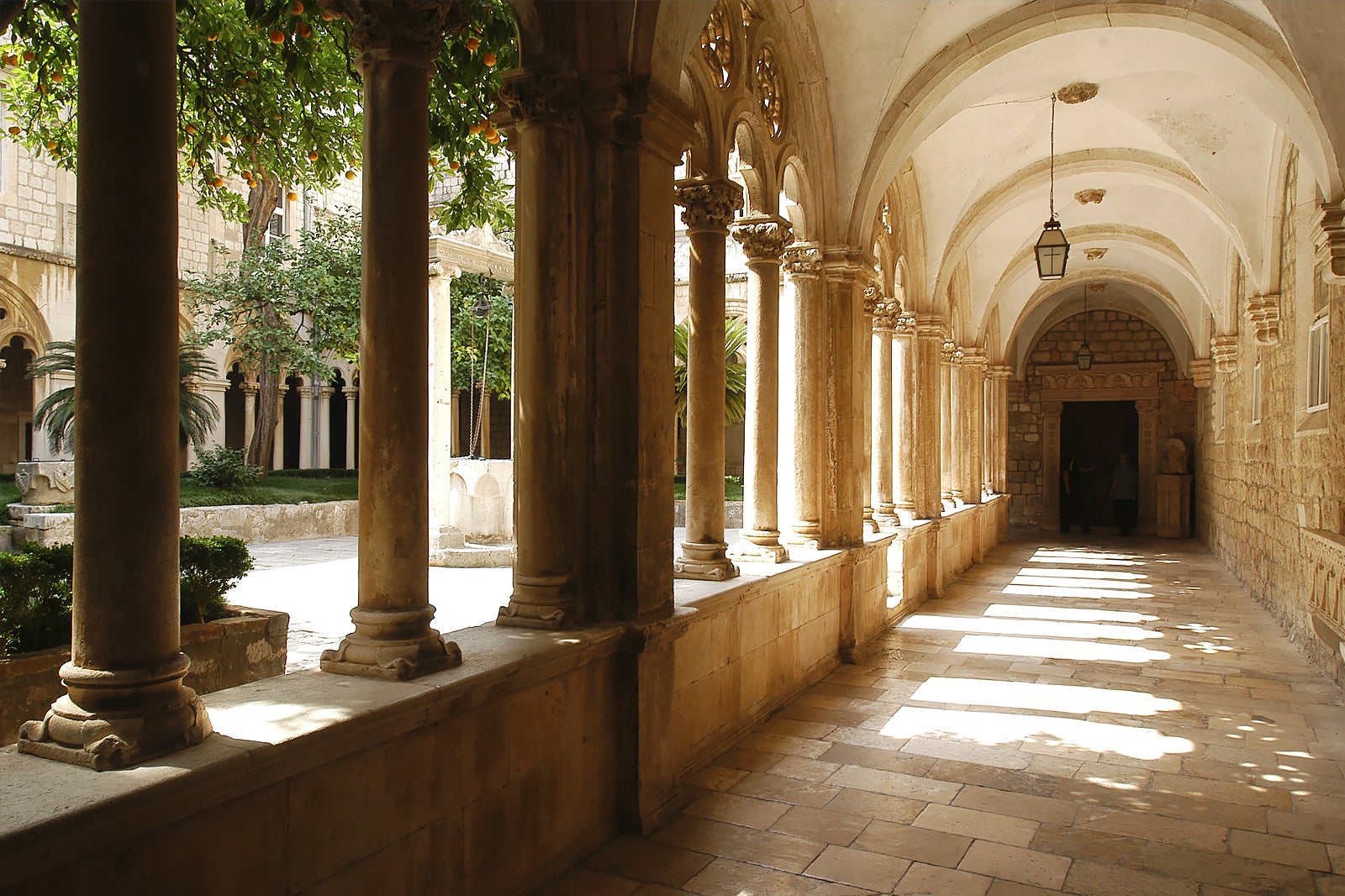 Founded in 1225, the Dominican Monastery dominates the northeast corner of Dubrovnik's Old City. One particular set of stairs on the outside was used as a filming spot for Game of Thrones and, as a result, is routinely swamped by selfie-takers, but the rest of the sprawling complex is just as Insta-worthy.
The cloisters and courtyard in the middle of the Gothic-style monastery are simply beautiful and offer a bit of peace, quiet and shade on a hot day. There's also a museum containing an impressive collection of art and artefacts, including outstanding paintings from the 15th and 16th centuries.
Location: Ul. Svetog Dominika 4, 20000, Dubrovnik, Croatia
Phone: +385 (0)20 322 200
8
War Photo Limited
A fascinating look at war photography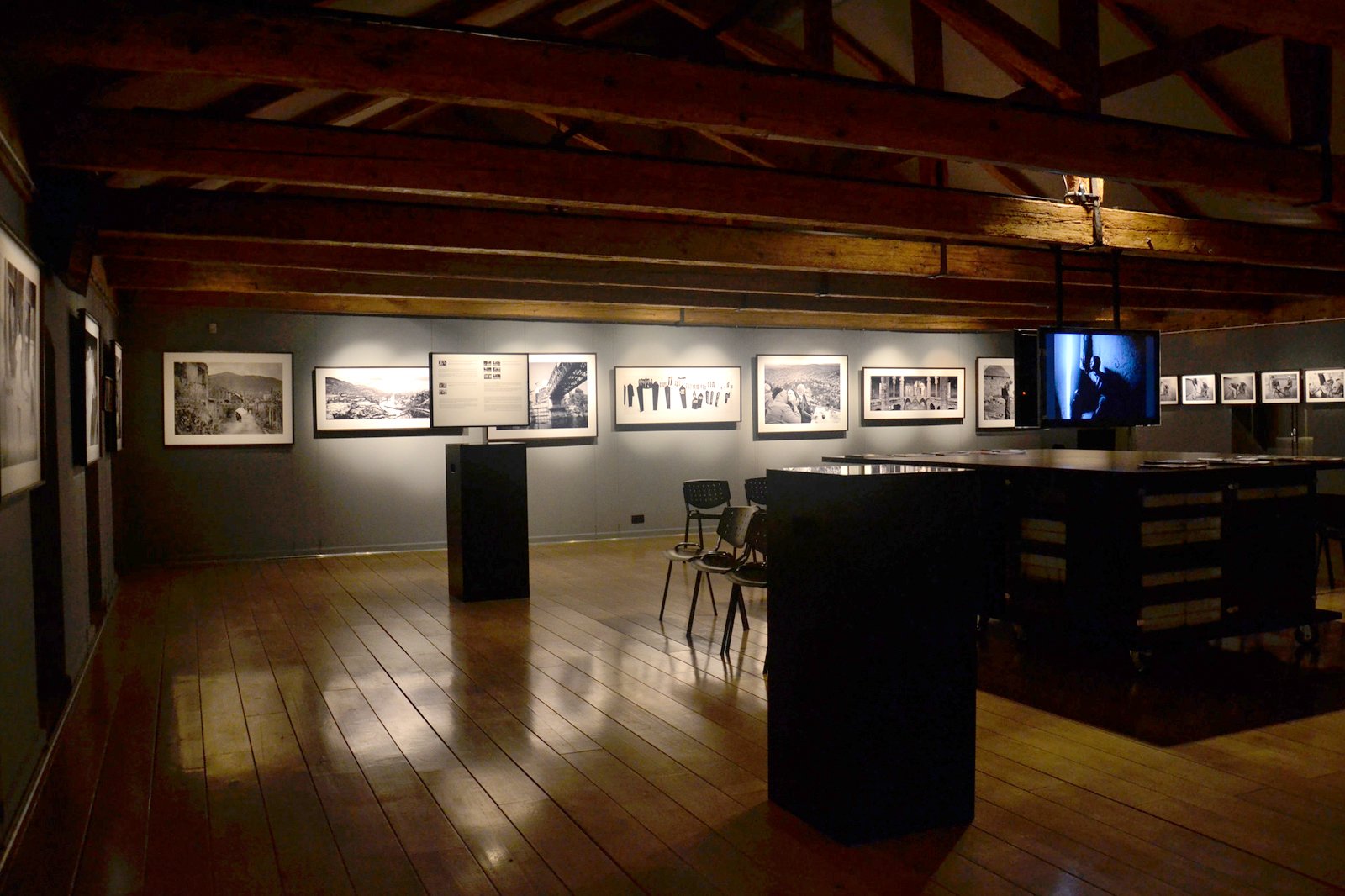 A modern gallery in the heart of ancient Dubrovnik, War Photo Limited is an enthralling way to spend an afternoon. The powerful and compelling exhibitions showcase some of the most thought-provoking yet unbiased photojournalism, capturing war zones from across the globe.
Managed by New Zealand photographer Wade Goddard, past temporary exhibitions have centred around wars such as that in Afghanistan. But of course, Dubrovnik itself and the rest of Croatia has seen its fair share of conflict in the past, especially during the break-up of Yugoslavia. Head to the 2nd floor of the gallery and you'll find a permanent exhibition dedicated to photos from this particular era.
Location: War Photo Limited, Antuninska ul. 6, 20000, Dubrovnik, Croatia
Open: Thursday–Monday from 10 am to 4 pm (closed on Tuesdays and Wednesdays
Phone: +385 (0)20 322 166
photo by travelmag.com (CC BY 2.0) modified
9
Game of Thrones filming locations
The ultimate experience for any fan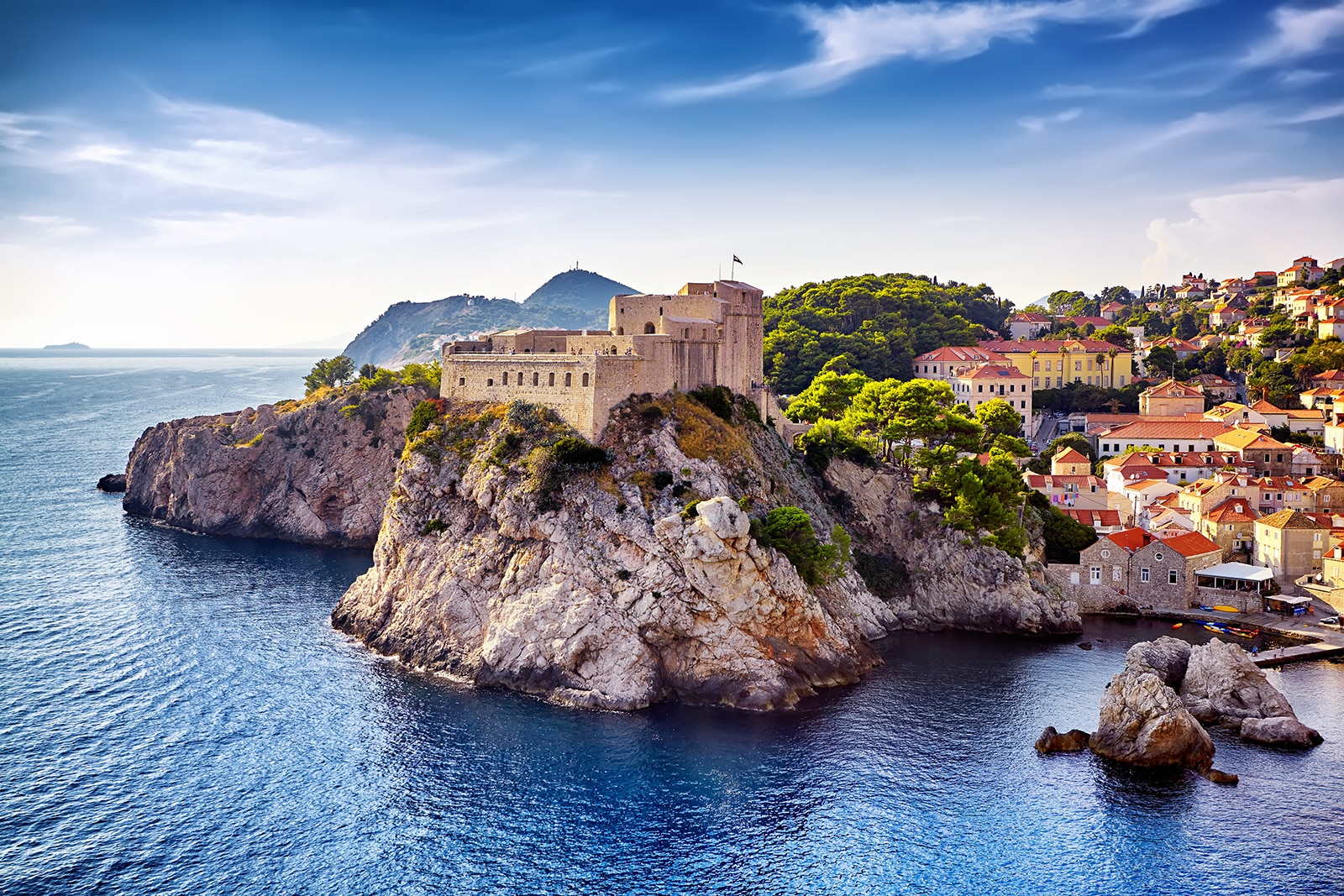 In recent years, Dubrovnik's popularity has increased tenfold thanks to its part in the hit fantasy TV show Game of Thrones. The city was chosen as one of the main filming locations for many of the series, so you may recognise a number of different scene locations as you go about your day.
Some of the most notable locations include the heart of Dubrovnik's Old Town, which doubles as King's Landing; Minčeta Tower, which became the House of the Undying in Qarth; and Dubrovnik West Harbour, which was used for Black Water Bay. It's easy to visit many of the famous locations for yourself, but there are also plenty of Game of Thrones guided tours available, which will give you an in-depth insight into the city's influence on the show.
10
Sunset sea kayaking
An unforgettable way to explore the coast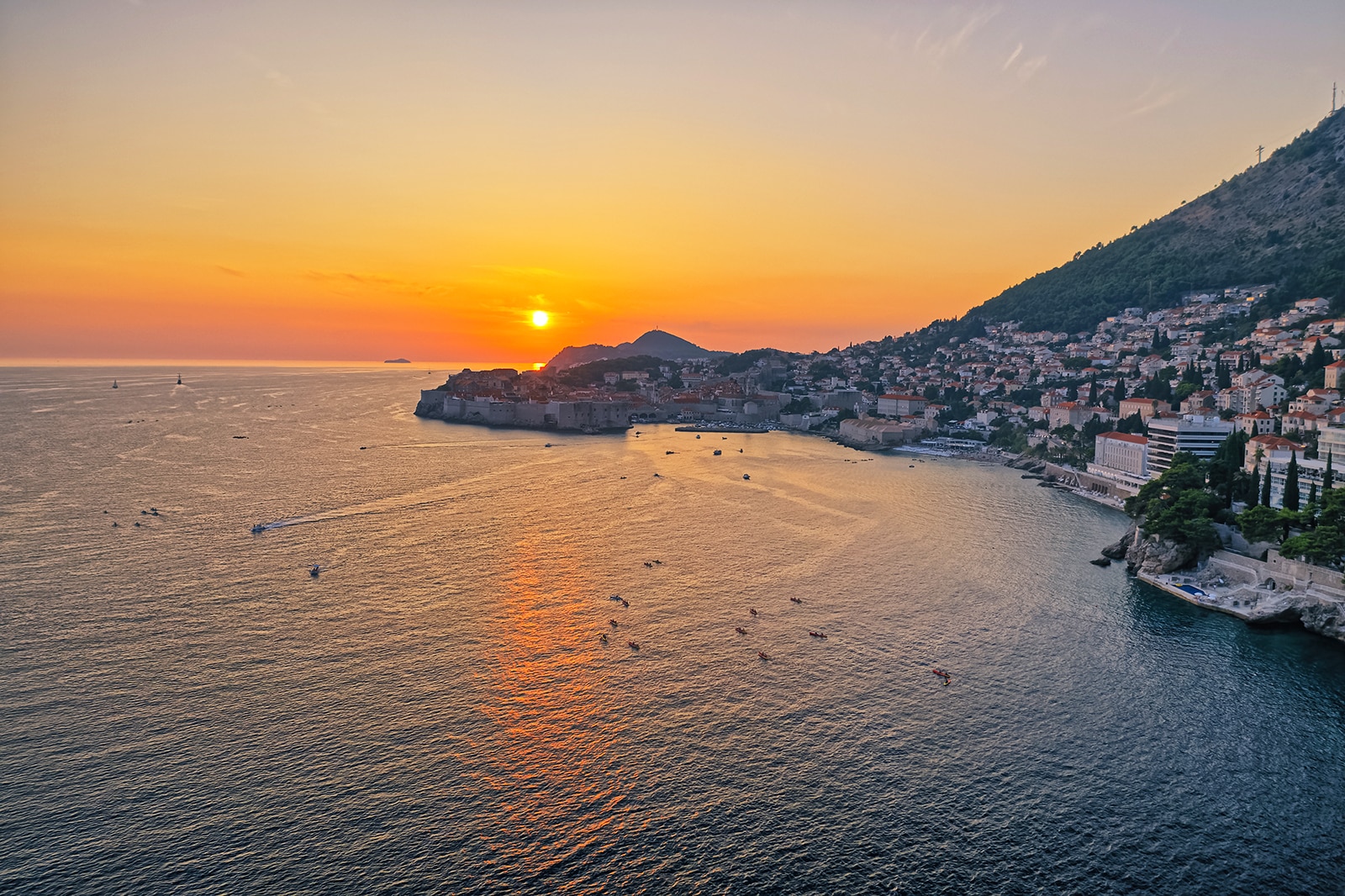 Dubrovnik is famous for its breathtaking coastline, and what better way to see it for yourself than from the seat of a sea kayak? There are a number of places where you can rent a kayak and explore the shores at your leisure, but a guided tour is a great way to discover all the best hidden spots along the coast.
A number of operators are available, and most can take you on a truly magical 3-hour sunset tour. You'll paddle beneath the city walls, explore impressive caves and take a dip in the waters, as well as watching the sun set into the Adriatic.
Back to top