10 Best Things to Do in Pula
What is Pula Most Famous For?
Pula is the largest city of Croatia's Istria County, located at the southern tip of the peninsula. Its architecture is mainly Roman-inspired, as Istria was conquered by the Romans in the 177 BC. While many travellers visit Pula for its historical attractions – one being the famous Roman amphitheatre – the city has slowly become a tourist hotspot for offering unique and family-friendly activities, while still retaining its local appeal.
From ancient landmarks and hidden local haunts to vast national parks and modern light shows, check out our list of great things to do in Pula, below.
What are the best things to do in Pula?
1
Pula Cathedral
A historical cathedral in central Pula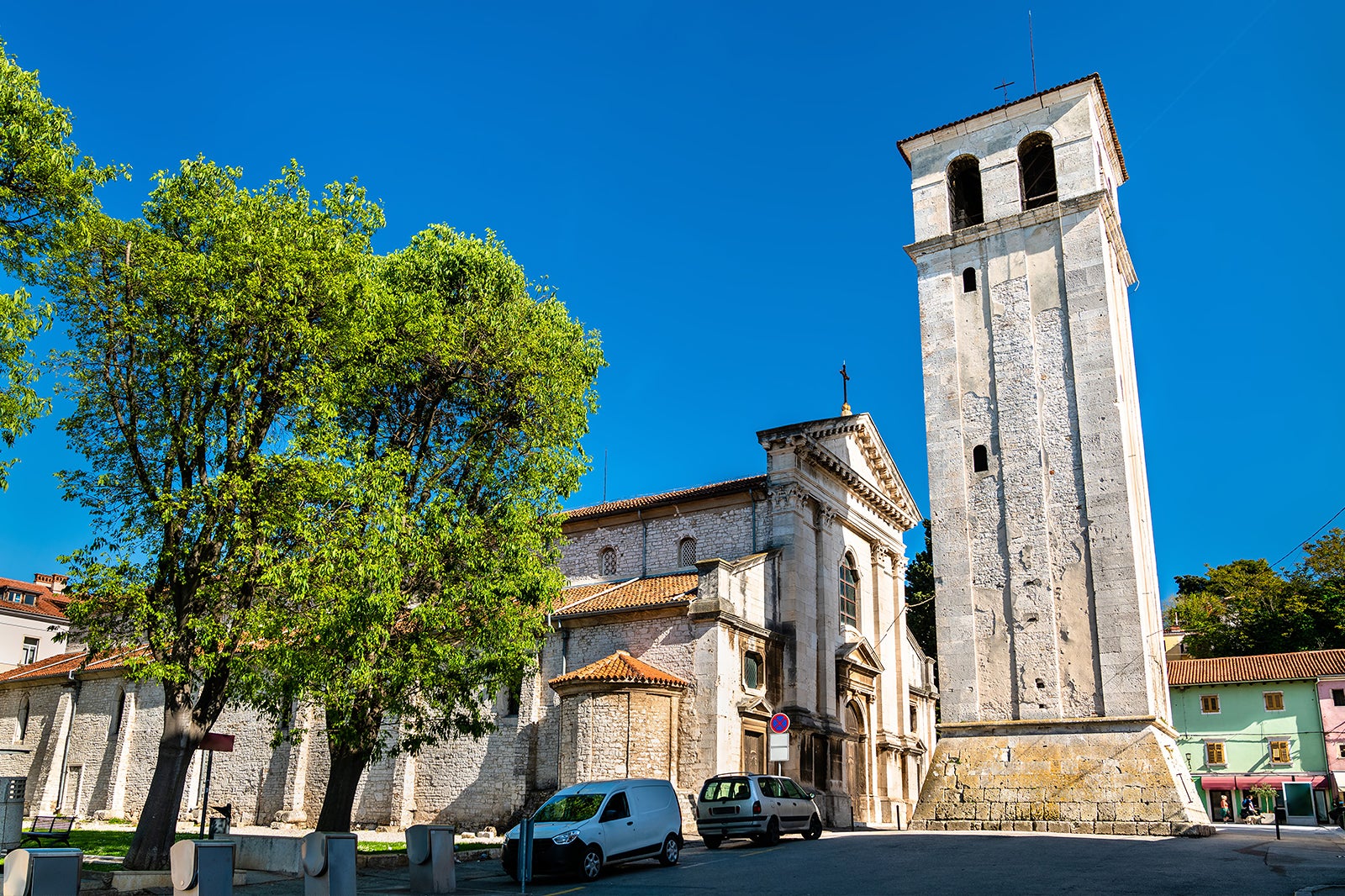 Pula Cathedral (Cathedral of the Assumption of the Blessed Virgin Mary) is a co-cathedral that's part of the Roman Catholic Diocese of Pula and Poreč. Built during the 5th century AD, the cathedral was made famous in the 1600s, when 5 sarcophagi containing the bones of early Christian saints were found underneath the main altar. It's also been said that the remains of Solomon, the King of Hungary were part of the remains.
Just outside the church, you'll see a bell tower that was constructed in 1707 using stones from Pula Arena. If you're a fan of historical art, the structure has a series of mosaics dating back to the 5th and 6th centuries. Admission is free, and you can attend Sunday masses here during your holiday.
Location: Trg Svetog Tome 2, 52100, Pula, Croatia
Open: Daily from 10am to 6pm
2
Pula Arena
A historical monument turned modern event space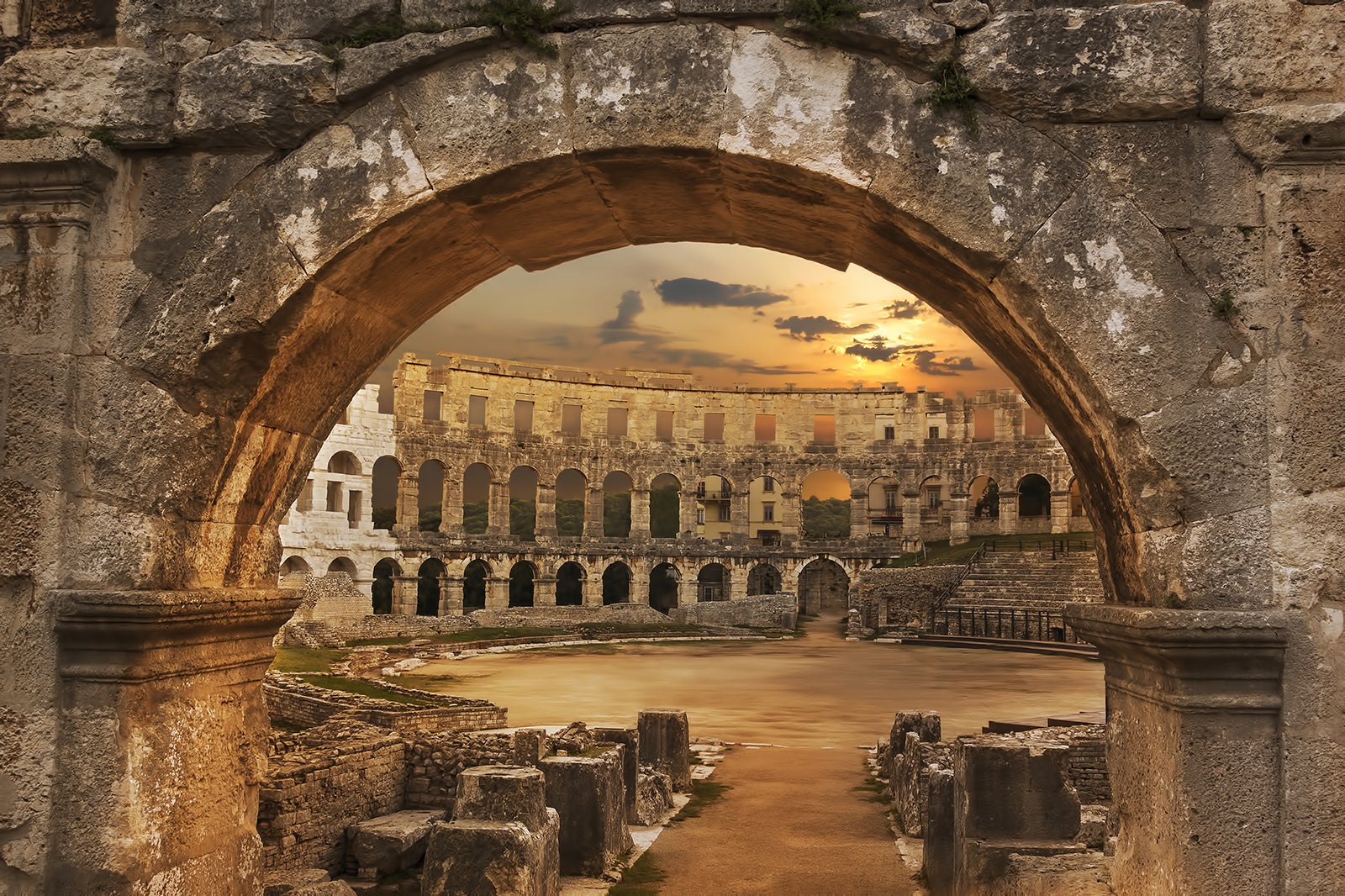 Built between 27 BC to 68 AD, Pula Arena is the only remaining Roman amphitheatre with a fully intact circular wall. It's also the 6th largest amphitheatre in the world. The arena used to host gladiator fights, where 20,000 spectators could watch the battle of the fittest.
Today, Pula Arena hosts modern events such as concerts, games, and outdoor cinemas. This historical landmark is also featured in several Hollywood films, including Titus (1999). You're welcome to roam the grounds for a small entrance fee or hire a tour guide for insider tips on the history of the Pula Arena.
Location: Flavijevska ul., 52100, Pula, Croatia
Open: Hours vary by season
3
Brijuni National Park
Discover dinosaur footprints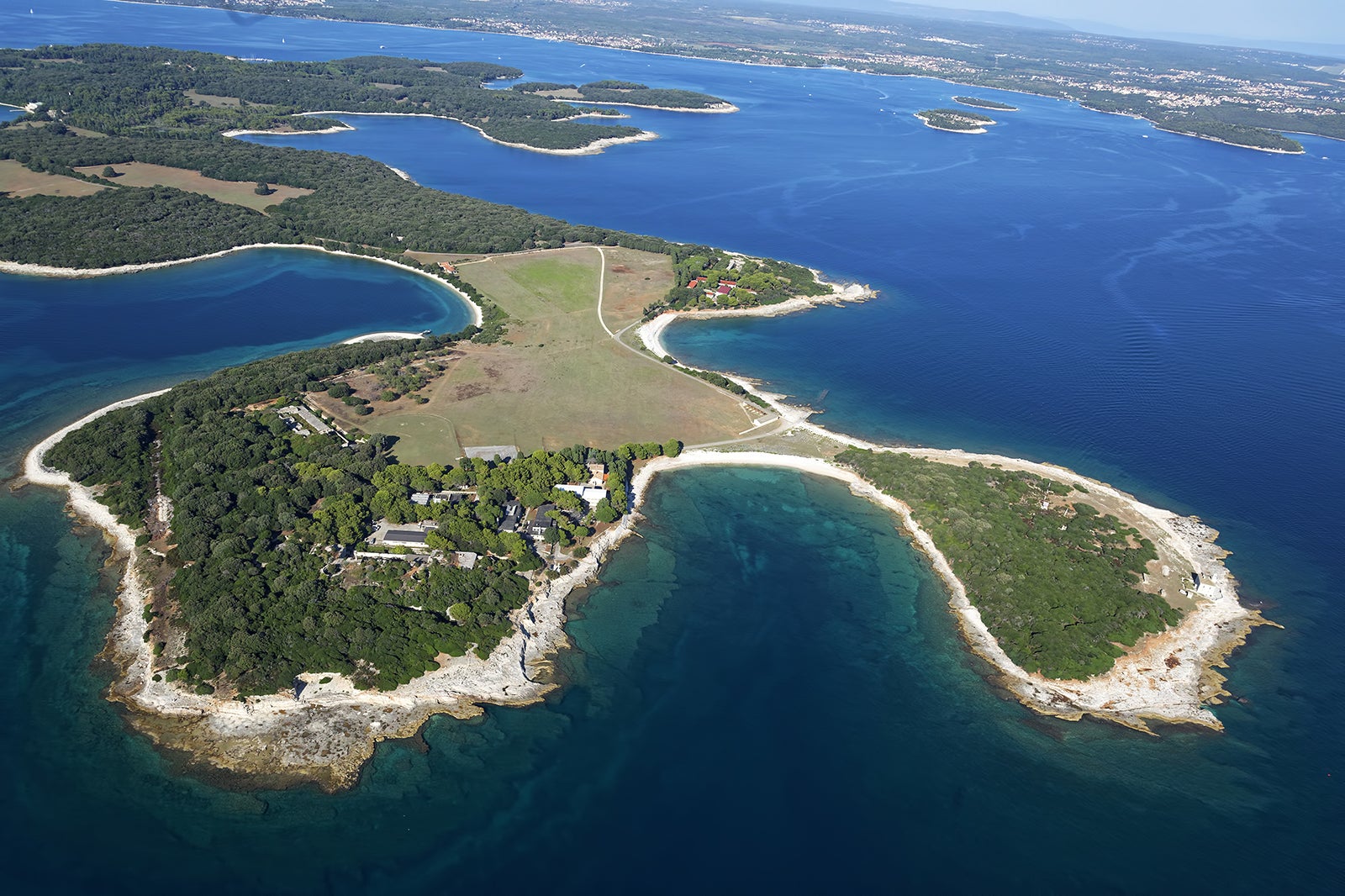 Families
Couples
History
Photo
Adventure
Brijuni National Park consists of 14 small islands dotting the northern part of the Adriatic Sea. The nature reserve has many historical landmarks from ancient Roman times, without any cars in sight. If you're here on a day trip, look out for dinosaur footprints scattered throughout the ancient sites.
Stay until sunset to catch a glimpse of dolphins swimming in the Adriatic. Located around 14 km northwest of Pula, you can get to Brijuni National Park via a 15-minute boat ride from the town of Fazana – boats leave almost hourly from 9am onwards.
Location: Općina, 52212, Fažana, Croatia
4
Temple of Augustus
A reconstructed temple at Pula Forum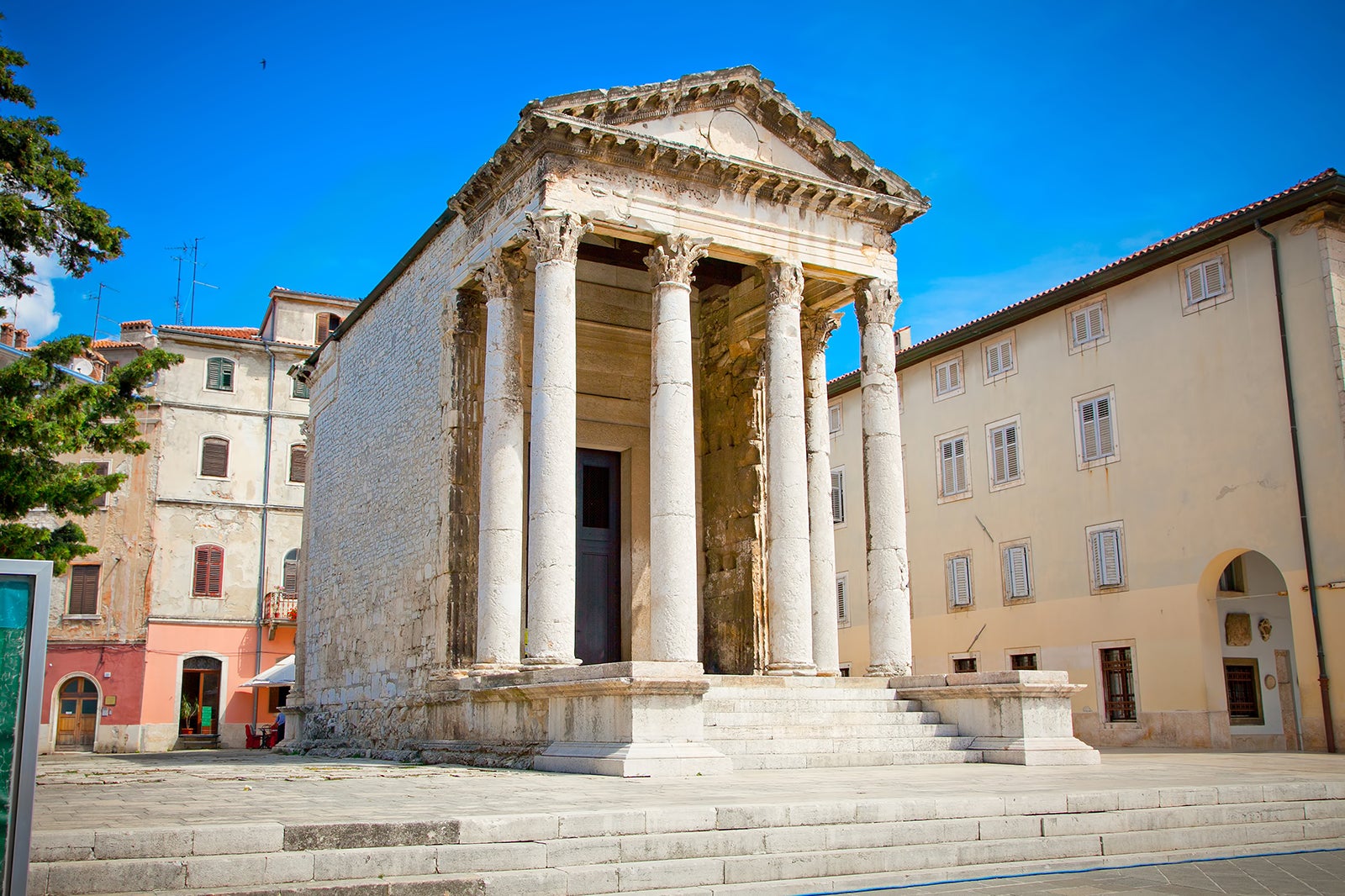 The Temple of Augustus, located in the town's main square of Pula Forum, is an iconic landmark of Pula. Established in 27 BC, it was dedicated to Augustus, the first emperor of Rome. The temple underwent restoration from 1945 to 1947, after it was nearly destroyed by a bomb during a WWII air raid.
While you're exploring Pula Forum, stop by the Town Hall to see 5 flying flags that represent Pula, Istria, Croatia, Italy, and the European Union.
Location: Forum b.b., 52100, Pula, Croatia
Open: Daily from 9am to 5pm
5
Pula Aquarium
Home to fishes from the Adriatic Sea and Croatian rivers
Pula Aquarium is part of Fort Verudela, a former defence complex of the Austro-Hungary. The family-friendly centre displays hundreds of fish species from the northern and southern parts of the Adriatic, along with several more from Croatian rivers and lakes. Expect to see marine creatures such as sharks and seahorses at the aquarium as well. Pula Aquarium contributes to marine conversation through the Marine Turtle Rescue Center.
Location: Verudela bb, Verudela, 52105, Pula, Croatia
Open: Monday–Friday from 9am to 4pm, Saturday–Sunday from 9am to 5pm
6
Zerostrasse
Explore Pula from the underground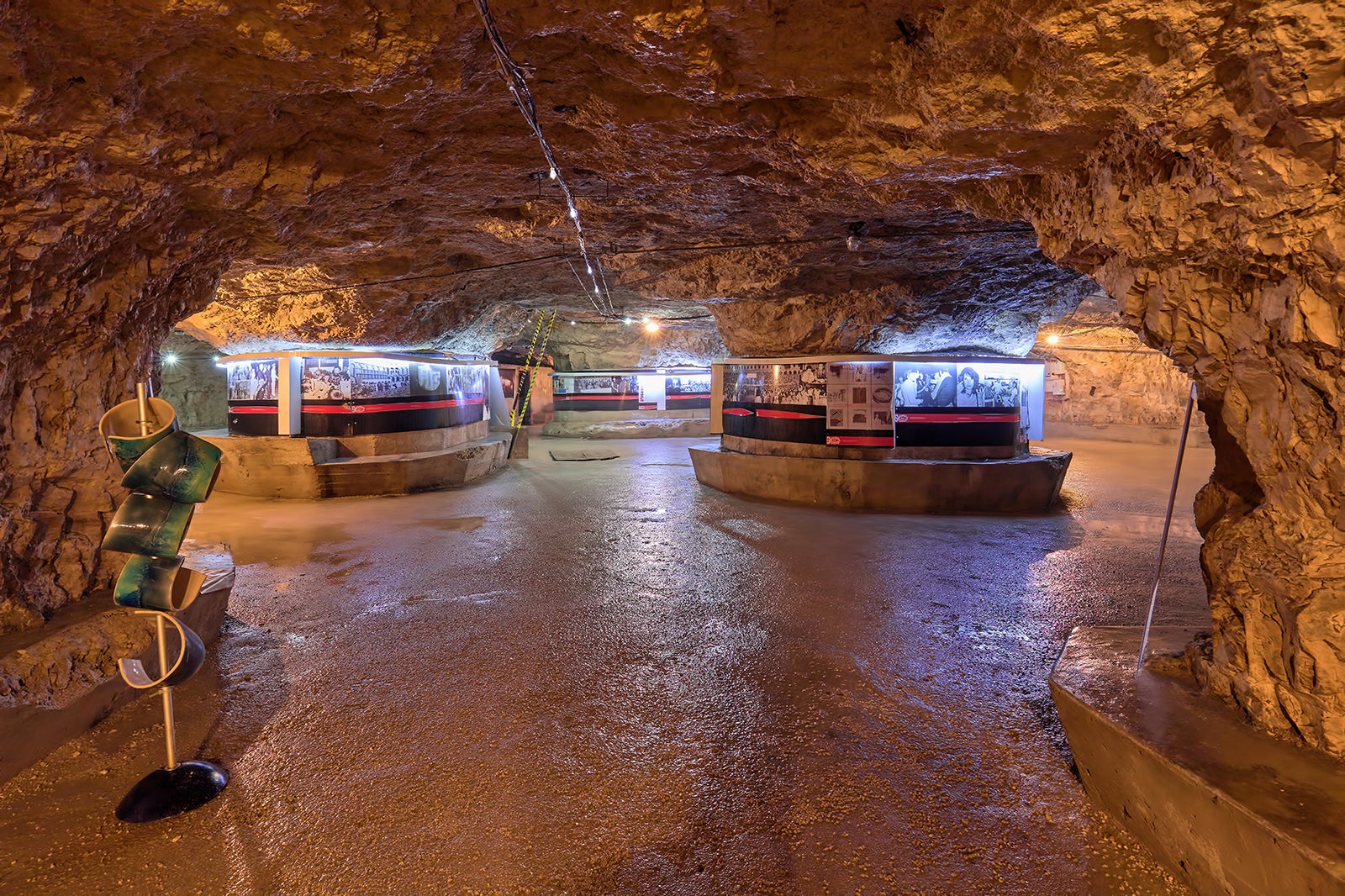 Zerostrasse is a tunnel system built below the streets of Pula during WWI. It was meant to provide shelter for the nation in case of air raids, consisting of trenches, passages, and ammunition storages. It runs almost across the entirety of Pula, with entrances carefully planned to provide regular airflow.
Today, it's used for exhibitions, concerts, and tourism in Pula. Guided tours take you through several branches of the tunnel system while you learn about its unique history. You can find the entrance to Zerostrasse on Giardini Street, right by a taxi stand. You'll be able to reach the middle of the tunnel system after a short walk.
Location: Carrarina ul. 3, 52100, Pula, Croatia
Open: Daily from 8am to 10pm
7
Cvajner (Kunstkafe)
A spot for coffee and craft beers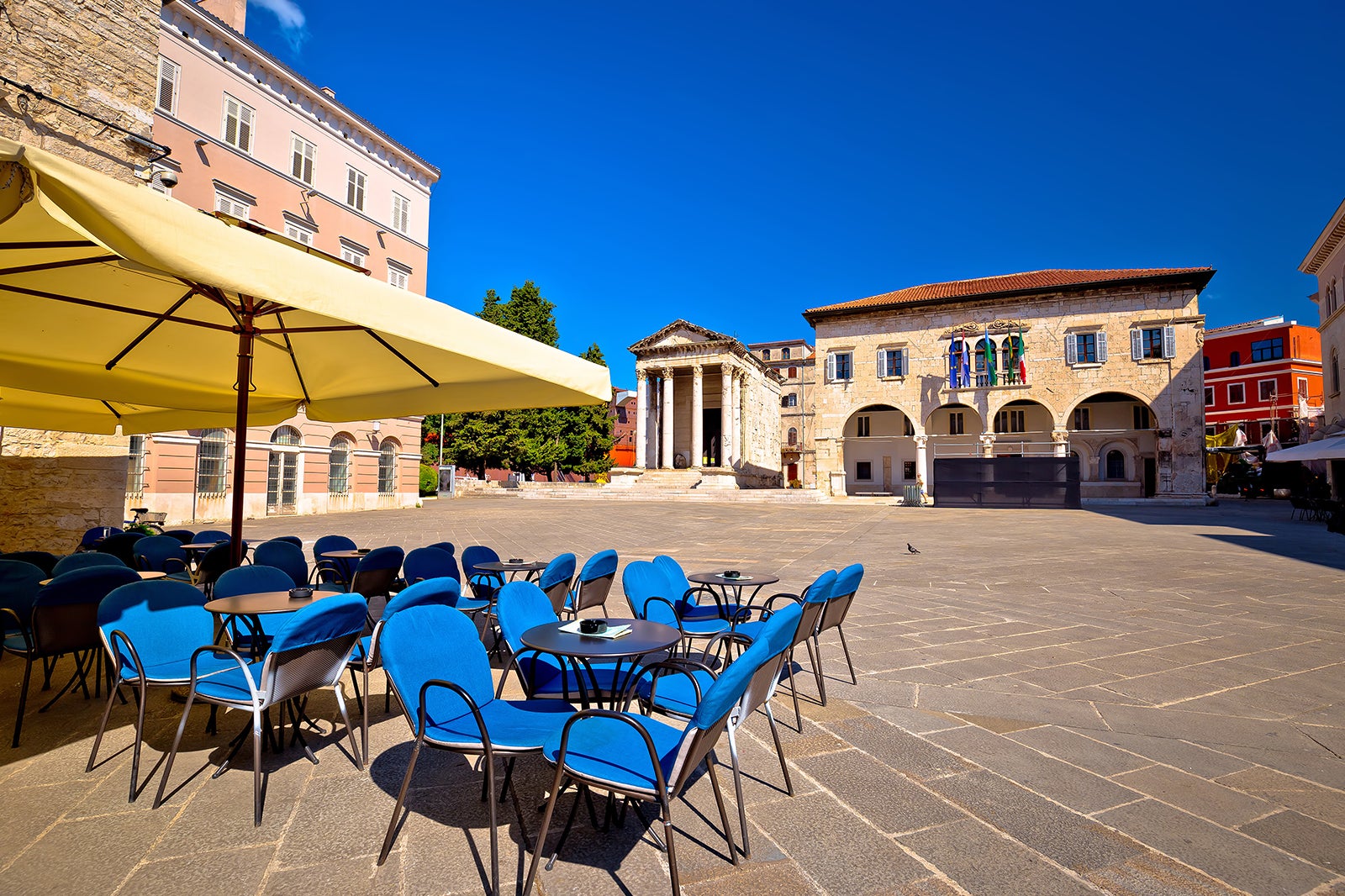 Cvajner (also called Kunstkafe) occupies a former bank within the historic Pula Forum. Decorated with retro furniture, this quirky cafe serves quality coffee and alcoholic beverages throughout the day. Travellers are often seen having a drink and meal at its shaded terrace, where they can enjoy views of the Temple of Augustus and the Renaissance City Hall. Cvajner brings in craft beers from countries like Belgium and Germany.
Location: Forum 2, 52100, Pula, Croatia
Open: Daily from 8am to midnight
8
Pula Market Hall
Find fresh produce and pop-up bakeries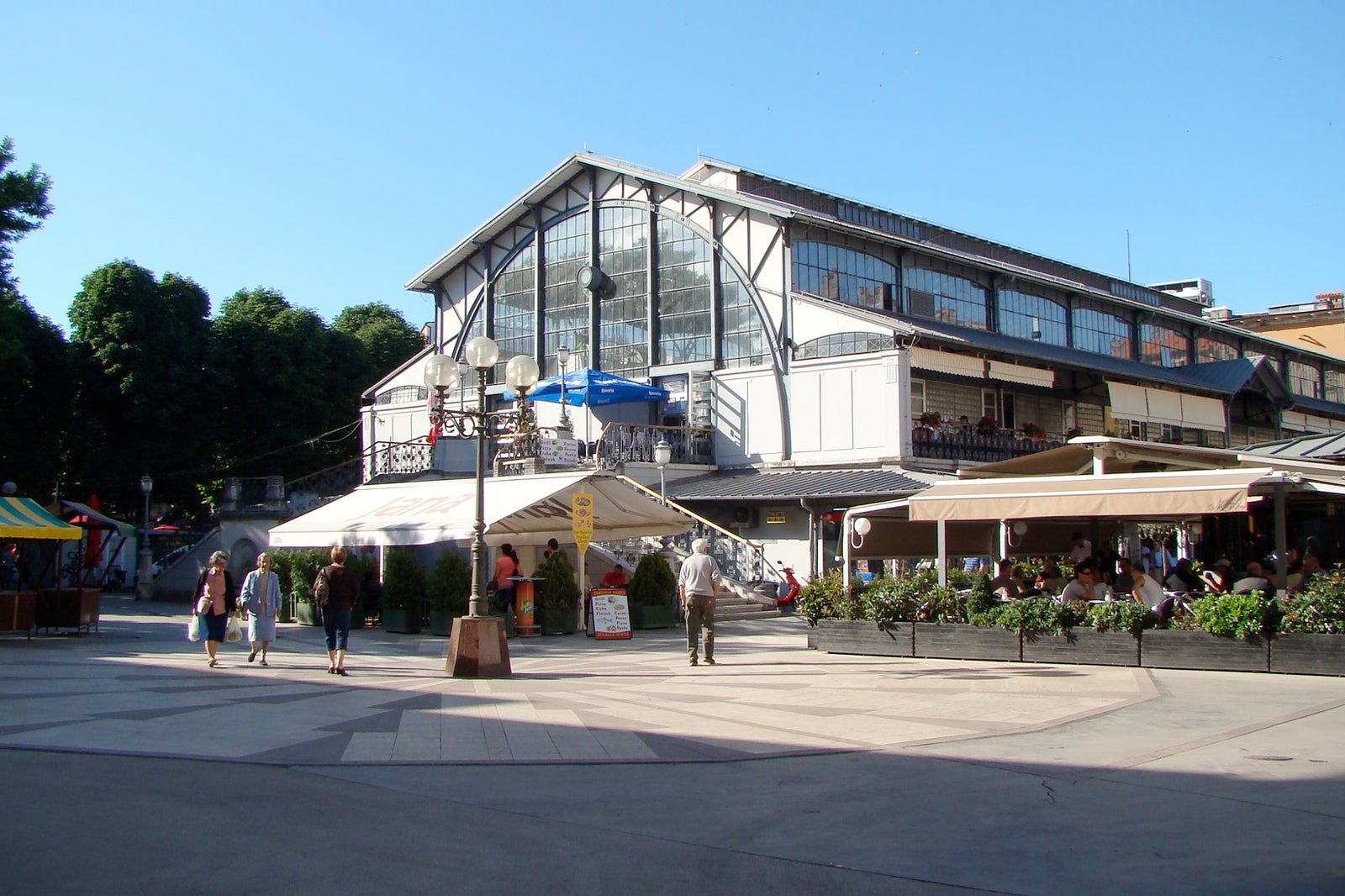 Pula Market Hall is a 2-storey indoor market dating back to 1903. Built with iron and glass, the Secession-style marketplace was considered a modern marvel of Pula. It was reconstructed in 1998 to meet requirements for modern trades but managed to retain its old-school charm throughout the years.
You can find fresh produce such as fish and vegetables sourced from local farmers in Istria County. There are also many pop-up bakeries and cafes where you can try burek, a flaky pastry with savoury fillings like meat or cheese.
Location: Narodni trg 9, 52100, Pula, Croatia
Open: Monday–Saturday from 8am to 1pm, Sunday from 9am to 12pm
photo by Orlovic (CC BY-SA 3.0) modified
9
Hunt for truffles
Harvest and taste one of the most prized fungi in the world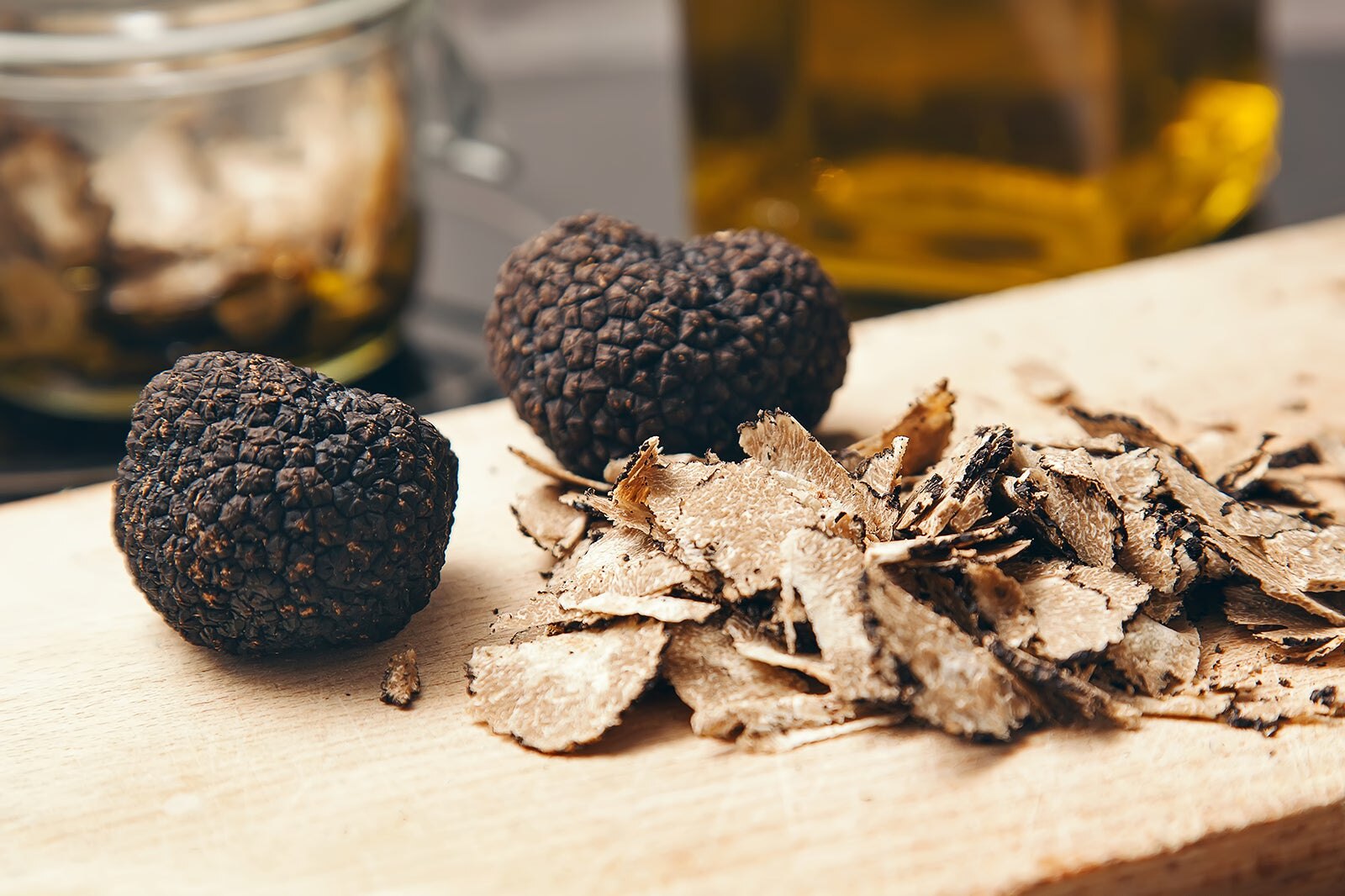 The forests of Istria have 3 types of black truffles and one of the world's most prized white truffle. Black truffles are commonly available year-round, while white truffles are only available from mid-November to early January. Many estates offer truffle hunting in Pazin and Buze, located north of Pula. You'll often be guided by the estate owner and a trained truffle-hunting dog.
If you're in Pula during the off-season, many marketplaces offer truffle-infused products, along with restaurants serving dishes made with the prized fungi. On the 2nd Saturday of September, the town's main square hosts the Buzetska Subotina or Buzet Saturday – if you're lucky, you'll get a bite of the truffle omelette that's cooked and shared among visitors at the festival.
10
Lighting Giants installation
See 'giants' come to life at night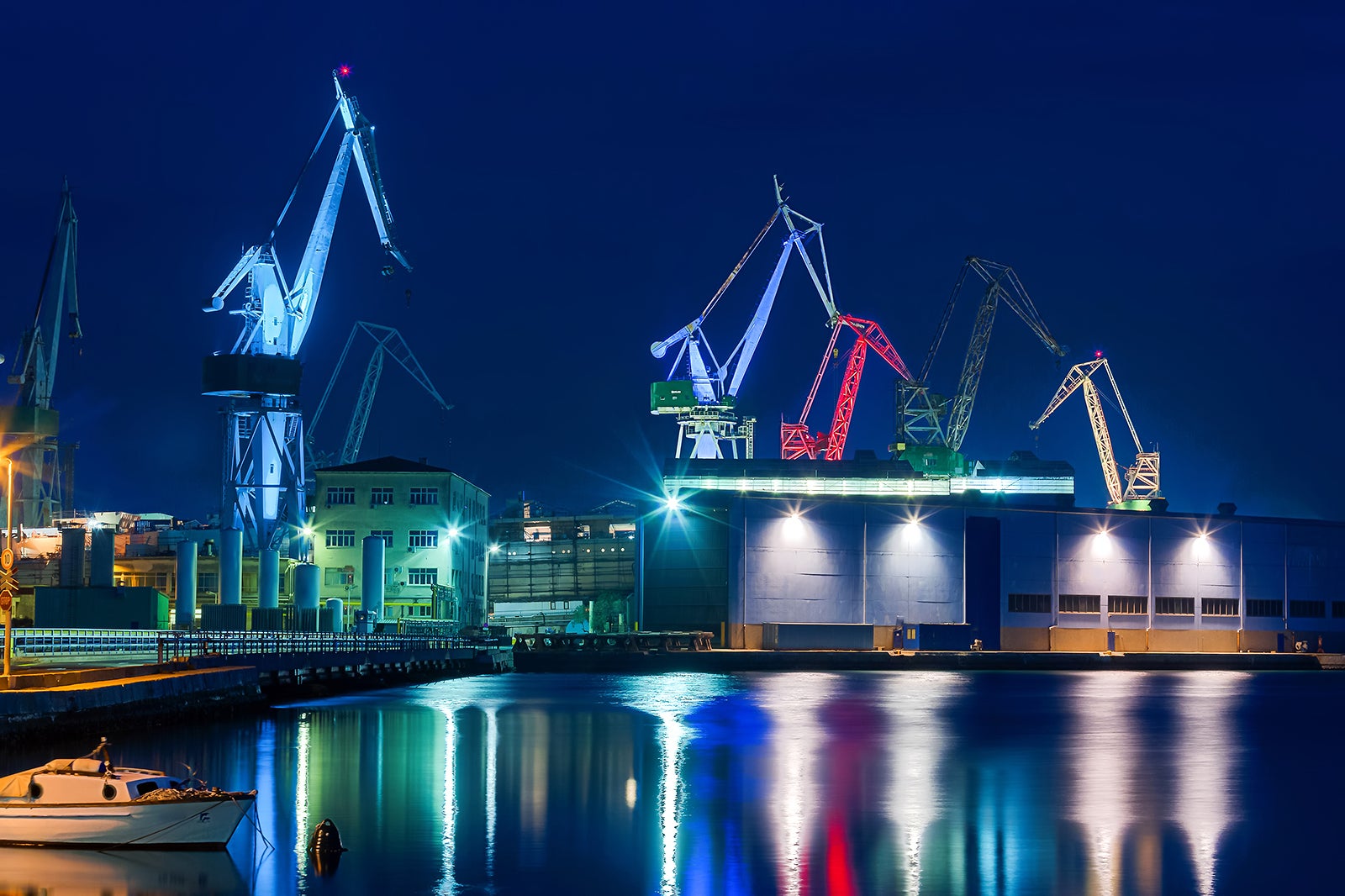 The Lighting Giants installation takes place by the Uljanik Shipyard every summer. A series of 100-metre-tall cranes are illuminated as a part of an impressive light show in the evenings. Each show lasts around 15 minutes, with an hour-long interval in between. The lighting system can create as many as 16,000 colour combinations when properly set up. Depending on when you visit the town, the lights are sometimes arranged to pay tribute to an icon or national holiday in Pula.
Location: Uljanik Shipyard, Pula, Croatia
Open: Daily from 9pm to 10pm (until midnight in summer)
Back to top