10 Best Nightlife Experiences in Split
What to Do in Split at Night
Split's nightlife allows you to see this Croatian city in a different light. While it's known for its rich culture and history, it's clear that there's plenty to see and do for nightlife aficionados. The main areas for Split's after-dark attractions are its Riva promenade for evening strolls along the seafront and the narrow streets of Diocletian's Palace with their many hidden places to discover.
Try a guided tour around the city's best bars on a pub crawl, or find your way to one of Split's underground bars then onto rowdy live music venues. Sip a drink alfresco while enjoying magnificent views at a rooftop bar or beach club or go for a formal night out at the opera. Read on to learn more about the best nightlife experiences in Split.
1
Riva
Evening strolls along the harbourfront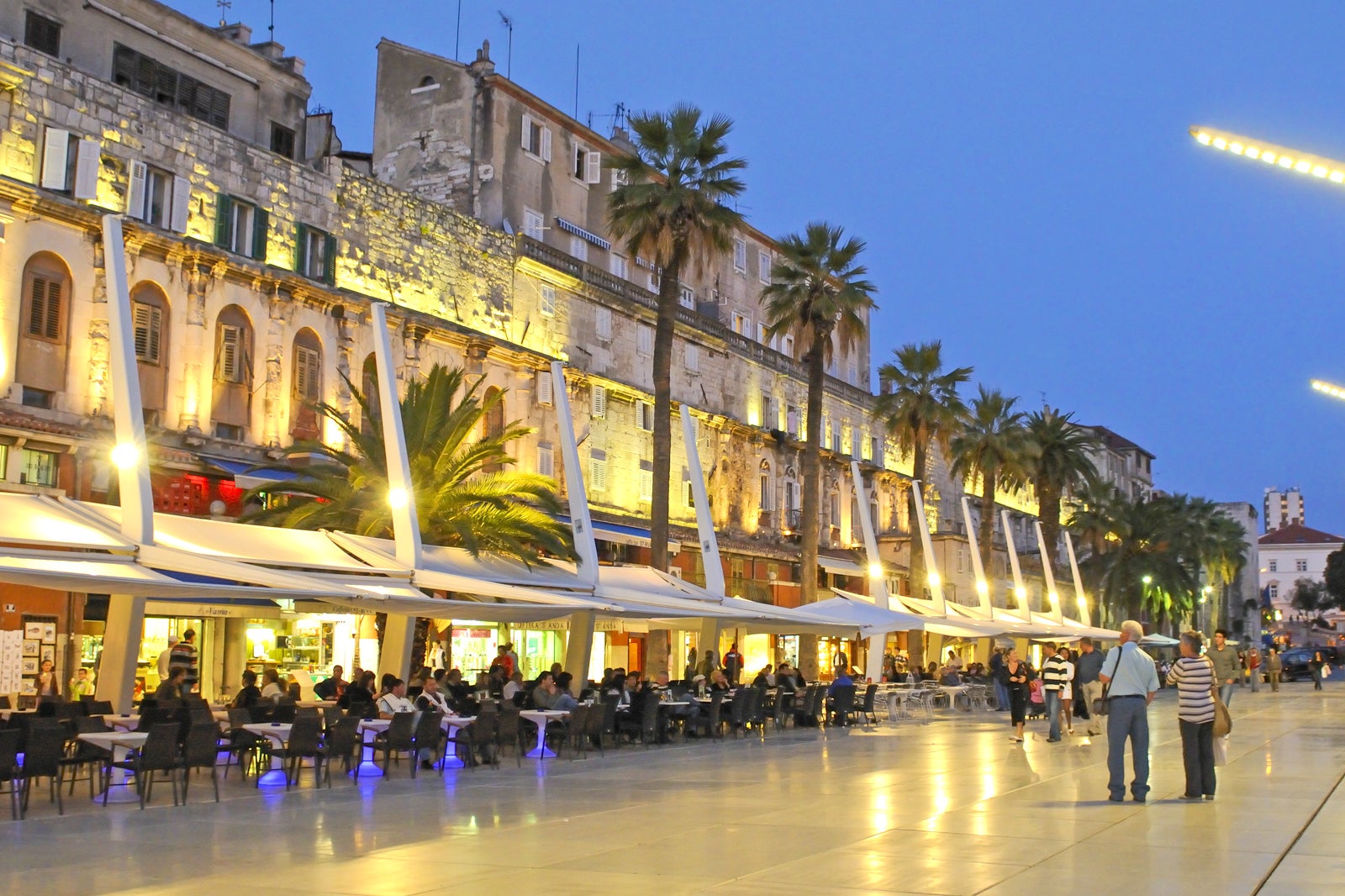 Riva, Split's seafront promenade, is seen by many to be the living room of the city – a popular gathering place to wander, relax and soak up the old town scenery.
The Riva is open all year, but it really comes to life in the summer months when the palm-fringed walkway bustles with festivals, street performers, curious visitors and locals enjoying the balmy night air. The promenade is lined with bars and restaurants, many with terraces to offer alfresco dining and prime views of the harbour.
2
Split pub crawl
Festive after-dark exploration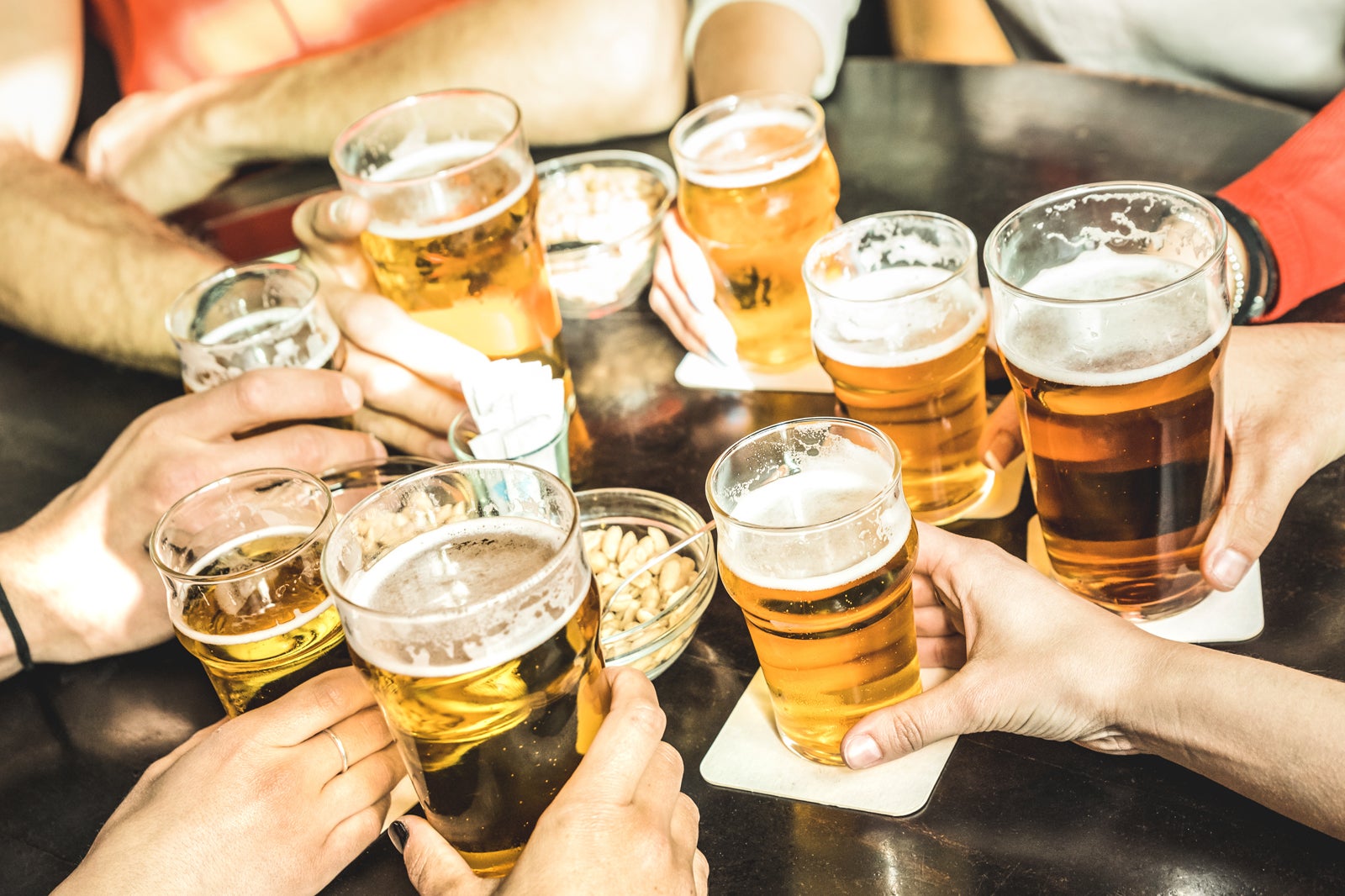 A pub crawl around Split's nightlife spots is a fun way to discover the city and meet fellow travellers. There are different tours available, but they typically include guided visits to 4 or 5 pubs, bars and clubs, plus some free shots and drink specials.
Various enticements are offered to spice up the night like the Tower Pub Crawl's themed evenings including 'beach club' night and 'Hawaiian luau' night, or free pizza offered by Wizard Bar Crawl. Pub crawls in Split usually start off at a quieter pub, then head to progressively more boisterous bars and clubs as the night goes on.
3
Bačvice Open Air Cinema
Sea breezy film screenings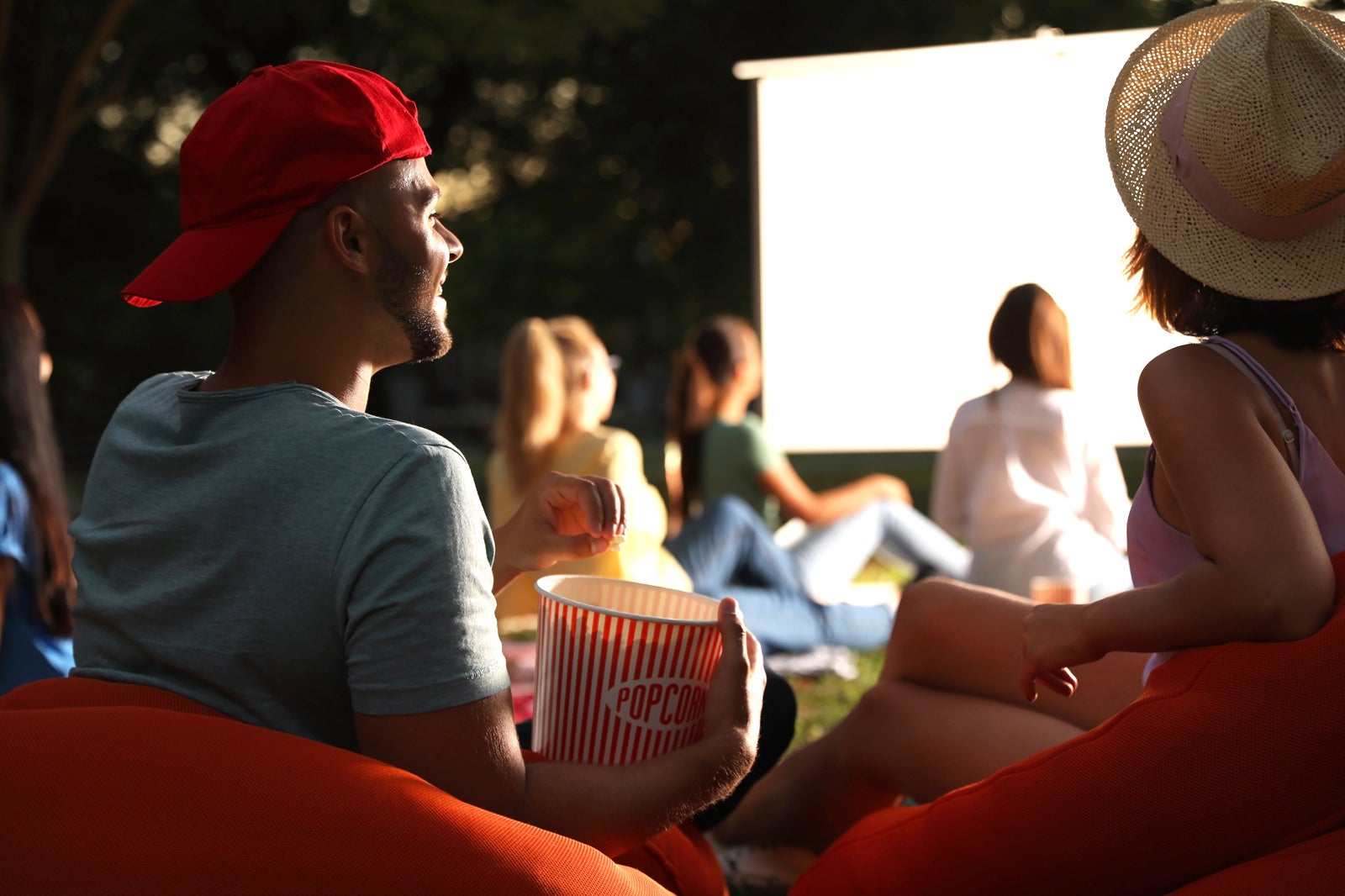 Visitors to Split looking for a low-key evening out could make their way to Bačvice Open Air Cinema, which hosts nightly outdoor movie nights throughout the summer months. Open since 1956, the cinema shows a variety of films from local independent movies to Hollywood blockbusters.
There's a limited number of tickets sold for seats, so it's best to get there early to line up and avoid missing out. The box office opens at 9pm, with showtimes at 9:30pm. Regardless of the action on screen, the overall atmosphere is very relaxed, with the sounds of ocean waves adding to the all-sensory cinematic experience.
Location: Šetalište Petra Preradovića 6, 21000 Split, Croatia
Phone: +385 21 232 442
4
Croatian National Theatre
For an elegant evening out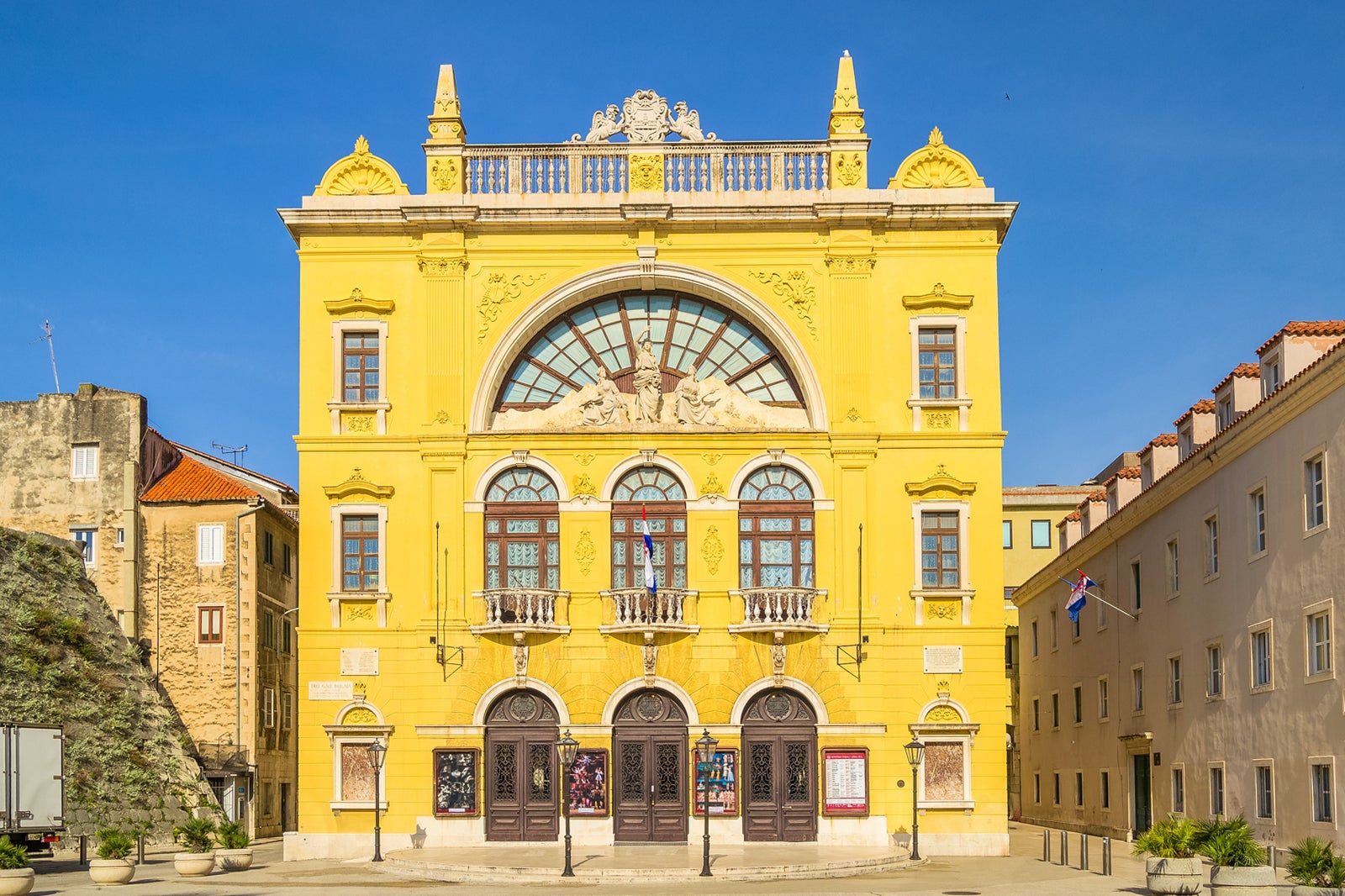 Couples
Nightlife
History
Luxury
Split's Croatian National Theatre was built in 1893, serving as a key cultural landmark for the city. Croatian theatre productions are held throughout the year, with a host of local and international opera, orchestra and ballet performances.
Ticket prices are usually good value. There's often some kind of performance or exhibition happening in the theatre's foyer for free. The Croatian National Theatre is one of the main venues for Split Summer Festival, which takes place over a month from mid-July.
Location: Trg Gaje Bulata 1, 21000, Split, Croatia
Phone: +385 21 344 999
5
Marvlvs Library Jazz Bar
Bookish cocktail lounge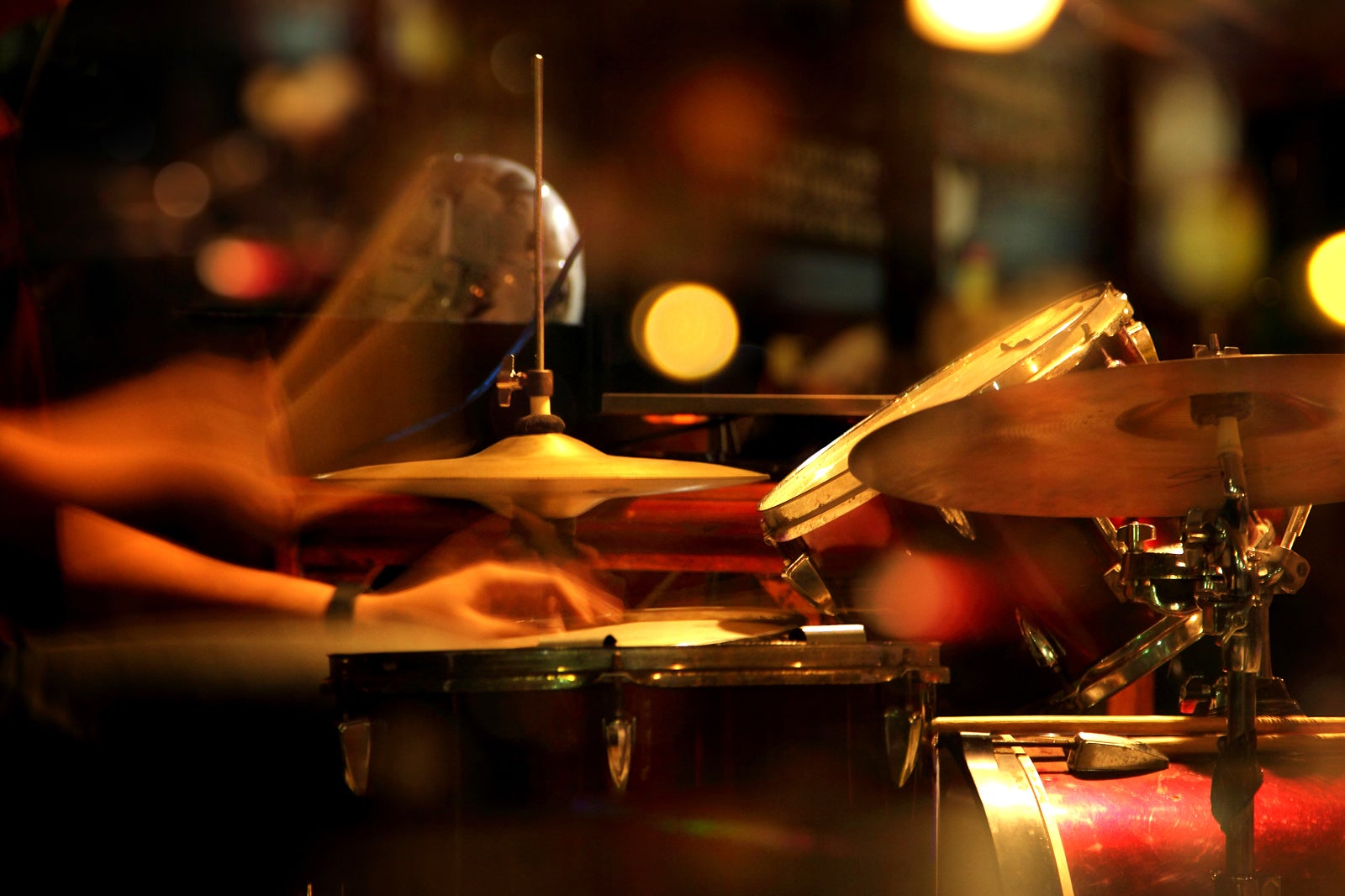 Books and booze are on the menu at Marvlvs Library Jazz Bar, a tiny spot in the Old Town. Run by poet Tin Bojanic, the bar's building is said to have once been the home of Marko Marulić, a 15th-century Croatian writer and philosopher. Its literary heritage is kept alive through a décor of book-stuffed nooks and crannies as well as poetry evenings.
Found in Diocletian's Palace, Marvlvs Library is a good place to start for a mood-lifting night out with its free-flow conversation, jazzy piano music, and fine cocktails.
Location: Papalićeva ul. 4, 21000, Split, Croatia
Open: Monday–Thursday from 5pm to 11pm, Friday–Saturday from 5pm to 11pm (closed on Sundays)
Phone: +385 98 963 7067
6
Kavana Ovčice
Sea views and sundowners
Kavana Ovčice is a beach club on a small stretch between Bačvice and Firula beaches. It's open year-round but best enjoyed in the summer season when visitors can enjoy a dip in the sea along with their food and wine.
Kavana Ovčice is all about lazing on a sunbed during the day, but as the sun goes down, the club livens up with DJ music every night and live bands every week. Rock and blues feature heavily in the music selections. There's little pretension here – more of a light-hearted scene that welcomes all to drink, dance and enjoy the seaside.
Location: Put Firula 4, 21000 Split, Croatia
Open: Daily from 8am to 11pm
Phone: +385 95 817 6171
7
Ghetto Club & Art Academy
Where beer and creativity flow in Split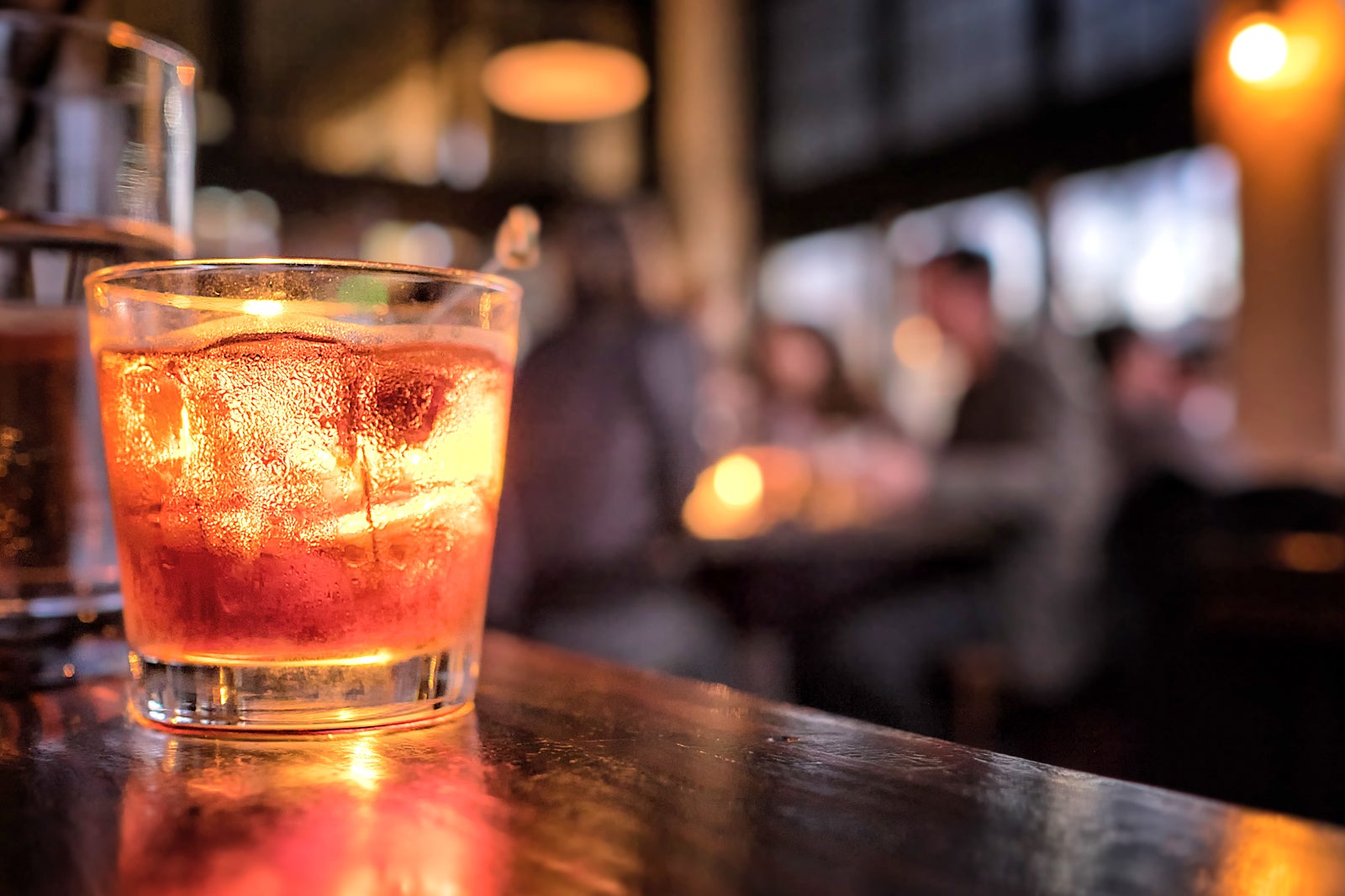 Ghetto Club is more than just a nightlife spot in Lagos, as it also serves as an art gallery and gathering place for artists and boho travellers. Though it's only about 50 metres from the busy Riva promenade in the Old Town area, it's a bit of a challenge to find.
Those who do make it here will enjoy relaxing at the scenic courtyard area before heading inside to explore the art-filled rooms and dance late into the night. With reasonably priced beer and wines on the menu, Ghetto Club is a fun spot for a low-key night out in Lagos.
Location: Dosud 10, 21000 Split, Croatia
Open: Sunday–Thursday from 9am to 1am, Friday–Saturday from 10am to 2am
Phone: +385 91 197 7790
8
Teraca Vidilica
Rooftop bar in Split with panoramic views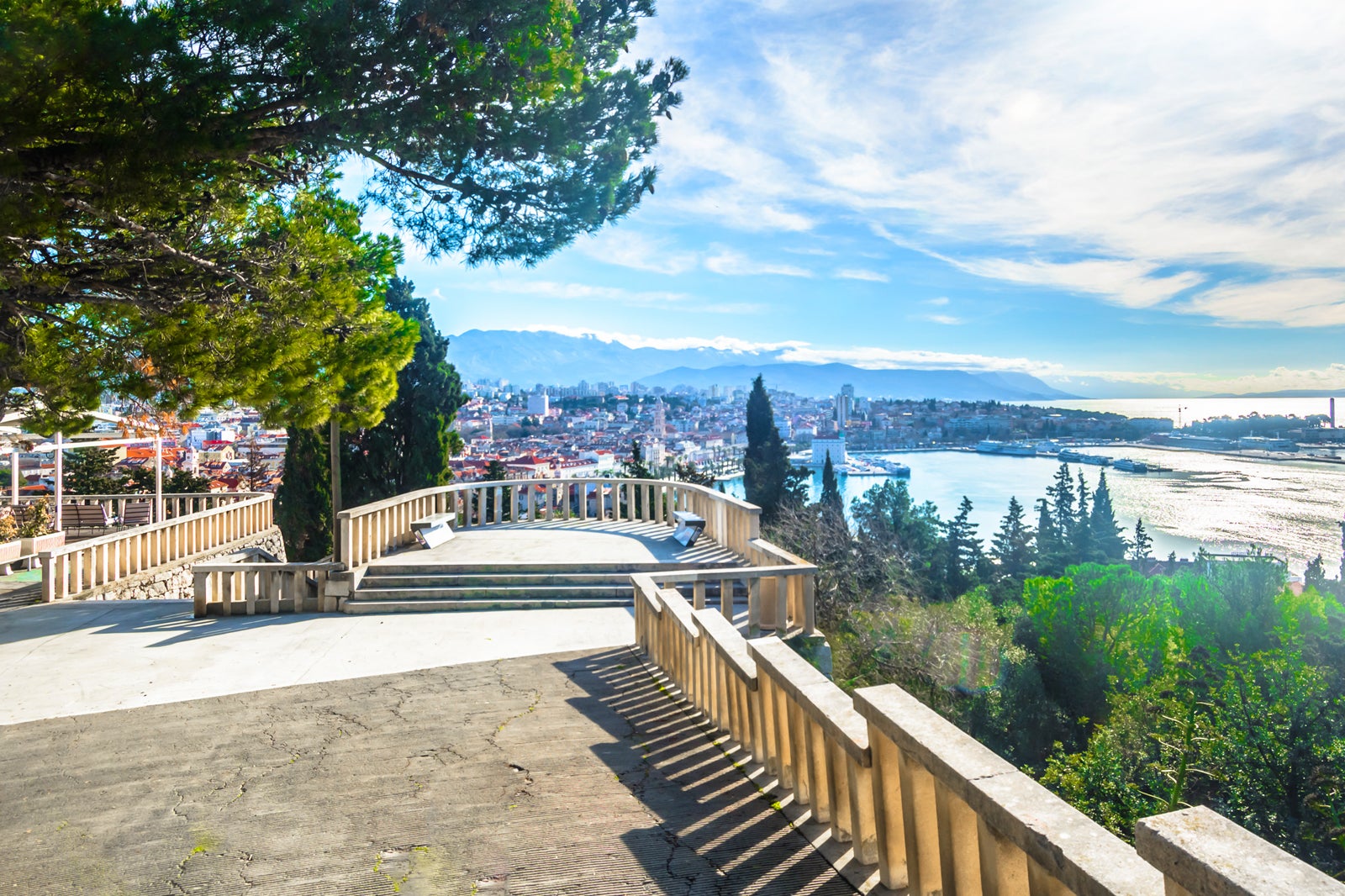 Teraca Vidilica is a restaurant and bar at the edge of a forest park on Marjan Hill. Sip some Croatian wine while watching the sun go down over the red-roofed city and sea. Outdoor seating is coveted for the best views of the city and sea, but indoor seating is also available.
To reach the restaurant, take the Marjan Hill Stairs that start at Marasovica street for a 250-metre climb to the top. The scenic walk up is shaded by pine trees most of the way, keeping the stairway relatively cool even on hot summer days.
Location: Prilaz Vladimira Nazora 1, 21000, Split, Croatia
Open: Daily 8am to midnight
Phone: +385 99 788 8482
9
Diocletian's Palace
Roman ruins in the heart of the city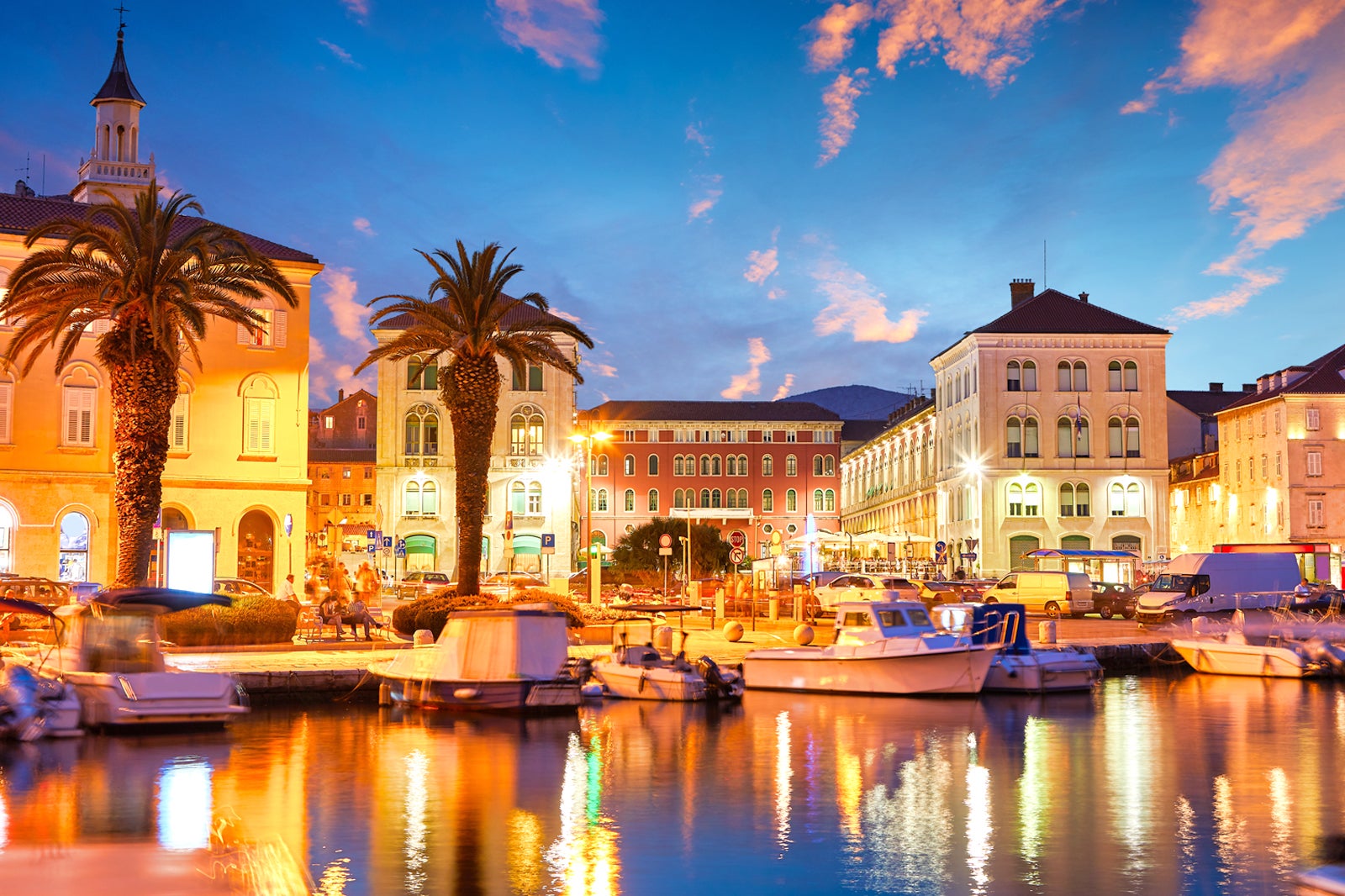 Diocletian's Palace is a former Roman palace complex built around 300 AD. Today, it's a wanderer's dream every evening, with galleries, boutique shops, cafes and bars to discover. The palace is a UNESCO world heritage site, encompassing a large walled area with a maze of narrow cobbled streets.
The pedestrian-only streets are wonderful to explore in the evening hours when tourist foot traffic dwindles and the evening lights cast a glow on the palace walls. Best to come with no specific plans to see what quirky bar or treasure-filled gallery you might stumble upon. You can also visit Diocletian's Palace during the Split Summer Festival where several performances take place from mid-July to mid-August.
Location: Dioklecijanova ul. 1, 21000, Split, Croatia
10
Split Circus
Live music and standup comedy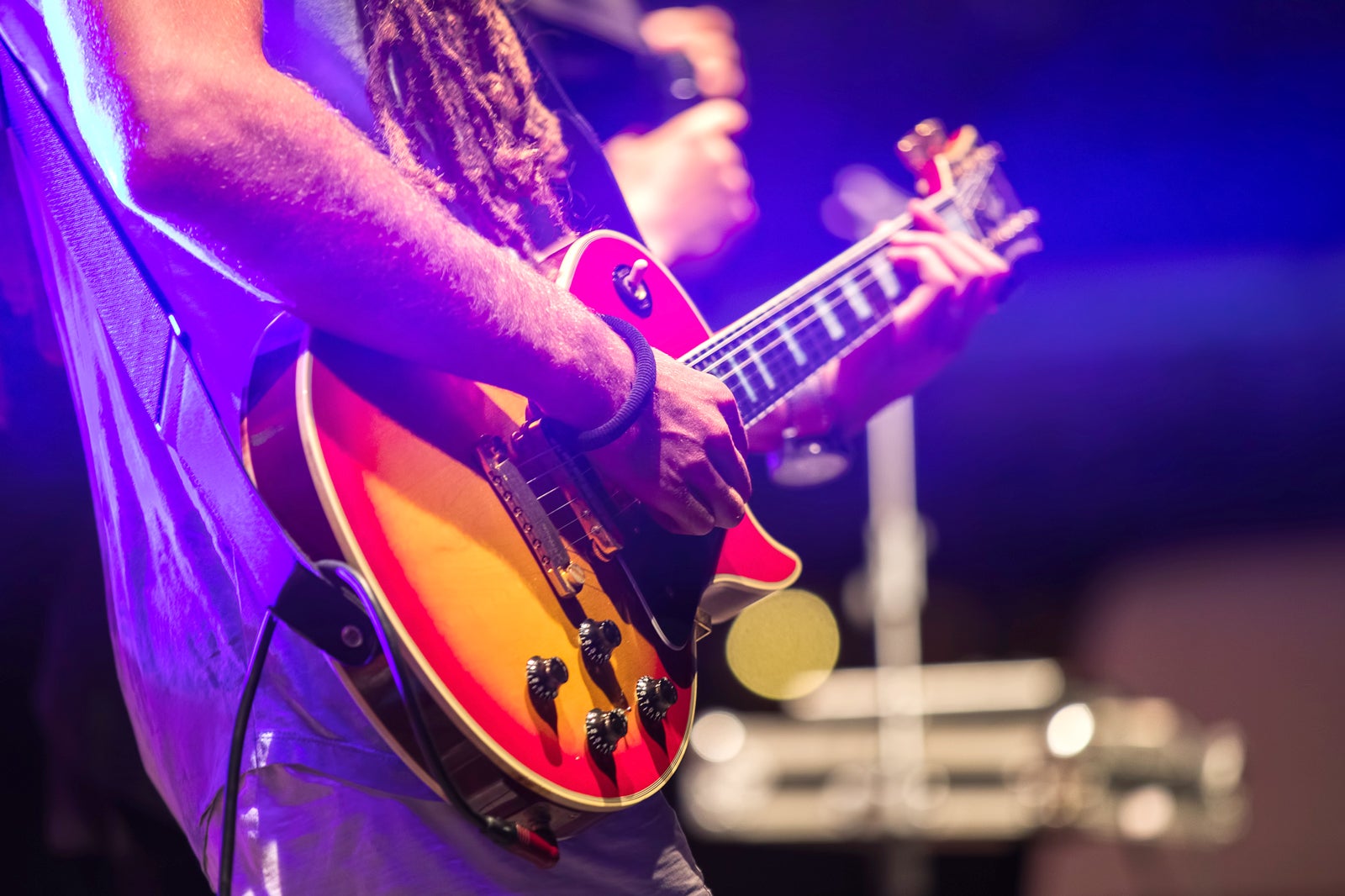 Split Circus is a friendly bar that offers a good mix of entertainment and cheap drinks to make for a cheerful night out. Dim lighting and walls lined with bookshelves give it the feel of a bookshop turned speakeasy, and there's not much room to dance. But punters manage to find enough space to rock out with live bands that play most nights.
Split Circus hosts regular comedy nights as well, and those brave enough to take the stage could join an open mic night to test out their own jokes.
Location: Spinčićeva ul. 2b, 21000, Split, Croatia
Open: Monday–Thursday from 9am to 1am, Friday–Saturday from 9am to 2am, Sunday from 9am to midnight
Phone: +385 97 782 4327
Back to top