Where to Stay in Pittsburgh - From International Chains to Mansion-Style Guesthouses
Where to Stay in Pittsburgh - From International Chains to Mansion-Style Guesthouses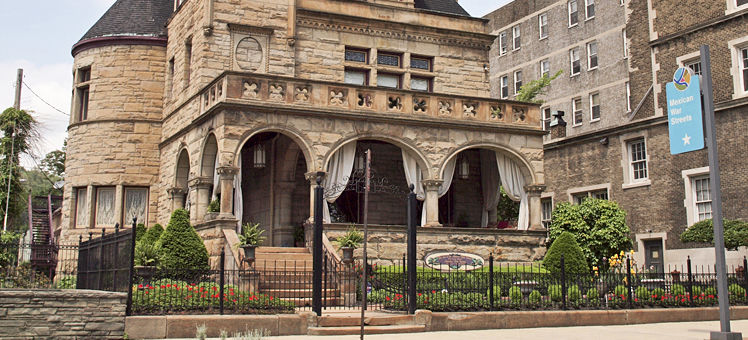 Pittsburgh's accommodation choices run from centrally located, modern chain hotels to quiet bed and breakfasts in leafy suburbs. Some of these guesthouses are in restored stone mansions, and rooms are often decorated with period furniture. Motel-style accommodation, with easy motor vehicle access, is widely available in the outer suburbs.
Whether you're here for business or pleasure, staying in Downtown Pittsburgh can maximize convenience. You'll be close to many sights, as well as shops, restaurants, and the offices of the Central Business District. It's also an easy walk to adjacent neighbourhoods, such as The Strip and North Shore.
Hotels in Downtown Pittsburgh are mostly upscale and aimed at business travellers and tourists who want a little luxury. The majority are operated by big-name international chains, although a few independent boutique options are available.
The university neighbourhood, centreed around Oakland, is a lively place with a nightlife and dining scene driven by the area's high student population. Several popular tourist sights - including the Carnegie Museums of Pittsburgh - are also located here. Moreover, you can reach Downtown Pittsburgh in a few minutes using frequent bus services.
Several hotels in the neighbourhood are modern and part of large international chains. If you prefer something different, you'll also find a number of boutique inns, some housed in restored mansions.
East Liberty
East Liberty is a diverse area in the process of rejuvenating and transforming, and the Pittsburgh centre for the Arts is a great entertainment option here. The neighbourhood is served by several bus routes with frequent connections to Downtown. You can also walk to the adjacent suburb of Shadyside, an area known for its tree-lined streets and handicraft stores.
East Liberty is home to several chain hotels, as well as some smaller independent guesthouses. If you're planning a longer stay and need a large space, some properties here offer apartment-style suites.
Search for East Liberty hotels
Green Tree is a quiet suburb southwest of central Pittsburgh. Flights out are easy as it's a 15-minute drive to Pittsburgh International Airport (PIT). For evening dining, the restaurants of Mt. Washington are a 10-minute drive away. Regular bus connections will take you into Downtown Pittsburgh in around 30 minutes.
Accommodation here ranges from budget motels to modern business friendly hotels with extra facilities, such as swimming pools. Apartment-style suites are available if you're here for a longer stay and looking for additional home comforts.
About 10 miles southeast of Downtown Pittsburgh, West Mifflin is an out-of-town district beside Allegheny County Airport (AGC). This domestic airport has flights to cities across the United States, so staying here can be an advantage if you have an early departure or late arrival. Regular bus connections link the area to the city.
The bulk of West Mifflin's accommodation options are in the form of motels. Situated mostly along the main highways around the airport, they are easily accessible by car and also have regular bus connections to Downtown.