Underwater Adventures, Fresh Seafood, and Sunset Drinks - A Visitor's Guide to Key Largo
Underwater Adventures, Fresh Seafood, and Sunset Drinks - A Visitor's Guide to Key Largo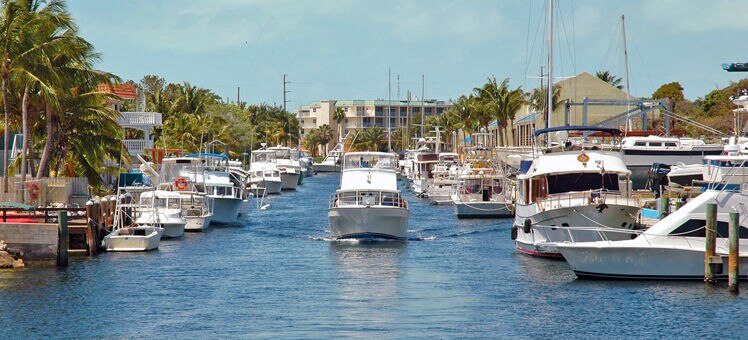 Key Largo is a water-lover's paradise that offers mellow Florida Bay waters on one side, and the Atlantic Ocean on the other. Spanning 33 miles of the upper keys, the area offers vast stretches of publicly accessible land and water, making it easy to immerse yourself in local activities, from diving and fishing to hiking and eco-tours. When not playing, you can dine on fresh seafood at a waterfront eatery, kick back over cocktails and live music at a tiki bar, or head downtown to shop for souvenirs and walk along the marina.
A paradise for diving and snorkeling
John Pennekamp Coral Reef State Park and the massive Florida Keys National Marine Sanctuary are where Key Largo locals and visitors head for underwater adventures. Shallow coral reefs lure snorkelers to the region, while deep shipwrecks and coral habitats filled with tropical fish beckon divers. The clear-blue waters of Key Largo make diving and snorkeling a year-round activity, and while winter is the most popular time to visit, summer's seasonal advantages include bath-warm waters, sparse crowds, and discounted prices.
Fishing and angling
Around Key Largo you'll find exhilarating stretches of diverse fishing waters and a plethora of sea life. You can hop on a charter boat and head offshore for a day of deep-sea fishing. Sailfish and tuna are among the fish you might catch offshore, while snapper and grouper are commonly found around shipwrecks and reefs. Backcountry fishing on Florida Bay is great for anglers looking to catch redfish, snapper, tarpon, and other species that dwell among the peaceful mangrove islands and shallow waterways.
Nature and wildlife
Everglades National Park is home to stretches of unspoiled subtropical terrain and a plethora of natural wildlife. Dagny Johnson Key Largo Hammock Botanical State Park, a refuge for plants and animals who live on its 2,000-plus acres, has miles of public-access trails. Dolphins Plus, with locations on the bay and ocean, is great for animal lovers looking to swim, pet, and play with dolphins, while Florida Keys Wild Bird Rehabilitation centre is a welcoming refuge for disabled owls, blue jays, and other feathered friends.
Sunset drinks, live music
Many of Key Largo's restaurants are located along the water, and no matter how casual, their menus are likely to include fresh seafood and tropical drinks. Yellowtail and mahi are among the varieties of fish served, and popular local specialties include crab cakes, fried alligator, and conch chowder - made from a tropical snail. Afterwards, you can swing by a local tiki bar to listen to live music and join dancing locals, or find a quiet table on the patio and sip rum punch while gazing over the moonlit water.
Explore downtown
When you feel like taking a break from diving, fishing, or exploring the outdoors, you can head to downtown Key Largo. A good place for art lovers to begin is The Gallery at Kona Kai, where fine paintings of local nature scenes are exhibited. Less than a half-mile away you'll find Shell World, where you can stock up on souvenirs ranging from coral rings and sea sponges to scented candles and humorous T-shirts. A 5-minute drive north is downtown Key Largo's commercial centre, where coffee shops and casual eateries mingle with a handful of clothing and gift shops. A scenic marina filled with boats and palm trees is steps away.