What to See and Do in Lincoln - Medieval Monuments, Magna Carta, and Manor Houses
What to See and Do in Lincoln - Medieval Monuments, Magna Carta, and Manor Houses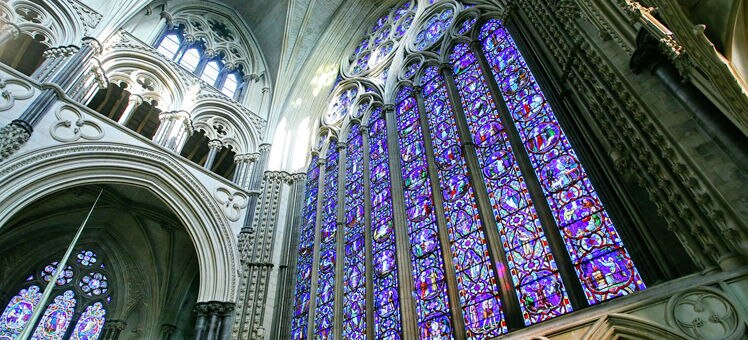 Historic Lincoln is full of monuments and sights from its long past, and is particularly rich in medieval buildings. Foremost of these are the Norman cathedral and castle. There's also contemporary culture on offer, with museums, galleries, concerts, and festivals. Nearby you'll find country parks and historic manor houses to visit, while the vibrant scene at Brayford Waterfront has restaurants, cafés, and river cruises.
Lincoln Cathedral
As you approach Lincoln's central "Uphill," there can be no denying that one building in particular stands out - quite literally - above the rest. Work on Lincoln Cathedral - more correctly known as the Cathedral of St. Mary - began in 1072. After it was completed, this soaring Gothic masterpiece was held to be the tallest building in the world for almost 3 centuries. It's visible for miles around, but from close up you'll also see it is covered with finely detailed carving. If you really want to experience its heights, you can tour the cathedral's towers and roof.
Cathedral of St. Mary, Minster Yard, Lincoln LN2 1PX; Tel: +44 1522 561600; Website: Cathedral of St. Mary
Lincoln's medieval monuments
You'll find remnants of the city's medieval past throughout the Cathedral Quarter. Work started on Lincoln Castle in 1068, 2 years after the Norman conquest of Britain. Today you can explore its expansive remains. It's also home to one of the 4 copies of Magna Carta on public display. Standing in the shadow of the cathedral, the Medieval Bishops' Palace was once one of England's most important buildings. It was the administrative centre of a diocese that stretched from the Humber estuary to the River Thames. In use from 1520, the city's impressive Guildhall seems positively young by comparison.
Prepare for a climb
Once you've walked up Steep Hill's sharply inclined sidewalk, you'll appreciate the accuracy of its name. This medieval street, and adjoining The Strait, link "downhill" with the hilltop cathedral. But there are plenty of interesting stops along the way - you can browse in secondhand bookshops and check out a host of quirky stores. Or simply rest weary limbs and refresh yourself in one of several traditional English tea rooms.
Day trips from Lincoln
RAF Scampton air force base is a 10-minute drive north from Lincoln. This was the place where, in 1943, 617 Squadron took to the skies to make their legendary "Dambusters" raid on Germany. Today you can visit the base's Heritage Centre, housed in a World War II hangar. To step even further back in time, you can also explore Doddington Hall, around 7 miles west of Lincoln. This grand Elizabethan manor house was completed in 1600, and it's surrounded by lush gardens. At Whisby Nature Park you'll find lakes, wildlife, and walks - perfect for a family day out.
Bus and walking tours
An easy way to explore Lincoln is to join an open-top, hop-on-hop-off bus tour. Officially it starts outside the cathedral, but you can climb aboard at any of 12 stops along the way. If you prefer to learn about the city's history from closer up, you can also join a walking tour. To listen to tales of a more ghostly nature, sign up for the evening Lincoln Ghost Walk.