A Guide to Madison - Eclectic Capital City With an Outdoorsy Streak
A Guide to Madison - Eclectic Capital City With an Outdoorsy Streak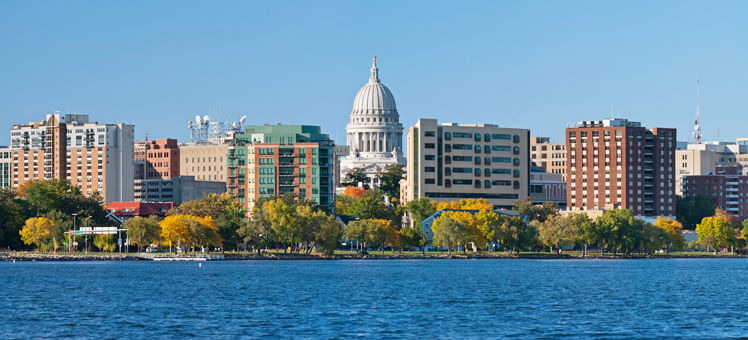 Madison - or Madtown - ranks as one of America's healthiest and happiest cities, according to National Geographic, and here's why: this mid-sized capital city cultivates active living and open-mindedness. Madison's progressive bent makes everything from sightseeing to tapas-hopping, even conference-going, feel fresh and inspiring.
Cycling and walking
Straddling the isthmus between lakes Monona and Mendota, Madison is a city with an outdoors vibe, where pedestrians and bike commuters have right-of-way. Whether you're strolling through the legendary Dane County Farmers' Market on Capital Square or squeezing your workday run between business meetings, you'll find Madison prioritizes human-powered locomotion. Madisonites are serious about cycling, in particular. You can rent bikes from 39 Madison B-cycle stations across the metro area or at dozens of bike shops. Use the city's interactive route planner to get virtually anywhere in town, all on designated bike paths or in bike lanes.
Dane County Farmers' Market, 2 East Main Street, Madison 53703; Tel: +1 608 455 1999; Website: Dane County Farmers' Market

Madison B-cycle, 312 North Third Street, Madison 53704; Tel: +1 800 473 4743; Website: Madison B-cycle
Performing arts in Madison
As a cultural hub of the American Plains and a college town, Madison is a natural tour stop for national music and theatre productions. Shows such as the Broadway production of The Lion King play at the Overture centre for the Arts, Madison's premier venue. The city is also home to nearly 20 resident performing arts companies, from children's theatre to ballet to improvisational comedy. An eclectic lineup of musical styles takes the stage in free concerts at Monona Terrace, Madison's curvilinear community centre overlooking Lake Monona. Designed by Frank Lloyd Wright, the centre also hosts dance events.
Museums and galleries
"Museum Mile" between the Capital Square and the University of Wisconsin-Madison hosts 6 of the city's 8 museums. With choices ranging from the university's Geology Museum to the Wisconsin Veterans Museum, it's easy to find something for all interests. Madison Museum of Contemporary Art, part of the Overture centre for the Arts, includes a rooftop sculpture garden, children's classroom, and new media gallery. Admission is free to see works ranging from the paintings of Frida Kahlo to the wire sculpture of Deborah Butterfield. For families, the Madison Children's Museum introduces art and creativity through hands-on play activities.
Beer, cheese, farm-to-table
There are 2 categories of food celebrated in Wisconsin: beer and cheese. The first honors Milwaukee, "beer capital of the world," and the second pays homage to the state's dairy industry. Visit Karben4, representing Madison's microbreweries, for a tasting tour of its facility and English-style malt bombs. Its restaurant menu features ingredients from local farms, as in the gremolata deviled eggs. Check out Fromagination for a smorgasbord of artisanal cheeses, many from Wisconsin. The farm-to-table movement characterizes Madison's food scene, and you'll find the finest locally-sourced ingredients and farm produce at many of Madison's restaurants.
Outdoor activities and sports
Lakes are at the heart of Madison's geography, and you'll find lots of ways to enjoy them. Rent equipment or bring your own for boating, fishing, kayaking, or swimming. You can book a yacht tour of Lake Monona through Betty Lou Cruises. If you're a road cyclist, hook up with the Bombay Bicycle Club, Madison's oldest, and get up-to-the-minute road condition reports before you go. If you prefer spectator sports, Madison has 3 teams - Madison Mallards baseball, Madison Capitols hockey, and University of Wisconsin Badgers football. Catch a game and share the enthusiasm of local fans!
Discover
Find your perfect holiday in Madison
From 120 hotels.