An Essential Guide to Avignon - Medieval City on the Rhône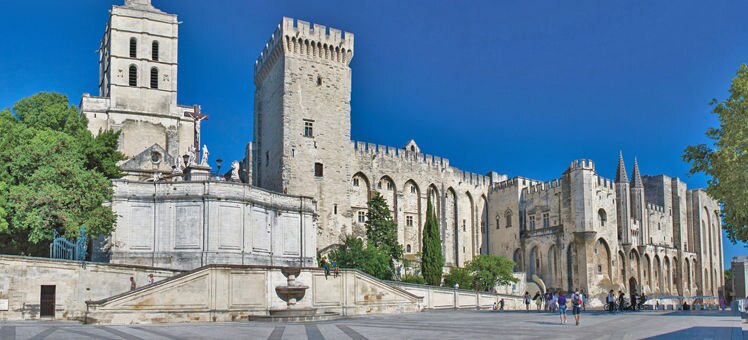 Home to ancient buildings and sweeping views of the Provençal countryside, Avignon also combines modern French culture and medieval history in its restaurants, shops, and open spaces. Chief among its draws are UNESCO sites like the Gothic Palais des Papes, or Palace of the Popes, and Pont d'Avignon, a bridge immortalized in song.
Palace of the Popes
Dating from the 13th century, Palais des Papes is one of the world's largest Gothic palaces. Choose from a guided tour in French or a self-guided tour in any of 11 languages, then explore its vaulted corridors, living quarters, battlements, and gardens. You can stop for a coffee and a bite in the large plaza in front of the palace, where street performers dazzle passersby.
Palais des Papes, Place du Palais, 84000 Avignon; Tel: +33 4 32 74 32 74; Website: Palais des Papes
Avignon's famous broken bridge
Children have been singing about medieval Pont d'Avignon since the 15th century. The Roman-style bridge was never rebuilt after river damage in the 17th century, and now visitors can see the blue-green Rhône and the hills behind from the 4 arches that endure. To escape the crowds, you can hike up to Rocher des Doms, which offers memorable views of the bridge and Villeneuve-lès-Avignon.
Lively shopping scene
You'll find many shops on the main boulevards and side streets of Avignon's fortified district. Designer chains and unique boutiques attract shoppers with striking window displays. Marché les Halles, a vine-covered market at Place Pie, hosts around 40 vendors Tuesday through Sunday. Here you can browse local produce, flowers, herbs, and spices in an atmosphere that is pure Provence.
Pont du Gard aqueduct
A 45-minute bus ride takes you to another UNESCO World Heritage Site: Pont du Gard, an imposing and beautifully preserved ancient Roman aqueduct. You can walk along the banks of the Gardon River, for which the bridge is named, take in fresh air amid olive trees and grapevines, then stroll across the bridge itself - or to the top tier of its arches.
Pont du Gard, 400 Route du Pont du Gard, 30210 Vers-Pont-du-Gard; Tel: +33 4 66 37 50 99; Website: Pont du Gard
Crossing the Rhône
To explore charming Villeneuve-lès-Avignon, why not rent a Vélopop bike in Avignon and cycle over Édouard-Daladier Bridge, which spans the Rhône? There, you can wander crooked streets flanked by vine-trailed stone houses and visit Fort Saint-André, a medieval fortress visible from Avignon. Inside the castle, you'll find a Benedictine abbey and a lush Mediterranean garden, where paths meander around lily ponds and statues. Nearby Tour Philippe-le-Bel is a storybook medieval tower, open to the public for exhibitions on the ground floor and views from the upper terrace.
Fort Saint-André, Rue Montée du Fort, 30400 Villeneuve-lès-Avignon; Tel: +33 4 90 25 45 35; Website: Fort Saint-André

Tour Philippe le Bel, 30400 Villeneuve-lès-Avignon; Tel: +33 4 32 70 08 57; Website: Tour Philippe le Bel