Fun Family Activities at Hyderabad's Zoos, Museums, and Parks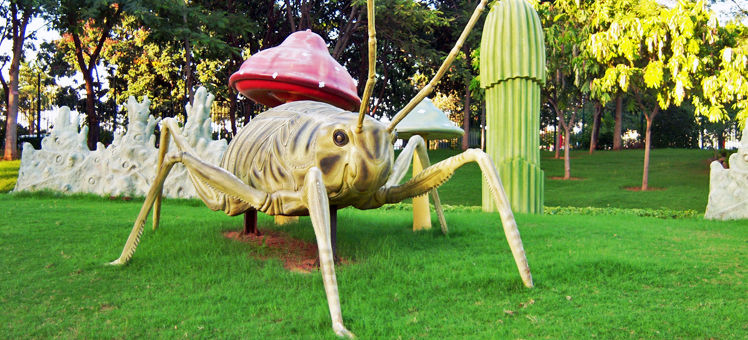 Hyderabad offers a wealth of experiences for families. Outings to nearby national parks and museums are engaging and educational for kids. A short drive from this ancient city, you can also soak up the culture of indigenous tribes and discover rural handicrafts. To make the most of your time, plan an action-packed itinerary of wildlife-spotting, stargazing, and visiting amusement parks.
Animal kingdoms
Animal sanctuaries in Hyderabad acquaint you with India's wildlife. You can spend an entire day at the zoo gawking at creatures from the forest and sea. Afterwards, you can hop on a bus for short safari rides to tiger, lion, and elephant habitats. It's also possible to book an overnight stay at a National Park, where you can roam through thick jungle and come face-to-face with wild beasts.
Nehru Zoological Park
This zoo offers a host of fun experiences, including boating across Mir Alam Lake, a "Jurassic Park" filled with dinosaur models, and a museum that traces animal evolution. You'll also see rhinos, wild cats, and exotic species of butterflies.
Bahadurpura, Hyderabad 500064, TelanganaTel: +91 40 24477355
Nehru Zoological Park website
Quirky museums
Alongside regular art and history museums, Hyderabad has offbeat museums that will interest young children. A planetarium provides an escape into the stars, while a doll gallery will delight little ones with its sheer variety of toys from around the world. Another space dedicated to cars of all makes and models excites not just kids, but parents too.
Sudha Car Museum
This museum claims to be wacky and you probably won't disagree. It has some creative wheels on display, such as vehicles shaped like giant beds, humongous footballs, and billiard tables.
Bahadurpura X-Road, Hyderabad 500064, Telangana. Tel: +91 939 1905413
Sudha Car Museum website
B.M. Birla Science Centre
A visit to the Birla Science Centre is an education in itself. The sprawling campus has a planetarium, an interactive science section where kids can experiment, and a museum with age-old manuscripts, coins, and dolls.
Naubat Pahad, Hyderabad 500004, Telangana. Tel: +91 40 23241067
B.M. Birla Science Centre website
Arts and crafts in Hyderabad
As the capital of Telangana, Hyderabad promotes its own rich history and that of the entire State. Museums and tours showcase the rustic charm of village life. You can also pick up traditional silk weaves, pottery, and jewelry. Within the city, you'll find boutique shops that will happily sell you wares from the countryside, but if you want the real deal then head to places like Shilparamam - an easy-to-reach handicrafts village.
Shilparamam
Bang in the middle of this modern city, Shilparamam is an arts and crafts village that also acts as an introduction to rural life. You can walk around a "live museum," complete with beating drums and grazing cows.
Hi Tech City, Hyderabad 500081, Telangana . Tel: +91 40 64518164
Shilparamam website
Amusement parks and film cities
The outskirts of the city offer exciting entertainment options for families. You can head out to Snow Park, which is packed with game arcades, water-themed rides, and houses of horror. For Bollywood fans, the Ramoji Film City is a popular pit stop. You can learn about the magic of movies at the studio's extensive property.
Snow World
Indulge in a snowball fight at Snow World, where a cold winter's day comes alive in sunny Hyderabad. Other fascinating experiences here include a walk through a dark graveyard, and a rainforest that resembles the Amazon.
Lower Tank Bund Road, Hyderabad 500080, Telangana. Tel: +91 40 65990167
Snow World website
Ramoji Film City
The world's largest film studio, Ramoji Film City brings the celluloid realm to life. Whether you amble by larger-than-life movie sets or stop by for a live show, Ramoji charms with its cinematic genius.
Anaspur Village, Hyderabad 501512, Telangana. Tel: +91 1800 4250 9999
Ramoji Film City website
Family-friendly restaurants in Hyderabad
Eating out is still a family affair in Hyderabad, so finding the right restaurant shouldn't be much of a challenge. In residential areas like Banjara and Jubilee Hills, restaurants take special care to ensure that your family is comfortable and your food preferences are catered to. Imaginative dining options include an eatery inspired by India's railways.
Sahib Sindh Sultan
Reminiscent of the British Raj, Sahib Sindh Sultan is fashioned like a Pullman-style carriage. It's known for decadent North Indian and Mughlai dishes. Do try the Laal Maas, a rich, tender mutton gravy, and melt-in-your-mouth Kakori kebabs.
Banjara Hills, Hyderabad 500034, Telangana . Tel: +91 40 66683337
Sahib Sindh Sultan website
Discover
Find your perfect holiday in Hyderabad
From 710 hotels.