Dolphins, Shells, and Maybe a Manatee - Family-Friendly Fun on Sanibel Island
Dolphins, Shells, and Maybe a Manatee - Family-Friendly Fun on Sanibel Island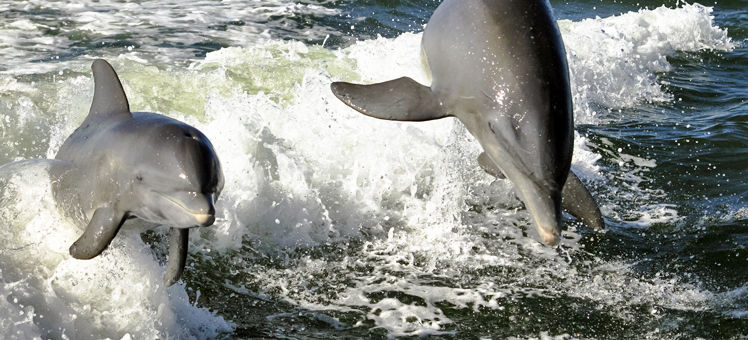 Sanibel Island is a haven for families seeking an activity-fueled getaway. Most of the island's adventure takes place on or near the water, from dolphin-watching to scouring the shoreline to find that perfect seashell to take home. A trip to the island can also be educational, as your kids will have several opportunities to get close to critters that live under the sea.
Experience natural wonders
Nature is a big deal on Sanibel Island - more than half of its land is set aside for wildlife refuges and preserves. People of all ages can explore these preserved habitats through several different ecotourism-driven activities. Water-based excursions are typically led by tour guides, while land-based adventures like hiking and biking are usually left to your own family's discretion.
J.N. "Ding" Darling National Wildlife Refuge
Located on the island's northern side, this preserve features 5,200 acres of land to explore. You could spot raccoons, marsh rabbits, and even the occasional alligator by walking or biking through the refuge's Bailey Tract at no additional cost.
1 Wildlife Dr., Sanibel 33957Tel: +1 239 472 1100
J.N. "Ding" Darling National Wildlife Refuge website
Tarpon Bay Explorers
Your family can take a guided kayak tour through the island's back bay and its unique ecosystem. Expect to see seafaring birds like egrets and herons as they dart in and out of the thick mangrove forest.
900 Tarpon Bay Rd., Sanibel 33957. Tel: +1 239 472 8900
Tarpon Bay Explorers website
See shells
There's a good reason why Sanibel Island is nicknamed Shell Island. The beaches are brimming with shiny, colourful shells of all shapes and sizes, thanks to the way the land is shaped just off the shoreline. You and your kids will be able to keep the ones that catch your eye, provided there's still not a mollusk inside.
Bowman's Beach
This quiet beach is secluded from the city's resorts, so your family won't have to compete with as many tourists to get the shells you want. It's also ideal for picnics, as it's the lone city beach with barbecue grills.
1700 Bowman's Beach Rd., Sanibel 33957. Tel: +1 239 395 1860
Bowman's Beach website
Bailey-Matthews Shell Museum
Learn about the shells you've collected by exploring this natural history museum's 30-plus exhibits. Young ones can also observe a live shell tank and create maritime crafts in an interactive learning lab.
3075 Sanibel Captiva Rd., Sanibel 33957. Tel: +1 239 395 2233
Bailey-Matthews Shell Museum website
Dolphins and other critters
Sanibel Island offers plenty of ways for your family to observe local wildlife up close. Hop aboard a guided tour to see land and sea creatures feeding and frolicking in their natural habitat. Kids will thrill to the sight of playful dolphins leaping and splashing; they may even spot a herbivorous manatee (or sea cow).
Captiva Cruises Dolphin Watch & Wildlife Adventure Cruise
This 90-minute boat ride takes you into the midst of the area's dolphin country, where the fascinating mammals are often spotted at play.
11401 Andy Rosse Lane, Captiva 33924. Tel: +1 329 472 5300
Captiva Cruises Dolphin Watch & Wildlife Adventure Cruise website
Sanibel Sea School
Kids ages 6 to 13 can enroll in seasonal half-day and full-day classes and interactive field trips devoted to exploring local wildlife. Popular topics include "Seahorses: The Ultimate Mr. Mom" and "Manatees: Mermaids Among Us." Family programs are available, too.
414 Lagoon Dr., Sanibel 33957. Tel: +1 239 472 8585
Sanibel Sea School website
Good family food
Sanibel Island's unpretentious nature extends to the dining scene, where approachable, family-friendly restaurants thrive. The majority of these places are found along the island's main street, Periwinkle Way. While a lot of the places feature plenty of seafood options for grown-ups, the kids' menus tailor to their palates by offering basic American fare.
The Island Cow
Chicken fingers, pizza, and more than a dozen other options are available for kids at this bovine-themed restaurant. Grown-ups can also grab a beer or a cup of Starbucks Coffee® while they peruse the sprawling, diner-like menu.
2163 Periwinkle Way, Sanibel 33957. Tel: +1 239 472 0606
The Island Cow website