Nightlife in Avignon - Bars, Dance Caves, and Microbreweries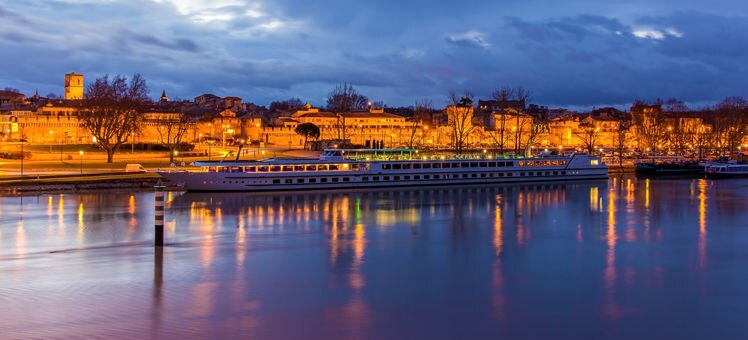 When the sun goes down, Avignon's bar scene comes alive - and keeps buzzing through to the early morning hours. You can quench your thirst with various local beers, wines, and liquors, as the plazas outside hum with cheery conversation. If dancing is your thing, the city also has several nightclubs to choose from.
Drinks in the plaza
Place Crillon is the second largest open plaza after Place du Palais des Papes. The square dates back to the 1600s, but the surrounding bar scene is modern and energizing. Here you'll find bar-restaurants like Café Restaurant La Scène, where you can sip wine and watch a cabaret show.
Café Restaurant La Scène
Whether you're looking for a peaceful terrace where you can sit in the sun and watch the world go by, or a lively nighttime scene and cabaret entertainment, this place doesn't disappoint.
19 Place Crillon, 84000 AvignonTel: +33 4 90 86 14 70
Clubs - and a cave
Although Avignon is better known for its low-key bars and cozy restaurants, it also offers some dance club options for those who like to party hard and late. In these often upscale venues, the people dress up to get down. You can expect to hear all kinds of toe-tapping tunes, from electro and house to pop and salsa.
Le Privé
Across the river in the city of Les Angles is Le Privé, a unique club situated in a cave. It attracts rap and electro music lovers, and has hosted the likes of Daft Punk and David Guetta.
Avenue de Tavel, 30133 Les Angles. Tel: +33 4 32 61 08 29
Le Privé website
Bokao's
Chic and modern, this high-energy club plays electro music until late, and features lounge areas and a neon-lit bar.
9 bis Boulevard Saint-Lazare, 84000 Avignon. Tel: +33 4 90 82 47 95
Bokao's website
Beer and whiskey
Don't be fooled by Provence's reputation as the purveyor of Pastis - there's a rich beer history here, too. Recent years have seen a proliferation of microbreweries that use inventive ingredients like raspberry and honey to create lively ales, which are bottled in retro glassware with bright and distinctive labeling.
Le Gambrinus
This bar stocks the most diverse selection of beers and whiskeys in Avignon. With its casual and inviting atmosphere, it attracts regular customers.
62 Rue Carreterie, 84000 Avignon. Tel: +33 4 90 86 12 32
Le Gambrinus website