Where to Eat in Leicester - Vegetarian, Indian Cuisine, and Fine Dining
Where to Eat in Leicester - Vegetarian, Indian Cuisine, and Fine Dining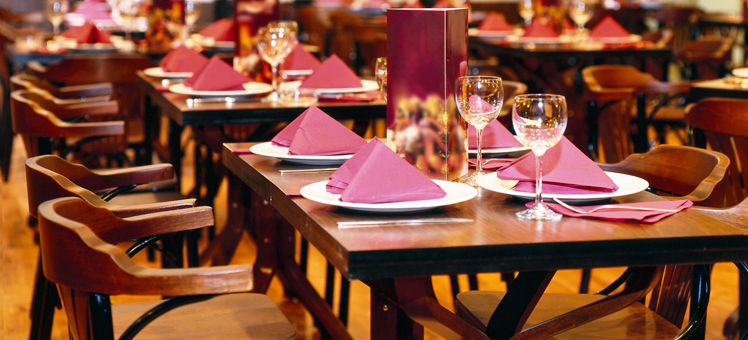 Leicester's food scene is eclectic and exciting, not unlike the city itself. Traditional British food served with a modern twist is popular, as is contemporary European fare, and authentic world cuisine, including Indian, Thai, and Italian. There's also a number of excellent vegetarian eateries serving flavorful meals that attract meat-eaters and veggies alike.
Typical dishes
The city's diversity is reflected in its wide selection of international cuisine, especially freshly cooked authentic Gujarati, South Indian, and Bangladeshi curries and snacks along The Golden Mile.
City centre
Leicester's city centre has a varied mixture of restaurants, including everything from world cuisine to fine dining. Just a few meters from Leicester Cathedral is the World Peace Café, where fresh vegetarian food is served in a peaceful atmosphere. You'll find dishes like brie and beet panini, veggie burgers, cakes, and specialty coffees. In the mood for something lavish? Maiyango ticks all the boxes, including locally sourced ingredients used to create innovative meals, such as Asian vegetable rice rolls with garlic jam, cilantro, and plum wine broth, followed by caramelized white chocolate mousse with candied apples for dessert.
New Walk
After working up an appetite while strolling along New Walk promenade, you can step inside The White Peacock for signature cocktails and traditional meals with a modern twist. The ornate building is heritage listed and the ambiance is relaxed yet luxurious. A seasonal menu includes dishes like soy-marinated cod with smoked haddock beignet and herbed gnocchi and thai-spiced vegetables with tandoori paneer. For dessert, they serve lavish options like Turkish delight crème brûlée with dark chocolate sorbet and pistachio biscotti.
The Golden Mile
Leicester's Golden Mile offers a taste of the Indian subcontinent, with sari shops, savory street food, and plenty of jewelry stores. When it's time to eat, Bobby's - one of the city's oldest vegetarian restaurants - is hard to resist. They have an extensive menu of Gujarati-style food, like rich paneer makhani and bengan bharta, spicy smoked eggplant with tomato gravy. Or you can check out Curry Fever, with specialties like spicy pili pili chicken and masala king prawns. There's Kenyan inspired fusion dishes, like machusi chicken in a spiced sauce with cream, honey, garlic, and chilli.
Clarendon Park
Clarendon Park is a small haven of independent boutiques, cafés, and vintage stores, making it a favorite spot for the city's students, trendsetters, and artists. The creative spirit extends into the area's eateries, including Spanish tapas restaurant Barceloneta. They have a wide selection of meat, fish, and vegetarian dishes, so there's something to suit every diner's taste. Specials include Spanish barbecued ribs in a smoky and sweet sauce. For imported cheeses and deli delicacies like olives and meats, Salvador Deli is the place to be. There's also a full salad bar and a tempting breakfast menu.